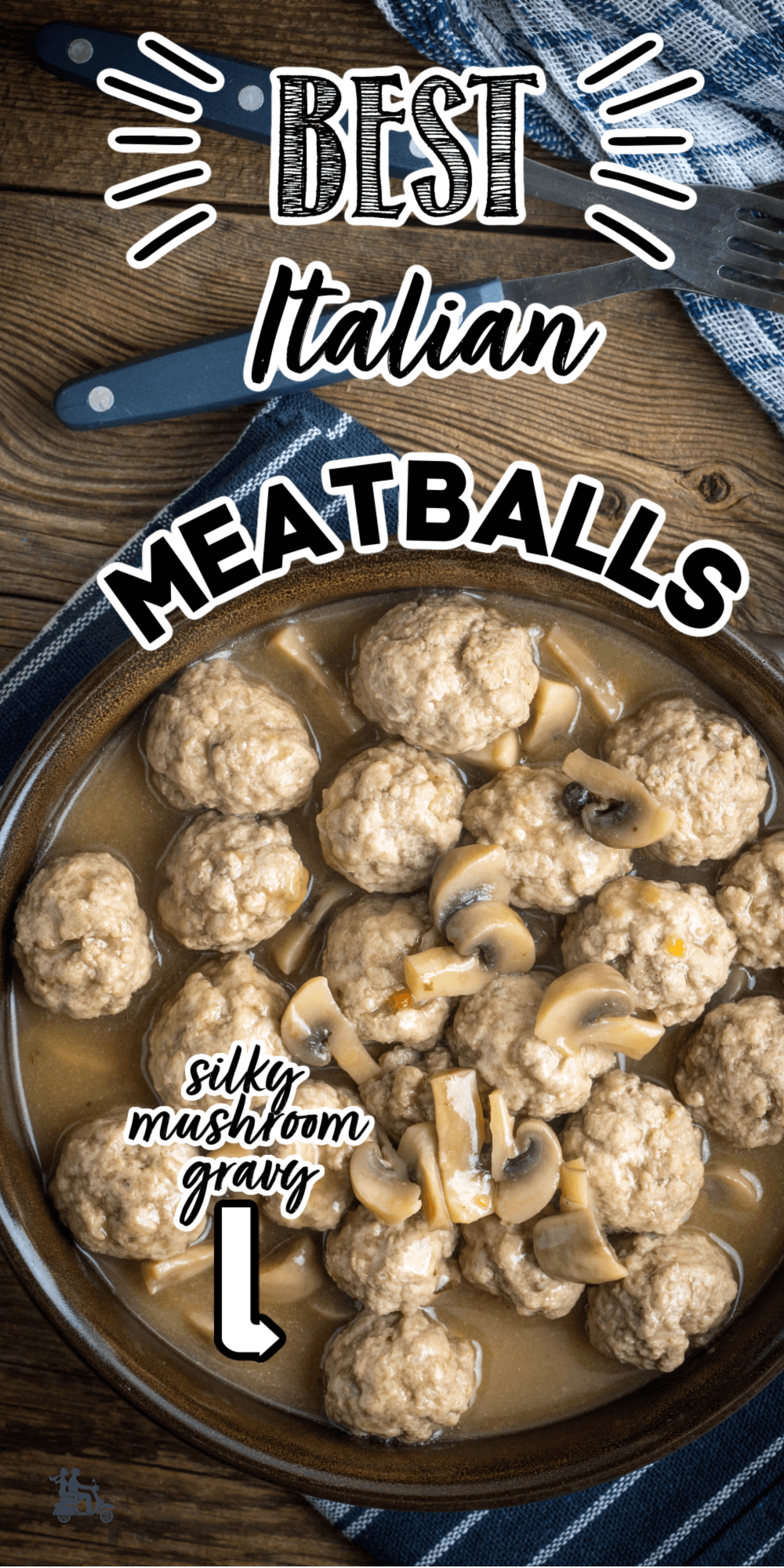 Creamy Mushroom Sauce with Italian Meatballs is one of favorite quick recipes since we start with ready-made meatballs. We've used our Garlicky Meatballs in this recipe as well as our mouth-watering Spicy Venison ones. The rich gravy soaks into the meat infusing it with the rich buttery taste.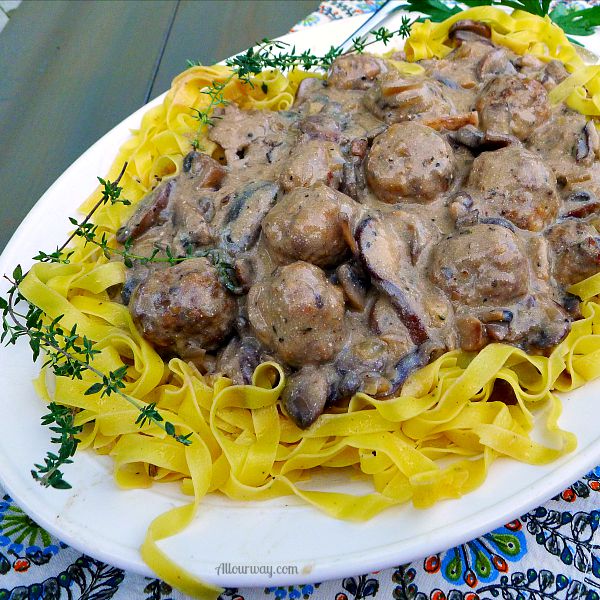 Creamy Mushroom Sauce — the inspiration
I'm excited about sharing our recipe for Italian Meatballs in Creamy Mushroom Sauce. The sauce is so simple to make, and yet, the taste is rich and complex made so by the brown butter.
The inspiration for this recipe came from a purchase of imported truffle flavored fettuccini. We bought the pasta from one of our favorite Italian delis/stores/restaurants in Venice, Florida called Angelos.
We knew this pasta called for a special sauce and this Creamy Mushroom Sauce is perfect!
But this silky sauce is also delicious on top of your favorite noodles, polenta or potatoes.
The ingredients
Cooked warm meatballs — beef, venison, lamb or pork
Unsalted butter — half a stick
Garlic
Shallots
Mushrooms — combination of shiitake, cremini, or what ever kind you like.
Fresh thyme
White wine – not sweet
Beef stock or broth
Sour Cream
All-purpose flour – for thickening.
Salt and Pepper
Chef Tip: We like to use Wondra Flour for this. It's easy to use when making sauces and it doesn't clump.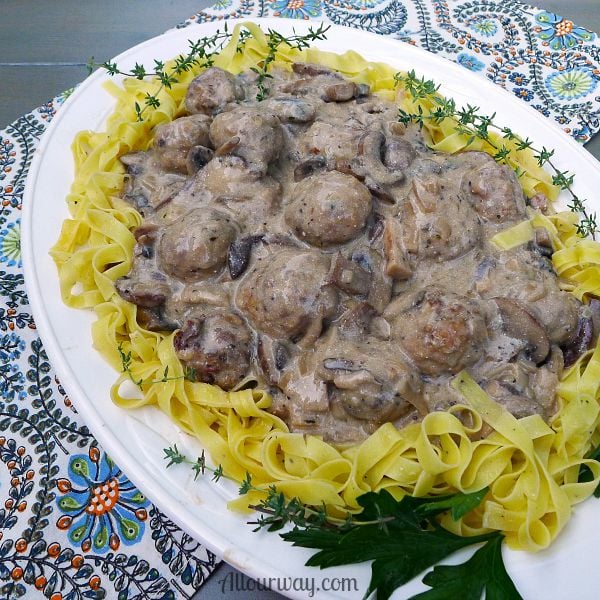 Brown butter enriches a recipe
The first thing I did was brown the butter — it gave the sauce a nutty flavor and a richer taste. I find myself browning butter more and more.
It makes such a big difference in a recipe, and the aroma is out of this world. And better yet, it's a snap to make.
The French call brown butter beurre noisette, and you can use it in just about any recipe that calls for butter including cakes, cookies, or sauces. It tastes fantastic over pasta, fish dishes, and vegetables.
Add a little bit to regular butter, then whip it up to put on hot bread — oh my, I can taste it now!!
It's easy to brown just enough for a recipe but why not make a large batch and keep it in the fridge? Even better yet, freeze it in ice cube trays and always have some on hand.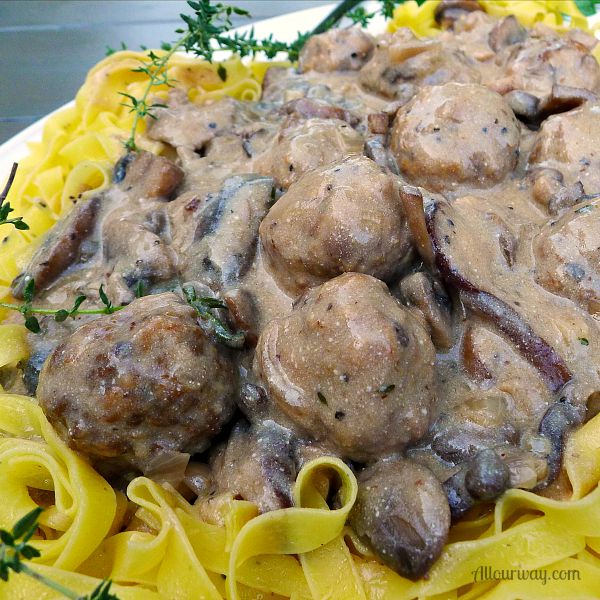 Melt the butter lemon– yellow to toasty brown
To make the brown butter start melting it over medium heat.
If you are unfamiliar with browning butter, use a pan with a light-colored bottom so you can watch the color of the butter.
Stir so that the butter cooks evenly. As the butter melts, it foams. The color of the butter will change from lemon-yellow to a golden-tan and finally to a toasty-brown.
Once you smell that nutty aroma, take the pan off the heat and transfer to a heatproof bowl to cool. Some people like to strain the dregs from the butter — we like the flavor, so we keep them in.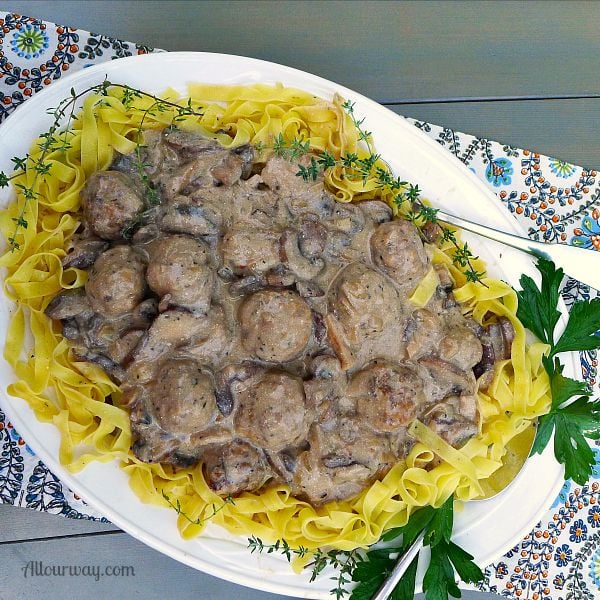 I made just one batch of butter for the Italian Meatballs in Creamy Mushroom Sauce. The only thing that needs to be prepared is the creamy mushroom sauce — we always have our Italian meatballs baked, frozen and ready to heat up. You can make up a batch of our spicy garlicky meatballs or use your own.
We've even added our Spicy Venison Meatballs to the delicious gravy and they tasted out of this world.
Once the butter reaches the toasty brown color, add the slivered garlic clove and minced shallots sautéing for one minute.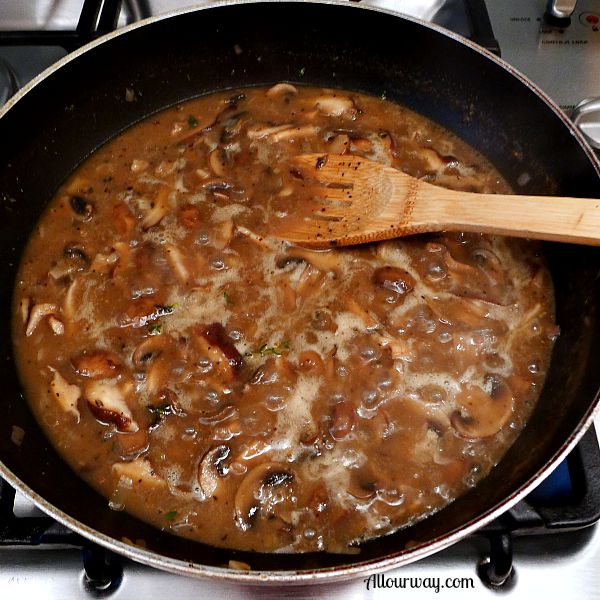 Start on the Creamy Mushroom Sauce
Then comes the combination of sliced Shiitake, Cremini, and white button mushrooms.
Add the thyme. Sauté on medium heat for about 10 minutes; the mushrooms will release their liquid. Add the flour and continue to sauté for another 2 to 3 minutes — stirring well.
Pour in the beef broth and wine, continue to stir.
The sauce will begin to thicken. Season with salt and pepper. Cook for another 5 minutes. Stir in the sour cream. Add the Italian meatballs and bathe them in the creamy mushroom sauce. Cook for another 3 minutes.
Be prepared to enjoy an exquisite dish. We hope you try it and let us know if you like it. Do you have a favorite noodle dish? Let us know in the comments.
Tutti a tavola è pronto!
Un caro saluto e alla prossima.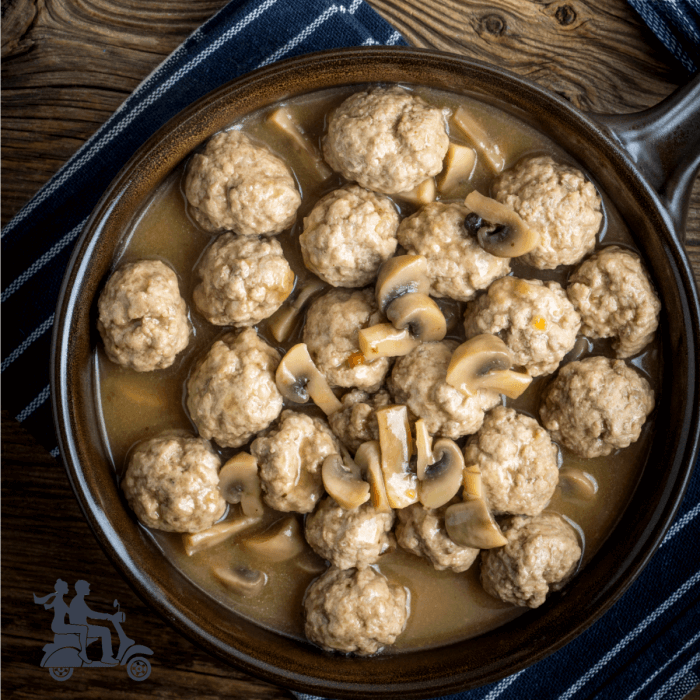 Creamy Mushroom Gravy with Meatballs Recipe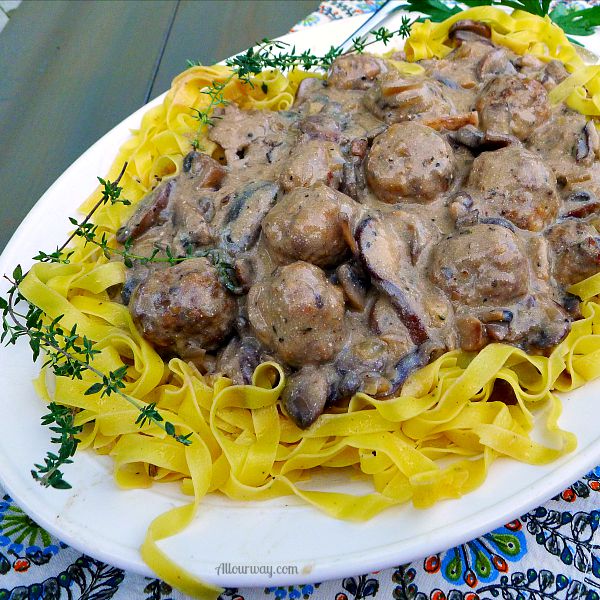 Italian Meatballs in Creamy Mushroom Sauce
A delicious sauce that starts out with brown butter and a quick sauté of garlic and shallots then the addition of three kinds of mushrooms. It is finished with the addition of sour cream adding to a rich finish.
Print
Pin
Rate
As An Amazon Associate I earn from qualifying purchases.
Ingredients
12

cooked warm meatballs — or as many as you want.

Fettuccini made according to package directions.

4

Tablespoons

unsalted butter — half of a stick

1

garlic clove

slivered

3

shallots

minced

10

oz.

combination sliced mushrooms

shiitake, cremini (baby bellas, white button)

2

teaspoons

fresh thyme

chopped

½

cup

white wine

2

cups

beef broth

½

cup

sour cream

3 – 4

Tablespoons

Wondra flour

may use all-purpose flour**

Salt and pepper to taste
Instructions
Melt the butter over medium heat in a pan with a light-colored bottom so you can keep an eye on the color of the butter. When the color of the butter turns from lemon yellow to a golden tan add the garlic and shallots. Sauté for about a minute.

Add the mushrooms and continue to sauté until the mushrooms release their liquid and you can see them taking on a golden color about 10 minutes.

Sprinkle the flour over the mushrooms and mix well. Sprinkle in the thyme and continue to sauté for about another few minutes cooking the flour with the butter and mushrooms.

Stir in the beef broth and wine. Season with salt and pepper. Cook for another 10 minutes. The sauce should be thickening.

Stir in the sour cream, mixing well.

Add the meatballs to the creamy mushroom sauce and cook for another 2 to 3 minutes bathing the meatballs with the rich sauce.

Serve the meatballs and creamy mushroom sauce over the prepared fettuccine.
Notes
** We like to use Wondra flour when making sauces — it is easy to use and doesn't clump.
Nutrition
Calories:
510
kcal
|
Carbohydrates:
58
g
|
Protein:
18
g
|
Fat:
21
g
|
Saturated Fat:
10
g
|
Cholesterol:
113
mg
|
Sodium:
350
mg
|
Potassium:
541
mg
|
Fiber:
3
g
|
Sugar:
4
g
|
Vitamin A:
430
IU
|
Vitamin C:
3.5
mg
|
Calcium:
68
mg
|
Iron:
2.4
mg
Sign up for the emails and never miss another recipe!!
We'll never share your email or send you spam. Promise
Note: Recipes and content from © 2014-2020All Our Way are copyright protected. Please do not use content or recipe without prior written permission. If you want to share the information, please link to this post. Grazie.
SaveSave
SaveSave
SaveSave
SaveSave
SaveSave
SaveSave
SaveSave
SaveSave
SaveSave
SaveSave
SaveSave
SaveSave
SaveSave