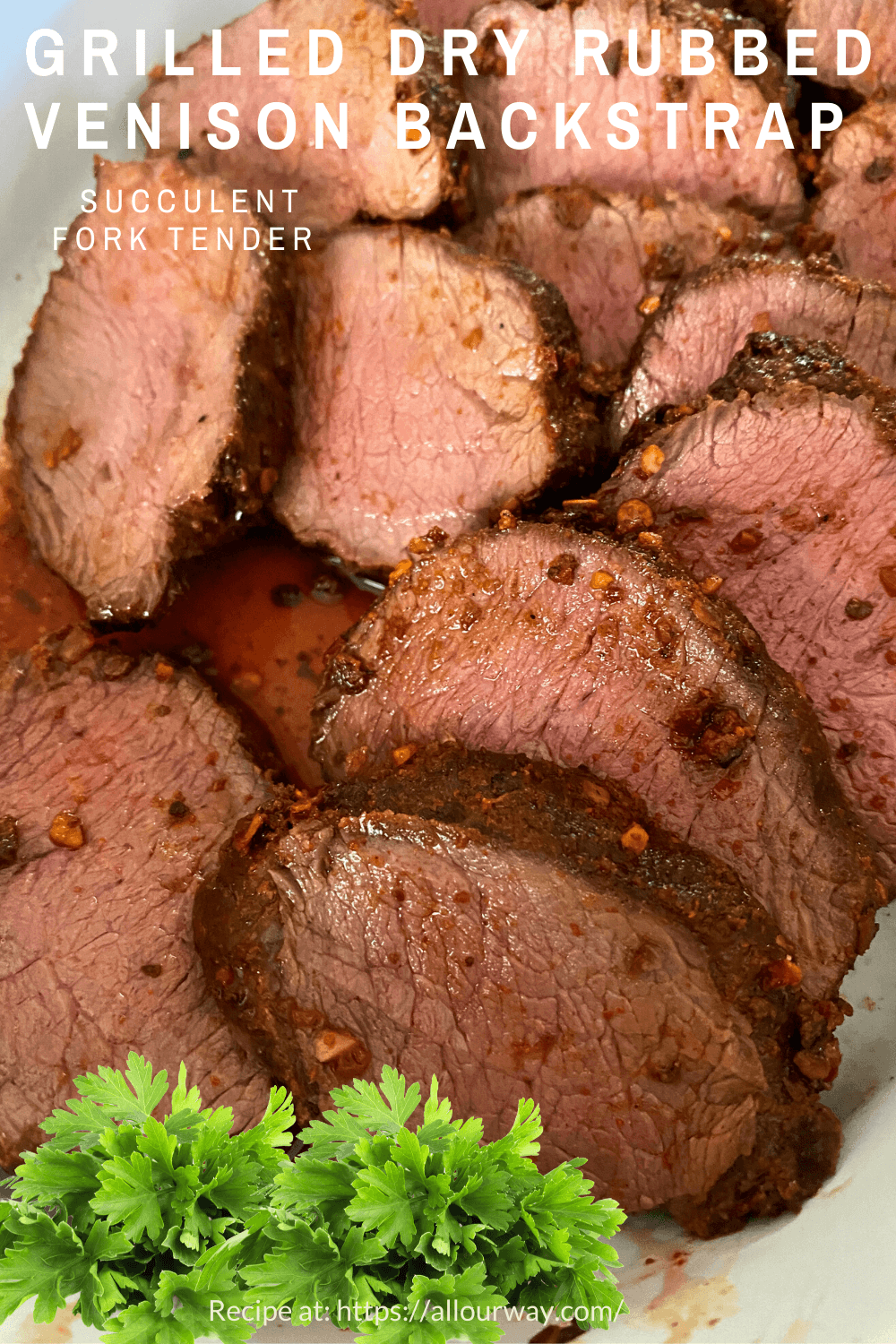 All it takes is a dry spicy seasoning rubbed into a venison backstrap before grilling to render the meat buttery and beefy. The loin is so lean all it needs is medium-high-heat to caramelize the outside. The seasonings and spices in the dry rub create a crust which seals in the juices. Every bite melts in your mouth. Instead of using our Wild Game Marinade try this smoky dry rub. It's excellent with any meat wild or domestic.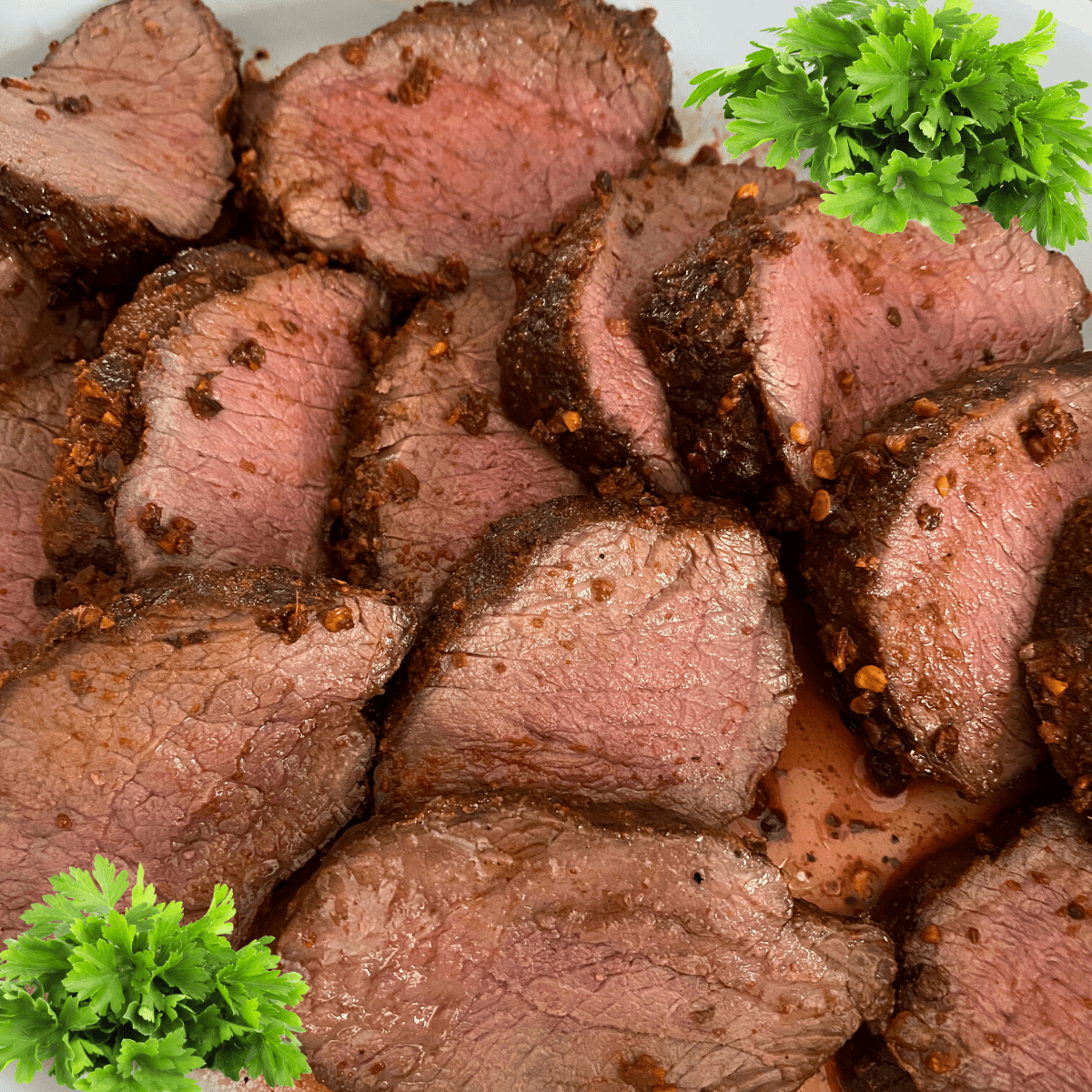 Jump to:
What is backstrap?
It's a length of loin on the back of a deer, elk, moose, antelope, etc. On a beef, it's called the ribeye and a loin in pork.
Don't confuse it with the tenderloins. Those are the two strips of very tender meat under the loin and behind the ribs. This cut is the filet mignon in beef.
Venison main cuts chart
A venison chart is worth a thousand words so here it is: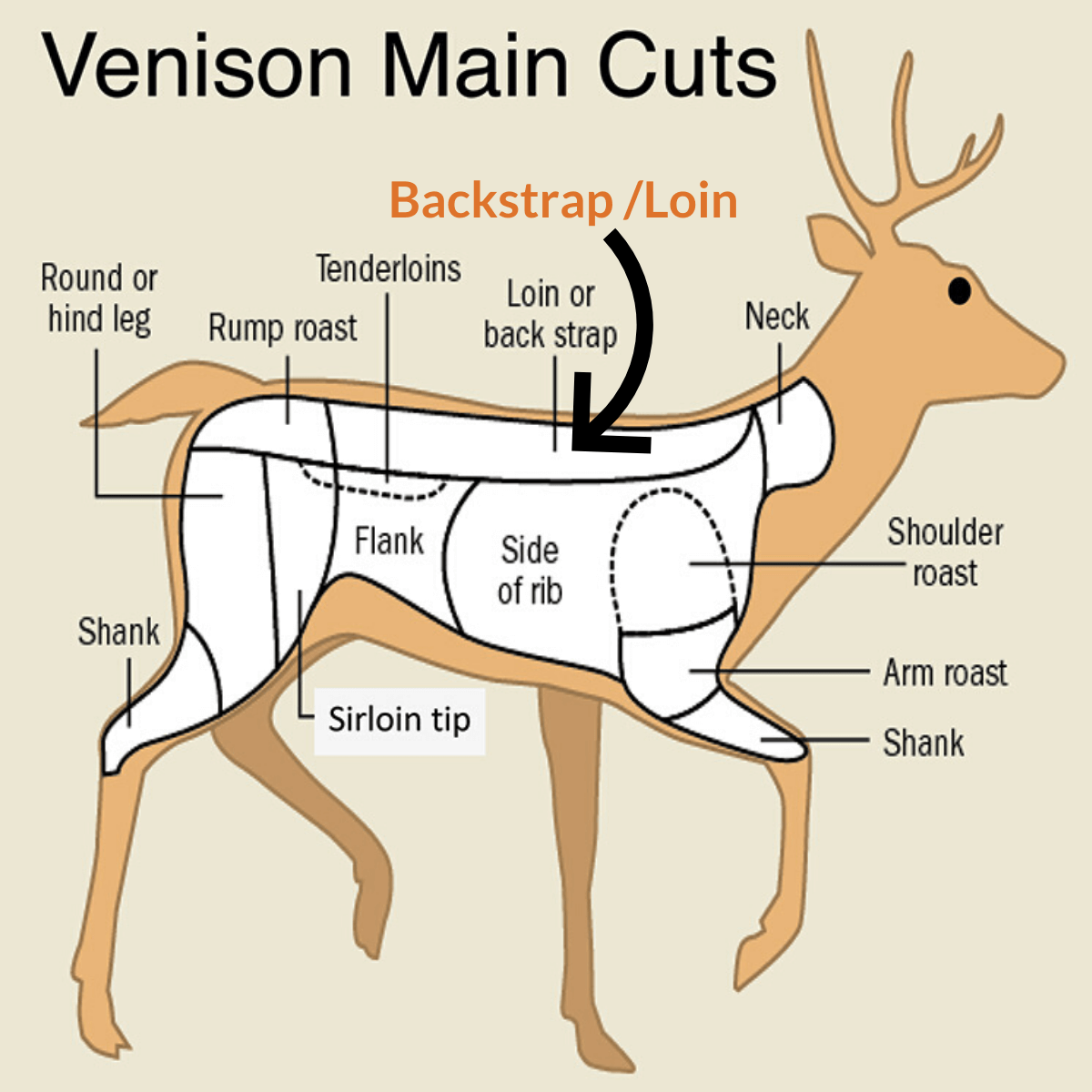 What you need
You won't need anything fancy for grilling this delicious and tender cut of meat. A dry rub is basically all you need.
Store List
Venison backstrap or loin -- tied so that it retains it's shape.
olive oil
unsalted butter
kosher salt
black pepper
brown sugar
white sugar
granulated sugar
dried thyme
garlic powder
onion powder
juniper berries, crushed and minced
smoked chipotle
cayenne pepper
red pepper flakes
Equipment
butcher's twine -- tie the loin so it keeps its shape
grill -- cooking
tongs -- for placing and turning venison backstrap
Instant read thermometer -- checking correct temperature
Preparing the backstrap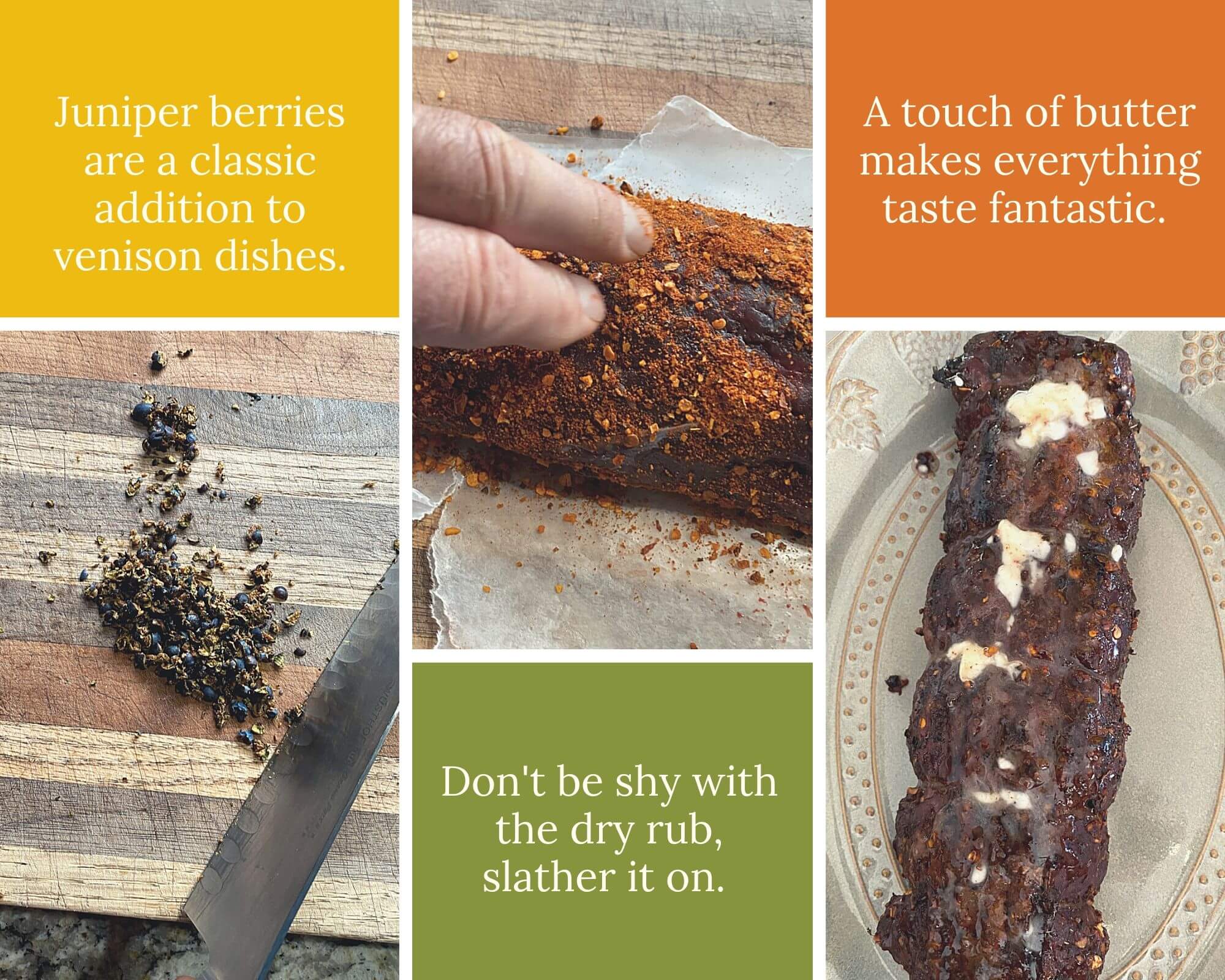 Wild game dry rub
The first thing you'll need to do is make the dry rub. With its woodsy flavors of thyme and juniper, this rub is especially designed for wild game although it works beautifully on beef and pork.
The potent mixture coats the outside of the loin then mingles with the juices as the meat cooks to form a delicious crust. So simple. So very tasty!
Rub and tie
Now is the time when you rub the entire venison loin with olive oil. Once the meat is coated, vigorously massage it with the spicy seasoning. Don't be shy! You want plenty of that potent spicy mix to cover the backstrap.
Tie the loin with butchers twine so that it keeps its shape. Tying makes it easier to flip the loin onto the grill and move it around.
You can do this early in the day. Wrap the seasoned meat with plastic wrap and place it in the fridge. Take the meat out at least one hour before grilling. You want the meat at room temperature. This way the outside gets a delicious crust and the inside is done perfectly.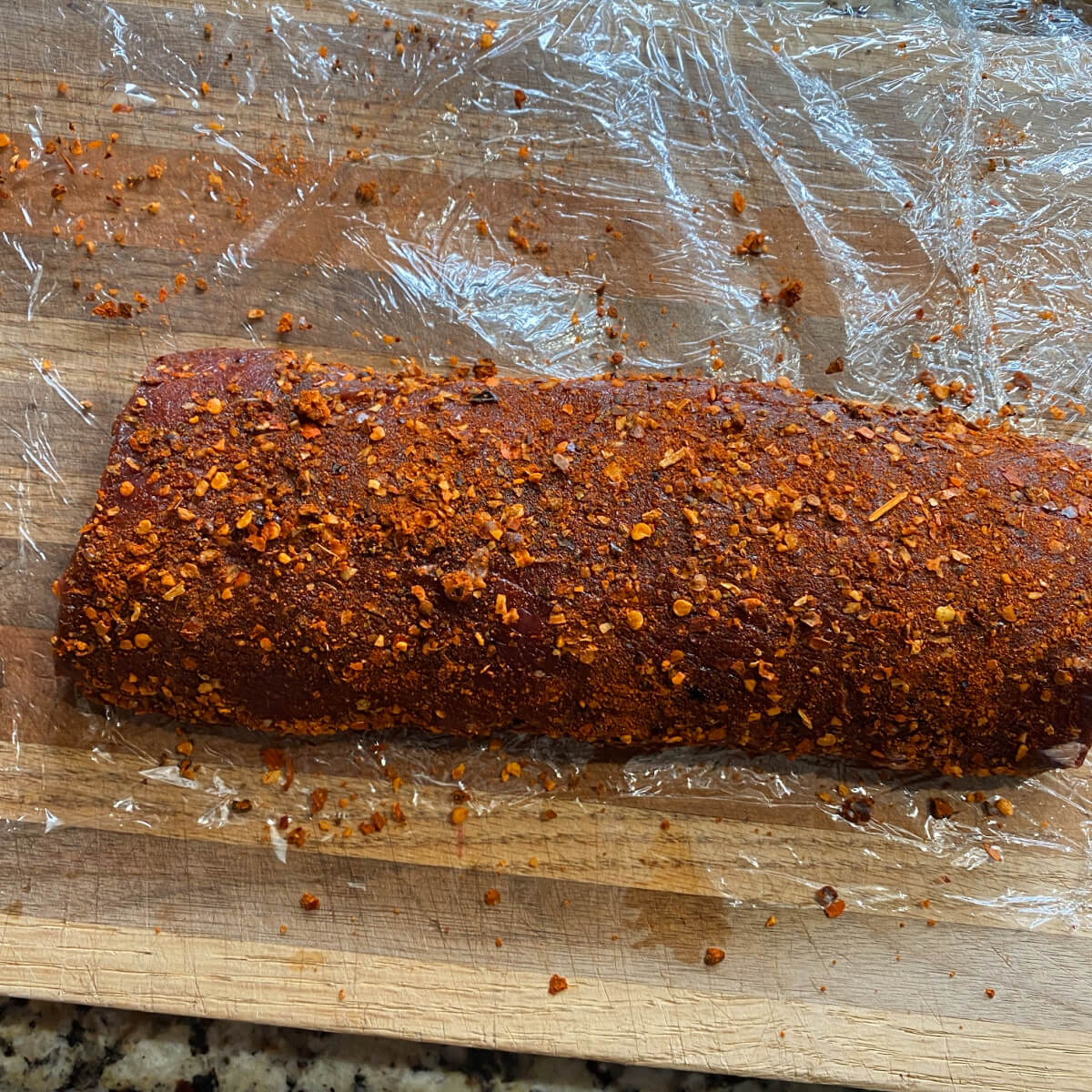 Grilling
Heat the grill to 350℉ to 375℉. This cut of meat is best cooked hot and fast. If you're tempted to cut the loin into medallions -- DON'T. Venison is very lean. It's best if you keep the meat whole so it doesn't dry out.
Clean the grates and lay the venison on the grill. Keep the grill cover open. Let the meat cook about 5 to 8 minutes without moving. This is dependent on how hot your grill is and how thick the venison loin is.
You want a good sear. This is seals the outside keeping the delicious juices in.
Flip and repeat on the other side.
This is a tender cut of meat like our grilled venison steak and should be cooked to rare to medium rare which is 120℉ to 135℉. If you go past that the meat will be dry. We find our ideal temperature is 135℉. Once you let the meat rest it will continue to increase in temperature.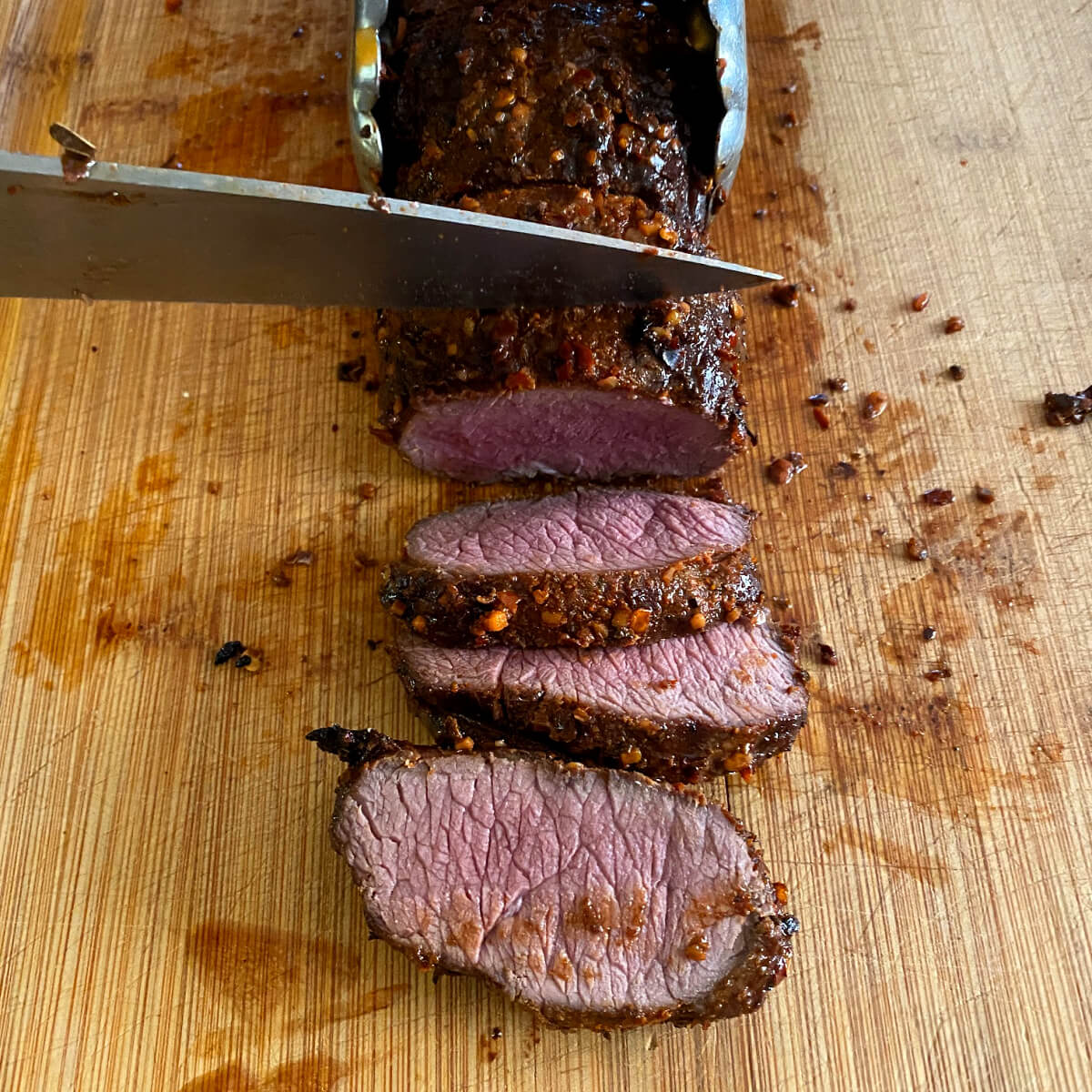 Tent, rest, serve
Take the meat off the fire and place it on a platter. Loosely tent the venison backstrap with foil and let it rest for 10 minutes.
You'll be amazed at how tender the meat is. The loin is so full of flavor with a mild buttery taste. I know your family will enjoy feasting on this delicious meat. If you don't have a hunter in the family, there are places where you can purchase venison. It's truly a real treat!
Tutti a tavolo è pronto!
Un caro saluto e alla prossima.
You may need...
As An Amazon Associate I earn from qualifying purchases.
A roll of Butcher's twine like this is something we always have on hand. We use it with our roasts, rotisserie chicken or when we need some string for something or other.
Thank you for being part of All Our Way!
What's new? check out my All Our Way Store on Amazon. We'll be adding more items we love and use or wish we had to make cooking fun and easy.
Grilled Venison Backstrap Recipe
Don't be fooled into thinking that you have to do a lot of fancy things to the venison loin in order to have a delicious serving of meat. You could even get away with just salt and pepper. But with this wild game dry rub you'll find that the meat is ambrosial.
Another venison tenderloin recipe we like to serve during the holidays is our Italian Venison Wellington. So good you'll want to keep this a tradition.
And if you're looking for a delicious marinade for your wild game, try the marinade we use on our Marinated Venison Steak and Potatoes that we cooked on the grill.
If you like this recipe please give it a 5-star rating.
📖 Recipe
Grilled Dry Rubbed Venison Backstrap
Venison Backstrap or loin is thinly coated with olive oil then rubbed with a spicy seasoning featuring hot peppers, chipotle, herbs, and crushed juniper berries. The hot grill seals the outside leaving the inside meat juicy and tender.
Print
Pin
Rate
As An Amazon Associate I earn from qualifying purchases.
Ingredients
Wild Game Dry Rub
¼

cup

kosher salt

¼

cup

black pepper

¼

cup

smoked paprika

1

tablespoon

brown sugar

1

tablespoon

granulated sugar

2

tablespoon

dried thyme

2

tablespoon

garlic powder

1

tablespoon

onion powder

1

tablespoon

juniper berries

crushed and minced

1

tablespoon

red pepper flakes

2

teaspoon

chipotle powder
Meat
2

lbs

venison backstrap

2

tablespoon

olive oil

2

tablespoon

butter

unsalted
Instructions
Dry Rub
Combine all the ingredients in a bowl and mix well.

For the best results, use your fingers to distribute the crushed juniper throughout the rub.

This makes quite a bit. It's enough for about 8 to 10 pounds of meat.

Keep away from heat and light and it will last for about 6 months.
Prepare Meat
Rub olive oil all over the meat.

Massage the rub onto the meat.

Tie the meat so that it retains it shape.

You can prepare the loin early in the day and keep covered in the fridge. Remove from the refrigerator an hour before grilling. The meat should be at room temperature.

Preheat the grill to 350℉ to 375℉.

Clean the grates and lay the venison on the grill. Keep the grill cover open.

Let the loin cook for 5 to 8 minutes without moving. This depends on how thick the venison loin is. You want a good sear on the outside so that the juices will seal in.

Flip and repeat on the other side.

Check with an Instant read thermometer. Rare is 120℉ and medium rare is 135℉. We find our ideal temperature is at 135℉. Don't forget that the meat will continue to rise in temperature when you take it off the heat.

If the venison needs more time, turn it to the sides that haven't been directly exposed to the heat. About another 2 to 3 minutes.

Remove the meat from the heat and and drop dollops of butter on top of the meat. Loosely tent it with foil for 10 minutes.

Slice and serve immediately.
Notes
The caloric content will be off because you don't use all of the rub. Venison is very lean and lower in calories than beef.
Nutrition
Calories:
338
kcal
|
Carbohydrates:
18
g
|
Protein:
37
g
|
Fat:
14
g
|
Saturated Fat:
5
g
|
Cholesterol:
139
mg
|
Sodium:
4868
mg
|
Potassium:
808
mg
|
Fiber:
6
g
|
Sugar:
5
g
|
Vitamin A:
3031
IU
|
Vitamin C:
1
mg
|
Calcium:
103
mg
|
Iron:
9
mg
Sign up for the emails and never miss another recipe!!
We'll never share your email or send you spam. Promise
Note: Recipes and content from © 2014-2020 All Our Way are copyright protected. Please do not use content or recipe without prior written permission. If you want to share the information, please link to this post. Grazie.