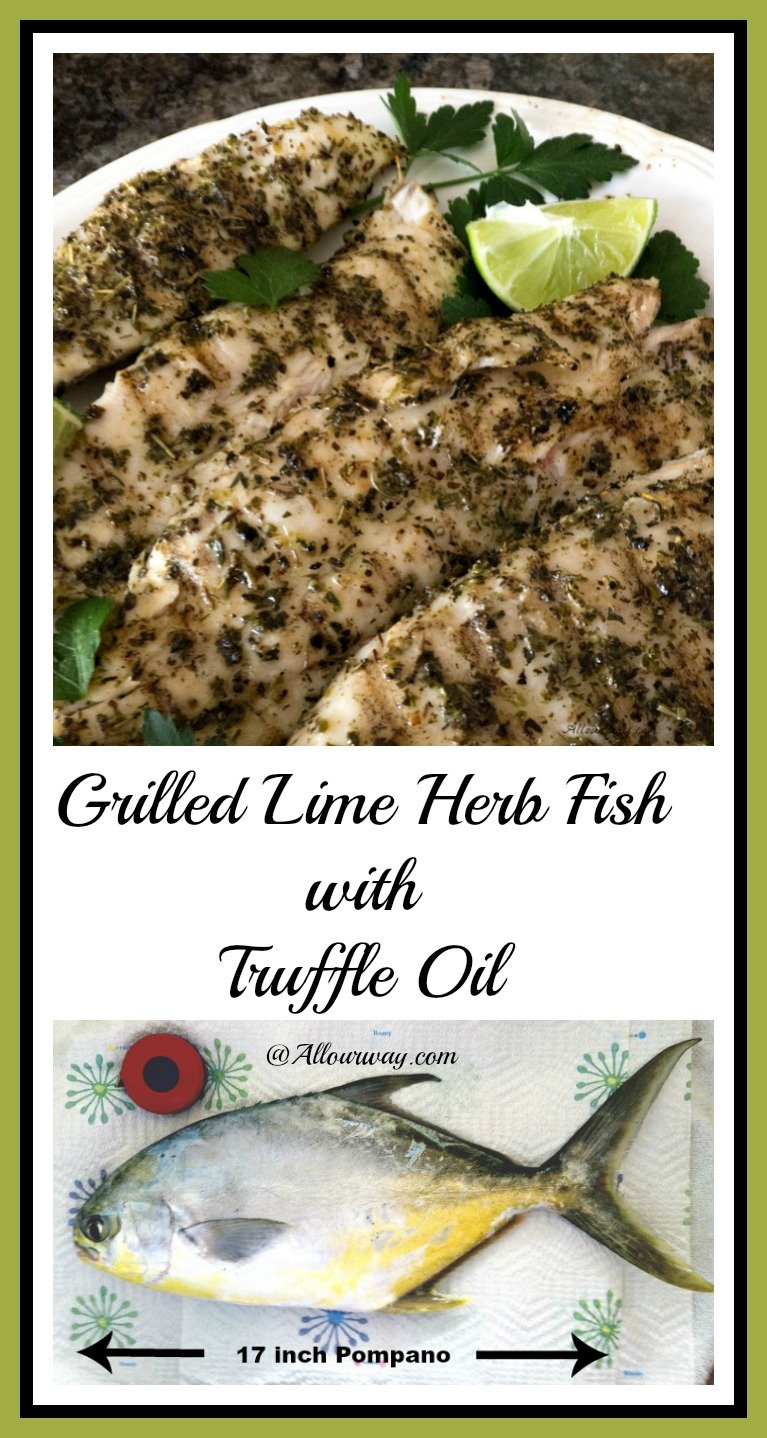 Grilled Lime Herb Fish with Truffle Oil was the recipe we had been wanting to make for dinner, all we had to do find was catch the fish. After hours of fishing, a nice sized pompano volunteered to be the star for our recipe.
He was perfect. A firm-fleshed fish we could first season with an Italian herb blend, salt and pepper, toss on the grill, then finish with a light squeeze of fresh lime juice and a sprinkle of truffle oil. Perfectly delicious!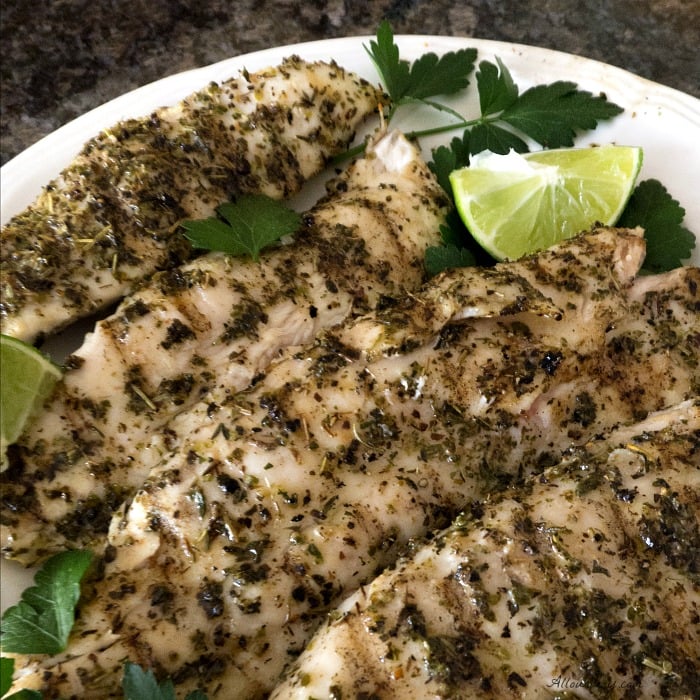 Jump to:
It's called fishing not catching
Let me tell you about the day Mr.Pompano decided to "take the bait". We had almost given up hope of seeing a fish at the end of the fishing line. The shore was thick with fog -- you couldn't even see the line.
But, all of a sudden, a mighty hungry pompano, determined to grab the shrimp on the hook, gave a strong jerk and tried to make a fast getaway.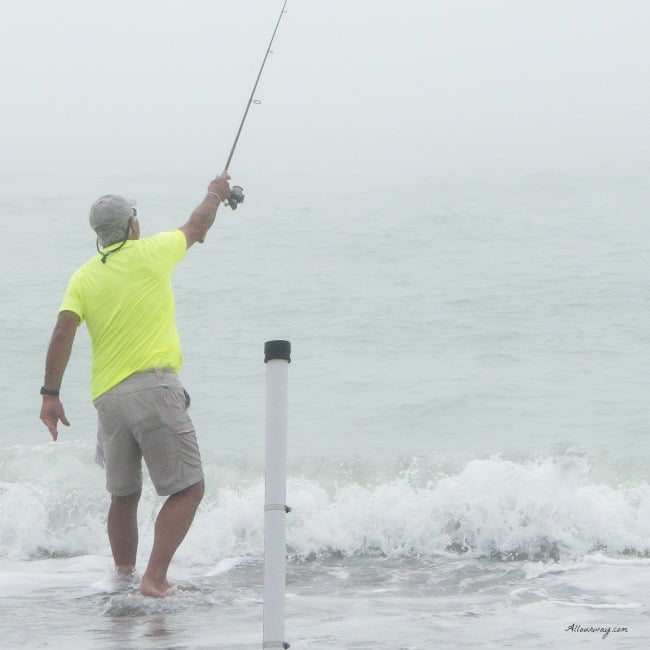 My Honey didn't need to see the line to know that there was a strong fish at the end of it. His rod had bent almost in half. The pompano was fighting mad and he wasn't about to give up his food.
Pompano are very strong fish and they don't cry uncle easily. In the end, my Honey reeled him in to the shore and let him "cool off" over our ice pack in the cooler.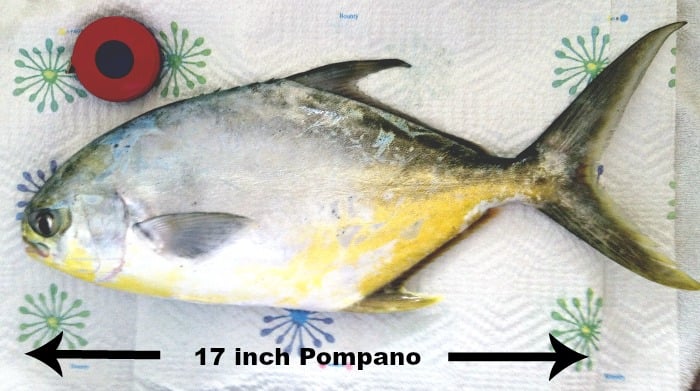 Best way to cook fish
It's best to cook fish as whole as possible. The flesh of the fish is low in collagen --which is the protein -- but the skin and bones are loaded with it. When the fish is cooked with the skin and/or bones, the collagen melts into the flesh.
Another plus for leaving the fish as whole as possible is that there is less chance of overcooking. When Honey cleaned the pompano for our grilled lime herb fish he left the skin on but removed the bone. He also removed the blood vein that runs through the flesh.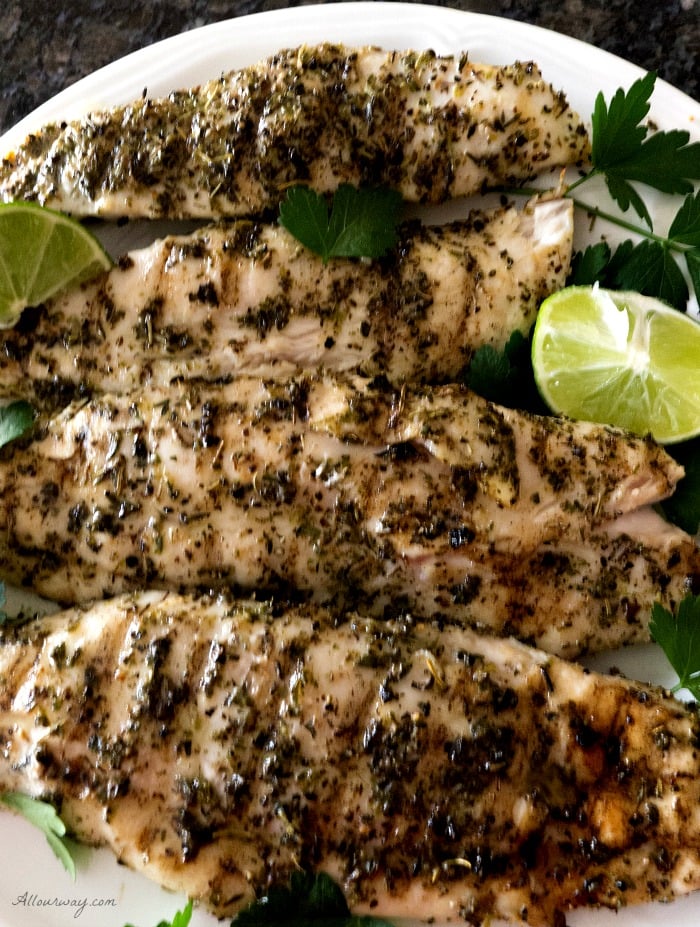 Type of fish for grilling
The type of fish ideal for grilling is a fatty fish or the moderately fatty fish.
Fatty fish types:
pompano
mahi mahi
sardines
wahoo
carp
mackerel
Moderately fatty fish
tilapia
salmon
swordfish
tuna
trout
walleye
There are a lot more in both groups, so before grilling, I'd make sure it wasn't a lean fish. A lean fish benefits from a wet-cooking method such as poaching or steaming as we did with our Cod with Mushrooms, Garlic, Vermouth or our Mediterranean Cod.
The importance of the fish cooking method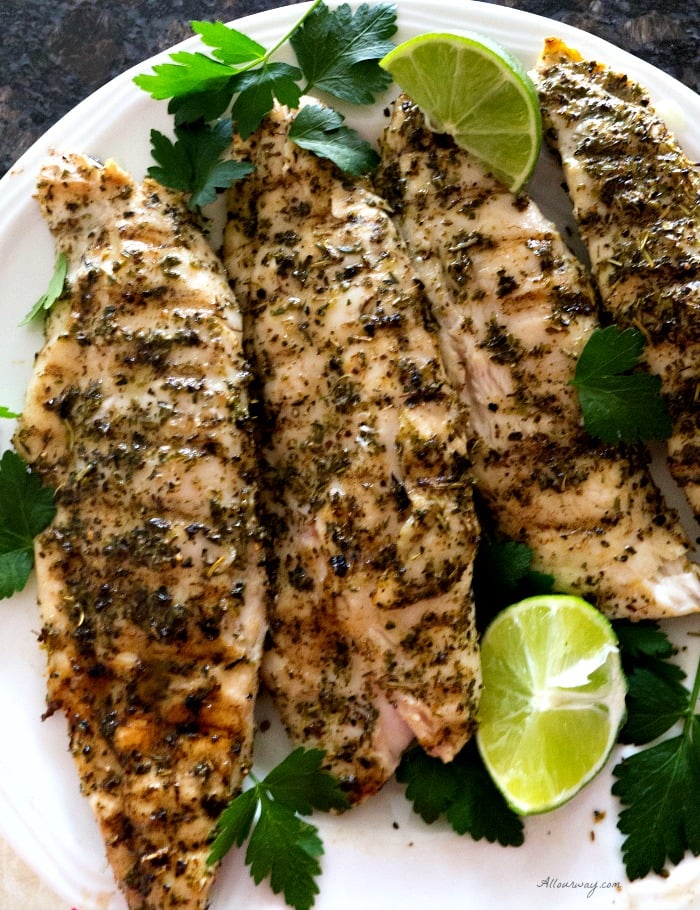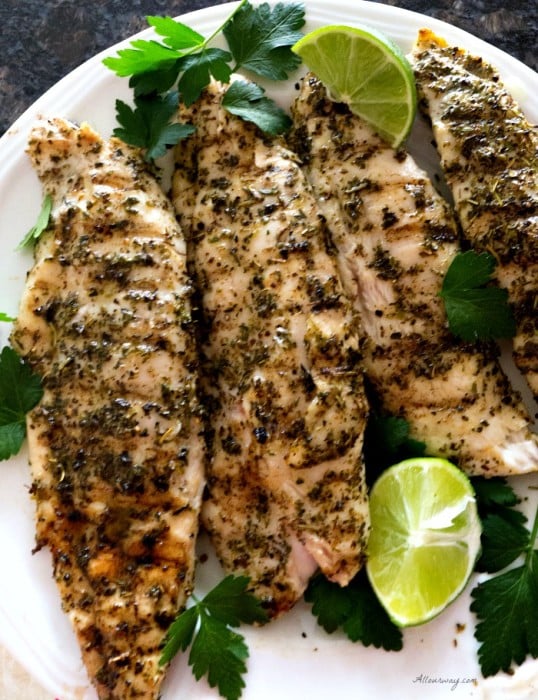 Flounder is another fish that Honey catches often and that is considered a lean fish so we never grill it. The Grilled Lime Herb Fish with Truffle Oil recipe is ideal for any of the fatty or moderately fatty fish. Tasty yet simple.
FAQs
These are questions we are often asked about gilling fish.
What is the best way to cook fish on the grill?
The easiest and best way to do it is to put the fish skin side down over the heat.
What fish is best for grilling?
Fatty type fish are best. A good example is salmon and firm, thick white fish like sea bass, red snapper, grouper and halibut are the best types of fish to grill. If you would like to grill thin, delicate fish, it is best to wrap them in foil instead of using this method.
How long should a fish be grilled?
The cooking time depends on the thickness of the cut. A fish should be grilled for a total of 8-10 minutes per inch of thickness. Fish cook faster than dense meat you find in beef, pork, game meat, poultry.
Do you put the fish directly on the grill?
Fish such as tuna, salmon, halibut, and swordfish, whose meat texture is more like beef or pork, can be grilled directly on the grate. More delicate fish, such as tilapia, sole, and flounder, do better when grilled in a foil packet or grill basket.
It's important to know the fish
I know there are a lot of people who don't care for fish: either because it tastes "fishy" or they only eat the fish stick variety and don't care to experience fish dishes. The type of fish and the method of preparation is essential for enjoying a delicious fish meal. We added the truffle oil as a finishing touch because we already had some of the dark and light truffle oil.
I am really glad we decided to sprinkle it on because it gave the fish a rich earthy taste. If you don't have any truffle oil, don't worry the recipe will still be delicious, try adding just a touch of olive oil. The recipe for Grilled Lime Herb Fish with Truffle Oil takes little time to prepare and grill and it's healthy for you -- believe me, you won't be disappointed!
Tutti a tavola è pronto!
Un caro saluto e alla prossima.
You may need...
As An Amazon Associate I earn from qualifying purchases.
If you want to take your dishes to a gourmet level, White and Black Truffle Oil on your finished dish will do just that. We've sprinkled it on steak, oh-so-yummy, fish, chicken, and pork. All it takes is just a little dash. Try it and see for yourself.
What's new? Check out my All Our Way Store on Amazon. We'll be adding more items we love and use or wish we had to make cooking fun and easy.
Thank you for being a part of All Our Way!
Grilled Lime Herb Fish With Truffle Oil
If you'd like to know a bit more about the area we like to fish, check out the post featuring Venice Florida. And if you'd like to try to grill a steak type fish, try our recipe for Grilled Marinated Swordfish that is simply outstanding!
📖 Recipe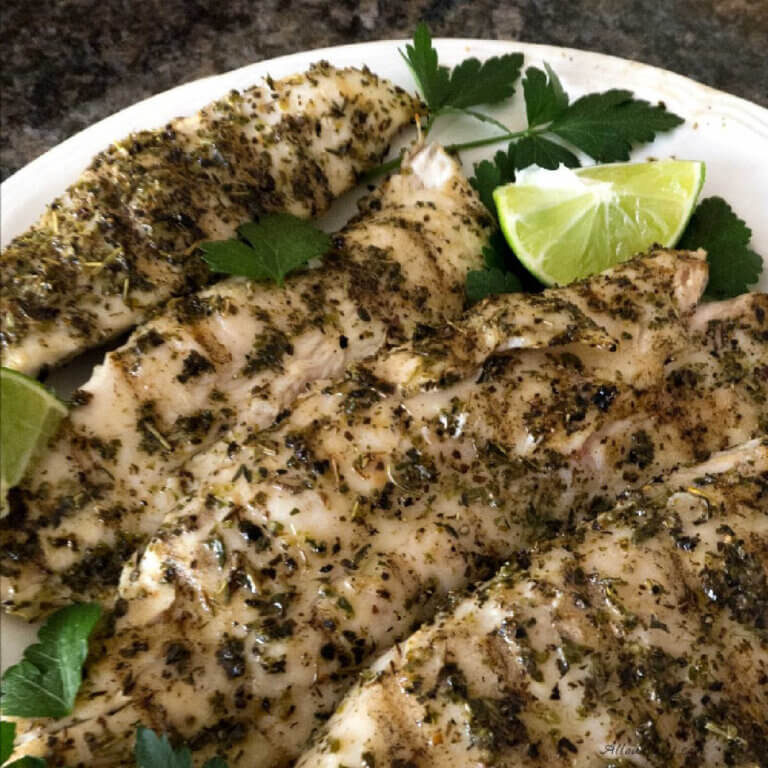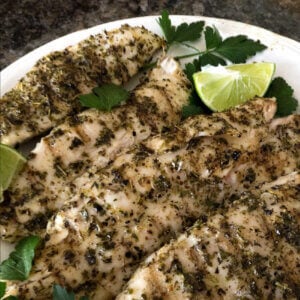 Grilled Lime Herb Fish with Truffle Oil
Fish fillets are seasoned with Italian Herbs, salt, pepper, before they are grilled. When they are finished a splash of freshly squeezed lime juice and a light drizzle of truffle oil gives the fish a rich citrus taste.
Print
Pin
Rate
As An Amazon Associate I earn from qualifying purchases.
Ingredients
4 - 8-

ounce

fillets

for grilling be sure you use a fatty or moderately fatty fish -- we used pompano If at all possible leave the skin on.

3

Tablespoons

vegetable oil

Salt and freshly cracked black pepper to taste

1

Tablespoon

of dried Italian seasoning blend

2

Limes

halved

2

Tablespoons

chopped parsley

Truffle oil for drizzling or use extra virgin olive oil
Instructions
Rub the fillets with vegetable oil and season with salt, pepper and Italian seasoning blend.

Grill the fillets skin-side up over medium-hot fire for 3 to 4 minutes. Flip them and cook an additional 2 to 3 minutes, until the fish is opaque all the way through.

Remove the fillets from the fire, squeeze a half lime over each fillet, drizzle some truffle or olive oil over them and then sprinkle with parsley.

Serve immediately
Notes
Inspired by The Thrill of the Grill: Techniques, Recipes, & Down-Home Barbecue.
Nutrition
Calories:
174
kcal
|
Carbohydrates:
5
g
|
Protein:
16
g
|
Fat:
11
g
|
Saturated Fat:
9
g
|
Cholesterol:
37
mg
|
Sodium:
48
mg
|
Potassium:
412
mg
|
Fiber:
2
g
|
Sugar:
1
g
|
Vitamin A:
240
IU
|
Vitamin C:
13.3
mg
|
Calcium:
47
mg
|
Iron:
1.1
mg
Sign up for the emails and never miss another recipe!!
We'll never share your email or send you spam. Promise
First published November 4, 2017.