Baked Cod Puttanesca is such a quick and easy recipe we're almost embarrassed to post it. But we found the dish so delicious, we just had to share. Picture this, cod fillets bake on a bed of a spicy tomato sauce that's boosted in flavor with kalamata olives, capers, anchovies, and red pepper flakes.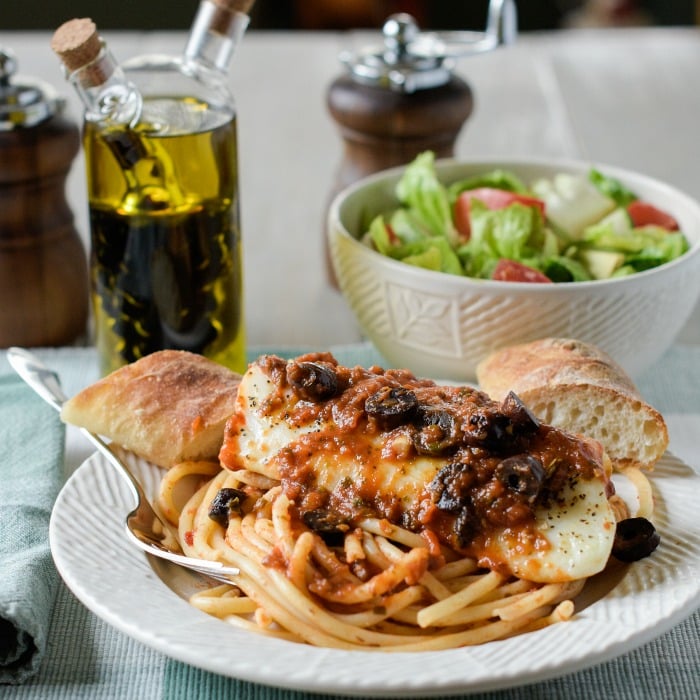 Jump to:
Baked seafood an easy meal
There are so many types of seafood that you can bake. We like using cod fish because it's reasonably priced. When you think of cod, how do you think of preparing it? Fried, right?!
Okay, to be honest, it's delicious fried (isn't everything?), but we enjoy baked cod just as well.
We've made Baked Cod Puttanesca, no less than five times in the past two months. Believe me; we're still not tired of it!
We don't know why we never thought of making the cod with a puttanesca sauce before now!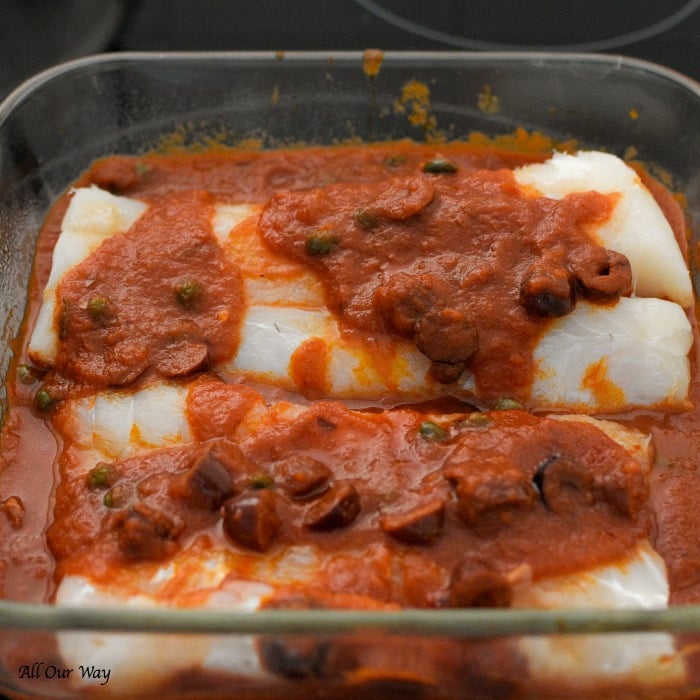 Baked cod shortcut
The shortcut we use for our baked cod is to start off with homemade marinara sauce. When we make marinara sauce, we make a LOT of it.
We freeze it in quart containers, and although it's great by itself, it's a fantastic springboard for other recipes. We'll be posting our marinara recipe soon and additional sauces you can make with it.
Now, if you don't have any tomato sauce made up, use your favorite jar variety. I won't judge. I'll admit to opening up a jar or two in a pinch. ?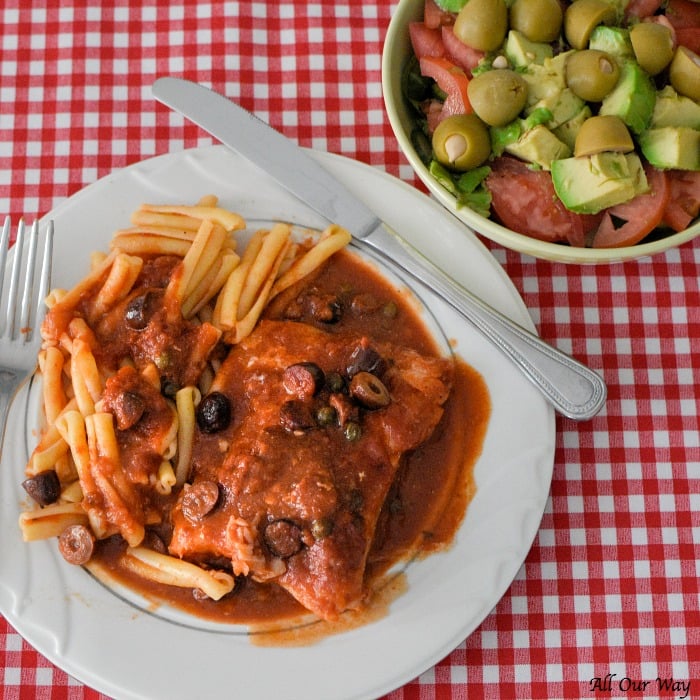 Add ingredients to sauce
In a pan, sauté some anchovy in a little olive oil. Now, don't turn up your nose at anchovies. You can't taste them, and it gives the sauce a deeper flavor. In fact, the anchovies melt away in the oil.
Next, you add a few red pepper flakes to the oil and after about 30 seconds pour in your prepared tomato sauce. Once the sauce warms up, add the sliced Kalamata olives, and capers to the pan.
Pour the sauce into an oven-proof glass dish. We preheat the oven to 400 °F.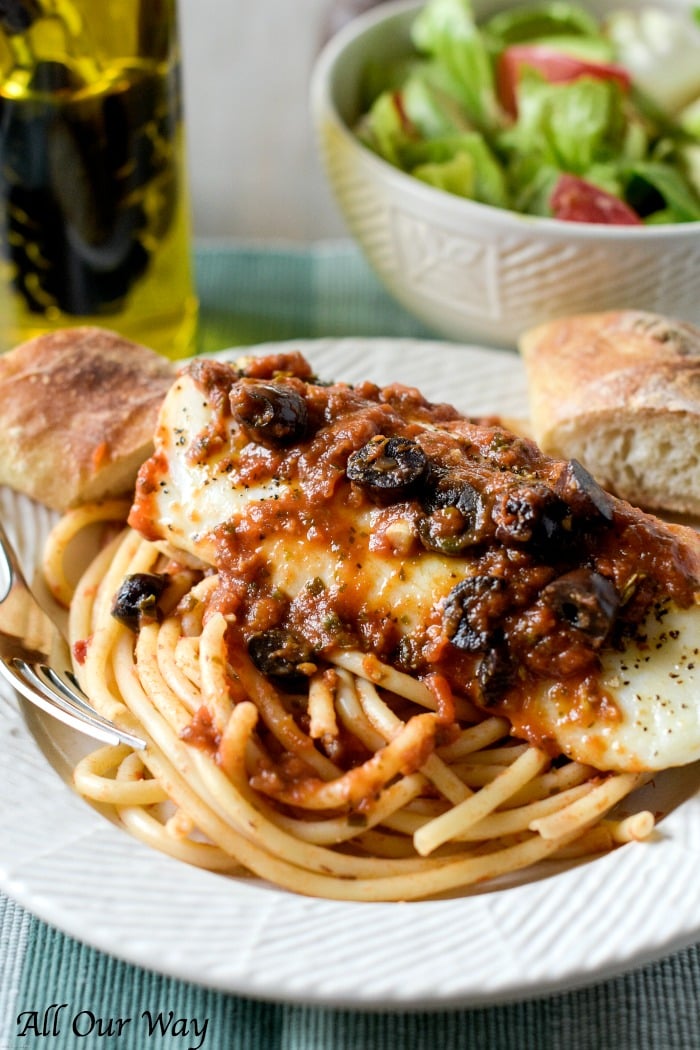 Prepare the cod for baking
Before seasoning the fish, blot the cod with paper towels to get some moisture out of the fillets. Baste the cod with olive oil, then salt and pepper to both sides of the fillets (q b - quanto basta).
Arrange the fillets on top of the sauce then transfer the baking dish to the oven and bake until the fish cooks, about 10 to 15 minutes.
Top the fish with the puttanesca sauce. Be sure to have some Pugliese bread or our ciabatta; you'll need a scarpetta (bread slice) for soaking up the sauce.
You can serve the baked fish over pasta but we've also served it over farro, or even just with toasted artisan bread on the side.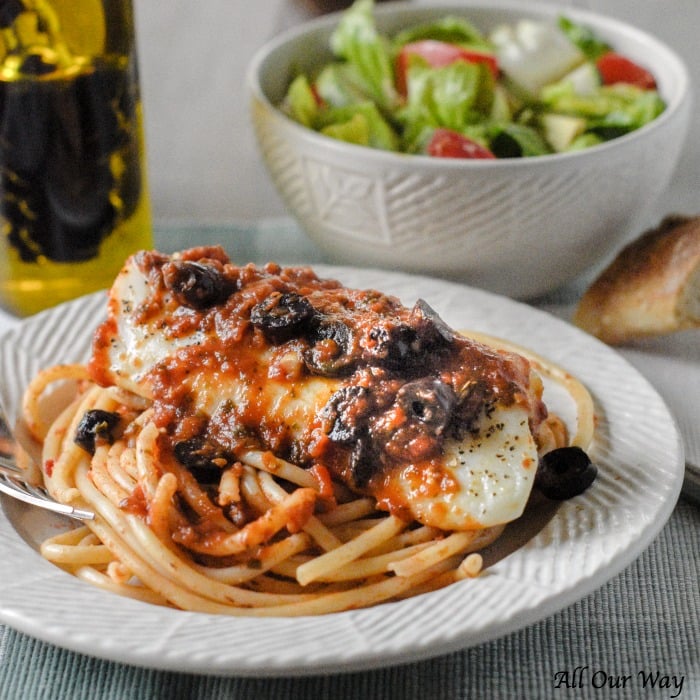 Believe me; your family won't complain when they get a taste of this delicious baked cod puttanesca.
Next time try making a Spicy Basil Grape Tomato Sauce that is quick and easy. A great way to use up those cherry or grape tomatoes.
If you love seafood, you'll enjoy these easy tasty fish recipes...
Roasted Salmon With Leeks, Shiitake, & Arugula Salad -- An easy one pan meal that you can make in less than 30 minutes.
Fresh Tuna With Caramelized Onions -- Quick pan fried tuna served medium rare with sweet caramelized onions.
Tuna Steaks Alla Genovese -- One-pan meal that quickly browns the tuna then makes a rich porcini wine sauce.
These seafood recipes are so good they are company worthy. You won't get any better in a restaurant.
Tutti a tavola è pronto!
Un caro saluto è alla prossima.
Be sure to sign up for our newsletter - we have lots of exciting posts coming up.
📖 Recipe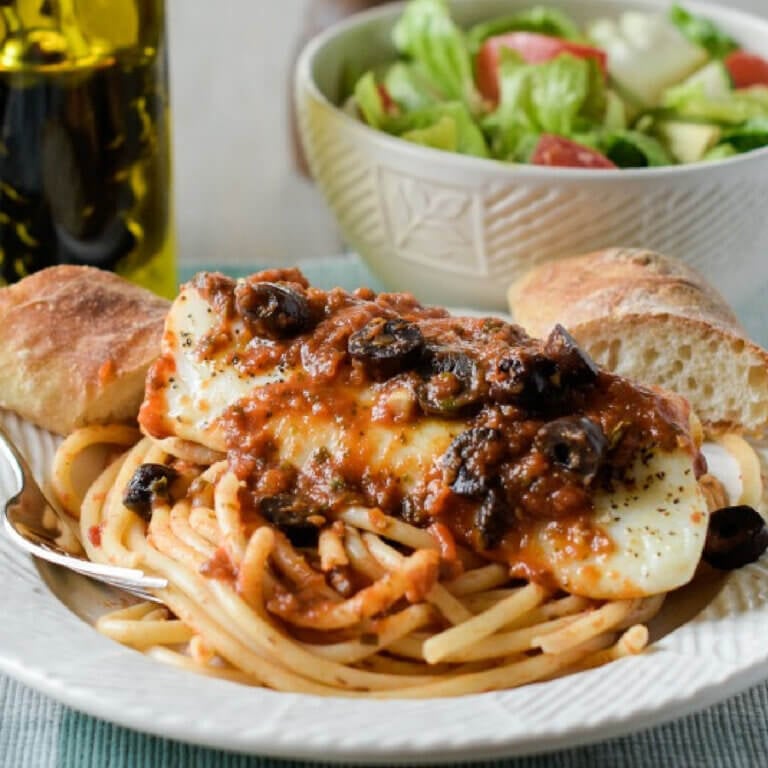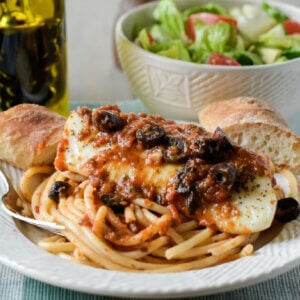 Baked Cod Puttanesca | Seafood with an Italian Spicy Tomato Sauce
Baked cod puttanesca is an quick and easy seafood dish that uses prepared sauce and makes it spicy by boosting it with kalamata olives, capers, and red pepper flakes. Full of flavor but low in calories.
Print
Pin
Rate
As An Amazon Associate I earn from qualifying purchases.
Ingredients
4

cod fillets (about 1 ½ inches thick 6 ounces each.

1

Tablespoon

extra-virgin olive oil + a little more basting the cod

3

anchovy fillets

3

cups

prepared homemade marinara sauce or your favorite jarred marinara sauce

½

cup

pitted kalamata olives

halved

2

Tablespoons

capers rinsed in cold water

⅛

teaspoon

red pepper flakes or more if you like it spicier

Kosher salt and freshly ground pepper

Optional: 4 1-inch-thick slices ciabatta bread brushed with olive oil and baked in oven until golden brown

10 minutes.
Instructions
Preheat oven to 400 F.

Meanwhile, heat 1 Tablespoon olive oil in a sauté pan over medium-high heat. Add the anchovies and cook, stirring often, until the anchovies break down, about 2 minutes. Add the pepper flakes and continue to stir.

Pour in the prepared marinara sauce and heat to a simmer. Add the olives and capers and simmer for 2 minutes.

Prepare the cod by using paper towels to blot the excess moisture from the fillets. Brush the fillets on both sides with olive oil. Season the fish with salt and pepper.

Pour the sauce in a glass oven proof casserole and place the fish on top of the sauce. Spoon a little bit of sauce over the fish.

Transfer the casserole to the oven and bake until the fish is just cooked through, 10 to 15 minutes. ** see notes.

Serve with pasta, farro, or bread topped with the fish and puttanesca sauce.
Notes
** Depending on the thickness of your fillets, it may take a little longer for the fillets to cook. The flesh should be white and flakey.
Inspired by: Cod puttanesca in Food Network Magazine March 2017
Nutrition
Calories:
105
kcal
|
Carbohydrates:
10
g
|
Protein:
3
g
|
Fat:
6
g
|
Cholesterol:
2
mg
|
Sodium:
1340
mg
|
Potassium:
619
mg
|
Fiber:
3
g
|
Sugar:
7
g
|
Vitamin A:
880
IU
|
Vitamin C:
12.9
mg
|
Calcium:
37
mg
|
Iron:
2.1
mg
Sign up for the emails and never miss another recipe!!
We'll never share your email or send you spam. Promise
Note: Recipes and content from © 2017 All Our Way are copyright protected. Please do not use content or recipe without prior written permission. If you want to share the information please link to this post. Grazie.