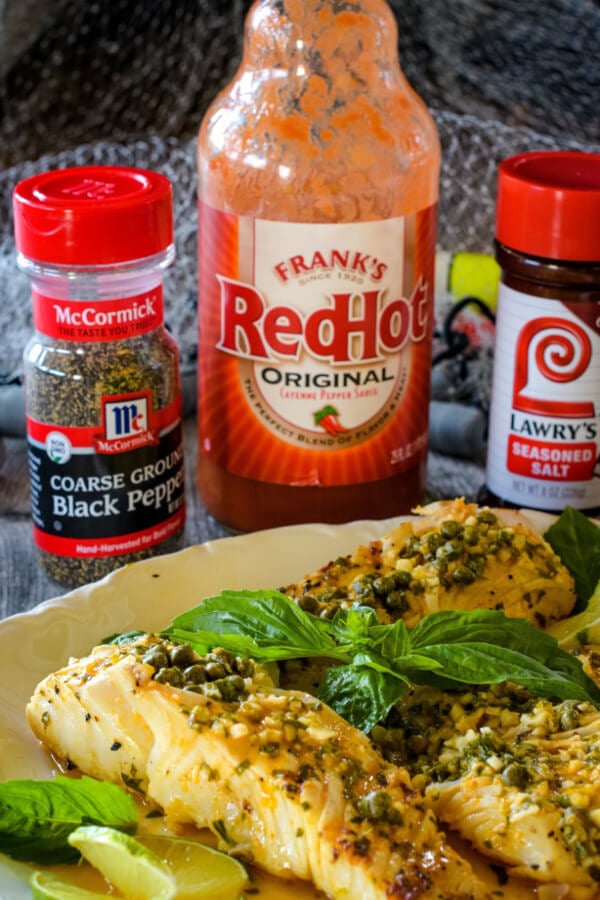 We wanted to start our summer grill season with Lime Herb Grilled Halibut. Halibut not only lends itself to almost any flavor profile but it's an ideal entree for family and guests. You can't find better summer flavors than fresh herbs and citrus? It's easy to keep your grilled fish juicy and flavorful. Great seasonings plus a fantastic marinade is all it takes. Our marinade made of fresh lime juice, capers, basil, and hot sauce gives the halibut the ideal zing that elevates your family and friends grilling experience from okay to WOW!
Next time try the Mahi Mahi marinade on your seafood.
For this recipe you will need: lime juice, olive oil, garlic, Frank's® RedHot® Sauce, fresh basil, capers, Lawry's® Seasoned Salt, McCormick® Black Pepper, 4 Halibut Fillets or Steaks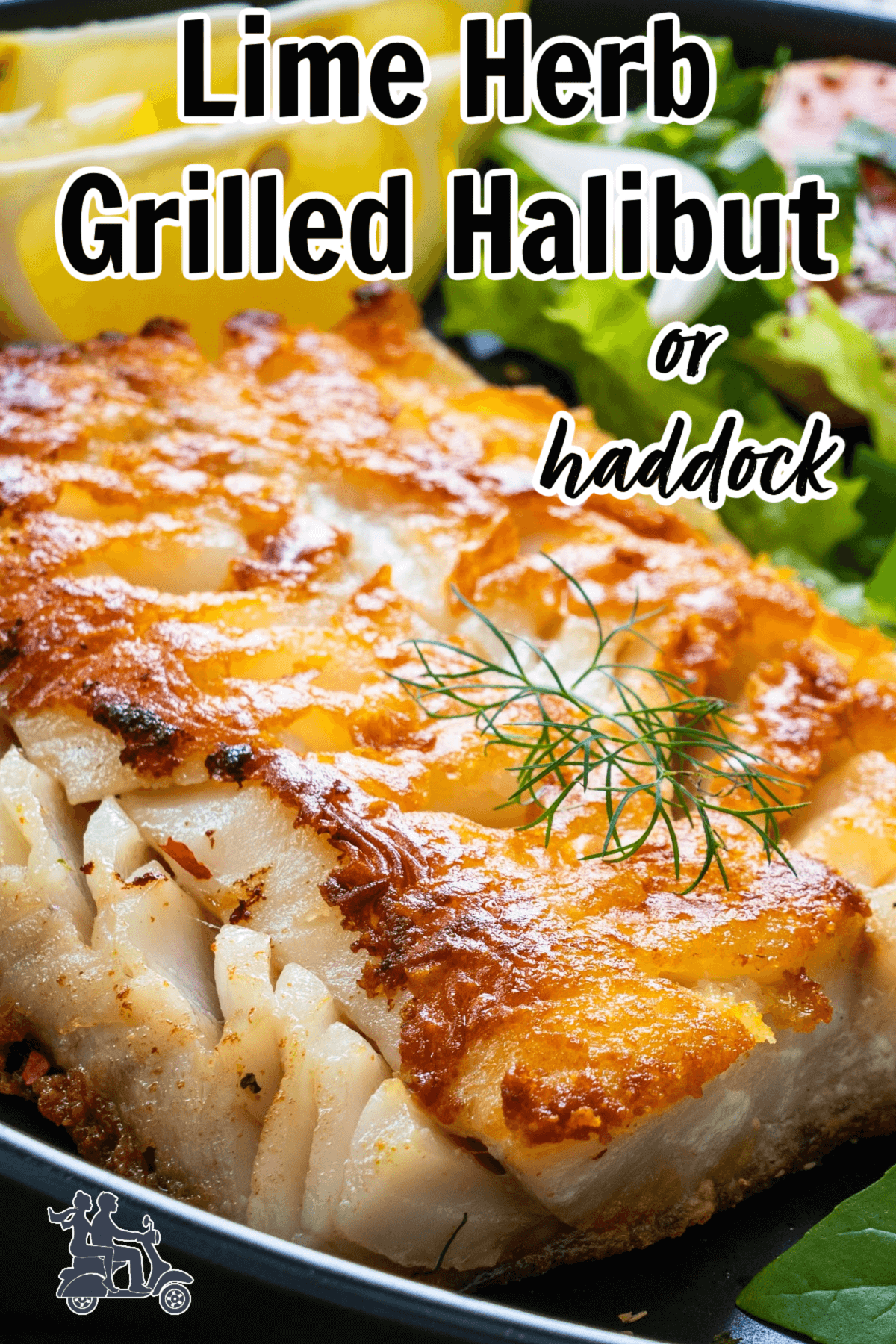 Secrets to fantastic summer grilling
The saying that your food is only as good as your ingredients is so true. When we plan on entertaining we make a list of what we need and make a one-stop shop at our favorite grocery store. It's a real timesaver.
For our grilled halibut we needed the fresh lime and basil which we found in the produce department. Then, for the rest of the ingredients we wheeled our cart down to the condiments department.
Seasoned salt: a magical spice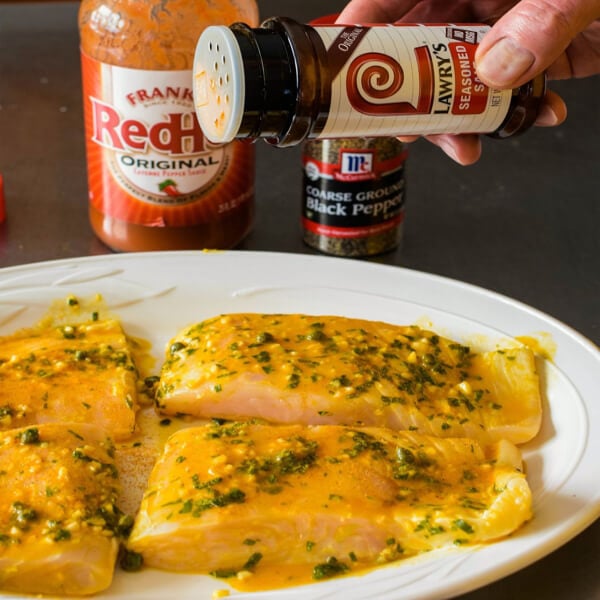 Using a seasoned salt is a huge timesaver. All you need is one shaker.
There we found the spices that we needed. We had a jar of garlic salt with parsley but for our citrus grilled fish, we wanted the Seasoned Salt like Lawrey's. Our daughter's family calls this salt "pixie dust" because everything you sprinkle it on tastes magically good.
We like this one because it's no ordinary seasoning, it's a blend of salt, herbs and spices, giving a unique flavor to anything you sprinkle it on.
Coarse black pepper tastes like freshly ground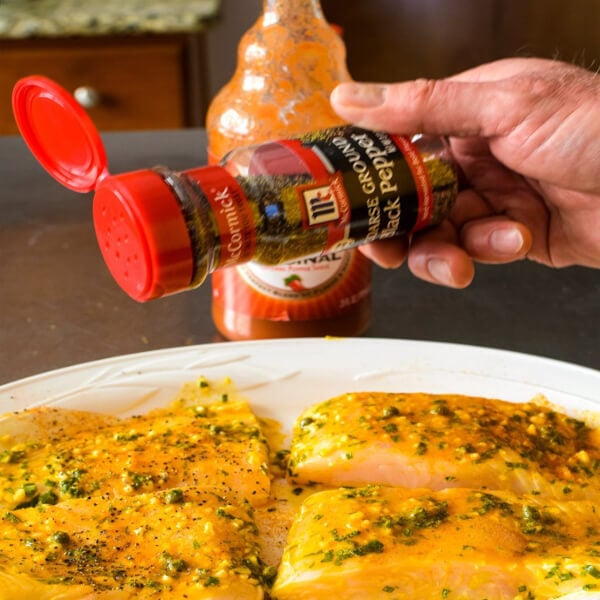 Until I started buying small containers of coarsely ground black pepper I was picking up those humongous plastic containers you find in membership stores. I didn't realize what was missing.
When I tasted the grilled halibut, the sharp fiery pepper flavor shined through. That kick certainly never happened with my stale pepper. There is a lesson learned here, get the best quality you can and I certainly found it here.
Hot sauce is an indispensable staple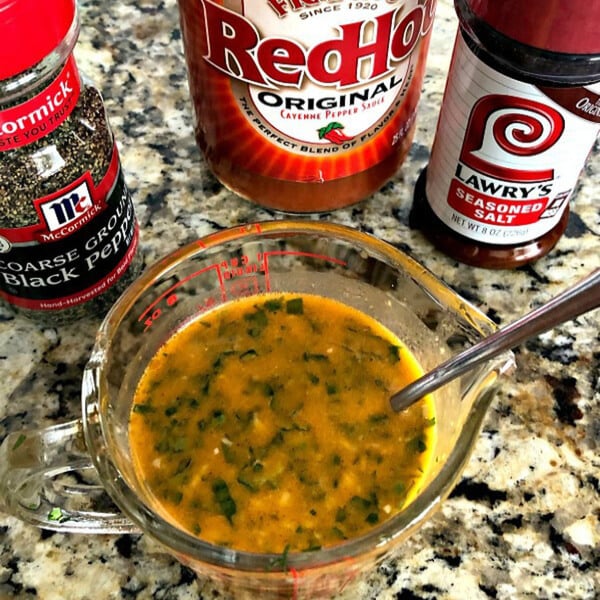 We use so much hot sauce we buy it in huge bottles. We use it for seasoning, marinades, and pour it on anything else we can think of. Yes! I said pour, we don't just put on a dash.
In fact, unless the family member is under five, we are all the same.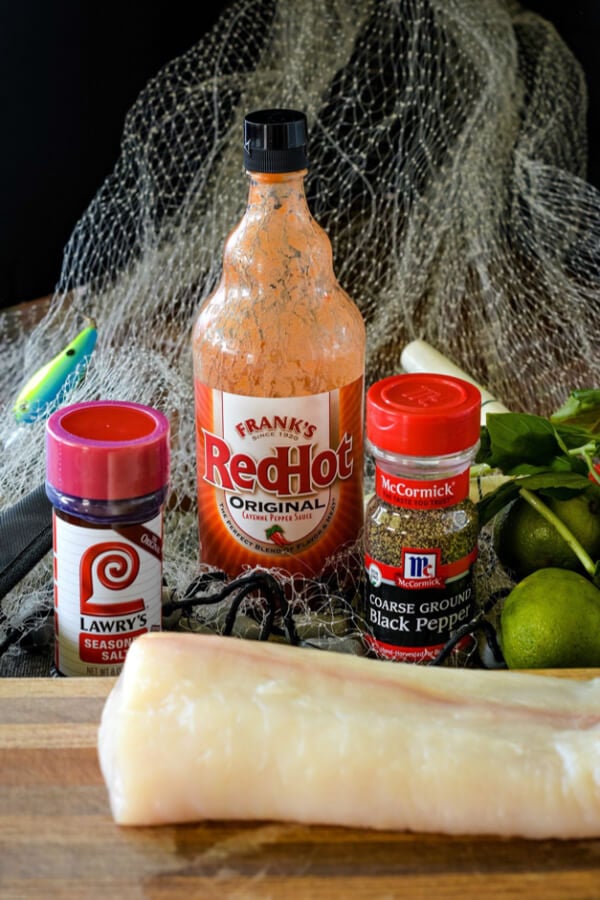 So, when we decided to make our citrus grilled halibut, we knew that we'd use some of our hot sauce in the marinade. We know it will taste good because the only seasoning we use on our grilled chicken is a deep soak in this delicious sauce.
This is one sauce that can go from breakfast to dinner. Find your own favorite special hot sauce and see if you don't want to keep a huge supply in your pantry.
Start with the citrus marinade for grilled halibut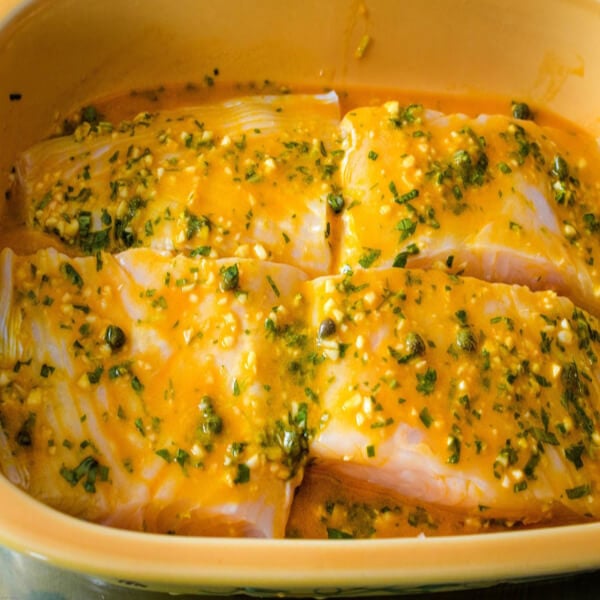 The recipe for the lime herb marinade makes enough to marinate the halibut and then enough to drizzle over the grilled fish.
Assemble the marinade in a blender or food processor
Zest a lime.
Squeeze the lime for fresh juice.
Mince the garlic.
Measure the olive oil.
Add the the hot sauce
Mix the ingredients until blended. Stir in the fresh minced basil and rinsed capers. Place the fish in a single layer in a flat glass casserole or resealable bag and pour half of the marinade over the fish. Cover with plastic wrap and refrigerate for 30 minutes.
Ready to grill the fish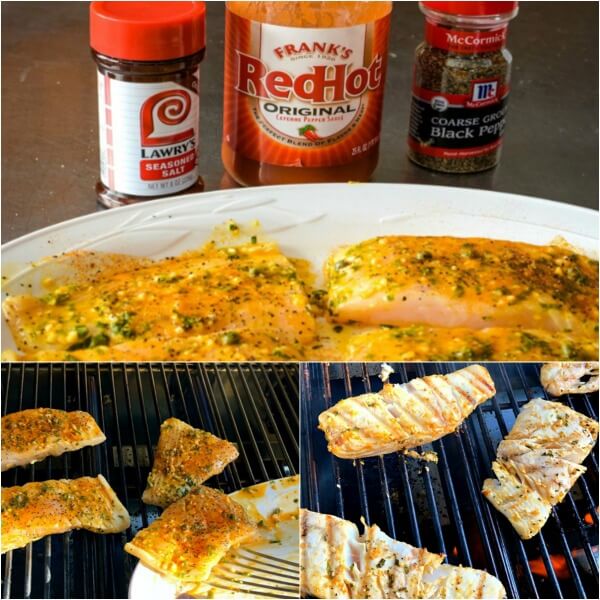 When you're about ready to entertain, remove the fish from the fridge and the marinade. Place the halibut on a platter and lightly blot the fillets with a paper towel. Discard the used marinade.
Season the fish on both sides with the seasoned salt and the black pepper.
Oil the grill grates or use spray oil on the grates before lighting the grill. Heat the grill to medium high 450 ℉.
Divide the grilled halibut among 4 plates. Stir the remaining citrus marinade and drizzle over the fish. You may want to serve the halibut with additional hot sauce, seasoned salt, and coarsely ground black pepper.
Another mild fish that is delicious marinated with a citrus marinade is The Grilled Pompano recipe. The fish is so delicate the meat is buttery tasting.
We love entertaining, especially when we have a chance to grill our food. These are laid-back moments that makes it easy for us to enjoy.
Here are more grilled seafood recipes you may enjoy...
Grilled Lime Herb Fish With Truffle Oil -- Italian seasoned fish that is grilled then drizzled with truffle oil and a splash of fresh lime juice.
Grilled Marinated Swordfish Italian Style -- Moist and flavorful Swordfish is marinated with fresh herbs, balsamic vinegar, fresh lemon juice, garlic and olive oil.
Grilled Italian Pesto Salmon -- Salmon on the table in less than 30 minutes with a tasty pesto sauce.
These recipes are easy to make but the taste is better than what you find at a restaurant.
Tutti a tavola è pronto!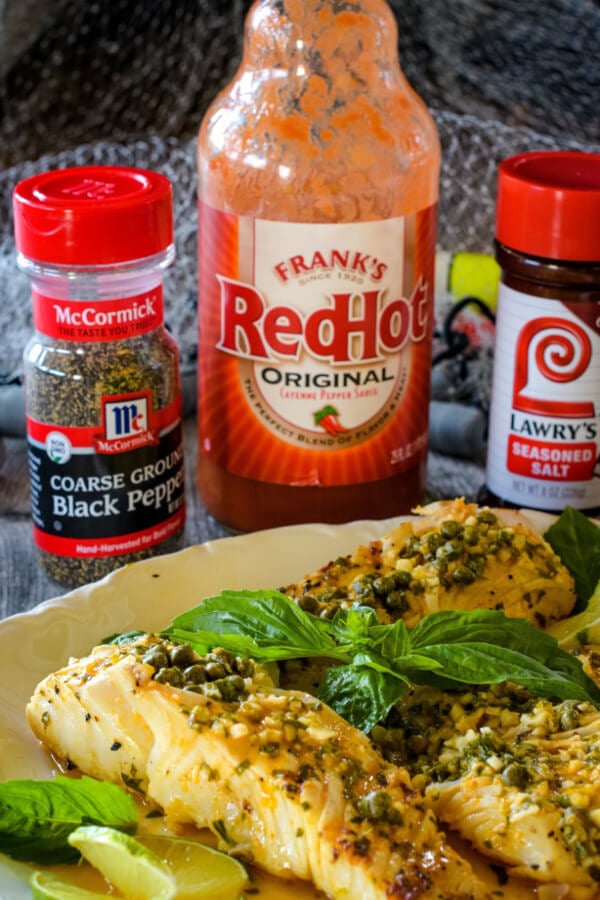 Un caro saluto e alla prossima.
Follow along with us
---
📖 Recipe
Lime Herb Grilled Halibut
A nutritious and delicious meal grilled in no time. The halibut first marinates in a spicy herbal marinade and then a splash of the marinade goes on the grilled fish. You can use any firm flesh fish for this recipe. See if you don't find yourself excited about eating grilled fish more often.
Print
Pin
Rate
As An Amazon Associate I earn from qualifying purchases.
Ingredients
¼

cup

lime juice

fresh lime

¼

cup

olive oil

extra virgin

4

garlic cloves

minced

1

teaspoon

lime zest

2

tablespoon

Hot Sauce

¼

cup

fresh basil

minced

1

tablespoon

capers

rinsed in cold water

½

teaspoon

Seasoned Salt

½

teaspoon

Coarsely Ground Black Pepper

4

Halibut Steaks of Fillets

same thickness ***see notes
Instructions
Mix the lime juice, olive oil, garlic, lime zest and hot sauce in a blender or food processor.

Stir in the fresh minced basil and rinsed capers.

Place the fish in a single layer in a resealable bag or a flat glass casserole. Pour half of the marinade over the fish and seal the resealable bag or if using a glass casserole cover with plastic wrap. Save the other half for when the fish is done.

Marinate for 30 minutes in the refrigerator turning the meat occasionally to redistribute the marinade. Do not marinate any longer or the lime will "cook" the fish.

When ready to grill the fish, remove from the marinade and place on a platter. Gently blot the fish with paper towels. Discard the fish marinade.

Season the fish on both sides with the Seasoned Salt and Black Pepper.

Oil the grill grates or us grill spray oil on the grates before lighting the grill.

Heat the grill to medium high heat 450 ℉.

Grill the fish until just cooked though 4 minutes per side. It may differ depending on your thickness of fish. A perfect medium is 130 ℉ to 135 ℉.

Divide the halibut among 4 plates. Stir the remaining marinade and drizzle over the fish.
Notes
**** If you can find halibut fillets with the skin on one side, they will be easier to grill. We couldn't get them that way but they were excellent nonetheless.
Nutrition
Calories:
284
kcal
|
Carbohydrates:
2
g
|
Protein:
31
g
|
Fat:
15
g
|
Saturated Fat:
2
g
|
Cholesterol:
83
mg
|
Sodium:
638
mg
|
Potassium:
778
mg
|
Vitamin A:
195
IU
|
Vitamin C:
10.6
mg
|
Calcium:
20
mg
|
Iron:
0.5
mg
Sign up for the emails and never miss another recipe!!
We'll never share your email or send you spam. Promise
This post was originally sponsored Walmart.
This post was rewritten from the original May 6, 2019 version for a better reader experience.
Note: Recipes and content from ©2014-2021 All Our Way are copyright protected. Please do not use content or recipe without prior written permission. If you want to share the information, please link to this post. Grazie.