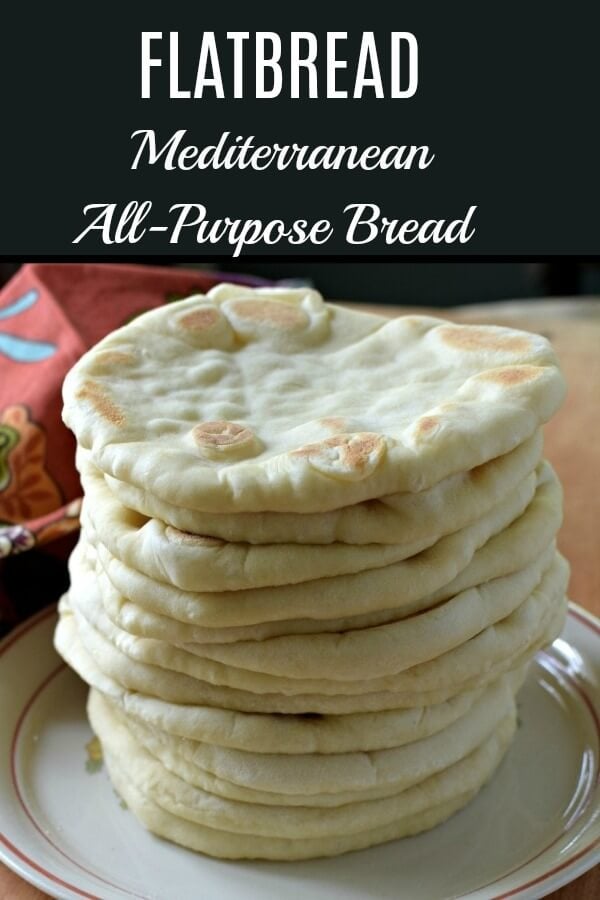 Flatbread, homemade and fresh from the oven, is simply irresistible. Once you make this easy recipe, you'll never buy it again. This flatbread recipe makes a bread that's soft and chewy. It's perfect as a scoop for a dip or ideal as the basis of the main dish. This yeast bread is so versatile your family will beg you to keep plenty on hand.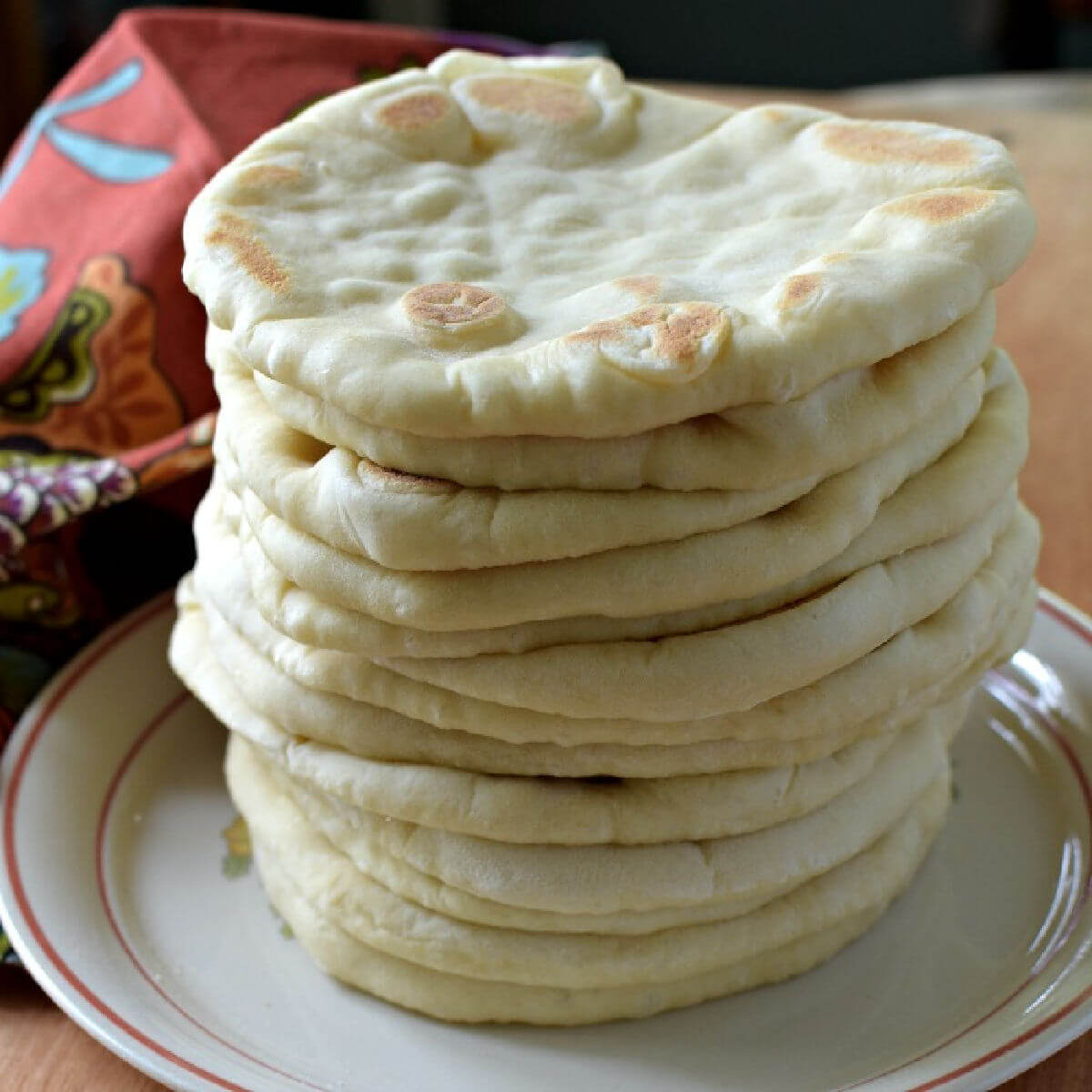 Jump to:
Searching for the best flatbread recipe
It all started when we took our oldest son, Jason, out to lunch. He picked out a Mediterranean restaurant and that's where we discovered flatbread and baba ghanoush. OMG!! It was so good. It was decided. We'd make flatbread and baba ghanoush as an appetizer for Easter.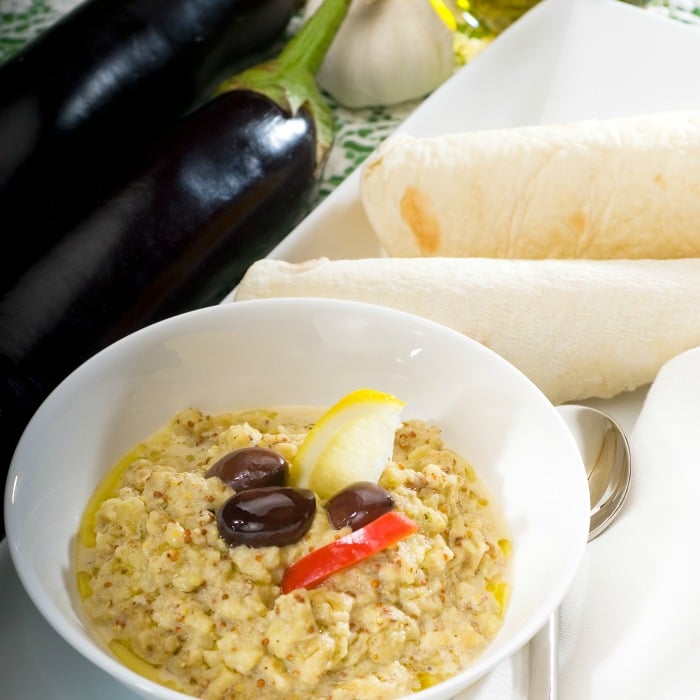 On the menu was Herb Roasted Lamb, Boned Brined Roasted Turkey breast. The yeast flatbread and eggplant dip would be a great accompaniment. We needed a special sauce, Tzatziki would be it!
Our children and grandchildren are very adventuresome in the culinary department. We knew that they'd love the idea of something new.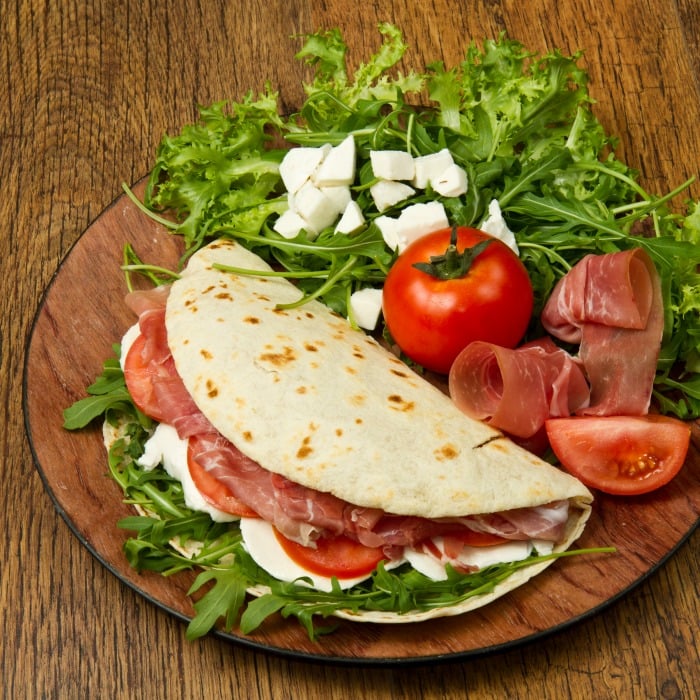 Reading the directions
I'm sure you know the saying measure twice; cut once. The same goes for cooking. Read the directions several times and make sure the measurements are accurate.
"No way is this dough going to come together to form a ball," said Honey. He stood behind the stand mixer, staring at the dough as the dough hook worked around and around.
"What's the matter?" I asked. I was at the computer working on a post.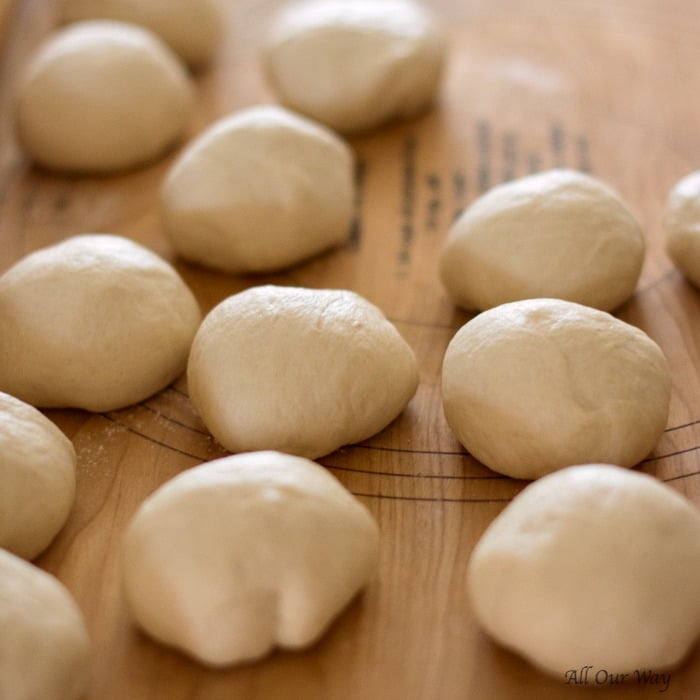 He shook his head in disgust. "The dough looks like pancake batter and I put in the right amount of flour."
"How much water did you add?"
"What the recipe called for, 2 ⅔ cups," he answered. He picked up the printed recipe and checked the ingredients. "Ooooh! I, uh, didn't read it right. It calls for ⅔ cup water."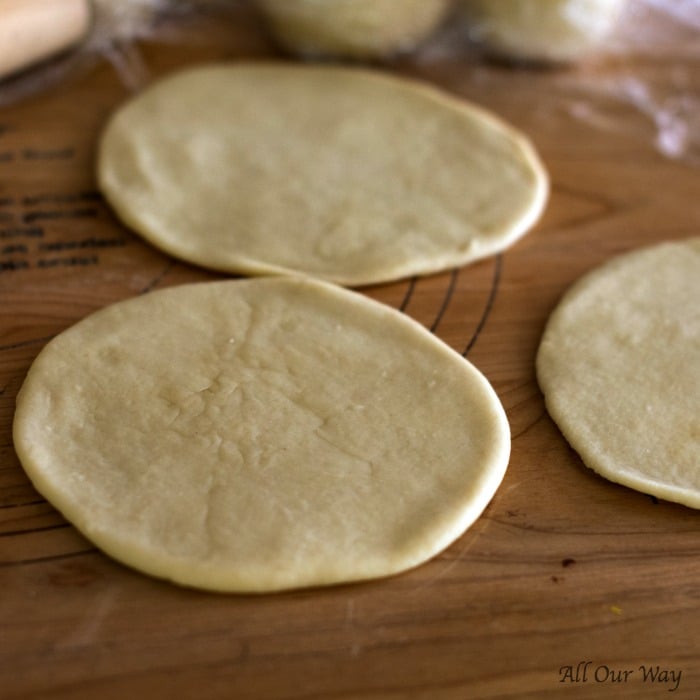 A delicious flatbread mistake
He walked back to the mixer and started adding flour. And more flour. A tiny pinch of instant yeast. Then he added a pinch more of salt. A few more scoops of flour.
This looked like a mad scientific experiment. Flour puffed up with each addition of flour to the mixer bowl.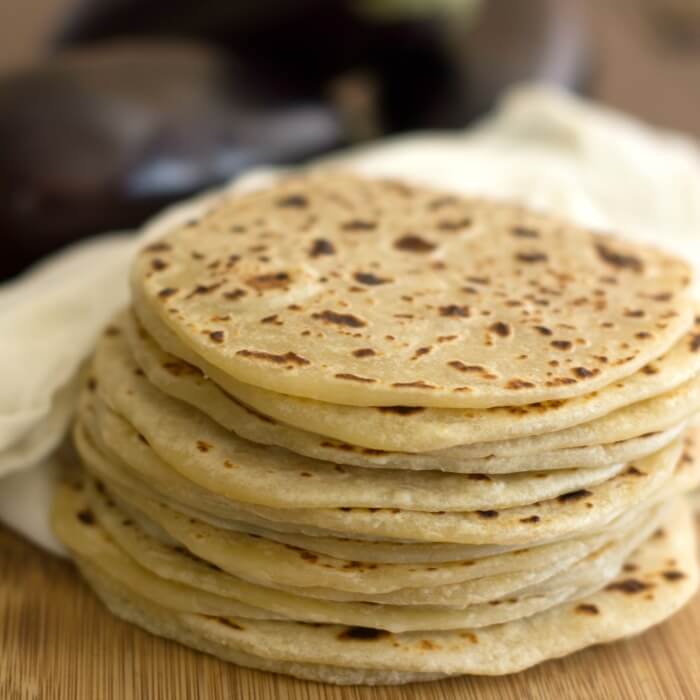 He looked up and smiled. "It's coming together. It feels pretty good too." He turned off the mixer, "I'm going to let it double in size."
"I don't know, Honey, with the number of adjustments you made to that dough it may overflow and take over our kitchen." I really was trying hard not to laugh. But, I'd been in the same predicament before. Haven't we all?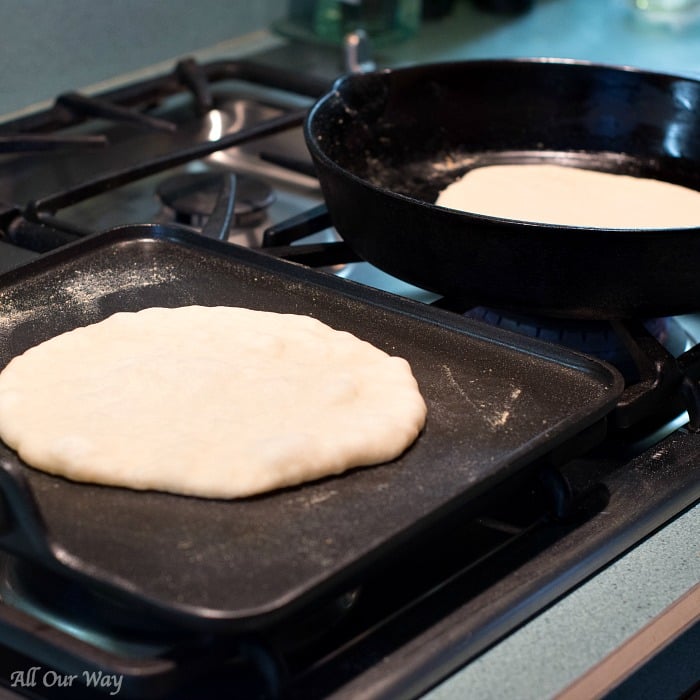 Putting the flatbread together
The bread doubled in bulk in no time. It was easy to work with and I found that when I rolled it into a six-inch circle it didn't fight me. Most of the time spent with this type of yeast bread recipe is waiting for it to rise.
We used an iron skillet to make the flatbread and it was a breeze. You cook the pancake-shaped bread several minutes on one side, then flip it over and cook the second side until it is golden and spotty brown.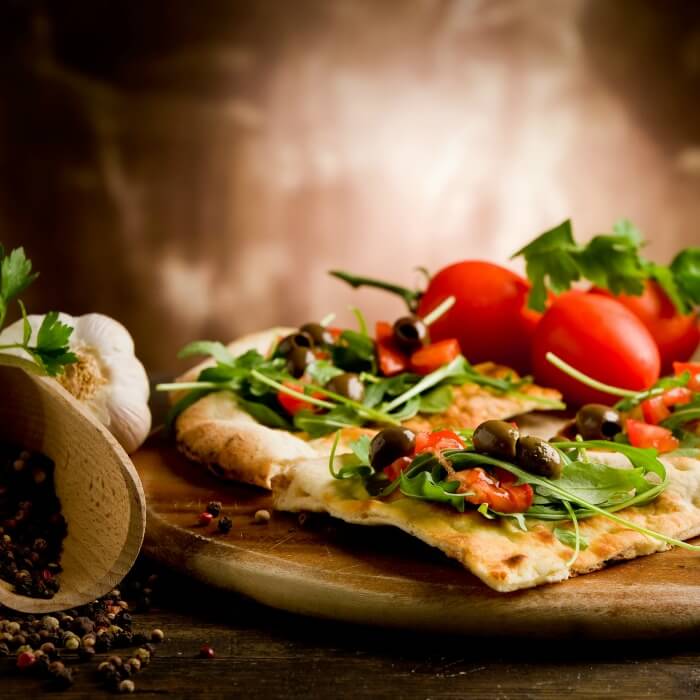 This bread ended up as a pocketless pita. We transferred the pita to a plate and covered it with a clean kitchen towel and piled each pita on top of each other.
The subsequent times we made the flatbread we used two skillets because we doubled the recipe.

Flatbread a new family favorite
This yeast bread freezes like a dream. There are quite a few flatbread recipes out there and we tried a few. This one was the best. We made a total of 30 flatbread but we saved some of the dough from two of the batches and made pizzas out of it. Let me tell you, the pizzas were phenomenal!! The crust was easy to roll out and once baked it was chewy and crunchy.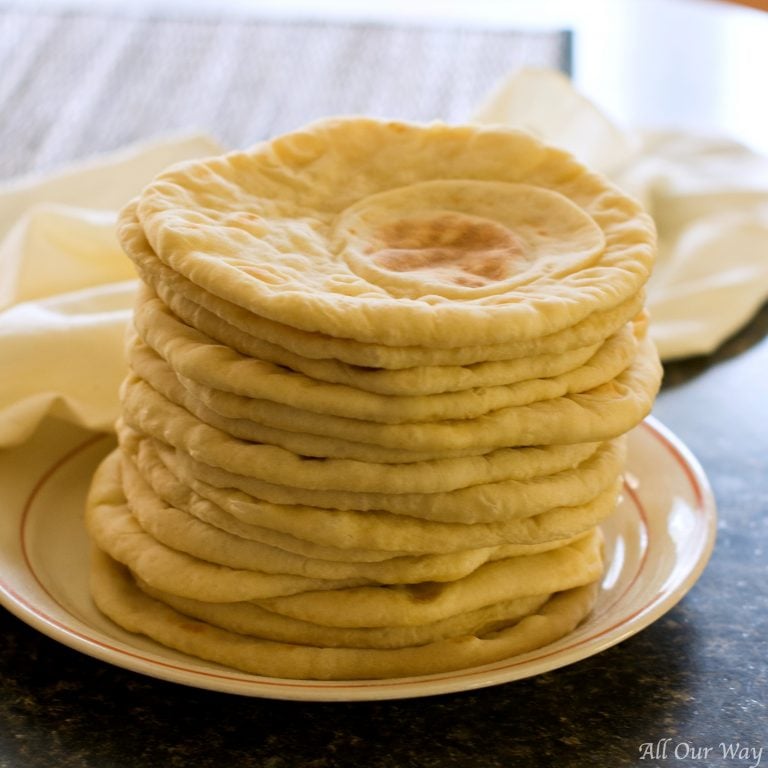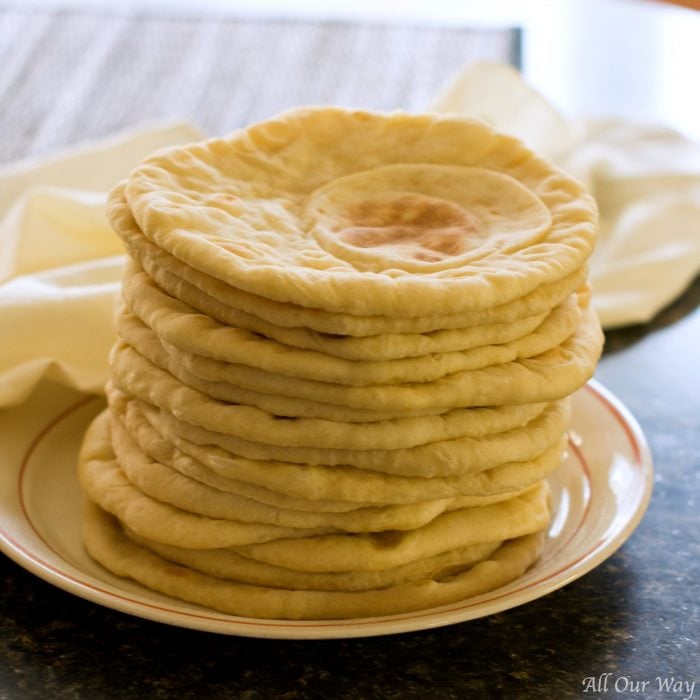 Let me tell you, the pizzas were phenomenal!! The crust was easy to roll out and once baked it was chewy and crunchy.
The kids took the rest of the meat and flatbread home with them. It certainly makes this mom and dad happy to feed their loved ones.
Next recipe on the schedule is baba ghanoush. If you've never tasted it, you're in for a real treat!
And take a peek at our 5-Minute Homemade Hummus Recipe -- you'll never buy another container at the grocery store.
We hope you sign up for our newsletter, we love sharing our kitchen adventures with you.
Here are more bread recipes we know you'll like
Quick and Easy Pitas - Heavenly Pillows -- pillowy soft with a nice interior you can fill with your favorite fillings.
Nonna's Country Bread - my mamma's recipe for bread. It's delicious as is, toasted, or as a sandwich.
Focaccia Pugliese-- a Puglia street food features a flatbread studded with tomatoes and olives.
Caprese Flatbread With A twist -- a bread that makes an incredible sandwich. Doesn't fall apart or get soggy.
These breads are incredible and will please the entire family.
Tutti a tavola è pronto.
Un caro saluto e alla prossima.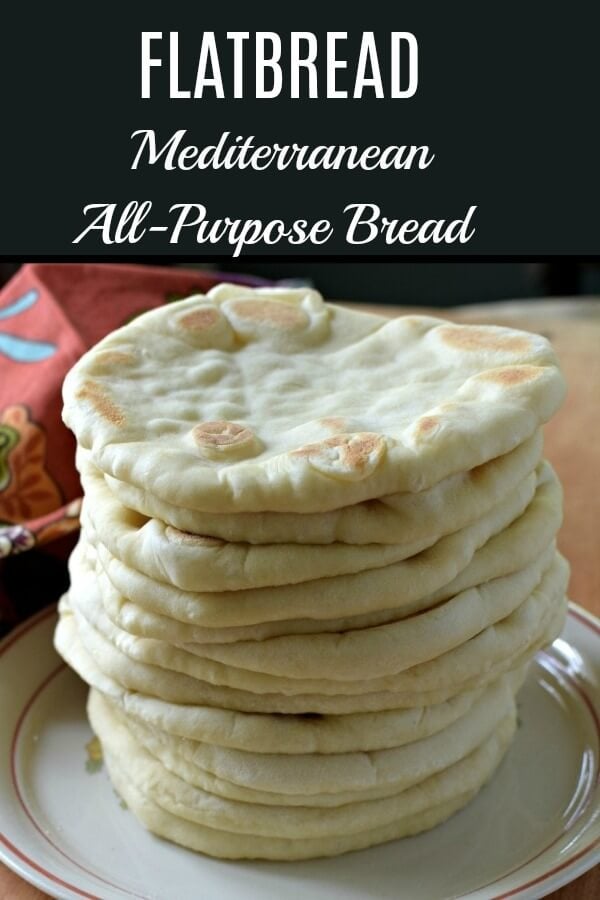 Flatbread | Easy Mediterranean All-Purpose Bread
📖 Recipe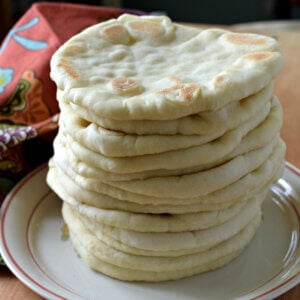 Flatbread | Easy Delicious Mediterranean All-Purpose Bread
A delicious Mediterranean flatbread that's easy to make and delicious as part of an appetizer, main dish, sandwich, or pizza base.
Print
Pin
Rate
As An Amazon Associate I earn from qualifying purchases.
Ingredients
2

teaspoons

instant yeast

1

teaspoon

granulated sugar

1 ¾

cup

OR 14 ⅔ fl oz. warm water (about 100 degrees, warm but not hot to the touch)

See NOTE

½

cup

4 fl oz. warm milk (about 100 degrees, warm but not hot to the touch)

1

Tablespoon

extra-virgin olive oil

2

teaspoons

salt

6

cups

29 oz. bread flour -- keep ½ cup out and use as necessary.
Instructions
In the bowl of a stand mixer fitted with the dough hook mix the yeast, sugar, water, milk and 2 cups of the flour until well combined.

Add another cup of flour, the salt, and the oil. Continue to mix. When that's mixed in gradually add the rest of the flour reserving the ½ cup. Continue mixing until a soft dough forms and the dough pulls away from the sides of the bowl. The dough will be soft to the touch. Knead the dough for 5-6 minutes until it is soft and smooth.

Place the dough in a lightly greased bowl and cover with plastic wrap or shower cap. We save all of our shower caps when we travel just for this purpose. Let rise until doubled, about an hour.

Divide the dough in half and then in half again. Out of each half measure out 8 pieces. They will be about 3 oz. each. Form each piece into a tight ball. Cover with a cloth or plastic wrap and let the dough pieces rest for about 10 minutes -- this helps the dough relax so that it's easier to roll out.

Work with one piece at a time on a floured surface. With a rolling pin roll the dough from the center out. Turning the disc as you work. Roll the dough out to about ⅛-inch thick into a 6-inch circle. Cover with cloth as you work with another.

Heat a lightly oiled skillet to medium heat. When the skillet is hot, cook the flatbread for 2-3 minutes on the first side until it bubbles and puffs. Flip it over with tongs or spatula and cook on the second side until it is golden and spotty brown. Make sure the skillet is hot! If the bread cooks too long it won't bend and can turn out dry. The right amount of heat is 2-3 minutes per side.

Transfer the flatbread to a plate and cover with a towel. Repeat with the remaining dough. We use two skillets so that the process goes faster.

The flatbread can be frozen with excellent results. We let it cool and wrap each flatbread with plastic wrap. Gently reheat in aluminum foil in a low oven. Our kids didn't wait for the reheating process - they were too anxious to get to the bread.
Notes
Makes 16 Flatbread
Most of the time is spent in the dough rising.
We give the cup amount and the fluid ounce amount. Use whichever method you normally use.
Nutrition
Calories:
187
kcal
|
Carbohydrates:
35
g
|
Protein:
6
g
|
Fat:
2
g
|
Sodium:
297
mg
|
Potassium:
71
mg
|
Fiber:
1
g
|
Vitamin A:
10
IU
|
Calcium:
16
mg
|
Iron:
0.5
mg
Sign up for the emails and never miss another recipe!!
We'll never share your email or send you spam. Promise
Note: Recipes and content from © 2017 All Our Way are copyright protected. Please do not use content or recipe without prior written permission. If you want to share the information, please link to this post. Grazie.
SaveSave