This Spicy Velveeta Cheese Dip is silky smooth with rich Velveeta cheese flavor and spiced with smoked paprika and pickled jalapenos!
While perfect as a cheese dip for pretzels, crackers, breadsticks, tortilla chips, and vegetables, I wouldn't judge you if you enjoyed it as is by the spoonful! This Velveeta cheese sauce is also great as a topping or to make an irresistible mac and cheese!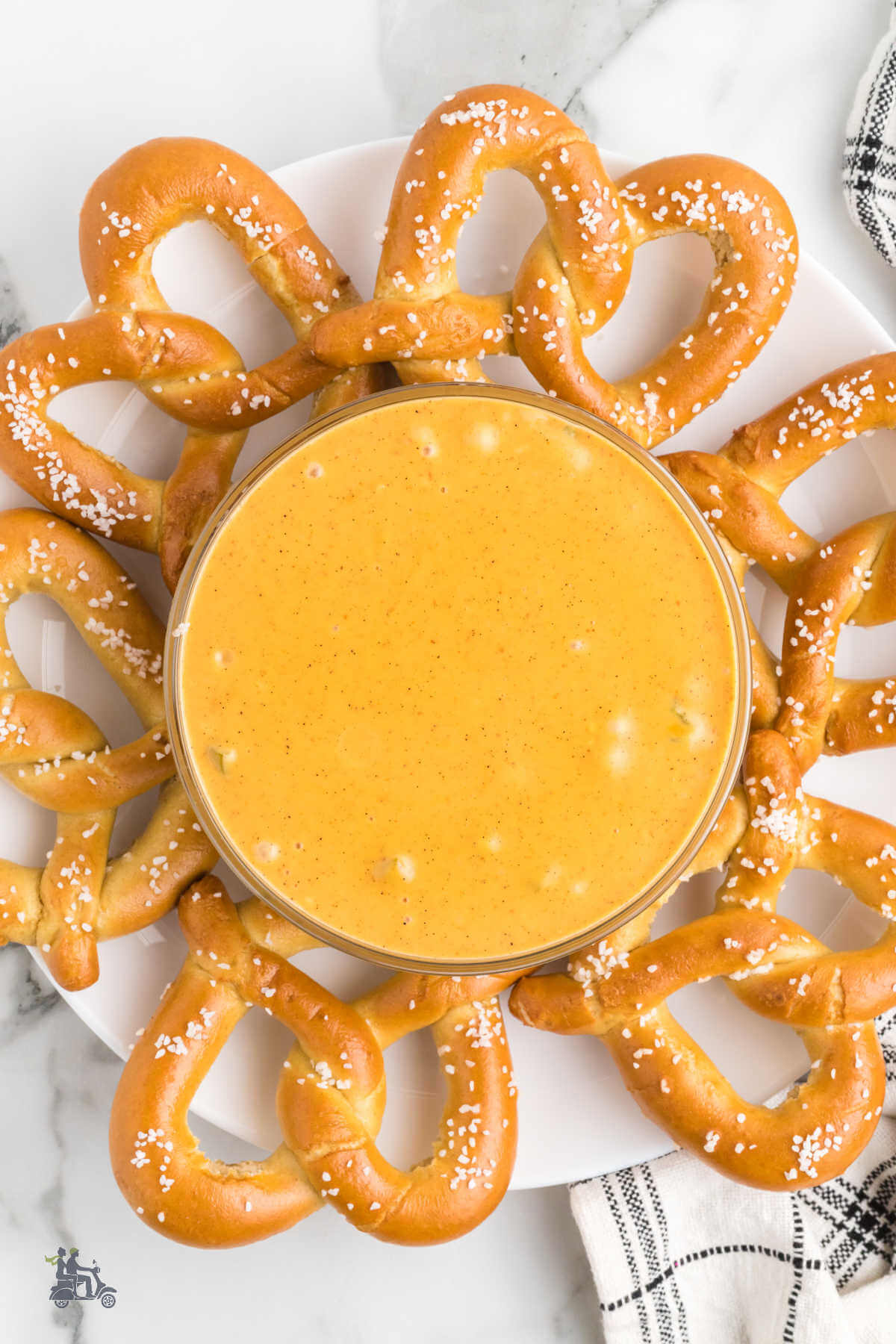 Jump to:
❤️ Why I love this recipe
An easy and flavor-packed cheese dip for summer BBQs and parties.
The smoked paprika and pickled jalapenos add an irresistible kick of heat to this pretzel cheese dip.
This soft pretzel dip is extremely versatile. Enjoy it with crackers and chips, or use it to top nachos, enchiladas, tacos, or to make mac and cheese!
This Velveeta cheese dip comes together in less than 30 minutes. It's incredibly smooth with great texture and is a guaranteed crowd-pleaser! It doesn't separate and you can make it as spicy as you like.
🛒 Ingredients
As an Amazon Associate I earn from qualifying purchases.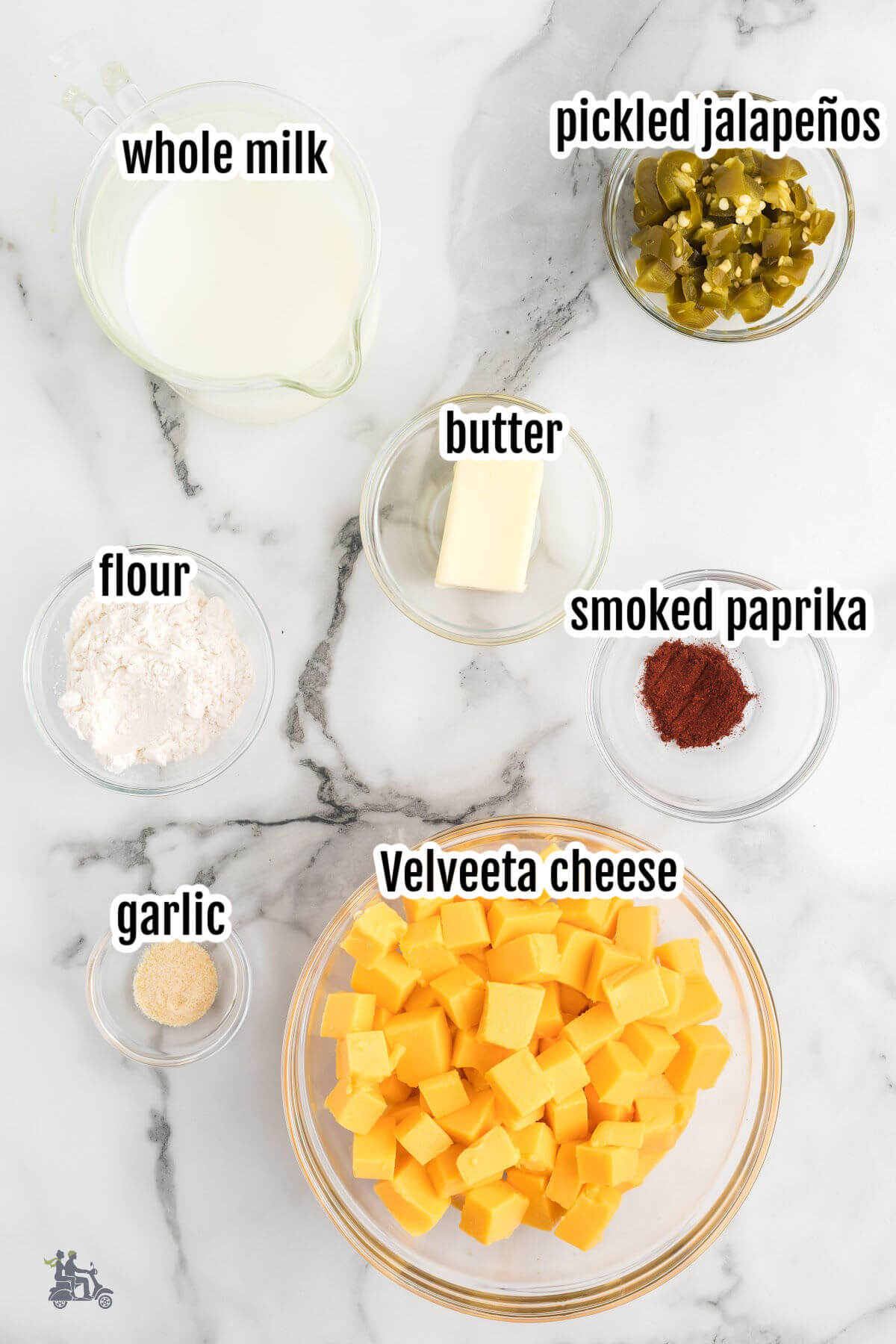 Note: The full list of this Velveeta cheese dip sauce recipe ingredients with their amounts and options are listed in the recipe card below.
🗒 Instructions
Note: This is an overview of the instructions. The full instructions are in the recipe card below.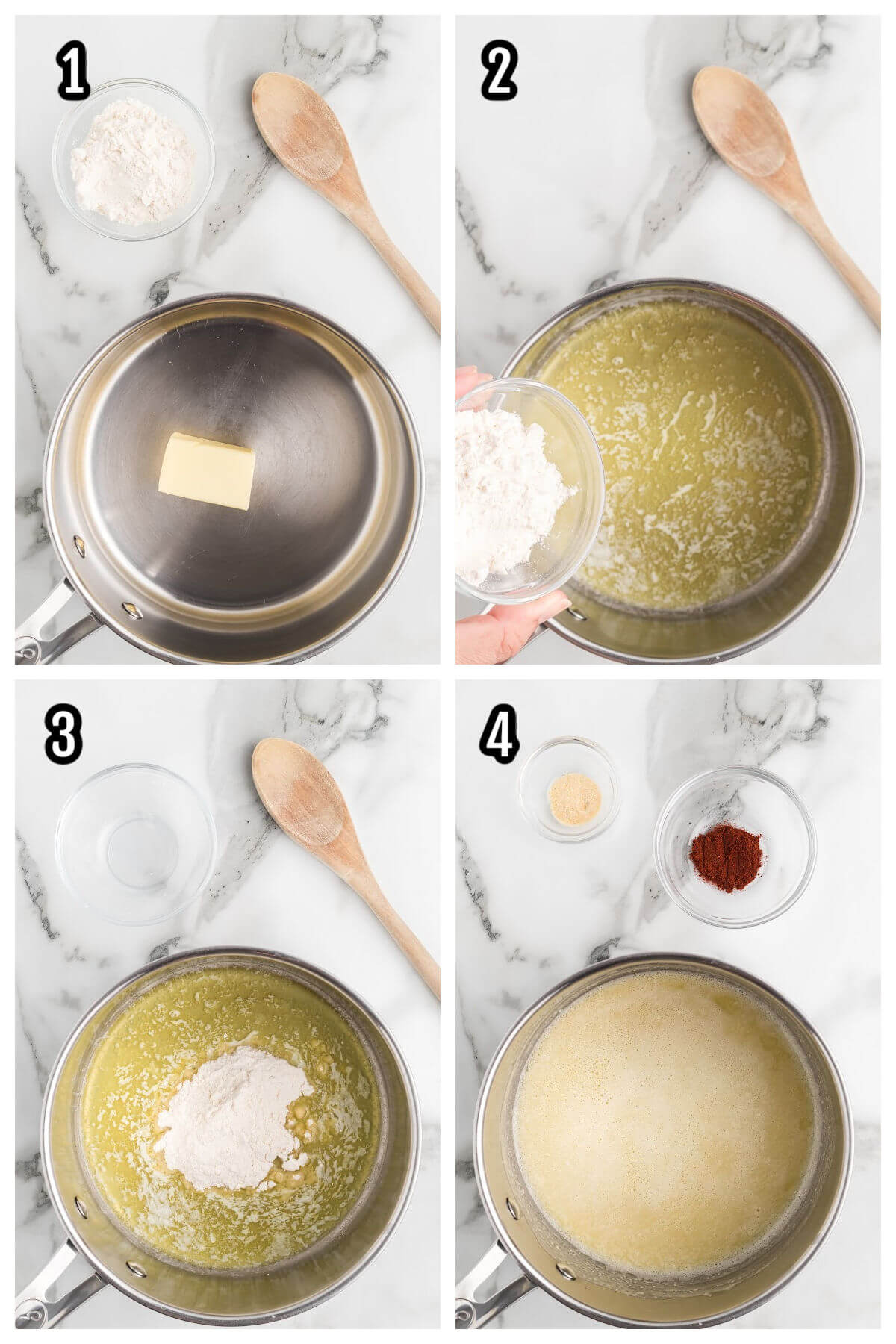 Add the butter to a deep saucepan.
Melt the butter over medium heat.
Add the flour to the melted butter.
Stir the mixture constantly until it bubbles and turns a light tan.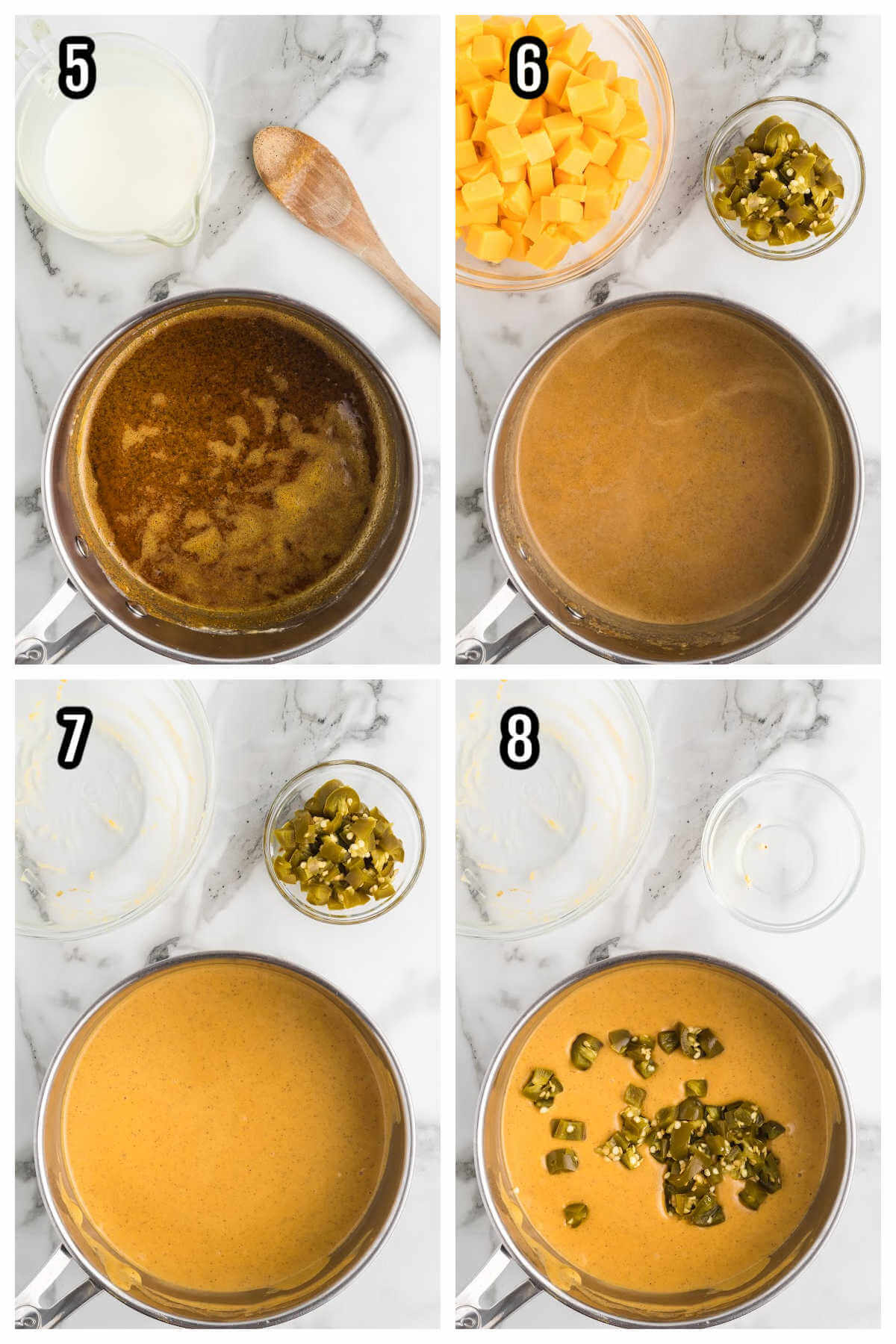 Add the garlic and paprika. Stir and cook for another 2-3 minutes.
Add the milk slowly and continue to cook until the sauce thickens and comes to a simmer.
Reduce the heat and the Velveeta cubes. Stir until the cubes are melted, and the sauce is thick.
Add the diced jalapenos and stir until combined.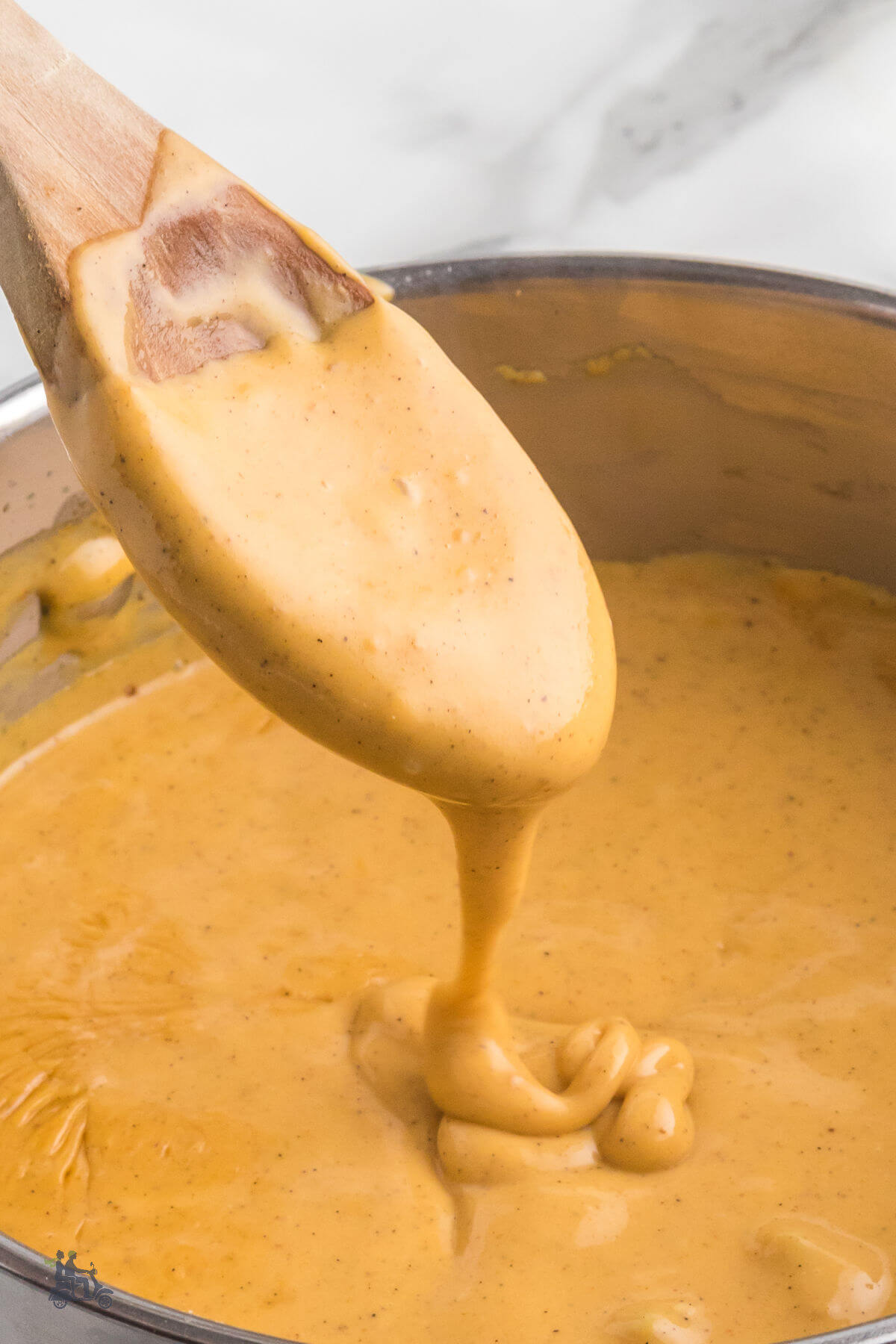 Serve immediately, or store the sauce in the fridge once cooled.
🔪 Equipment
The following are affiliate links. We are a participant in the Amazon Services LLC Associates Program, an affiliate advertising program designed to provide a means for us to earn fees by linking to Amazon.com and affiliated sites.
You'll need the following items to make this recipe successfully.
🤔 FAQs
These are the questions we are most frequently asked about making this homemade cheese dip recipe.
How to make runny cheese dipping sauce?
Using the right amount of liquid, such as milk, in a cheese dip will create a runny consistency that is ideal for dipping into. Make sure that the cheese used melts well, and only melt the cheese on a lower heat.
Can you just melt Velveeta for cheese dipping sauce?
Yes. It is possible only to melt Velveeta cheese for cheese dipping sauce. I recommend melting the cheese over a double boiler to prevent scorching and sticking to the bottom of the pan.
How do you melt Velveeta cheese for dipping sauce?
Cut the cheese into cubes and add it to heated liquid (melted butter and milk) on reduced heat.
Can I just melt Velveeta cheese for nachos?
Yes. Drizzle the melted Velveeta cheese over the assembled nachos or add a splash of milk or cream for a runnier consistency.
Other than Velveeta, what is the best cheese for melting?
Swiss cheese or sharp cheddar cheese are great substitutes for Velveeta since they melt well and are versatile. Other types of cheese that melt well include Colby, Havarti, Fontina, Monterey Jack, Muenster, Provolone, and smoked Gouda.
What kind of cheese melts creamy?
The types of cheese that melt into a creamy consistency include Mozzarella, Brie, Gruyere, Fontina, Camembert, Monterey Jack, and Havarti.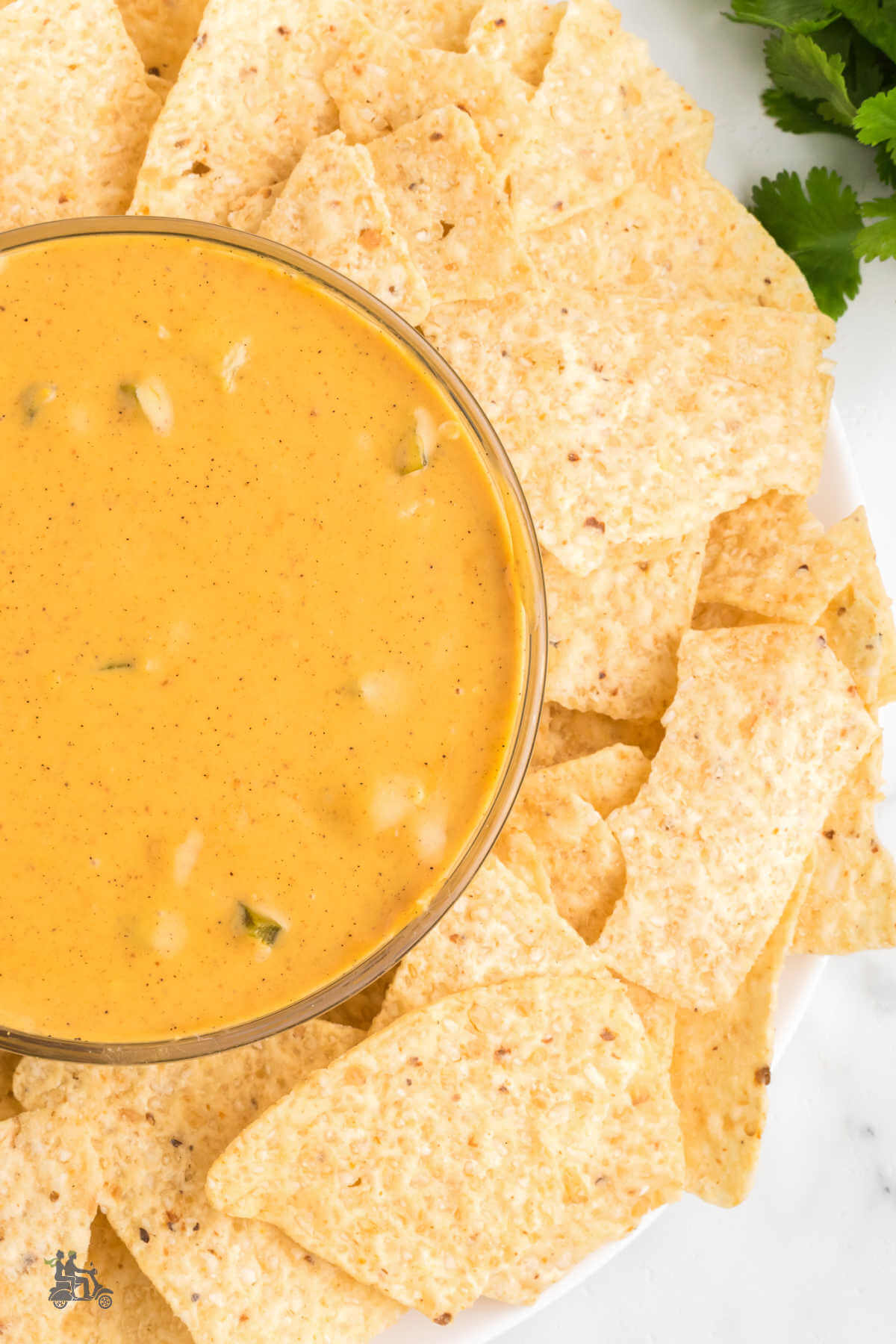 👩🏻‍🍳 Tips
Heat this cheese dip briefly before serving it in the desired portion. It always tastes the best warm and has a better consistency.
Always use a block of cheese, either cubed or freshly grated. Pre-shredded cheese contains anti-caking properties, which affect the flavor and reduces the melting quality.
Melting the cheese on reduced heat will prevent it from separating, becoming stringy, or scorching.
Stir the flour constantly into the butter to prevent any clumps from forming in this Velveeta cheese dip.
📚 Variations
Add a Mexican twist to this pretzel cheese dip using smooth Queso instead of Velveeta cheese.
Enjoy this cheese dip as a topping on nachos and tacos, or use it to coat the pasta.
For an extra kick of heat, add cayenne pepper or red chili flakes. You can omit the smoked paprika and pickled jalapenos for plain Velveeta cheese sauce.
The pickled jalapenos add great texture to this cheese dip, but minced chives could also work.
Use packaged seasoning mixes such as Ranch seasoning mix to add flavor to this pretzel cheese dip.
Turn this Velveeta cheese dip into a beer cheese dip by including your favorite brand of dark beer in the liquids in this recipe. This cheese dip could also be an ingredient when making Beer Cheese Soup!
Add ground beef and sausage as a meaty dip option.
🥫 Storage
Once cooled, store this cheese dip in an airtight container in the fridge for up to four days. Reheat in the microwave or on the stovetop on low-medium heat.
This Velveeta cheese dip can also be frozen for up to 3 months and thawed in the fridge to be reheated before being served again.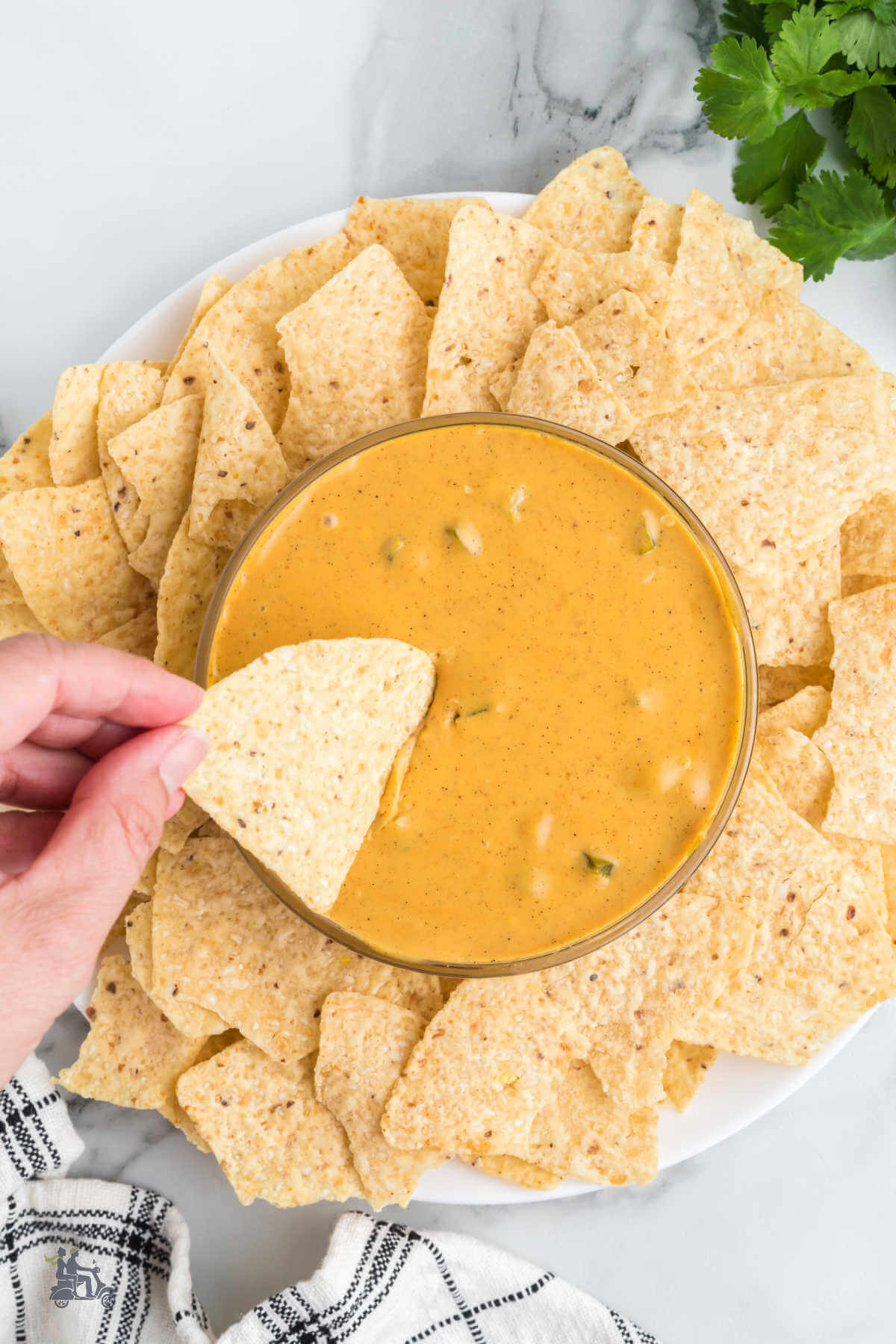 📗 Related Recipes
🍽 Serve with
Serve this spicy cheese dipping sauce with crackers, soft pretzels, French fries, potato dippers, vegetables, or tortilla chips. This dip can also be used as a topping for tacos, enchiladas, and nachos or as an ingredient in cheesy soup and pasta dishes.
📞 Chiacchierata (chat)
We've been making this cheese dip ever since our kiddos were itty bitties. Now they're gown with children of their own. So to say this cheese dipping sauce has withstood the test of time is to understate the importance it's had in our family's history.
It started as a sauce over our Beef Enchiladas and evolved into a sauce we made to go along with our Soft Pretzels. We added a bit here and there to make it the cheesy perfection we think it is.
When you think of homemade gift-giving this cheese sauce with the soft pretzels is an excellent idea. In face, before we leave on our winter trip south we make dozens of soft pretzels and quarts of cheese sauce to gift to our family. Neither the pretzels or cheese sauce last the three months we're gone.
You're family will be just as crazy about the combo as ours is.
Tutti a tavolo, è pronto!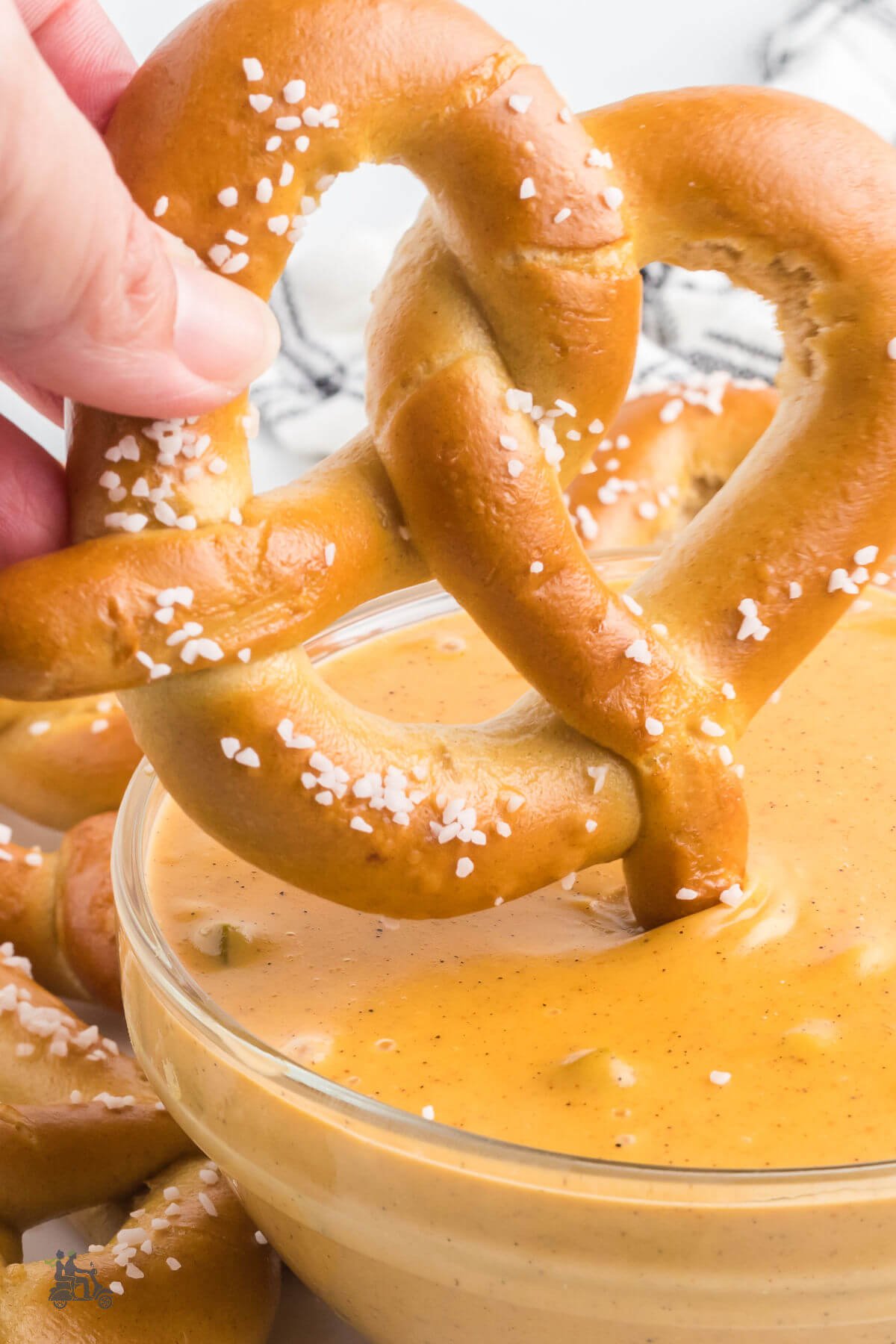 What's new? Check out my All Our Way Store on Amazon. We'll be adding more items we love and use or wish we had to make cooking fun and easy.
📝 Recipe Card
Spicy Velveeta cheese dip is smooth and velvety with a rich spiced flavor and sliced jalapenos. Enjoy this cheese dip with pretzels, crackers, tortilla chips, vegetables, or as a topping or sauce for various dishes.
If you love this recipe please give it 5 stars ⭐️⭐️⭐️⭐️⭐️.
📖 Recipe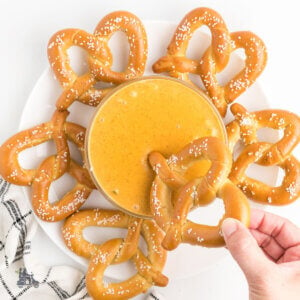 Spicy Cheese Sauce for Pretzels
A creamy cheese sauce that is spiced with jalapeños and flavored with smoked paprika. A perfect dip for pretzels, breadsticks, tortilla chips, or even veggies.
Print
Pin
Rate
As An Amazon Associate I earn from qualifying purchases.
Ingredients
3

Tablespoons

unsalted butter

3

Tablespoons

all-purpose flour

¼

teaspoon

granulated garlic

½

teaspoon

smoked paprika

1 ½

cups

whole milk

1

pound

Velveeta cheese cut into cubes

¼

cup

diced pickled jalapeños
Instructions
In a deep sauce pan over medium heat melt the butter then add the flour.

Stir constantly with a wooden spoon until it bubbles and start to take on a tinge of light tan.

Stir in the garlic and paprika. Continue cooking and stirring for another 2 to 3 minutes. What you are making is basically a Béchamel Sauce.

Slowly add in the milk and continue to stir and cook until it starts to thicken and the sauce comes to a simmer.

Lower the heat and add the Velveeta cubes. Continue to stir until the cubes are melted and it forms a thick sauce. Add the diced jalapeños and stir until combined.

Once the sauce is cool, store in refrigerator.
Notes
Before serving the dip briefly heat whatever portion you want in the microwave.
Nutrition
Calories:
35
kcal
|
Carbohydrates:
2
g
|
Protein:
2
g
|
Fat:
2
g
|
Saturated Fat:
1
g
|
Cholesterol:
7
mg
|
Sodium:
167
mg
|
Potassium:
44
mg
|
Fiber:
1
g
|
Sugar:
1
g
|
Vitamin A:
139
IU
|
Calcium:
63
mg
|
Iron:
1
mg
Sign up for the emails and never miss another recipe!!
We'll never share your email or send you spam. Promise