Chocolate Breakfast Croissant Casserole uses flaky chopped croissants that are soaked and baked in a cream cheese custard-like filling with chocolate chips sprinkled throughout.
Once baked, this decadent chocolate-y casserole is topped with whipped cream and extra chocolate sprinkles - perfect for special breakfasts and a great way to please a crowd!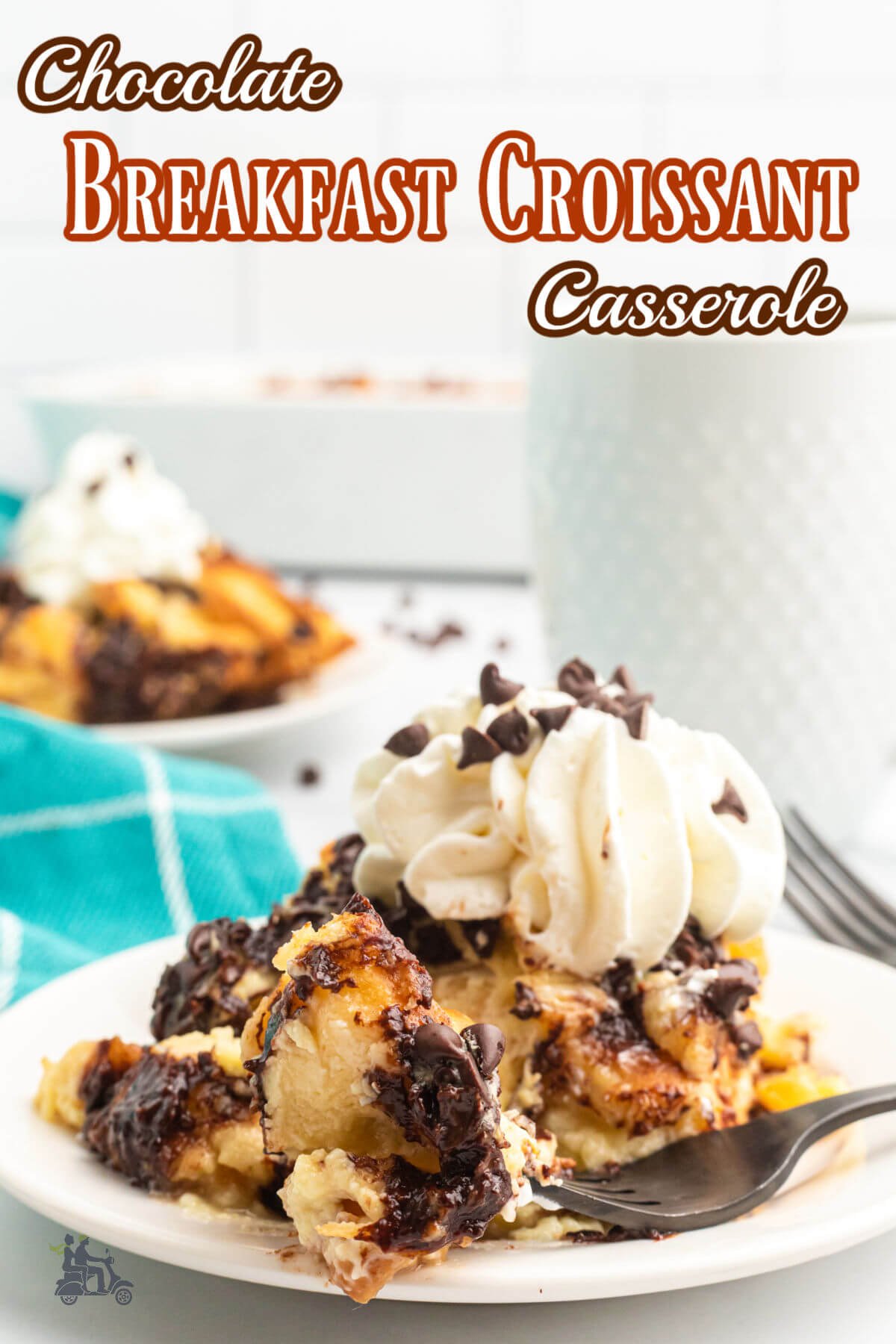 Jump to:
❤️ Why you'll love this recipe
It's like a bread pudding with a creamy custard filling and melted gooey chocolate spread throughout - totally addictive!
This breakfast casserole is so easy to make. I wouldn't be surprised if it becomes your go-to for special breakfasts like Mother's Day, brunch, or even as a dessert option!
This recipe is a great way to salvage any stale croissants that you may have in the house.
Chocolate Breakfast Croissant Casserole is a fun and easy breakfast for all sweet lovers!
🛒 Ingredients
As an Amazon Associate I earn from qualifying purchases.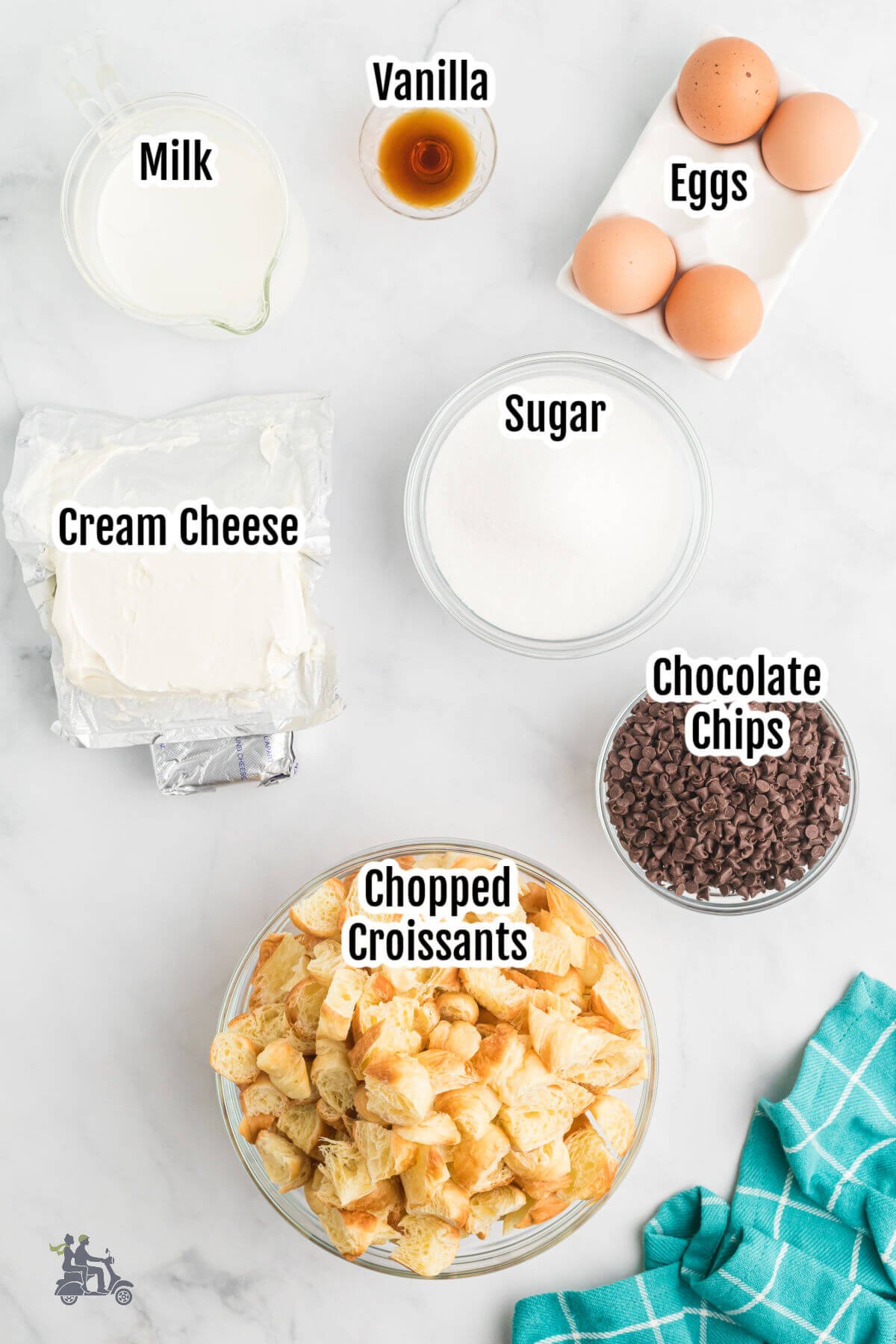 Note: The full list of this recipe ingredients with their amounts and options are listed in the Croissant French Toast Casserole recipe card below.
🗒 Instructions
Note: This is an overview of the instructions. The full instructions are in the recipe card below.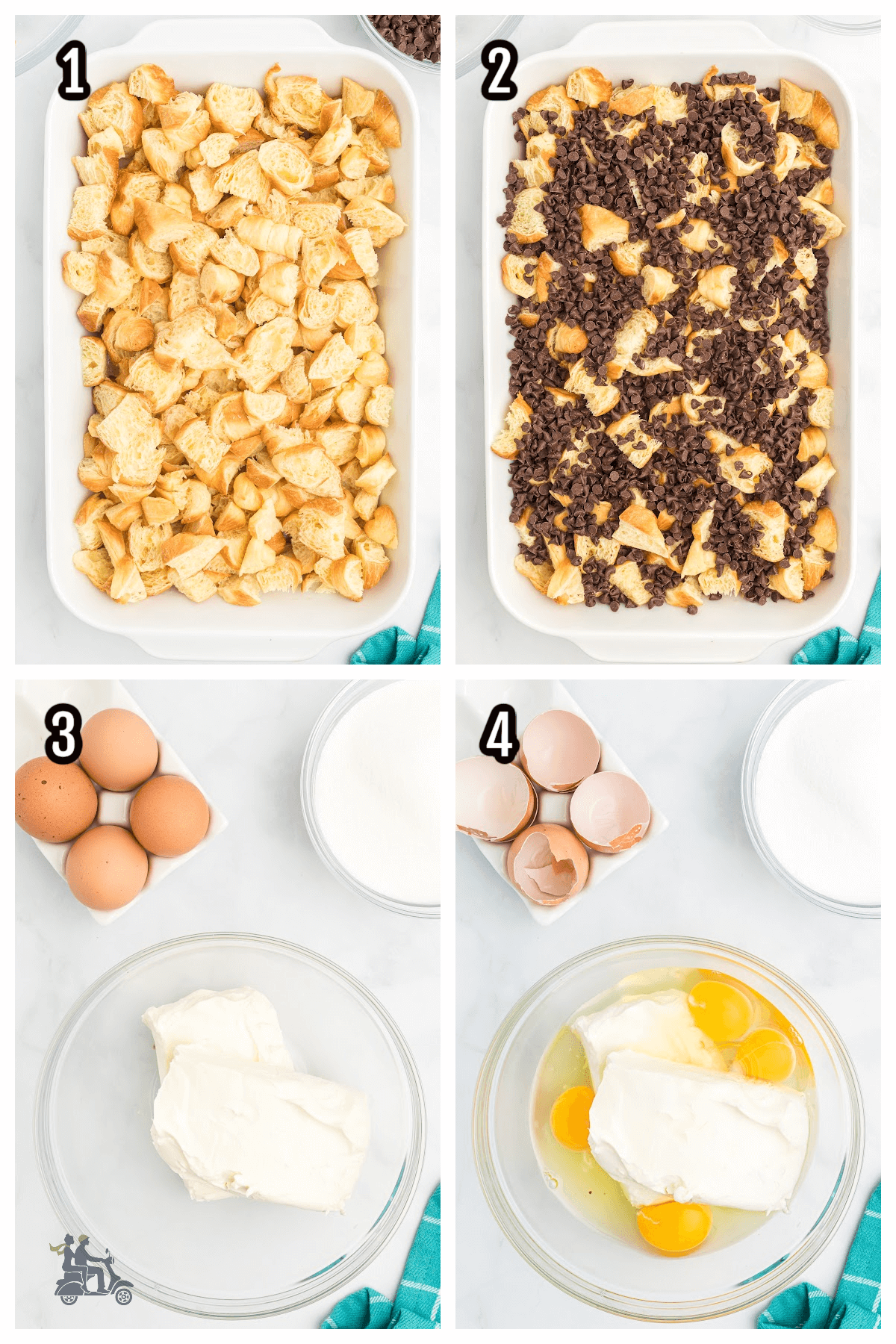 Spread the chopped croissant pieces in a baking dish.
Sprinkle the chocolate chips over the chopped croissants and set the dish aside.
Add cream cheese to a mixing bowl.
Add the eggs and extract into the same mixing bowl.
Now add the sugar.
Beat the ingredients together with an electric mixer.
Add in the sour cream.
Cream the mixture until smooth, scraping the sides to get all the cream cheese.
Ready the baking dish with chopped croissants and chocolate chips.
Pour the creamy mixture evenly over the croissant pieces and allow it to stand for 20 minutes or cover the dish and refrigerate overnight.
Bake the casserole for 35-45 minutes or until set in the center.
Serve the casserole warm with a dollop of whipped cream and optional extra chocolate sprinkles.
🔪 Equipment
The following are affiliate links. We are a participant in the Amazon Services LLC Associates Program, an affiliate advertising program designed to provide a means for us to earn fees by linking to Amazon.com and affiliated sites.
You'll need the following items to make this recipe successfully.
🤔 FAQs
These are the questions we are most frequently asked about making this Chocolate Croissant Breakfast Bake recipe.
What is a chocolate croissant called?
This depends on where you come from. Chocolate croissants are called by a few names such as pain au chocolat, chocolate bread, petit pain, chocolatine, and coque au Chocolat.
What is the difference between pain au chocolat and chocolate croissant?
While these two terms are often used interchangeably in certain parts of the world, there are some differences.

Pain au chocolat is typically cut in rectangle shapes and is then rolled with two sticks of dark chocolate. It comes out looking more like a chocolate roll.

Chocolate croissants are cut into triangles and the chocolate can be added to the dough in any shape or form. These come out looking like a half-moon.

What do you put on croissants for breakfast?
Croissants can be enjoyed plain with butter, jams and marmalades, grated cheese, chocolate spread, fresh fruit, and whipped cream!

What you choose to put on your breakfast croissant really depends on whether you feel like a sweet treat or a hearty savory meal. For a savory meal, consider layering cooked bacon, fried egg, and shredded cheese!
Does Dunkin Donuts have chocolate croissants?
You'll be happy to know that Dunkin Donuts does offer chocolate croissants.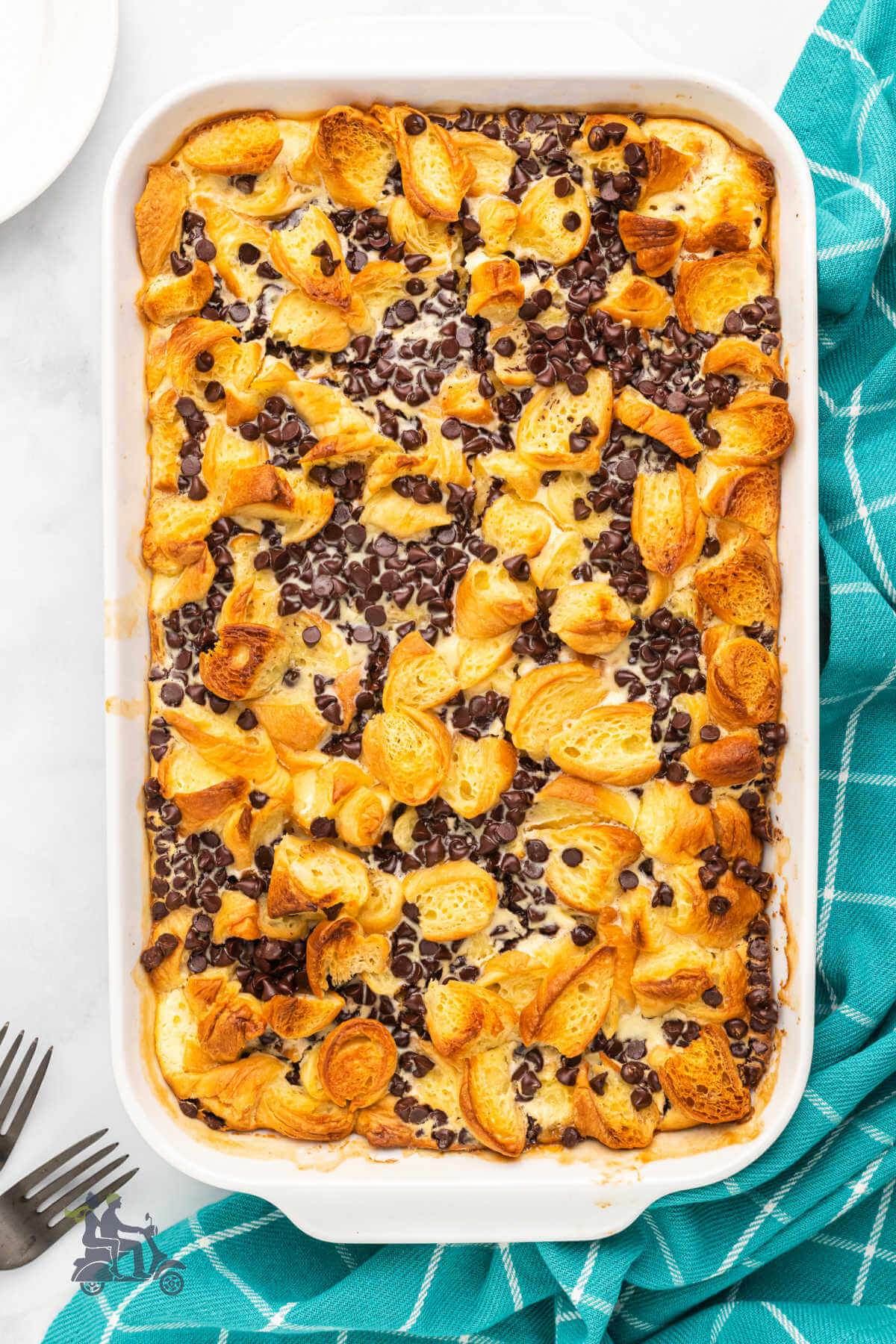 👩🏻‍🍳 Tips
It's important that you allow time for the croissants to soak up the egg custard filling for at least 20 minutes prior to baking. If you have more time, cover the baking dish and allow it to stand in the refrigerator for a couple of hours or even overnight.
This is a great recipe to make ahead of time since you already need to allow the croissants to soak up the custard filling and it also stores well once baked!
Quality croissants from a bakery are much better for this recipe than making your own from refrigerated crescent rolls. Since I recommend using stale croissants (they absorb the custard filling better), why not ask your local baker if you can take them for a lowered price?!
If you only have access to fresh croissants, consider toasting them first for a bit before chopping them to assemble the casserole. This will remove excess moisture in them and allow them to absorb the custard filling better.
To prevent the top of the croissant casserole from going brown too quickly in the oven, cover the baking dish for the first 20 minutes of baking and uncover it for the rest of the time.
Giving the baked casserole about 10 minutes to rest will help it set and will make it much easier to cut into slices that won't fall apart.
📚 Variations
I've chopped my croissants into small pieces but you could choose to chop them into larger pieces for a more chunky croissant casserole.
I'm obsessed with the chocolate chips in this casserole. Of course, you could make a breakfast croissant casserole with fresh berries like raspberries and blueberries. Just make sure that your washed berries are patted dry well before adding them to the other casserole ingredients.
I top each serving with whipped cream and extra sprinkles but other delicious toppings could include powdered sugar, a drizzle of honey or maple syrup, caramel sauce, sliced banana, chopped nuts, or even a scoop of vanilla ice cream.
Instead of chocolate chips, consider mini marshmallows, white chocolate chips, butterscotch, or caramel chips. You could even add in a chopped candy bar!
Use different extracts like almond extract instead of vanilla and spices such as nutmeg and cinnamon.
This recipe serves 8. If you don't need as much, you can easily halve the ingredients and bake in a smaller baking dish.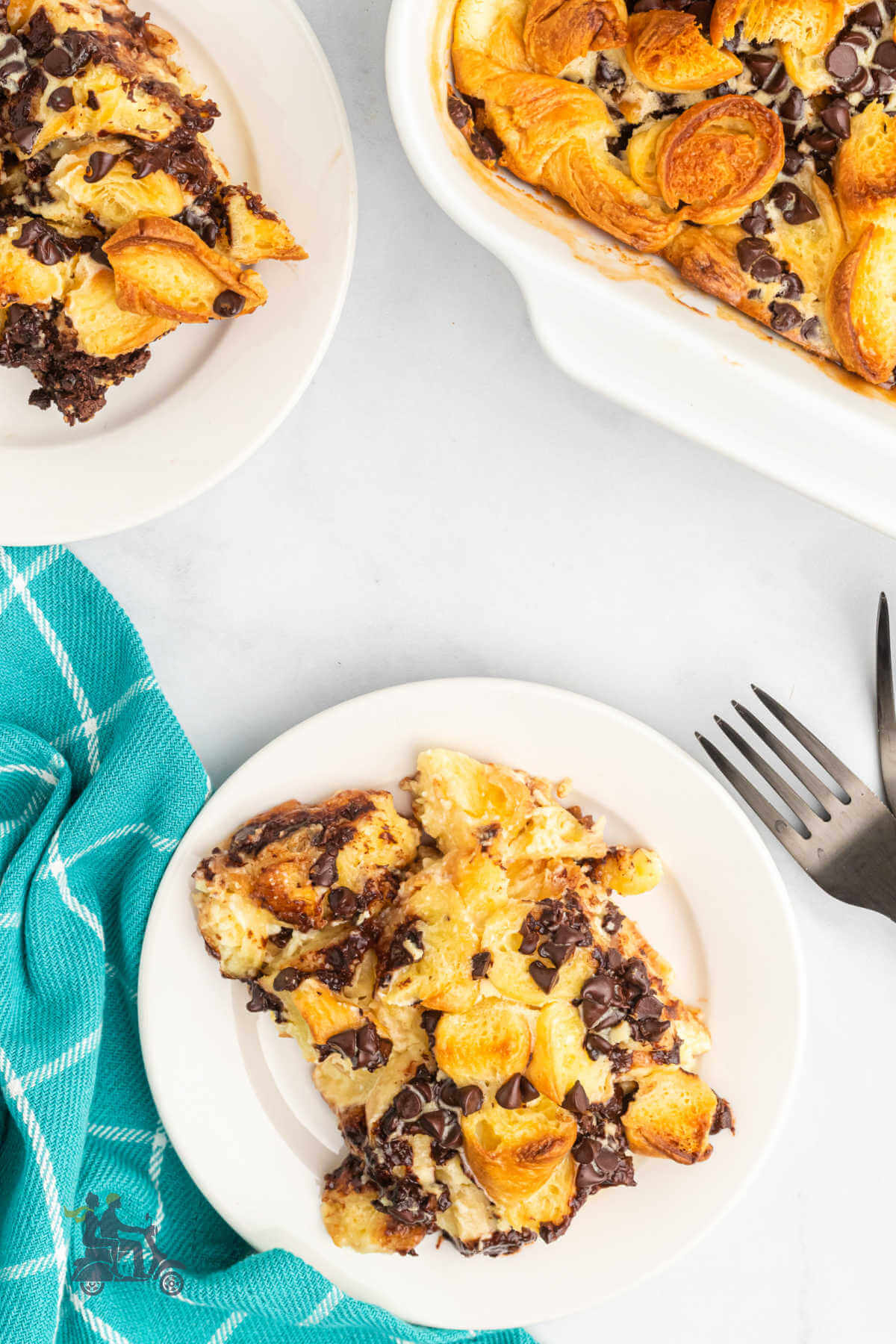 🥫 Storage
Leftover chocolate breakfast croissant casserole can be stored in an airtight container in the refrigerator for 3-4 days. Reheat it in the oven, covered, for about 30 minutes at 350F, or in single servings in the microwave.
You also have the option to freeze this breakfast casserole for up to 3 months. Thaw overnight in the refrigerator and reheat in the oven.
📗 Related Recipes
Other delicious breakfast recipes include Breakfast Baked Oatmeal with Blueberries and Bananas, Smoked Salmon Breakfast Casserole, and Frittata!
And if you like to eat those little breakfast sausages, try our crescent dough wrapped piggy links. These recipes are sure to make breakfast exciting every time!
🍽 Serve with
Serve this chocolate croissant casserole with a dollop of whipped cream, extra chocolate sprinkles, or fresh fruit like sliced banana and fresh berries.
If you intend to serve this casserole as more of a dessert then consider serving it with a scoop of creamy vanilla ice cream!
📞 Chiacchierata (chat)
A sweet casserole for breakfast? Yes, please! This chocolate breakfast croissant casserole ticks all the boxes for a sweet breakfast treat - it's quick and easy to make, combines a creamy-rich custard filling that soaks through chopped croissants, and satisfies my cravings for gooey melted chocolate!
I love making this decadent breakfast casserole for special occasions like family birthdays, Mother's Day, holidays, or whenever I'm in the mood to indulge!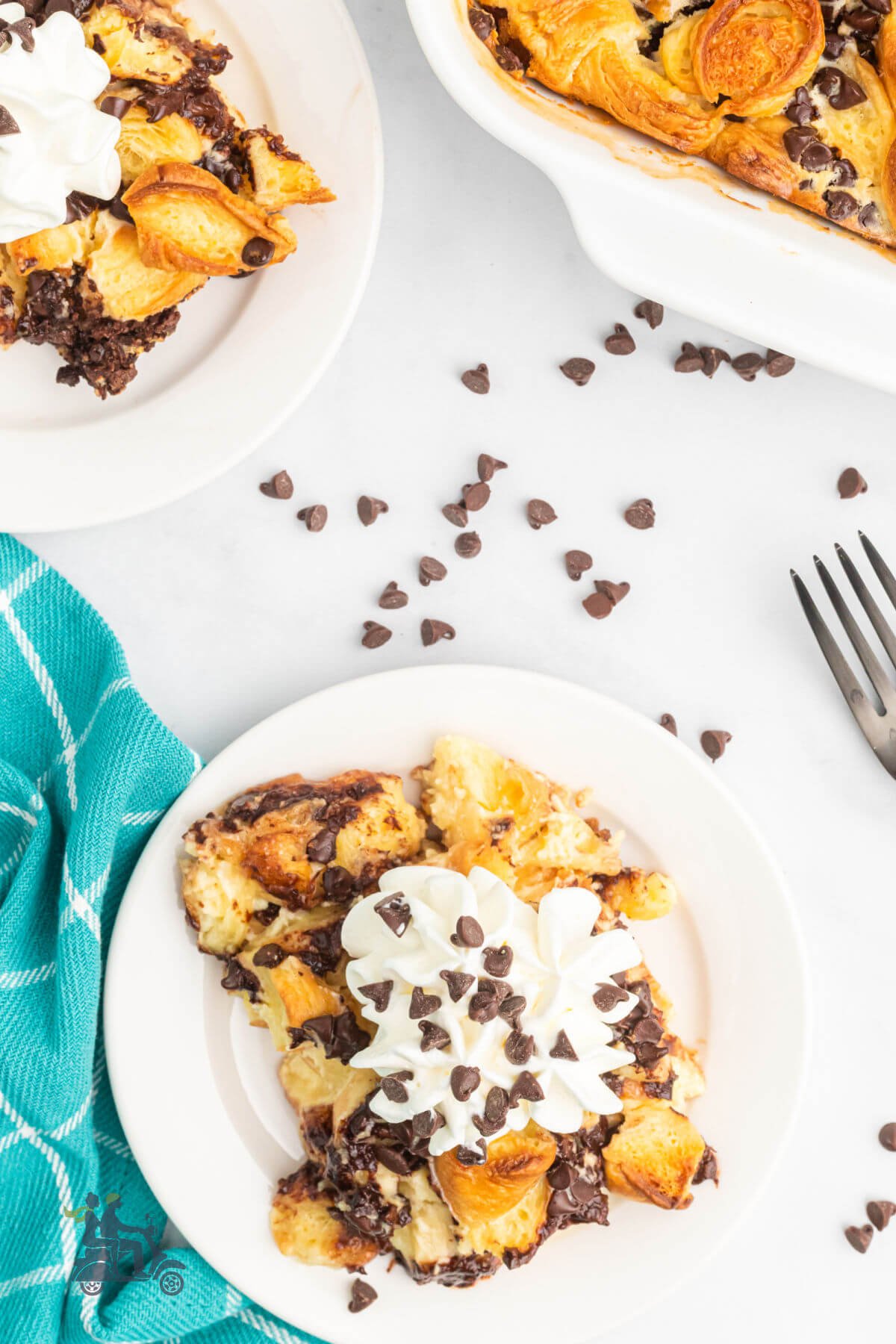 What's new? Check out my All Our Way Store on Amazon. We'll be adding more items we love and use or wish we had to make cooking fun and easy.
📝 Recipe Card
Chocolate Breakfast Croissant Casserole combines chopped flaky croissants with a creamy custard filling, and chocolate chips. The casserole is baked until golden brown and enjoyed with a dollop of whipped cream and extra chocolate chips!
For the family members who are in the savory breakfast camp, try this delicious Make Ahead Breakfast Enchiladas Recipe.
If you love this recipe please give it 5 stars ⭐️⭐️⭐️⭐️⭐️.
📖 Recipe
Chocolate Croissant Breakfast Casserole
Chocolate Breakfast Croissant Casserole combines chopped flaky croissants with a creamy custard filling, and chocolate chips. Baked until golen brown and enjoyed with whipped cream and extra chocolate chips!
Print
Pin
Rate
As An Amazon Associate I earn from qualifying purchases.
Ingredients
12

ounce

Croissants - mini or regular from bakery

chopped into 1-inch pieces

16

ounces

cream cheese, softened

2- (8-ounce) packages

1⅓

cups

Granulated sugar

4

Eggs

Large

2

teaspoons

Vanilla extract

2

cups

Milk

16 ounces

2

cups

Semi-Sweet Chocolate Chips
Instructions
Preheat oven to 350℉. Lightly spray the bottom and sides of a 9X13 baking dish with cooking spray.

Even spread the croissant pieces in the prepared baking dish. Sprinkle with the chocolate chips.

In a medium-size bowl, using an electric mixer, beat the softened cream cheese.

Add the granulated sugar and cream until smooth. be sure to scrape the sides of the bowl to get all the cream cheese.

Mix in the eggs, followed by the vanilla extract, until well combined.

Beat in the milk and mix until combined.

Pour evenly over croissant pieces. Let stand 20 minutes or cover and refrigerate overnight.

Bake uncovered for 35-45 minutes or until set in the center.

Serve warm with a dollop of whipped cream.
Nutrition
Calories:
831
kcal
|
Carbohydrates:
83
g
|
Protein:
15
g
|
Fat:
50
g
|
Saturated Fat:
28
g
|
Polyunsaturated Fat:
2
g
|
Monounsaturated Fat:
14
g
|
Trans Fat:
1
g
|
Cholesterol:
178
mg
|
Sodium:
401
mg
|
Potassium:
504
mg
|
Fiber:
5
g
|
Sugar:
60
g
|
Vitamin A:
1318
IU
|
Vitamin C:
1
mg
|
Calcium:
186
mg
|
Iron:
4
mg
Sign up for the emails and never miss another recipe!!
We'll never share your email or send you spam. Promise