If you're looking for the perfect weeknight dinner that only calls for 4 ingredients and satisfies even the pickiest of eaters then you have to try this Stuffed Rigatoni Recipe!
Stuffed Rigatoni is a simple pasta-baked casserole including cheddar cheese stuffed pasta, marinara sauce, and a Parmesan cheese topping. That's it! It's so ridiculously easy to whip up yet totally addictive that you'll be wondering why you never added it to the weekly menu before!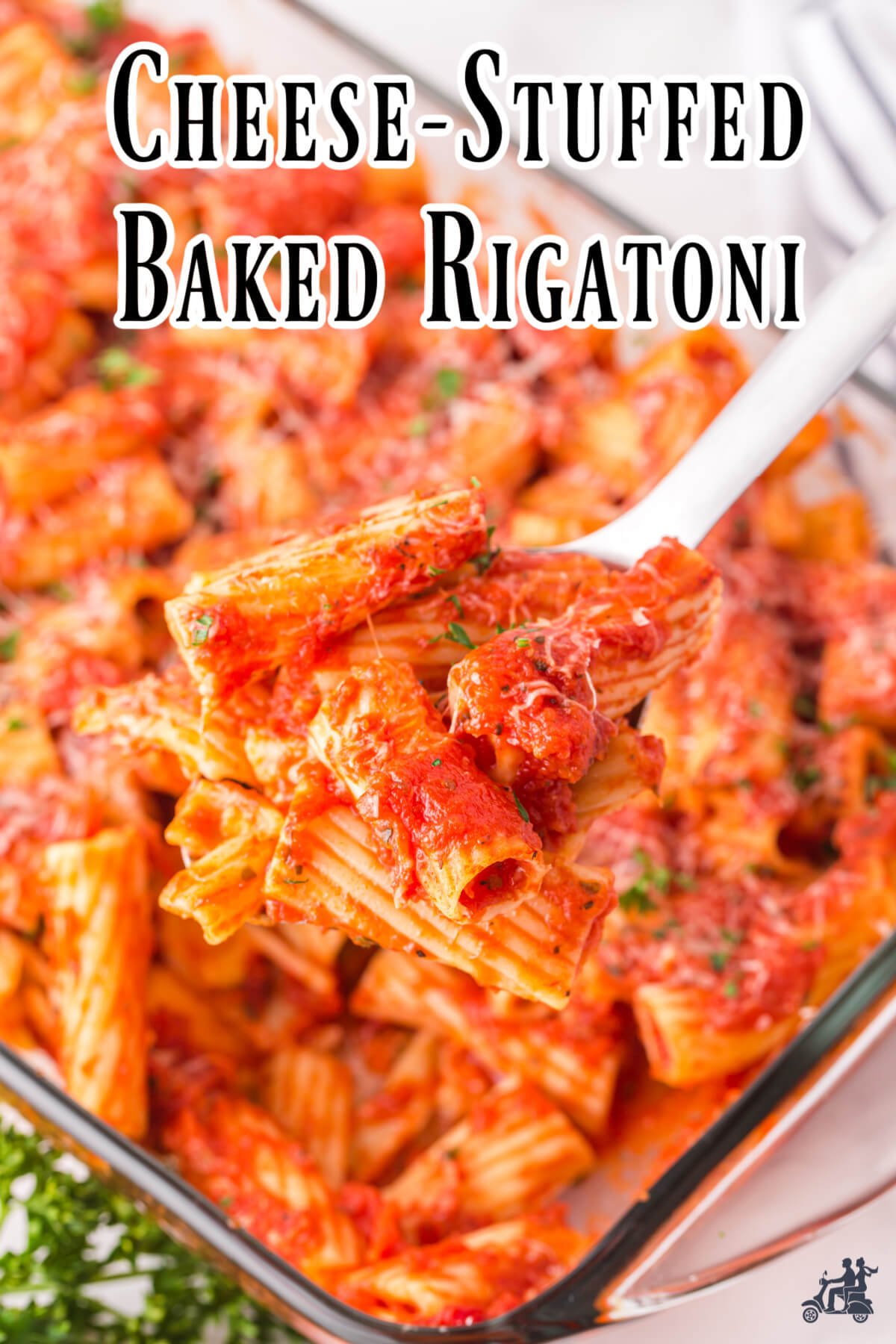 Jump to:
❤️ Why you'll love this recipe
Incredibly simple: This dish is just Rigatoni pasta, stuffed with cheddar cheese, mixed with marinara sauce and topped with grated Parmesan cheese for baking!
Extremely adaptable: There are various ways to adapt this stuffed Rigatoni recipe, whether that's to bulk it up with meat or make it extra cheesy with the addition of a 3rd cheese.
An ideal family meal: This dish can be served as a family meal with the kids. You can rest easy knowing that everyone's going to love their food and it doesn't even require much time in the kitchen at all!
When it comes to a truly comforting plate of saucy and cheesy pasta, you couldn't ask for anything simpler than this stuffed Rigatoni recipe. It's a hit no matter who the crowd is!
🛒 Ingredients
As an Amazon Associate, I earn from qualifying purchases.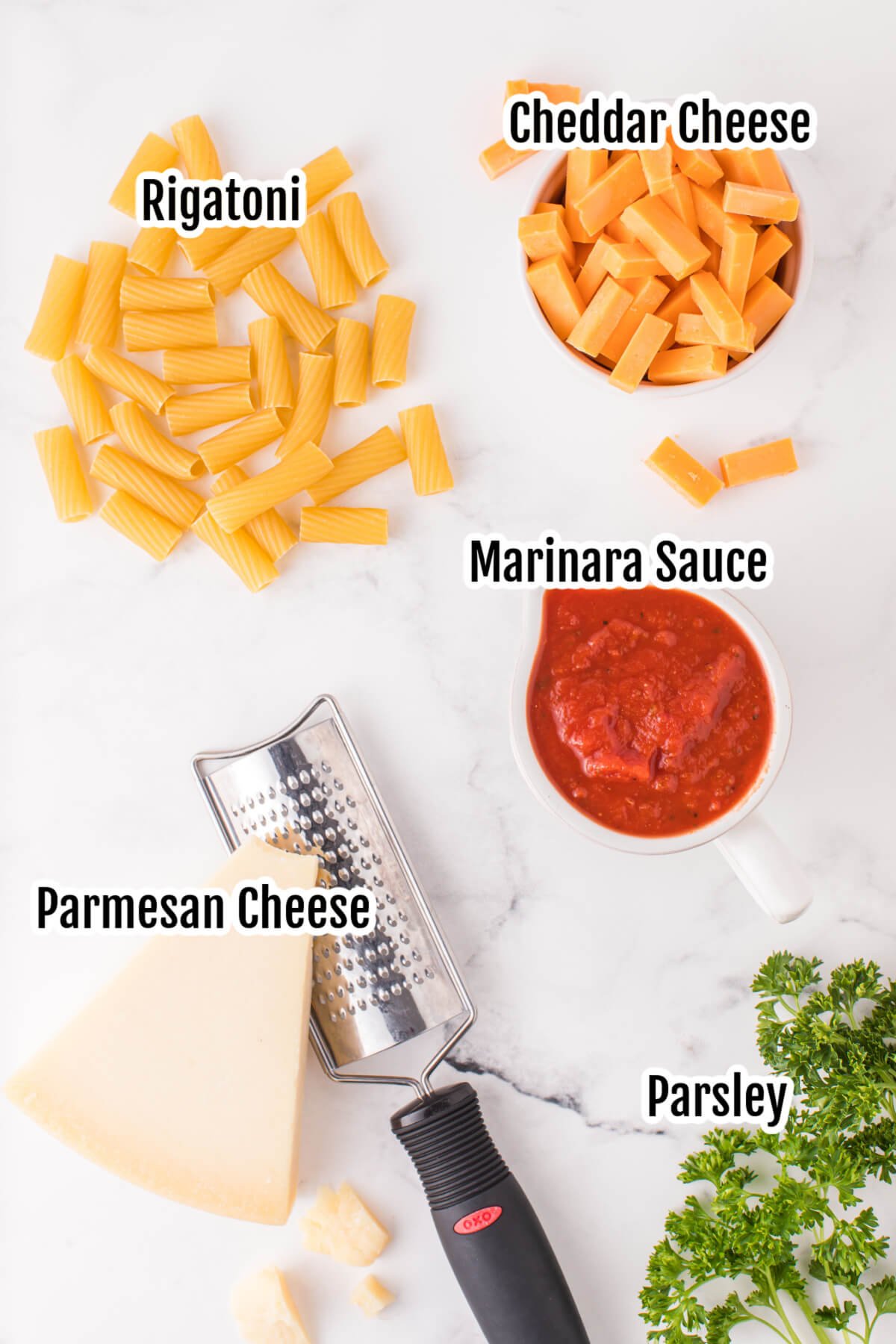 Note: The full list of this recipe ingredients with their amounts and options are listed in the recipe card below.
🗒 Instructions
Note: This is an overview of the instructions. The full instructions are in the Stuffed Rigatoni recipe card below.
Once the Rigatoni pasta is cooked, stuff them with small sticks of cheddar cheese.
Add the stuffed Rigatoni to a casserole dish.
Pour marinara sauce over the pasta.
Mix the sauce and pasta until all pasta is well coated.
Pour in more sauce if required, making sure that you gently mix with the pasta so that the cheese sticks don't come out of the pasta.
Top the saucy pasta with grated Parmesan cheese and bake, making sure to add extra cheese on top 5-10 minutes before removing from the oven.
Once cooked, garnish the stuffed Rigatoni casserole with freshly chopped parsley.
Serve this mouth-watering stuffed Rigatoni warm.
🔪 Equipment
The following are affiliate links. We are a participant in the Amazon Services LLC Associates Program, an affiliate advertising program designed to provide a means for us to earn fees by linking to Amazon.com and affiliated sites.
You'll need the following items to make this recipe successfully.
🤔 FAQs
These are the questions we are most frequently asked about making a Rigatoni Bake recipe.
What is the difference between baked ziti and baked rigatoni?
Rigatoni is a type of pasta - the name refers to the ridges along the outside of the tubes. Ziti is a pasta.
What is the cooking time of rigatoni?
It averages around 12 minutes. But for this dish we want to make it molto al dente which means cooking for about 9 minutes. If you wanted to cook the rigatoni al dente it would be about 2 minutes less the called for cooking time. The pasta will continue to cook as it bakes so you don't want to cook the pasta to its full amount of time.
What can I substitute for rigatoni noodles?
If you don't have rigatoni on hand, you can substitute with penne or ziti pasta but they will be too small to stuff.
Rigatoni pasta is unique that it's large and tubular with ridges that catch the sauce and gives every mouthful a big bite of flavor. They're also the perfect shape for stuffing with cheese and other ingredients.
Can I make pasta bake the day before?
Most baked pasta dishes you can make ahead, and bake before serving. Typically, you prepare everything up to the point where it would go in the oven, then cover and refrigerate. Since the ingredients are cold, you will have to bake for several minutes longer.
What are other ways to stuff rigatoni?
You can make a mixture of ingredients such as ricotta, spinach, egg, garlic, Parmesan cheese, and salt. The easiest way to fill the pasta then is to put the mixture in a piping bag and squeeze the filling into each tube.
You can also pipe a seasoned ground beef, sausage or mushroom mixture into the rigatoni and either bake it with a sauce or fry the pasta few pieces at a time, then top it with a pasta sauce and bake. Or better still, have them as appetizers.
👩🏻‍🍳 Tips
I usually shave off a minute or 2 from the recommended boiling time to achieve an al dente pasta. By the time the semi-cooked pasta has cooked further in the oven, it's not overcooked.
If you decide to only cook your pasta for half the time as directed by the packaging directions, I recommend that you increase the amount of marinara sauce used in this dish as the pasta will require additional liquid while baking so that it doesn't dry out.
If you find that the noodles are too hot to handle when it comes to stuffing them with the cheese sticks, keep rinsing the pasta with cold water until it reduces the heat for comfortable handling.
To help prevent the pasta tubes from sticking together, toss it with some olive oil.
It's always a good idea to cook pasta in salted water as this will help to enhance the overall flavor of the dish.
Use your fingers to push the cut cheddar cheese into the Rigatoni pasta or if you've opted to stuff the pasta with something else like ricotta cheese, you could use a piping bag for ease.
📚 Variations
If you don't have Rigatoni pasta, you can use penne or Ziti pasta instead. Although, I've found that it's much more tricky to get the cheese inside other pasta. Rigatoni is great. It's big enough to be stuffed with cheese and is also great for "catching" the marinara sauce.
If you crave a meaty pasta dish, incorporate some ground beef or chunks of sausage into the mixture.
Add in some greens, and legumes such as Swiss chard and beans for a hearty stuffed Rigatoni.
While this recipe uses cheddar cheese and Parmesan cheese, you could make an extra cheesy pasta casserole by including another cheese that would blend well with the cheeses already called for in this recipe.
Add some panko breadcrumbs on the top of the casserole just prior to baking for a crunchy topping.
Instead of stuffing the Rigatoni pasta with cheddar cheese consider stuffing it with creamy spinach, ricotta or even a meaty mixture. The options are plentiful!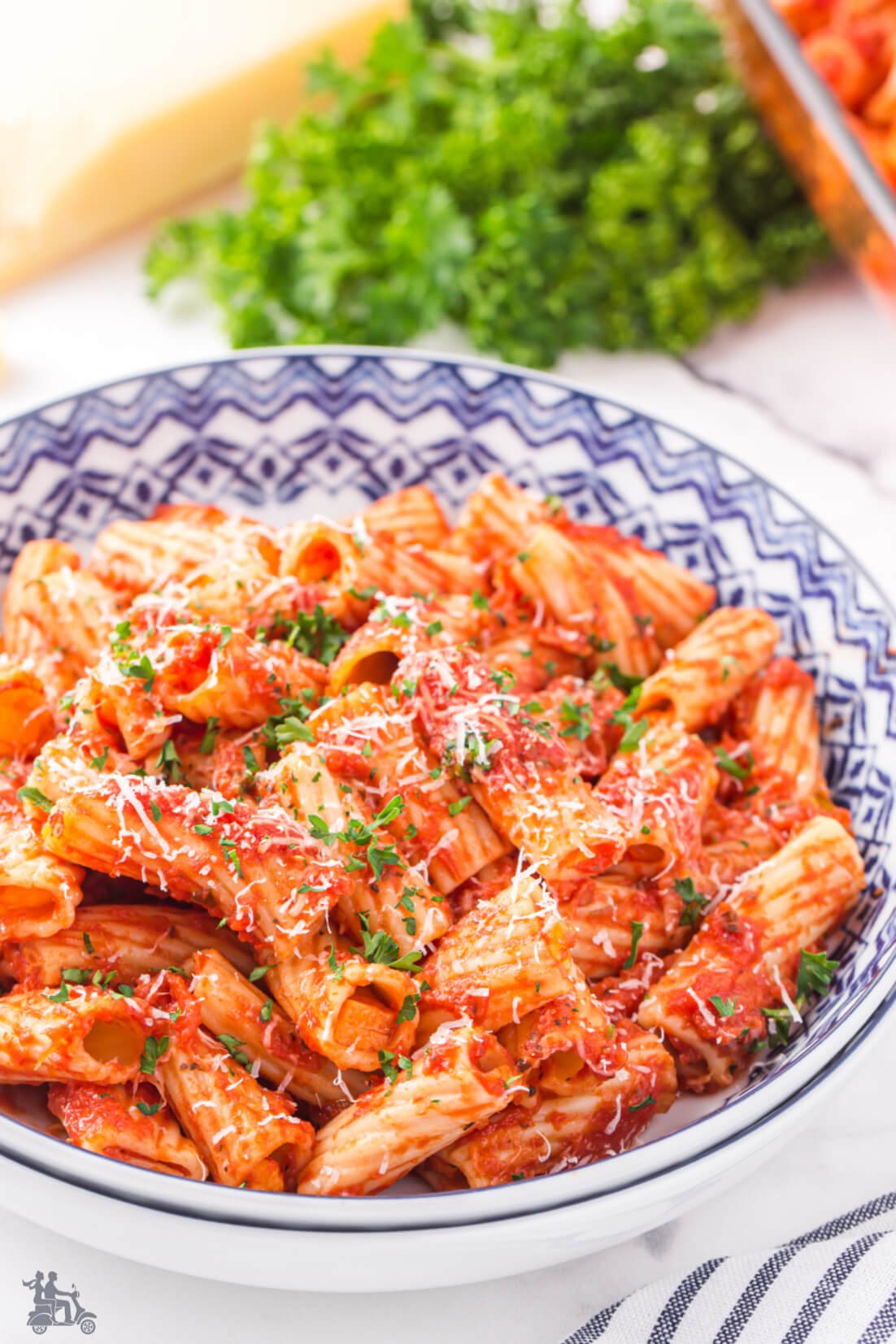 🥫 Storage
Cool and refrigerate for 3 or 4 days in an airtight container.
To freeze, cool completely, cover tightly with plastic wrap, then aluminum foil. East within 3 months for best taste and quality. To reheat, take off the plastic wrap and replace the aluminum foil. Bake at 350℉. until the rigatoni bake casserole is heated through, 1 to 1-½ hours.
📗 Related Recipes
Baked pasta casseroles are often simple to assemble yet loaded with incredible flavor and texture. This stuffed Rigatoni recipe is no exception. If you love pasta-based casseroles, then you should also treat yourself to these No Boil Lasagna Roll Up, Baked Spaghetti Pie, or Ziti Al Forno!
🍽 Serve with
To complete this ultra comforting meal, consider pairing it with homemade Italian bread such as Parmesan Herb Pizza Bread, Italian Hard Rolls, or Stuffed Italian Bread.
For something lighter, try a side of fresh Italian Summer Salad With Basil Dressing.
This stuffed Rigatoni recipe could also be used as a side dish when serving grilled meats and roasts.
📞 Chiacchierata (chat)
Growing up, I remember eating a dish very similar to this stuffed Rigatoni recipe. My favorite part in helping with the cooking as a kid was to stuff the cheese into the noodles! If you are trying out this dish for the first time, I highly recommend getting your kids to help you. They'll absolutely love it!
…tell them that it's one of the most important steps in the recipe. You'll never be without little helpers going forward!
Stuffed pasta is always a popular hit with families, potlucks, and gatherings. Our Giant Cheese Stuffed Shells recipe is always in demand and we gladly make it. So simple to make ahead of time.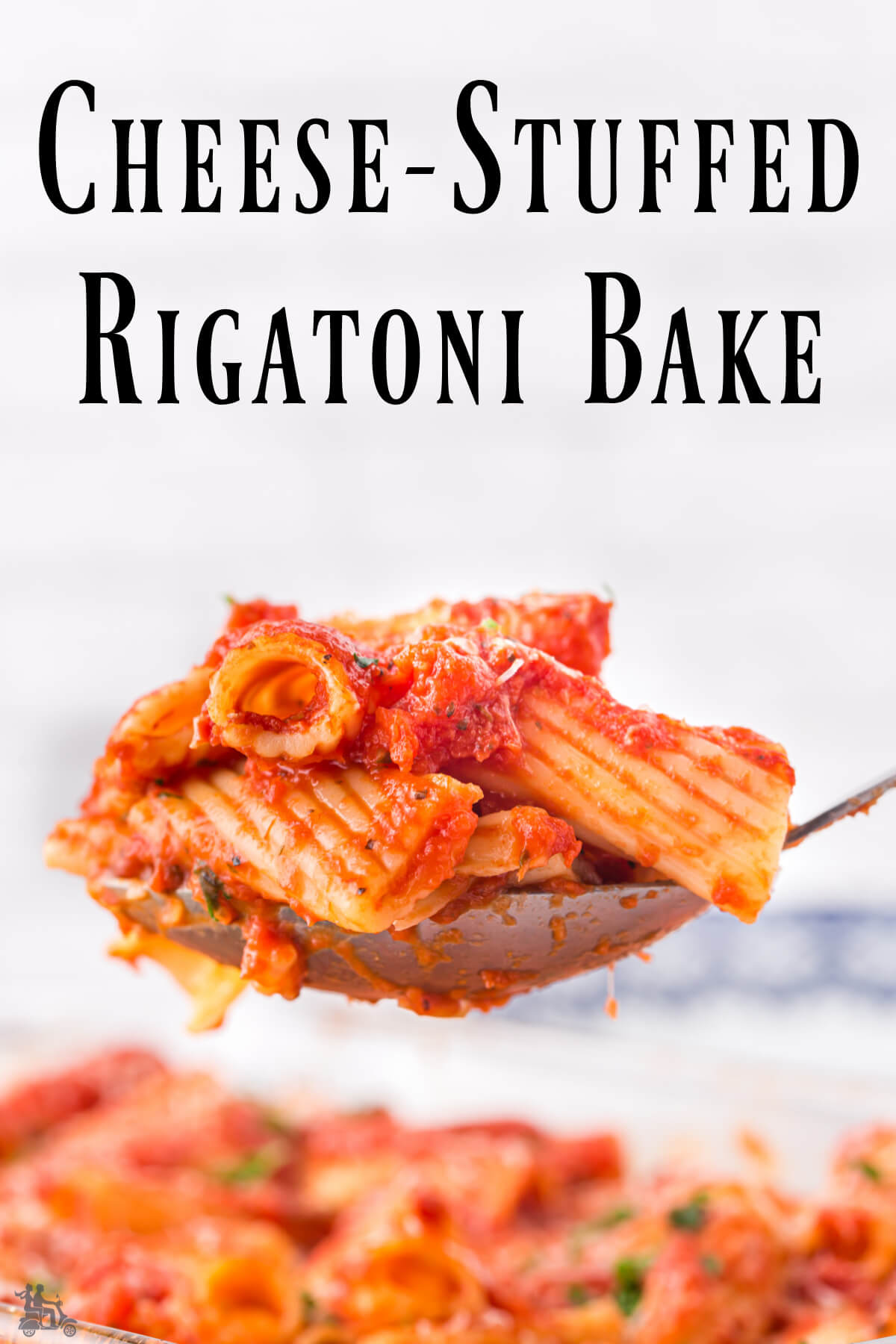 What's new? Check out my All Our Way Store on Amazon. We'll be adding more items we love and use or wish we had to make cooking fun and easy.
📝 Recipe Card
This Stuffed Rigatoni is by far one of the easiest and most comforting pasta casseroles that you'll find. The tender pasta stuffed with cheddar cheese smothered in marinara sauce, and then topped with Parmesan sauce is irresistible!
If you love this recipe please give it 5 stars ⭐️⭐️⭐️⭐️⭐️.
📖 Recipe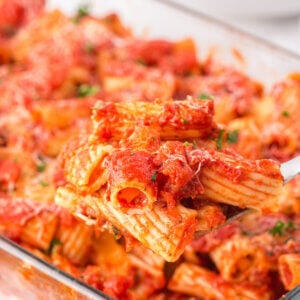 Cheese Stuffed Rigatoni Bake Casserole Recipe
This stuffed Rigatoni recipe is a simple and comforting baked pasta casserole made with cheese-stuffed pasta tubes, marinara sauce, and a grated Parmesan topping - perfect for lunch, dinner, or even as a side dish!
Print
Pin
Rate
As An Amazon Associate I earn from qualifying purchases.
Ingredients
9

ounces

Rigatoni Pasta

3 ⅓ cups

24

ounce

Marinara Sauce

Homemade or your favorite jarred variety

6

ounces

sharp cheddar cheese

⅓

cup

Parmesan Cheese

shredded

Italian parsley

chopped (for garnish)
Instructions
Heat a pot of water to boiling. When it starts boiling, add 1 Tablespoon salt.

Cook the rigatoni in the salted water for one minute less than the time listed on the box, as it will keep cooking in the oven. This is called cooking the pasta molto al dente instead of to "al dente."

Rinse pasta with cold water and drain. If there's a chance that the noodles will stick together, mix the cooked noodles with a little bit of olive oil.

Preheat the oven to 350℉.

Spray vegetable cooking spray into a 7X11-inch baking dish or 2 quart pan.

In order to stuff the rigatoni, cut the cheese into small sticks that will git into the rigatoni noodles.

Slide the cheese into each rigatoni pasta noodle and place the cooked noodles in the baking pan. *** See Notes Below.

Pour the jar of marinara sauce over the cheese stuffed rigatoni and gently mix, being careful that the cheese doesn't fall out of the pasta.

Cover with aluminum foil and bake for 30 minutes or until the cheese melts.

Uncover, sprinkle the Parmesan cheese on top, and bake for another 5-10 minutes, until all fo the cheese has melted.

Garnish with the chopped parsley. The rigatoni casserole is best served warm.
Notes
** Use your fingers to push the cut cheddar cheese into the Rigatoni pasta or if you've opted to stuff the pasta with something else like ricotta cheese, you could use a piping bag for ease.
Nutrition
Calories:
482
kcal
|
Carbohydrates:
58
g
|
Protein:
24
g
|
Fat:
18
g
|
Saturated Fat:
11
g
|
Polyunsaturated Fat:
1
g
|
Monounsaturated Fat:
5
g
|
Cholesterol:
50
mg
|
Sodium:
1293
mg
|
Potassium:
755
mg
|
Fiber:
5
g
|
Sugar:
9
g
|
Vitamin A:
1228
IU
|
Vitamin C:
12
mg
|
Calcium:
441
mg
|
Iron:
3
mg
Sign up for the emails and never miss another recipe!!
We'll never share your email or send you spam. Promise