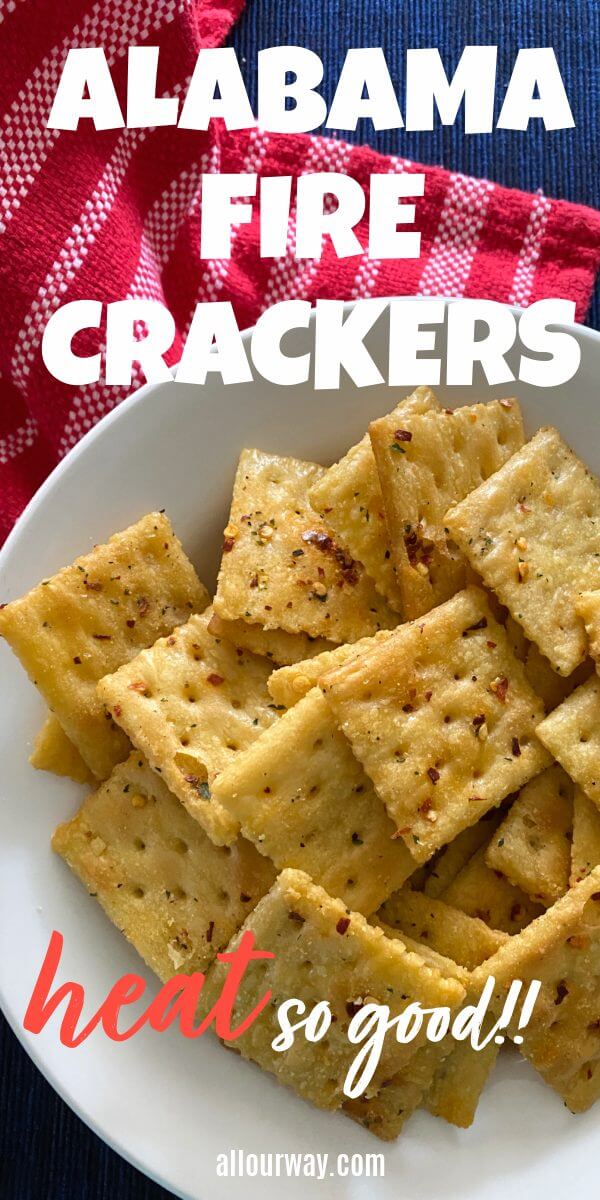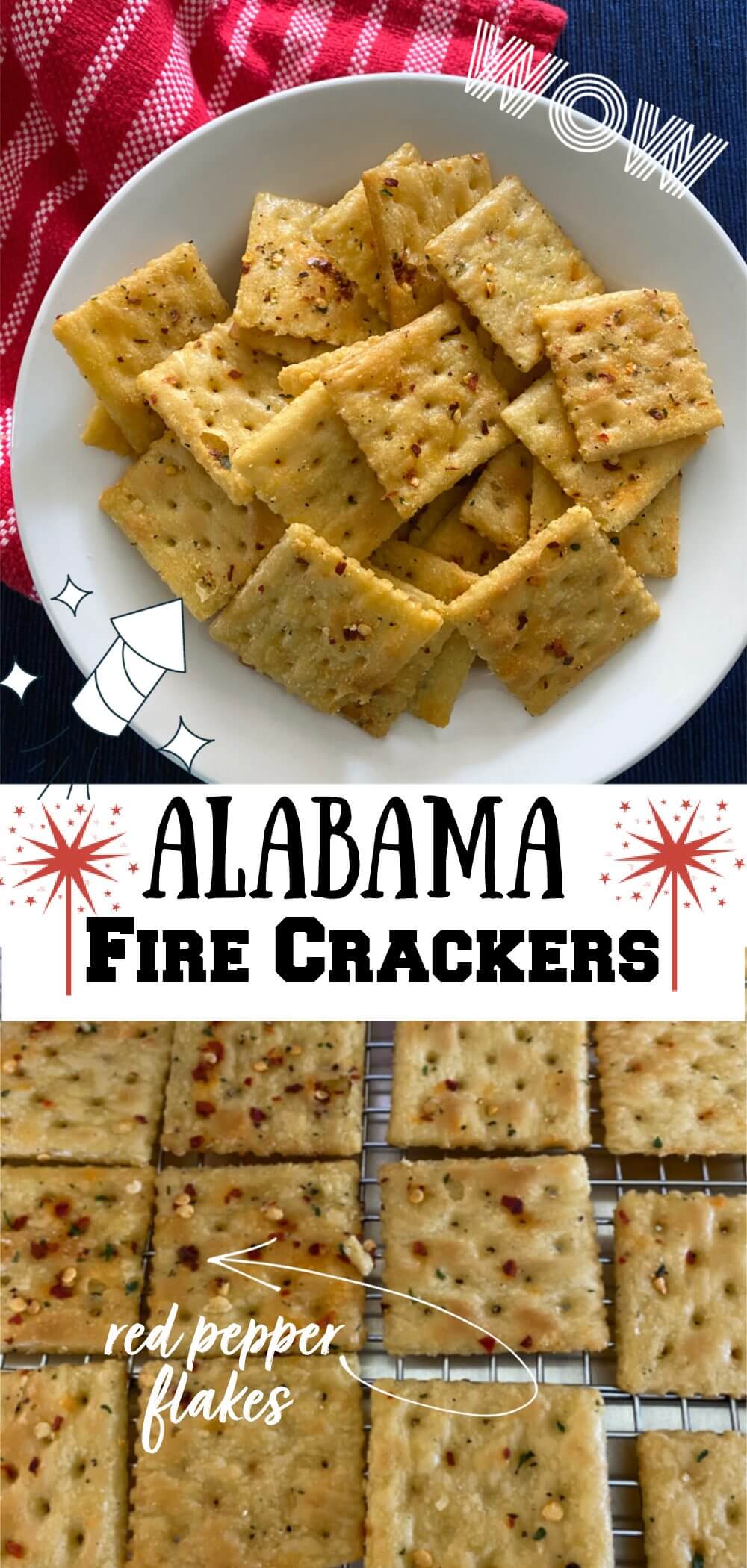 Alabama Fire Crackers are buttery rich crispy snacks that practically melt in your mouth. They're addictively delicious with just the right amount of peppery spice to tease your mouth and tongue. The saltine cracker appetizer is perfect for a party snack, game day get-together, or road trip to keep the hangries away. The Ranch seasoning makes them so good you'll want to keep some on hand for when you get those munchy cravings.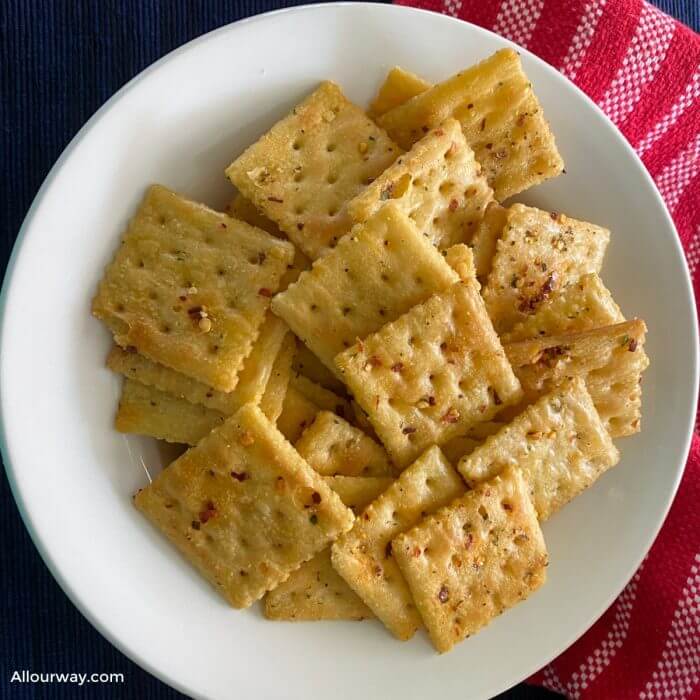 Crackers long history
Saltines have been around for a long time. They're a late 19th century creation. The inspiration came from the non-perishable wheat crackers known as hardtack, or ship's biscuits.
In fact, today it's almost like buying toilet paper only they're easier to find.
There's little excitement in these plain salty, flaky squares. You could say we take them a bit for granted. You know what I mean, we only dig them out of the pantry when:
we need something alongside a bowl of chili or chicken noodle soup .
our tummy is upset and we need a filler.
there is nothing else to munch on and we're desperate.
Saltines rise to fame
Enterprising home cooks realized that this pantry staple could do so much more. Not only could they top casseroles and main dishes for that crunch, they could also include them as fillers in ground meat to extend the protein.
But that wasn't all. This rigid, dry cracker could also hold its crumb structure when soaked in fat, ice water, hot sauce, and many other ingredients.
That's saying a lot for the lonely cracker.
This is how we came about Alabama Fire Crackers. But you may know them by another name. You'll find these crackers called...
Ranch Crackers
Comeback Crackers
Party Crackers
Fire Crackers
I'm sure there are many more names for them. My dear Mother-In-Law gave me a recipe for Ranch Oyster Crackers that we make every Christmas. They're spiced up but nothing like the fire crackers.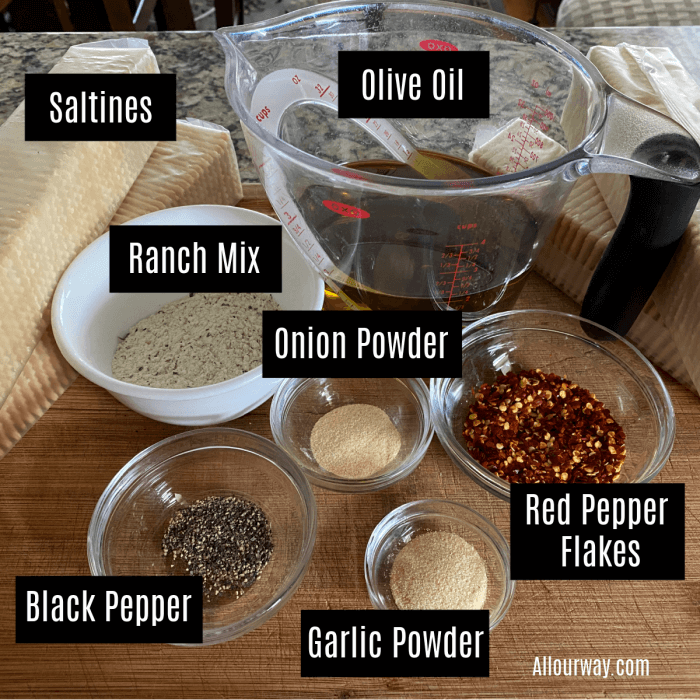 Shopping list
Saltine crackers -- a one pound box. Find the crackers that are in individual sleeves. You certainly don't want to try to break apart a large square.
Extra Virgin Olive Oil -- although you need 2 cups the olive oil gives the Alabama Fire Crackers a buttery taste and no greasy feel or taste to them.
Garlic powder -- it's all about the seasoning.
Onion powder -- just enough to boost the taste.
Black pepper -- that adds to the spice
Dressing Mix -- love that taste with just the right amount of saltiness and flavor.
Red Pepper Flakes -- here comes the fire but really it's not too much. The grandsons LOVED it including the five-year-old.
I would venture to say that you have most of these ingredients in your pantry right now. Believe me, this makes a lot and they store for weeks.
BUT!! I challenge you to keep them that long.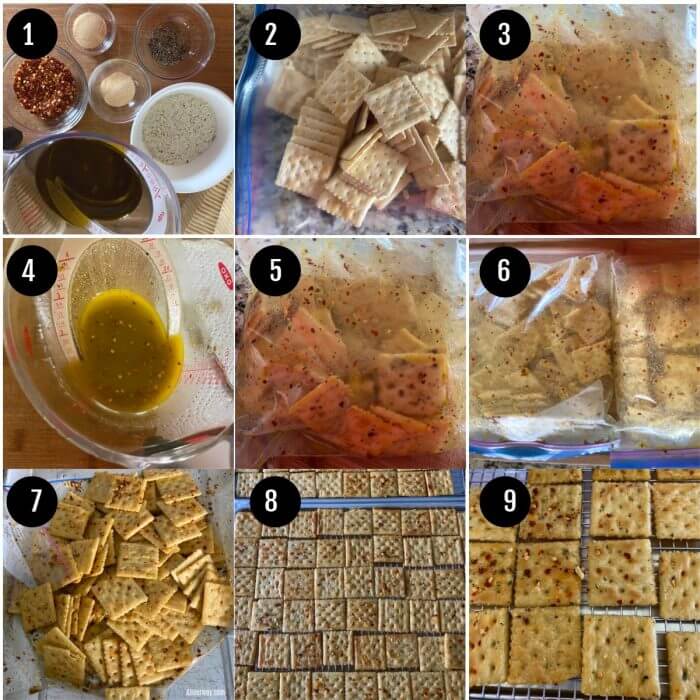 Alabama Fire Cracker instructions
This recipe doesn't need any special equipment. All you need is:
Two ziplock bags
A mixing bowl
A baking tray with a rack inside (two is best if you have them)
Measuring cup and spoons
Step by step
Unwrap two sleeves of crackers and place them in one ziplock bag. Unwrap the other two sleeves and place them in the other ziplock bag.
Measure out the 2 cups of olive oil and then add all of the seasonings and spices to it. Whisk the ingredients together so that they are well mixed.
Pour half of the oil mixture into one bag and seal the bag. Do the same with the other bag and seal.
Turn the bags over several times to coat the crackers with the spice mixture. The more you can do this the better -- you want it all coated.
Let the bag sit overnight.
Following day heat oven to 250℉.
Lay out ranch crackers on rack set into baking sheet.
Bake for about 15-20 minutes.
Chef tips
If you don't have a rack that fits within your baking sheet, you can just place it directly on your baking sheet. We like to use the rack because the air can circulate all around the cracker.
A large measuring cup with a spout is handy for pouring. Measure the two cups of oil in the cup and add the seasonings. One item to clean versus a measuring cup and a mixing bowl.
Store the Alabama Fire Crackers in a zip lock bag. The saltines will stay crispy and tasty.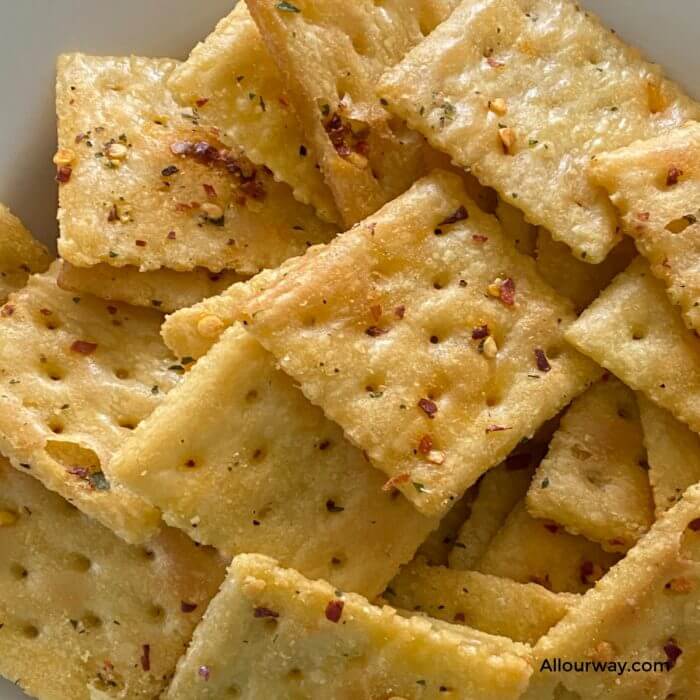 Quattro Chiacchiere (a chat)
The Christmas season wouldn't be the same without our Ranch oyster crackers and Party Mix. We now have another addition -- Alabama Fire Crackers.
These are the type of party snacks that you can make ahead and are ready for whoever pops in.
But besides serving the Ranch crackers to family and guests, think about making up several batches and giving them as gifts.
Don't you think that is a fantastic idea? Store up on the ingredients now, and look for some cute containers. Watch the excitement when you deliver the gift.
Tutti a tavolo è pronto!
Un caro saluto e alla prossima.
You may need...
As An Amazon Associate I earn from qualifying purchases.
We need to buy red pepper flakes in big containers. We use the pepper in almost all of our sauces, vegetables and seasonings. It goes fast when you use it like we do. It's super expensive in a small jar so we go for the economical size.
What's new? check out my All Our Way Store on Amazon. We'll be adding more items we love and use or wish we had to make cooking fun and easy.
Thank you for being part of All Our Way!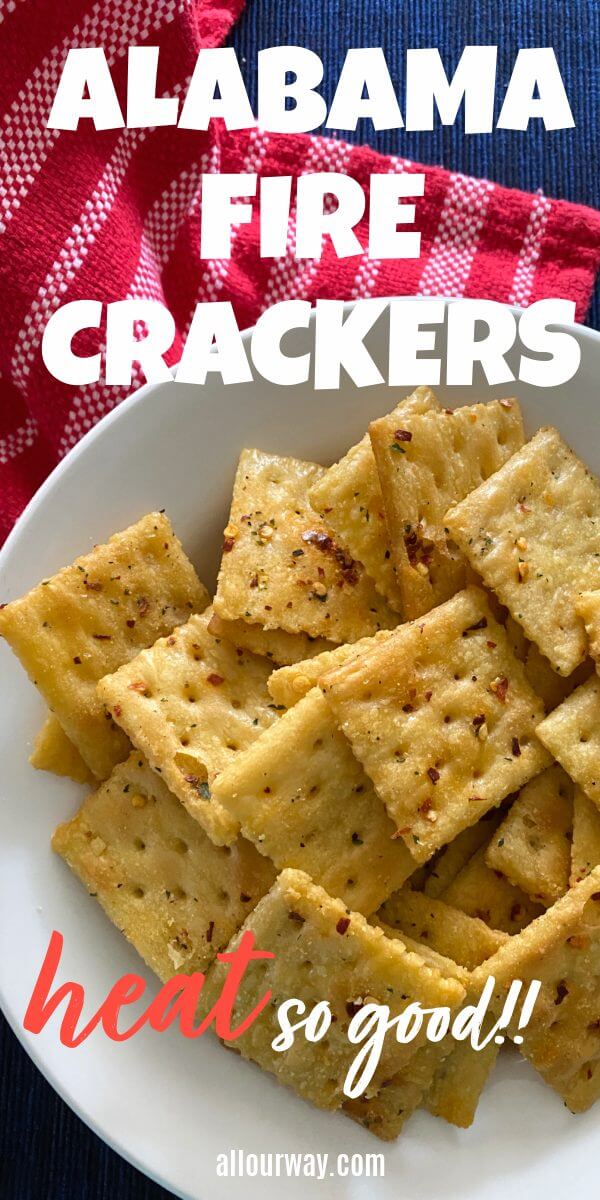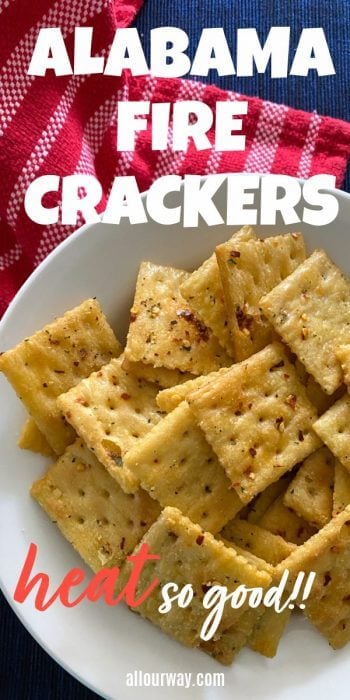 Alabama Fire Crackers Recipe
These are not your average snack crackers These saltines are transformed into a delightful party snack that is so addictive you can't eat just one. These Ranch crackers will make a fantastic addition to a bowl of soup, game day, a party, or even give a tin full as a gift. Try them and they'll become a favorite.
If you like this recipe please give it a 5-star rating.
📖 Recipe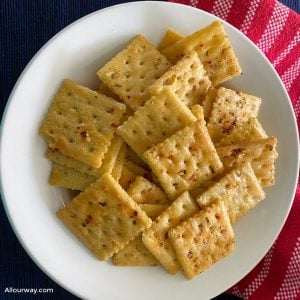 Spicy Alabama Fire Crackers
Buttery rich seasoned Saltine crackers are transformed to a special party snack with just a few pantry staple ingredients. So addictive you can't eat just one.
Print
Pin
Rate
As An Amazon Associate I earn from qualifying purchases.
Ingredients
16

oz.

saltine crackers

one pound box with 4 sleeves in box. We used Zesta.

1

teaspoon

garlic powder

1

teaspoon

onion powder

½

teaspoon

black pepper

4

tablespoon

Ranch Dressing Mix

2 packages

3

tablespoon

red pepper flakes

2

cups

extra virgin olive oil
Instructions
Unwrap two sleeves of crackers and put them in one Ziplock bag and the other two unwrapped sleeves in the second bag.

In a large mixing bowl add the olive oil and all of the seasonings. Whisk to combine all of the ingredients. We use a large measuring cup with a spout.

Pour half of the mixture in one bag and half in the second bag.

Seal the bags and gently turn each bag over several time to coat the crackers with the spice mixture.

Let the bag sit overnight on your counter. All of the oil should absorb by morning.

Remove the crackers and lay them out on the rack that's in the baking sheet.

Bake at 250℉ for about 15-20 minutes.

If you're short on time you can skip the baking but the crackers taste 1000% better baked.
Video
[adthrive-in-post-video-player video-id="ZTWOQnps" upload-date="2020-07-22T20:41:59.000Z" name="Alabama Fire Cracker Recipe A Party Appetizer" description="Ranch Fire Crackers are not your usual snack. Saltines are transformed into something absolutely delicious and you can't stop and just one. They are excellent with soups, as party snacks, game day celebration and for when you get the hangries. " player-type="default" override-embed="default"]
Notes
Store the crackers in an air-tight container. They will stay crispy and delicious for several weeks - that is if your family can stay away from them.
Nutrition
Calories:
199
kcal
|
Carbohydrates:
13
g
|
Protein:
2
g
|
Fat:
16
g
|
Saturated Fat:
2
g
|
Sodium:
318
mg
|
Potassium:
41
mg
|
Fiber:
1
g
|
Sugar:
1
g
|
Vitamin A:
237
IU
|
Calcium:
6
mg
|
Iron:
1
mg
Sign up for the emails and never miss another recipe!!
We'll never share your email or send you spam. Promise
Note: Recipes and content from © 2014-2019 All Our Way are copyright protected. Please do not use content or recipe without prior written permission. If you want to share the information, please link to this post. Grazie.