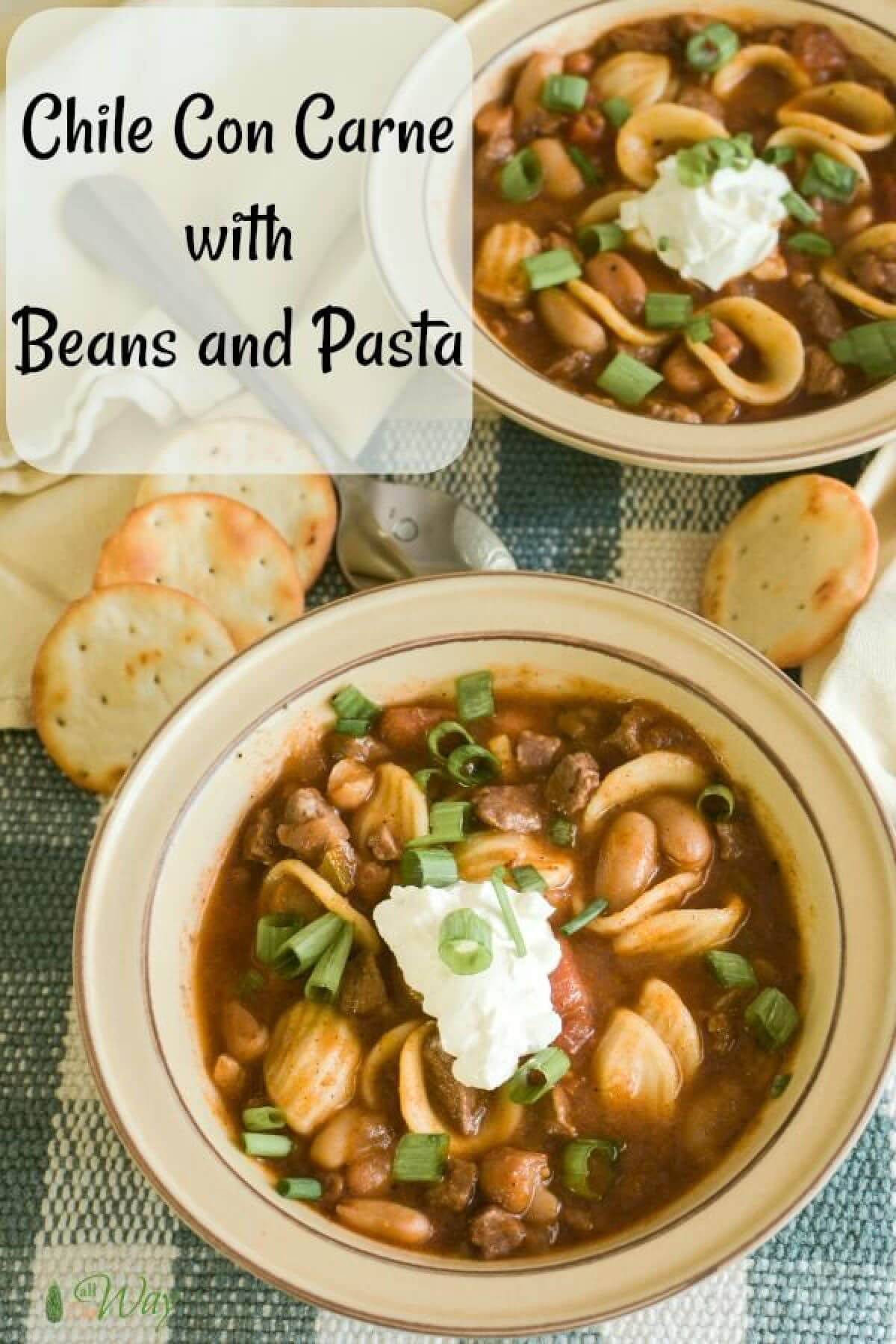 Chili Con Carne or chili with meat is a dish that is rich in beef, vegetables, herbs, seasonings, and beans. This version is spicy but you can make it as mild or as hot as you wish. The beauty of this award-winning chili recipe is that it's simple to make and to individualize. You can add or omit the beans - we prefer beans in our chili and like pinto beans in a homemade red chili recipe. And when we serve it, we add some cooked pasta to each bowl. That's adding an Italian touch to a Southwestern favorite. Whether you consider chili a soup or a stew, we're sure you'll enjoy this version.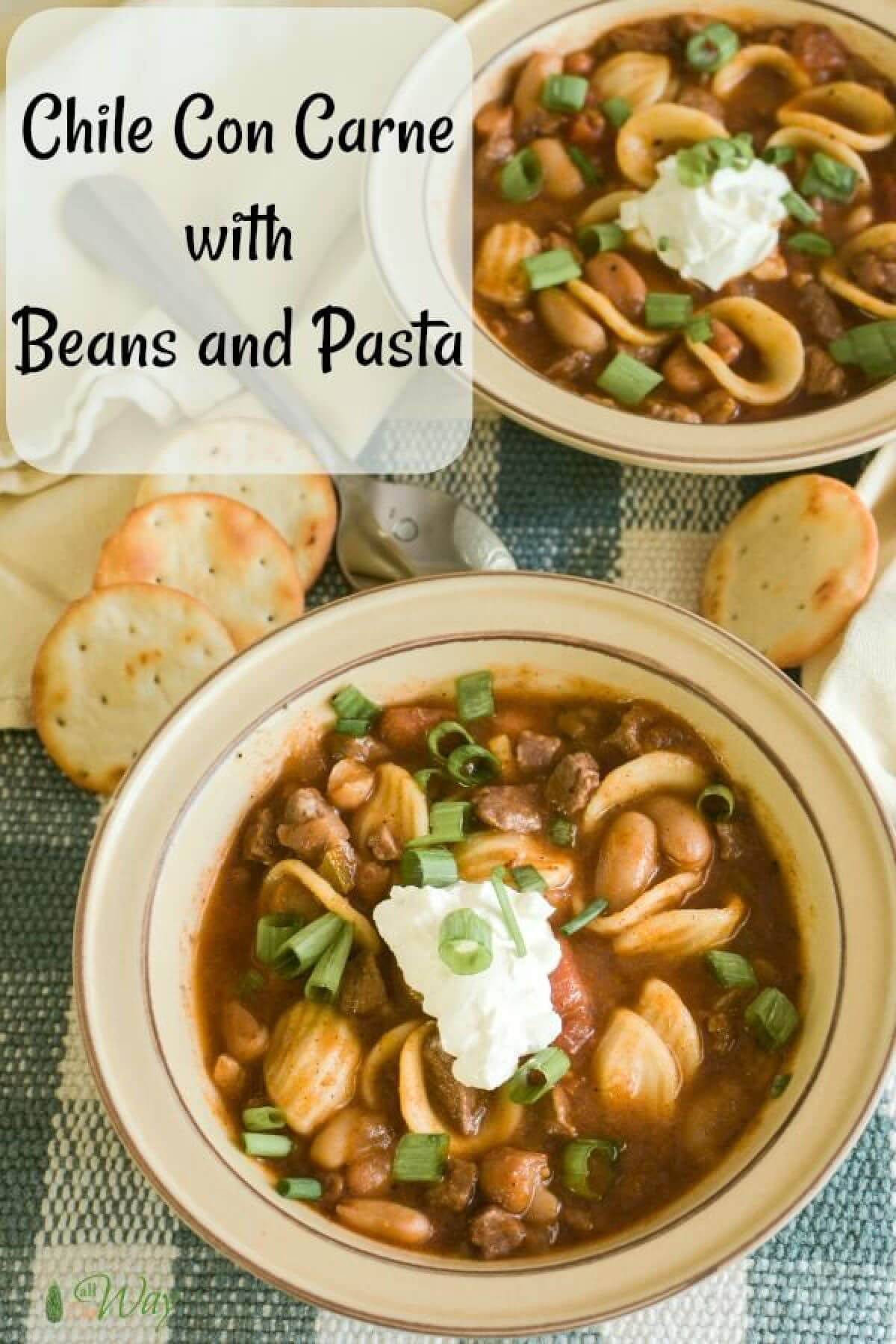 The best chili recipe.
A beautiful face may start a war but the debate over the best bowl of chili con carne will cause a major conflict. Crazy, isn't it? But it's said that the chili peppers (Capsicum annum) the principal ingredient in any chili recipe makes a person just a little daft.
I guess our family is a bit crazy about our Spicy Chili Con Carne, but to start a fight? Nah!! We'll be peaceful observers.
Ingredients
For this recipe, you will need :
beef
onion
garlic
jalapeño peppers
chili powder
cumin
beef broth
chicken broth
pinto beans
tomato sauce
adobo sauce
bay leaves
diced tomatoes or diced tomatoes with chilis
olive oil
butter
salt
black pepper
The desire to cook up the best bowl of chili in the world turns some of the sanest people into crazed fanatics! But the craziness doesn't stop there.
The spicy history of chili con carne.
Oh no! The great war/debate continues to where the first bowl was made . . . and by whom. The stories go anywhere from a product of a Texas trail drive to a tale of angry Aztecs, who cut up their invaders into chunks and seasoned them with chile peppers, then ate them.
Doesn't that send shivers up your spine? ????
From the seasonings to the tales -- there is nothing mild about chili!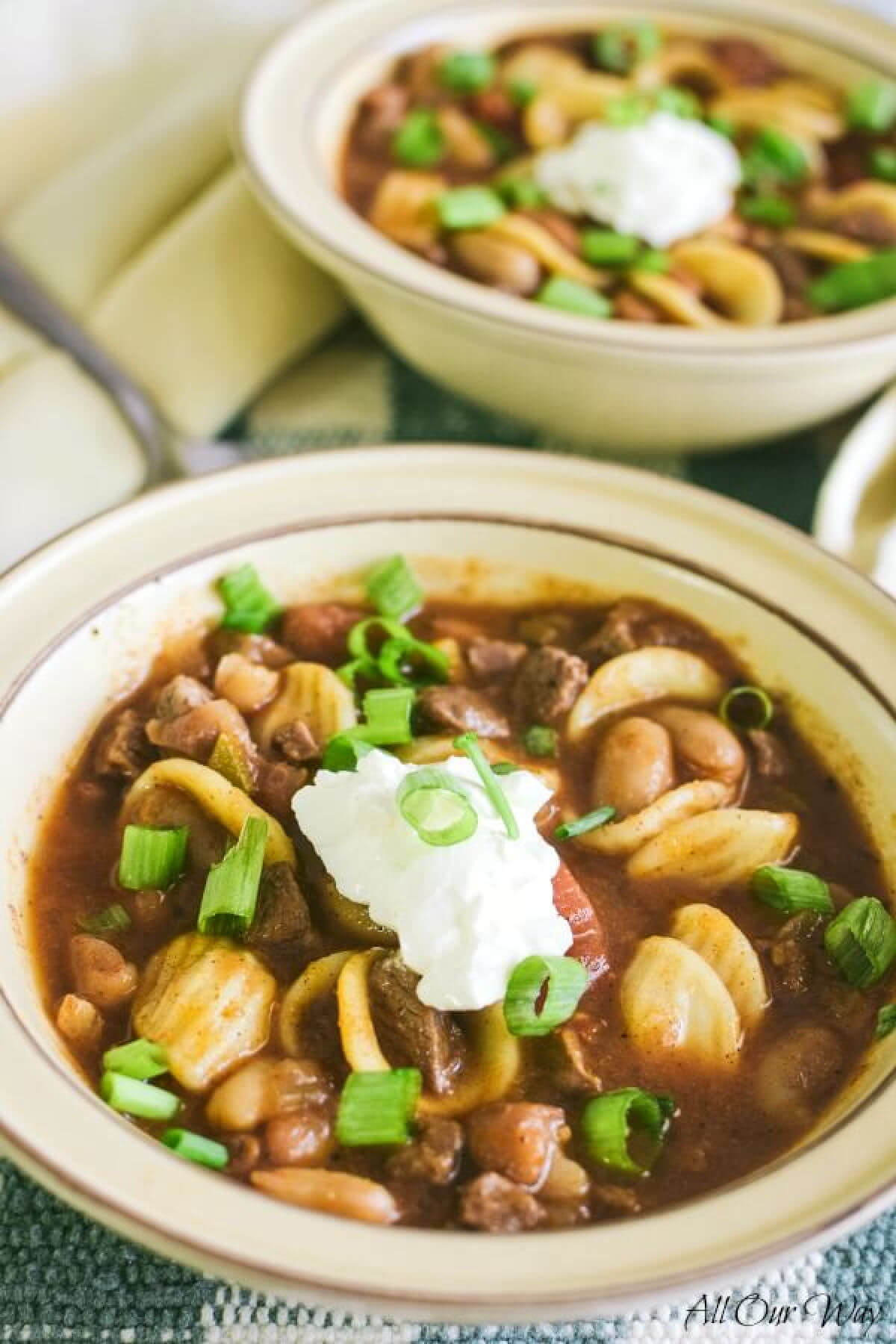 Our chili recipe is certainly not bland. Uh, uh!! We believe our Spicy Chili Con Carne, with the first spoonful, brings a delicious comforting heat to your tummy.
The minute we feel a chill in the air, we drag out our basic Chili con Carne recipe, the Dutch oven, and all the ingredients to prepare a big potful of our wonderful brew.
Is Chili Con Carne a soup or a stew?
We've made this chili soup (yes, we consider it a soup) so many times a recipe is truly unnecessary. The only reason we drag out the recipe is we just want to make sure we don't forget any of the delicious ingredients.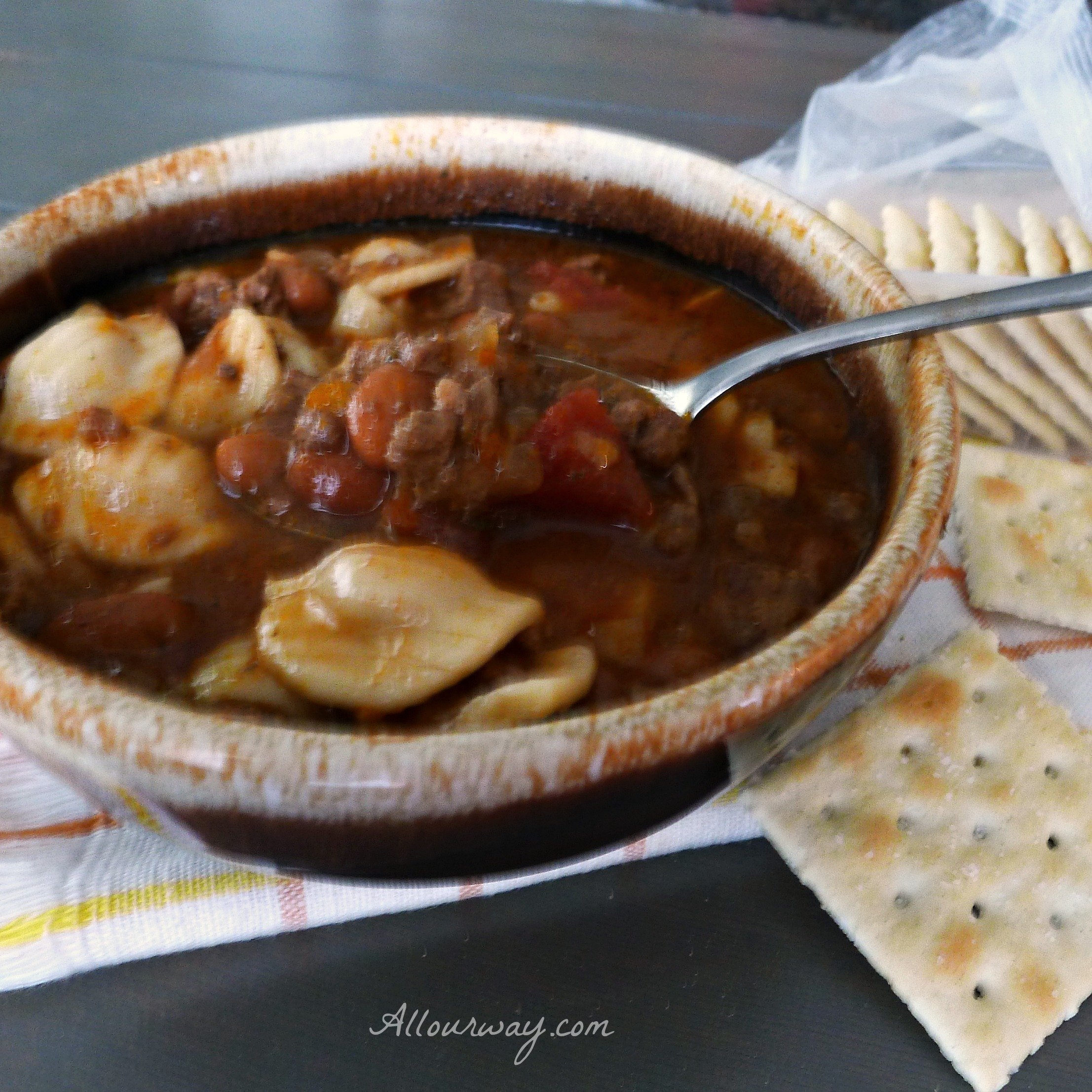 What we consider a stew is more like our Italian Venison Stew or our Hearty Venison Chili. These recipes can also be made with beef instead of venison.
Difference between a soup and stew:
A soup will have a base of a stock or broth and remain more liquid than solid.
A stew will have stock or broth in it but it will be thickened by slow cooking of the ingredients. Chili con carne is based around the main ingredient of meat.
Chili is the epitome of autumn, don't you think? Chill in the air ... tailgating ... bonfires ... spicy seasonings ... Spicy Chili!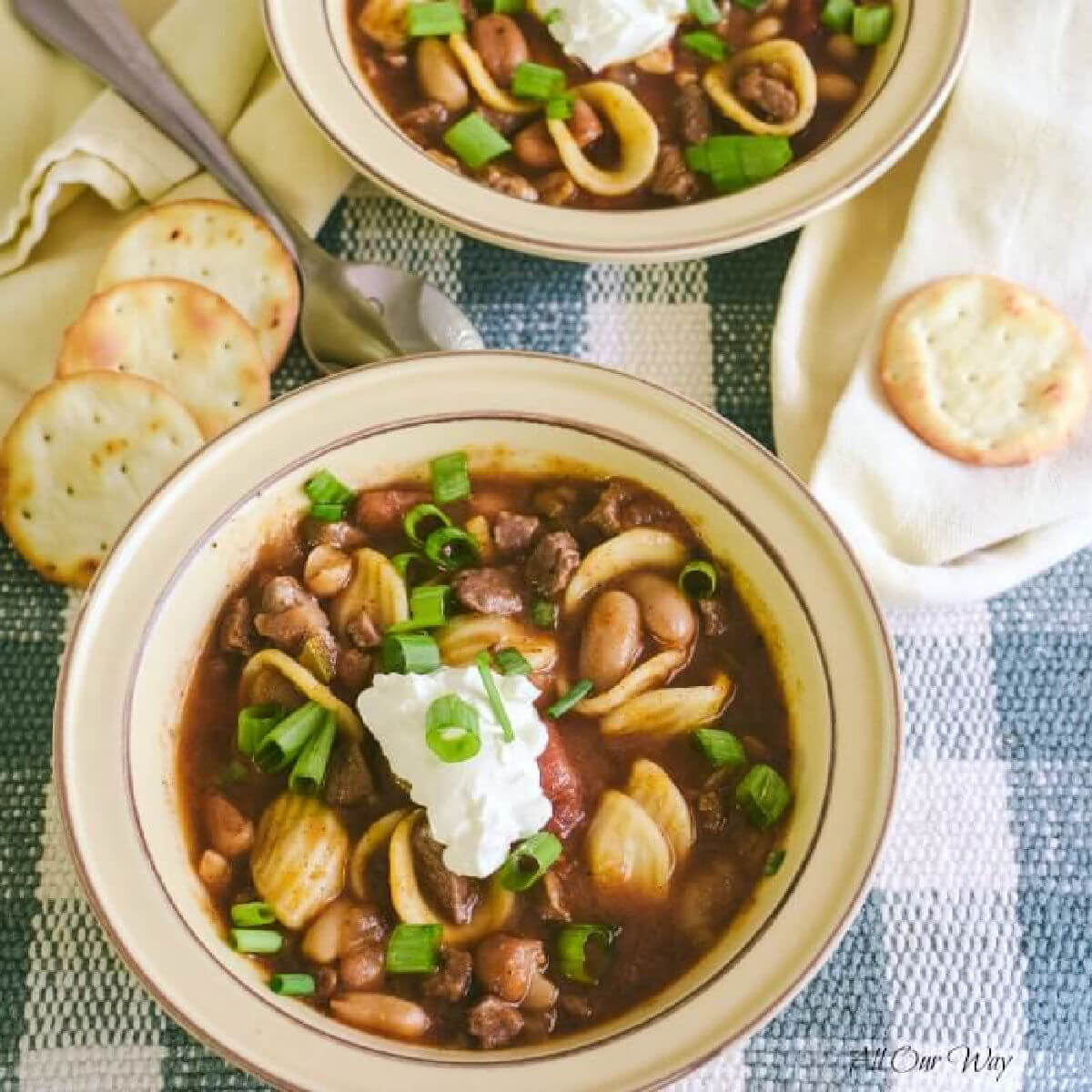 The evolution of chili con carne.
There are many variations of chili -- it all depends on what you prefer.
Do you consider it a soup or a stew?
Beans or no beans?
Tomatoes or no tomatoes?
Meat or no meat?
Spicy or mild?
Chili aficionados are no longer mostly Texans. Chili has evolved from a poor man's meal into a dish that international celebrities crave.
The famous Chasen's restaurant in Beverly Hills, now closed, served their chili con carne to Jack Benny, J. Edgar Hoover, Eleanor Roosevelt, Elizabeth Taylor, to name a few.
The story goes that Liz had Chasen's famous dish sent, frozen, to her in Rome during the shooting of Cleopatra. Now that's being determined to satisfy a craving !!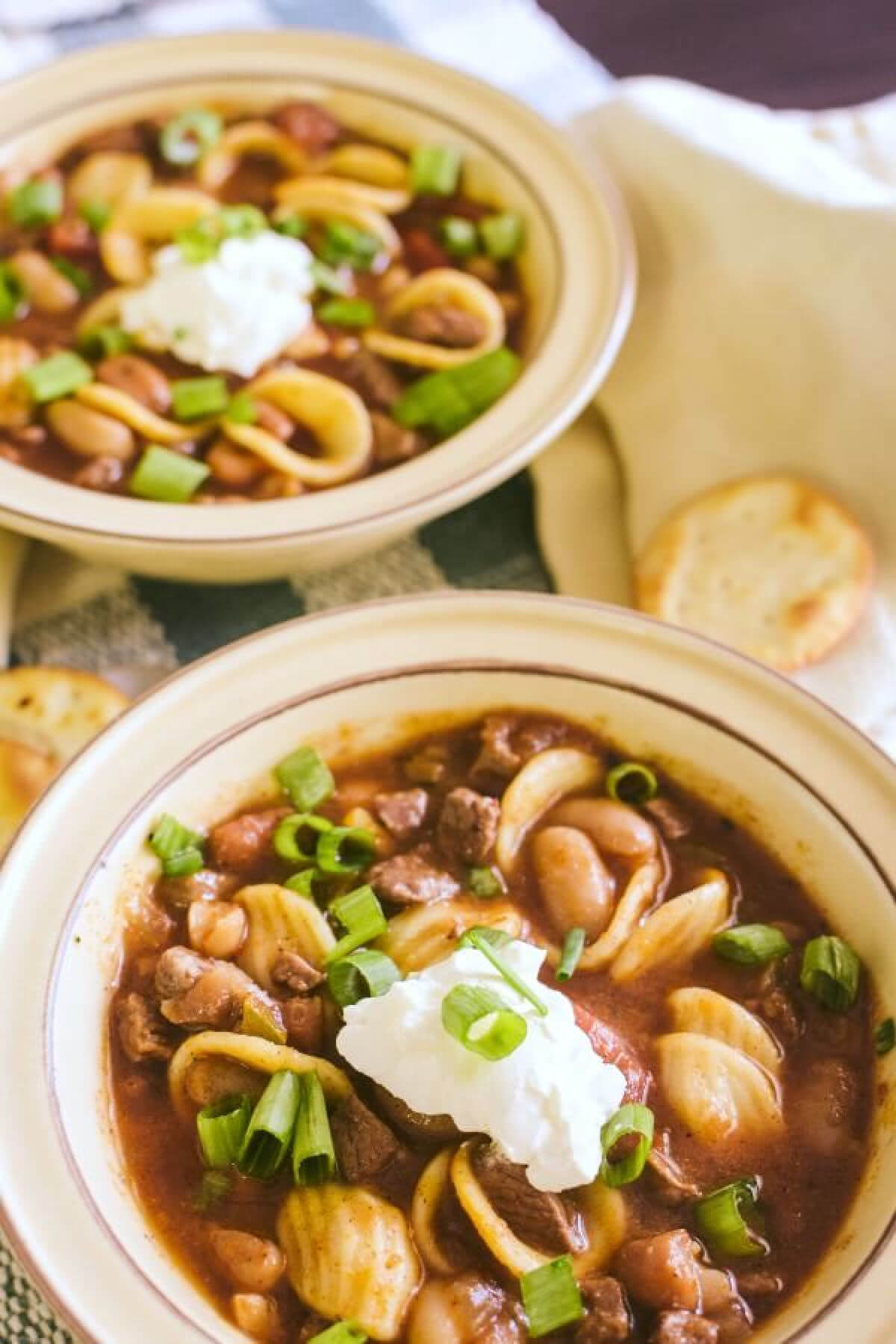 What ingredients go into a traditional chili?
Meat -- use less expensive cuts of beef such as ground beef, beef chuck, brisket, short ribs. You may even use venison or buffalo.
Vegetables -- onion, garlic, chilis such as jalapeño or ancho.
Seasonings -- salt, pepper, cumin, chili powder, paprika.
Liquid -- Beef broth, tomato sauce, can diced tomatoes or puréed tomatoes
Beans -- (Opt. for those who do like beans in their chili) Pinto or Kidney beans for red chili. Pinto, Northern, and Navy work well with white chili such as our Wickedly Good White Chili.
Chili Con Carne's flavor is always best the day after preparing it. Time gives the flavors a chance to really bloom in the hearty dish. Since we always stress making a recipe "your way," the heat factor to the dish is determined by you.
Right before we're ready to serve the soup, we add our own special Italian touch -- pasta.
Tutti a tavola è pronto!
Un caro saluto e alla prossima.
YOU MAY NEED ...
The following are affiliate links. As An Amazon Associate I earn from qualifying purchases. The following items are what we are always using. We just couldn't get by with our Dutch oven, it's seen many pots of soups. And good knives are a must in any kitchen along with a large cutting board. These items are indispensable to us.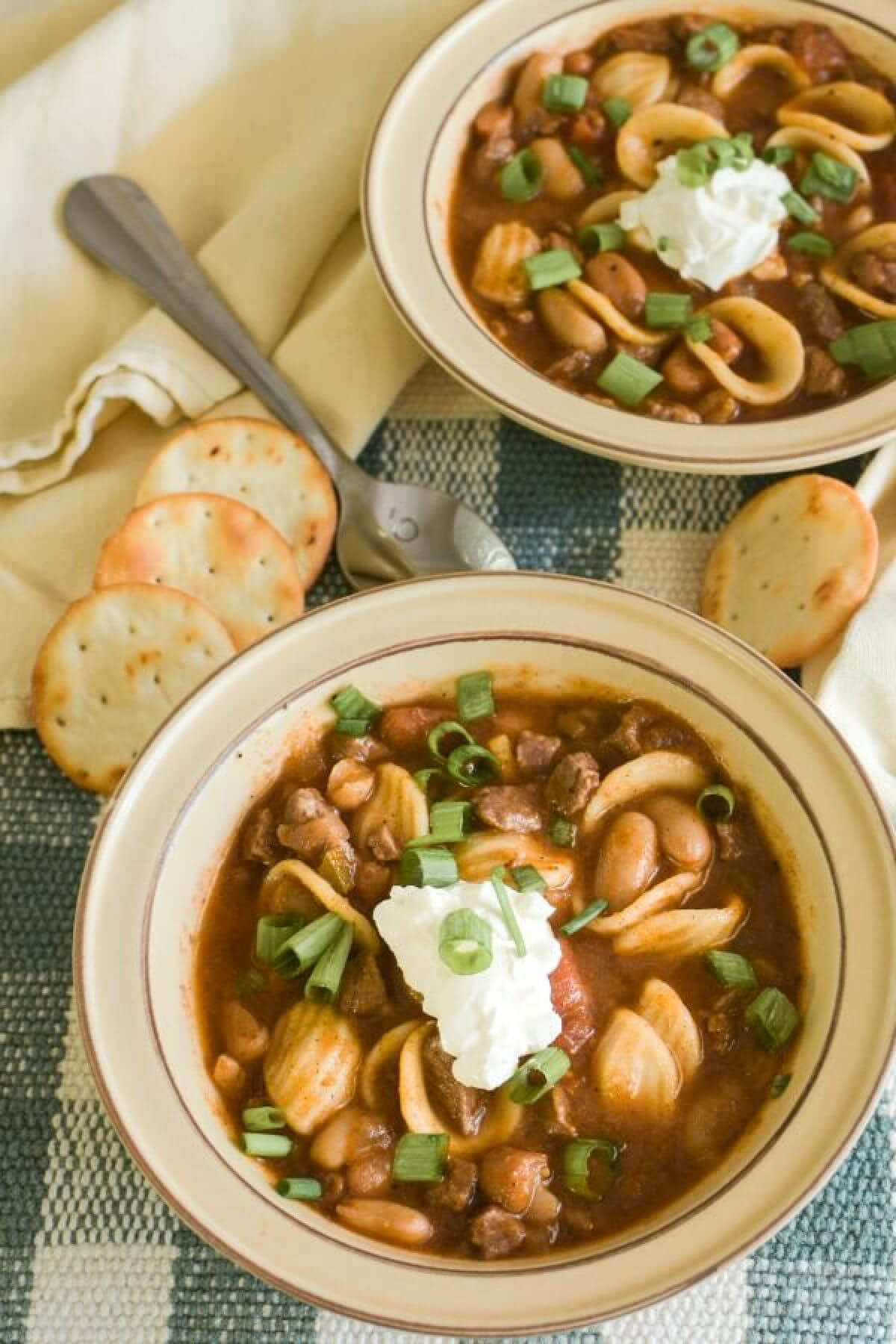 Chili Con Carne: Five Star Spicy Recipe with Beans and Pasta
A spicy chili with beef, beans, and pasta. Not quite your traditional thick stew type chili but more of a flavorful beef and bean soup full of spices and lots of underlying flavors. It's finally finished with a helping of pasta -- just for a touch of Italian to the Southwestern dish.
If you like this recipe, please consider giving it a five-star rating. This helps others decide on whether to try a recipe or not.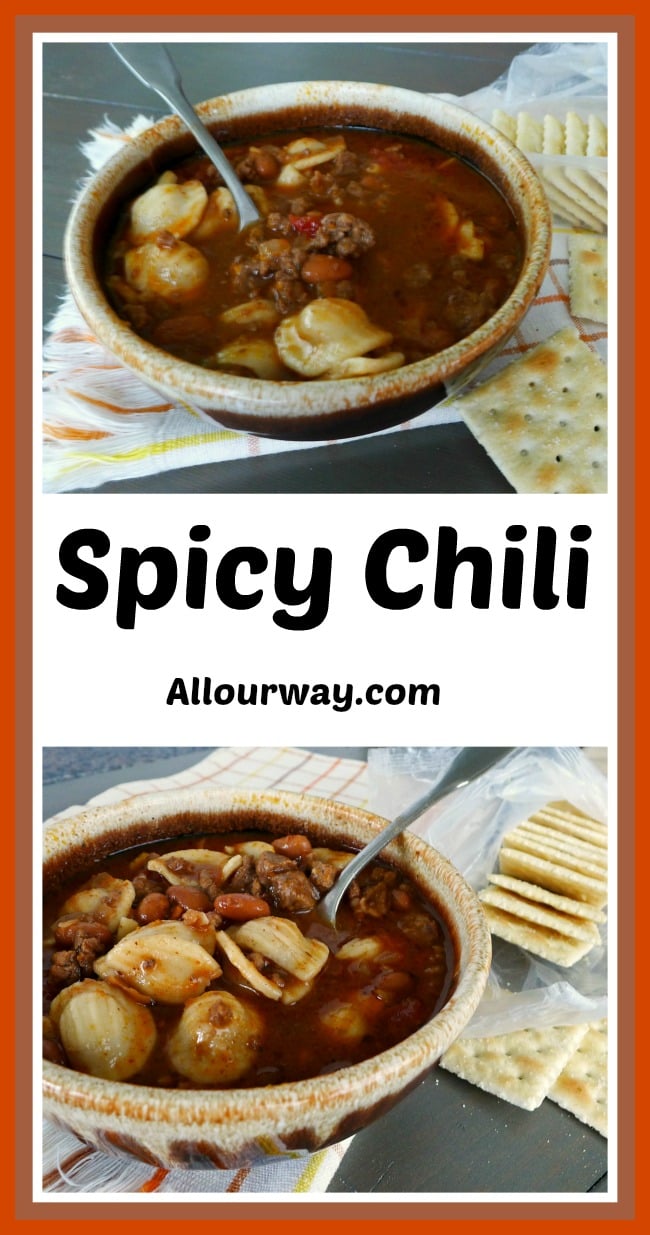 📖 Recipe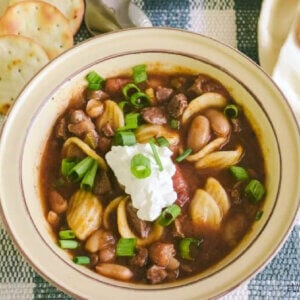 Chili Con Carne: Five Star Spicy Recipe With Beans
A spicy soup made with ground and chopped beef, pinto beans and tomatoes. The amount of seasoning is individual -- you can make it as hot or as mild as you like.
Print
Pin
Rate
As An Amazon Associate I earn from qualifying purchases.
Ingredients
3

Tablespoons

olive oil

1

Tablespoon

unsalted butter

2 ½

pounds

ground chuck

10

oz.

chuck chopped

2

medium onions diced

4-5

large garlic cloves minced

4

large jalapeño peppers diced

remove inner ribs --we leave some of the seeds

2

Tablespoons

chili powder

2

Tablespoons

cumin

2 14

oz.

cans low sodium beef broth

1 14

oz.

can low sodium chicken broth

2 14

oz.

cans pinto beans

1 14

oz.

can tomato sauce

1

Tablespoon

sauce from chipotle chilies in Adobo sauce

3

bay leaves

2

teaspoons

oregano

1 -

can Ro-Tel Tomatoes

or 1 14 oz. can diced tomatoes if you don't want the spiciness

Salt and Pepper to taste

Your choice of small pasta cooked according to directions.
Instructions
Heat the oil and butter in a Dutch oven or a pot large enough for all the ingredients.

Add the beef and cook about 15 minutes, stirring to break up the pieces.

Stir in the onions, garlic, jalapeño peppers and continue to cook until tender and limp.

Add in the chili powder and cumin and mix well. Continue to cook for another 10 minutes.

Add in the beef broth, chicken broth, tomato sauce, 1 Tablespoon Adobo sauce, bay leaves oregano and Ro-Tel tomatoes ( or diced tomatoes) and bring to a simmer.

Simmer for 60 minutes, stirring often. Add the beans and continue to simmer for an additional 30 minutes.

The chili will taste better the following day it is made. Before serving add some cooked pasta in the bottom of a bowl then pour the hot chili over it.
Notes
You can make this chili as hot or as mild as you like by adding less jalapeño peppers and substituting diced tomatoes for the Ro-tel tomatoes.
Nutrition
Calories:
354
kcal
|
Carbohydrates:
11
g
|
Protein:
23
g
|
Fat:
23
g
|
Saturated Fat:
8
g
|
Cholesterol:
79
mg
|
Sodium:
522
mg
|
Potassium:
689
mg
|
Fiber:
3
g
|
Sugar:
3
g
|
Vitamin A:
700
IU
|
Vitamin C:
24.2
mg
|
Calcium:
68
mg
|
Iron:
4.4
mg
Sign up for the emails and never miss another recipe!!
We'll never share your email or send you spam. Promise
IF YOU LIKE THIS CHILI CON CARNE RECIPE YOU MAY ALSO LIKE ...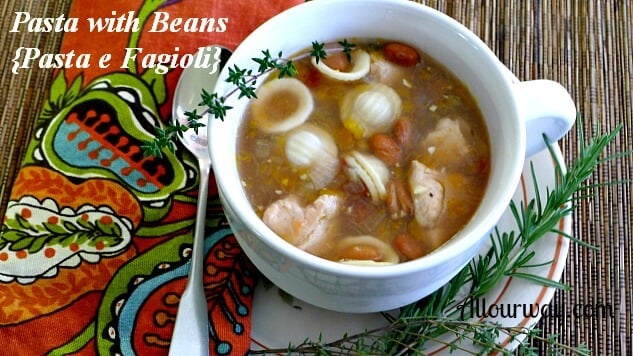 SaveSave SaveSave SaveSave