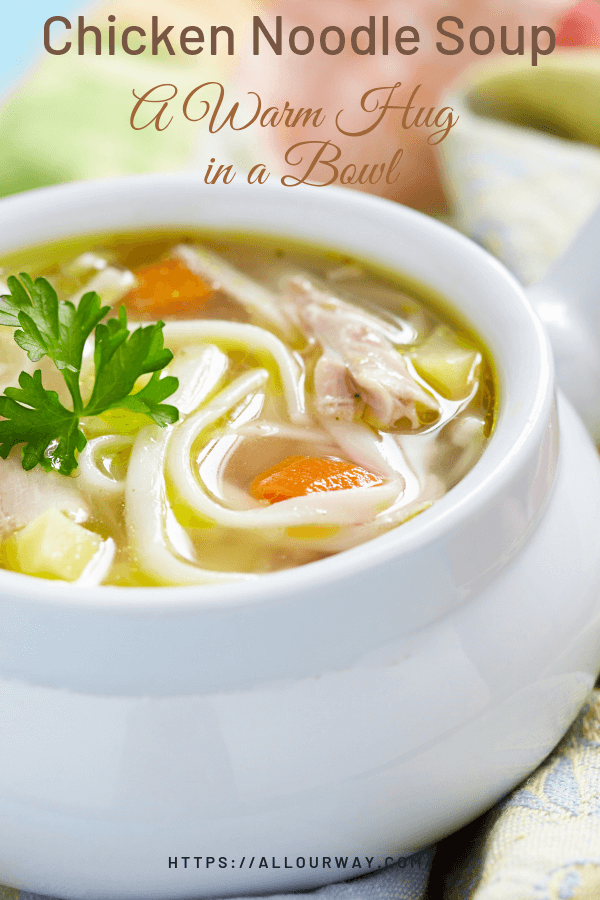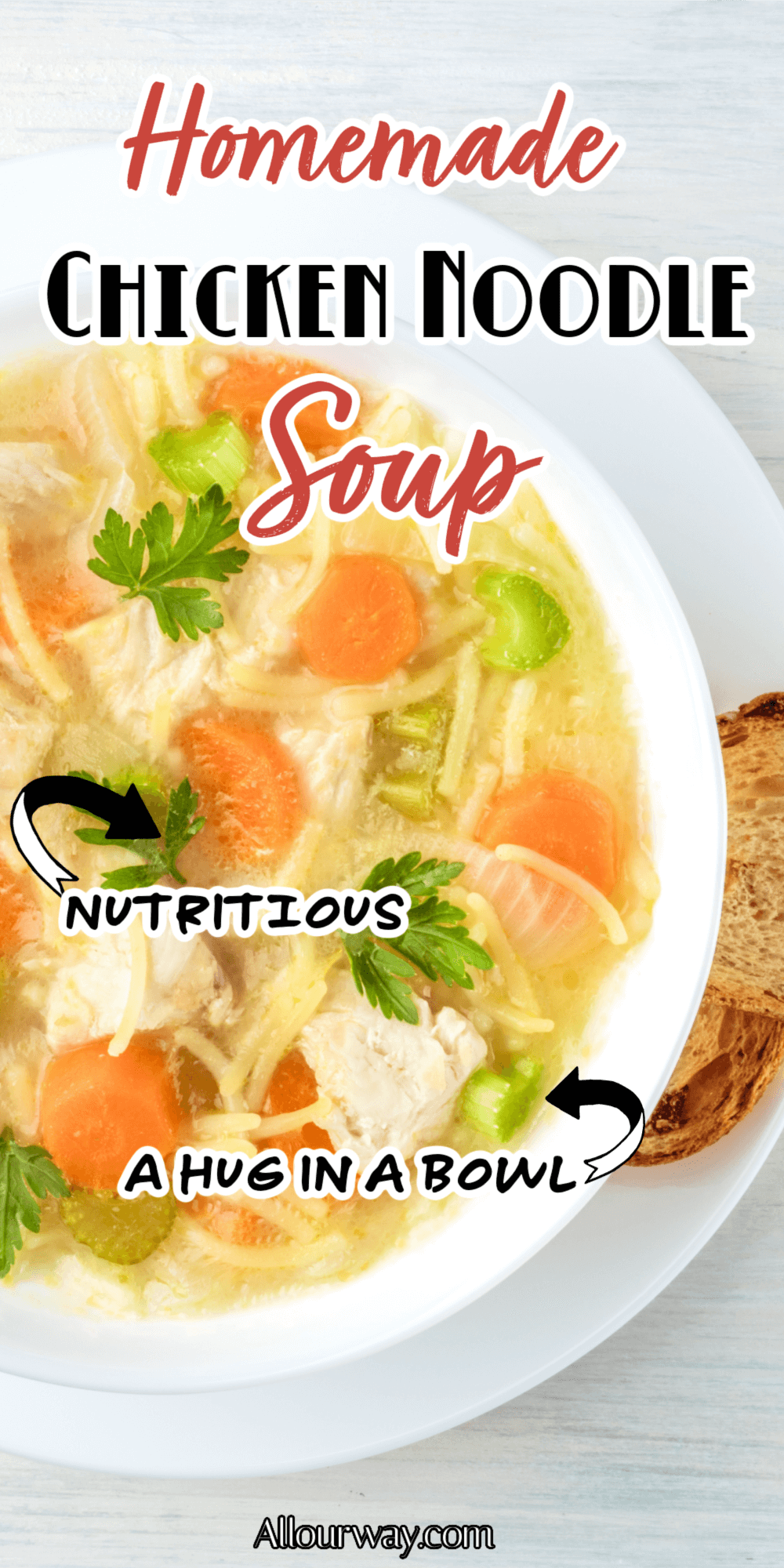 There is nothing better than Homemade Chicken Noodle Soup made with a whole chicken that is slowly simmered with celery, carrots and onions. It's the whole chicken that makes the broth extra rich, full of flavor and loaded with nutrition.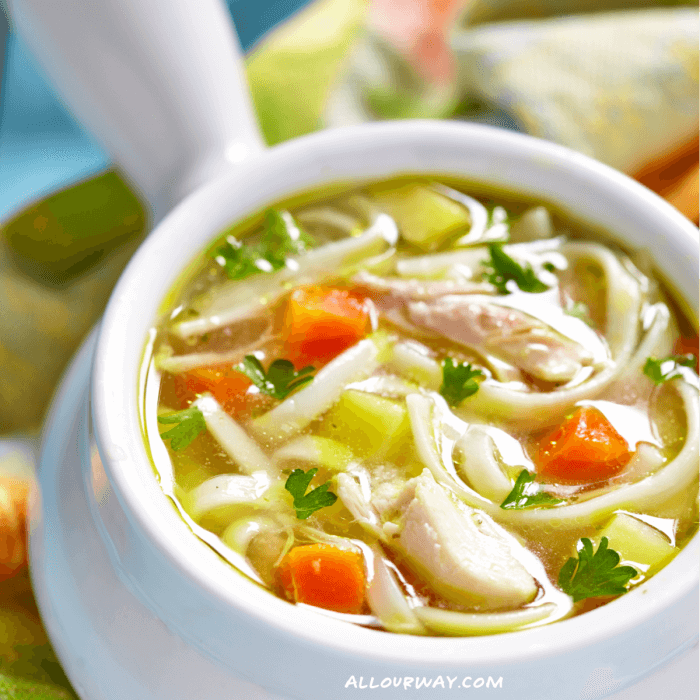 Jump to:
The healing power
At the first sign of a sniffle, I remember my mamma would pull out the old battered soup pot, throw in a whole chicken, plus celery, onion, carrots, peppercorns and she'd go about making homemade chicken noodle soup.
Sometimes she would make it like a drop egg soup called Stracciatella or add a of citrus in it for her Lemon Orzo Soup. Mamma thought any soup with chicken stock as the main feature the best medicine in the world. And the simplicity of her homemade Chicken Noodle Soup was at the top of the list.
I have to agree. One sip of the hot steamy broth and it seemed like I felt better immediately.
Many other cultures believe in the healing powers of chicken soup. In fact the chicken soup is without a doubt a symbol of Jewish Cuisine.
"Magical" ingredients
Spicing it up
We eat chicken -- a lot.
We stick it in our soups, put in on the grill, bake it with lots of lemon and garlic. We've even been know to fry it a time or twenty 🙂 You'll always find some form of chicken in our freezer. So, whenever we make a dish we've made countless times before, we look for ways to make it just a little bit different.
I'm certainly not saying that our Homemade Chicken Noodle Soup is boring and needs a little flavor boost. Far from that! We just like the challenge of giving a long time favorite a little different take.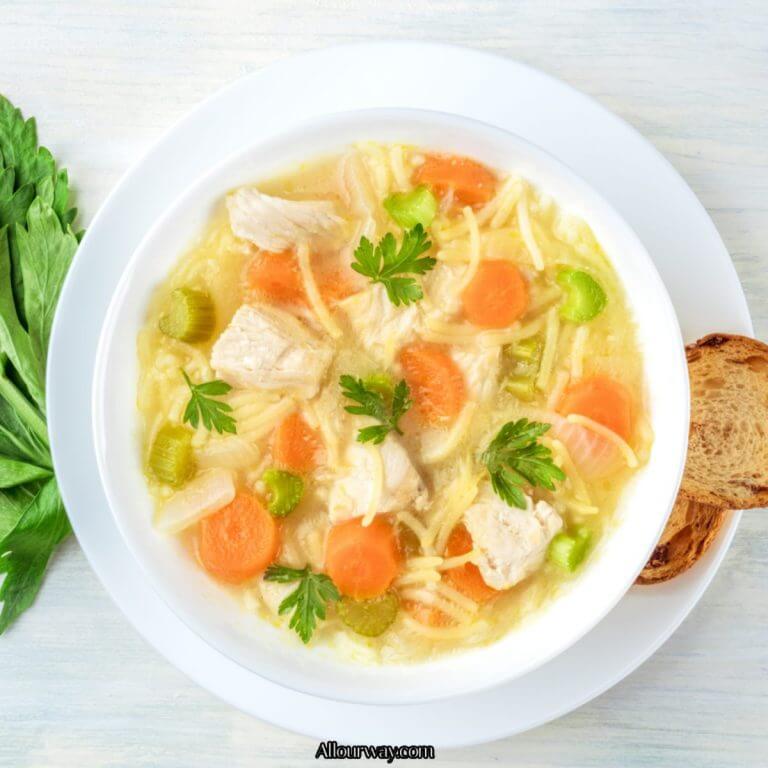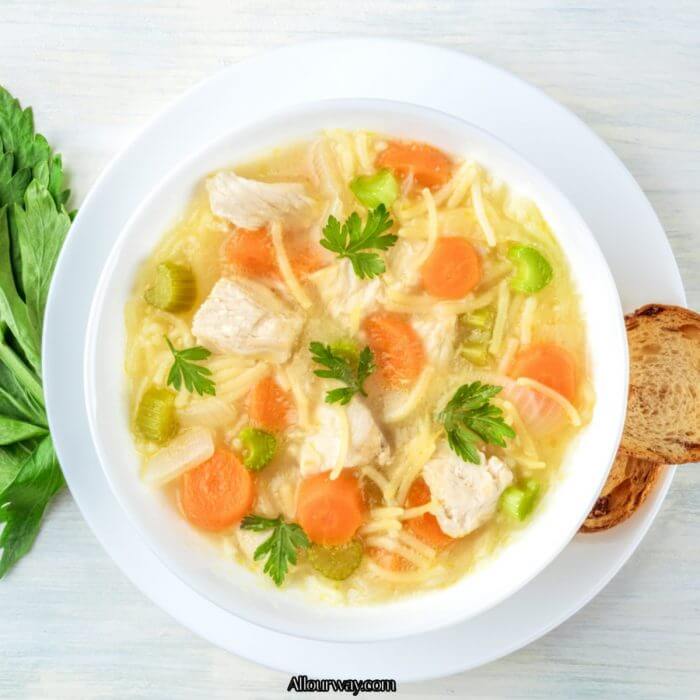 Now I know I've mentioned a few times before how much my Honey loves spicy and his Ro-tel tomatoes. (No we are not compensated by them, although we should with as many cans we go through.)
If you don't like spicy, just omit the Ro-tel tomatoes or add drained diced tomatoes to the soup. But before you start with the soup itself you make the stock.
The stock ingredients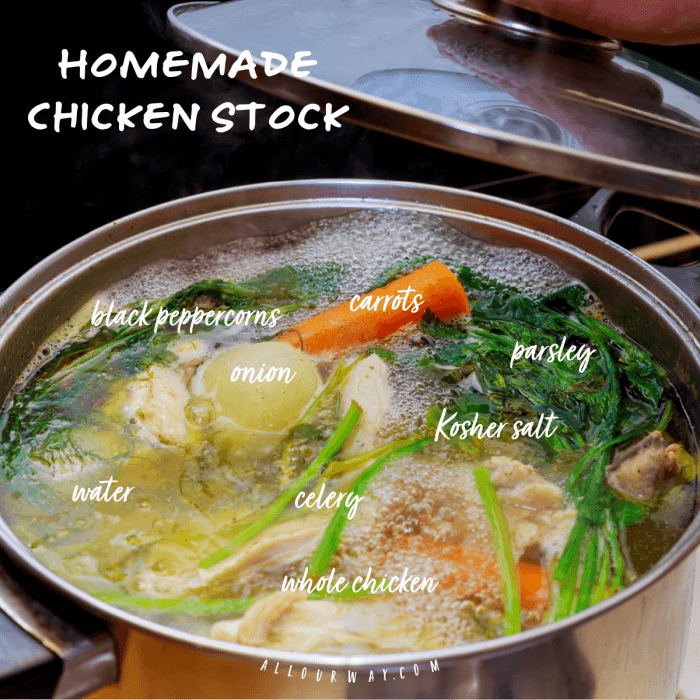 Whole chicken -- to get the benefit of the collagen, vitamins and minerals in the bones.
Black Peppercorns -- instead of black pepper keeps the broth clearer.
Celery
Carrots
Onion
Parsley
Kosher salt
How to prepare soup
It all begins with the chicken bone broth. This will take about 2 hours. You can make the stock the day ahead.
The soup
We make the stock and once that's done we remove the chicken and place on platter. Once it is cool enough to handle we shred the chicken.
We strain the broth through a sieve and remove and discard the stock vegetables and seasoning.
In a Dutch oven we briefly sauté diced carrots, celery and onion.
The strained broth goes into the Dutch oven as well as the shredded chicken. This is when inspiration struck!
Honey dumped a can of Ro-tel tomatoes into the broth. Now, if you don't like spicy you can eliminate this and the Homemade Chicken Noodle Soup will still taste wonderful. But between you and me, it was pure genius to put that added kick to the soup. After all, don't they say that spicy food is good for you??
Homemade noodles to go into the soup but if you don't have the time or the inclination you can always add the store-bought variety of your choice. The egg noodles are really good.
We served the soup with our homemade pretzels. The soup is great for lunch, as a first course, or because you're feeling puny.
I love this recipe of Homemade Chicken Noodle Soup. It's the next best thing to having a great big comforting hug from my mamma.
Quick version
I know, sometimes you really want something but you just don't have the time. I get it!! You can still get some great taste out of this quicker version of Homemade Chicken Noodle Soup. Here is the easiest way to do it:
Use the meat from a rotisserie chicken and shred it into bite size pieces.
Buy a good quality Chicken bone broth and use that for the stock.
Add your favorite purchased noodles for the homemade.
Follow the directions for the vegetables as written.
Your family will love this recipe. It has so much flavor and the aroma is amazing. Besides being so good, just think of all that nutrition that is fighting the pesky germs floating around.
Tutti a tavola è pronto.
Un caro saluto e alla prossima.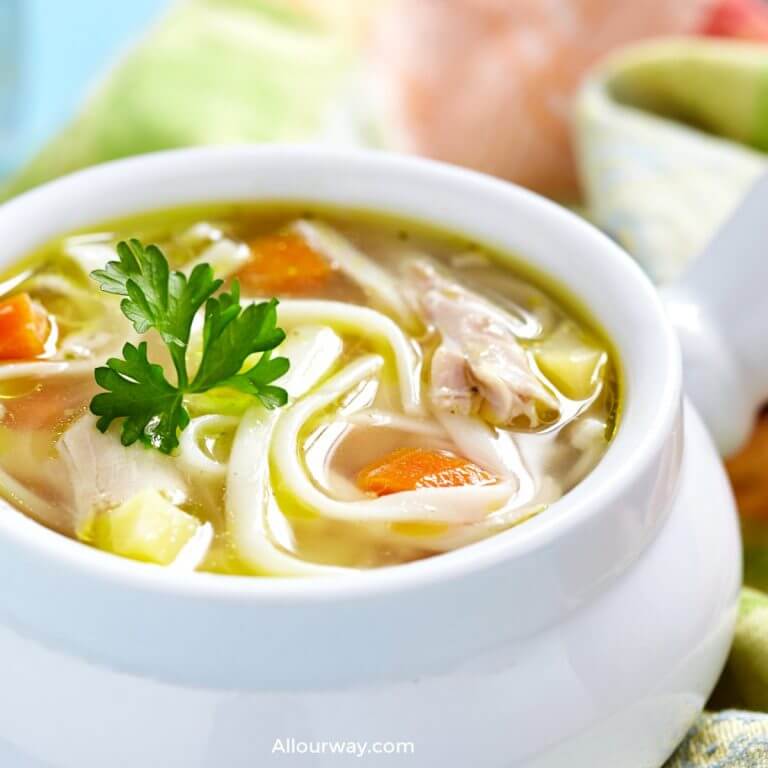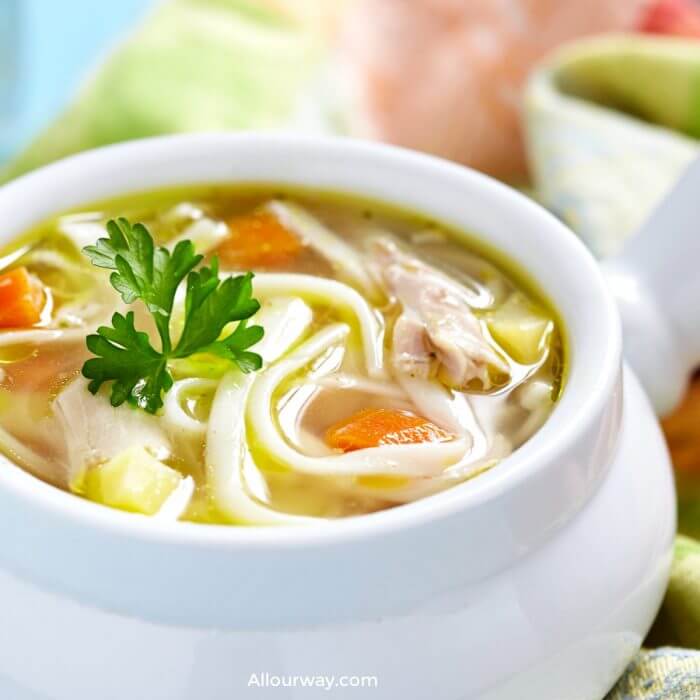 Homemade Chicken Noodle Soup Recipe

Homemade Chicken Noodle Soup loaded with vegetables with a delicious bone broth made from scratch! One pot...one soup! Perfect for any day of the week with a quicker version if you don't have time for the traditional version.
Next time try our Grandma's Chicken and Dumplings recipe with homemade drop biscuits. It is pure comfort food!
If you like this recipe please give it a 5-star rating.
📖 Recipe
Homemade Chicken Noodle Soup
A comforting homemade chicken soup like mamma used to make except it has an ingredient that kicks it up several notches -- Ro-tel tomatoes
Print
Pin
Rate
As An Amazon Associate I earn from qualifying purchases.
Ingredients
For Broth
Whole chicken about 3 ½ pounds

3

quarts

cold water

3

sprigs Italian parsley

3

bay leaves

3

carrots

2

stalks celery

2

small onion

1

Tablespoon

salt

6-8

peppercorns
For Soup
Cooked Chicken

2

medium carrots sliced

2

stalks celery sliced

1

medium onion chopped

1

Tablespoon

extra-virgin olive oil

1

teaspoon

oregano minced

1

teaspoon

sage minced

1

teaspoon

thyme minced

1

teaspoon

Italian parsley minced

Salt to taste

1

can Ro-Tel Tomatoes 10 oz can or if you don't like it spicy use plain diced tomatoes

2

cups

2oz. homemade noodles or store bought.
Instructions
Place chicken in a large soup pot with the cold water and the rest of the broth ingredients. Slowly bring the liquid to a boil then turn down to a simmer. Cover and simmer gently for about 1 ½ hours. Remove foam if some forms on top. It is important to let the broth cook slowly -- it will make for a clearer broth.

Remove chicken and place on a platter until you can remove chicken from the bones. Tear into bite size pieces. Strain the broth through a fine sieve -- you'll have about 2 ½ quarts.

In a Dutch oven heat the oil and sauté the carrots, celery and onion for about 3 minutes. Don't brown. Add the broth, chicken and herbs and simmer for about 30 minutes. Add the can of tomatoes and continue to simmer for an additional 10 minutes.

Whenever we add pasta or noodles to our soups we first cook the pasta or noodles in salted water and then add it to the soup. Don't overcook the pasta or the noodles. Once they go in the soup they'll continue to cook a bit more. You don't want mushy pasta/noodles.

Put the noodles into the soup and heat for an additional 2 -3 minutes.

Serve and enjoy.
Notes
A quick version when you don't have time:
Use the meat from a rotisserie chicken and shred it into bite size pieces.
Buy a good quality Chicken bone broth and use that for the stock.
Add your favorite purchased noodles for the homemade.
Follow the directions for the vegetables as written.
Nutrition
Calories:
59
kcal
|
Carbohydrates:
10
g
|
Protein:
2
g
|
Fat:
2
g
|
Saturated Fat:
1
g
|
Cholesterol:
5
mg
|
Sodium:
624
mg
|
Potassium:
172
mg
|
Fiber:
2
g
|
Sugar:
3
g
|
Vitamin A:
4335
IU
|
Vitamin C:
4.5
mg
|
Calcium:
33
mg
|
Iron:
0.4
mg
Sign up for the emails and never miss another recipe!!
We'll never share your email or send you spam. Promise
Last Updated: 26 Sept 2020
Note: Recipes and content from © 2014-2020All Our Way are copyright protected. Please do not use content or recipe without prior written permission. If you want to share the information, please link to this post. Grazie.