London Broil is on sale at the grocery store. Surprise! Surprise! But did you know that London Broil is not a lean cut of meat rather it's a method of cooking? A recipe such as London Broil with Dijon Mustard Marinade utilizes that method of cooking. You can grill the meat or broil it. Use our delicious London Broil marinade and you'll have a piece of meat with maximum tenderness. You can eat the beef as a main dish or on a delicious salad.
For this recipe you will need: top round steak, Dijon mustard, olive oil, lemon juice, soy sauce, Worcestershire sauce, red wine, garlic cloves, fresh ginger, ground black pepper.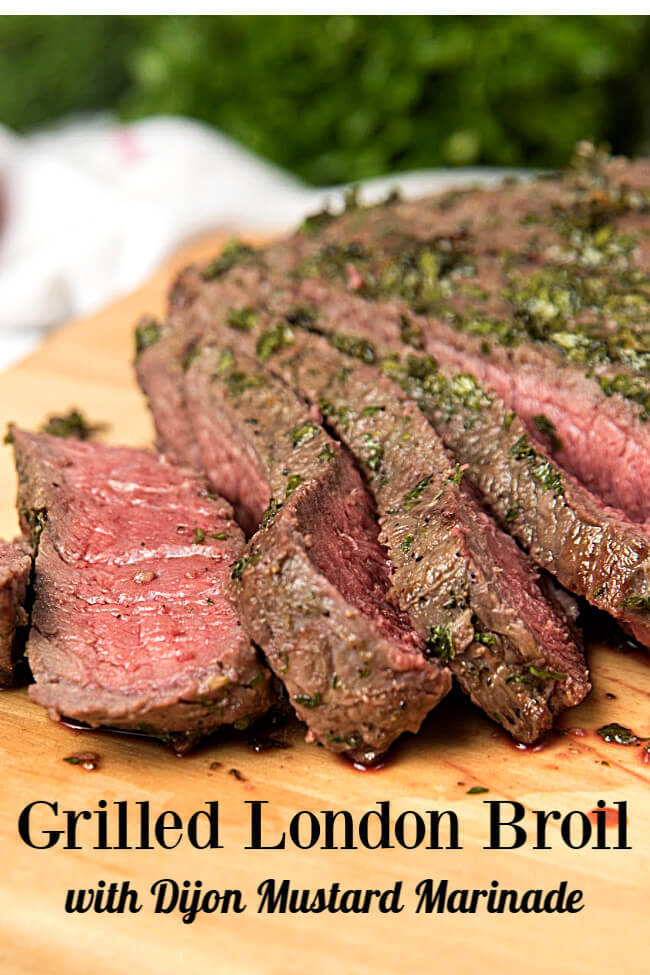 Jump to:
What is London Broil?
Now, what is actually on sale is Boneless Top Round Steak or Roast at almost $2.00 off its usual price. This flavorful steak is a great bargain. Grocery stores many times will label a flank or top round steak London Broil.
The best way to make round steak into London Broil, is allow the meat to marinate for several hours or overnight. You then broil or grill the beef at high heat. Then you thinly slice the meat on the diagonal and serve.
We make this tasty marinated round steak recipe quite often. London Broil is perfect for grilling.
If you can't grill the London Broil, you can broil it, but you'll miss out on the outdoor grill flavor and grill marks.
Dijon Mustard Marinade Flavors the Top Round Steak
The Dijon mustard marinade makes this lean and less tender cut of meat into a delicious protein with touches of mustard, pepper, ginger, and garlic. If you like, you can also add fresh rosemary or Italian seasoning to the marinade instead of the ginger.
You can get the flavor and tenderness without having to pay the high price of Filet Mignon or Rib Steak.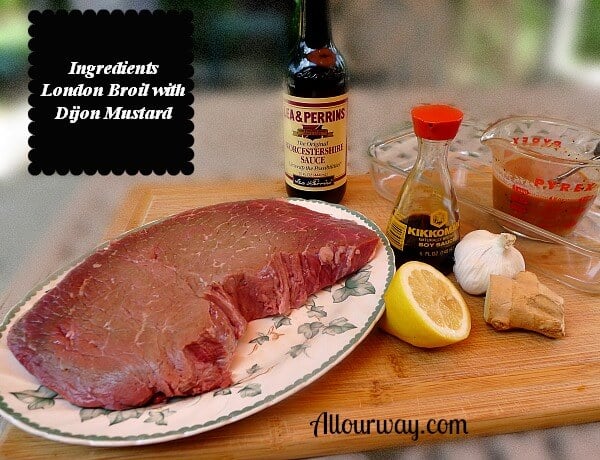 Ingredients for London Broil Recipe
Meat, especially beef, is more expensive now than a few years ago. So whenever we find any meat on sale, such as the top round cut, we stock up.
How the London Broil marinade helps flavor and tenderize
This mustard marinade allows the top round roast to soak up flavors by absorbing some of the marinade's juice and getting a little fat from the olive oil.
There is an acid in the marinade, either fresh lemon or lime juice which helps tenderize the meat.
Marinating the meat for 2 to 3 hours per inch of thickness or overnight guarantees the beef soaks up lots of seasoning.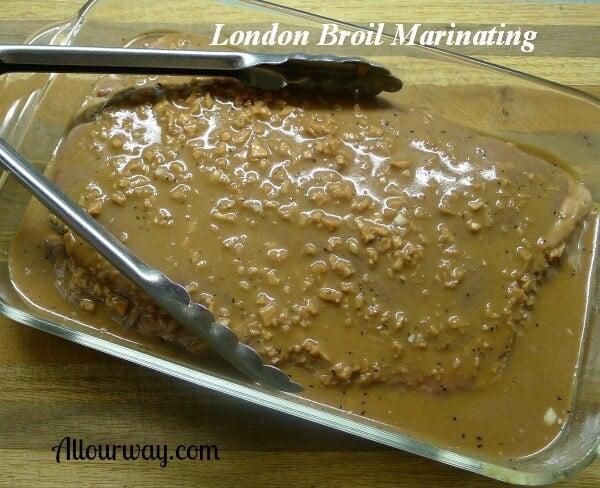 Top Round Marinating for London Broil
London Broil Background
When our kids were home, we had a big freezer in our basement. Next to the freezer was a huge school size chalkboard that kept track of our frozen inventory.
This was my Honey's doing; he knew at all times what was in the freezer.
Now I have to confess; I'm not that organized. If my Hubby were reading this now, he'd probably be laughing his head off and saying that I'm not organized at all.
Not true!!
His method gave our kids a big chuckle. They called it one of his "isms," because whenever he took anything out of the freezer, he marked it off the chalkboard.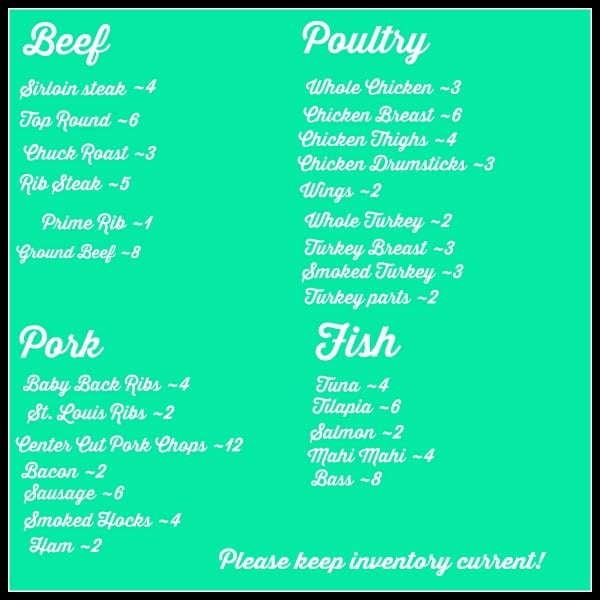 Turn Top Round Steak into London Broil Recipe
I just have my way of doing things. Besides artistic minds can't always think of the mundane, especially when they're filled with creative ideas, just waiting to be conceived. 😉
Don't you agree?
Now that we have a smaller house and smaller freezer, we don't stock up quite as much as we did. But, when there's a sale on food, we do take advantage of the sales.
Just ask my Honey what's in the freezer. He'll give you a complete rundown, and know exactly where it is plus have it organized with the oldest package on top.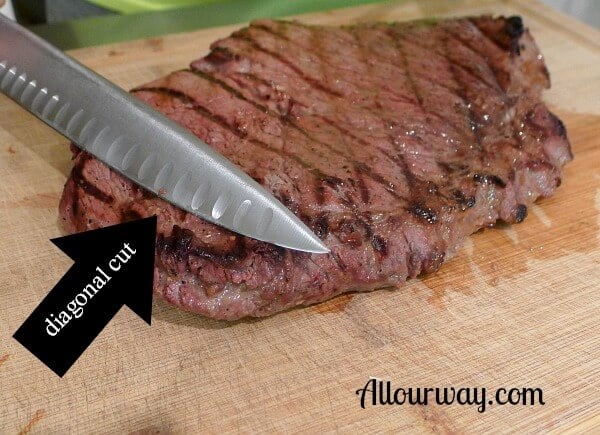 Cut London broil on the diagonal with a sharp knife.
A London Broil recipe cooks hot and fast
Even though it's just the two of us, we still purchase the more economical cuts of meat. When prepared correctly, a tough cut of meat such as a top round roast will have lots of flavor and be tender.
This beef cut will need marinating. But also it must be cooked hot and fast on the grill, with no more than medium doneness.
My Grill Master, that's Honey, will time the meat, just like he does for the Pork Chops so that the London Broil gets those beautiful grill marks.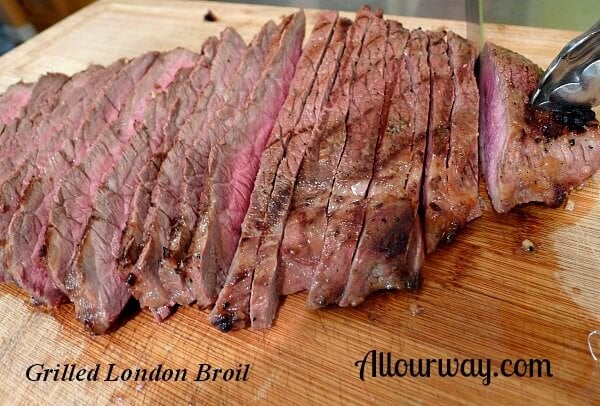 London Broil Grilled and Sliced Cross Grain
Overcooking the top round steak will make it tough no matter how long it's marinated, so it's a good thing that our family likes their meat on the medium rare side.
For a juicy London Broil, the internal temperature must not pass 130 F on a meat thermometer, and then it has to rest about 10 minutes for thicker cuts.
Why do I need to let the meat rest?
The steak rest allows the London Broil to relax and the juices to redistribute throughout the meat.
When it's time to eat, Honey carves the London Broil cross grain, and then we dine on an outstanding meal with a less expensive cut of meat.
Tutti a tavola è pronto!
Un caro saluto e alla prossima.
YOU MAY NEED…
The following are affiliate links. We are a participant in the Amazon Services LLC Associates Program, an affiliate advertising program designed to provide a means for us to earn fees by linking to Amazon.com and affiliated sites.
Thanks so much for being a part of All Our Way!
This is similar to the classic knife we use all the time. It's important to have a great knife because the sharper the knife the less likely you are to cut yourself. I know, you'd think it would be the opposite but it isn't. Take care of your knives and they'll last a lifetime!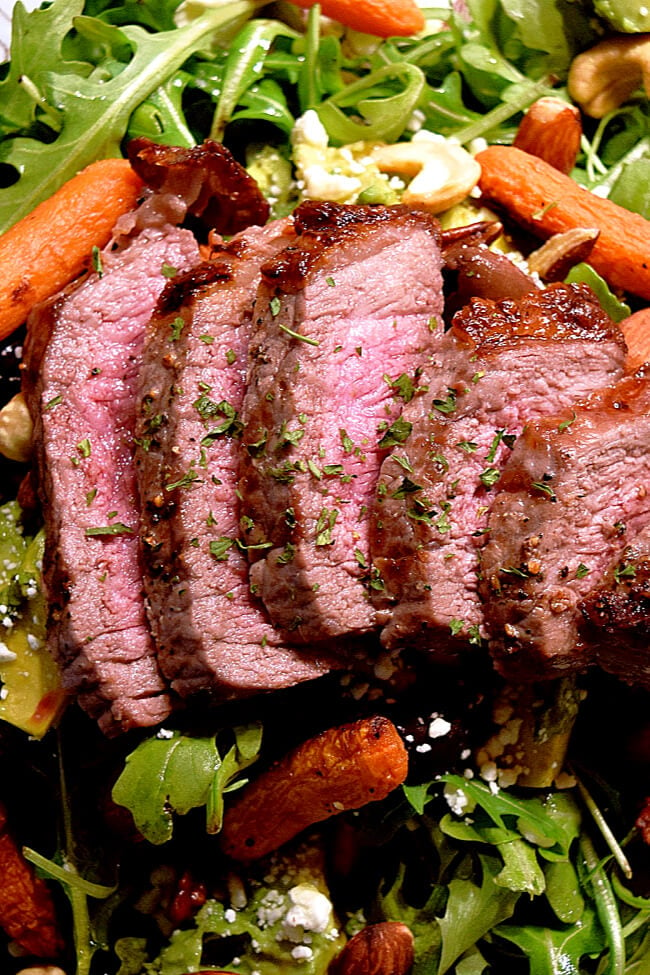 Grilled London Broil Recipe With Dijon Mustard Marinade
London Broil is a method of cooking either a flank or top round steak. The marinade infuses the meat with lots of taste and the acid in the marinade helps to tenderize the beef so that it will be juicy and tender. A good marinade makes all the difference. This easy recipe is one of the best steak recipes there is.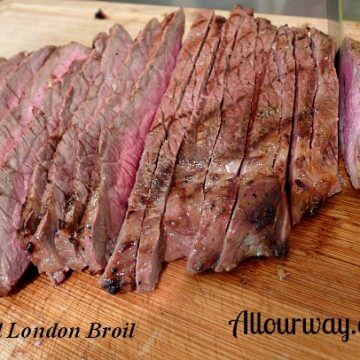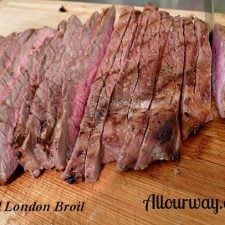 Grilled London Broil Recipe with Dijon Mustard Marinade
A very tasty way to turn affordable steaks such as Top Round by first marinating in the best London Broil marinade, quickly grilling, and finally correctly carving the meat cross grain in order to get a juicy tender cut of beef.
Print
Pin
Rate
As An Amazon Associate I earn from qualifying purchases.
Ingredients
2

pounds

lean top round steak

about 1-½ inch thick, trimmed of fat also called a London broil cut

3

Tablespoons

country-style Dijon mustard

2

Tablespoons

extra-virgin Olive Oil

2

Tablespoons

fresh lemon or lime juice

1

Tablespoon

soy sauce

1

teaspoon

Worcestershire sauce

¼

cup

red wine

2

cloves

garlic

crushed

1

Tablespoon

peeled and finely chopped fresh ginger

½

teaspoon

freshly ground black pepper
Instructions
Place meat in a large shallow dish or you may use a heavy duty large plastic bag.

In a small bowl combine oil, mustard, lemon or lime juice, soy sauce, red wine, Worcestershire sauce, garlic, ginger, and pepper.

Using a wire whisk beat well to blend. Pour marinade over the steak; turn meat several times to coat well with marinade.

Cover with plastic wrap and marinate for 2 to 3 hours per inch turning the steak occasionally. Place the covered dish in the fridge for the first hour, then let it stay at room temperature the remainder of the time.

If you use a plastic bag, seal bag and then turn several times to coat the meat.

Transfer steak to a platter. With a paper towel pat the meat with a paper towels.

Grill over high heat about 4 minutes per side giving the meat a 90 degree turn at 2 minutes so you get the grill marks.

Flip the meat over and do the same thing at the 2 minute mark. The internal temperature should not pass 130 F.

Place meat on large serving platter and loosely tent the meat with aluminum foil and allow the meat to rest for about 10 minutes so that it can relax and the juices redistribute throughout the meat. If the steak is a thinner cut, allow it to rest for 5 minutes.

Carve the London Broil cross grain (diagonally) and serve.
Notes
If you want more of an herb taste, instead of ginger use chopped fresh rosemary or dry Italian seasoning. 
Nutrition
Calories:
256
kcal
|
Carbohydrates:
2
g
|
Protein:
35
g
|
Fat:
10
g
|
Saturated Fat:
2
g
|
Cholesterol:
92
mg
|
Sodium:
360
mg
|
Potassium:
601
mg
|
Vitamin C:
2.2
mg
|
Calcium:
39
mg
|
Iron:
3.3
mg
Sign up for the emails and never miss another recipe!!
We'll never share your email or send you spam. Promise
First Published: August 14,2014… Last Updated: May 22, 2019
SaveSave
SaveSave
SaveSave
SaveSave
SaveSave
SaveSave
Reader Interactions