If you've been wanting to make a sautéed boneless chicken breast recipe Florentine but thought it was too high in calories, our lighter fat method will change your mind. The fillets brown in butter and olive oil then served on a bed of sautéed baby spinach, mushrooms and grape tomatoes. This pan sautéed chicken Florentine recipe for two is light and delicious.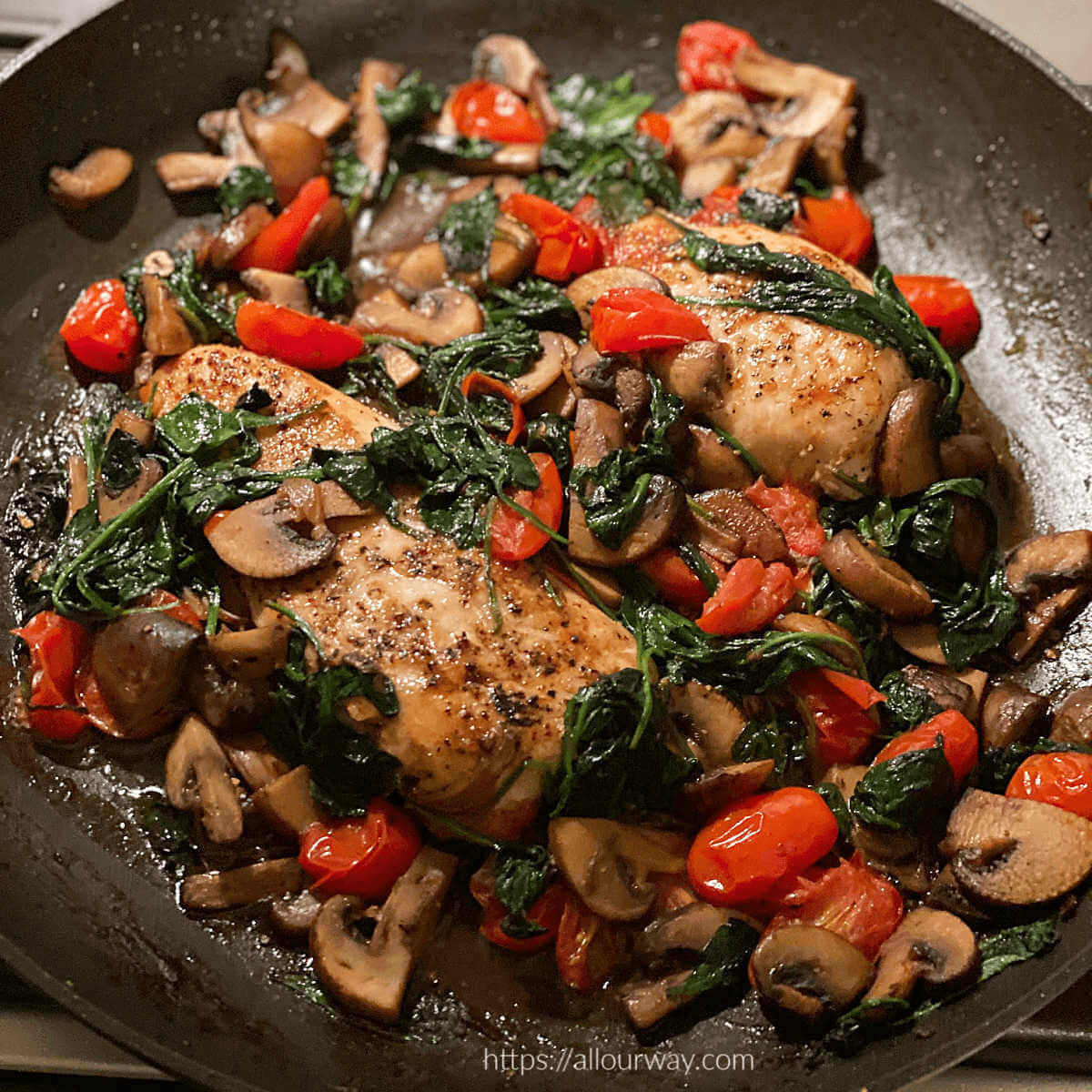 Jump to:
What does Florentine mean?
Any time in the culinary arts you see the word à la Florentine it means that the recipe features spinach.
The spinach is gently simmered in butter until it wilts and it's served with whatever other ingredients you wish. Then it's topped with a creamy Mornay sauce and grated cheese. Supposedly Catherine de Medici , who was born in Florence Italy, popularized this method around 1533.
Dishes you'll find made "à la Florentine" are:
sole (fish fillets)
eggs
artichokes
vegetables
pork
steak
chicken
Recipe ingredients
We wanted our sautéed chicken breasts to nestle in a spinach bed that was lower in calories. So, instead of the flour, heavy cream sauce and cheese, we relied on the bright flavors of the fresh baby spinach, grape tomatoes and bolstered by the earthy flavors of the mushrooms.
What we used:
boneless chicken breasts are heavily seasoned and quickly seared.
fresh baby spinach wilts quickly and it retains its fresh taste.
baby bella mushrooms lends a rich earthy taste to the dish.
grape tomatoes add a bit of sweetness and smooths out the flavor.
fresh slivered garlic adds a soft garlic background to the dish/
olive oil is the fat we use to sauté the breasts sealing the meat and preserving the inner juices.
unsalted butter helps brown the chicken plus adds a creamy flavor to the dish.
garlic seasoned salt wakes up the flavor of the sautéed chicken breasts and vegetables.
freshly ground pepper adds a bit of punch to the meat and vegetables along with fruity and bright notes.
chicken stock or vegetable broth to add flavor and moisture.
Parmesan cheese adds a deeper tone and cheesy flavor plus salt to the finished dinner meal.
Easy steps
This Chicken Florentine recipe is so quick and easy you can make in less than 30 minutes. We all need dishes we know we can throw together in no time, right?
I'll fill you in on a little secret. I discovered this recipe by accident. On this particular day I had baby spinach, grape tomatoes, and mushrooms begging me to do something with them. I needed to figure out what I could make for dinner using them along with the boneless chicken breasts.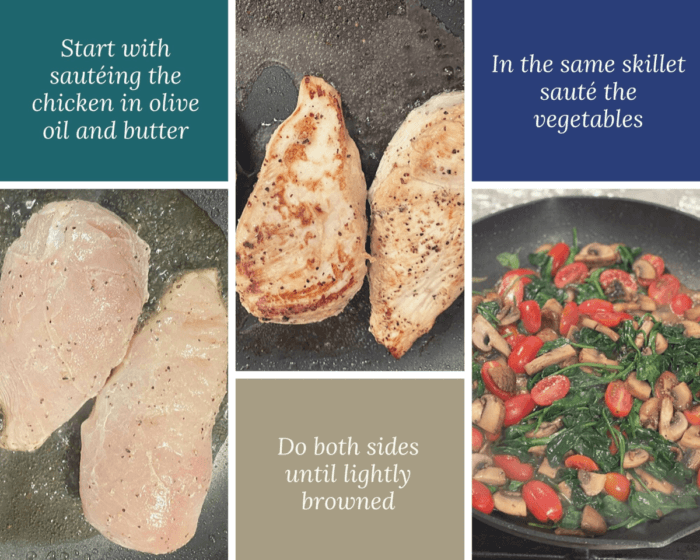 It was sautéed chicken breasts a la Florentine! Once I decided on the recipe, I was amazed at the speed it came together. It was as simple as 1,2,3.
Salt and pepper the boneless chicken breast and sauté in butter and olive oil.
Remove the breasts cover and lightly cover with foil and keep warm in 200℉ oven.
Now you lightly sauté the slivered garlic in oil-butter.
Add the sliced mushrooms to the pan and cook until golden.
Fold in the baby spinach and stir until they begin to wilt.
Pour a bit of chicken broth into the pan.
Stir in the halved grape tomatoes and cook until they start to break down.
Nestle the sautéed chicken breasts in the middle of the vegetables.
Place pan in the 200℉ oven for 5 minutes.
Serve breasts with the vegetables and sprinkle with Parmesan cheese.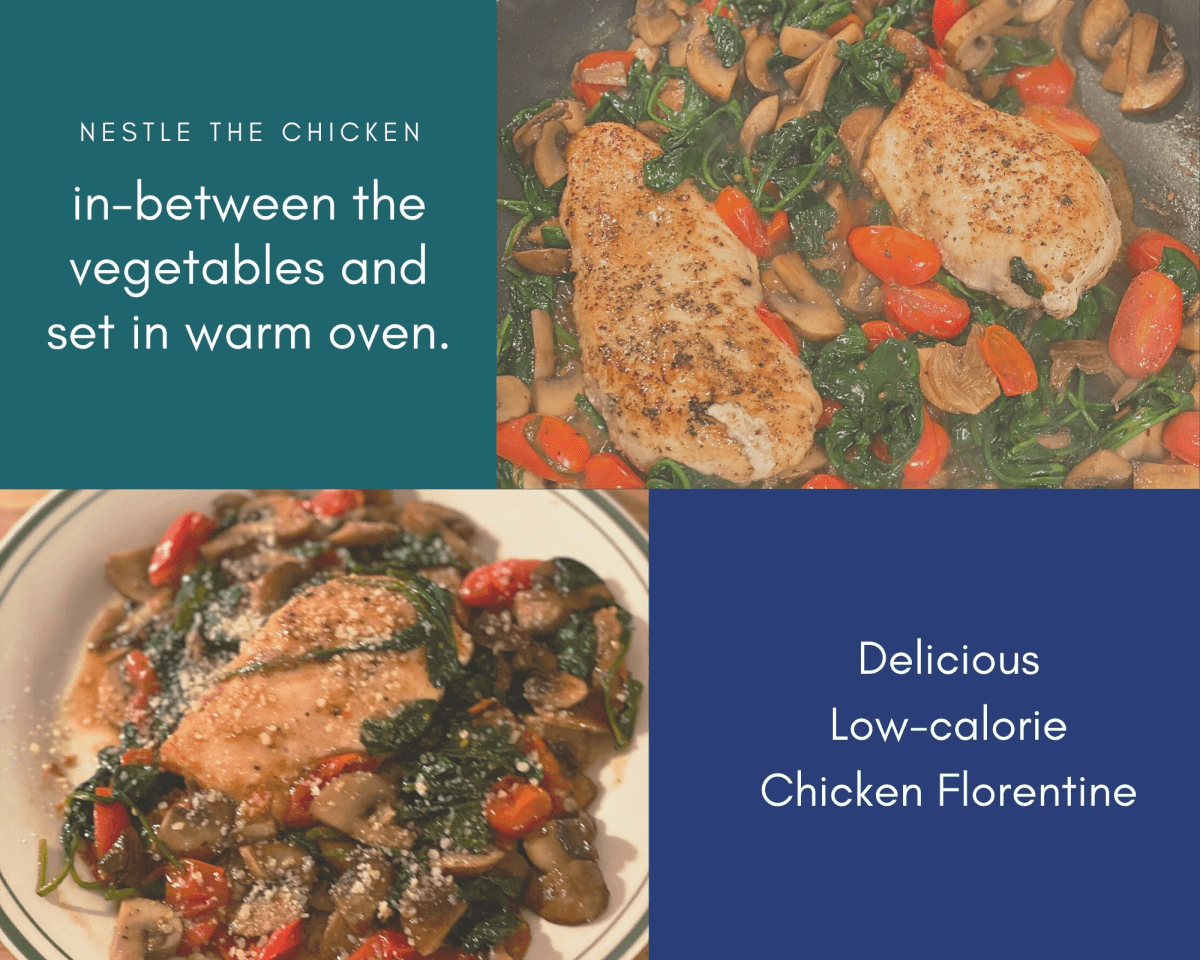 Additions
We wanted to keep our dinner low-calorie so we opted to serve the sautéed chicken breasts with just the vegetables
But, the boneless breasts would taste terrific over some pasta. For a dish such as this one we'd put the breast and veggies over angel hair pasta. Angel hair is our favorite when we're mixing pasta with vegetables or meat.
This Scampi and Pasta shows you exactly what we mean.
Some other ways you can serve Chicken Florentine is over:
rice
mashed cauliflower
farro
quinoa
polenta
No matter how you serve it, I'm sure the plate will be wiped clean with no trace of the Chicken Florentine recipe left on the plate.
If you like chicken breast that are full of flavor and are baked, the this Lemony Baked Chicken Breast recipe is one you'll love.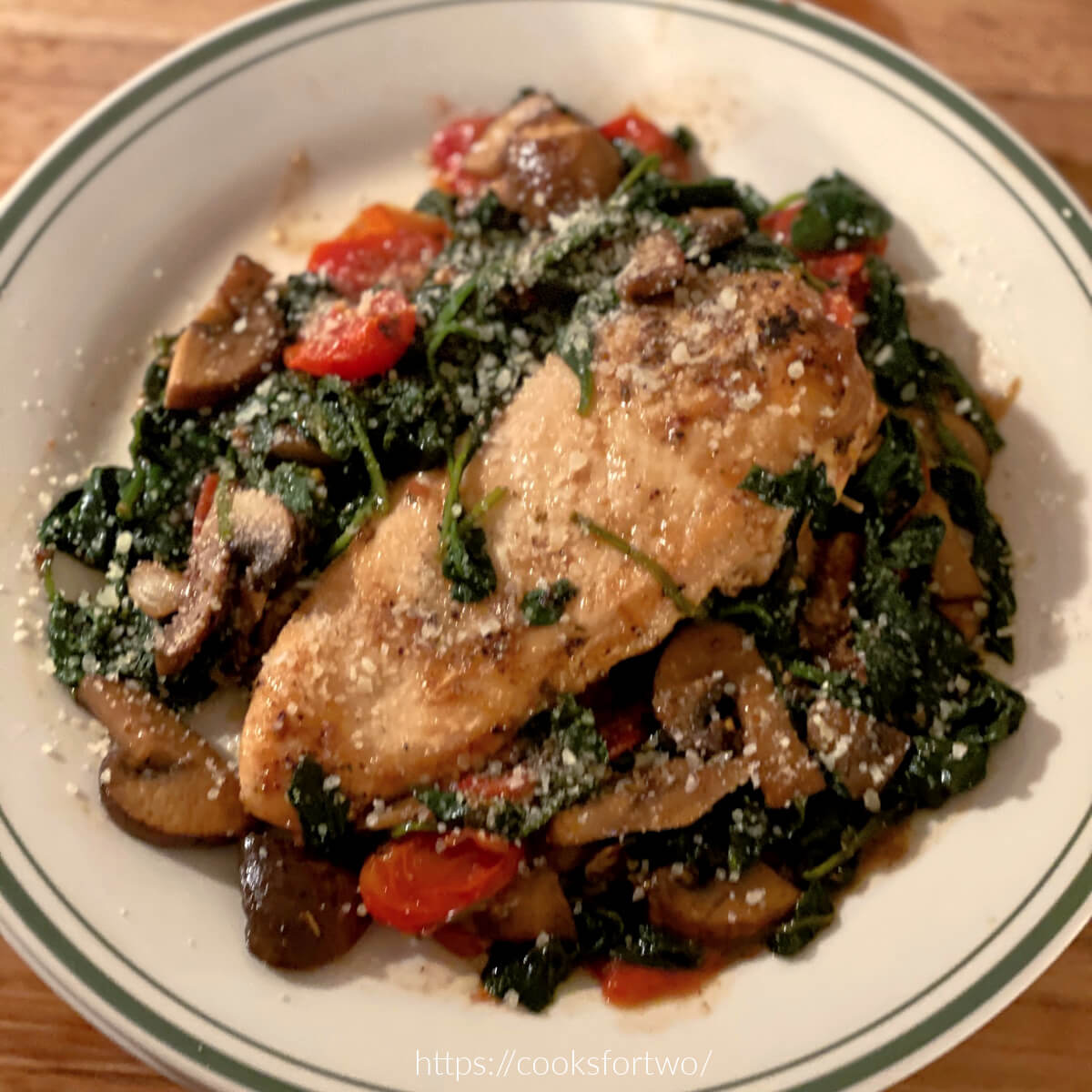 You may need…
As An Amazon Associate I earn from qualifying purchases.
A heavy duty sauté pan is one that you'll countless times. It's great having one that doesn't stick. Investing in a heavy duty one will ensure that the pan doesn't warp and it cooks evenly. Also make sure it's oven safe – that way you go from stove-top to oven without any problems.
Thank you for being part of All Our Way!
What's new? check out my All Our Way Store on Amazon. We'll be adding more items we love and use or wish we had to make cooking fun and easy.
Sautéed Chicken Breasts Florentine Recipe
A classic Italian dinner that's made easier in the process and much easier on the calories. The delicious taste is still there and once you taste it I know this recipe will become a favorite.
Next time you're looking for a delicious Italian chicken dinner, you must make Chicken Marsala. It is a dining experience you won't forget.
If you like this recipe please give it a 5-star rating.
📖 Recipe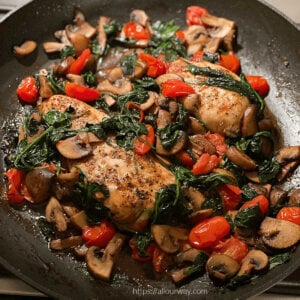 Sautéed Chicken Breasts Florentine For Two
Boneless skinless chicken breasts are sautéed to a golden brown then served with a flavorful mix of gently cooked baby spinach, grape tomatoes, garlic, and baby bella mushrooms.
Print
Pin
Rate
As An Amazon Associate I earn from qualifying purchases.
Ingredients
2

boneless skinless chicken breasts

6

cups

baby spinach

2

cup

portabello mushrooms sliced

1 ½

cup

grape tomatoes halved

2

garlic cloves sliced

¼

cup

chicken stock

¼

cup

olive oil separated

2

tablespoon

unsalted butter

1

teaspoon

garlic salt

½

teaspoon

black pepper

2

tablespoon

Parmesan Cheese
Instructions
Preheat oven to 200℉

Season the boneless skinless chicken breasts on both sides with the garlic salt and pepper.

In a large sauté pan on medium-high heat 2 Tablespoons of the olive oil and when it is hot add 2 Tablespoons of the butter and swirl around.

Add the garlic to the pan and sauté until it's fragrant. Do not burn.

Place both breasts in the pan and brown on one side about 5 minutes and then turn to the other side and brown another 5 minutes. Transfer the chicken to a heat proof plate. Loosely cover with aluminum foil and place in the preheated oven to keep warm.

In the same pan, add the rest of the oil and stir in the mushrooms. Cook for another 5 minutes stirring occasionally. When the mushrooms, turn golden.

Add the baby spinach to the mushrooms and mix.

Add the chicken stock to the pan. Salt and pepper the vegetables. When the spinach begins to wilt, add the grape tomatoes. When the tomatoes soften, push the vegetables to the side and nestle the chicken breasts in the center.

Place the sauté pan in the oven for about 10 minutes. When the center of the chicken reaches 165℉ the chicken is ready to serve.

Place each chicken on a dinner plate and serve with the vegetables. Sprinkle with Parmesan cheese.
Nutrition
Calories:
567
kcal
|
Carbohydrates:
13
g
|
Protein:
33
g
|
Fat:
44
g
|
Saturated Fat:
13
g
|
Cholesterol:
107
mg
|
Sodium:
1501
mg
|
Potassium:
1522
mg
|
Fiber:
4
g
|
Sugar:
6
g
|
Vitamin A:
9798
IU
|
Vitamin C:
45
mg
|
Calcium:
171
mg
|
Iron:
4
mg
Sign up for the emails and never miss another recipe!!
We'll never share your email or send you spam. Promise