Asian barbecued ribs are one of those dishes that will tempt you to keep eating just because they are so doggone good. The spareribs are smoky, sticky, salty, and sweet. The aroma will tease your taste buds long before you even see the pork ribs.

Jump to:
Prepare the grill for Asian barbecued ribs
We celebrated Father's Day on Saturday. Jason, our oldest son, was on his way home from his two-week military duty. He was spending the night and leaving early Sunday morning. For the main dish, we decided to stray from the usual bb qued ribs and picked smoky Asian barbecued ribs instead.
Honey insisted he'd cook the Father's Day meal? Do you think that's fair?
Although, he didn't seem to mind. If I would have prepared the ribs, he would have been a back-seat driver the entire time. It was easier to let him do it. Grilling to him is an art. It's a step by step ritual that you have to follow.
The men in our family really savor their grilled meat, and I have to admit I'm partial to it too. Grilling meat is a great way to visit and prepare the meal at the same time, don't you think?
Once the grill is ready, Honey lights the charcoal, plops the seasoned meat on the grate and watches the ribs like a hawk. As we wait for the ribs to smoke, we stand around and sip on our drinks of choice and catch up on all the family news.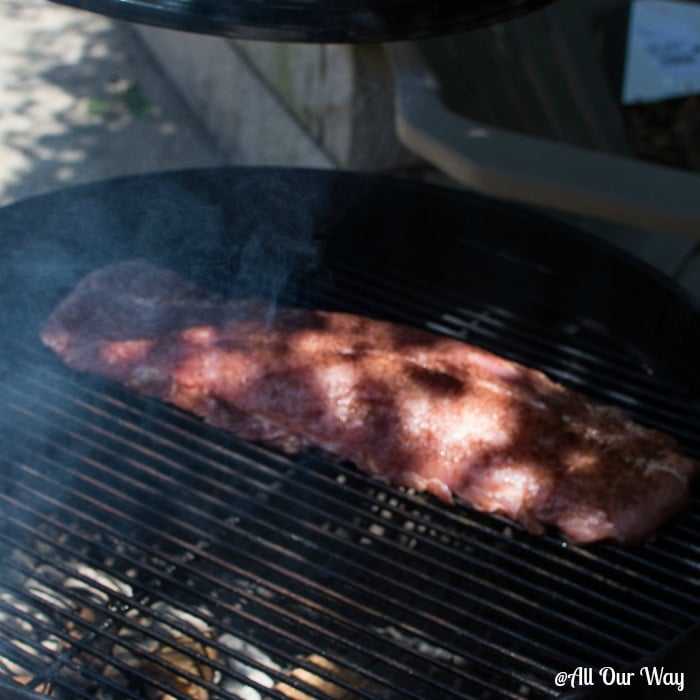 A spicy side for the Asian Barbecued ribs
Along with our sticky ribs, we need a side so we pick cheesy grilled potatoes and peppers. It's one of our favorites, especially since we can also make it on the grill.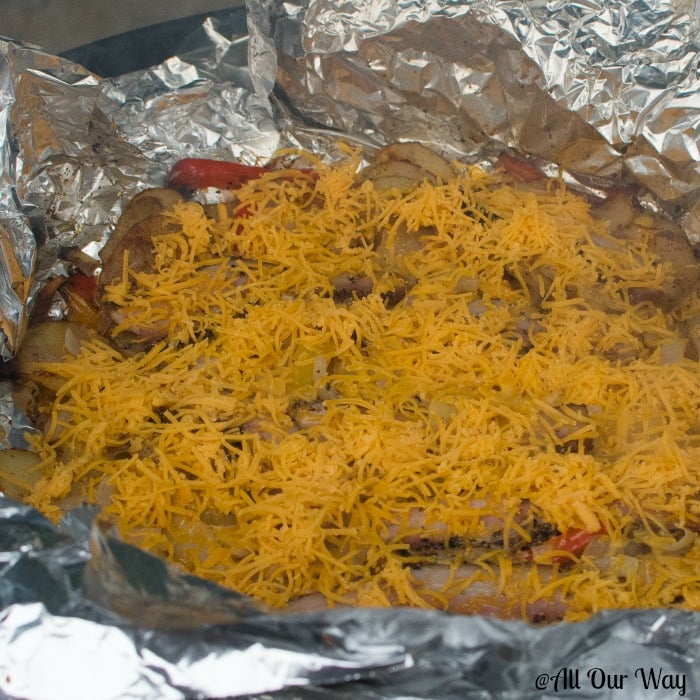 The afternoon flies by. How can you be busy and relaxed at the same time? It seems like that's should be an oxymoron.
Since we were all standing around, I commandeer Jason to be a model for one of my photography assignments. Thank goodness one of the males in the house is cooperative!
Honey shies away from my camera unless he's holding a fish. And then I can only get a shot of the fish. Did you ever wonder why I always cut off his head? ???? That's the reason.
A memorable celebration
We complete the menu with tossed Italian salad and roasted asparagus. Normally Honey and I say our prayers and enjoy our meal. Saturday is different. Saturday we take the opportunity to linger at the table and to enjoy talking with our son.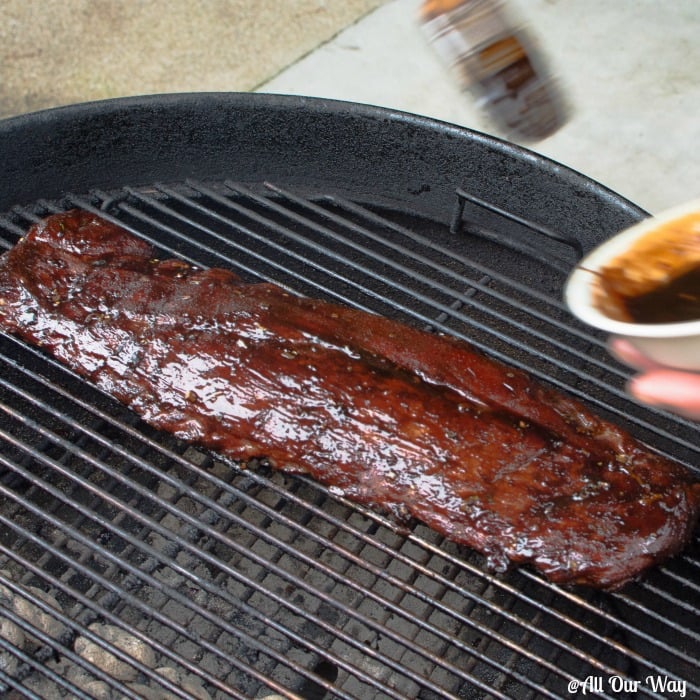 I can see why my mamma was happiest when her family gathered at the table and she could feed them with love. It's certainly a joyous time. A time to sit around the table and give thanks for all that we have. We don't take blessings for granted.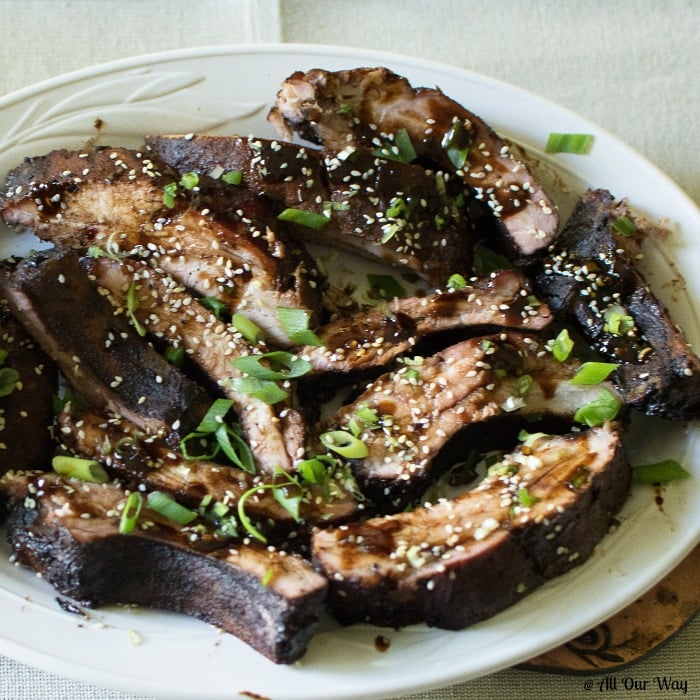 Our Asian barbecued ribs are delicious! We hope you give them a try. They are easy to make and if you don't have a grill you can also bake them.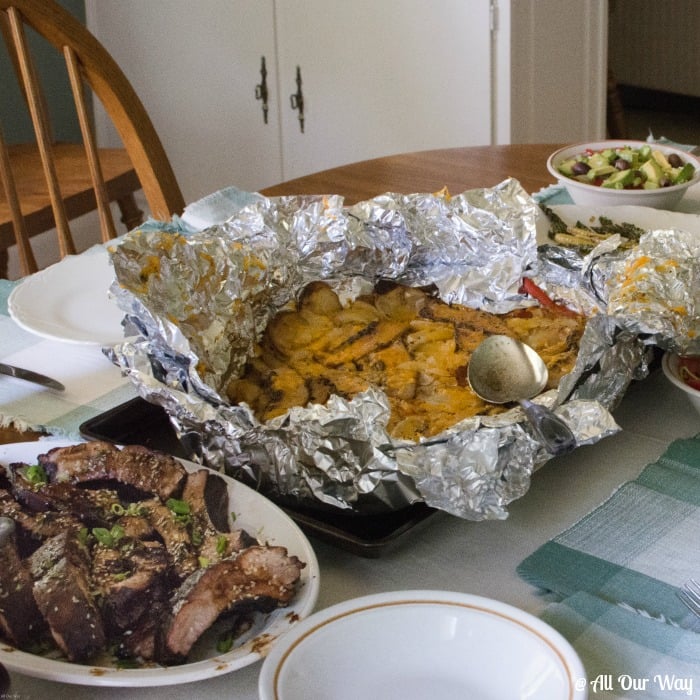 Now, gather together your friends and family, prepare a simple or complicated meal, see if your food doesn't taste better with your company! You know, that is one of the secrets to "La Dolce Vita" -- taking the time to appreciate the simple things like family, friends, and a good meal.
And next time you want to grill chicken thighs on the grill, give them our Amazing Blazing Asian Grilled Chicken Thighs. It shoots the chicken flavor into the stratosphere! Another recipe to include with your Asian inspired meal is our Asian Ramen Noodle Salad. It is deliciously crunchy and so good we always go back for seconds.
Tutti a tavola è pronto!
Un caro salute e alla prossima
Let's stay connected. Sign up for our weekly newsletter so we can share what's happening with us and we'd love to know what's going on with you.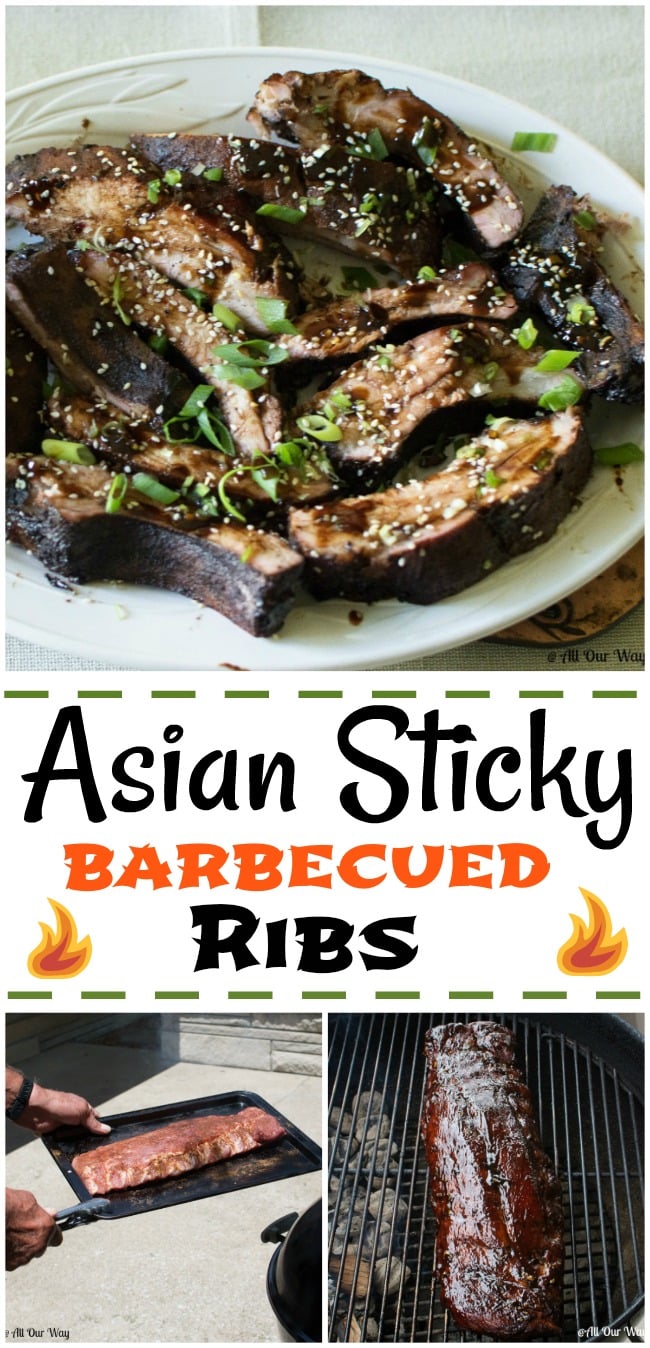 📖 Recipe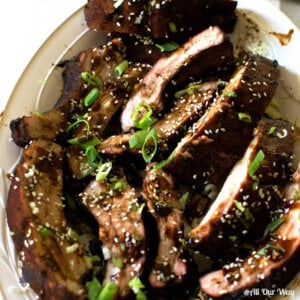 Asian Barbecued Ribs – Tantalizingly Smoky, Sticky, Salty, Sweet
Asian barbecued ribs are deliciously tender with a sweet, salty, smoky, and sticky sauce. It is easy to make and can be grilled or baked in the oven.
Print
Pin
Rate
As An Amazon Associate I earn from qualifying purchases.
Ingredients
½

cup

oyster sauce

¼

cup

hoisin sauce

¼

cup

honey

3

Tablespoons

lite soy sauce

2

teaspoons

chili paste

if desired (we used 3 teaspoons - we like it spicy)

⅓

cup

finely chopped green onions

1

teaspoon

sesame seeds for garnish

2

green onions cut on diagonal for garnish

3.5

lb.

pork spareribs Trim off back membrane. Season with your favorite Asian rub

we used Five-Spice. Cover with plastic wrap and set in refrigerator for at least two hours.
Instructions
Remove the ribs from the refrigerator and let them come to room temperature.

Heat grill with indirect with indirect heat -- 250 to 275 F.

In small bowl, combine all of the ingredients except spareribs; mix well and set aside.

When grill is ready, place the ribs meaty side up on the opposite side of the coals. Cover; cook 2 ½ to 3 hours or until meat is tender. It may take less time. Keep an eye on the meat. If the meat looks like it is drying too much lightly spray the ribs with apple cider vinegar.

Pour some of the Asian sauce into a saucer or bowl -- you will baste the ribs on the last 30 minutes of cooking. Brush frequently with additional sauce. Remove from grill and cover tightly with foil and let the meat rest for 30 minutes in a cold oven.

To serve, cut the ribs apart carefully with a knife and arrange on platter. Serve with additional sauce. Sprinkle with sesame seeds and green onion.

OVEN DIRECTIONS:

Heat oven to 350 F.. Prepare sauce as directed above. Line 15x10x1 inch baking pan with foil; place wire rack in pan. Place ribs on wire rack, meaty side up. Bake for 1 to 1 ½ hours or until meat is tender, brushing the sauce on the ribs the last half hour. Continue as directed above.
Notes
Keep a special basting brush on hand for grilling. The brush should have a long handle to keep your hand away from the heat. If you place the brush in the entire bowl of sauce, make sure you heat the sauce to a boil before serving with the ribs.
Nutrition
Calories:
885
kcal
|
Carbohydrates:
30
g
|
Protein:
79
g
|
Fat:
47
g
|
Saturated Fat:
9
g
|
Cholesterol:
294
mg
|
Sodium:
2077
mg
|
Potassium:
1386
mg
|
Fiber:
1
g
|
Sugar:
22
g
|
Vitamin A:
175
IU
|
Vitamin C:
3.1
mg
|
Calcium:
120
mg
|
Iron:
4.3
mg
Sign up for the emails and never miss another recipe!!
We'll never share your email or send you spam. Promise
Note: Recipes and content from © 2017 All Our Way are copyright protected. Please do not use content or recipe with prior written permission. If you want to share the information, please link to this post. Grazie.