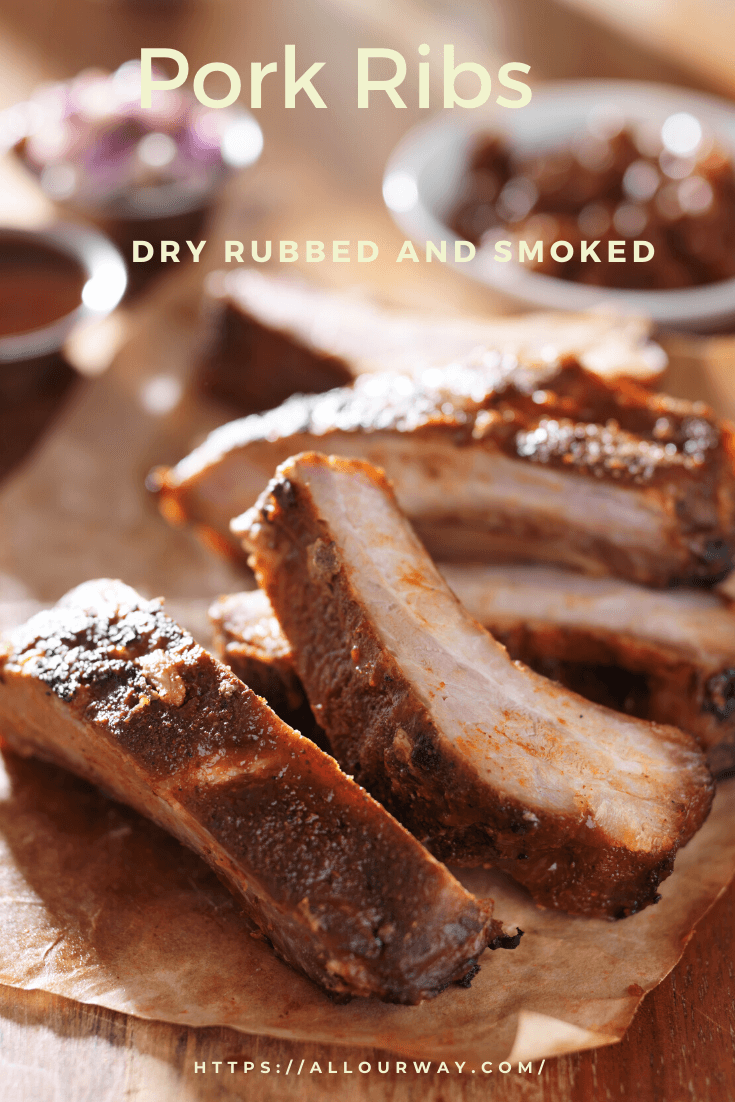 Smoked Pork Ribs has got to be one of our all time favorites. If your family loves meat and is unapologetic about being confirmed carnivores, then this recipe is for you. The St Louis Style Ribs are tender, so tender they come off of the bone and the meat has just the right amount of smokiness. We give you the secrets to making these award winning ribs.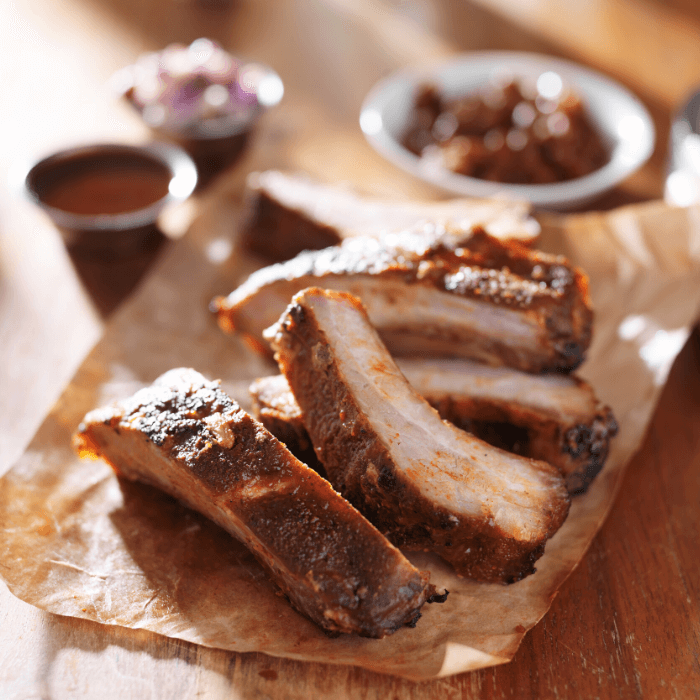 Jump to:
Experience is the key
I can't even imagine how many slabs of pork ribs we've gone through or how many chunks of hickory wood we've use or the hours my Honey spent out in the woods searching for a hickory tree.
Like a mushroom hunter he had his favorite places kept secret, of course from other hickory seeking carnivores.
Pit masters keep their recipes for making the perfect smoked pork ribs a guarded secret.
There is a lot of money to be made for:
the perfect rub
the perfect sauce
the perfect way to put it all together.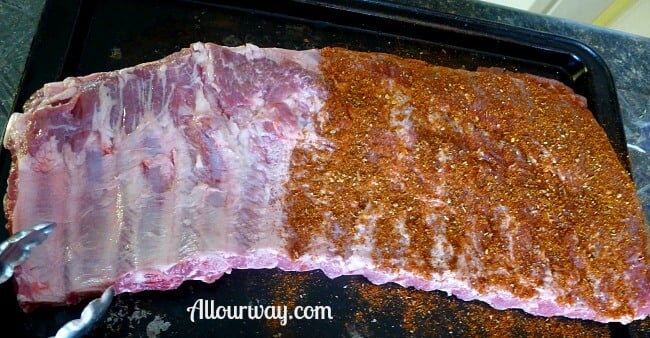 What is the perfect slab
You are looking for a succulent, juicy slab of pork ribs with just the right amount of resilience and chew. The meat should not fall off the bone. Pork ribs that fall off the bone are ones that usually have been steamed or boiled. Using a process like that robs the pork ribs of flavor because water can dilute the flavor.
Properly cooked ribs will pull cleanly off the bone with your teeth.
Mr. Meathead at his website Amazing Ribs writes countless pages on the science of barbecue everything from starting the fire to the thermodynamics of what happens when heat hits the meat.
Most of Mr. Meathead's advice is something we've been doing for years I think my Honey could make smoked pork ribs in his sleep.
How to smoke ribs
This is how Hubby gets the meat ready to smoke:
Prepares the meat by tearing off the membrane on the bony side of the pork ribs.
Then he liberally sprinkles both sides of the pork ribs with

All Our Way Seasoning and Rub

.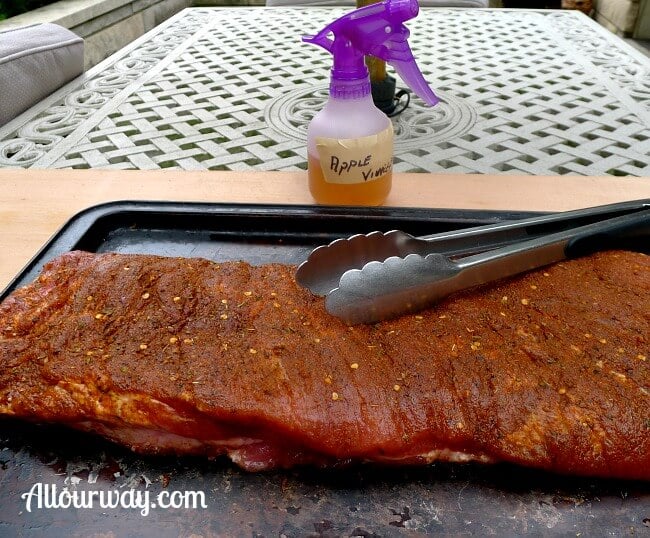 Prepare the grill
My hubby prepares the charcoal for the grill and the method he will use is for indirect heat like he did for the pulled pork.
The temperature of the grill is 225 F to 250 F.
This is an ideal temp. It's hot enough to:
brown the surface
develop a crusty bark
melt the fat and collagens.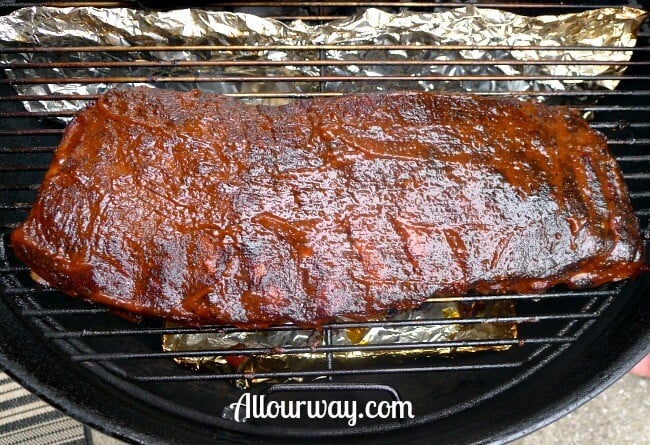 How to proceed
Throughout the grill process my hubby always makes sure to maintain a temp of 225 F.
The pork ribs stay in the same position as when he put them on. That is with the meat side facing up.
When the ribs are nearing completion, in about one hour, he begins to slather the pork on the meat side with our special Spicy Bourbon Barbecue Sauce .
These ribs took six hours to smoke. So, on the fifth hour he begins to baste them.
He usually paints the sauce on the ribs two times. Prior to basting the ribs with the sauce he occasionally spritzes the pork ribs with apple cider vinegar. You can also use apple juice.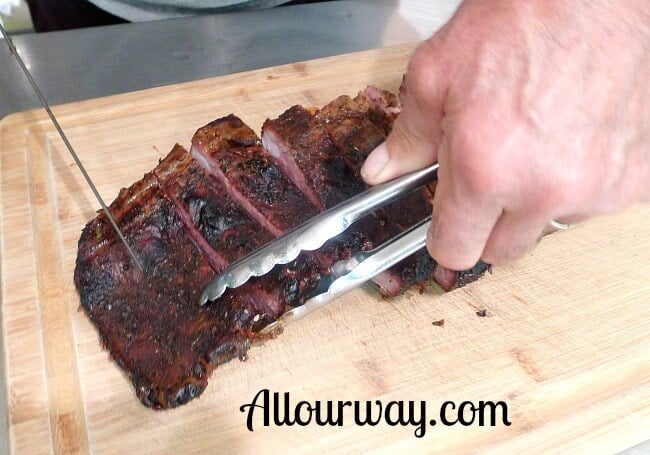 Testing the meat
There are several ways to test if the ribs are done.
My Honey uses the bend test. He picks up the ribs with a pair on tongs and he bounces them slightly. If they are ready, the pork ribs will bow until the meat starts to crack on the surface and be close to breaking when you lift them.
You can use a digital thermometer. They will be done at a temperature from 190 ℉ to 203 ℉.
A rule of thumb is that at 225 ℉ baby back will take three to four hours to cook and about five to six hours for a slab of St. Louis style cut ribs which is what we have here.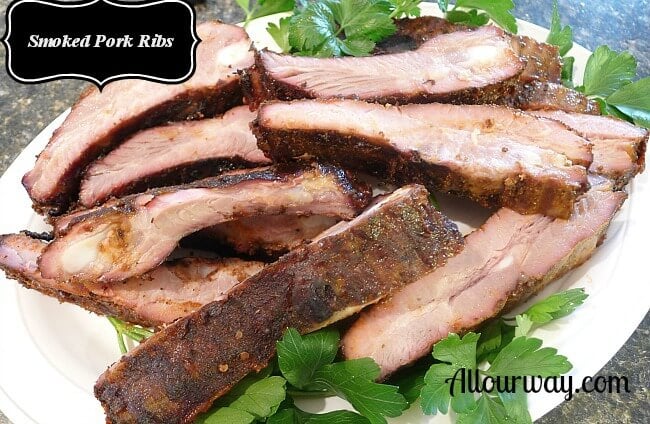 What to expect
The scent of these smoked pork ribs are sweet and fragrant. The meat is perfect when it's tender but it still has some resistance.
There's an excellent combination of:
texture
aroma
flavor without any one being dominant.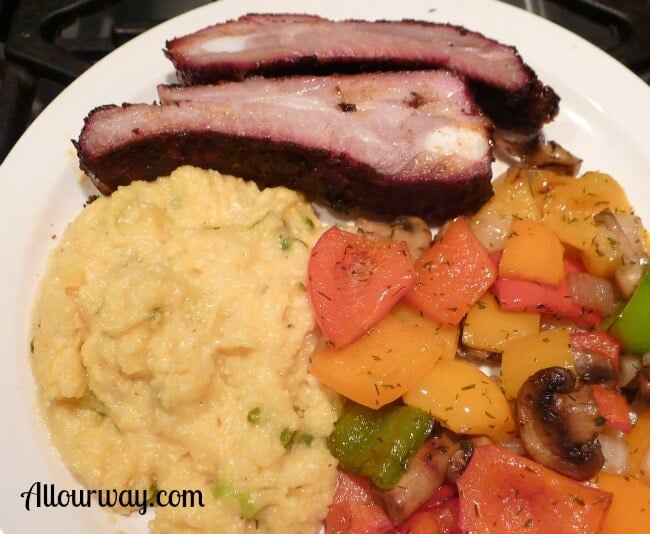 Finishing up
We decided to add Grilled Peppers and Mushrooms with the St. Louis style pork ribs and we agreed that the meal wouldn't be complete unless we included Cheese Grits and this time we included grilled jalapeño peppers.
Tutti a tavolo è pronto!
Un caro saluto e alla prossima.
If you love smoked meats as much as we do, try our easy to make Grilled Pork Tenderloin recipe. The meat is so flavorful, juicy, and tender. And if you want to finish off the meal "Italian style", finish it off with the colored peppers over polenta. If you're from the South, we'll just call it yellow grits.
You may need...
As An Amazon Associate I earn from qualifying purchases.
We have several of these spritzer bottles at our house. We use them for so many things whether it's for cooking or cleaning solutions. Keep several handy and you'll find dozens of uses for them.
What's new? check out my All Our Way Store on Amazon. We'll be adding more items we love and use or wish we had to make cooking fun and easy.
First Published: July 13,2014... Last Updated: May 22, 2020
Note: Recipes and content from @2014-2020 All Our Way are copyright protected. Please do not use content or recipe without prior written permission. If you want to share the information, please link to this post. Grazie.