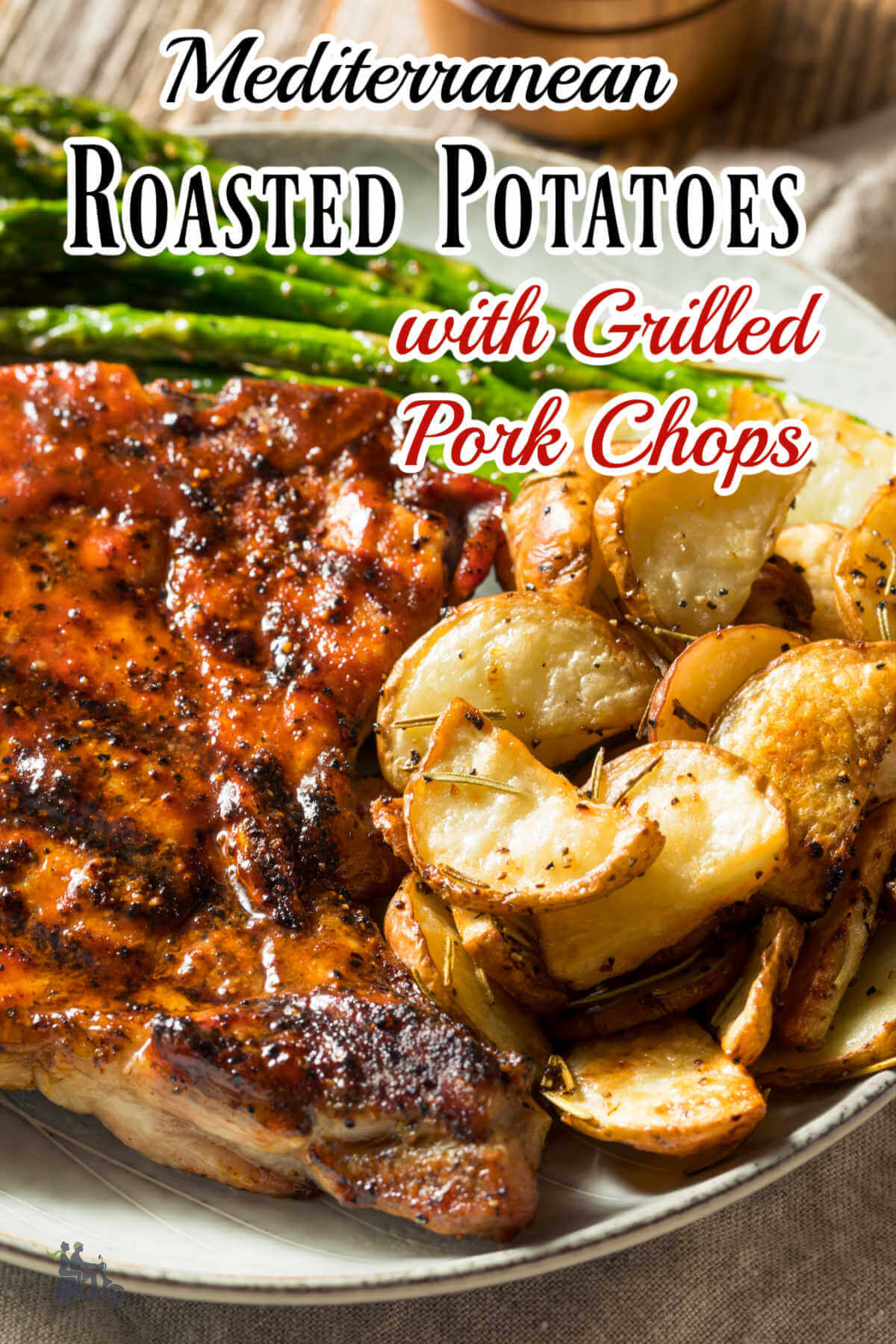 Mediterranean Roasted Potatoes are a combination of white and sweet potatoes seasoned with olive oil, Italian seasoning, salt, and pepper with a touch of Parmesan cheese.
This is a delicious addition to any meat. We served them with grilled pork chops.
Jump to:
The meal inspiration...
Our day and meal was planned but it wasn't long before we realized that we would have to go with Plan B our recipe for grilled pork chops and roasted potatoes.
We were all set up for a day of fishing. And by all indications-- it was going be a very good day.
We were due for a good fishing day!
My Honey really didn't care what he caught -- a sea trout or a flounder would have been nice -- just something we considered edible.
You see, we were planning on having some delicious fillets for dinner that evening.
Catching dinner
I was enjoying my Ruth Reichl book, Tender at the Bone, when I heard a loud ziiiiiinnnnnnng! If you're a fisherman you know that sound -- it means something has taken the bait and is running with it. I looked up and saw my Honey's rod bent in half.
WOW!! It was big!
And there was no way that big boy would be reeled in.
Well . . . I'm not the fisherman (fisherperson). My job now is to run to the car and get the net. I know . . . I know! We should have brought the net with us when we lugged all of the stuff onto the pier in the first place.
False hopes
But more times than not you won't need it and we don't have a fancy, schmancy cart to lug all this stuff on. Believe you me . . . sometimes I feel like a pack horse trying to get all of this stuff in one trip.
So I run to the car . . . get the pier net . . . and I try to run . . . shuffle . . . jog . . . with this huge net back onto the pier. I lower the net below the water's surface and my Honey reels and pulls to position this humongous thing over the net.
As soon as the fish is over the net I pull up on the cord.
Success!!
Hubby takes over the cord and he hands me the rod and reel.
"Reel him in," he says.
WHAT??!!
Uhhhhhh . . .I don't know anything about this. Don't forget I don't have a license . . . he - my Honey - wasn't listening!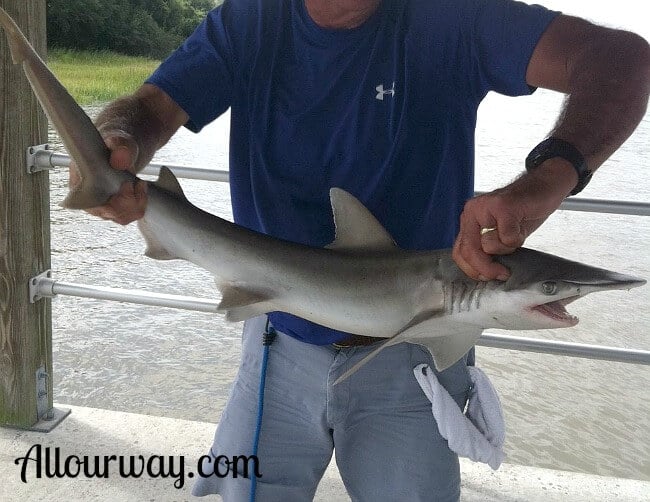 Harder than it looks
I turn the handle on the reel, as I've watched him do, meanwhile he is pulling on the cords of the pier net.
Finally he gets the net up and over the railing of the pier and it all lands with a big thud on the deck.
There . . . in the net . . . on the pier . . . is a big Bonnethead Shark that is really mad and not afraid to show it!
The shark is whipping its tail back and forth and he is showing his teeth -- not in a smile.
My next job is to rush over and get the needle nose pliers so my Hubby can unhook him and get him out of the net before he completely destroys it- the shark not my Honey. Once that's done we measure -- 36 inches from nose to fork of his tail and 41 inches from his nose to the tip of his tail.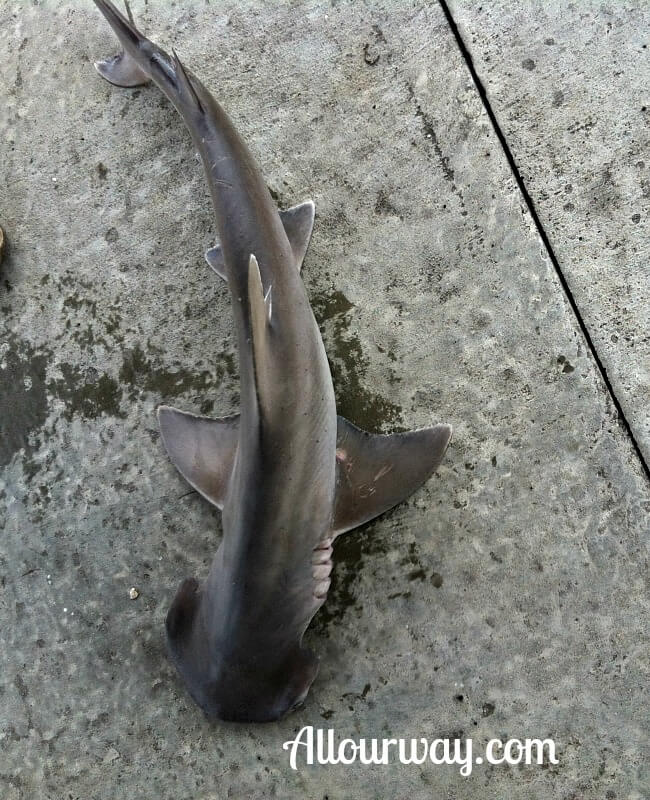 Whew!!! That proved to be quite exciting!
The rest of the day it turned out to be very slow. So that meant no meat for supper and plan B was going to have to be implemented --All Our Way grilled pork chops and roasted potatoes with a side of French style green beans topped with almonds.
Next time you're craving potatoes that are cheesy, spicy, and oh so good, try our Cheesy Loaded Fries with Ranch Dressing.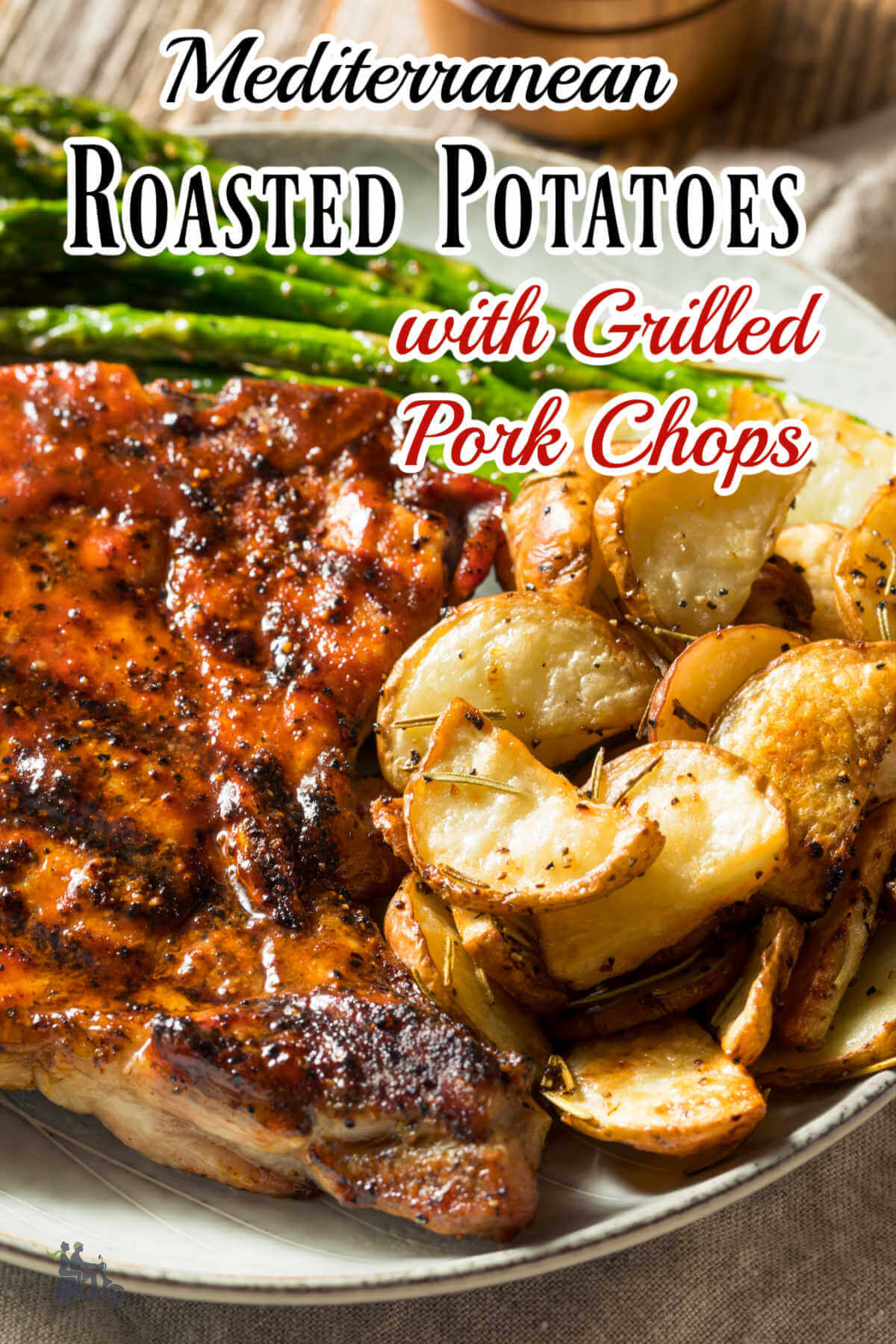 Seasoned dinner
We like roasting two different kinds of potatoes in the oven and giving it a Mediterranean flavor by sprinkling them with a Tuscany seasoning. It's fast and easy to make -- you don't peel the potatoes, just wedge them, coat them with extra-virgin olive oil and season them with your favorite seasoning.
The potatoes roast as we prepare the rest of the meal. The fishing may have been a disappointment but our Grilled Pork Chops and Roasted Potatoes were a big success. 🙂
If you're as fond of sweet potatoes as we are, how about making them into a special dessert? Our family and friends are crazy about our Sweet Potato Pie with Marshmallow Topping Recipe.
Recipe
📖 Recipe
Mediterranean Roasted Potatoes
Russet and sweet potatoes are washed, wedged, seasoned and coated with extra-virgin olive oil. Tuscany seasoning gives it the Mediterranean flavor. They are easy to prepare and are delicious with all meats.
Print
Pin
Rate
As An Amazon Associate I earn from qualifying purchases.
Ingredients
2

Russet potatoes

2

Sweet potatoes

2

tablespoon

extra-virgin olive oil

1

tablespoon

Tuscany seasoning -- or something similar

1

teaspoon

Salt and pepper to taste

3

tablespoon

Parmesan Cheese sprinkled on top
Instructions
Preheat oven 400 F.

Line a large baking sheet with aluminum foil and spray it with vegetable spray.

Wash and wedge the potatoes

Put the wedges in a large bowl and coat the potatoes with extra-virgin olive oil

Liberally sprinkle Tuscany seasoning, salt and pepper over the wedges and mix thoroughly

Once the oven is preheated place the wedges on the baking sheet and spread out evenly in one layer.

Bake for 30 to 40 minutes -- depending on the size of the wedges. You really don't have to stir or shake them. They should get a nice golden brown.

When they are done you remove them from the oven and sprinkle with Parmesan cheese and serve.
Nutrition
Calories:
150
kcal
|
Carbohydrates:
23
g
|
Protein:
3
g
|
Fat:
6
g
|
Saturated Fat:
1
g
|
Cholesterol:
2
mg
|
Sodium:
66
mg
|
Potassium:
463
mg
|
Fiber:
3
g
|
Sugar:
2
g
|
Vitamin A:
6197
IU
|
Vitamin C:
5
mg
|
Calcium:
76
mg
|
Iron:
1
mg
Sign up for the emails and never miss another recipe!!
We'll never share your email or send you spam. Promise
Old photos from September 29, 2014