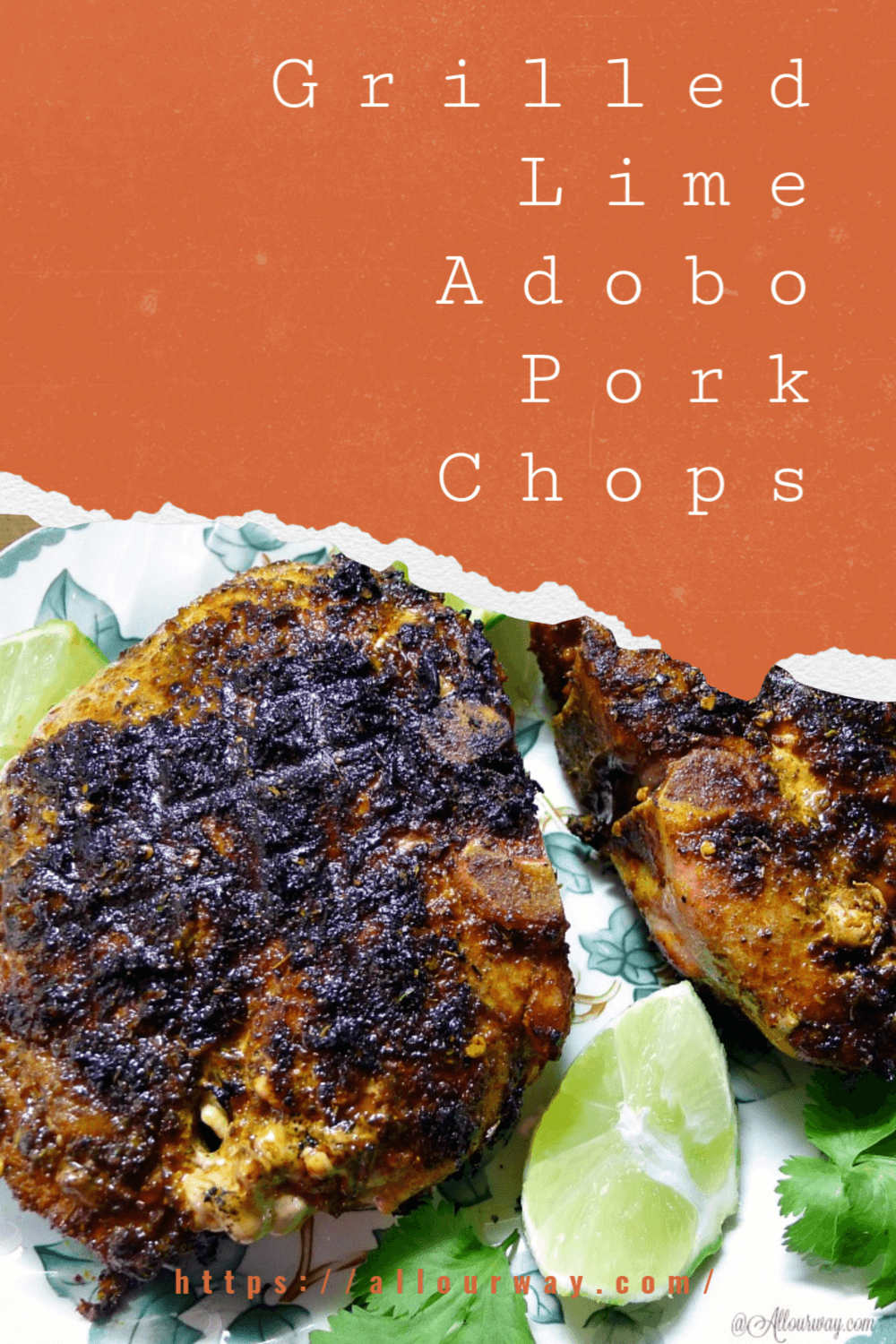 Adobo Pork Chops are thick, spicy, and succulent. The rub that we use adds a lovely tangy flavor to the meat. The meat eagerly soak up the Mexican flavor of the adobo and lime rub. The grilled chops are full of flavor and the aroma will make your mouth water. We'll show you how to grill pork chops so that they are the tastiest ones you've ever eaten.
Jump to:
The Inspiration
Inspiration for Adobo Pork Chops came from an unusual source and at an odd time. I was sitting on a bench, at Saint Simons Island Pier, watching my Honey fish, when I heard someone say in a whispery voice, "Reeeeeeeeed Chickn."
I turned and saw that it was Herb, one of the usuals that frequent the pier. Now, Herb, I must say, is quite a character. He seems to have been just about everywhere and tried just about everything including a stint as a chef. He and I always discussed food and recipes.
"Red Chicken?" I wasn't even sure that was exactly what he'd said.
" Yes! Reeeeeeeeed Chickn! he said enthusiastically. Just get the recipe and put it on your blog. You'll see, your readers will love it."
"But I've never heard of red chicken. Just exactly what's in it? And where did you hear about it, Herb? I just can't see anyone getting excited about eating a chicken that's red in color."
"Trust me," said Herb, smiling confidently. "You know how to use the Internet, don't you? Just get the recipe and make it. The people around Texas and the South go nuts over reeeeeeeeed chickn"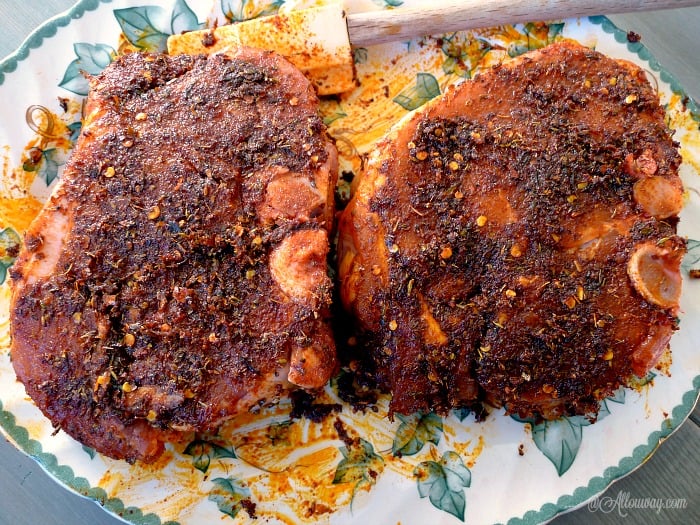 Searching for the recipe
Once we got back home I looked up red chicken and found several references to it. I printed out one recipe that sounded kind of interesting. So, we proceeded to make Red Chicken.
Perhaps it was the recipe itself but we found it so-so. Not something we'd go nuts over! Certainly not "blogworthy" as my Honey would term it.
Then, one day as I was reading a post from Eat the Love. I realized that I could very well be reading the recipe for the tasty red chicken recipe that Herb had insisted we make.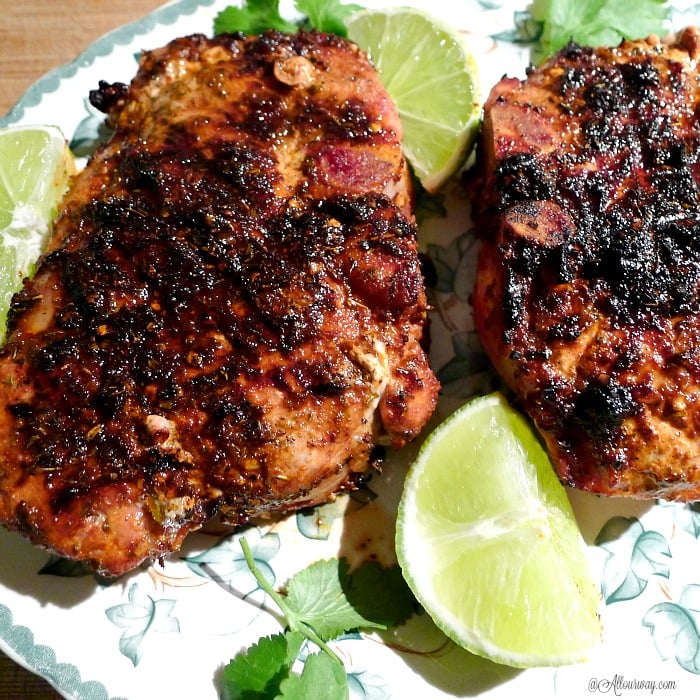 Grilled Mexican Pork Chops
Irwin Lin, the author, had posted a recipe for Meyer LemonAdobo Rubbed Roasted Chicken, a variation, I figured, of the grilled red chicken. The chicken had a beautiful red tinge to it.
Now here is where it really gets interesting. As his inspiration, Irwin had used a recipe from a June 2007 Gourmet Magazine titled "Grilled Giant Pork Chops with Adobo Paste."
As it turns out, I was working backwards.
Now it just so happened we had pork chops thawing out in the fridge! We planned on making them that evening.
Call it a coincidence
Call it a fluke
Call it a chance
I believe we were meant to find that delicious adobo pork recipe and use it to make our --
Grilled Lime Adobo Rubbed Pork Chops.
The ingredients
bone-in loin pork chops
olive oil
smoked paprika
oregano,
fresh garlic
cumin
hot red-pepper flakes
fresh lime zest
kosher salt
black pepper
Putting it together
For the Mexican pork chops, we decided to stick with lime zest as part of the paste.
The adobo pork gets its red color comes from the paprika used in the recipe. But instead of using plain paprika, we decided to the flavor it up a notch by using smoked paprika instead.
The hot pepper flakes in the paste give the rub a nice kick. You can always adjust the heat index to your likes and use a few fewer flakes.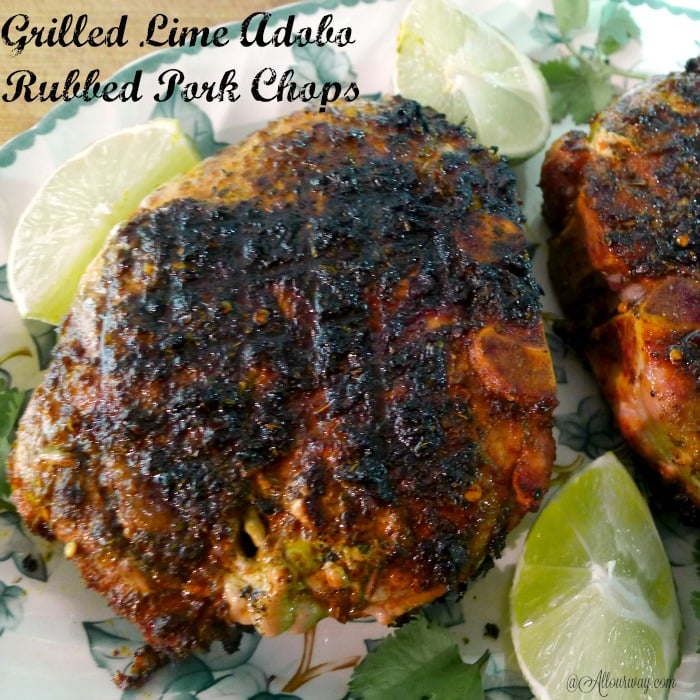 The rub recipe makes quite a bit so you can store the extra in the refrigerator for a few days or in the freezer for a couple of weeks.
It's excellent not only on grilled pork but also chicken and beef. So, next time instead of making Grilled Lime Mexican Pork Chops, try it on grilled or roast chicken.
And if you're ever on Saint Simons Island Pier, Georgia, for Herb. Everyone knows him. And if you do get to meet him just say, "Reeeeeeeeed Chickn." He'll figure out who told you.????
Tutti a tavola è pronto!
Un caro saluto e alla prossima.
YOU MAY NEED...
The following are affiliate links. We are a participant in the Amazon Services LLC Associates Program, an affiliate advertising program designed to provide a means for us to earn fees by linking to Amazon.com and affiliated sites.
Thank you for being a part of All Our Way!
We use smoked paprika a lot! Not only do we add it to a lot of recipes, we also like to sprinkle it on top to give the dish additional color. Try Gourmet Smoked Paprika by Its Delish, 8 Oz. Medium Jar smoked paprika and see if it doesn't give your dishes additional pizzaz!!
Grilled Lime Adobo Rubbed Pork Chops
This adobo pork chops recipe is one that will become a favorite. Guarantee!! The lime adobo rub is very versatile and you can use it on any meat you like. The rub makes more than what you need for two large chops. Save it then how about making some reeeeeed chickn? ????
And if you love that Tex-Mex flavor, try our Southwest Spice Blend on your grilled meats and vegetables. You won't want to use anything else!
If you like this recipe please consider giving it a 5-star rating. This helps others to decide whether to try the recipe.
📖 Recipe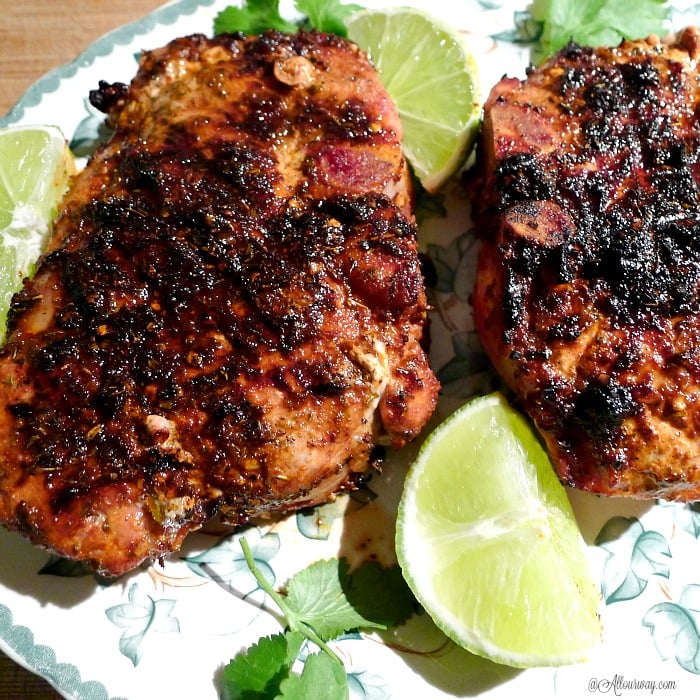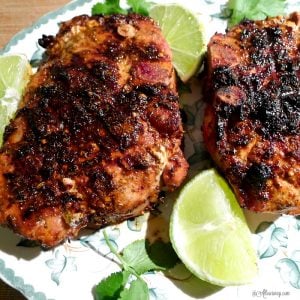 Grilled Lime Adobo Rubbed Pork Chops
This delicious paste uses the flavors of Mexico plus fresh lime zest to give the rub a lovely note with enough spice to waken your tastebuds We show you how to make perfect pork chops every time.
Print
Pin
Rate
As An Amazon Associate I earn from qualifying purchases.
Ingredients
2 ½

tablespoons

olive oil

2

tablespoons

smoked paprika

1 ½

tablespoons

dried oregano

crumbles

1

tablespoon

minced garlic

1 ½

teaspoons

cumin

1 ½

teaspoons

dried hot red-pepper flakes

1 ½

teaspoons

finely grated fresh lime zest

1 ½

teaspoons

kosher salt

¼

teaspoon

black pepper

2

1 ½-inch-thick bone-in loin pork chops (about ¾ pound each) ***

a disposable aluminum pan around 17X12X3 for covering chops midway through grilling

and instant read thermometer
Instructions
Prepare grill for direct-heat cooking with medium-hot charcoal placing the charcoal on one side of the grill.

Stir together all ingredients except pork chops in a bowl to form spice paste, then rub paste all over pork chops.

Cover pork chops with plastic wrap and allow them to marinate, covered and chilled for two hours. 20 minutes before grilling take chops out of the refrigerator.

Light the grill and once it is ready oil the grill rack. Grill the chops over coals, turning over occasionally and moving them around if flare-ups occur, until browned, 2 to 3 minutes total.

Move chops to area with no coals underneath then cover with inverted roasting pan and grill, turning chops over once, until thermometer inserted horizontally into center of a chop (do not touch bone) registers 145F, 8 to 10 minutes.

Transfer to a platter and let stand 5 minutes before serving.
Notes
*** rub will make enough for 4 chops
Pork can be grilled on a gas grill. Preheat all burners on high covered, 10 minutes. Reduce heat to moderately high and brown chops, covered, turning over occasionally, 2 to 3 minutes. Turn off 1 burner (middle one if there are 3) and put chops above shut-off burner, then grill, covered, without turning, until thermometer registers 145F, 12 to 15 minutes.
Pork Chops, rubbed with spice paste, can marinate covered up to 4 hours before grilling.
Spice paste keeps, covered and chilled, up to a week in refrigerator and frozen for several weeks.
Adapted from Gourmet Magazine's "Grilled Giant Pork Chops with Adobo Paste"
Nutrition
Serving:
1
pork chop
|
Calories:
408
kcal
|
Carbohydrates:
9
g
|
Protein:
30
g
|
Fat:
28
g
|
Saturated Fat:
5
g
|
Cholesterol:
89
mg
|
Sodium:
1842
mg
|
Potassium:
762
mg
|
Fiber:
4
g
|
Sugar:
1
g
|
Vitamin A:
3955
IU
|
Vitamin C:
1.7
mg
|
Calcium:
107
mg
|
Iron:
4.9
mg
Sign up for the emails and never miss another recipe!!
We'll never share your email or send you spam. Promise
First Published: June 18, 2018... Last Updated: April 25, 2020
Note: Recipes and content from © All Our Way 2014-2020 are copyright protected. Please do not use content or recipe without prior written permission. If you want to share the information, please link to this post. Grazie.