We make our Easy One-Pan Italian Farro with Tomatoes several times a month. Yes! We like it that much, but the bonus here is, when we're short on time, it's easy to throw together and even easier to clean up.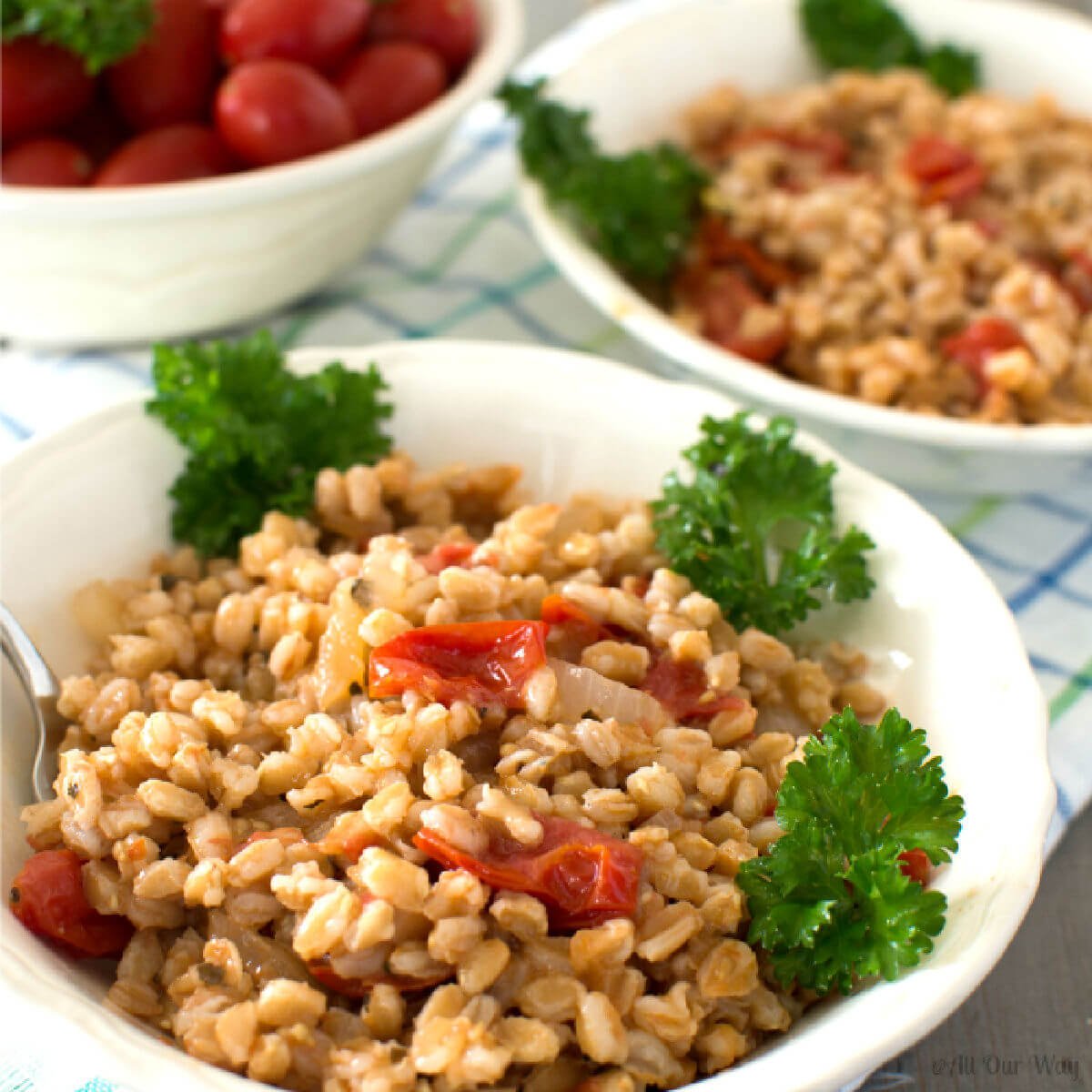 This dish cooks in one pot and as it cooks the tomatoes, onions, and garlic form a delicious sauce. One taste and you'll think you slaved over the stove all day. A touch of olive oil, a sprinkle of parmesan cheese, and scattering of basil ribbons finishes this incredible recipe.
When I first saw my inspiration recipe on Smitten Kitchen I was a bit skeptical. Deb, who is Smitten Kitchen, kept going on and on about this wonderful dish. The ingredients were common. How could the combination of those everyday ingredients make her gush? But Deb never disappoints me, so I made the farro. She didn't disappoint me this time either; she was right in her high praise.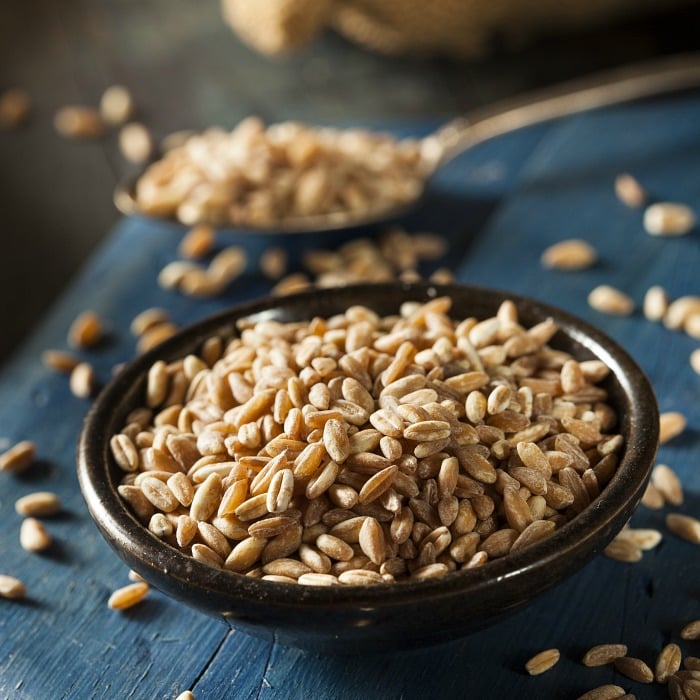 Preparing Italian farro with tomatoes
First, you need a deep pan. Pour two cups of water into the pan and add one cup of rinsed farro. As the farro soaks, cut up half an onion and add that to the farro. Then you mince a few cloves of garlic and toss them into the pot.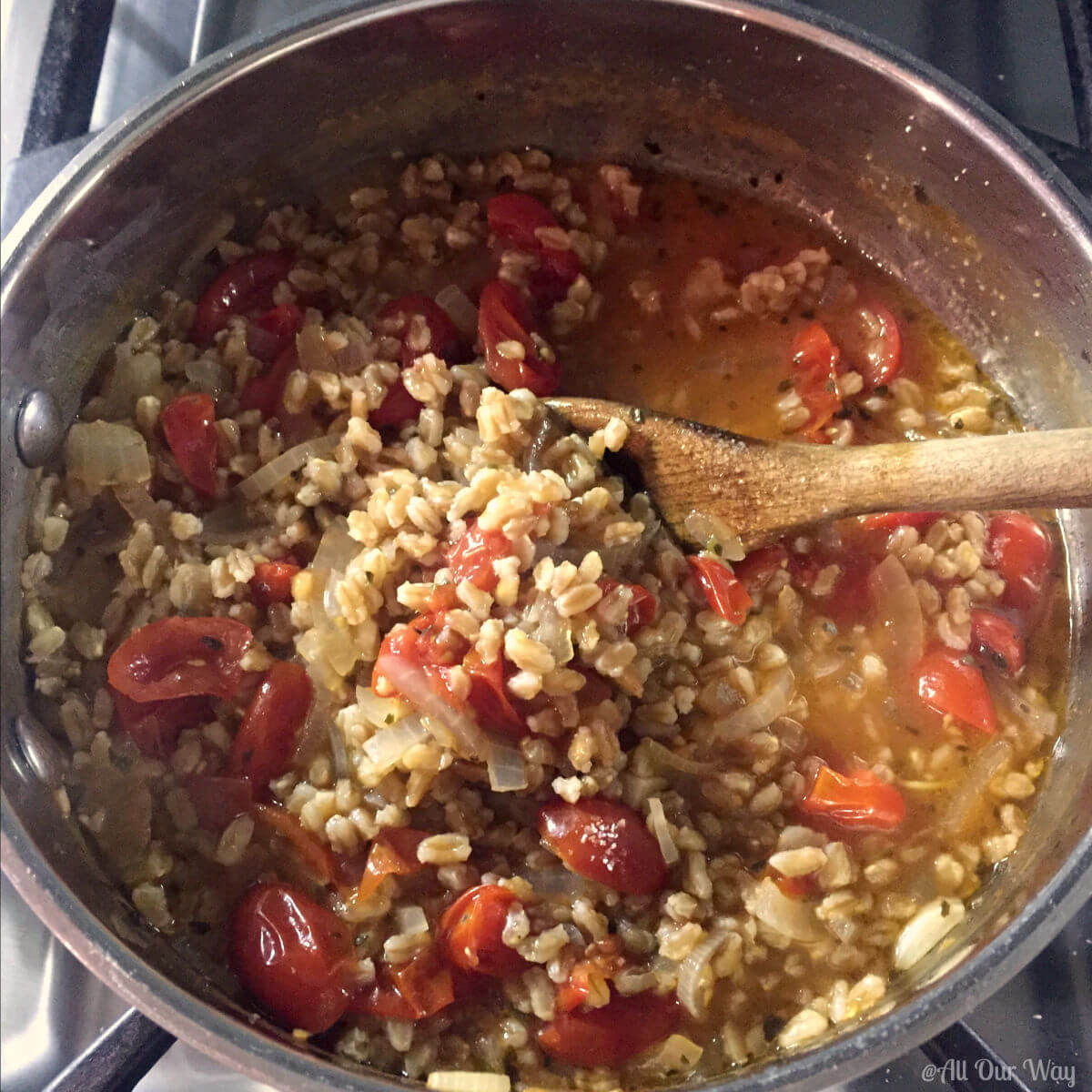 Since this is Italian Farro with Tomatoes, you need to cut in half 9 ounces of grape tomatoes. They join the rest of the ingredients in the pan. Finally, you need to season the water with salt, red pepper flakes, dried Italian seasoning, and some extra-virgin olive oil.
Cooking the farro
That's it! That is all you have to do to make Easy One-Pan Italian Farro with Tomatoes. The stove takes over and finishes the job for you. Within 30 minutes you have a delicious side or a hearty vegetarian main dish. The farro will be chewy.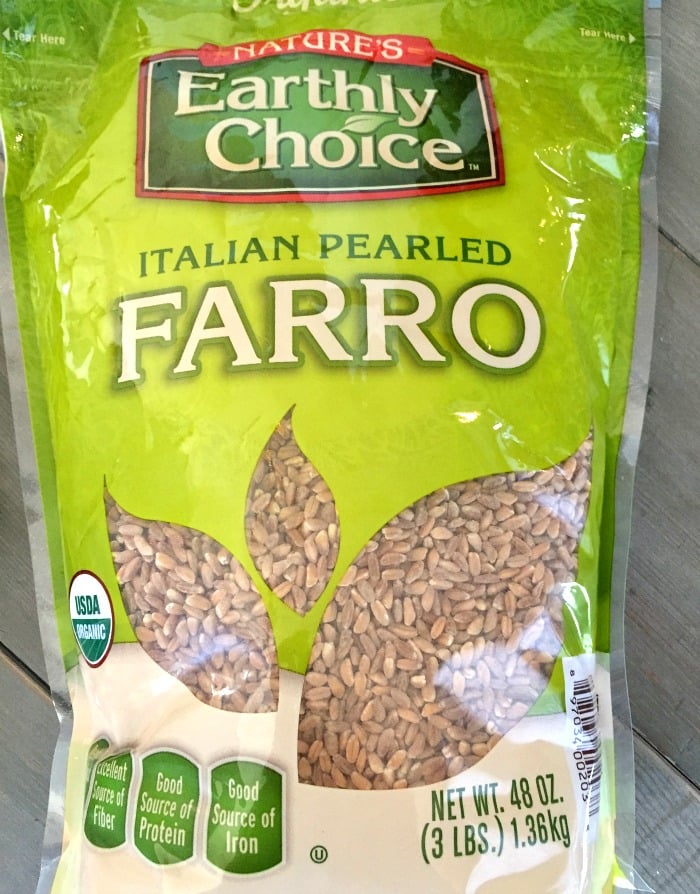 Be sure to check your package to see what kind of farro you have. Farro comes in whole/unpearled, semi-pearled, and pearled. If you want to find out more about the grain, Deb from Smitten Kitchen goes into detail about this.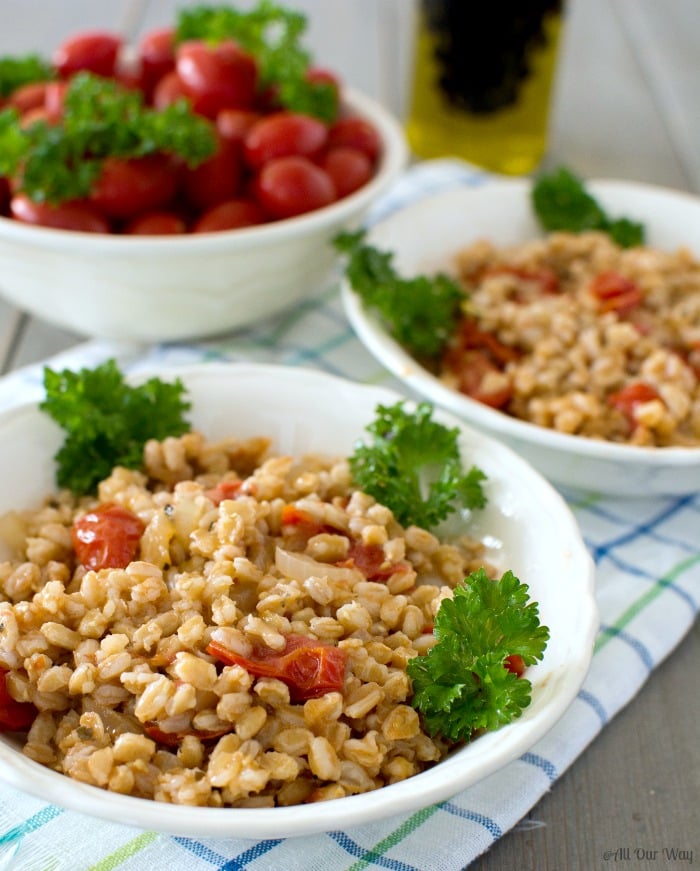 Serving the farro with tomatoes
To finish your Italian Farro with Tomatoes, grate some parmesan cheese on top and sprinkle with some basil leaf ribbons. A quick swirl of olive oil completes the dish. Unfortunately, this time when we made Italian Farro with Tomatoes, I didn't have any basil leaves.
Even though we eat a lot of farro, such as Farro and Peas, Warm Tuscan Farro Salad, Farro Risotto, Farro Tabbouleh with Kale, Farro Salad in Red Radicchio Cups, we never tire of it.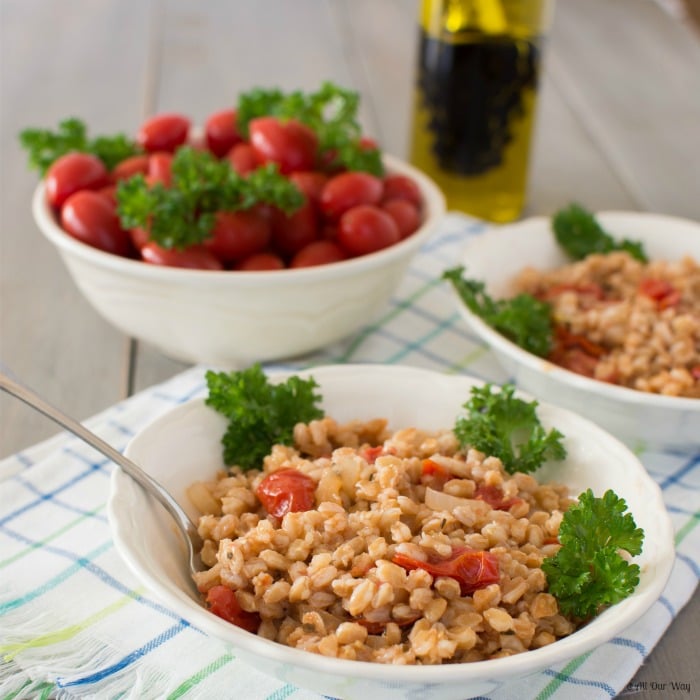 If you haven't tried farro we hope you give it a try with our Italian Farro with Tomatoes recipe. We know you won't be disappointed.
And next time you're wanting to make a scrumptious side for your family or guests, try our fabulous recipe for Creamy Orzo Pasta With Marinated Tomatoes.
More quick meal ideas
These recipes are terrific any time of year. Your family will love them.
Tutti a tavola è pronto!
Un caro saluto e alla prossima.
📖 Recipe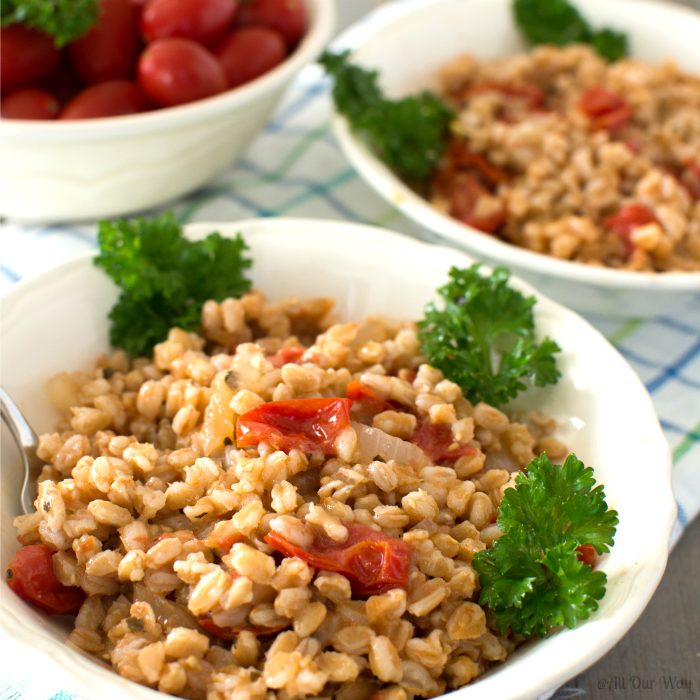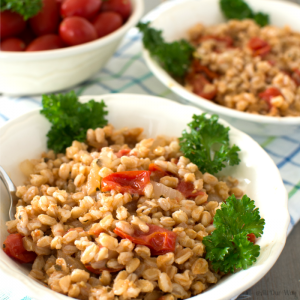 Farro with Tomatoes Easy Italian One-Pan Dish
An easy one-pan meal that is finished in 30 minutes. The farro keeps its chewy texture while the onion-tomato seasoning soaks into each kernel.
Print
Pin
Rate
As An Amazon Associate I earn from qualifying purchases.
Ingredients
2

cups

water

1

cup

farro -- check what type it is for cooking time. I used Italian pearled farro which cooks in about 20 minutes.

1

medium onion

thinly sliced

3

cloves

garlic

thinly sliced

9

ounces

grape tomatoes

halved

1 ¼

teaspoon

kosher salt

1 ½

teaspoon

dried Italian seasoning

¼

teaspoon

red pepper flakes

1

Tablespoon

extra virgin olive oil

extra for drizzling on top

¼

cup

grated parmesan cheese and a little extra for sprinkling on top.

Basil leaves thinly cut into ribbons
Instructions
Place the water in a medium saucepan. Put the farro in a sieve and rinse with cold water. Add the farro to the water and let it presoak about 5 to 10 minutes while you prepare the other ingredients.

Once you slice the onions add them to the pan as well as the thinly slice garlic cloves, salt, red pepper flakes, Italian seasoning, and 1 tablespoon of olive oil.

Set the timer for 30 minutes.

Bring the uncovered pan up to a boil. Halve the grape tomatoes and add them to the other ingredients. Once the the liquid comes to a boil, reduce it to a simmer, stirring occasionally.

When the timer rings, the farro should be cooked, tender but still chewy. The water should be almost completely absorbed.

Stir in the grated parmesan cheese.

Transfer the farro to a serving bowl. There may be a little extra water left but we believe it adds to the taste.

Drizzle more olive oil over the top, sprinkle with the basil ribbons, and finish with parmesan cheese. *
Notes
* If you don't have basil you may use Flat-leaf parsley. We've done it both ways and both ways are delicious but the basil adds more flavor.
This recipes was inspired by Deb from Smitten Kitchen who in turn was inspire by Martha Stewart Living.
Nutrition
Calories:
262
kcal
|
Carbohydrates:
45
g
|
Protein:
8
g
|
Fat:
6
g
|
Saturated Fat:
1
g
|
Cholesterol:
5
mg
|
Sodium:
840
mg
|
Potassium:
349
mg
|
Fiber:
9
g
|
Sugar:
3
g
|
Vitamin A:
635
IU
|
Vitamin C:
11.5
mg
|
Calcium:
116
mg
|
Iron:
1.8
mg
Sign up for the emails and never miss another recipe!!
We'll never share your email or send you spam. Promise
Note: Recipes and content from © All Our Way 2016 are copyright protected. Please so not use content or recipe without prior written permission. If you want to share the information, please link to this post. Grazie!
SaveSave