Sautéed shrimp is an easy, quick way to prepare this tasty seafood. Add it to baked spaghetti squash, and you have a complete low-calorie delicious meal. Rosemary and lemon give the dish a fresh, bright taste.
Another dish we love is a quick 30 minute Lemon Shrimp Pasta with Capers and Parmesan.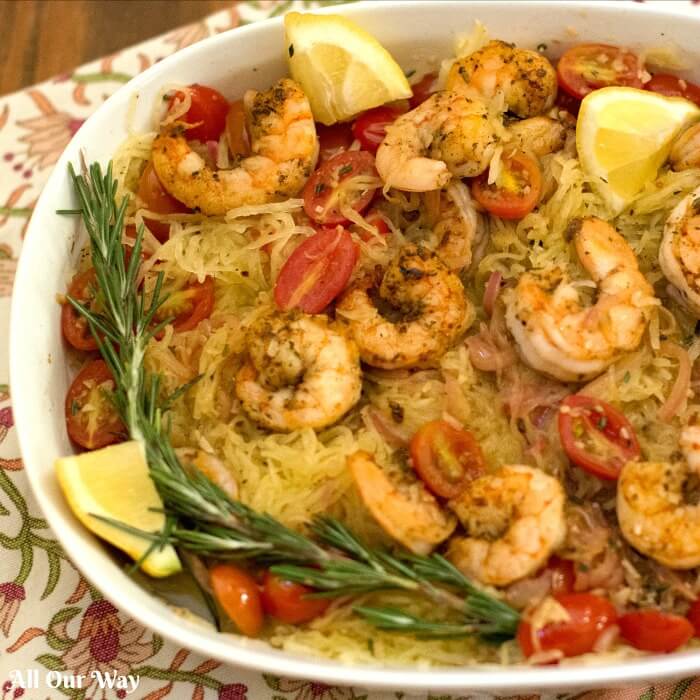 Jump to:
A craving for light food
When we travel, we tend to miss out on our salads and veggies. We make sandwiches for lunch, and when we stop for the night, we order a delivered pizza. After riding in the car for 10 to 12 hours, the last thing we want to do is drive to a restaurant.
Occasionally, the pizza place will offer salad, but it's rare.
Once we arrive at our destination, the first thing we do after unpacking the car is to run to the store and buy salad ingredients and fresh vegetables.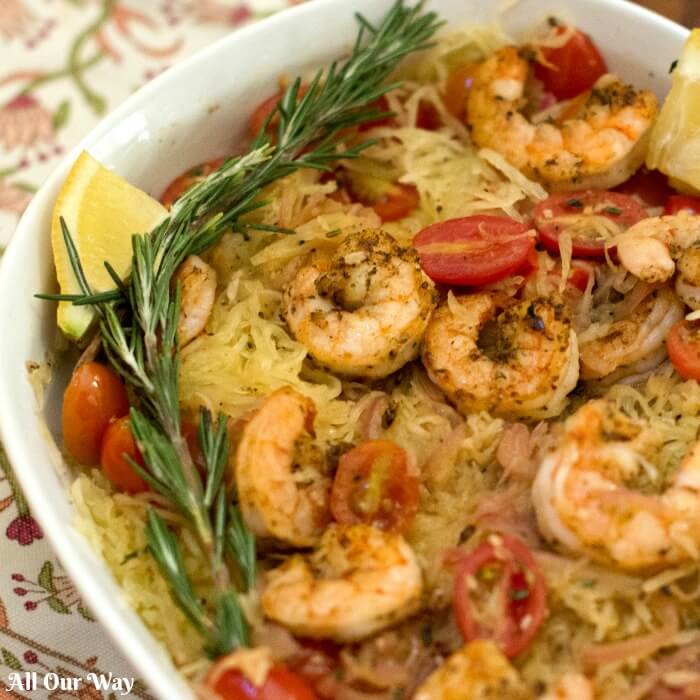 Do you believe our bodies tell us what they need?
Versatility of sautéed shrimp
Pan-seared shrimp is a fast protein option for a busy mom or dad. We've stir-fried it and we've sautéed it then tossed it with pasta.
If you're looking for a lean protein, wild-caught shrimp is ideal. Here I tell you why we choose wild-caught versus the farm-raised.
For this recipe, we decide to give our sautéed shrimp an Italian flavor. We want the entire meal to be light in calories but rich in taste. We aren't disappointed!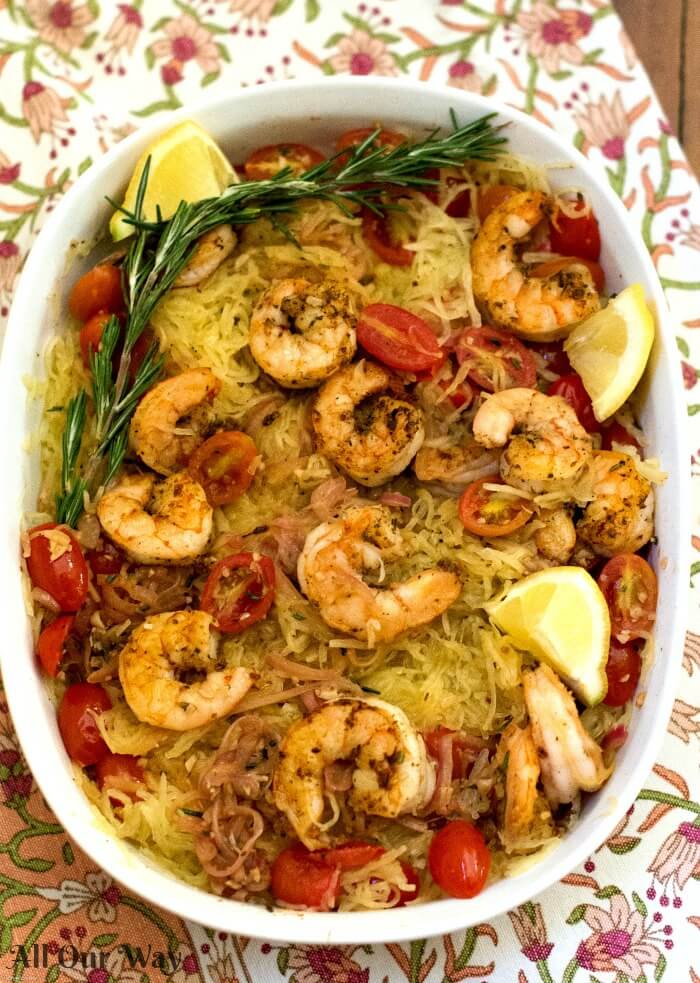 Pan-seared shrimp with spaghetti squash
We have our protein, sautéed shrimp. Now we need to fill out the dish. What can we add that will continue with the Italian flavor of lemon, garlic, rosemary, and tomato?
The answer is simple. Spaghetti squash!
First, we bake the squash in the oven. As the squash bakes, we clean the shrimp and prepare the rest of the vegetables and seasonings.
We've found an alternate way to make the spaghetti squash that is fabulous. We now roast it until it is al dente. So much better.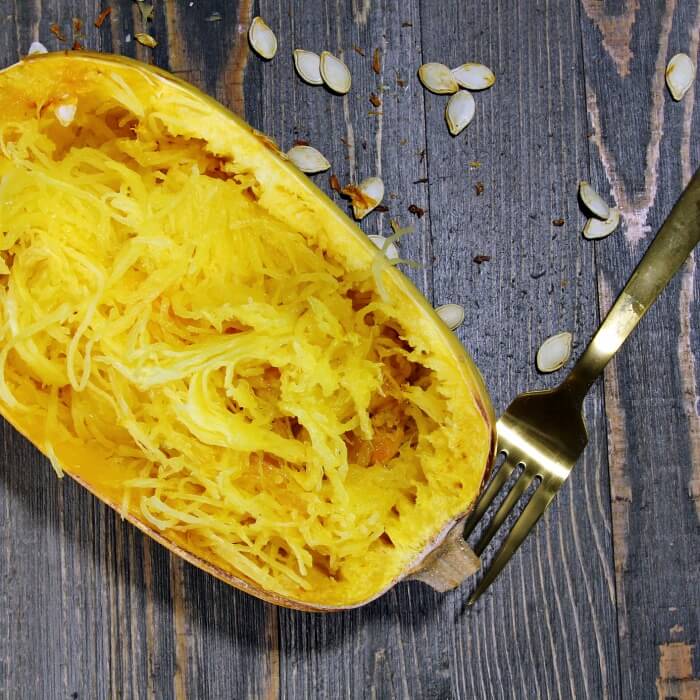 We remove the spaghetti strands from the squash and put them in a casserole dish, add salt, freshly ground pepper, and a sprinkle of extra-virgin olive oil. The squash goes into the oven to keep warm (not cook). For keeping food warm, we turn the oven to 180° to 190° F.
Finishing the sautéed shrimp dish
The shrimp takes no time at all to sauté. We remove the shrimp from the pan and keep them warm in the oven along with the squash. The sliced red onion and minced garlic go in the same pan we used for the shrimp.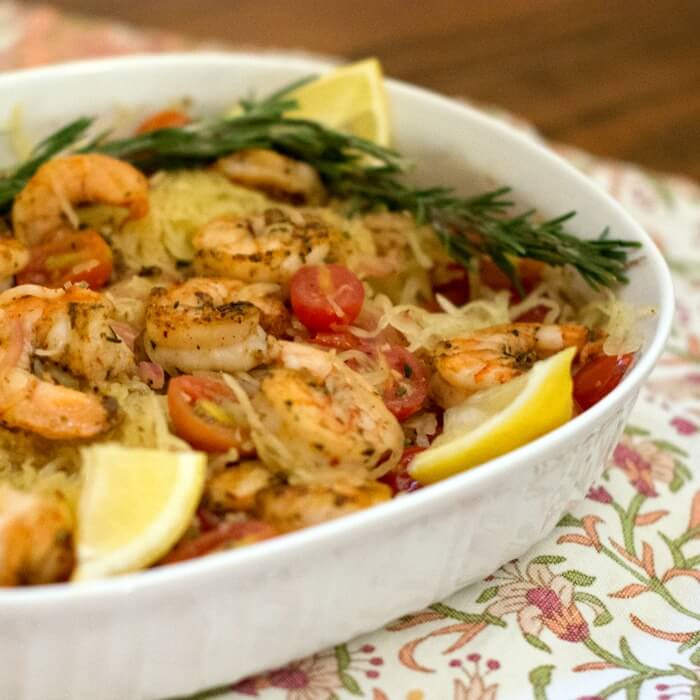 Four minutes later we add the halved grape tomatoes, lemon juice, rosemary, and salt. Cook the ingredients 2 or 3 minutes more, until warmed through and the tomatoes release some juice. We then add the shrimp to the pan and stir.
The spaghetti squash comes out from the oven and we pour the sautéed shrimp and sauce on top. We mix gently until all the ingredients combine. A sprinkle of parmesan cheese finishes the dish.
This dish is simple, low-calorie, and very satisfying. We're certain that you'll enjoy this recipe as much as we did!
Tutti a tavola è pronto!
Un caro saluto e alla prossima.
📖 Recipe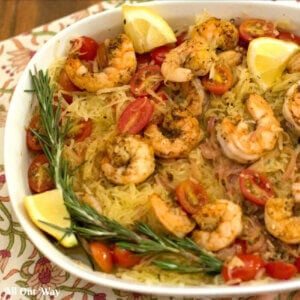 Sautéed Shrimp with Rosemary Tomato Spaghetti Squash
Sautéed shrimp with rosemary and tomatoes combined with spaghetti squash. A tasty low-calorie one-pan dish that will be a family favorite.
Print
Pin
Rate
As An Amazon Associate I earn from qualifying purchases.
Ingredients
1

Spaghetti Squash

about 3 lbs.

½

cup

water

5

teaspoons

olive oil

divided

12

oz.

large peeled and deveined shrimp

season with salt and pepper or you preferred seasoning

½

cup

thinly sliced red onion

1

teaspoon

minced garlic

½

pint

grape tomatoes

halved (about 15 - more won't make a big difference)

3

teaspoons

fresh lemon juice

1

teaspoon

chopped fresh rosemary

kosher salt and freshly ground black pepper

Grated parmesan cheese
Instructions
SPAGHETTI SQUASH:

Preheat oven to 350 F.

Cut the spaghetti squash in half lengthwise. Scrape out and discard the seeds and membranes. Place halves, cut side down, in a large baking dish; add ½ cup water. Bake for 50 to 60 minutes or until tender. Remove squash from the oven. Turn cut side up and cool for 10 minutes. Season with salt and pepper and sprinkle with one teaspoon olive oil. Scrape inside of squash with a folk to remove the spaghetti-like strands and put the strands in a glass casserole. Keep warm in 180 F. oven.

SAUTÉED SHRIMP WITH ROSEMARY AND TOMATOES:

Heat 2 teaspoons olive oil in a medium skilled over medium-high. Add shrimp; cook 2 minutes on each side or until done. Don't overcook the shrimp. Remove the shrimp from the pan and keep warm

Return skillet to medium-high heat. Add remaining 2 teaspoons of olive oil; swirl the pan to coat. Add onion and garlic; sauté 4 minutes or until onion is tender. If the onion and garlic starts to stick, add a small amount of water or white wine.

Add tomatoes, lemon juice, rosemary, and a dash of salt. Cook 2 minutes or until warmed through. Mix in the shrimp. Add the sautéed shrimp, tomatoes, and rosemary to the warm spaghetti squash. Add more salt and freshly ground pepper. Combine and serve immediately with freshly grated parmesan cheese.
Notes
Adapted from Pan-seared shrimp recipe in Cooling Light, Jan/Feb 2017
Nutrition
Calories:
449
kcal
|
Carbohydrates:
42
g
|
Protein:
39
g
|
Fat:
15
g
|
Saturated Fat:
2
g
|
Cholesterol:
428
mg
|
Sodium:
1414
mg
|
Potassium:
996
mg
|
Fiber:
9
g
|
Sugar:
18
g
|
Vitamin A:
1565
IU
|
Vitamin C:
39.7
mg
|
Calcium:
379
mg
|
Iron:
5.4
mg
Sign up for the emails and never miss another recipe!!
We'll never share your email or send you spam. Promise
Be sure to sign up for our newsletter we have lots of delicious recipes coming up.
Note: Recipes and content from © 2017 All Our Way are copyright protected. Please do not use content or recipe without prior written permission. If you want to share the information, please link to this post. Grazie.