This recipe of Farro and Peas adopts the flavor of the classic Venetian dish Risi e Bisi ( rice and peas) but swaps the rice for farro, adding more nutrition, nutty flavor, and a great chewy texture to the final dish. Fresh spring peas are typically used for the Italian dish but for our farro and peas I used frozen peas.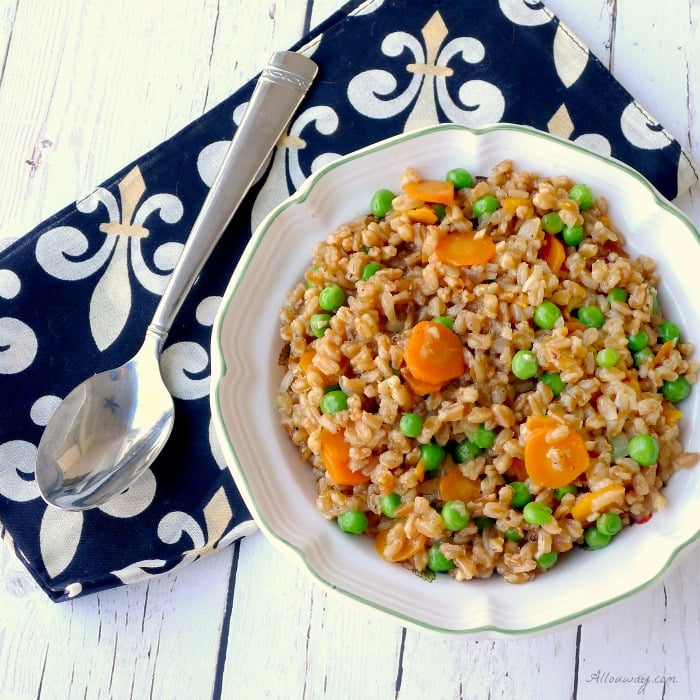 The History of Risi e Bisi
In the past this dish was only prepared on feast days decreed by the Doge (Venice's ruler).
In the days of the Republic of Venice, Risi e Bisi was the first dish served at the dinner given by the Doges each April 25 in honor of San Marco, the patron saint of Venice.
Italians, being Italian and knowing great food, decided that such a great tasting dish shouldn't just be saved for a special occasion.
So today, Italians make Risi e Bisi whenever the mood strikes them.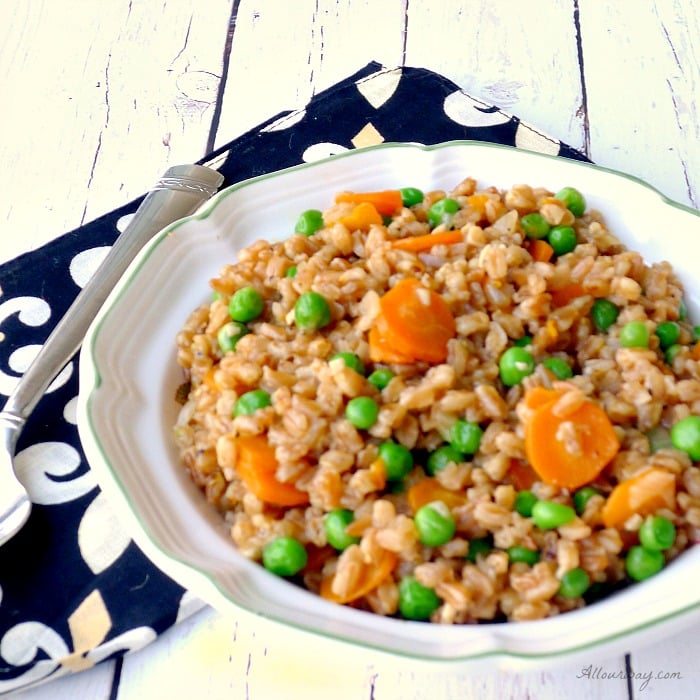 Northern Italians love of rice
No one else in Italy cooks rice in so many ways as the Venetians and northern Italians. I remember when my cousin Attilio from Trieste, Italy came to visit , I told him how much I loved risotto.
He answered, ". . . con (with)?"
I was a little confused, I repeated, " Risotto!"
"Ma risotto con cosa ( But risotto with what)?"
Italians have countless dishes combining rice with every vegetable imaginable along with all types of meat, fish or poultry.
So when they speak of risotto they include "con" plus the other main ingredients.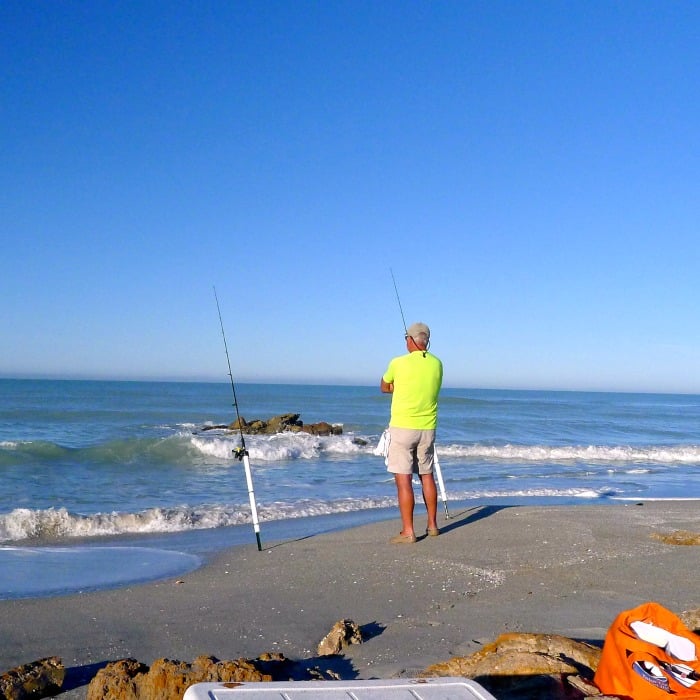 Substituting farro for rice
Now to be truthful, I didn't intend to make the Farro and Peas. I meant to make the actual Italian Risi e Bisi.
Unfortunately, I had to go to plan "B" since I didn't have the main ingredient, risotto rice.
I found this out when we returned from the beach and we were too tired to run to the store.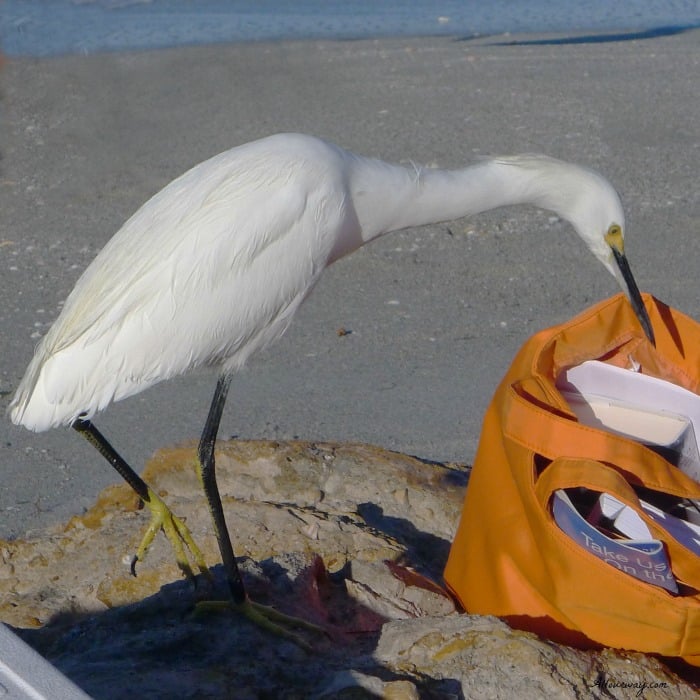 The reason for plan B
It was a long day. Honey spent the entire day fishing without getting one single bite.
I sat in my beach chair planning the evening's menu, reading up on Lightroom and working with my camera.
Out of the corner of my eye, I spotted an egret slowly approaching my beach bag. Those beady little eyes kept close tabs on me.
I'm sure he thought I was harmless enough since I was fooling around with a little black box that had dials, buttons and a big eye.
Anyway, with that little black box I was able to get a quick shot of him. I really didn't need to be quick. The stubborn bird was not easily scared off. He stuck around all day hoping to get a freebie.
Farro for rice substitution delicious
We certainly weren't disappointed in our Plan B. The Farro and peas recipe had the texture of a risotto without the work.
It came together fairly quickly and then it just simmered on its own. It's a good thing because after being gone all day we were hungry and were looking forward to a relaxing meal.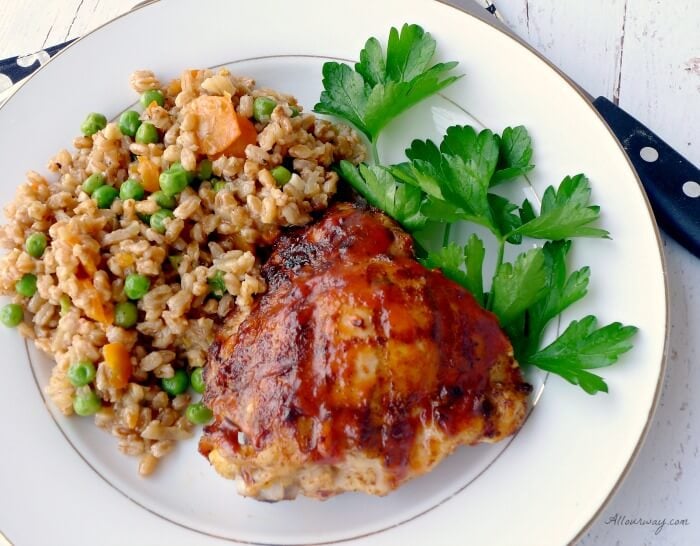 We served the Farro and Peas with our Spicy Bourbon Barbecued Grilled Chicken. We warmed up some of the leftover Farro and Peas the next day and the dish was still delicious.
Tutti a tavola è pronto!
Un caro saluto e alla prossima.
YOU MAY NEED...
We love using Farro for all sorts of dishes. It is highly nutritious and it keeps it's texture. This is a staple at our house.
Farro and Peas Recipe| A Take on Risi E Bisi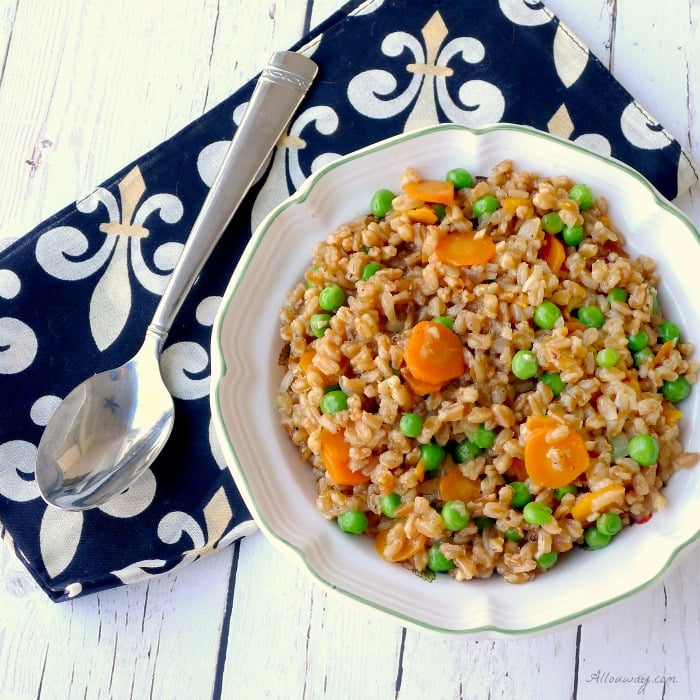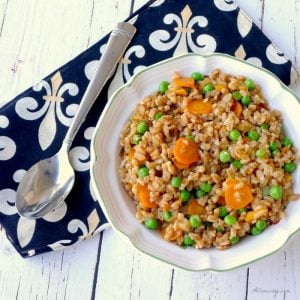 Farro and Peas ( Risi e Bisi)
This dish adopts the classic Venetian flavor of Risi e Bisi. Rice is swapped for farro, adding more nutrition, nutty flavor, and a fantastic chewy texture to the final dish.
Print
Pin
Rate
As An Amazon Associate I earn from qualifying purchases.
Ingredients
2

Tablespoons

olive oil

1

cup

dry farro

¾

cup

diced onion

¾

cup

sliced carrot

2

Tablespoons

garlic

¼

cup

dry white wine

2

cups

low-sodium chicken broth

1

cup

frozen young green peas

thawed

¼

cup

shredded Parmigiano-Reggiano

Kosher salt and freshly grated black pepper
Instructions
Heat oil in a saucepan over medium-high. Stir in farro, onion, carrot, and garlic; cook until onion softens, 3-4 minutes.

Deglaze pan with wine and reduce until it nearly evaporates. Stir in broth, bring to a boil, then reduce heat to medium-low. Cook farro until tender and broth is absorbed, 20-30 minutes.

Stir in peas and Parmesan; season with salt and pepper.

Serve with additional Parmesan to sprinkle on top.
Notes
Adapted from "Farro & Peas" Celebrate the Season, Issue 8, Feb/March 2016
Nutrition
Calories:
1402
kcal
|
Carbohydrates:
210
g
|
Protein:
49
g
|
Fat:
40
g
|
Saturated Fat:
9
g
|
Cholesterol:
17
mg
|
Sodium:
644
mg
|
Potassium:
1908
mg
|
Fiber:
43
g
|
Sugar:
21
g
|
Vitamin A:
17345
IU
|
Vitamin C:
77.6
mg
|
Calcium:
498
mg
|
Iron:
9.1
mg
Sign up for the emails and never miss another recipe!!
We'll never share your email or send you spam. Promise
First Published: February 23,2016... Last Updated: February 20, 2020
Note: Recipes and content from © 2014-2020 All Our Way are copyright protected. Please do not use content or recipe without prior written permission. If you want to share the information, please link to this post. Grazie.