Farro Tabbouleh with Kale is a hearty herbal salad that includes a combination of Italian parsley and fresh mint. The flavors are bold and satisfying. The farro adds a nice chew while the kale wilts under the acidity of the vinegar and fresh lemon juice. The Mediterranean salad tastes delicious fresh but it will keep for several days in the fridge.
For this recipe, you will need Italian pearled farro, Tuscan kale, plum tomatoes, seedless cucumber, Italian parsley, green onions, mint, fresh lemon juice, balsamic vinegar, and extra-virgin olive oil, and kosher salt.
Sometimes we can't leave well enough alone, like this Farro Tabbouleh Salad with Kale, Cucumber and Mint recipe.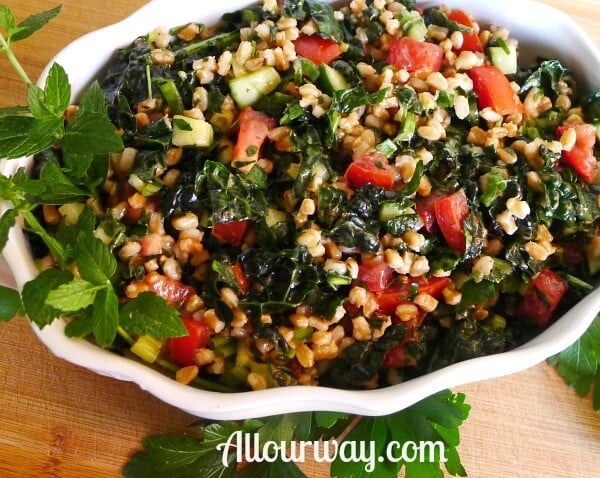 It all started when we saw the original recipe, Kale Tabbouleh with Cucumber, Garlic Scapes but immediately felt the need to modify. Do you ever do that?
We do it all the time. This time, I suppose, one of the reasons was that we didn't have a clue what garlic scapes were.
First I went to my huge tome-- The Oxford Companion to Food by Alan Davidson He wasn't any help.
Then I went to our in-house expert, Mr. Google, and soon found out that I probably wouldn't be able to run over to our local grocery store and just grab garlic scapes out of the case.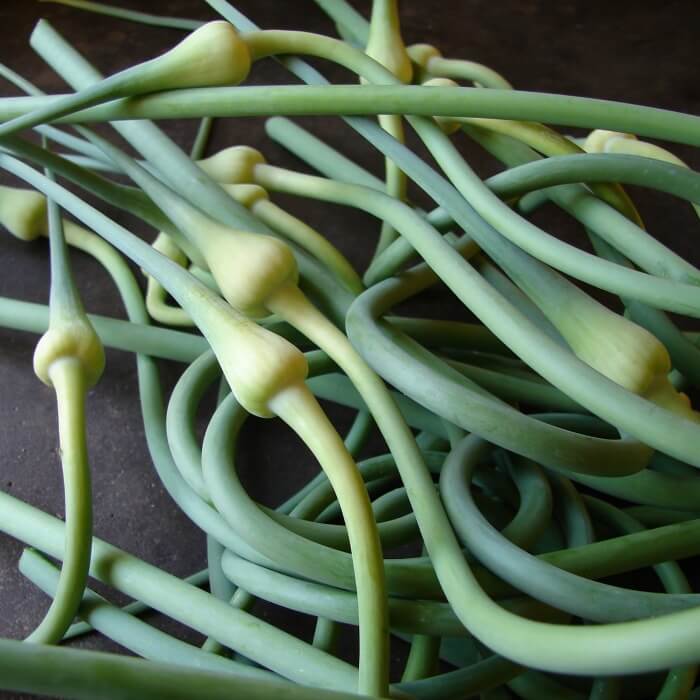 You see, garlic scapes are the "flower stalks" of the hardneck garlic plants. And I also found out that the stalks do not produce flowers. Blah...blah...blah...there was quite a bit of detail.
I figured this was information was something I was never going to need. What information I did need was that I had to get a substitute because there were no garlic scapes to be had. So it was time to formulate plan "B".
Green Onions.
They're green like garlic scapes and mild. They're an aromatic --bingo. Problem solved! But as I continued to read the recipe I discovered something else as I read over the recipe.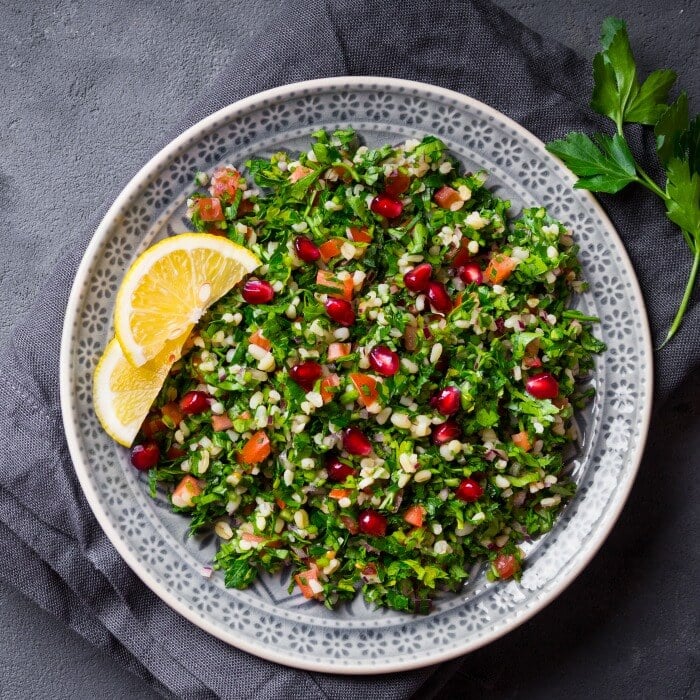 The recipe called for bulgar. Authentic tabbouleh has bulgar in it. Unfortunately, our kitchen didn't have bulghur in inventory.
Hmmmmm!! ???? This would take a plan "C".
We like farro. We like its chewiness. It's Mediterranean and that's close enough to bulgar country, right?
Ecco! Farro Tabbouleh!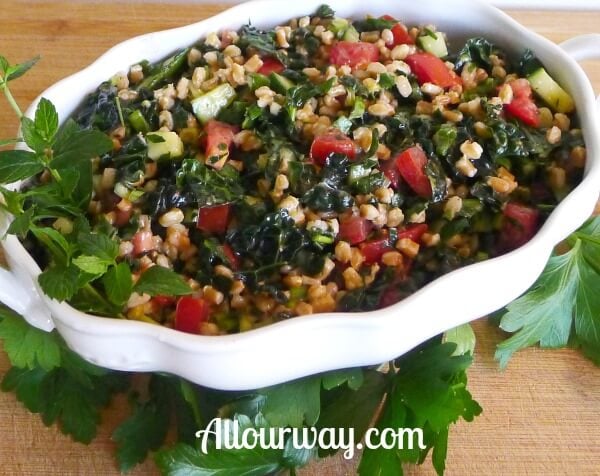 We had the rest of the ingredients for our farro tabbouleh salad-- cucumbers, mint, Italian parsley, and lemons.
What is regular tabbouleh?
Tabbouleh is really a parsley salad with a little bit of bulgar used more as a garnish.
It also has a touch of cinnamon, this is according to the food/blog expert David Lebovitz.
Mint with a ratio of about one part to four parts of parsley.
Spring onions work best.
Everything should be chopped very small.
Sweet spices which can be allspice, cinnamon, nutmeg, coriander, clove, and ginger. There is a Lebanese seven spice blend that is commonly used.
Farro Tabbouleh Salad with Kale
Well, it seemed like this Farro Tabbouleh was just going to be made All Our Way.
And as it turned out it was quite a tasty salad. The females in our family enjoyed it. Now the males in this family are carnivores. So, if a dish doesn't have meat in it or next to it or on top of it. Well, it just isn't a favorite but as a side they really liked it.
I know you'll enjoy the flavors of this vegetable combination. It isn't heavy on the parsley so it doesn't overwhelm the salad. I'm glad we ended up with plan "C". This recipe is a keeper.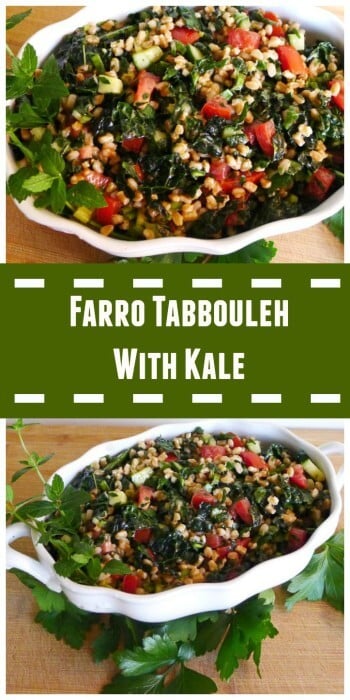 📖 Recipe
Farro Tabbouleh with Kale, Cucumber, Mint
Is a green herbal salad with farro adding chewy texture to the greens. It has a bold flavor with a touch of spice. Typical tabbouleh is best the same day but this salad tastes fresh even several days later.
Print
Pin
Rate
As An Amazon Associate I earn from qualifying purchases.
Ingredients
2

Tablespoons

olive oil

¼

cup

freshly squeezed lemon juice

½

teaspoon

balsamic vinegar

½

teaspoon

salt

1

cup

farro

2 ¾

cups

water

8

ounce

bag Tuscan Kale

I got mine at Trader Joe - it's organic

½

cup

chopped Italian parsley

stems removed

4

Plum tomatoes

1

English

seedless cucumber

6

green onions

4-6

stalks fresh mint
Instructions
In a small jar, combine olive oil, lemon juice, balsamic and salt. Cover and shake to combine.

Place the farro in a saucepan with the 2 ¾ cups water, bring to a boil and simmer until the farro absorbs the water. Cool completely. Cooking directions may vary with the brand so follow the package directions.

Finely chop kale and parsley. Toss with 1 tablespoon of lemon dressing and massage for a minute or so. Leave to wilt slightly while you prep the remaining vegetables.

Dice tomatoes and cucumbers. Chop the green onions. Toss the vegetables on top of the massaged kale.

Add cooled farro to vegetables and combine with remaining dressing. Toss everything well.

Finely chop mint and add to the salad. Taste the salad and add more salt if needed. You can serve this at once or refrigerate for up to 2 days.
Nutrition
Calories:
215
kcal
|
Carbohydrates:
37
g
|
Protein:
6
g
|
Fat:
5
g
|
Sodium:
268
mg
|
Potassium:
460
mg
|
Fiber:
6
g
|
Sugar:
1
g
|
Vitamin A:
4690
IU
|
Vitamin C:
64.1
mg
|
Calcium:
94
mg
|
Iron:
2.1
mg
Sign up for the emails and never miss another recipe!!
We'll never share your email or send you spam. Promise
IF YOU LIKED THIS FARRO TABBOULEH RECIPE YOU MAY ALSO LIKE ...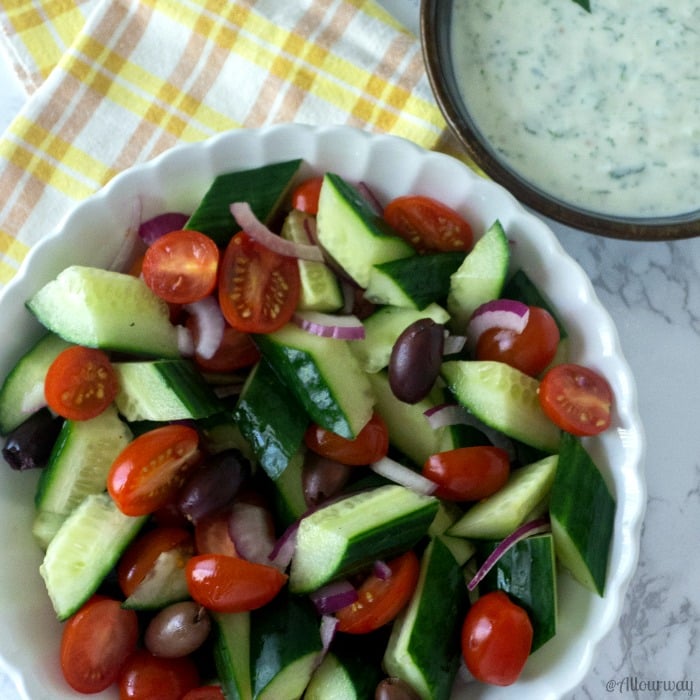 Other recipes you may like . . .
Greek Goddess Grain Bowl Half Baked Harvest
Autumn Glow Salad with Lemon Dressing Pinch of Yum
Note: Recipes and content from All Our Way ©2014 are copyright protected. Please do not use content or recipe without prior written permission. If you want to share the information please link to this post. Thank you.
SaveSave
SaveSave
SaveSave
SaveSave
SaveSave
SaveSave
SaveSave
SaveSave
SaveSave
SaveSave
SaveSave