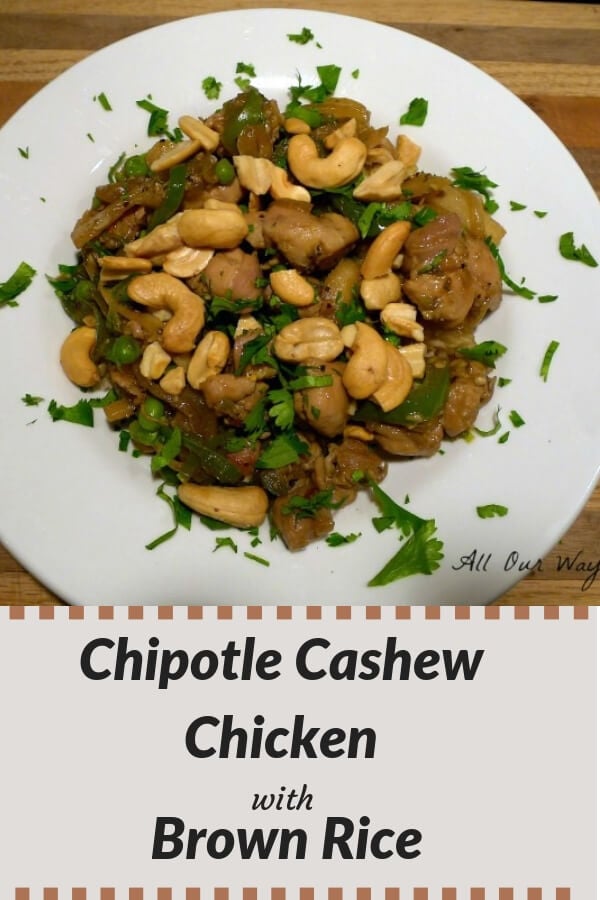 The inspiration for Chipotle Cashew Chicken with Brown Rice came from the early days of the Food Network. Those were the day when they aired so many inspiring recipes you didn't know which one to try first. What intrigued us was that this recipe is a fusion of Mexican and Asian cuisine. The recipe is easy and once you line up your ingredients, the cashew chicken stir fry comes together quickly. It's a fantastic weeknight dish and we know it will become a family favorite. It's certainly a favorite of ours.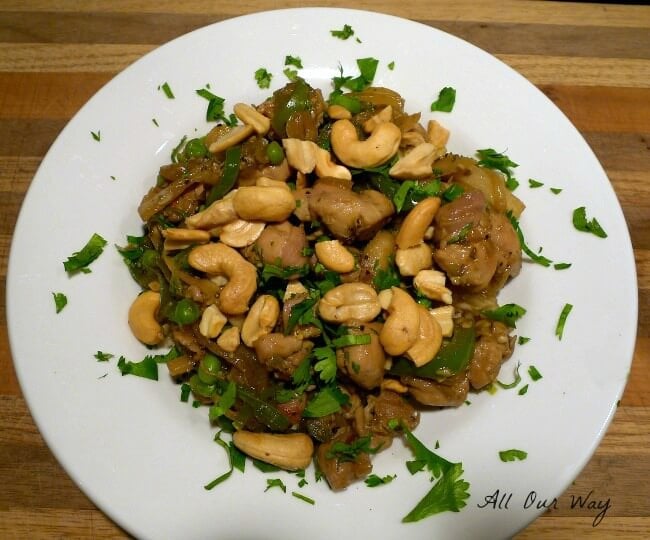 Easy Chipotle Cashew Chicken is a wonderful fusion of Asian and Mexican.
Jump to:
Chipotle Cashew Chicken Background
Every night after dinner Honey and I would sit and watch the Food Network. You'd think that we wouldn't want to watch anything to do with food after eating but we enjoyed the inspiration.
This particular night Rachel Ray came up with such an unusual combination we were enthralled. The minute the cashew chicken episode finished, we couldn't wait to gather the ingredients and make the recipe!
The ingredient seasoning combination piqued our interest:
soy sauce
garlic
chipotle
cumin
honey
maple syrup
Ahhhh! We miss those days!
The stars that inspired us
Those were the days when you were on a first name basis with the Food Network show's star, after all you were in their kitchens up close. They were your friends, your muse.
There was Mario who toured Italy with his brother on that little scooter. Those were fascinating episodes that showed you the process Italians took to make their delicious products such as Prosciutto di Parma and Parmigiano Reggiano.
What we would have given to be seated at Mario's kitchen bar when he prepared meals for his friends, explaining all the while about the dish and its history!
Of course there was Emeril who made cooking fun and entertained us with his humor. His Cajun accent just added to the charm of the show. We've used quite a few of his recipes and he's been an inspiration for so many more. The brine for our Perfect Roast Turkey is an Emeril adaptation.
Oh for smell-a-vision.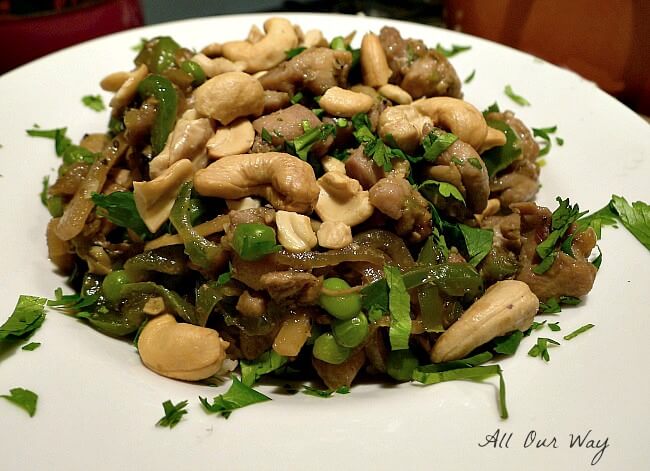 Chipotle Cashew Chicken is a delicious Mexican-Asian Stir Fry
We certainly can't forget Ina who made tasty meals while waiting for Jeffrey, her husband, to get home. It was always -- he's going to love this.
We made her roasted broccoli and it was so easy and everyone couldn't believe the flavor just by roasting the veggie.
Her parties on her beach were always so special, wish we could have been on her A-list.
Young stars came on the food scene
And how about Giada? Oh my gosh, she would be speaking perfect English and then all of sudden she would find an Italian word with double "r's" and she'd roll her "r's" for at least a minute.
If by chance her mamma or zia were on, you'd never knew what was going to happen.
We enjoyed her Rotini with Fresh Lemon and Tomatoes. She really got us thinking about taking a recipe and making variations.
Bobby Flay, Tyler Florence, and Guy Fieri were fresh, young, and enthusiastic about everything they made and that enthusiasm was contagious. I remember one recipe we adapted from Guy Fieri - it was our Spicy Teriyaki Chicken Wings. It was a huge family hit!
Women no longer ruled the kitchen and the air waves. Both men and women now wanted to get back into the kitchen to create.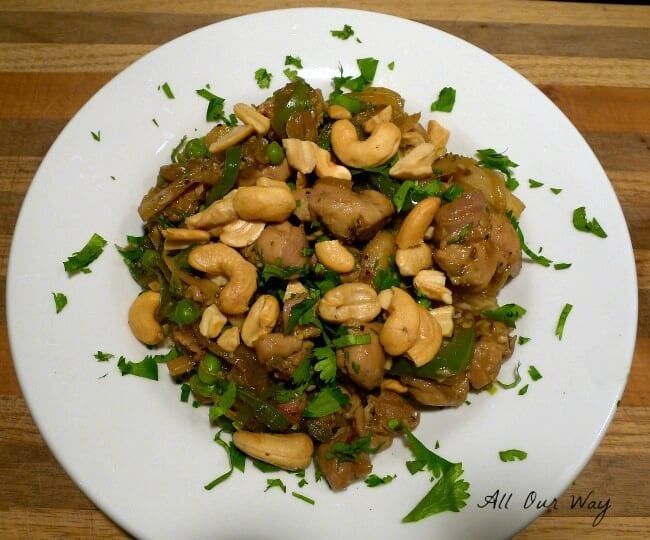 Chipotle Cashew Chicken Stir Fry with Brown Rice
Chipotle Cashew Chicken a superb weeknight dish
Now Rachel Ray was the girl next door. She wasn't a chef but she'd learned how to cook and she always tried short cuts. She giggled and made acronyms, like EVOO, and her dishes were all done in 30 minutes.
The Chipotle Cashew Chicken with Brown Rice is adapted from a Rachel Ray recipe. We like it so much we often make this easy stir fry. The combination of ingredients such as the maple syrup and honey with chipotle in adobo may sound strange but they come together beautifully!
This is one super easy cashew chicken recipe and it makes quite a bit so invite some family or friends in to share.
Next time you've got to try our Southwest flavored Chicken and Rice Casserole. It has the Tex-Mex seasoning everyone loves plus lots of cheese.
There is an Italian saying that says: A tavola non si invecchia which translates "At the table with friends and family you don't become old".
Tutti a tavola è pronto
Un caro saluto e alla prossima.
Next time try our quick Chop Suey recipe.
YOU MAY NEED...
The following are affiliate links. We are a participant in the Amazon Services LLC Associates Program, an affiliate advertising program designed to provide a means for us to earn fees by linking to Amazon.com and affiliated sites.
Thank you so much for being a part of All Our Way!
We can attest that Canadian Syrup is truly thick and delicious. We really love it! You can definitely tell the difference between good organic maple syrup and the cheap imitation stuff. The maple syrup were using now was a gift and whenever we finish the jug, we'll be ordering some more.
What's new? check out my All Our Way Store on Amazon. We'll be adding more items we love and use or wish we had to make cooking fun and easy.
Chipotle Cashew Chicken With Brown Rice
This recipe is one you'll want to eat all weekend for breakfast, lunch, or dinner. It has the perfect combination of sweet and spicy, running the full gamut of flavor from Mexican to Asian. Invite friends and family over, this makes quite a bit and believe me they will be forever grateful.
And don't worry about the ingredient length. Once you get them measured it takes no time at all to go from start to delicious finish. Be sure and take a bow when they flood you with compliments.
Next time you want to try another cuisine fusion, try our Chinese-American Chop Suey recipe. This is the one that the moms used to make and it was simply delicious.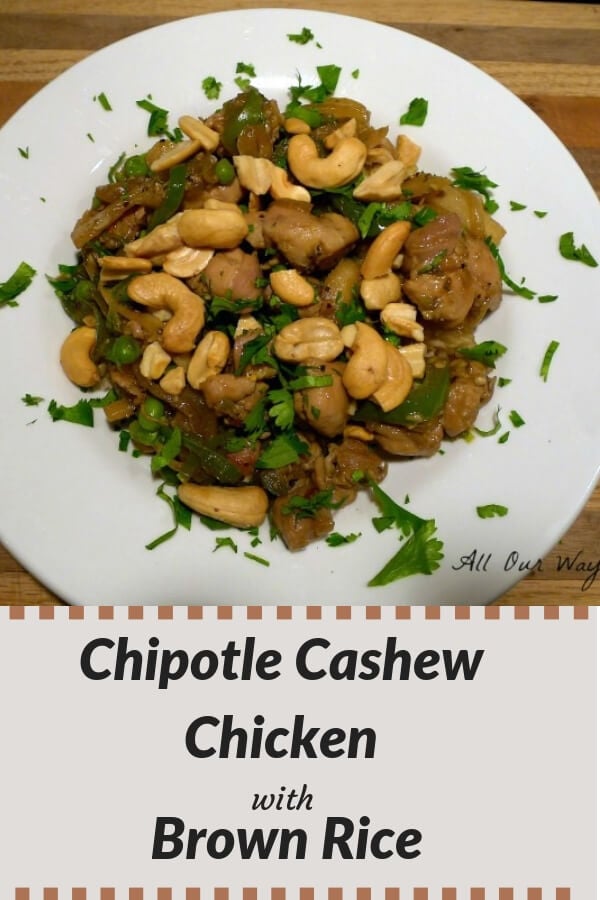 Recipe
📖 Recipe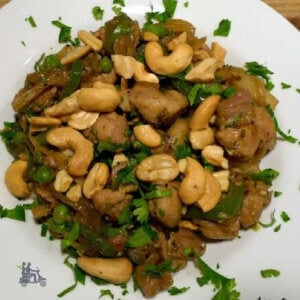 Chipotle Cashew Chicken with Brown Rice
A spicy chicken dish that combines a little tang along with salty, sweet and crunchy, ending in a completely satisfying main dish.
Print
Pin
Rate
As An Amazon Associate I earn from qualifying purchases.
Ingredients
1

tablespoon

extra- virgin olive oil

2

tablespoons

unsalted butter

1

large onion

¼ onion finely chopped, ¾ thinly sliced

2

cups

quick cooking brown rice

4

cups

chicken stock

2

tablespoon

extra-virgin olive oil

2

pounds

chicken meat: skinless boneless thighs

what we use or you can use chicken tenders, boneless, skinless breasts, cut into 2-inch pieces

2

tablespoons

grill seasoning blend

recommended: Montreal Steak Seasoning blend by McCormick

3

tablespoons

tamari dark soy sauce

4

cloves

garlic

chopped

1

red or green bell pepper

seeded and thinly sliced

15

water chestnuts

sliced

1

cup

frozen peas

3

tablespoons

chipotle in adobo

2 peppers in their sauce mashed up to make the amount needed

1

tablespoon

ground cumin

2

tablespoons

honey

¼

cup

real maple syrup

3

tablespoons

cilantro

1

cup

raw cashews

plus more for garnish.
Instructions
In a medium pot over medium heat combine 1 tablespoon extra-virgin olive oil and 1 tablespoon butter. When butter melts into oil, add in the chopped onion, cook 2 minutes, then add rice and cook 3 minutes more. Add stock and cover the pot. Raise heat to bring stock to a rapid boil. Once the stock boils, reduce heat to low and cook, stirring occasionally, until rice is tender, 17-18 minutes.

While rice cooks, make the chicken. Heat a large skillet over high heat. Add the 2 tablespoons extra-virgin olive oil, then the chicken. Season the chicken with grill seasoning. Brown the chicken on all sides, season with soy sauce then remove chicken and set aside.

In the same pan add the remaining 1 tablespoon of butter and add the remaining onions, garlic and peppers. Cook 2 to 3 minutes then add water chestnuts, green peas , the chicken and mix together.




Add the chipotles and cumin. Toss to coat. Glaze the mixture with honey and maple syrup and turn off the heat.

Add in the chopped cilantro and the cashew nuts

Top rice with cashew chicken and serve.

If desired, sprinkle each dish with additional cilantro and cashews
Notes
** If you can't find the chipotle in adobo you can substitute 11/2 tablespoons ground chipotle powder.
Have all the ingredients prepared ahead of time and the steps fall together easily.
Adapted from a Rachel Ray recipe: www.foodnetwork.com/recipes/rachel-ray/chipotle-cashew-chicken-with-brown-rice-recipe/
Nutrition
Calories:
1017
kcal
|
Carbohydrates:
93
g
|
Protein:
64
g
|
Fat:
43
g
|
Saturated Fat:
10
g
|
Cholesterol:
237
mg
|
Sodium:
1507
mg
|
Potassium:
1451
mg
|
Fiber:
8
g
|
Sugar:
31
g
|
Vitamin A:
1795
IU
|
Vitamin C:
57.1
mg
|
Calcium:
229
mg
|
Iron:
12.2
mg
Sign up for the emails and never miss another recipe!!
We'll never share your email or send you spam. Promise
Note: Recipes and content from ©2014-2019 All Our Way are copyright protected. Please do not use content or recipe without prior written permission. If you want to share the information, please link to this post. Grazie.