Roll up your favorite pizza to make a batch of mouth-watering Pizza Pinwheels! Using refrigerated pizza dough or crescent rolls provides convenience and ease when all you need to do is add your pizza toppings, roll the assembled pizza dough rectangle into a log and slice it into 1-inch pieces.
Once baked, these irresistible pinwheels can be served as a tasty party appetizer, snack, or used as a lunchbox filler or when preparing the picnic basket!
Easily adapt the recipe to make a variety of pinwheel roll-up options and double the quantities if serving a larger crowd.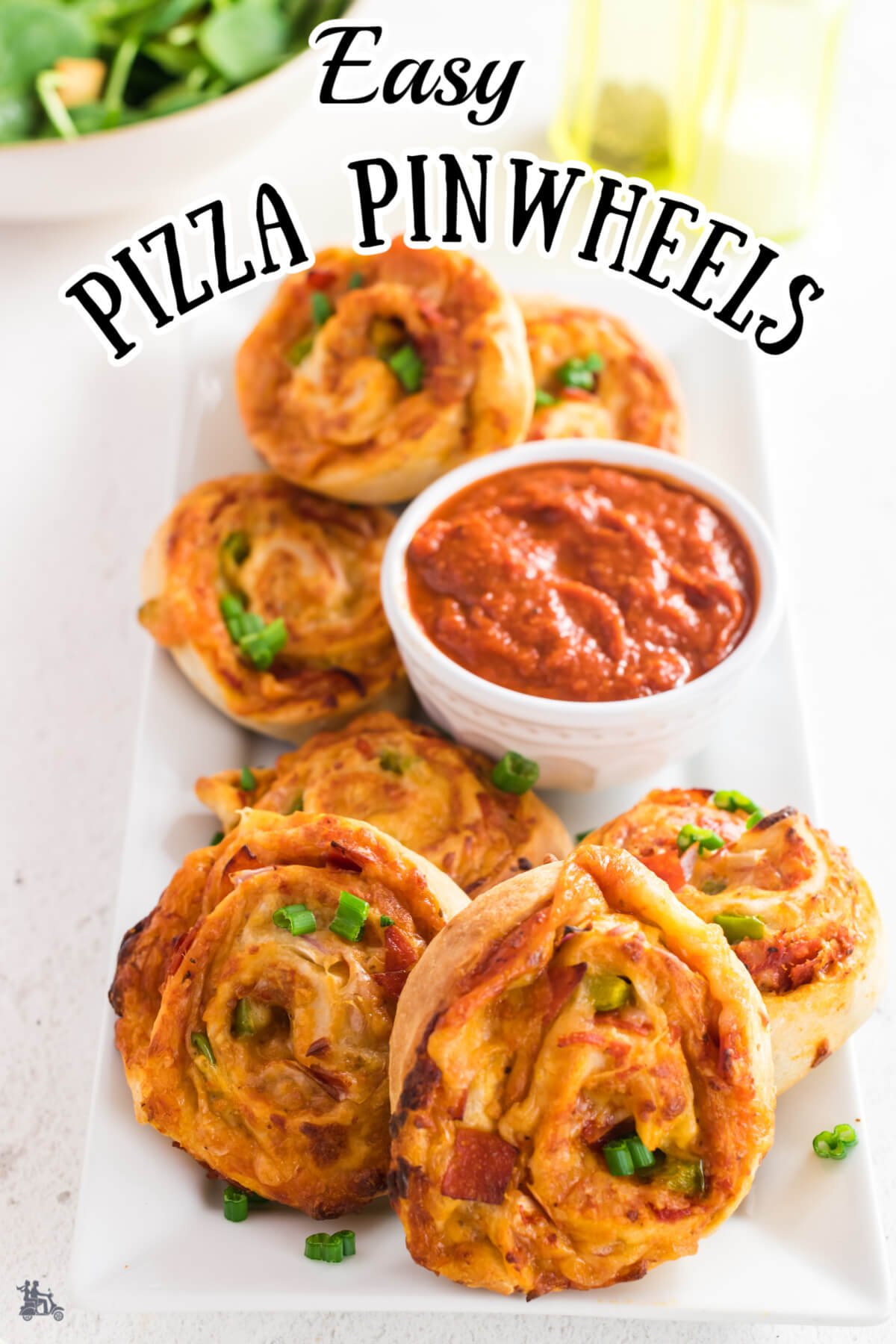 Jump to:
❤️ Why you'll love this recipe
Incredibly easy: If you know how to add toppings to a homemade pizza and roll up dough then you'll have no problem making these pizza pinwheels. It's seriously that simple!
Pantry-staple ingredients: You won't find the ingredients difficult to source for these roll-ups. In fact, if you are used to enjoying quick and easy homemade pizza then you're likely to already have most of the ingredients in your kitchen already.
Multi-purpose: These pizza swirls are great little finger foods that can be enjoyed as a lunchbox filler, a party appetizer, or when hosting friends and family over to watch your favorite team playing.
If you're craving the taste of cheesy pepperoni pizza but feel like something a little different then these pizza pinwheels are a must-bake!
🛒 Ingredients
As an Amazon Associate I earn from qualifying purchases.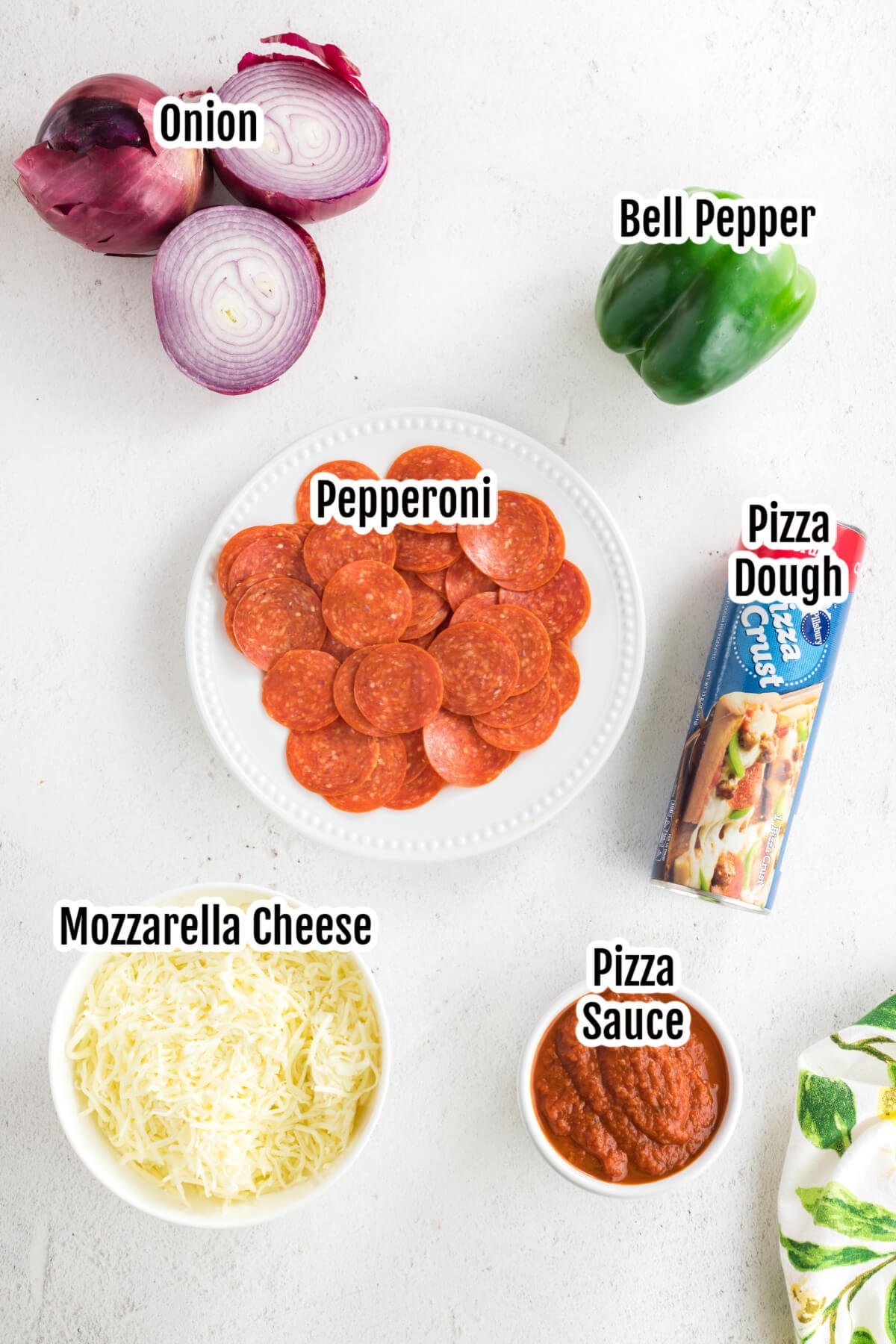 Note: The full list of this recipe ingredients with their amounts and options are listed in the recipe card below.
🗒 Instructions
Note: This is an overview of the instructions. The full instructions are in the recipe card below.
Chop the green bell pepper and red onion.
Cut up the pepperoni into 1-inch pieces.
Roll out the dough on a lightly floured flat surface.
Spread the pizza sauce over the dough.
Add shredded mozzarella cheese over the entire dough surface.
Start adding the chopped pizza toppings over the shredded cheese.
Make sure that the pizza dough is well covered with the toppings before beginning to roll the dough.
Start to roll the dough carefully width-wise (the longest side).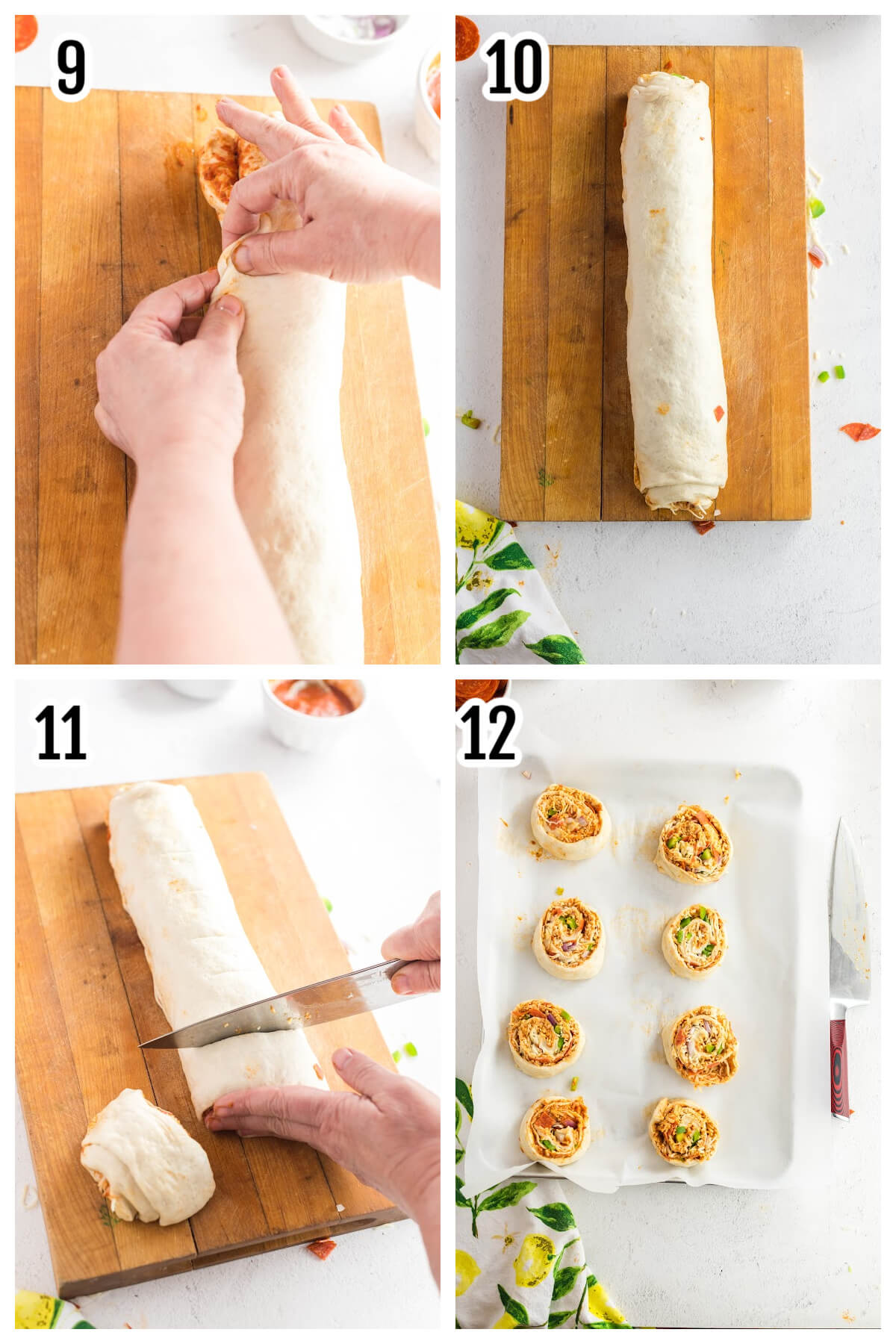 When fully rolled, seal the edges of the dough by pinching it with your fingers.
Do this until you are confident that the roll is sealed.
On a wooden cutting board, start to slice the pizza dough roll into 1-inch pieces.
Place the pizza pinwheels on the parchment covered baking sheet, about 2 inches apart.
With your hand, gently press down on the top of the roll.
Bake for about 10 minutes, or until the tops are golden brown and the middles are cooked through.
🔪 Equipment
The following are affiliate links. We are a participant i the Amazon Services LLC Associates Program, an affiliate advertising program designed to provide a means for us to earn fees by linking to Amazon.com and affiliated sites.
You'll need the following items to make this recipe successfully.
🤔 FAQs
These are the questions we are most frequently asked about making (recipe name)
Can you freeze pizza pinwheels?
Yes, you can! Once completely cool, store your pizza pinwheels in an airtight container or Ziploc bag for up to 2 months.

Can you make pizza pinwheels in advance?
Absolutely! These pizza pinwheels can either be baked and stored 1-2 days ahead of serving or you can even assemble them and then freeze them to be baked a couple of weeks later.
Can you reheat pizza pinwheels?
Yes! Place leftover pizza pinwheels on a parchment-lined baking tray to reheat in the oven at 375F until heated through.

Can you eat pizza pinwheels cold?
That's like asking whether you can eat leftover chilled pizza slices! Yes you most certainly can although they will always taste the best when heated. Of course, this comes down to personal preference.

👩🏻‍🍳 Tips
Pressing the individual unbaked pizza pinwheels down gently with your hand helps to keep them intact for baking and eating. Be careful that you don't apply too much pressure and flatten them instead.
If you have any leftover pizza toppings from making these pizza pinwheels, store them in separate airtight containers in the refrigerator for making mini pizzas, sandwiches or additional pizza pinwheels in the days that follow.
Be sure to cover the entire surface of the pizza dough when assembling these pizza pinwheels. This will ensure an equal distribution of pizza pinwheel toppings throughout the baked pinwheels for maximum enjoyment.
Using a clean sharp knife will help you when slicing the dough. If you have any trouble, opt to place the roll of dough in the freezer to harden for 10-15 minutes which will make slicing much easier.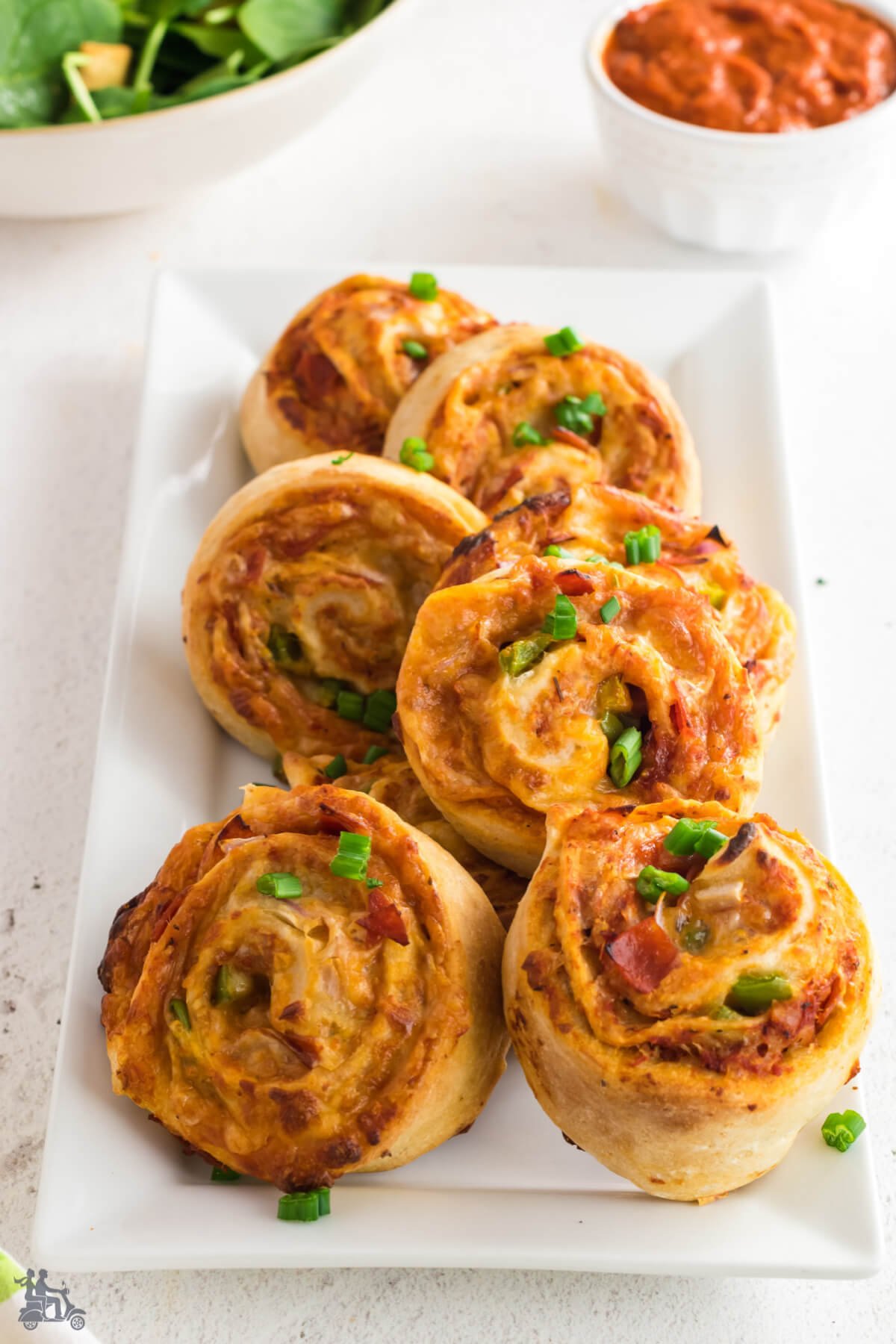 📚 Variations
Veggie pizza pinwheels: omit the pepperoni and use chopped veggies only.
BBQ chicken pizza pinwheels: use BBQ sauce, chicken, red onion, and mozzarella.
Alfredo pizza pinwheels: use Alfredo or white pizza sauce, chicken, and mozzarella.
Buffalo ranch pizza pinwheels: use buffalo sauce, ranch, chicken, and mozzarella.
I've sliced my pizza pinwheels to about 1-inch thick but this should be the thinnest that you slice otherwise the sliced pinwheels can fall apart. If you like, you can make thicker pizza pinwheels by rolling the dough lengthwise (the shortest side).
I've used shredded mozzarella for these pizza pinwheels but feel free to use cheddar cheese and any of your favorite cheese blends.
Store-bought pizza sauce is great as a base for these pinwheels but you can also marinara sauce (store-bought or homemade).
For a kick of heat, consider adding some slices of jalapeño peppers as your pizza pinwheel topping.
🥫 Storage
Store leftover pizza pinwheels in an airtight container at room temperature for 1-2 days or in the refrigerator for 3-4 days. You can then reheat them in the oven, keeping a close watch that they don't burn.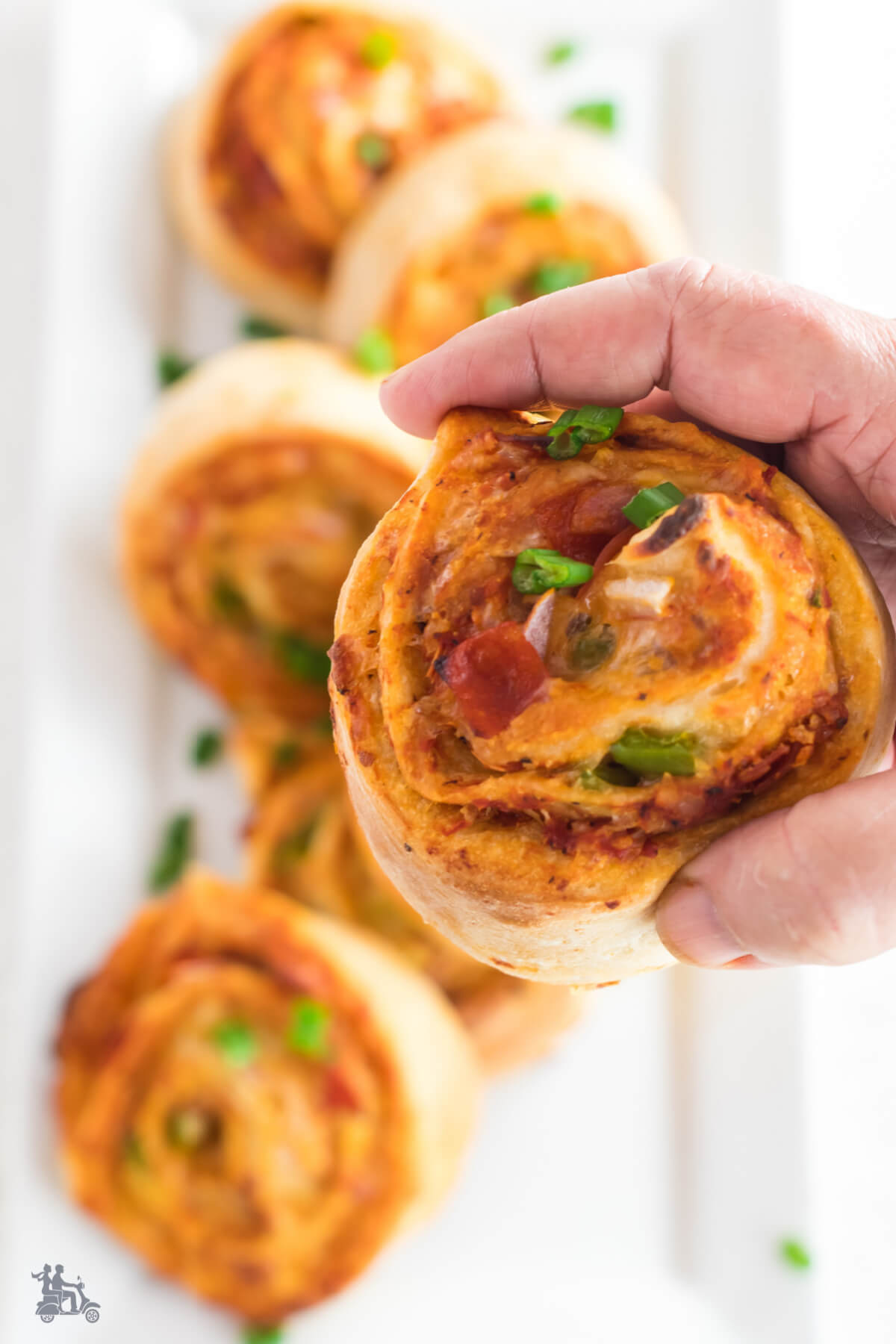 📗 Related Recipes
Love pizza? Who doesn't, right?! If you're looking to flex those pizza-making muscles then be sure to try my Bubble Pizza Bread recipe and this Pinsa Romana A Roman Style Pizza! They're both incredible comfort-food options.
Since this is a pinwheel recipe, it wouldn't be right to miss out on these Tortilla Pinwheel Cream Cheese Roll-Ups or these Easy Italian Pinwheels!
🍽 Serve with
Serve these pizza pinwheels on a platter with other equally delicious party finger foods or serve them for lunch with Spicy Southwestern Ranch Coleslaw or an Italian Summer Salad.
📞 Chiacchierata (chat)
Pizza is probably one of the most recognized Italian foods and for good reason! I've always taken a great interest in adding my own personal spin on favorite dishes so it came naturally to find myself making these pizza-inspired pinwheels.
Ever since I've been making these pizza pinwheels for friends and family, the raving reviews are non-stop so I must be on to something!!
And this Bruschetta Pizza is another recipe our friends and family are going crazy over!
Resistance is futile when you put out this warm and delicious Homemade Focaccia Pizza snack and appetizer. Self-control goes out the door for everyone!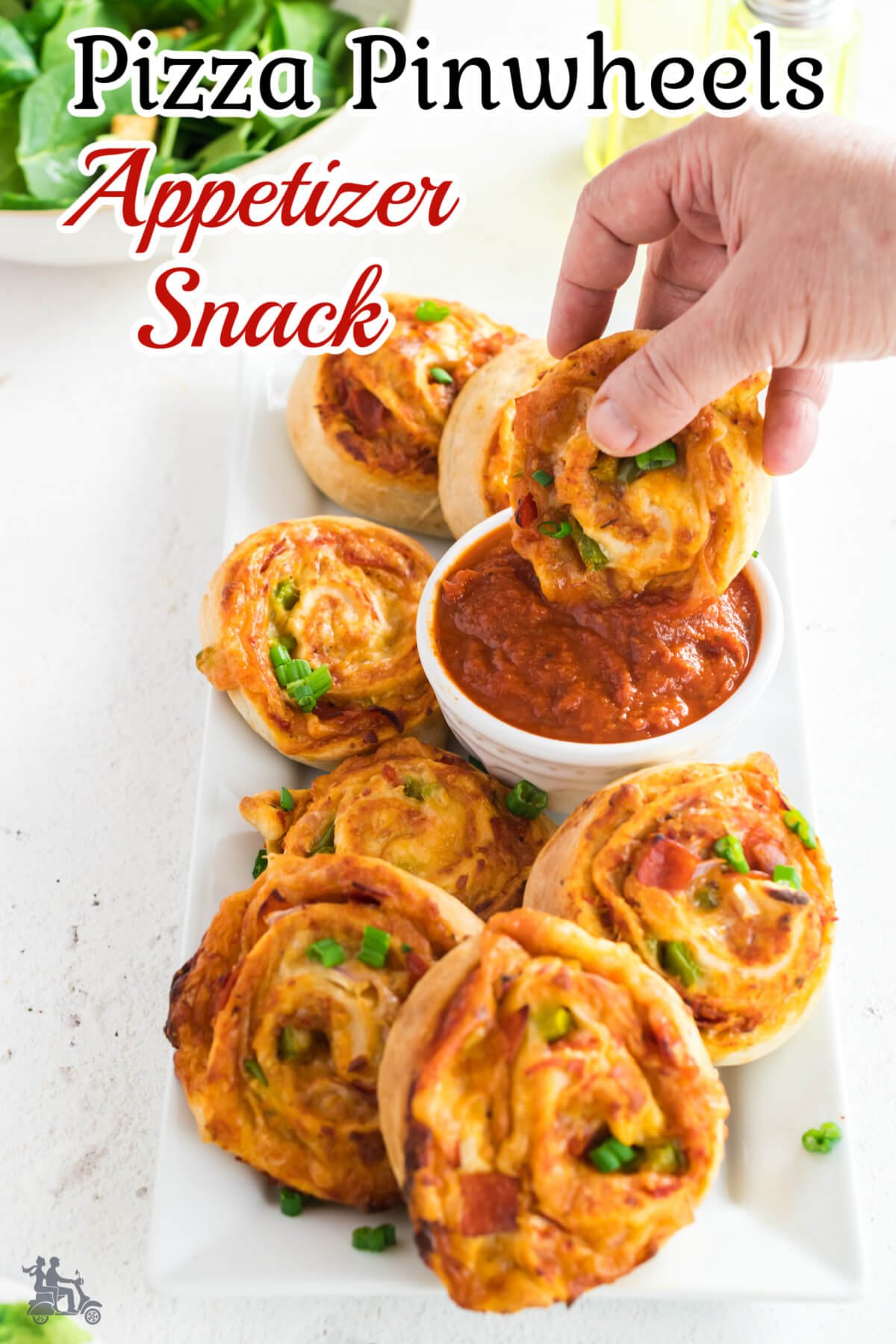 What's new? Check out my All Our Way Store on Amazon. We'll be adding more items we love and use or wish we had to make cooking fun and easy.
📝 Recipe Card
Pizza Pinwheels are essentially rolled-up refrigerator dough that's been loaded with pepperoni pizza toppings, sealed, and then sliced into 1-inch pizza pinwheels before being baked to cheesy and crispy perfection!
If you love this recipe please give it 5 stars ⭐️⭐️⭐️⭐️⭐️.
📖 Recipe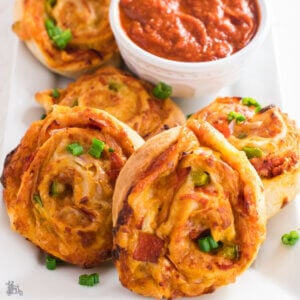 Easy Pizza Pinwheels Appetizer and Snacks
These Pizza Pinwheels offer a great party appetizer or quick lunch, full of pepperoni pizza flavor, that you can make ahead of time and are guaranteed to be loved by all!
Print
Pin
Rate
As An Amazon Associate I earn from qualifying purchases.
Ingredients
13.8

ounce

Pizza dough

1 can refrigerated

½

cup

Pizza sauce

1

cup

mozzarella cheese

shredded

1

Green bell pepper

½

cup

Onion

diced

5

ounces

pepperoni slices

chopped
Instructions
Preheat oven to 350℉. Line a large baking sheet with parchment paper and spray lightly with cooking spray.

Lightly flour a large wooden cutting board. Roll out dough onto the floured surface.

Spread pizza sauce evenly over the dough, to the edges. Top with shredded mozzarella, pepperoni, onion, and bell pepper.

Roll pizza width-wise (the longest side) and sell the edges.

Slice into 1-inch pieces. Place the pizza pinwheels on the parchment covered baking sheet, about 2 inches apart.

With your hand, gently press down each pinwheel. This helps form the roll.

Bake for about 10 minutes, or until the tops are golden brown and the middles are cooked through.

Allow to cool for 2-3 minutes, sprinkle with your garnish of choice. We used chopped green onions.

For dipping, serve with pizza sauce, marinara, or ranch dressing.
Nutrition
Calories:
521
kcal
|
Carbohydrates:
52
g
|
Protein:
23
g
|
Fat:
25
g
|
Saturated Fat:
10
g
|
Polyunsaturated Fat:
2
g
|
Monounsaturated Fat:
8
g
|
Trans Fat:
1
g
|
Cholesterol:
59
mg
|
Sodium:
1669
mg
|
Potassium:
303
mg
|
Fiber:
3
g
|
Sugar:
9
g
|
Vitamin A:
432
IU
|
Vitamin C:
28
mg
|
Calcium:
161
mg
|
Iron:
4
mg
Sign up for the emails and never miss another recipe!!
We'll never share your email or send you spam. Promise