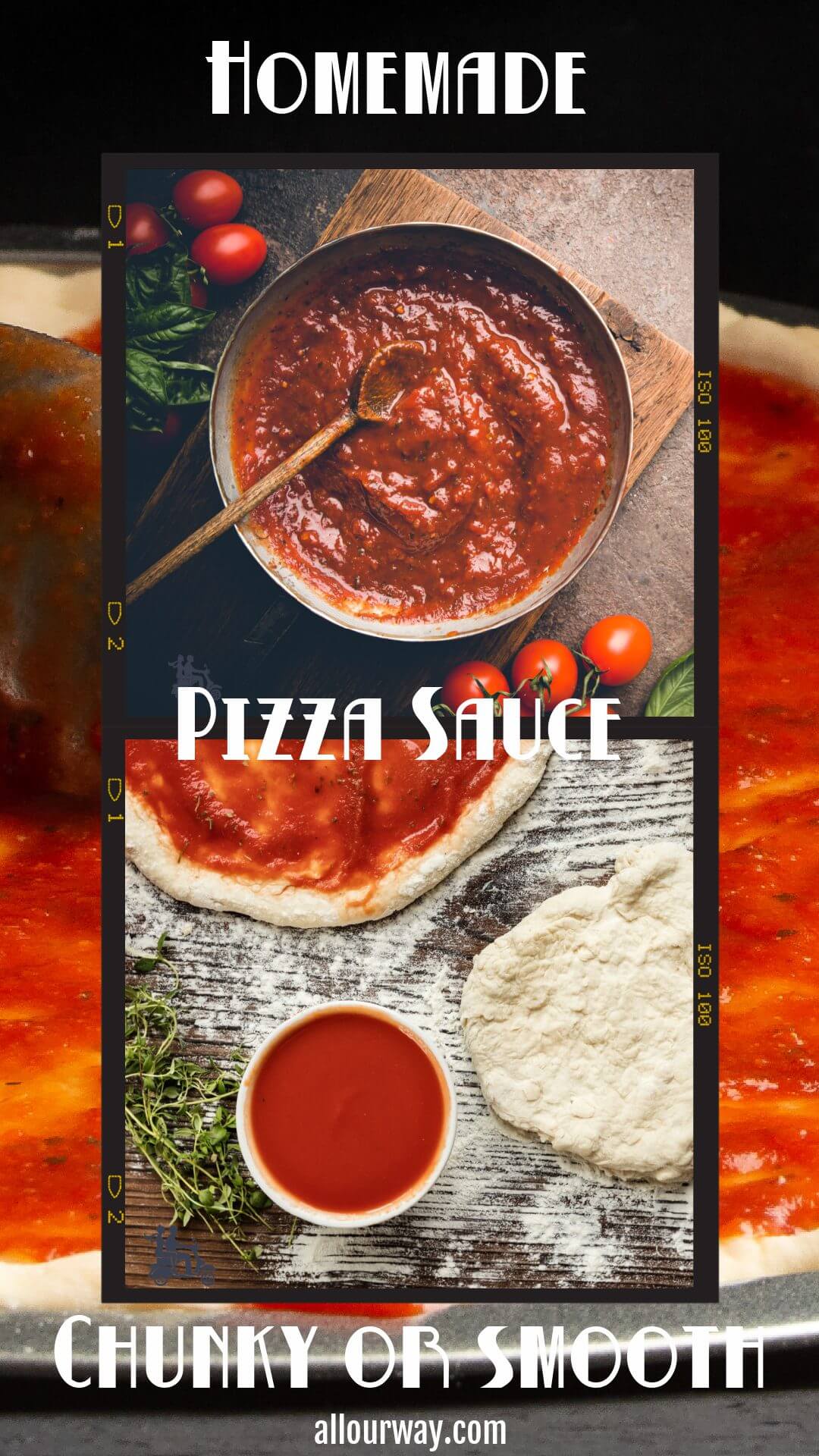 If you believe that making a winning pizza sauce is hard or time-consuming, I'm here to prove you wrong.
Now I know how easy it is to toss one of those cans or jars of runny red tomato pizza sauce into your grocery cart, I've been there. I've done that quite a few times. In fact, I would normally have a can in the pantry -- just in case we were out of our No-Cook Pizza Sauce.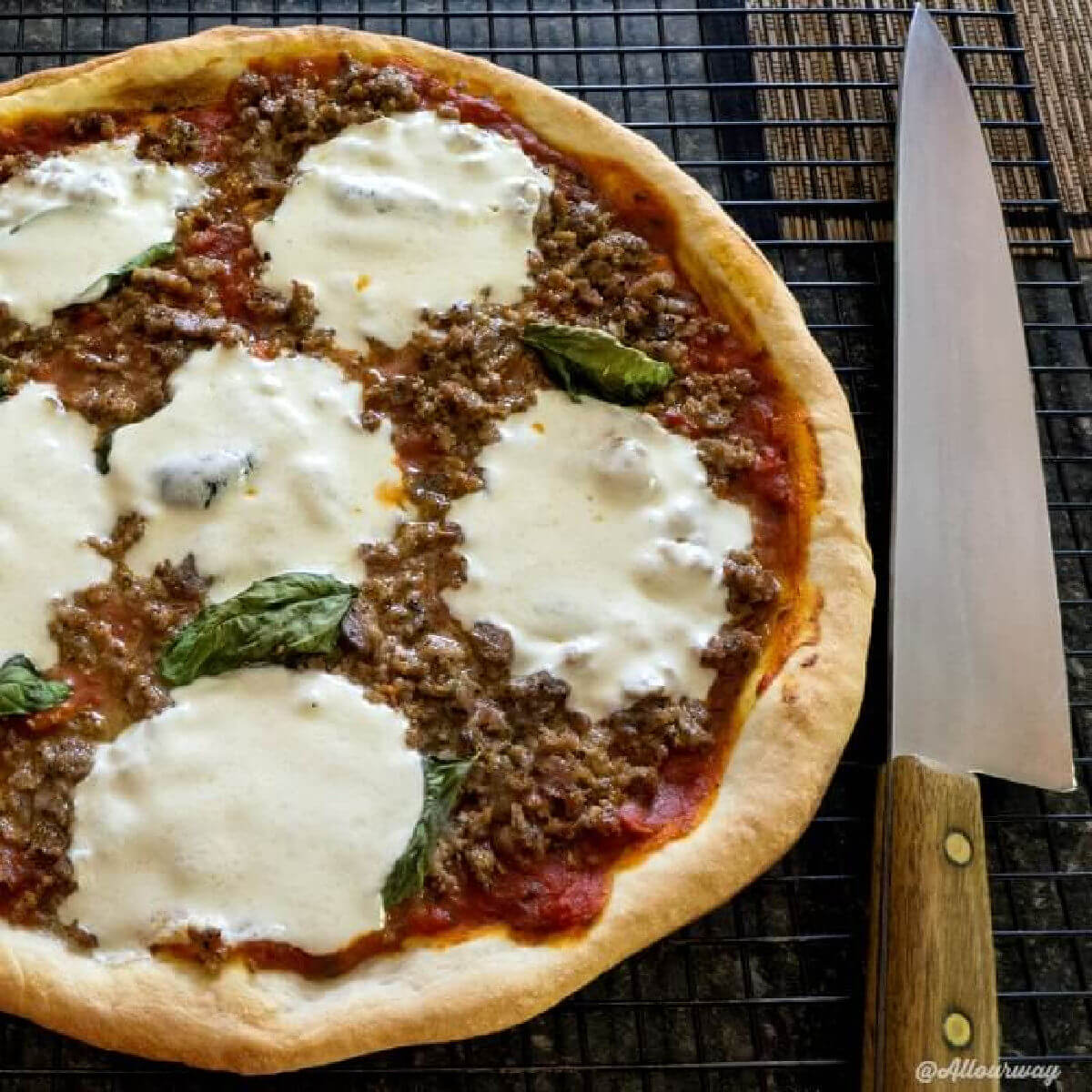 Sure enough, one Saturday when we needed our homemade sauce, we were out of not only our homemade pizza sauce but the standby in the pantry. Well, what were we going to do? We were expecting our youngest son, wife and two boys to stop by for a visit. Whenever we're able to get together with our kids and grandkids, it's a time to celebrate. And in typical Italian fashion, we wanted to feed them. This time, it was going to be pizza made with our homemade Perfect Crispy Pizza Crust.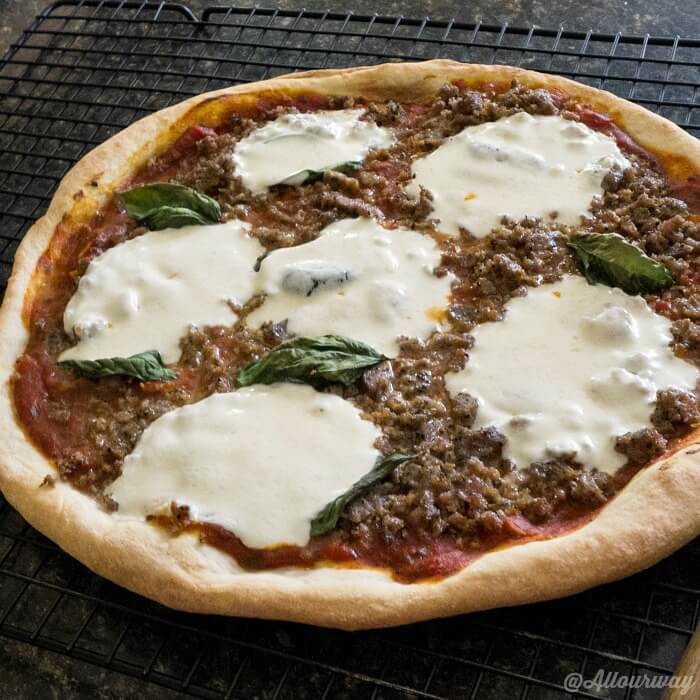 Decision - Make Pizza Sauce
We didn't have much time, so we decided to whip up a batch of sauce. We also didn't have the right ingredients for our usual homemade sauce, so we decided to try something different. Unfortunately, the new recipe needed fresh basil, and our basil plants were not quite ready to cut. Not to worry, though, we had it covered. We had basil cubes.
What are basil cubes? They are basil leaves that we pulse in the food processor, spoon into oil-sprayed ice cube trays and then freeze. Once frozen we pop them out of the tray and save them in freezer bags. Basil cubes come in handy in the dead of winter.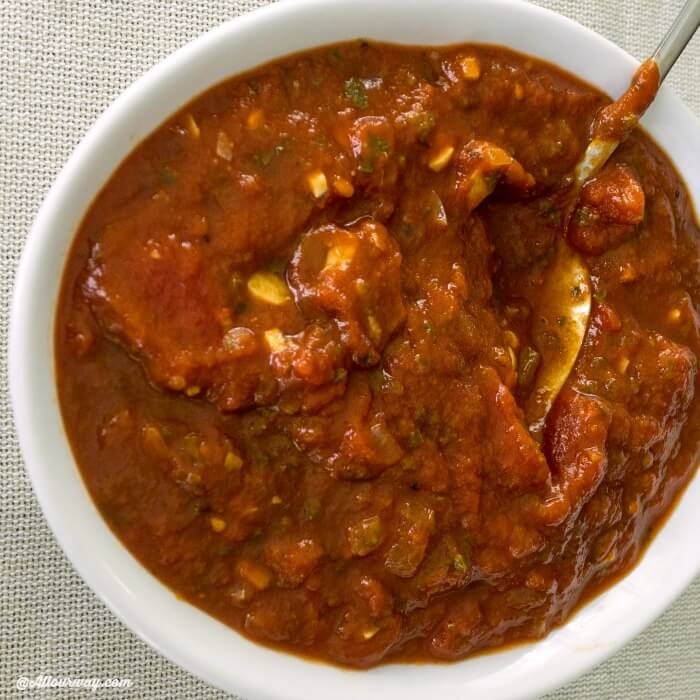 So, in no time at all, we had the pizza sauce done, the pizza dough ready to stretch, the fresh mozzarella sliced, the sausage (oldest grandson's request) fried and ready to go. Now it was just a matter of assembling the pizza and sticking it in the oven.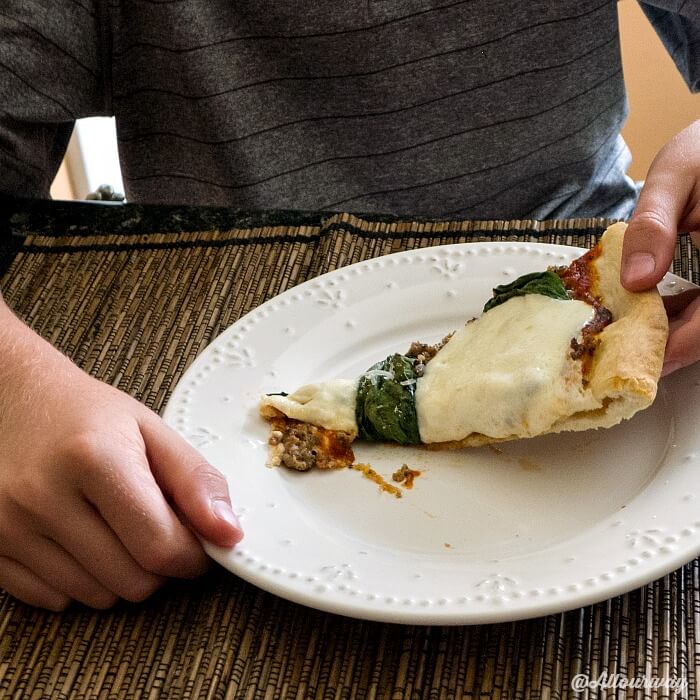 Once the pizza was done and served, the sighs of appreciation and "yums" were music to our ears. Our son and oldest grandson were enjoying each bite of their pizza. The little guy, 13 months old, wasn't quite up to eating pizza just yet. We'll give him a few more months.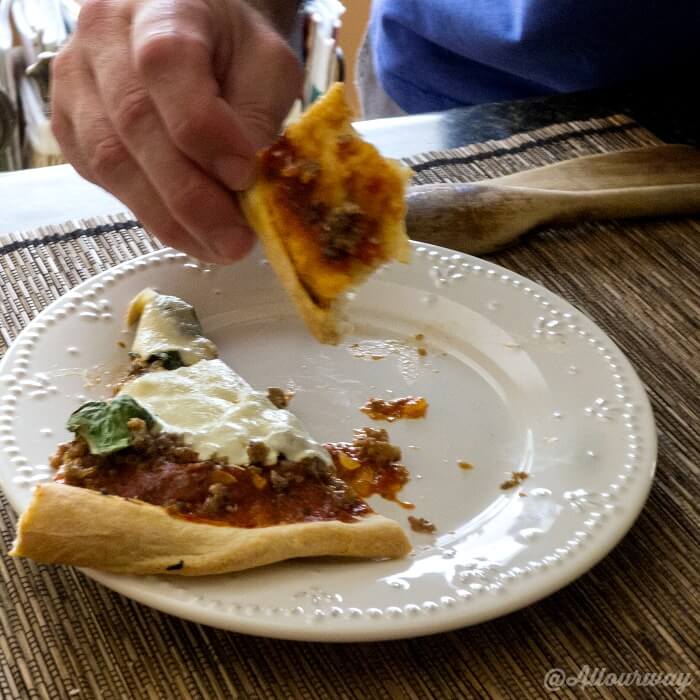 "Mom and dad, this is sooo good, the best pizza I've ever eaten. It's a winner!"
"Nonna!Papa! This pizza is the best, EVER!!! May I have another slice?!!" Young kids seem to talk in exclamation points, don't they? 🙂
Yes indeed! Our expert pizza eaters were giving it the quality taste test, and the way the pizza was going down, I would say the recipe for the pizza sauce was a keeper. The sauce was the only difference between this pizza and the last one we made.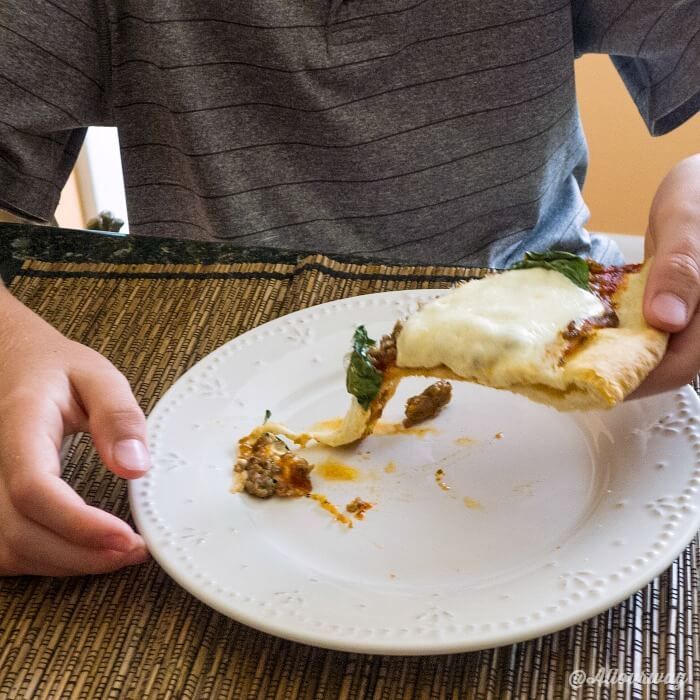 We concluded that making this winning pizza sauce is:
QUICK AND EASY
Prep Time is 10 minutes
Easy instructions - work entails chopping onion and mincing garlic
Simmer ingredients in skillet 30 minutes
HEALTHIER
No modified corn starch as found in some cans or jars
Fresh vegetables and herbs
High-quality organic canned tomatoes
BETTER TASTING
Thick and ruby red not a runny liquid that soaks into the pizza dough
Garden fresh tomato taste not bitey and acidy
Mouth-watering herbal aroma not flat and flavorless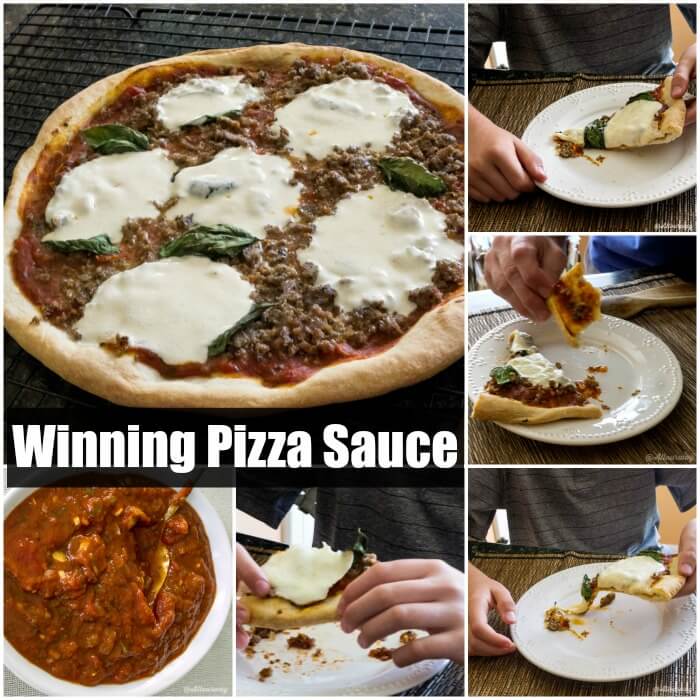 Conclusion - Winning Pizza Sauce is the best!
As a result of not having any of our old pizza sauce prepared or the standby, we discovered a great new version. Everyone in the family, including our daughter-in-law, once she was able to have a slice, agreed that this is "THE BEST.". Since they gave it their seal of approval, this pizza sauce recipe is a keeper -- a real winning pizza sauce. Try it, and I'm sure you'll agree.
Tutti a tavola è pronto!
Un caro saluto e alla prossima.
📖 Recipe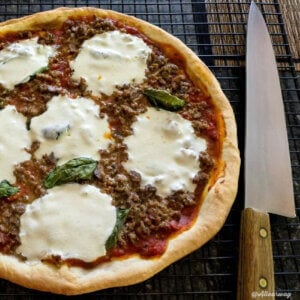 Easy Winning Pizza Sauce
A rich thick pizza sauce that is easy to make, uses quality ingredients and is full of tomato and fresh herb flavor. Use it as a dipping sauce, it's delicious with breadsticks.
Print
Pin
Rate
As An Amazon Associate I earn from qualifying purchases.
Ingredients
½

cup

chopped onion

2

Tablespoons

minced garlic

2

Tablespoons

olive oil

1 - 28

oz.

can San Marzano tomatoes

crushed with juice

9

oz

tomato sauce

4

oz.

tomato paste

1

teaspoon

salt

4

teaspoons

fresh oregano leaves or 2 teaspoons dried oregano leaves

1

frozen basil cube** or 3 teaspoons fresh basil chopped

⅛

teaspoon

black pepper
Instructions
In saucepan saute onion and garlic in olive oil until tender.

Stir in remaining ingredients.

Simmer for 30 minutes or more for a thick consistency.

Stir occasionally.

If you want a smooth sauce use a stick blender or a regular blender once the sauce cools.
Notes
** basil cubes are fresh basil leaves we pulsed in the food processor and froze in oil sprayed ice cube trays. Once the basil freezes we put the cubes in a freezer bag and use them as needed.
There is enough sauce to make 3-4 12 inch pizzas depending on how much sauce you like on the pizza.
Nutrition
Calories:
79
kcal
|
Carbohydrates:
8
g
|
Protein:
1
g
|
Fat:
4
g
|
Sodium:
761
mg
|
Potassium:
379
mg
|
Fiber:
2
g
|
Sugar:
4
g
|
Vitamin A:
495
IU
|
Vitamin C:
8.9
mg
|
Calcium:
42
mg
|
Iron:
1.5
mg
Sign up for the emails and never miss another recipe!!
We'll never share your email or send you spam. Promise
Note: Recipes and content from ©All Our Way are copyright protected. Please do not use content or recipe without prior written permission. If you want to share the information, please link to this post. Grazie.
SaveSave