This grilled pork sirloin tip roast is not only budget-friendly but so tasty and succulent. Pork is easy grill and it's always a favorite with children and adults.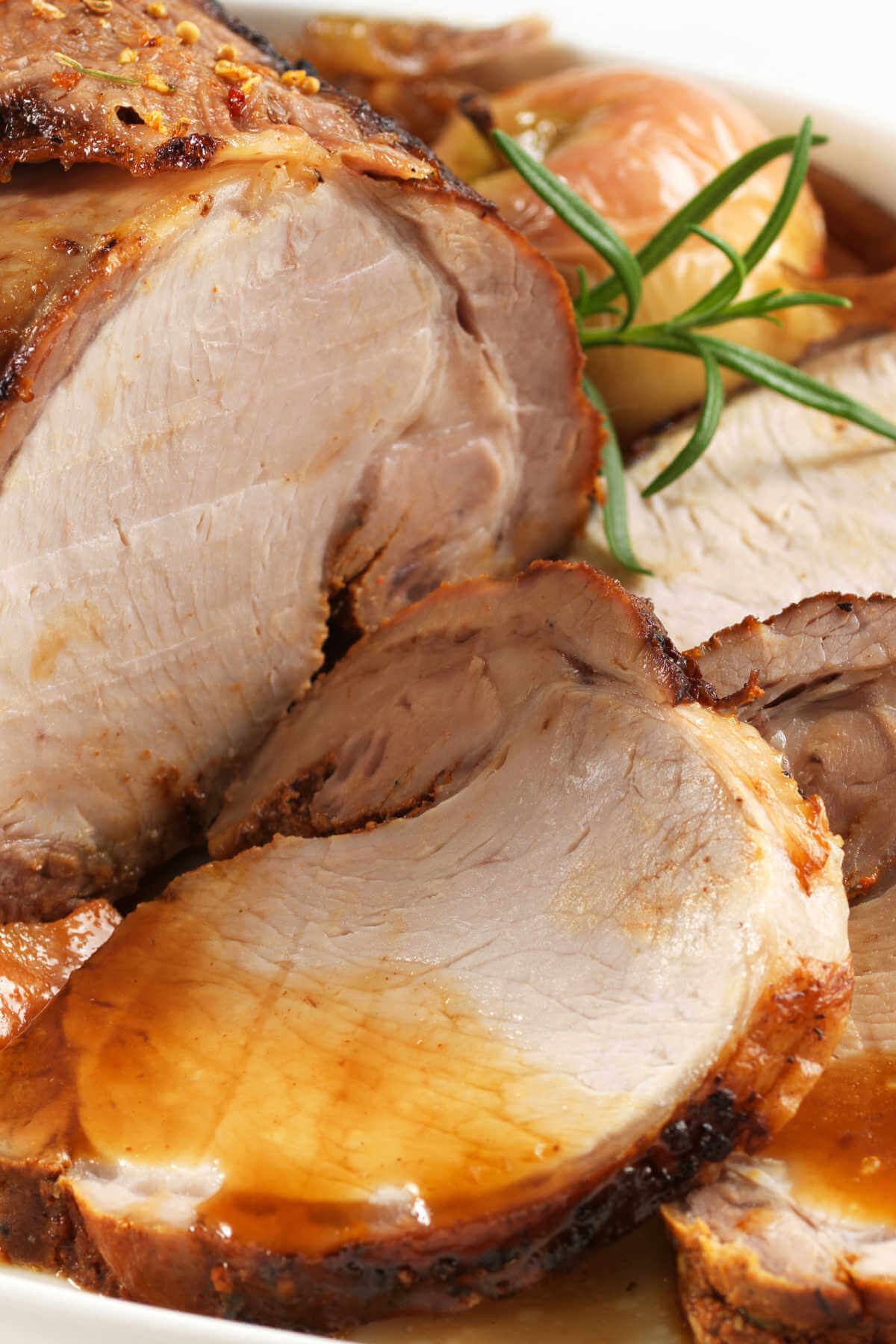 Jump to:
Where to buy
If you've been to Costco recently, you may have noticed their Pork Sirloin Tip Roast in an economical four-pack.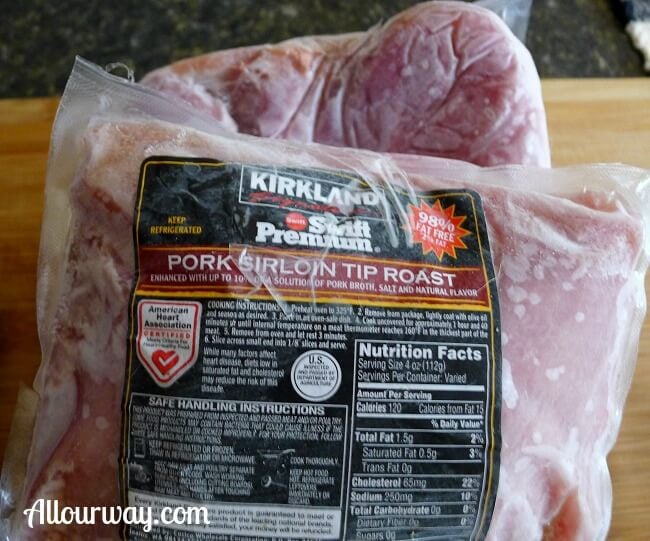 We've bought these four-packs several times before and always ended up taking one of the roasts and cubing it, put cubes in a marinade, then skewering them and finishing the kabobs on the grill.
Searching for inspiration
The chunks of the pork sirloin tip roast always turn out excellent, juicy and flavorful bites of meat.
But this time, this time, we wanted to do something different with the Pork Sirloin Tip Roast.
So to get inspired we went to where people go to get inspired Pinterest!
We clicked; we opened up several recipes, but nothing grabbed us.
The recipes for a Pork Sirloin Tip Roast in a crock-pot did nothing for us. We wanted our taste buds to stand up and take notice!
We wanted our taste buds to scream, this is what we wanted!!
So it was back to the drawing board.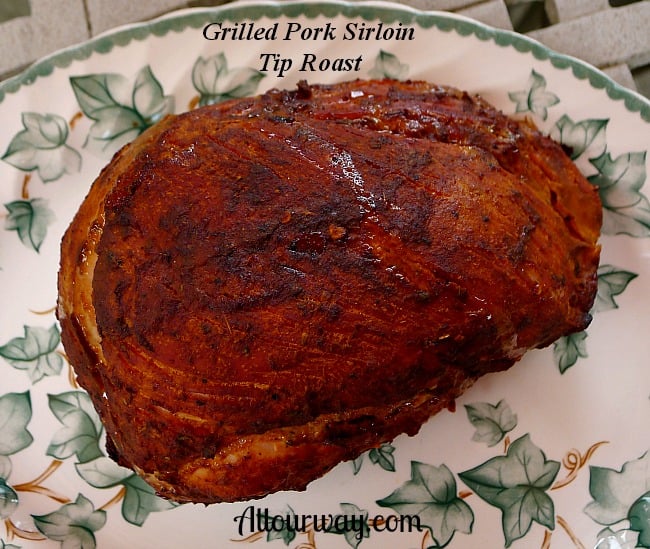 Inspiration for a sirloin tip roast recipe
We knew we wanted it grilled. So what chunk of meat did we like that was good grilled?
It was an aha moment-- our Pulled Pork!
Since this was a small piece of meat --at 2 ½ pounds -- it would not take as long as pulled pork -- but we could follow the same procedure.
We could sprinkle it with the Southwest Seasoning and Rub, infuse it with Our Marinade for Pork, then we let it rest in the fridge overnight so that the tender flesh could soak in the juicy flavor of the marinade.
This turned out to be a perfect plan.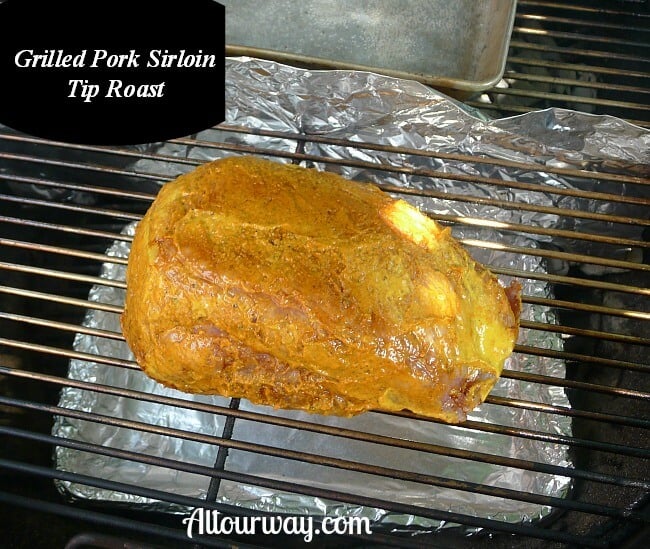 We proceed with the recipe
In the morning, we take the Pork Sirloin Tip Roast out of the fridge and let it sit out on the counter for a while in order to take off the chill . Honey then massages plain yellow mustard all over the surface, just like he did on the Pulled Pork.
When it's time to get the grill ready, Hubby puts on his Grill Master apron. He goes outside to prepare the Weber for indirect heat as he did for the Pulled Pork.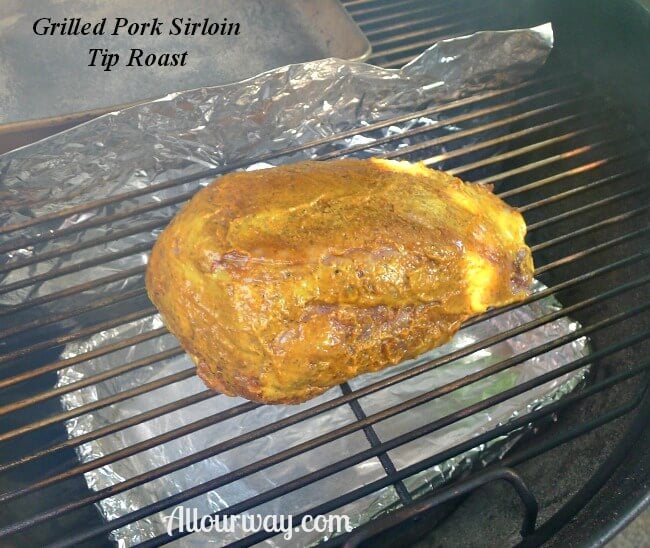 He cooks the pork at 250 F until the meat reaches an internal temperature of 150 F.
Grilling may take anywhere from 3 ½ to 4 ½ hours.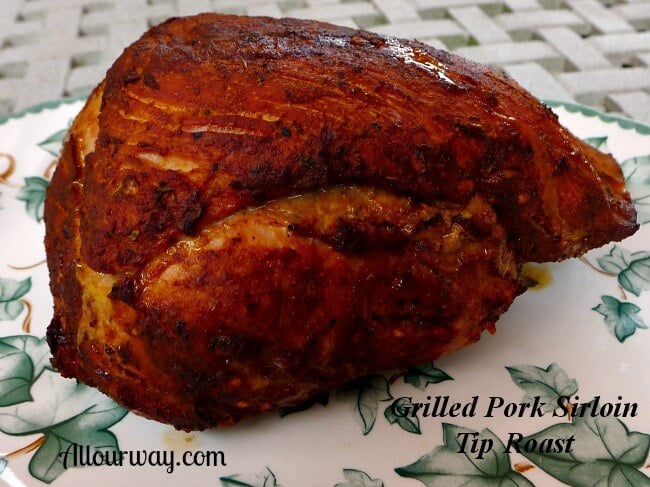 Sirloin tip roast rests
He takes the meat off the grill, tents it with aluminum foil, and sets it on the counter to rest for about 30 minutes.
The rest is necessary so the juices can redistribute throughout the entire pork roast.
We can hardly wait the 30 minutes; we are that anxious to slice it just to see if it tastes as delicious as it smells.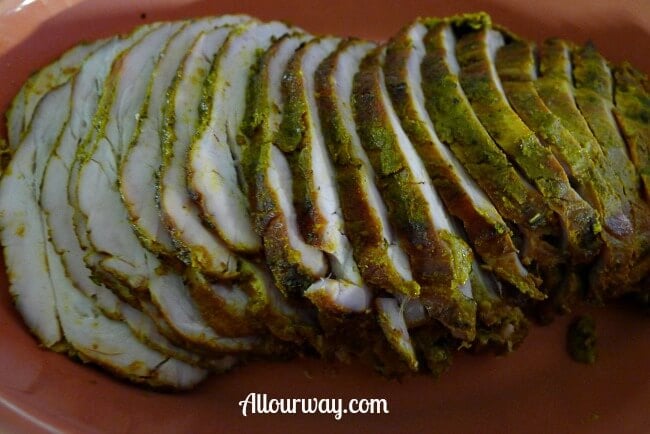 At 29 ½ minutes, we have the meat on the cutting board and the knife ready to take that first slice.
Tasting the grilled pork tip roast
My Honey takes that first little end slice, divides it in two, then hands me a bite. We pop the pieces into our mouths; our taste buds yell " Now that's what we're talking about!"
We feel as if we discovered America or at least the atom. We are so pleased that we do what we always do when we make a major discovery; we call our kids. 🙂
We simply have to share the news:
Where we got the meat.
How we prepared it.
How good it was.
And best of all, how economical it was!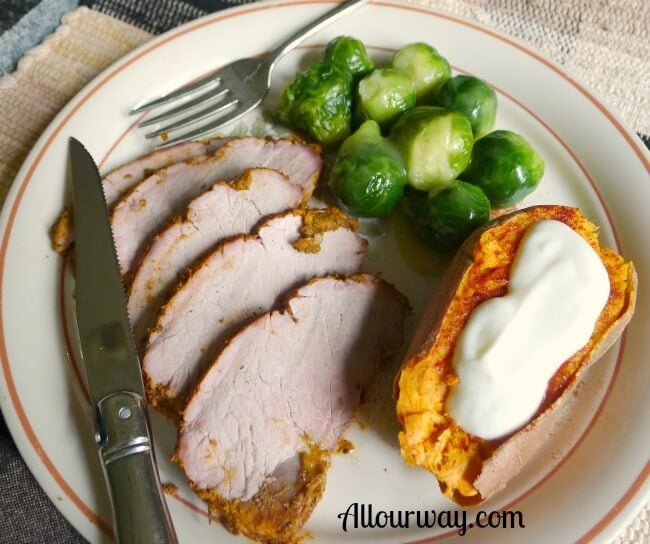 This was a very lean piece of meat and we weren't sure whether it would withstand the grill but it did, and magnificently so. The Pork Sirloin Tip Roast turned out succulent with a nice pork flavor with just the right amount of salt.
This is five star in our book!!
Grilled pork roast recipe is a keeper
Instructions recap:
1. Inject meat with All Our Way Marinade. This is in the Pulled Pork post.
2. Rub liberally with All Our Way Rub and Seasoning or whatever you prefer.
3. Put in Zip lock bag and keep in fridge overnight.
4. Next day take out of fridge and massage yellow mustard all over the Pork Sirloin Tip Roast
5. Prepare grill for indirect heat as in Pulled Pork Technique and Recipes.
6. Grill at 250 F until Pork reaches an internal temperature of 150 F.
7. Place on platter and tent with aluminum foil for 30 minutes.
8. Slice and get ready for a little taste of heaven.
* Do not overcook the meat -- it will dry out and get tough. 🙂
Another roast you may want to try next is our Herb Roasted Leg of Lamb. The meat is so flavorful and tender it practically melts in your mouth.
Note: Recipes and content from All Our Way ©2014 are copyright protected. Please do not use content or recipe without prior written permission. If you want to share the information, please link to this post. Thank You
SaveSave
SaveSave