It's back to the basics with this irresistible Creamy Zucchini Sauce with Pasta recipe! Using minimal budget-friendly ingredients, you can make this comforting meal in under 30 minutes!
Tender pasta is tossed in a creamy zucchini sauce with grated Parmesan cheese for a convenient, healthy, and mouth-watering dish!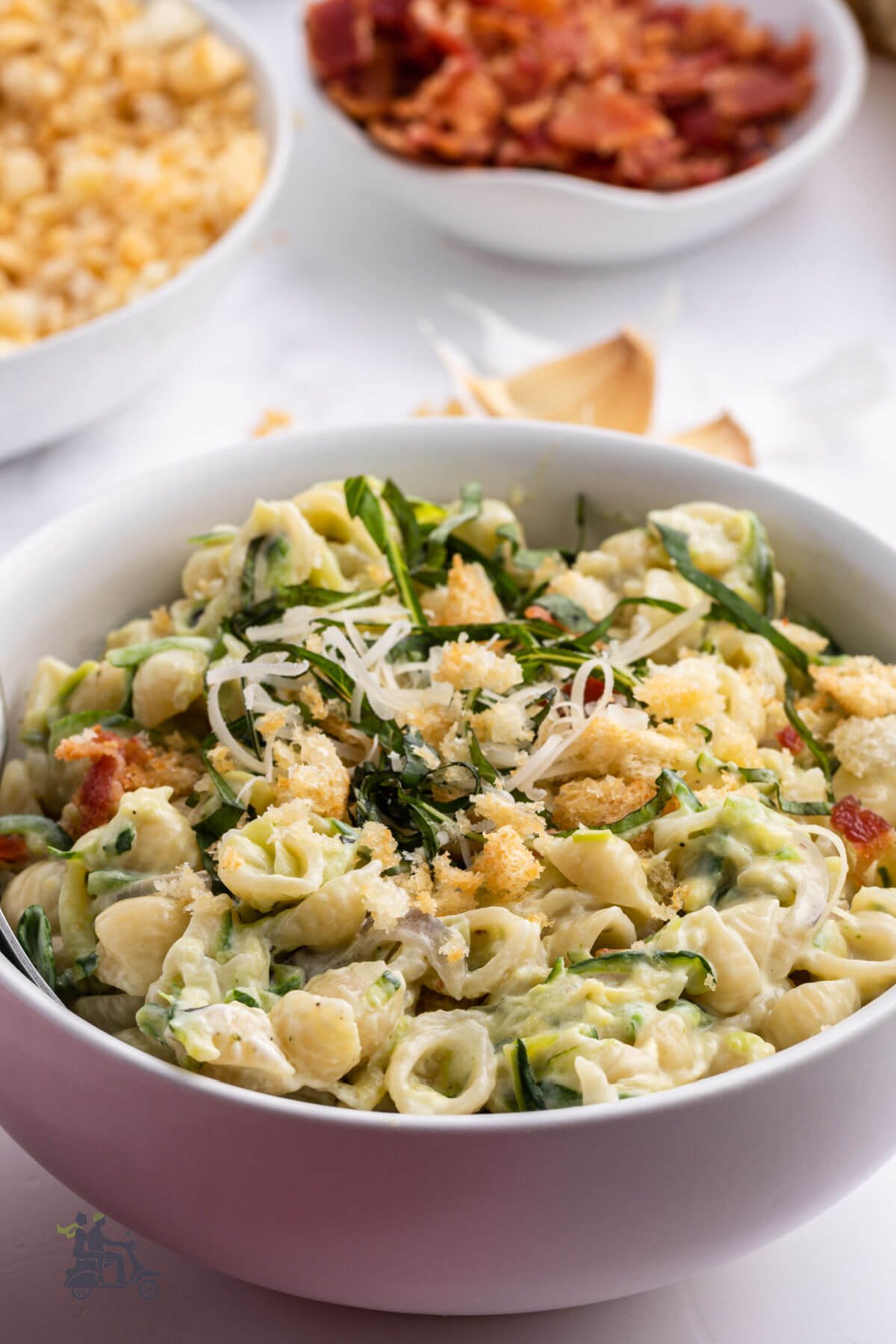 Jump to:
❤️ Why you'll love this recipe
The creamy zucchini sauce is like a comforting alfredo sauce, only lighter and a lot healthier.
This dish is so simple - you can make it in under 30 minutes!
If you have picky eaters, don't fear. The zucchini flavor is not overpowering and yet this dish is packed with healthy veggies.
Creamy Zucchini Sauce with al dente pasta is a comforting and healthy meal that comes together in no time at all and stands the test of vegetable-haters!
🛒 Ingredients
As an Amazon Associate I earn from qualifying purchases.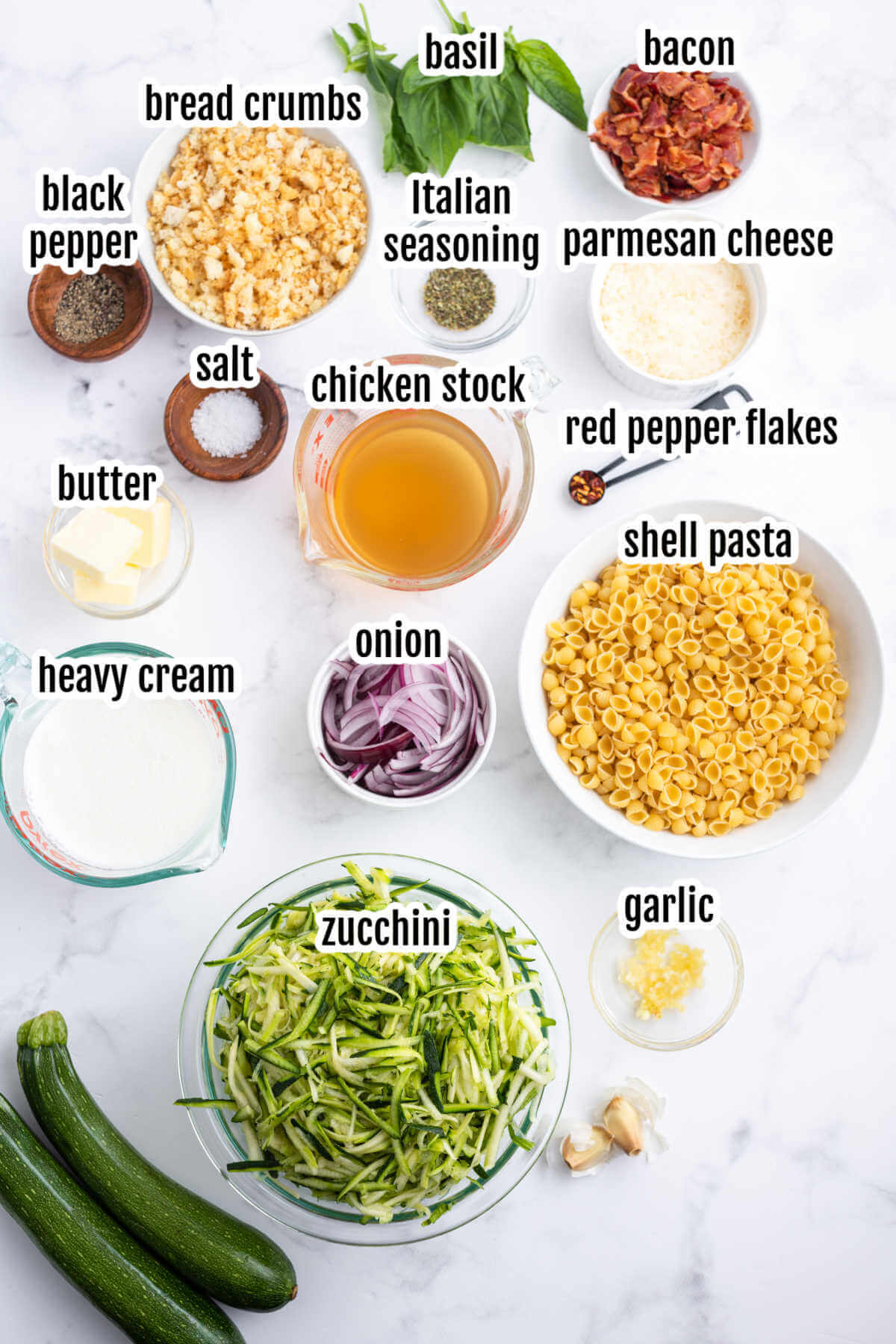 Note: The full list of this creamy zucchini pasta sauce recipe ingredients with their amounts and options are listed in the recipe card below.
🗒 Instructions
Note: This is an overview of the instructions. The full instructions are in the recipe card below.
Cook the pasta according to the package directions and drain, reserving some pasta water for use later if needed.
In a large skillet, melt the butter over medium-high heat and cook the garlic and onion for 1 ½ minutes, followed by the shredded zucchini for another minute. Season and cook for 2 minutes for the zucchini to reduce in half by volume.
Stir in the cream, stock, and the parmesan cheese. Simmer and then reduce heat to simmer for another 3 minutes.
Add the pasta and toss well for 2 minutes, or until the sauce reduces and coats the pasta. Add pasta water if the sauce gets too thick.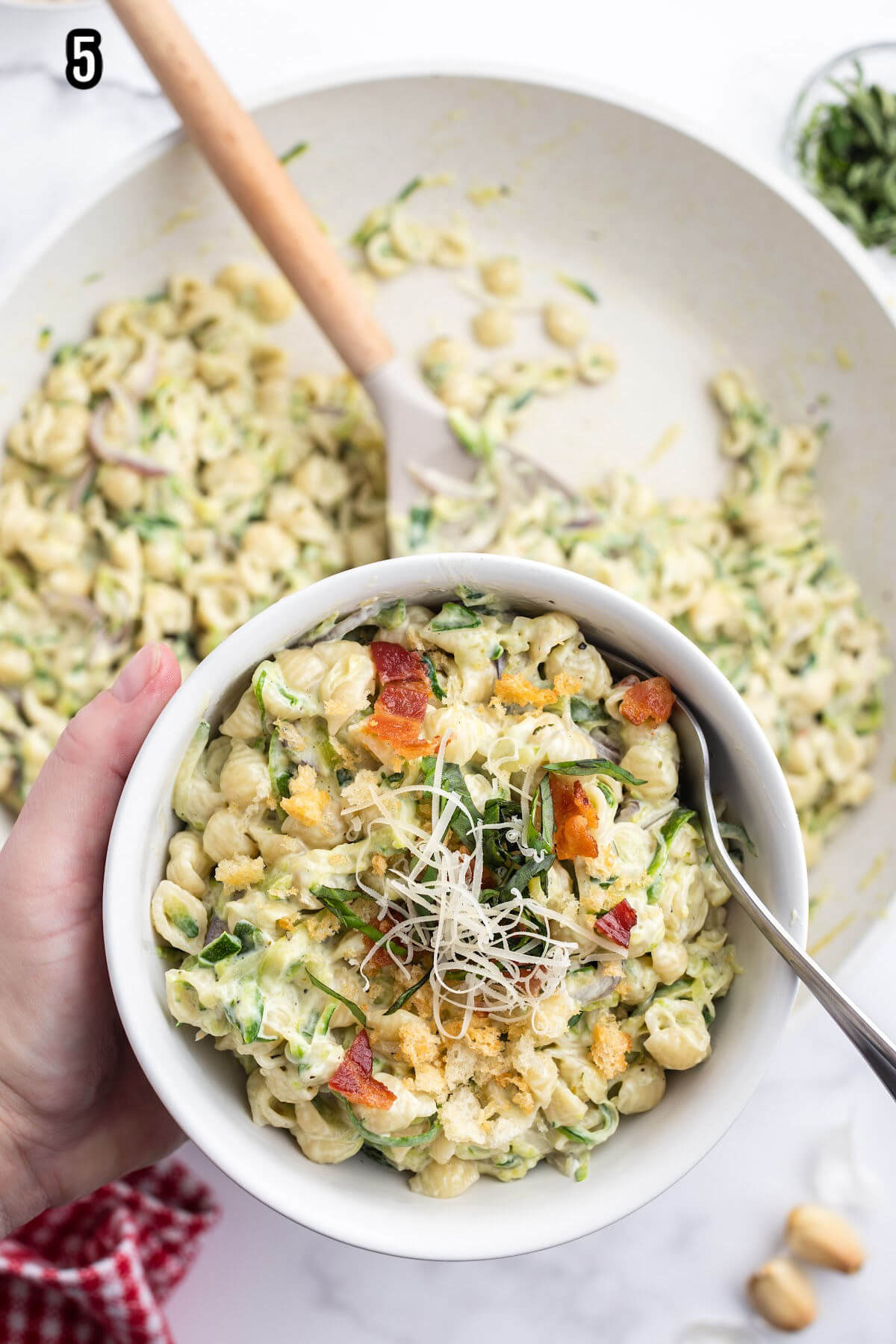 Garnish with extra Parmesan and other options such as bread crumbs, fresh basil, and crumbled bacon bits.
🔪 Equipment
The following are affiliate links. We are a participant in the Amazon Services LLC Associates Program, an affiliate advertising program designed to provide a means for us to earn fees by linking to Amazon.com and affiliated sites.
You'll need the following items to make this recipe successfully.
large skillet
box grater for zucchini
sharp knife
cutting board
liquid measuring cup
dry measuring cups
measuring spoons
👩🏻‍🍳 Tips
Always following the cooking instructions on the package of pasta purchased. That said, I usually shave about 2 minutes off to ensure that the pasta is al dente since it will continue cooking in the sauce.
It's a good idea to reserve some pasta water in case you need to thin the sauce later.
Freshly grated cheese always tastes better in recipes. If you do choose to grate your cheese for this dish and not use pre-shredded store-bought Parmesan cheese, make sure to either weight the Parmesan or measure it accurately with a measuring cup since freshly grated Parmesan will always be fluffier than pre-shredded cheese.
Another tip when using store-bought grated Parmesan is to add it to the cooked pasta when mixing into the sauce. Don't try to melt the Parmesan into the sauce before this as it won't melt well and you'll end up with clumps of cheese in the sauce.
Leftover sauce from this recipe can be watered down with broth for a serving of pureed zucchini soup!
📚 Variations
If you can't source zucchini for this recipe, use something like squash.
While I love this creamy zucchini sauce with pasta, you could omit the pasta and pair the sauce with broiled fish and other meat, or use it as a topping for loaded baked potatoes.
Add a tablespoon of pesto like our Homemade Basil Pesto Without Pine Nuts in the final stage before adding the pasta.
Add cooked pieces of bacon or shredded chicken to this dish for a boost of protein.
For crunch and added texture, top each serving with toasted Parmesan bread crumbs.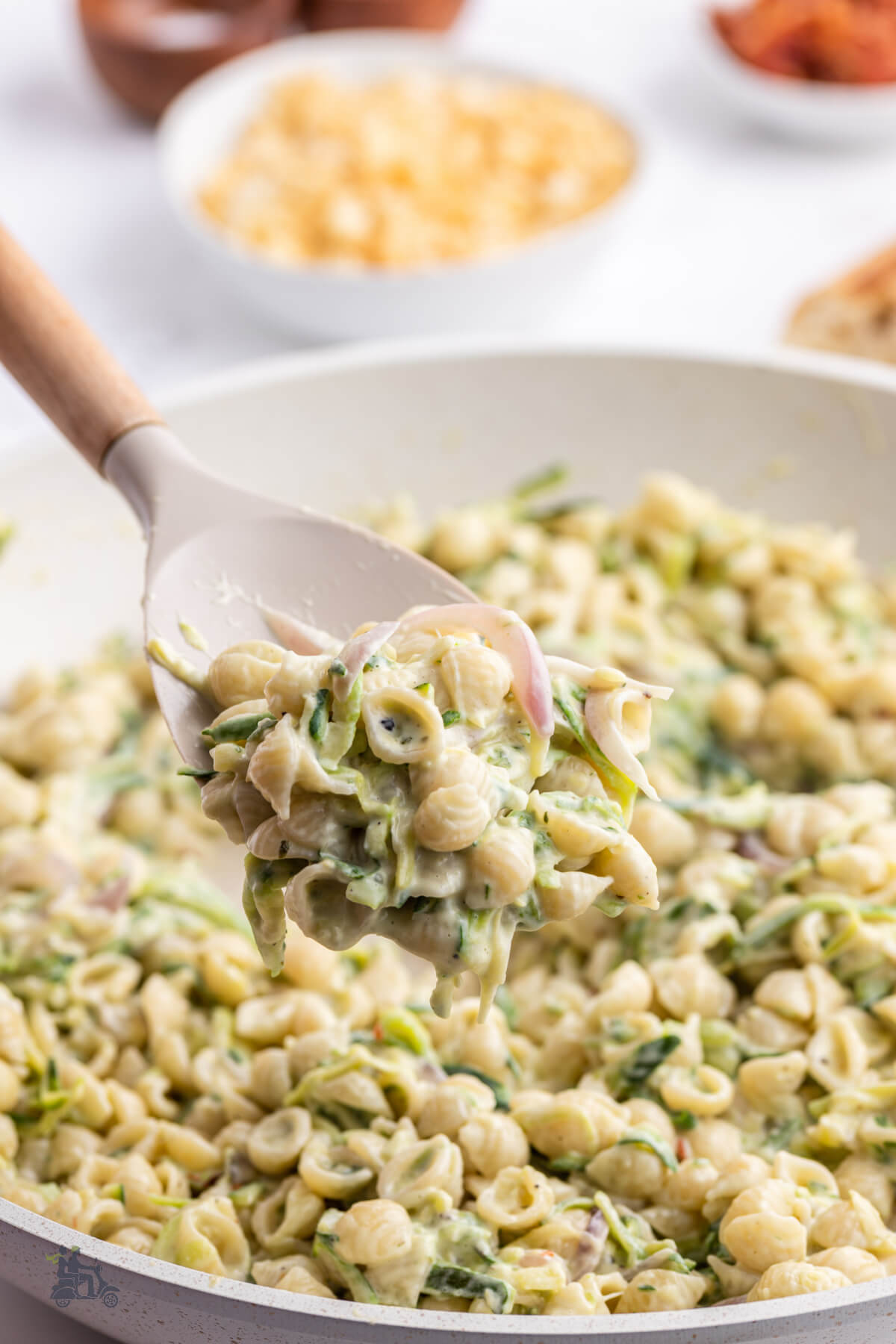 🥫 Storage
Leftover creamy zucchini sauce with pasta can be stored in an airtight container in the refrigerator for up to 3-4 days. You can reheat this dish in a skillet on the stovetop over low heat, adding a splash of broth or milk to loosen the mixture.
I don't recommend freezing leftovers as the sauce could separate from the freezing and thawing process.
📗 Related Recipes
If you appreciate simple pasta dishes that still deliver great taste, be sure to check out these favorites of mine:
Gorgonzola Pasta - A one-pan cheese pasta recipe that's loaded with creamy cheesy flavor and texture, softened diced apples and aromatic onions!
Creamy Angel Hair Pasta - An ultra rich and creamy sauce with fine angel hair pasta that will leave your tastebuds happy and satisfied!
Tagliolini al Limone - Delicate tagliolini pasta coated in a rich and creamy lemon and cheese sauce.
🍽 Serve with
Enjoy this recipe as a comforting and complete meal or serve it alongside homemade dinner rolls, garlic bread, or a leafy green salad.
📞 Chiacchierata (chat)
Simple homemade pasta dishes with very little other than a flavorful and creamy sauce as the star of the show are seriously underrated, but once you try something like this Creamy Zucchini Sauce with Pasta, there's no going back!
This recipe has saved me countless times when life has been too busy to make a complex or time-intensive meal for the family. With an Alfredo-like sauce and healthy zucchini, this dish is a must-try. The zucchini is not overpowering in flavor which means that you get to benefit from the healthy dose of fresh vegetables without even realizing that most of the dish is made from them!
If you like your veggie included with your pasta dish, then you simply have to try our fabulous Lemon Spinach Orzo Pasta recipe. The pasta turns out so rich and creamy you think you're eating a delicious risotto recipe.
If you're a zucchini lover, as we are, and you're looking for more recipes to use that delicious veggie, check out our Savory Cheddar Cheese Muffins Recipe With Zucchini. We've made them into bite-size zucchini puffs.
Tutti a tavolo, è pronto!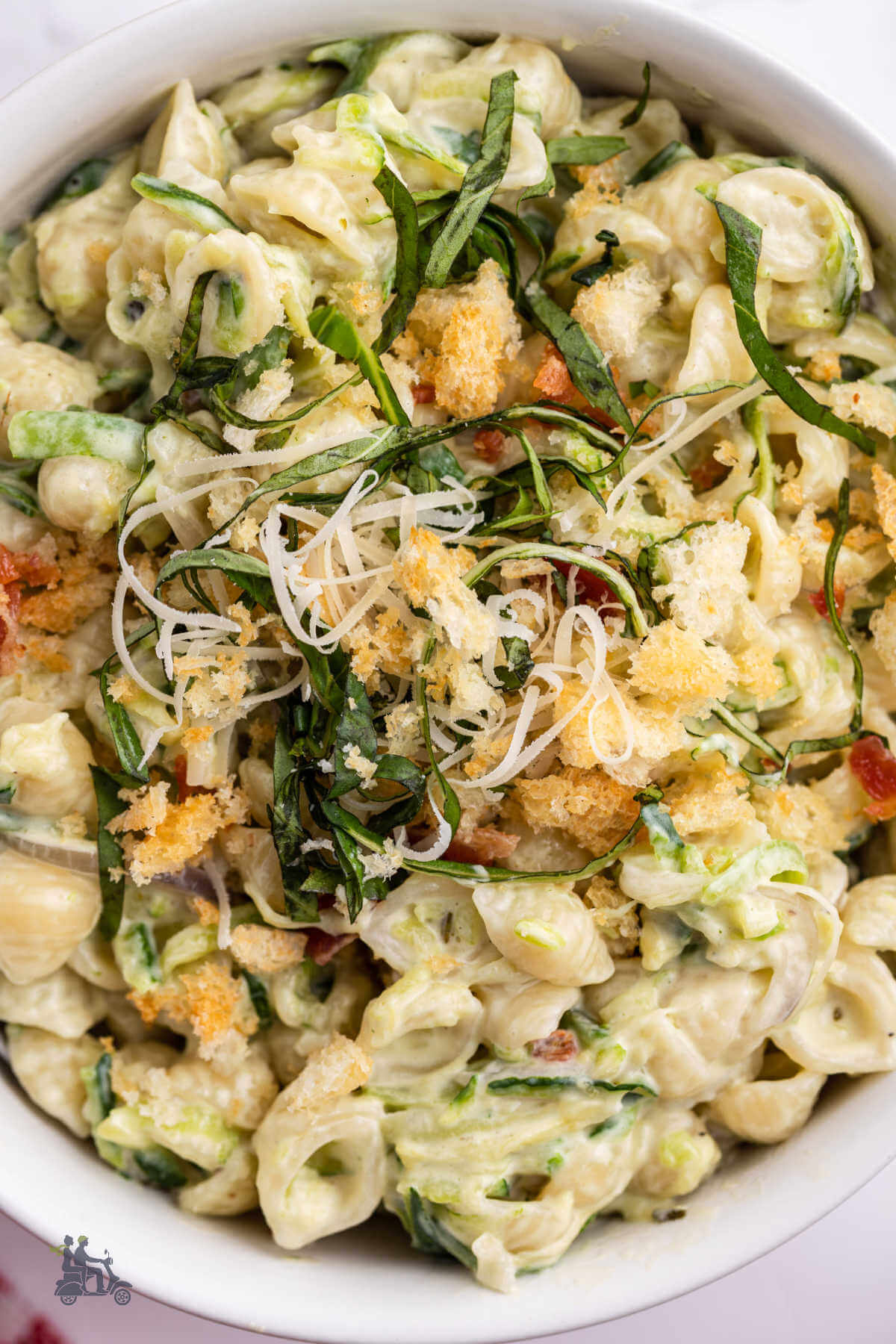 What's new? Check out my All Our Way Store on Amazon. We'll be adding more items we love and use or wish we had to make cooking fun and easy.
📝 Recipe Card
Creamy Zucchini Sauce with Pasta is an easy pasta and sauce recipe made with freshly shredded zucchini reduced and combined with an Alfredo-like sauce. Toss tender pasta in the vegetable-loaded Parmesan sauce for a superb eating experience!
If you're fond of rich creamy sauces, then this Cream Cheese Sauce Recipe is what you and your family are going to love. It only takes 15 minutes to have a delicious dinner on the table.
If you love this recipe please give it 5 stars ⭐️⭐️⭐️⭐️⭐️.
📖 Recipe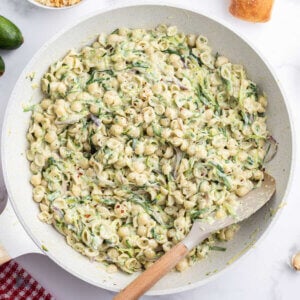 The Ultimate Creamy Zucchini Sauce With Pasta
Creamy Zucchini Sauce with Pasta is packed with fresh shredded zucchini, a creamy Alfredo-like sauce, and tender pasta. It's fresh and light while being incredibly comforting and quick to make!
Print
Pin
Rate
As An Amazon Associate I earn from qualifying purchases.
Ingredients
3

Tablespoons

unsalted butter

(50g)

2

garlic cloves

minced

½

onion

finely sliced (use red, white, or yellow)

1⅓

pounds

zucchini

grated (600g)

½

teaspoon

kosher salt

½

teaspoon

black pepper

1

teaspoon

Italian seasoning

¼

teaspoon

red pepper flakes

1

cup

heavy cream

¾

cup

low-sodium chicken stock

or vegetable stock or broth.

¾

cup

parmesan

75g or 2 ⅔ oz. finely grated using microplane * see notes

10

ounces

short pasta

such as conchigliette (small shells) ** see notes
Finishing and serving - optional
Grated parmesan cheese

Fresh basil ribbons, sprinkle of bacon, buttered fresh bread crumbs

These options are not included in the nutritional count.
Instructions
Cook Pasta:
Bring a large pot of water to boil and add 1 Tablespoon of kosher salt to the water.

Cook pasta per package directions to "molto al dente" which is 2 minutes BEFORE the al dente level on the package. The pasta should be a bit too firm. It will finish cooking in the sauce.

Save a full ladle of pasta cook water in a large cup and set aside. You' need this for thinning the sauce just in case it's too thick. Drain the pasta.
Zucchini Sauce:
Melt the butter in a large skillet or pot over medium high heat.

Add the garlic and onion and cook for about 1½ minutes until the onion is slightly golden.

Add the shredded zucchini, cook for 1 minute.

Add the kosher salt, black pepper, Italian seasoning, and red pepper flakes. Stir for 2 minutes until it reduces in volume by about ½. The zucchini will release liquid.

Stir in the cream, chicken stock, and the parmesan cheese. Bring to a simmer, then reduce the heat to medium and simmer for 3 minutes.

Add the drained pasta and toss well for 2 minutes, or until the sauce reduces and is coating the pasta instead of pooling in the skillet. If it gets too thick, ad a splash of the reserved pasta cooking water. The pasta will finish cooking in this step.

Remove from the stove, serve immediately, garnish with extra parmesan and any other option you'd like.
Notes
**If you grate your own parmesan cheese make sure you weigh the parmesan when measuring. Freshly grated parmesan cheese is much fluffier than store bought.
If using store bought parm (which I usually don't use) add it in the the pasta, don't try to melt it in the sauce because it wont' melt evenly through the sauce. Some cheese have anti-clumping additives included in the packaging and you may end up with cheese that doesn't melt evenly.
***Use short pasta with nooks and crannies that will capture and hold the sauce. Gemelli and orecchiette pasta are also options.
Nutrition
Calories:
657
kcal
|
Carbohydrates:
63
g
|
Protein:
21
g
|
Fat:
37
g
|
Saturated Fat:
23
g
|
Polyunsaturated Fat:
2
g
|
Monounsaturated Fat:
9
g
|
Trans Fat:
0.3
g
|
Cholesterol:
103
mg
|
Sodium:
641
mg
|
Potassium:
705
mg
|
Fiber:
4
g
|
Sugar:
8
g
|
Vitamin A:
1633
IU
|
Vitamin C:
29
mg
|
Calcium:
320
mg
|
Iron:
2
mg
Sign up for the emails and never miss another recipe!!
We'll never share your email or send you spam. Promise