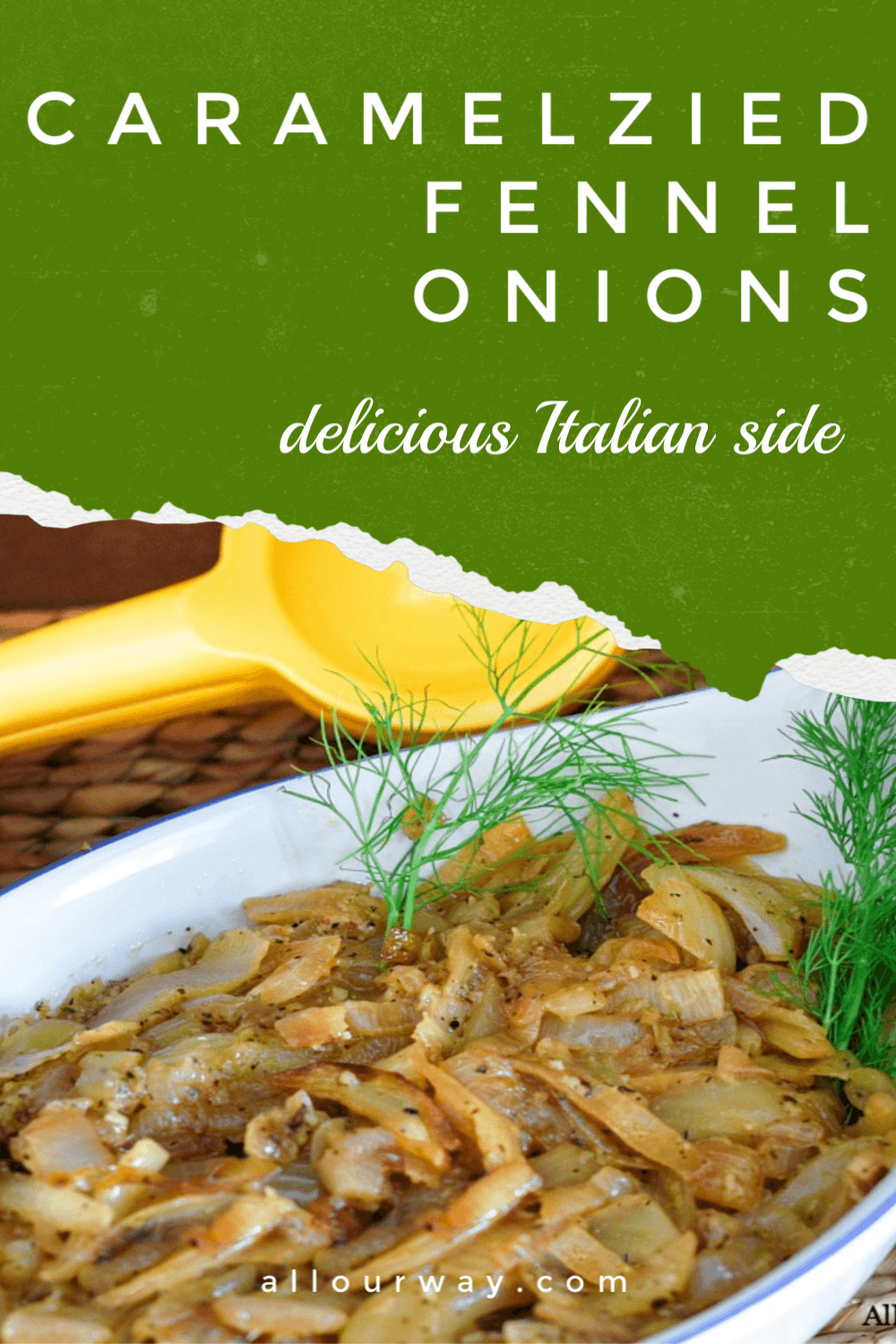 Did you know you could caramelize a fennel bulb with onions and have it turn out to be one of the most amazing dishes you've ever tasted? I didn't know cooking anise flavor fennel slowly with onions would magically transform the white bulb from ordinary to extraordinary. This will soon become one of your favorite fennel recipes.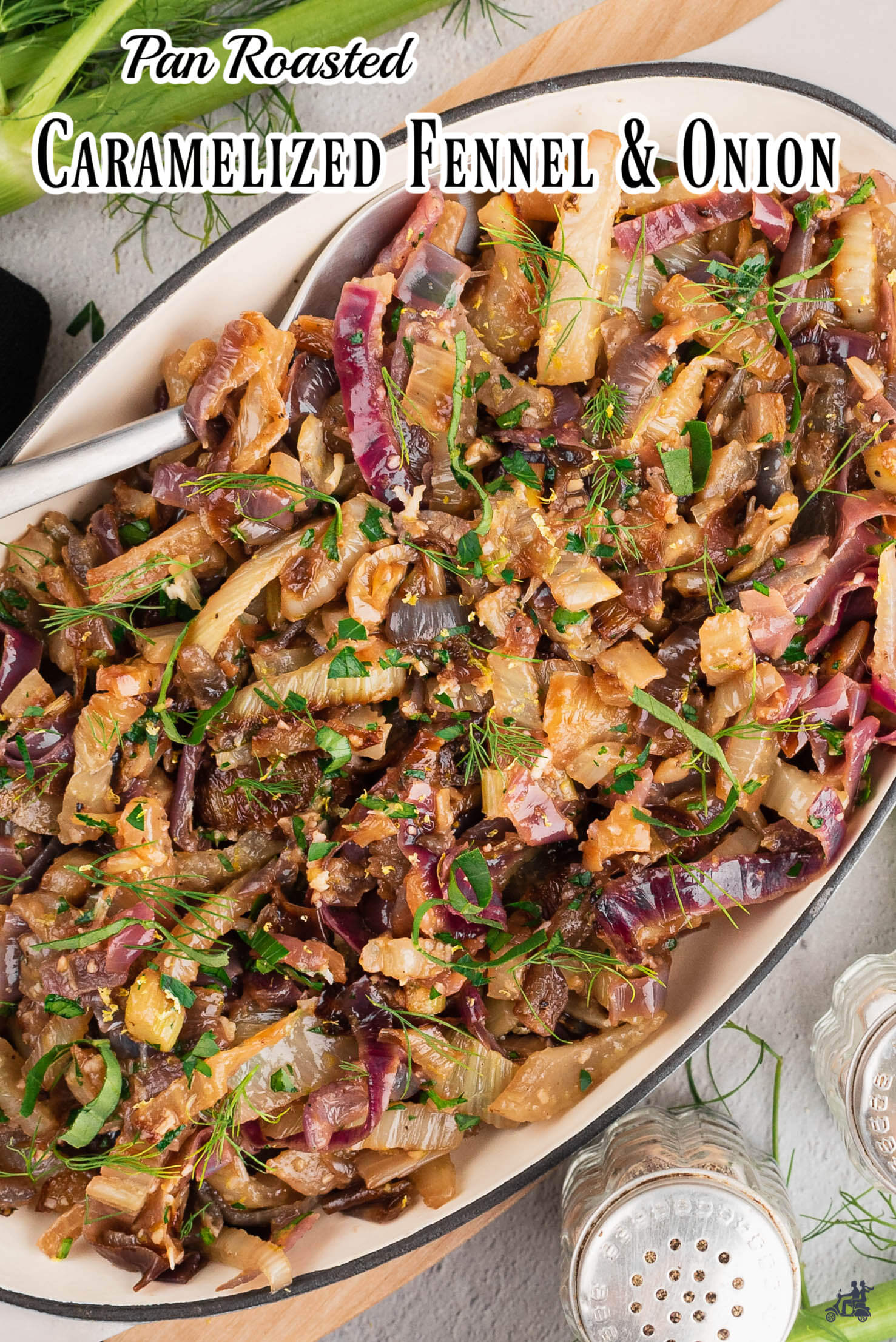 Jump to:
❤️ Why you'll love this recipe
It's a slight upgrade from the usual caramelized onions that we're all used to serving. Trust me, this caramelized fennel and onions recipe is sure to impress the family and guests!
This recipe calls for simple ingredients that add incredible flavor.
This side dish is a great way to use up any extra fennel that you may have purchased from the farmer's market or that you've grown yourself in the vegetable garden!
While you do have to invest some time to reach that perfect caramelization of the fennel and onions, the result is undeniably worth it!
🛒 Ingredients
As an Amazon Associate I earn from qualifying purchases.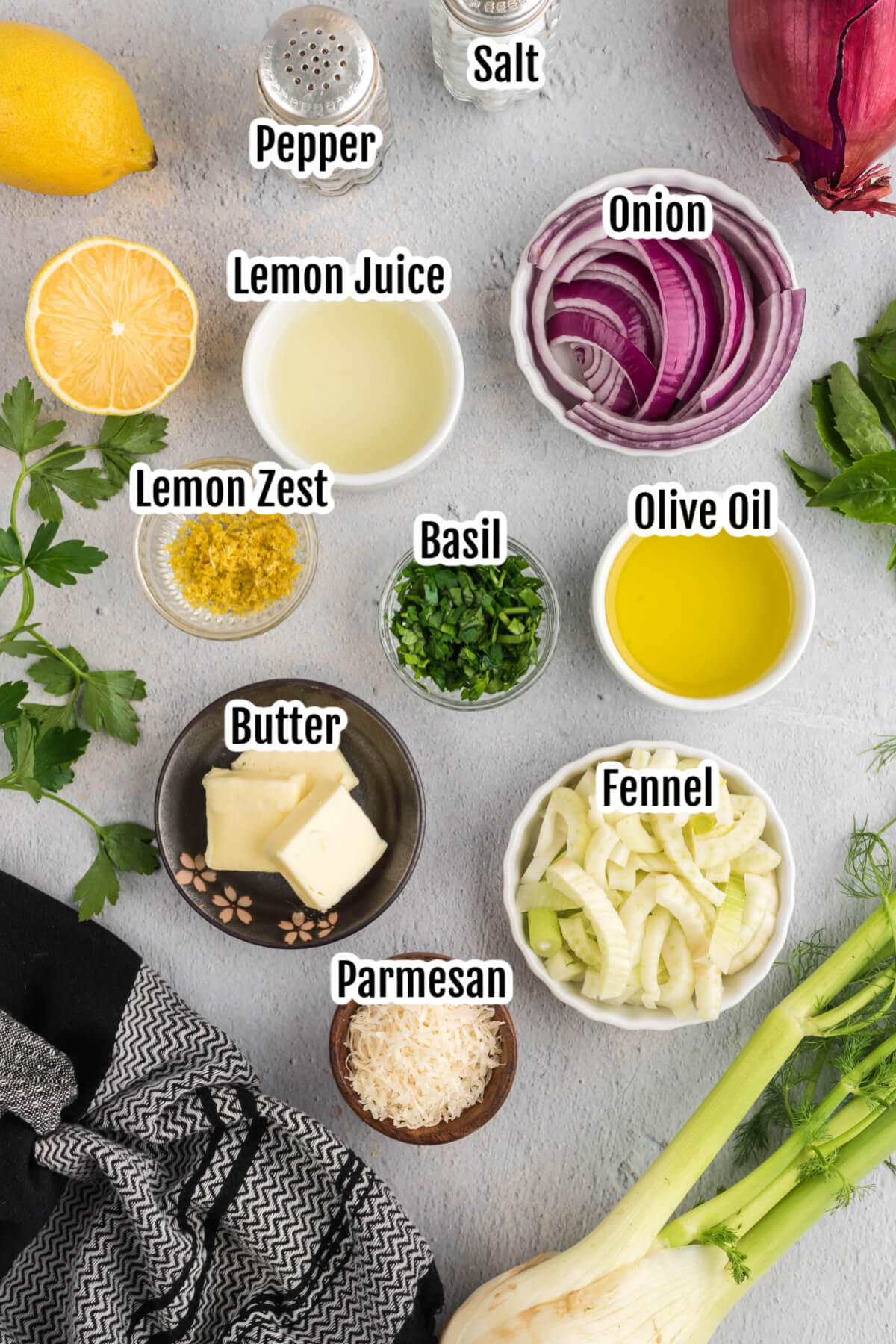 Note: The full list of this recipe ingredients with their amounts and options are listed in the recipe card below.
🗒 Instructions
Note: This is an overview of the instructions. The full instructions are in the recipe card below.
Heat a large skillet with oil and butter and then add the sliced fennel and onions.
Stir occasionally, making sure that the onions and fennel are well coated, adding some salt and scraping the bottom of any bits suck. To avoid the vegetables from drying out, lower the heat and add in small amounts of water if needed.
After 30 minutes of cooking, start to add in the additional ingredients.
At this point, you will have added the lemon zest, grated parmesan, chopped parsley, lemon juice, and black pepper.
Remove the pan from the heat.
Stir all the ingredients well so that all flavors are fully incorporated.
Check to see that the fennel and onion are caramelized so that they are soft. If not, you can add the pan back to the heat for a little longer.
Sprinkle the completed dish with slivered basil leaves or the fennel fronds, if desired.
🔪 Equipment
The following are affiliate links. We are a participant i the Amazon Services LLC Associates Program, an affiliate advertising program designed to provide a means for us to earn fees by linking to Amazon.com and affiliated sites.
You'll need the following items to make this pan roasted fennel and onion recipe successfully.
🤔 FAQs
These are the questions we are most frequently asked about making Caramelized Fennel and Onion Recipe.
How should I store excess fennel?
If you have more fennel than what's required for this recipe, you can store it in the refrigerator for up to 4 days.
What does fennel smell and taste like?
Fennel smells and tastes like sweet black licorice or anise. While this flavor profile is not everyone's favorite, the caramelization with the onion is simply mouth-watering!
How do I select quality fennel?
When picking that perfect bulb, make sure that it's clean, without blemishes or splitting, is whitish or pale green, has a subtle smell of licorice or anise, and does not have any flowering which would be an indication that it's passed maturity.
👩🏻‍🍳 Tips
It's important to take your time and ensure a slow sauteeing of the fennel as this is what will mellow out the licorice flavor to a mild and sweet flavor. This is particularly helpful if you don't enjoy a strong licorice or anise flavor.
Always use quality fennel when making this dish as it will result in the best taste and help extend storage life too!
If you don't anticipate using up excess fennel anytime soon then you may want to freeze it. Just make sure that you first blanch (scald in boiling water) the bulbs before freezing them for a couple of months.
📚 Variations
Make a spicy version of this recipe by adding in some chili flakes or cayenne pepper.
Instead of Parmesan cheese, consider sprinkling some crumbled goat cheese throughout the caramelized fennel and onions.
Instead of a vegetable side dish, consider using this caramelized fennel and onions recipe as a topping for a baked brie dip, a homemade pizza, or loaded baked potatoes.
Make a caramelized leek, fennel and onion gratin with this recipe as one of the steps.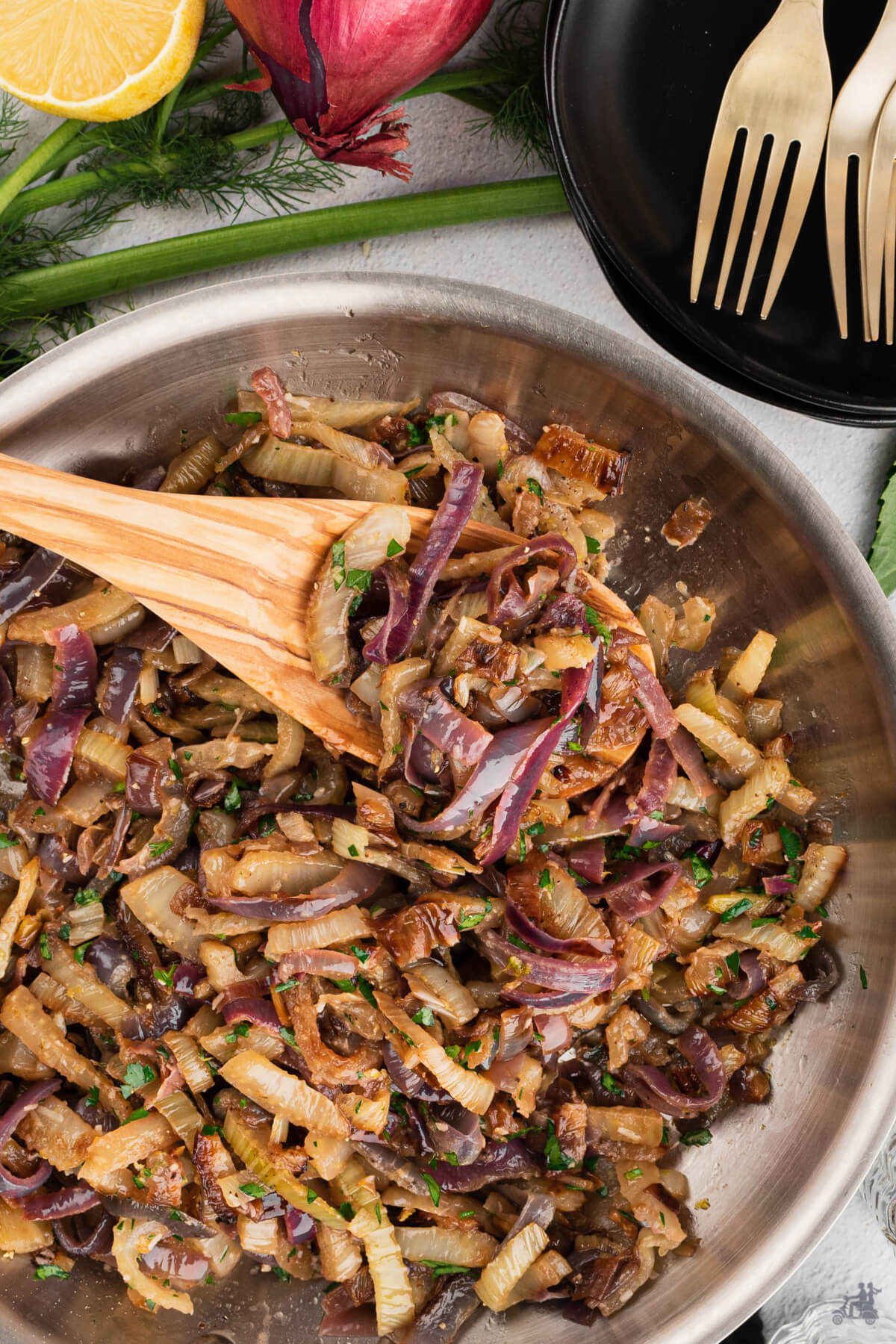 🥫 Storage
Caramelized fennel and onions can be stored in an airtight container in the refrigerator for up to 4 days. You also have the option of freezing this vegetable side dish for up to 3 months.
Thaw overnight in the refrigerator and reheat on the stovetop, adding a little olive oil if needed.
📗 Related Recipes
If you love vegetable dishes like I do, then be sure to add some of my favorite side dish choices such as Lemon Garlic Roasted Mushrooms, Tuscan Kale With Mushrooms And Garlic, Baby Arugula Tossed With Roasted Mushrooms And Leeks, and Lemon Garlic Asparagus With Parmesan.
Sometimes I find myself getting even more excited about a vegetable side dish than the main course!
🍽 Serve with
Caramelized fennel and onions can be enjoyed as a side dish or topping to a delicious main course such as this Grilled Marinated Venison Steak, Italian sausage, or pork chops, roast chicken, or even seafood. It's also perfect as a garnish to my Portabella Mushroom Pizza Hamburgers!

Of course, nothing has ever stopped me from savoring a slice of freshly baked Dutch Oven Bread with caramelized fennel and onions.
📞 Chiacchierata (chat)
We were at the farmers market going up and down the aisles when I spotted an overflowing bin of fresh fennel bulbs.
I turned to Honey and said, "Look at those bulbs, can you imagine how one of those delicious crunchy bulbs would taste in our orange salad? Let's buy one!"
"You sure, Babe? Look at this cart; it's loaded with vegetables and fruit. Will you be able to use it before it spoils?"
"Absolutely!" My mind kept churning out potential recipes. "Instead, I might use it in a quinoa salad." I'm so excited, fresh vegetables and fruit do that to me. 🙂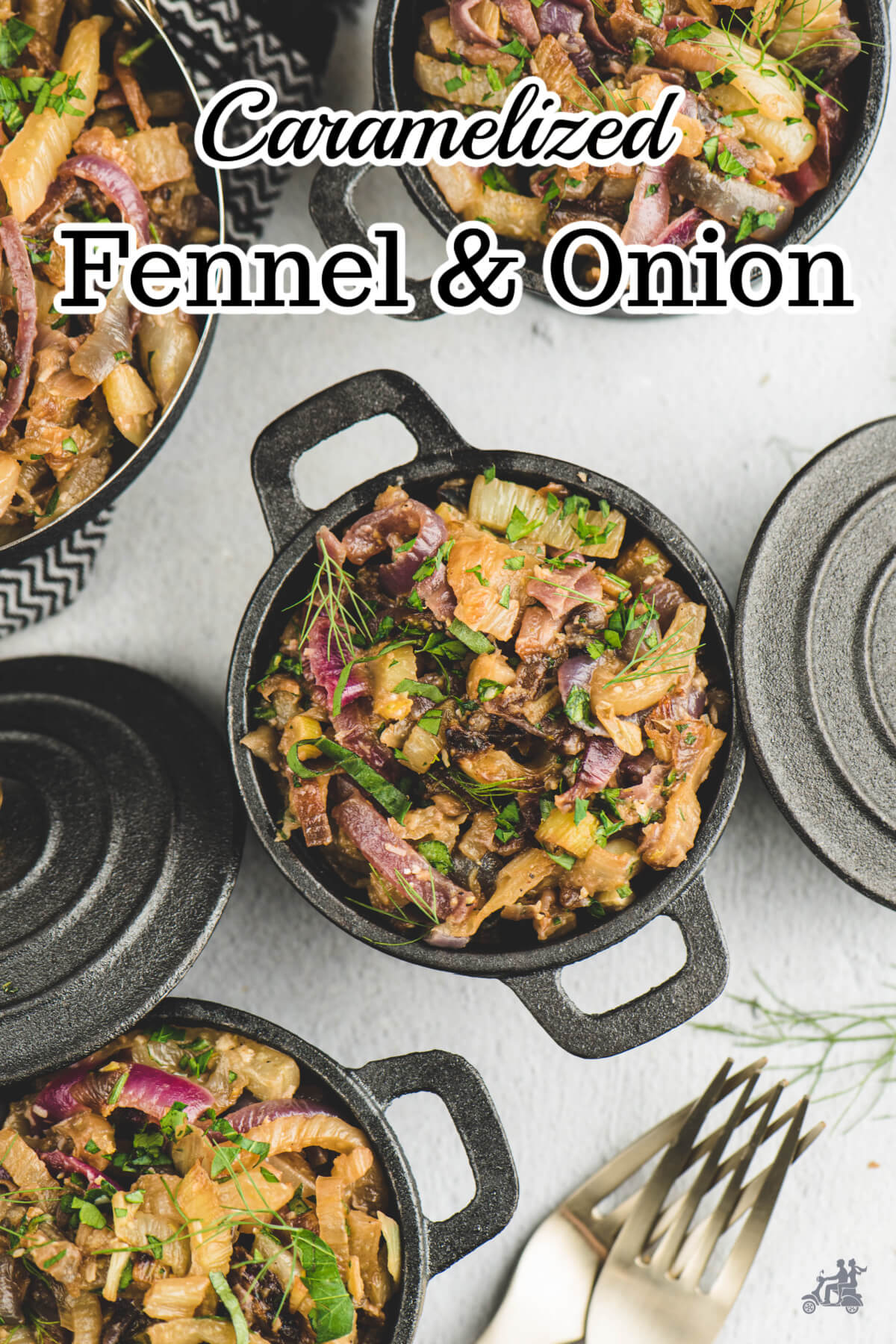 What's new? Check out my All Our Way Store on Amazon. We'll be adding more items we love and use or wish we had to make cooking fun and easy.
📝 Recipe Card
If you're looking for a vegetable side dish that will stand out and transform an ordinary main course into something special then caramelized fennel and onions is a must-try!
The sweet licorice-flavored fennel pairs beautifully with the red onion - ideal as a side to roast or grilled meats, as a topping or garnish, or to be added to cream cheese to make an irresistible dip!
If you like fennel, be sure to try Orange Fennel Salad.
We love our caramelized onion. If you're like us, then you have to try out Saucy Tortellini With Caramelized Onion and Spinach. It's a fantastic one-skillet dinner.
And if you want to serve a salad that has the flavors of Southern Italy, try our Antipasto Mediterranean Chickpea Salad.
If you love this recipe please give it 5 stars ⭐️⭐️⭐️⭐️⭐️.
📖 Recipe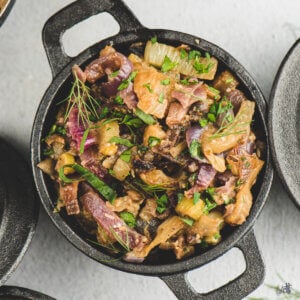 Caramelized Fennel and Onions – A Slow, Easy Mediterranean Side
Sliced Fennel and onions are sautéed first then slowly cooked until they are caramelized to a toasty brown, finished with Parmesan, lemon, and Italian parsley. A great side dish with a sweet flavor and licorice notes.
Print
Pin
Rate
As An Amazon Associate I earn from qualifying purchases.
Ingredients
1

large fennel bulb

slice fennel into ¼ inch slices.

1

large red onion

may also use white onion cut in ¼ inch thick slices (halved then sliced lengthwise from root to tip)

2

Tablespoons

olive oil

1

Tablespoon

butter

Kosher salt

2

Tablespoons

grated Parmesan

1

Tablespoon

chopped fresh Italian parsley

1

teaspoon

lemon zest

may use orange zest

2

teaspoons

fresh lemon juice

may use orange juice

black pepper

dash

Basil leaves rolled and sliced for top

optional
Instructions
Heat olive oil and butter in a large skillet uncovered over medium-high heat. Add the sliced fennel and onions and stir to coat.

Stir occasionally, after 10 minutes sprinkle the vegetables with about a teaspoon salt.

Lower the temperature to medium. You want the pan hot enough to get the caramelization going but not so much that the fennel and onions dry out. If that does happen, add a tablespoon or two of water.

Stir occasionally, scraping up any bits that are on the bottom. The brown bits are the ones with the most flavor.

Cook for another 30 minutes or up to an hour, depending on how impatient you are.

The longer it cooks the more caramelized the onions and fennel become. Taste test along the way. The dish will have a lot of flavor and doesn't have to be cooked down all the way.

When ready to serve, remove the pan from the heat, add in the grated Parmesan cheese, the chopped parsley, lemon zest, and lemon juice, and black pepper.

Sprinkle with slivered basil leaves, if desired. Or serve with the fennel fronds.

Pan roasted fennel is excellent served with Italian sausages, pork chops, roast chicken, seafood, or on crostini. I can't think of anything that I wouldn't serve with it.
Notes
Inspired by Yotam Ottolenghi's Caramelized Fennel with Goat's Curd and Simply Recipe's Caramelized Fennel and Onions
Nutrition
Calories:
256
kcal
|
Carbohydrates:
14
g
|
Protein:
4
g
|
Fat:
21
g
|
Saturated Fat:
6
g
|
Cholesterol:
19
mg
|
Sodium:
190
mg
|
Potassium:
564
mg
|
Fiber:
4
g
|
Sugar:
2
g
|
Vitamin A:
545
IU
|
Vitamin C:
24
mg
|
Calcium:
125
mg
|
Iron:
1.1
mg
Sign up for the emails and never miss another recipe!!
We'll never share your email or send you spam. Promise