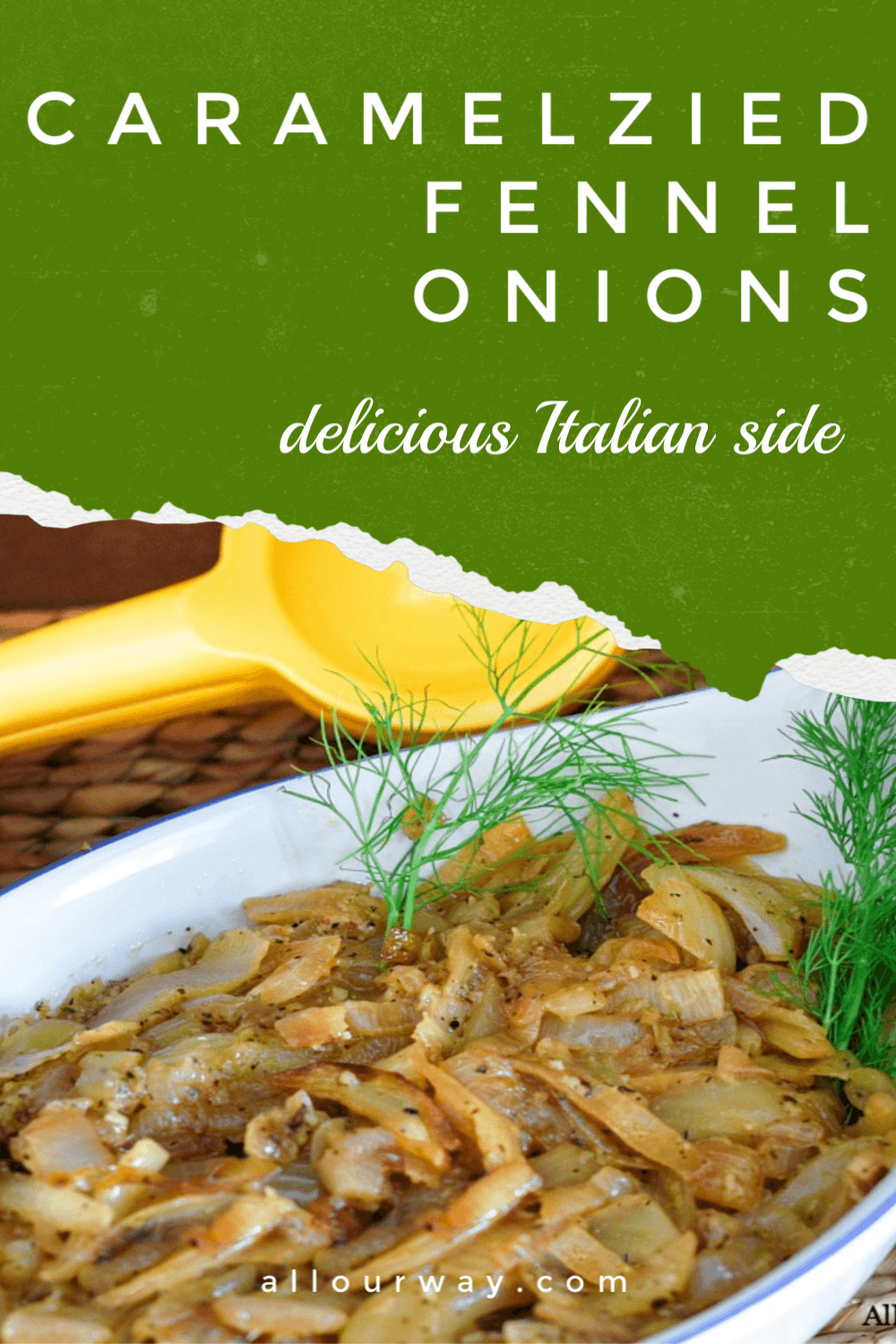 Did you know you could caramelize a fennel bulb with onions and have it turn out to be one of the most amazing dishes you've ever tasted? I didn't know cooking anise flavor fennel slowly with onions would magically transform the white bulb from ordinary to extraordinary. This will soon become one of your favorite fennel recipes.
Next time try Orange Fennel Salad.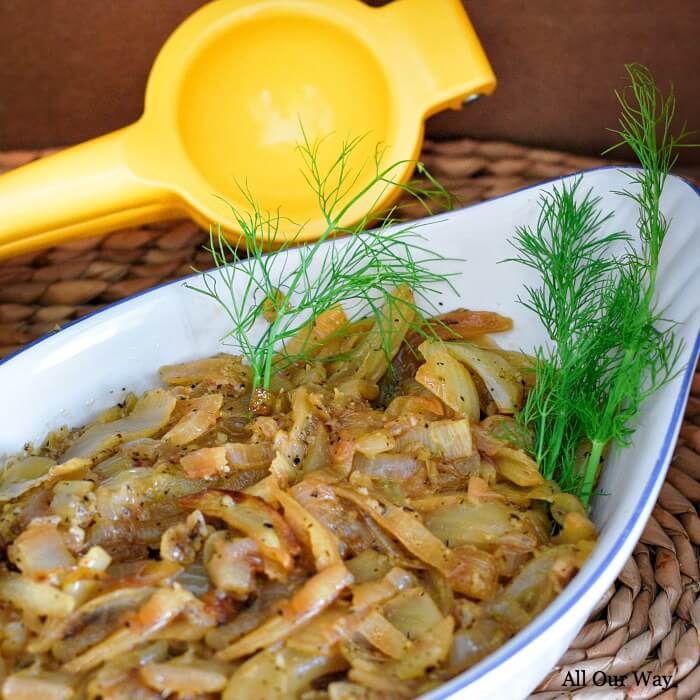 An unexpected find
We were at the farmers market going up and down the aisles when I spotted an overflowing bin of fresh fennel bulbs.
I turned to Honey and said, "Look at those bulbs, can you imagine how one of those delicious crunchy bulbs would taste in our orange salad? Let's buy one!"
"You sure, Babe? Look at this cart; it's loaded with vegetables and fruit. Will you be able to use it before it spoils?"
"Absolutely!" My mind kept churning out potential recipes. "Instead, I might use it in a quinoa salad." I'm so excited, fresh vegetables and fruit do that to me. 🙂
How you select fennel bulbs:
As all fennel lovers know, this member of the carrot family comes from the shores of the Mediterranean.
If you wondered what fennel tastes like, it has black licorice flavor. It's delicious as roasted fennel with a touch of olive oil and a sprinkle of bread crumbs. And it's sweet licorice flavor makes it perfect for fennel salad recipe.
Picking the perfect bulb:
bulbs are clean, firm, solid, without signs of splitting, bruising or brown spots.
bulbs are whitish or pale green in color.
stalks are fairly straight and close around the bulbs.
both the stalks and leaves are green in color.
there are no signs of flowering buds, flowering means they're past maturity.
they have a fragrant aroma, smelling subtly of licorice or anise.
How to store fennel
As soon as we get back to the house, I put the bulb we selected into the refrigerator crisper. It will stay fresh for about four days.
The factors that affect the fennel's freshness and nutrient composition:
air.
light.
heat.
the length of time in storage.
My prize is in the fridge and I can't wait to use it.
Six days later - Fennel is still good!
It's mid-afternoon and we're planning our dinner. Honey is getting the chicken thighs ready for the grill when he asks, "Whatever happened to the fennel?"
"Uhhhhhh . . . I'm making it tonight." I hurry to the fridge and dig the fennel out of the vegetable drawer. It doesn't look quite as "fresh" as it did six days ago. The feathery leaves look a bit sad. Nevertheless, I'm determined to prepare the vegetable.
I stare at the bulb for a minute, hoping it'll tell me what it wants to become. Normally I roast raw fennel with meat or use it in salads. How do you make it?
I remember seeing a recipe once in one of my cookbooks for cooked fennel but I don't remember which one. Hopefully, Mr. Google can point me in the right direction.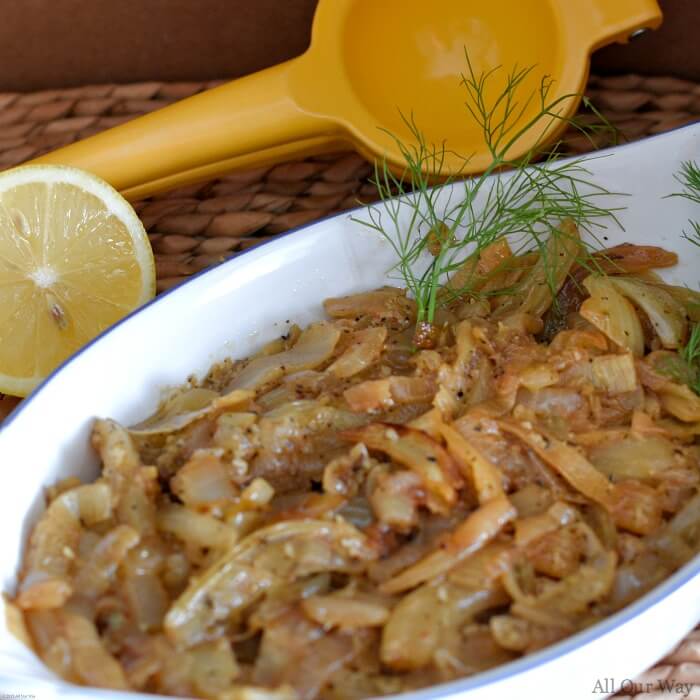 And there it was! A recipe by Yotam Ottolenghi, it's in a cookbook I have, Plenty.
Caramelize fennel and onion -- slow and easy
The original recipe has a few ingredients I don't have, but I'm going to use his recipe as a springboard.
Do you do that with original recipes? I use onions, Parmesan cheese, fresh lemon and Italian parsley along with the bulb.
Now, all it takes is a little bit of time to get that wonderful caramelization of the veggies. Believe me, the time it takes to make this dish is well worth the minutes.
Let us know how you like it.
Tutti a tavola è pronto!
Un caro saluto e alla prossima.
YOU MAY NEED...
This is the gratin dish that we're crazy about! It not only looks pretty but it is fantastic for baking and then serving. Once you start using it you wonder what you did without it!
Thank you for being part of All Our Way!
Mediterranean Caramelized Fennel And Onions Recipe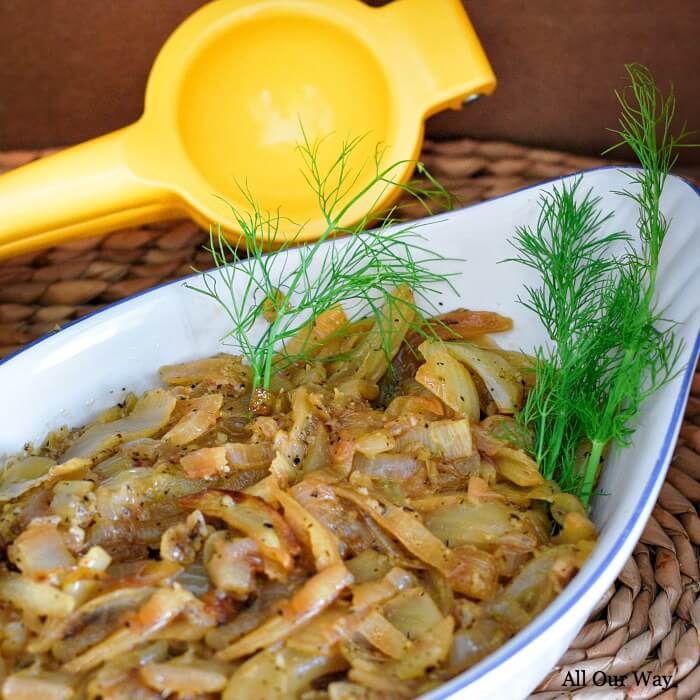 Caramelized Fennel and Onions – A Slow, Easy Mediterranean Side
Sliced Fennel and onions are sautéed first then slowly cooked until they are caramelized to a toasty brown, finished with Parmesan, lemon, and Italian parsley. A great side dish with a sweet flavor and licorice notes.
Print
Pin
Rate
As An Amazon Associate I earn from qualifying purchases.
Ingredients
1

large fennel bulb

slice fennel into ¼ inch slices.

1

large red onion

may also use white onion cut in ¼ inch thick slices (halved then sliced lengthwise from root to tip)

2

Tablespoons

olive oil

1

Tablespoon

butter

Kosher salt

2

Tablespoons

grated Parmesan

1

Tablespoon

chopped fresh Italian parsley

1

teaspoon

lemon zest

may use orange zest

2

teaspoons

fresh lemon juice

may use orange juice

black pepper

dash

Basil leaves rolled and sliced for top

optional
Instructions
Heat olive oil and butter in a large skillet uncovered over medium-high heat. Add the sliced fennel and onions and stir to coat.

Stir occasionally, after 10 minutes sprinkle the vegetables with about a teaspoon salt.

Lower the temperature to medium. You want the pan hot enough to get the caramelization going but not so much that the fennel and onions dry out. If that does happen, add a tablespoon or two of water.

Stir occasionally, scraping up any bits that are on the bottom. The brown bits are the ones with the most flavor.

Cook for another 30 minutes or up to an hour, depending on how impatient you are.

The longer it cooks the more caramelized the onions and fennel become. Taste test along the way. The dish will have a lot of flavor and doesn't have to be cooked down all the way.

When ready to serve, remove the pan from the heat, add in the grated Parmesan cheese, the chopped parsley, lemon zest, and lemon juice, and black pepper.

Sprinkle with slivered basil leaves, if desired. Or serve with the fennel fronds.

Pan roasted fennel is excellent served with Italian sausages, pork chops, roast chicken, seafood, or on crostini. I can't think of anything that I wouldn't serve with it.
Notes
Inspired by Yotam Ottolenghi's Caramelized Fennel with Goat's Curd and Simply Recipe's Caramelized Fennel and Onions
Nutrition
Calories:
256
kcal
|
Carbohydrates:
14
g
|
Protein:
4
g
|
Fat:
21
g
|
Saturated Fat:
6
g
|
Cholesterol:
19
mg
|
Sodium:
190
mg
|
Potassium:
564
mg
|
Fiber:
4
g
|
Sugar:
2
g
|
Vitamin A:
545
IU
|
Vitamin C:
24
mg
|
Calcium:
125
mg
|
Iron:
1.1
mg
Sign up for the emails and never miss another recipe!!
We'll never share your email or send you spam. Promise
First Published: March 06,2017... Last Updated: July 01, 2020
Note: Recipe and content from © 2014-2020 All Our Way are copyright protected. Please do not use content or recipe without prior written permission. If you want to share the information, please link to this post. Grazie!
SaveSave