A Touch of Summer Stuffed Tomatoes brings the ripe healthy fruits and flavors of the season to your vegetable side. These little stuffed beauties are easy to make and ideal for making ahead of time -- especially when you're expecting guests for dinner.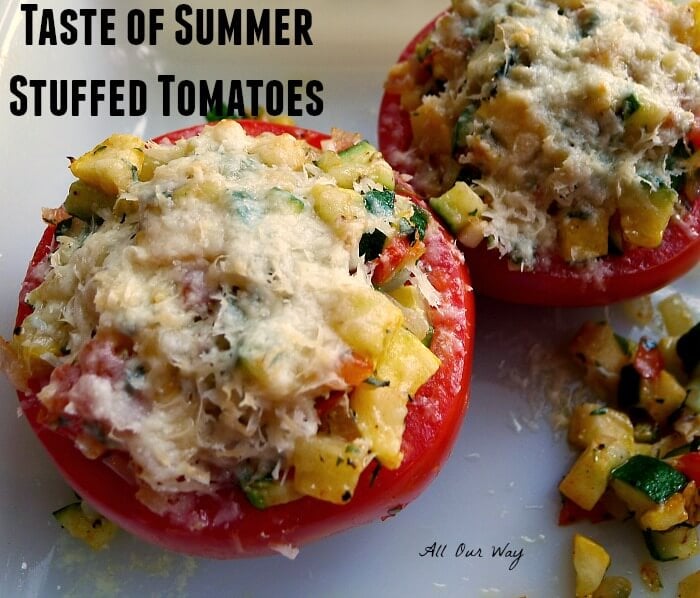 Jump to:
Discovering the recipe
In fact, the first time I made these stuffed tomatoes we were expecting guests, my dear mother and father-in-law, Helen and Hank.
It was a hot Saturday in August. Our garden was filled with ripe vegetables, green beans, tomatoes, zucchini, yellow squash, green peppers, hot peppers, and potatoes. I needed to get out there and get some gardening done even though we were expecting guests.
Originally, for part of the meal, I had planned to cook green beans with ham hocks and potatoes -- one of Helen and Hank's favorite recipes. My Honey was in charge of the meat, he was going to grill their favorite -- Lemon-Butter Basted Chicken.
Sometimes the best plans go awry
Time got away from me.
The green beans needed to cook for several hours. Yes, I know that's a long time. The beans do end up looking grey-green and having a very limp structure, but they along with the potatoes act like a sponge absorbing the salty smokey flavor from the pork hocks.
The fat from the hocks paints a shiny coat on the beans -- that was the way they liked them -- very German. But unfortunately, it was too late to start on the beans.
So, it was plan "B" -- Taste of Summer Stuffed Tomatoes.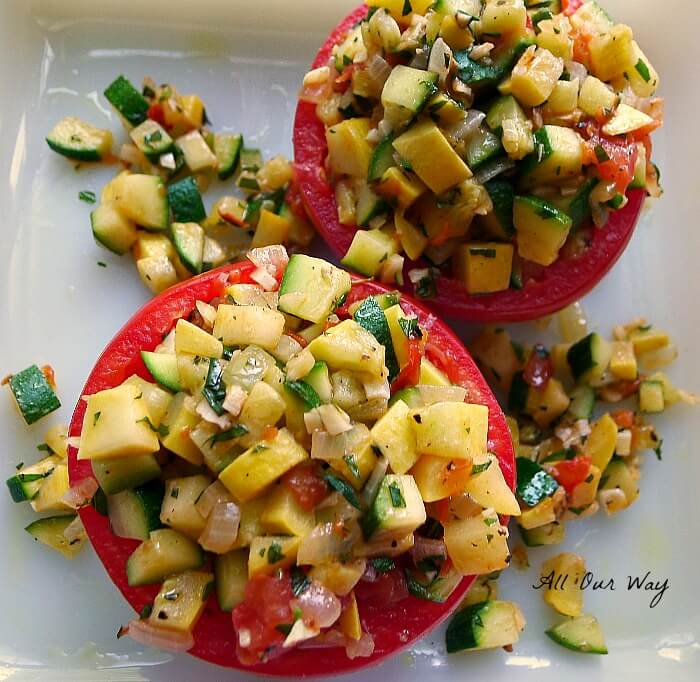 An easy stuffed tomato recipe
The inspiration for the recipe came from an early Emeril TV episode. By early, I mean quite a few years ago, the early days when the Food Network actually had a lot of exciting cooking shows.
I'd been wanting to make stuffed tomatoes and Emeril's recipe looked quite easy with no last minute fussy preparations.
Easy and not fussy was just what I needed.
Who doesn't like to make an easy dinner and be able to make ahead as much as possible?
We know we do!
Fretting over last minute details means you can't relax and enjoy your guests.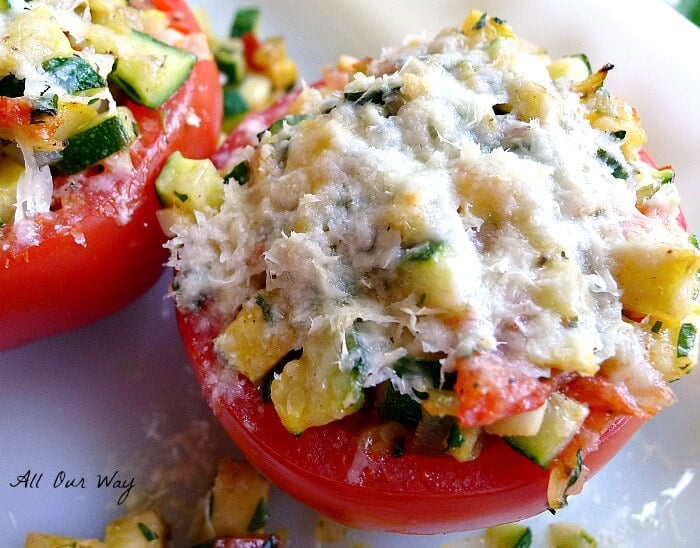 Making the pomodori ripieni (stuffed tomatoes)
Basically, all you do for this recipe is hollow out the tomatoes, lightly salt the inside and then turn them upside down over paper towels to remove some of the moisture.
The squash is diced, the onions chopped, and the garlic is minced. You flavor the filling with salt, pepper, basil, and thyme.
Freshly grated Parmesan cheese finished the stuffed tomatoes. About ten minutes before you're ready to eat you pop the tomatoes in the upper portion of your heated oven.
Serving suggestion
This time along with our stuffed tomatoes we enjoyed BBQ Baby Back Ribs and Brown Rice.
A very delicious and satisfying meal!
Tutti a tavola è pronto!
Un caro saluto e alla prossima!
📖 Recipe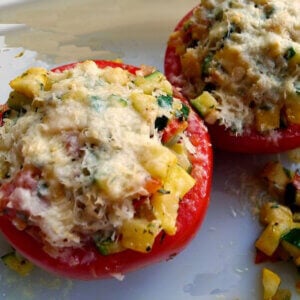 Taste of Summer Stuffed Tomatoes
Ripe tomatoes stuffed with diced zucchini, yellow squash, garlic, chopped onions, basil, thyme and topped with fresh grated Parmesan cheese
Print
Pin
Rate
As An Amazon Associate I earn from qualifying purchases.
Ingredients
2

large tomatoes

1

Tablespoon

olive oil

¼

cup

chopped onions

2

teaspoons

minced garlic

1

small zucchini

diced

1

small yellow squash

diced

3

teaspoons

chopped basil -- 1 of the teaspoons will be for sprinkling on top.

½

teaspoon

chopped thyme

Salt and freshly ground black pepper

4

tablespoons

freshly grated Parmesan cheese
Instructions
Preheat the oven to 450 F.

Cut the top ½-inch off tomatoes and reserve. Remove seeds, juice and pulp from tomatoes, leaving ½-inch thick shells. Finely chop tomato tops. Lightly salt the insides of the tomatoes. Let the tomatoes rest, cut sides down, on a plate lines with paper towels until ready to assemble and bake.

In a skillet, heat the oil over medium heat. Add onions and cook, stirring, until softened, about 5 minutes. Add the garlic and cook, stirring, until fragrant, 30 seconds. Add the chopped tomato tops, zucchini and squash. Saute until the vegetables just soften and most of the juice has evaporated, about 4 minutes. Stir in 2 teaspoons basil and the thyme. Season, to taste, with salt and freshy ground black pepper. Remove from the heat and let cool slightly. **

Place the tomato shells in an oiled baking dish. Put 1 tablespoon of Parmesan cheese in the bottom of each tomato. Spoon the vegetable mixture into the tomatoes, allowing any extra to spill over into the pan. Sprinkle the top of each tomato with 1 tablespoon of cheese. Bake on the upper rack fo the oven until heated through, the tomatoes are tender, and the cheese begins to turn golden brown, about 8- 10 minutes.

Remove from the oven and garnish each with ½ teaspoon of the remaining basil. Serve hot.
Notes
** You can pause here and when ready to bake stuff the tomatoes with the filling then bake in the preheated oven.
This recipe is easily doubled, tripled or made into however many tomatoes you need and want.
You can also use grated mozzarella cheese instead of the Parmesan. We've done it both ways.
Inspired by an Emeril TV episode.
Nutrition
Serving:
2
g
|
Calories:
176
kcal
|
Carbohydrates:
14
g
|
Protein:
9
g
|
Fat:
10
g
|
Saturated Fat:
2
g
|
Cholesterol:
8
mg
|
Sodium:
165
mg
|
Potassium:
1027
mg
|
Fiber:
3
g
|
Sugar:
6
g
|
Vitamin A:
1785
IU
|
Vitamin C:
70.1
mg
|
Calcium:
164
mg
|
Iron:
1.4
mg
Sign up for the emails and never miss another recipe!!
We'll never share your email or send you spam. Promise
Note: Recipes and content from All Our Way © 2015 are copyright protected. Please do not use content or recipe without prior written permission. If you want to share the information, please link to the post. Grazie.
SaveSave