This Pasta Primavera recipe is everything you think a spring dish should be, beautifully bright green with loads of fresh delicious veggies. The greens in this penne pasta dish are asparagus, spinach, leeks, and mint. The intense flavors seem to pop in your mouth. This is an easy recipe that you can whip up in no time.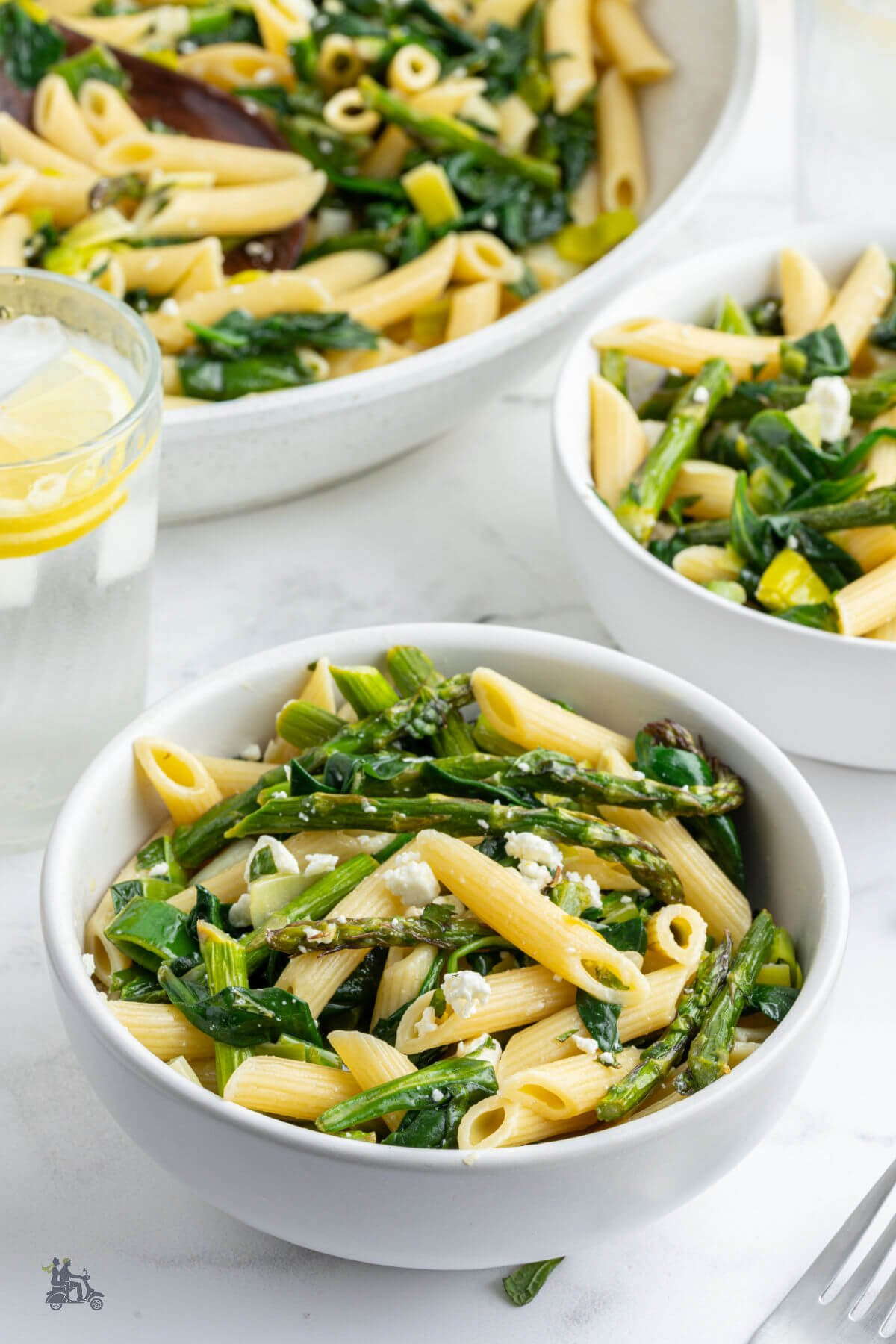 Jump to:
❤️ Why I love this recipe
Pasta Primavera is loaded with fresh vegetables, is meatless, and offers a nutritious choice for anyone watching their calorie intake.
The pasta dish can be made with various vegetables, making it a great dish for using up whatever you have on hand. You can also add protein such as chicken, shrimp, or tofu to make it a more filling meal.
This pasta primavera recipe is a simple dish to prepare, requiring only a few basic ingredients and minimal cooking time - great for busy weeknights.
Fresh vegetables, tender penne pasta, and a light and refreshing lemon mint vinaigrette are the perfect combination for bringing spring and summer back into the kitchen!
🛒 Ingredients
As an Amazon Associate I earn from qualifying purchases.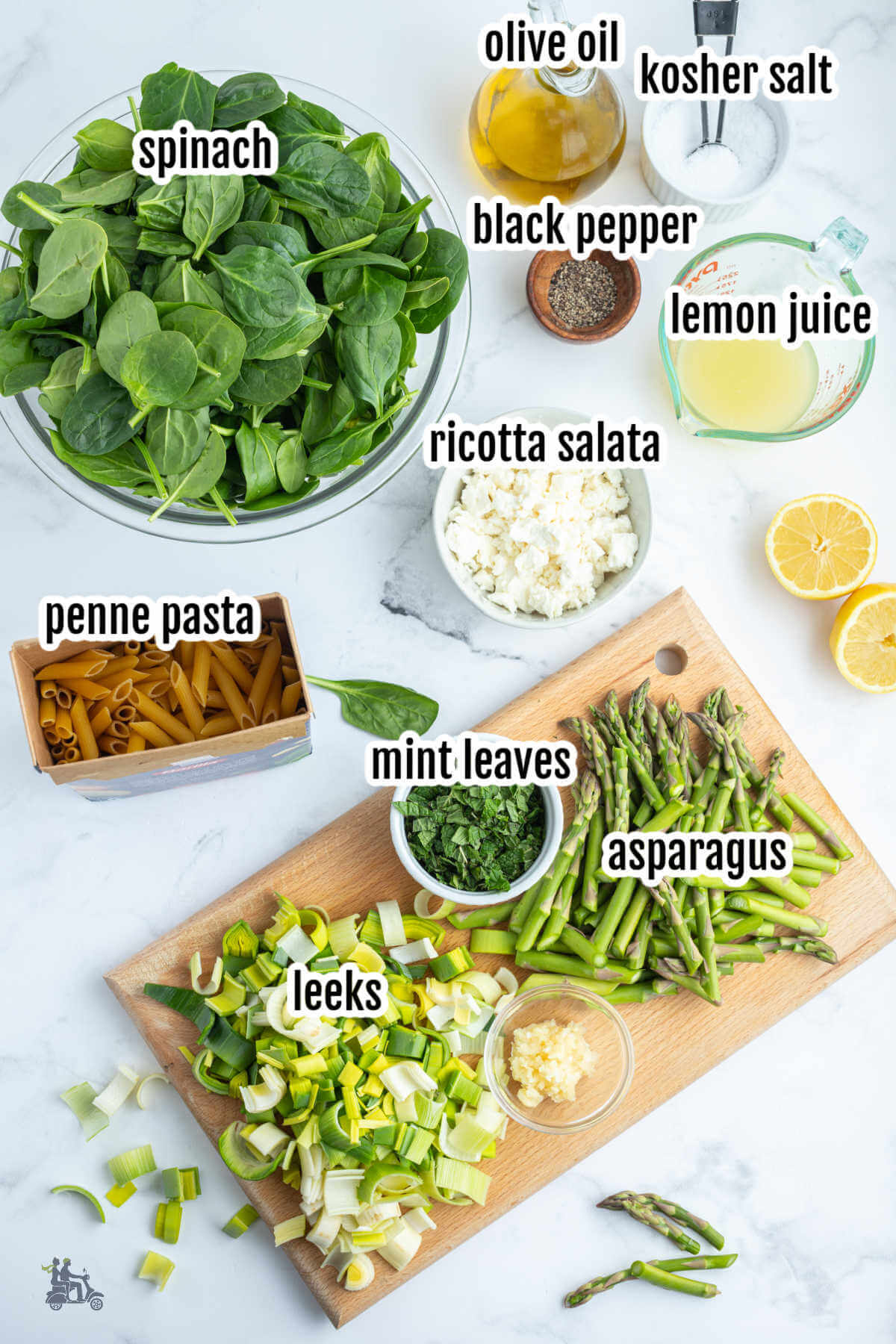 Note: The full list of this recipe ingredients with their amounts and options are listed in the recipe card below.
penne pasta -- use any short pasta you like, even whole wheat if that's what you prefer.
asparagus -- washed and trimmed
extra-virgin olive oil
kosher salt
freshly ground black pepper
sliced leeks -- gives a mild onion flavor.
fresh garlic
baby spinach
fresh lemon juice
fresh mint leaves -- fresh mint in the sauce gives a slightly sweet bite.
ricotta salata -- if you can't find this Italian cheese try feta instead. Feta is a bit tangier and saltier but it has the same texture.
🗒 Instructions
Note: This is an overview of the instructions. The full instructions are in the Primavera pasta recipe card below.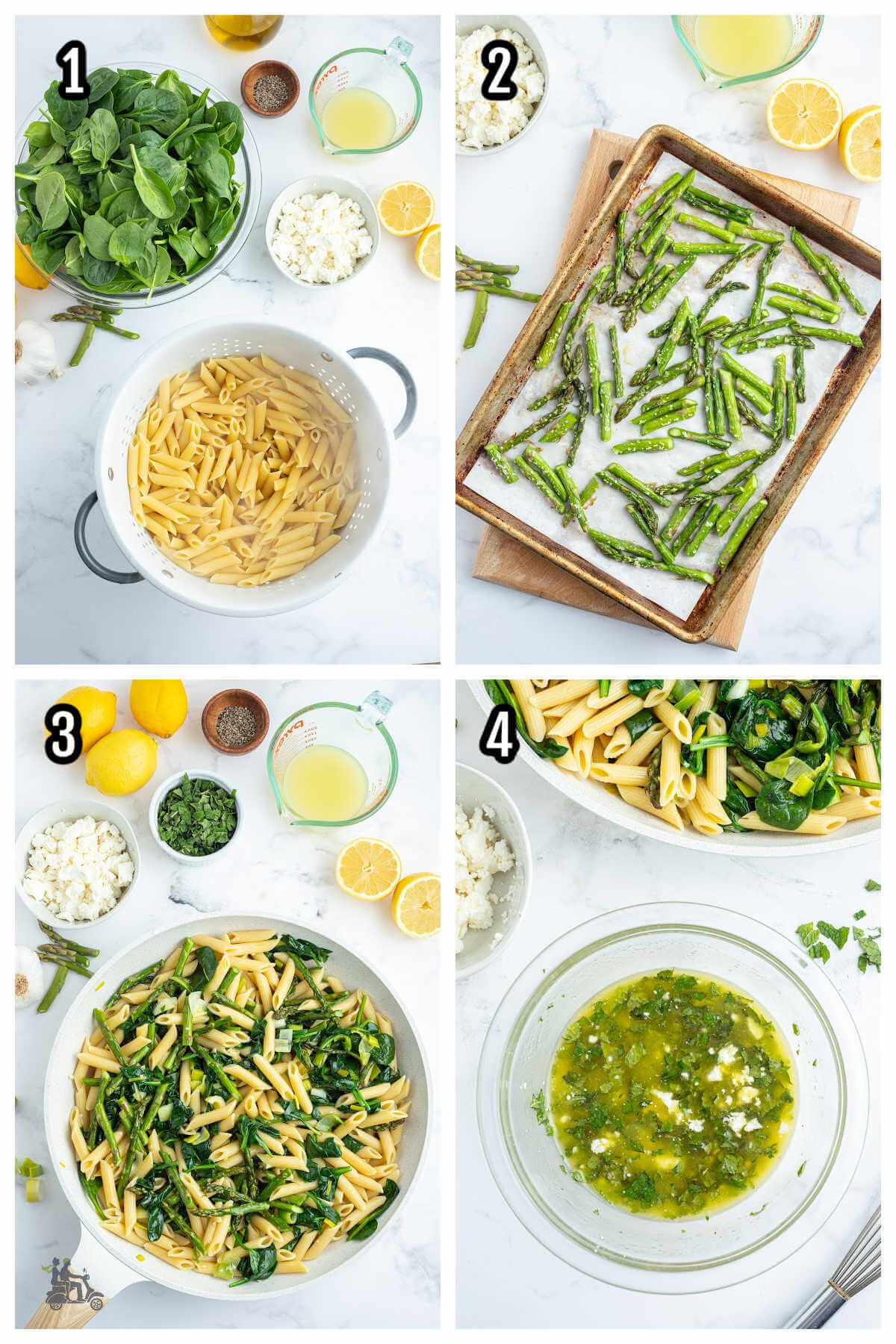 Cook and drain the pasta.
Toss the asparagus with oil and salt, and then season with pepper. Transfer the asparagus to a prepared baking sheet and roast for about 10 minutes.
Sweat the leeks and garlic in oil in a pan over medium-low heat until softened. Stir in the spinach until slightly wilted. Add the pasta and set aside.
Make the vinaigrette by whisking oil, lemon juice, mint, and salt. Add the ricotta and stir to combine, and season with pepper.
Toss the vinaigrette with the pasta mixture to coat and serve!
🔪 Equipment
The following are affiliate links. We are a participant in the Amazon Services LLC Associates Program, an affiliate advertising program designed to provide a means for us to earn fees by linking to Amazon.com and affiliated sites.
You'll need the following items to make this recipe successfully.
pasta pot -- We love our easy to use pasta pot. For years we'd try to drain the pasta over a colander and finally our kids got us a pasta pot as a gift. I can't tell you how much easier it is to just drain the pasta over the water and then add it to the pan or bowl that we're using. Plus! You can use the pot for many other things.
liquid measuring cup
large glass mixing bowl
sharp knife
cutting board
rimmed baking sheet
parchment paper or aluminum foil
large sauté pan
measuring spoons
🤔 FAQs
These are the questions we are most frequently asked about making Pasta Primavera Recipe.
What is Primavera sauce made of?
Primavera sauce is typically made with various fresh vegetables, herbs, and a light broth or white wine. While the specific ingredients can vary depending on the recipe, I've made a vinaigrette consisting of lemon juice, mint, oil, ricotta, and seasoning.
What does Primavera mean in cooking?
In cooking, the term "primavera" comes from the Italian word for "spring." When used to describe a dish, such as "pasta primavera," it typically indicates that the dish features a variety of fresh, seasonal vegetables that are often associated with springtime.
What is the difference between marinara and primavera sauce?
Marinara sauce is a classic tomato-based sauce, while primavera sauce is a vegetable-based sauce with a lighter, fresher taste.
Where did pasta primavera originate?
Primavera sauce is believed to have originated in the United States in the 1970s, specifically at Le Cirque restaurant in New York City. It was created by Sirio Maccioni, the restaurant's owner, as a way to showcase the fresh produce of springtime.
👩🏻‍🍳 Tips
Save yourself time and make the vinaigrette the night or the day before so that you only need to add it to the pasta mixture just before serving this dish.
Since the sauce is all about showcasing the fresh produce of springtime, use the freshest vegetables you can find.
Cook the vegetables until they are tender but still slightly crisp. This will help them retain their texture and flavor in the dish.
Don't overcook the pasta. Cook it until it is al dente or just tender but still slightly firm to the bite.
When making primavera pasta, use a large pan so you have plenty of room to toss everything together. This will help ensure the vegetables and pasta are evenly coated with the vinaigrette.
Taste the pasta mixture with the vinaigrette before serving and adjust the seasoning as needed. You may need to add more salt, pepper, or lemon juice to balance the flavors.
Leeks can accumulate sand and dirt between their layers. An effective way of cleaning them involves cutting them in half lengthwise and rinsing them thoroughly under cold running water before slicing them.
📚 Variations
You can use any combination of vegetables you like, but some common ones include bell peppers, zucchini, tomatoes, and broccoli. Bell peppers, mushrooms, green beans, peas, and carrots are also great options.
Add meat to your pasta primavera to make it more filling and satisfying. Grilled chicken, shrimp, or scallops are popular choices.
While I've penne pasta in this recipe, spaghetti or linguine are other common choices for pasta primavera. Fusilli or farfalle would also work well.
Change the vinaigrette to a more traditional primavera sauce with cream and melted parmesan cheese, or you could also try a tomato-based sauce or a pesto sauce for a different twist.
Add other fresh herbs to the vinaigrette, like basil, parsley, or cilantro.
Experiment with different seasonings like lemon zest or red pepper flakes to add more depth and complexity to the dish.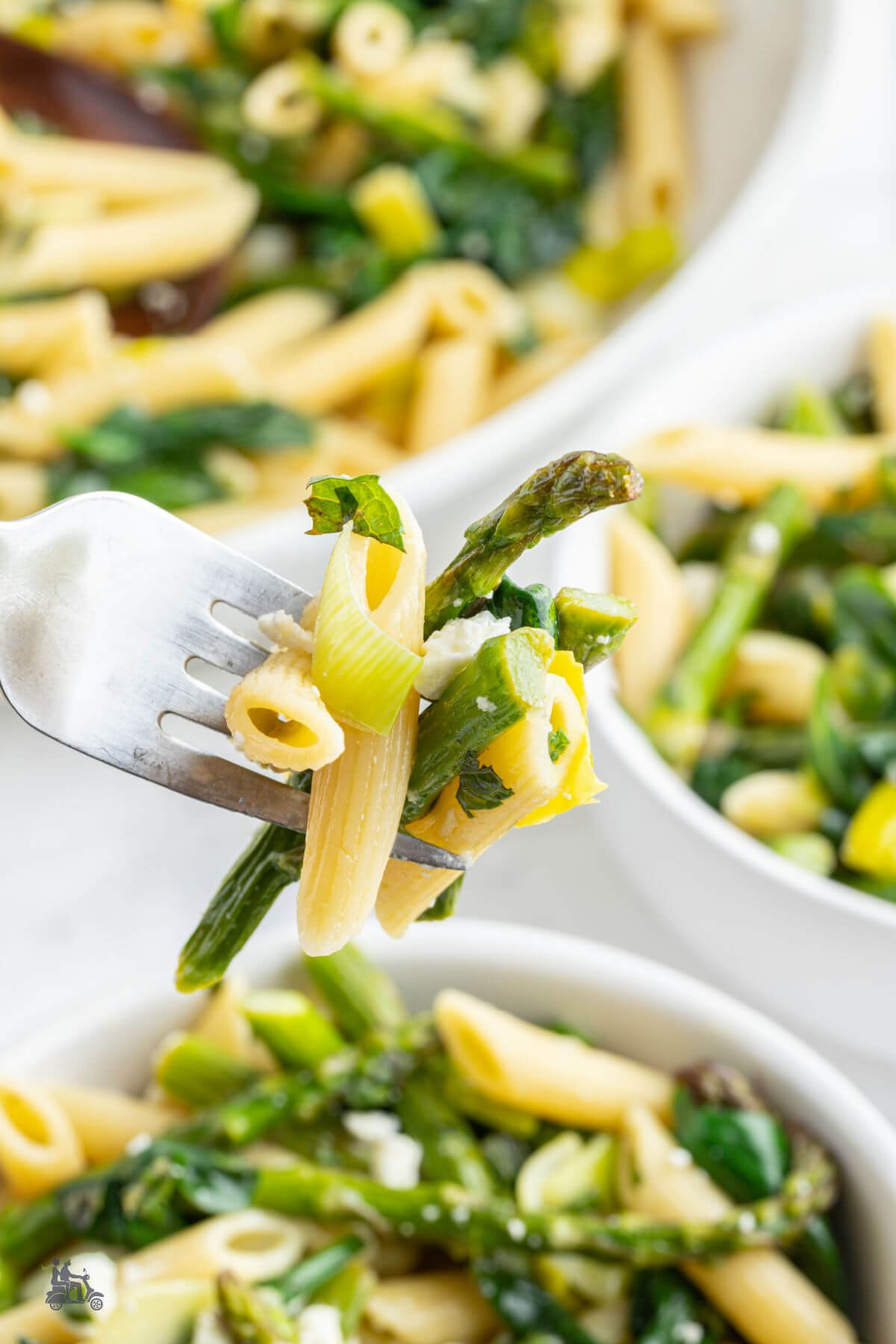 🥫 Storage
Store this penne primavera in an airtight container in the fridge for 3-4 days. Reheat leftovers in the microwave or on the stovetop, adding a splash or extra vinaigrette or vegetable broth to the pasta mixture to help loosen it.
📗 Related Recipes
Creamy Broccoli Pasta - The Orecchiette Pasta with Broccoli Sauce is a quick and delicious one-pan meal that is meatless and satisfying.
Pasta With Chickpeas And Spinach - Another nutritious and delicious meatless pasta dish combining chickpeas, baby spinach, and ditalini pasta.
Lemon Spinach Orzo Pasta - This risotto-like dish is super creamy with spinach and seasonings, making it a great side for any meal!
🍽 Serve with
Enjoy this pasta primavera alongside garlic bread or with this Parmesan Broiled Flounder. A glass of your favorite white wine is also a must with this penne primavera!
📞 Chiacchierata (chat)
Spring and summer are my favorite seasons to showcase fresh vegetables with light and refreshing flavor combinations, which is why this pasta primavera recipe is perfect to add to your midweek menu or family gatherings as the cold winter starts to fade!
It's a meatless recipe which means that you could enjoy it as a side dish if you wanted, and the lemon-mint vinaigrette with ricotta salata cheese is a refreshing alternative to the classic creamy primavera sauce. The sauce whips into a very light lemony vinaigrette that does not weigh down the pasta and veggies.
If you'd like to try a variation of this delicious springtime themed recipe, try our Shrimp Pasta Primavera for a delightful fresh pasta vegetable flavor.
Tutti a tavolo, è pronto!
What's new? Check out my All Our Way Store on Amazon. We'll be adding more items we love and use or wish we had to make cooking fun and easy.
📝 Recipe Card
Pasta Primavera is a refreshing dish that's loaded with fresh asparagus, leeks, and spinach, tossed in al dente penne pasta, and coated with a light lemon and mint vinaigrette with ricotta cheese!
Next time you have to try our Farro and Peas or our version of the Italian Risi e Bisi. It makes a delicious side and farro is a nutritional powerhouse. Our entire family - adults and children - love this recipe. And if you love colored bell peppers and pasta mixed, you're going to enjoy eating our Peppery Couscous recipe with fresh vegetables.
If you love this recipe please give it 5 stars ⭐️⭐️⭐️⭐️⭐️.
📖 Recipe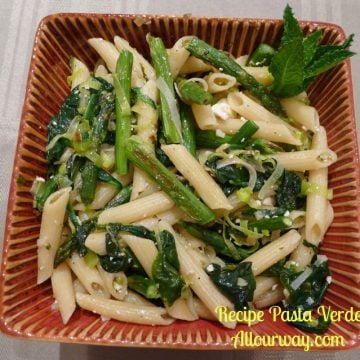 Bright And Fresh Pasta Primavera
A spring dish that is loaded with delicious greens. The asparagus is roasted for optimum flavor and the leeks and spinach is quickly sautéd. A little cheese for some additional flavor makes this pasta dish a fantastic welcome to spring.
Print
Pin
Rate
As An Amazon Associate I earn from qualifying purchases.
Ingredients
16

oz.

dry penne pasta

16

oz.

asparagus

washed and trimmed

4

tsp.

extra-virgin olive oil

divided

1

tsp.

kosher salt

Black pepper

2

cups

sliced leeks

2

Tbsp.

minced fresh garlic

10

oz.

fresh baby spinach

6

Tbsp.

extra-virgin olive oil

6

Tbsp.

fresh lemon juice

½

cup

packed fresh mint leaves

chopped

1

tsp.

kosher salt

2

oz.

crumbled ricotta Salata **

about ½ cup
Instructions
Preheat oven to 425 F.

For the pasta cook penne in boiling water per package direction; drain.

Toss asparagus with 2 tsp. oil and 1 tsp. salt, then season with pepper and transfer to a baking sheet lined with parchment paper or aluminum foil sprayed with vegetable spray. Roast asparagus until fork-tender, about 10 minutes.

Sweat leeks and garlic in 2 tsp. oil in a large sauté pan over medium-low heat until leeks begin to soften. Stir in spinach and cook to slightly wilt. Stir in penne. Set aside.

For the vinaigrette, whisk together 6 Tbsp. oil, lemon juice, mint, and 1 tsp. salt. Add ricotta Salata and stir just to combine, then season with pepper. Toss Vinaigrette with pasta mixture to coat. The vinaigrette can be prepared ahead of time so that you can immediately add it to the pasta mixture.
Notes
Sand and dirt often settle in the layers of leeks. The best way I've found to clean them is to half the leeks lengthwise and rinse the leeks under cold running water until they are clean, then I slice them.
** We used Ricotta Salata because it has a strong flavor and a bit more salt. Ricotta Salata is also in our Rotini With Fresh Lemon And Grape Tomatoes. This cheese seems to bring out the taste of the vegetables and the mint. You don't need much cheese, which saves on calories, just enough for the flavor.
Nutrition
Serving:
8
g
|
Calories:
770
kcal
|
Carbohydrates:
103
g
|
Protein:
22
g
|
Fat:
31
g
|
Saturated Fat:
5
g
|
Cholesterol:
7
mg
|
Sodium:
1044
mg
|
Potassium:
1056
mg
|
Fiber:
9
g
|
Sugar:
7
g
|
Vitamin A:
8545
IU
|
Vitamin C:
44.3
mg
|
Calcium:
204
mg
|
Iron:
7.3
mg
Sign up for the emails and never miss another recipe!!
We'll never share your email or send you spam. Promise