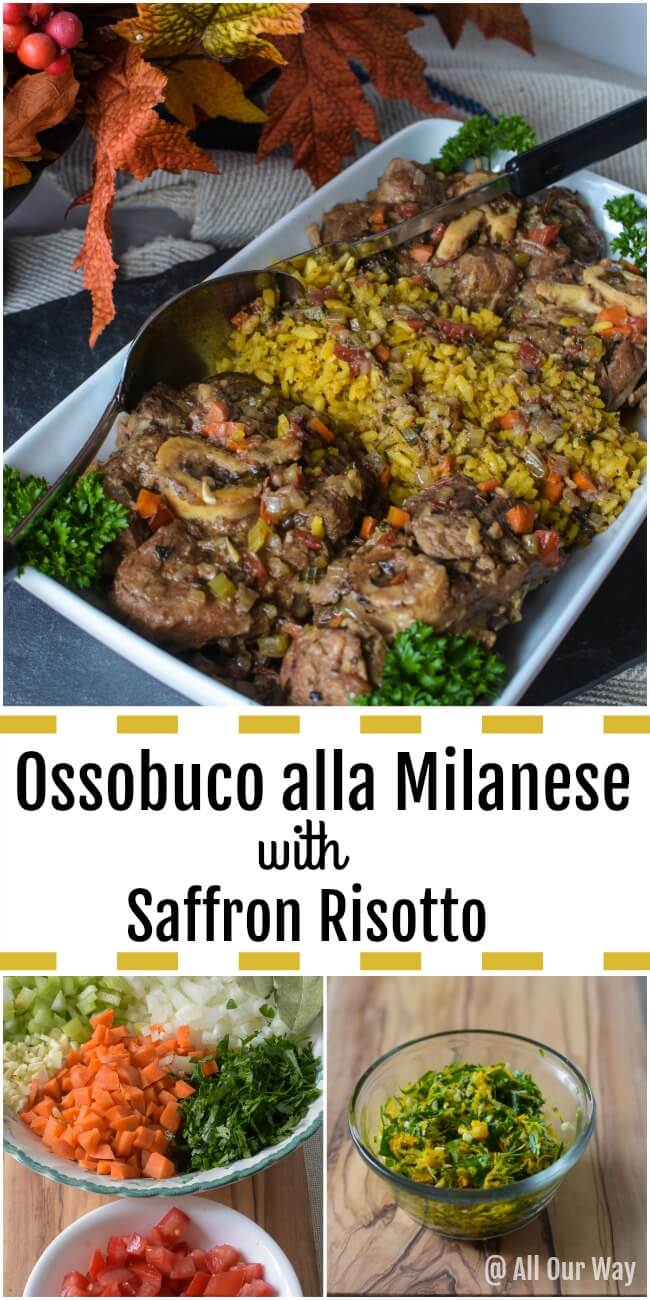 Ossobuco alla Milanese with Saffron Risotto is a Lombardy dish made with cross-cut veal shanks braised with vegetables, white wine, and broth. Gremolata, a combination of lemon zest, parsley, and garlic garnishes the braised meat. Traditionally the accompaniment to the dish is Risotto alla Milanese, a risotto made with saffron.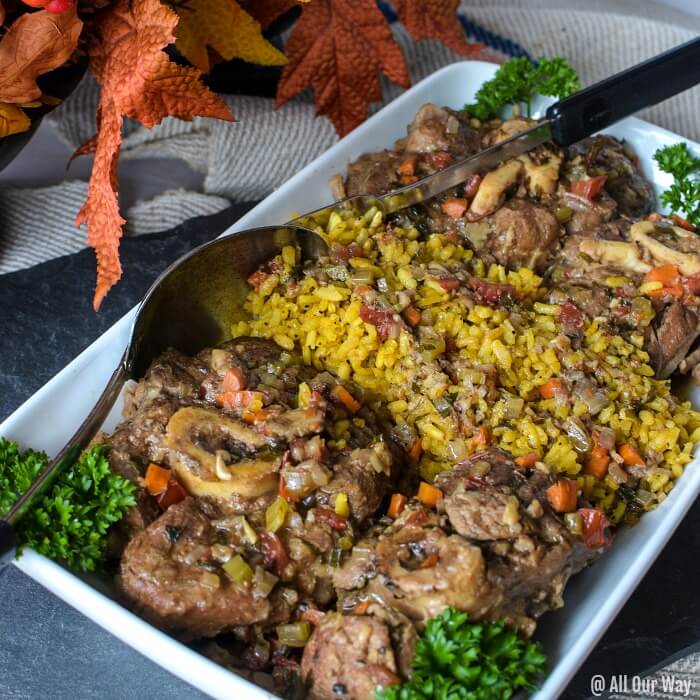 Jump to:
The Inspiration
An Italian sweepstake inspired our recipe. We wanted to make Ossobuco alla Milanese last year commemorating the win but we couldn't find meaty veal shanks. Then out of the blue, we discovered them in Florida at a Costco. Talk about traveling far and wide to find the right ingredients!
If you're wondering how a sweepstake connects to a braised meat dish it's because of the bicycle I won. That bike was the first handmade bike of its type. And before you start shaking your head in confusion, the prize came from outside of Milan.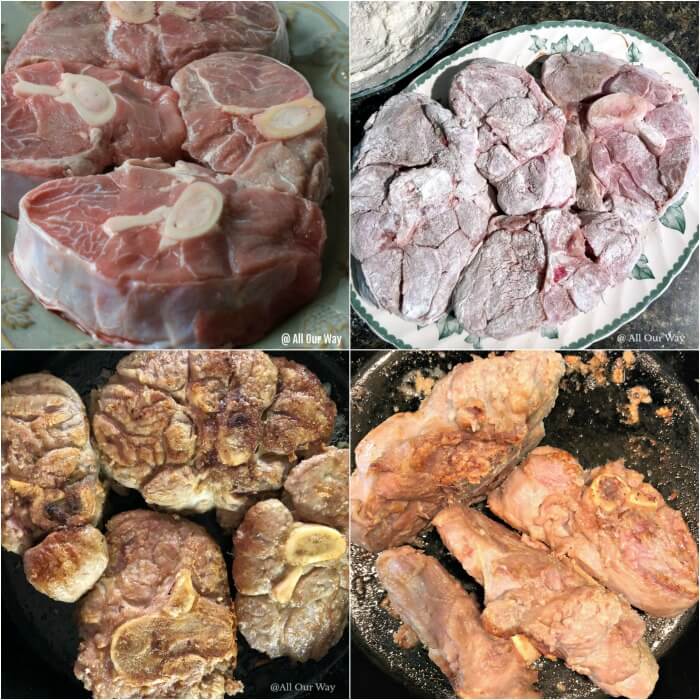 I wrote to Roberto, CEO of OMAST, a sponsor for the contest. I asked what's his favorite dish. He said Ossobuco alla Milanese. I promised that I'd make the traditional Italian dish, and here we are.
The Birthplace Of The Famous Dish
Milan, in the Lombardia region of Italy, claims to be the city that gave birth to ossobuco. The word ("oss bus" in Milanese dialect) means "bone with a hole", a reference to the marrow hole at the center of the veal shank.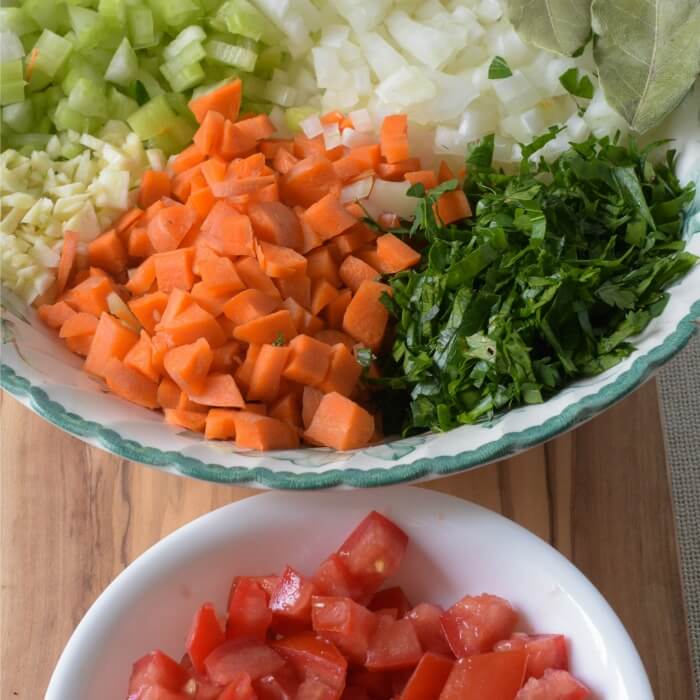 Originally, Italians made this dish in the winter time on charcoal or wood stoves. The veal shanks cooked for hours warming the household. Can you imagine the wonderful aroma that filled the house?
Ingredients
The lengthy braise time reminded me of our ragù. It appears the Italians are masters at slow-cooking meats. Our Maiale al Latte (Pork Roast Braised In Milk) is fork tender.
The best ossobuco comes from the meatier hind leg. The shanks should be no thicker than 1 ½ inches. Although the thick pieces look good, they need to cook longer and they could end up chewy instead of fork tender.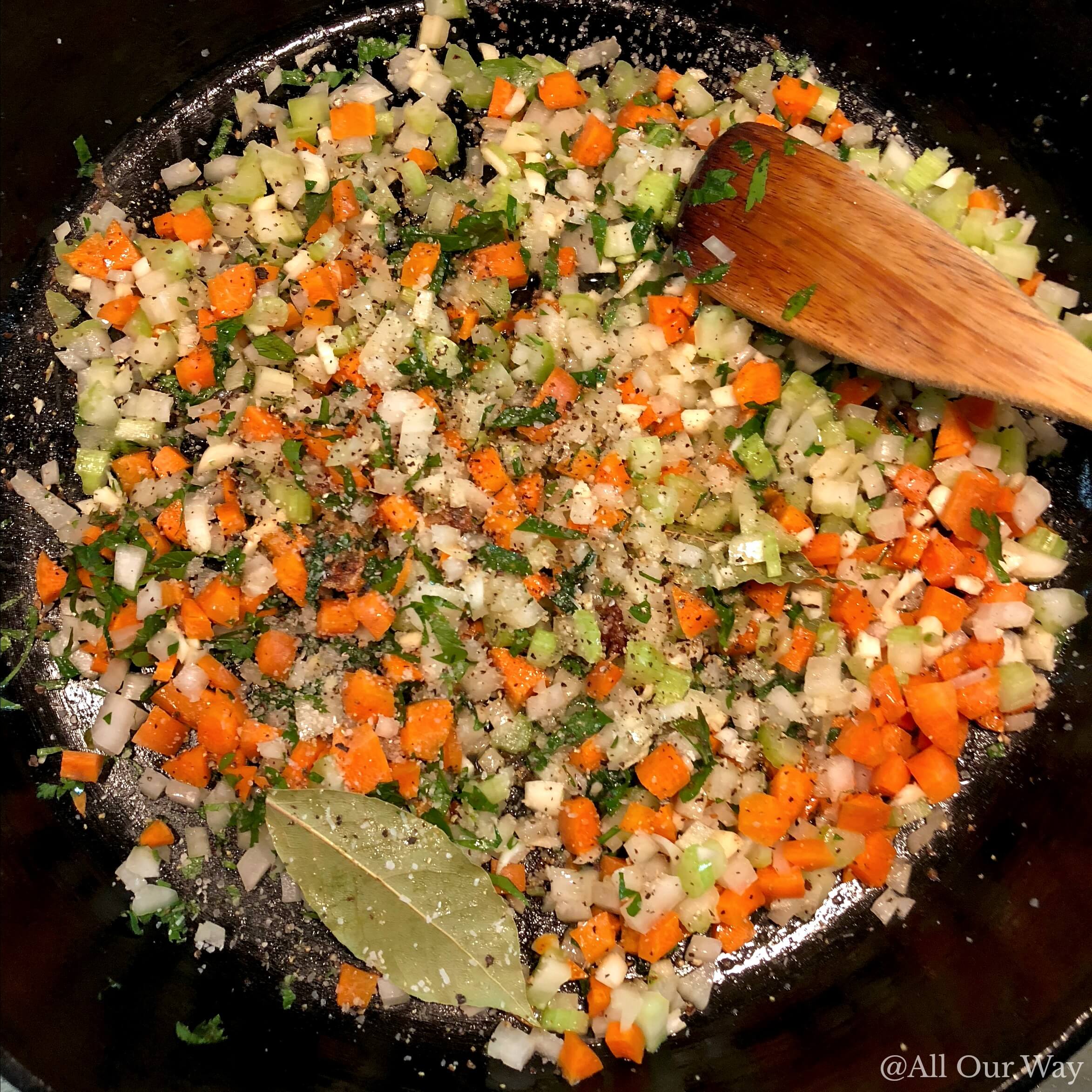 Veal broth is ideal for this recipe, but if that's not available (we didn't have any) use chicken broth. From what I've read, using stock instead of broth does not give that optimum flavor. If you spend money on expensive veal shanks you want to use the best ingredients.
Next comes the vegetables. The onion, celery, carrots, garlic, bay leaves, and parsley cook in a pan until softened.
The Marsala deglazes the pan and then the stock and tomatoes go in along with the veal shanks for a long slow braise.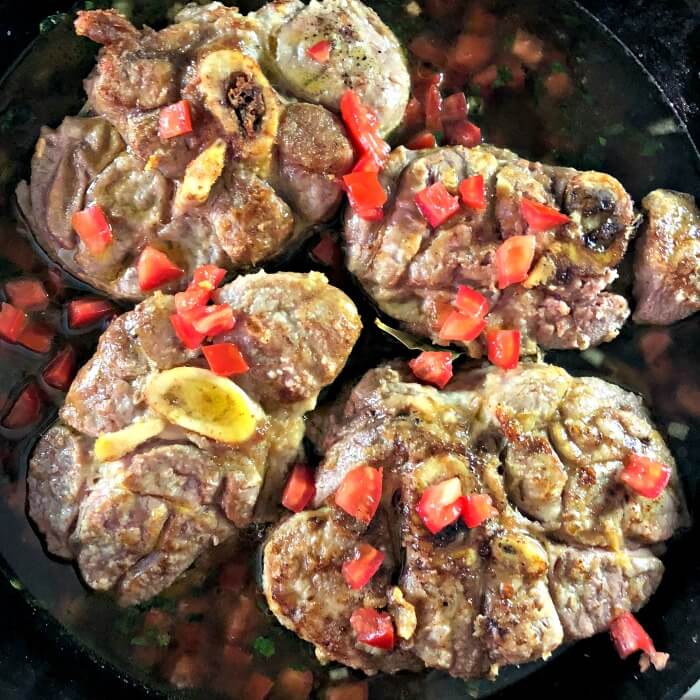 Serving the Milanese Dish
Our gremolata is a combination of grated lemon and orange, minced garlic, and fresh chopped Italian parsley. We added it to the finished ossobuco dish just before serving.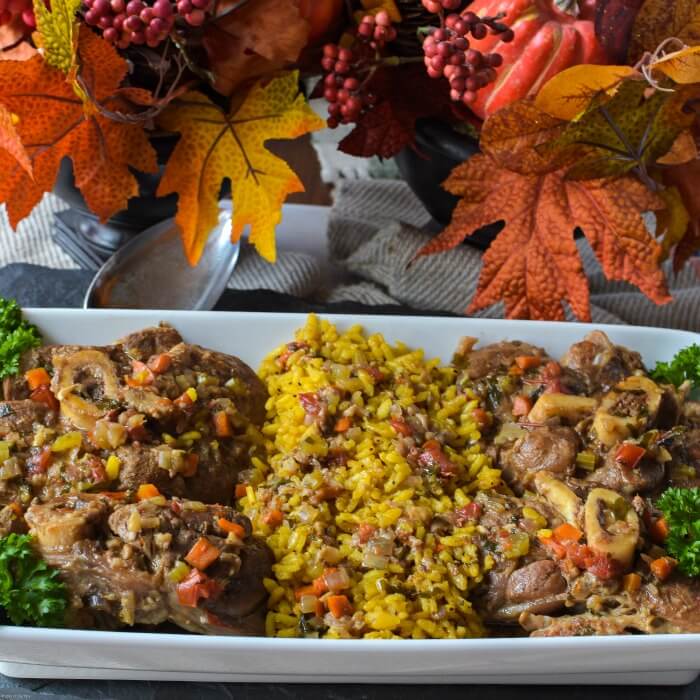 Risotto alla Milanese is a saffron risotto that's the traditional side with the Ossobuco alla Milanese. The passion for this dish runs deep. Billy Collins, an American poet, wrote a poem called Osso Buco. I guess he really enjoyed the meal. ????
Give this recipe a try. You won't be disappointed! We promise.
Tutti a tavola è pronto!
Un caro saluto e alla prossima.
Next time try one of the best authentic Italian chicken recipes, Pollo alla Cacciatore. And if you're a fan of flavorful toppings like gremolata, you have to sample our Mushroom Baked Rigatoni with Kale Gremolata. It's easy to make, delicious to taste, and it's company worthy!
And if you're passionate about risotto, try our Mushroom Risotto Stuffed Peppers recipe. It's easy to make but it tastes like you spent hours preparing it.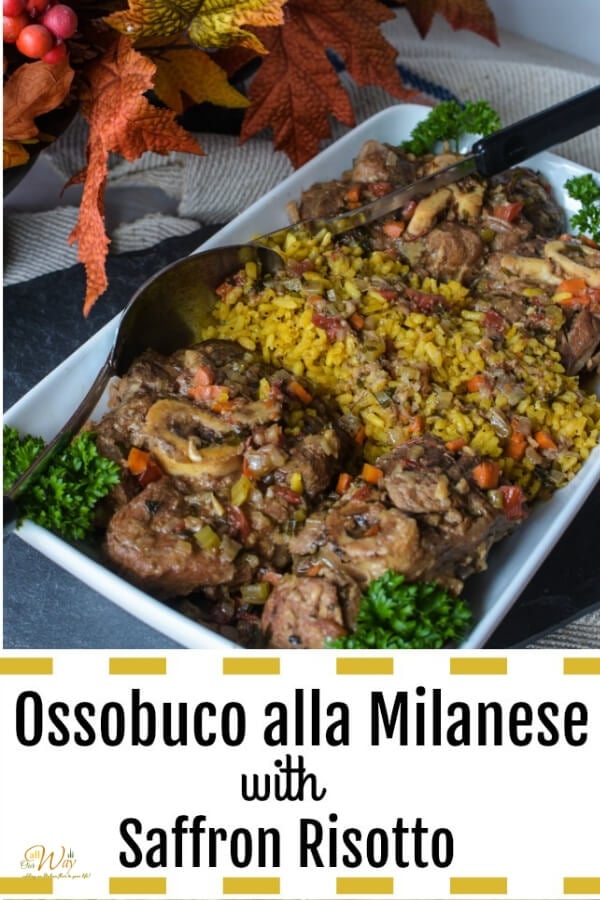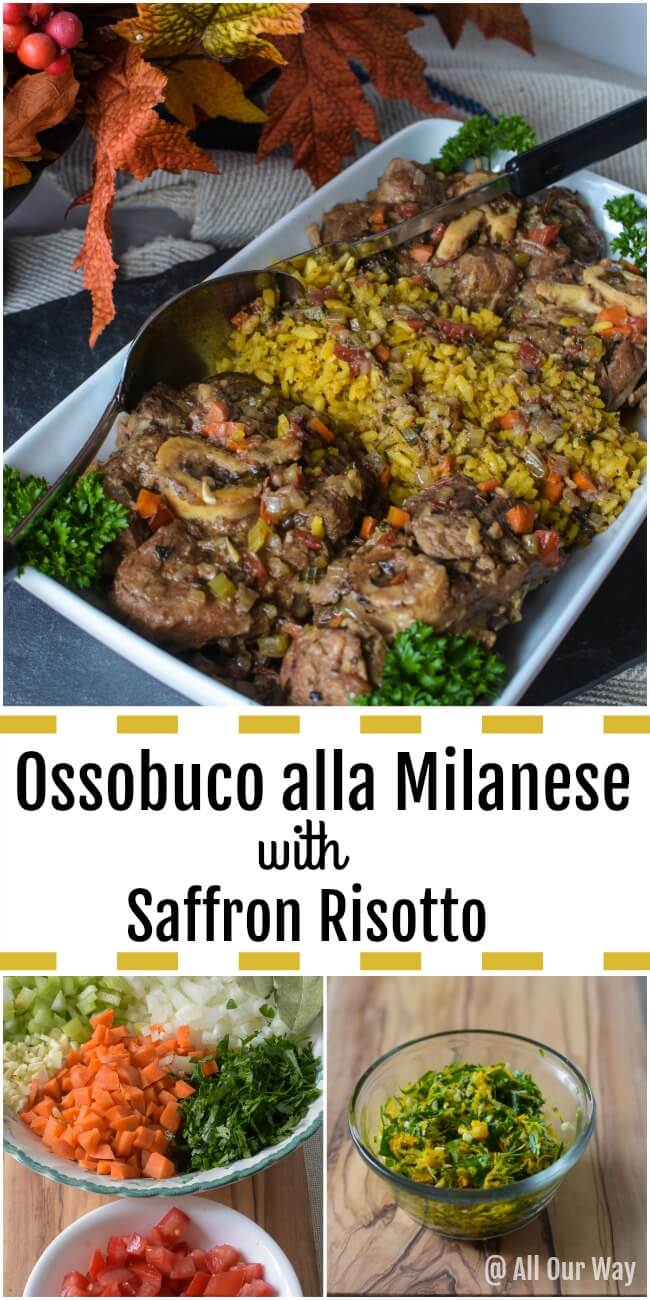 The Recipe
📖 Recipe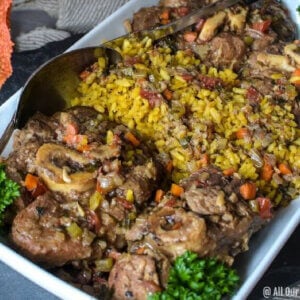 Ossobuco alla Milanese With Saffron Risotto Famous Italian Dish
Ossobuco alla Milanese with Saffron Risotto is a Lombardy dish made with veal shanks and braised with vegetables, white wine, and broth. Gremolata sprinkles top the veal dish
Print
Pin
Rate
As An Amazon Associate I earn from qualifying purchases.
Ingredients
½

cup

flour

salt and pepper

to taste

4

pieces

veal shank with bone

cut 1 ½ inches thick

3

Tablespoons

olive oil

3

Tablespoons

unsalted butter

1

onion

chopped

½

cup

celery

chopped

½

cup

carrots

chopped

4

cloves

garlic

coarsely chopped

2

bay leaves

3

Tablespoons

fresh Italian parsley

finely chopped

1

cup

dry Marsala

2

cups

veal or chicken broth

2

tomatoes

peeled, seeded and chopped
GREMOLATA:
Grated rind of 1 lemon

Grated rind of 1 orange

2

garlic cloves

minced

2

Tablespoons

fresh Italian parsley

chopped
SAFFRON RISOTTO:
8

cups

chicken broth

2

tablespoons

butter

2

tablespoons

olive oil

2

cups

Arborio rice

3

pinches

saffron threads

3

TablespoonsParmesan cheese

grated

Salt and pepper

to taste
Instructions
OSSOBUCO:
In a large shallow platter, season flour with salt and pepper. Dredge the veal shanks in the mixture and tap off any excess. In a large heavy skillet or Dutch oven, over medium flame, heat the oil and butter. Sear the shanks on all sides, turn bones on sides to hold in the marrow. Add more oil and butter if needed. Remove the browned veal shanks and set aside.

Add onion, celery, carrots, garlic, bay leaves, and parsley to the pan and cook until softened. Season with salt and pepper. Raise the heat to high, add the wine and deglaze the pan.

Return the shanks to the pan, add the broth and tomatoes, drizzle with olive oil. Reduce the heat to low, cover and cook for about 1 ½ hours or until the meat is tender.

Baste the meat a few times during cooking. Remove the cover, continue to simmer for 10 minutes to reduce the sauce a little.
GREMOLATA:
Combine all ingredients in a small bowl. Stew the gremolata over the ossobuco before serving. Serve ossobuco with Saffron Risotto.
SAFFRON RISOTTO:
In a saucepan, bring chicken broth to a simmer. Keep warm over low heat.

In a large saute pan, melt butter over medium heat. Add oil and rice and cook for 2 minutes, stirring to coat each grain. When rice begins to make a crackling sound, add saffron threads.

Add 1 cup of the warm chicken broth and cook, stirring, until the rice has absorbed the liquid. Add the remaining broth, 1 cup at a time. Continue to stir, allowing the rice to absorb each addition of broth before adding more.

Test the rice for doneness, it should be al dente but creamy. Remove risotto from heat, add grated cheese, salt, and pepper. Serve at once with Ossobuco alla Milanese.
Nutrition
Calories:
1126
kcal
|
Carbohydrates:
111
g
|
Protein:
57
g
|
Fat:
42
g
|
Saturated Fat:
14
g
|
Polyunsaturated Fat:
4
g
|
Monounsaturated Fat:
20
g
|
Trans Fat:
1
g
|
Cholesterol:
219
mg
|
Sodium:
2465
mg
|
Potassium:
1297
mg
|
Fiber:
5
g
|
Sugar:
11
g
|
Vitamin A:
4126
IU
|
Vitamin C:
20
mg
|
Calcium:
131
mg
|
Iron:
8
mg
Sign up for the emails and never miss another recipe!!
We'll never share your email or send you spam. Promise
Note: Recipes and content from © 2017 All Our Way are copyright protected. Please do not use content or recipe without prior written permission. If you want to share the information, please link to this post. Grazie.SaveSave