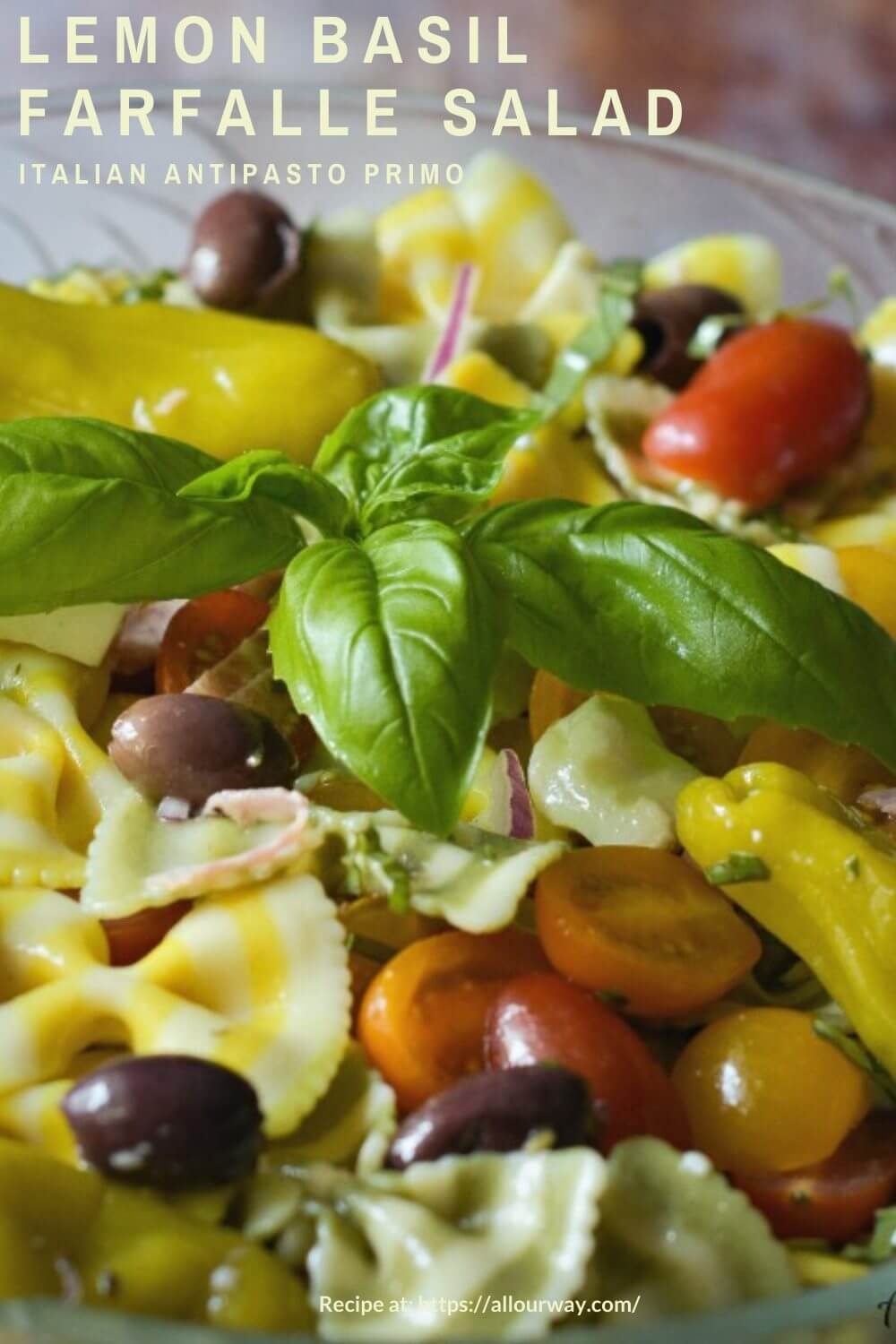 Lemon Basil Bow Tie Pasta Salad includes everything you desire in an Italian pasta salad. This irresistible Italian farfalle pasta dish has striped lemon-yellow and basil-green pasta. A light Italian vinaigrette dresses the colorful pasta, summer vegetables, and fresh mozzarella cheese. We added our favorite antipasto ingredients, start with ours or add your own. See if this salad isn't the first dish to go at your gathering.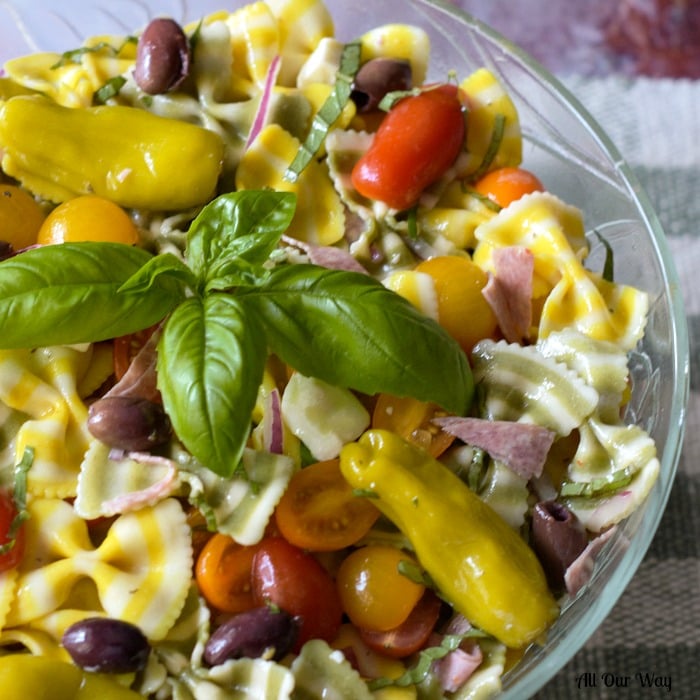 Jump to:
Making the Bow Tie Pasta Selection
The minute I spotted the striped farfalle pasta at Aldi's, I knew that those bow ties were meant for our family party.
In life, I believe there's everyday pasta, and then there's pasta that's meant for a special occasion.
Our family fish fry definitely rated as that occasion. We were going to celebrate our daughter Michelle's birthday.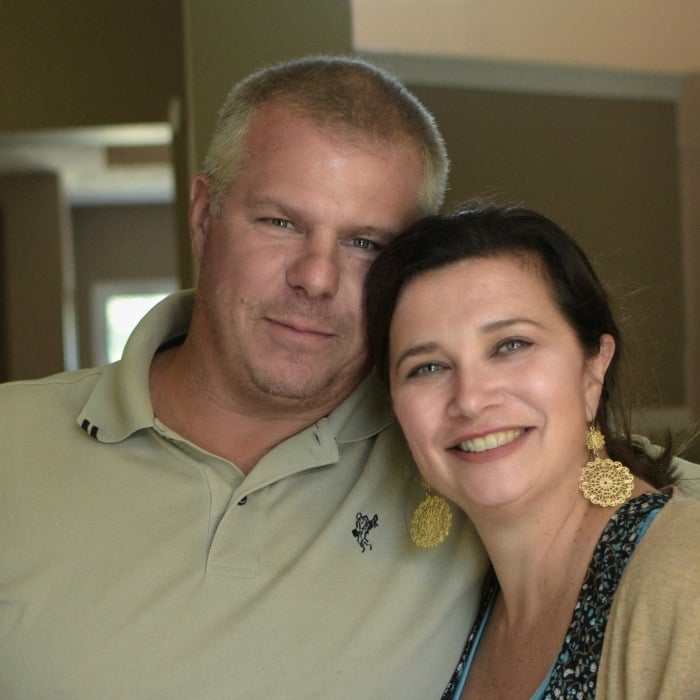 Daughter Michelle and husband Dave.
And we were also going to celebrate our son Jason's birthday, who was going to be on military duty in Asia.
My birthday got stuck in there too, but we won't mention it!!!!!
Our son, Jason's, mountain climb at Shuksan
Now, I have to confess; the annual family fish fry didn't include fish. It ended up a family pulled pork and fried chicken tenders picnic with some terrific buns.
And the reason for the change of plans? Because we had no fish to fry.
Last winter fishing in Florida was terrible. And to make matters worse, in May, Honey had the same luck at Saint Simons Island.
We heard no complaints about the substitution!
So, when we found the farfalle pasta in lemon, yellow, and red stripes, we knew that the pulled pork and chicken had a colorful side in the Italian bow tie pasta salad.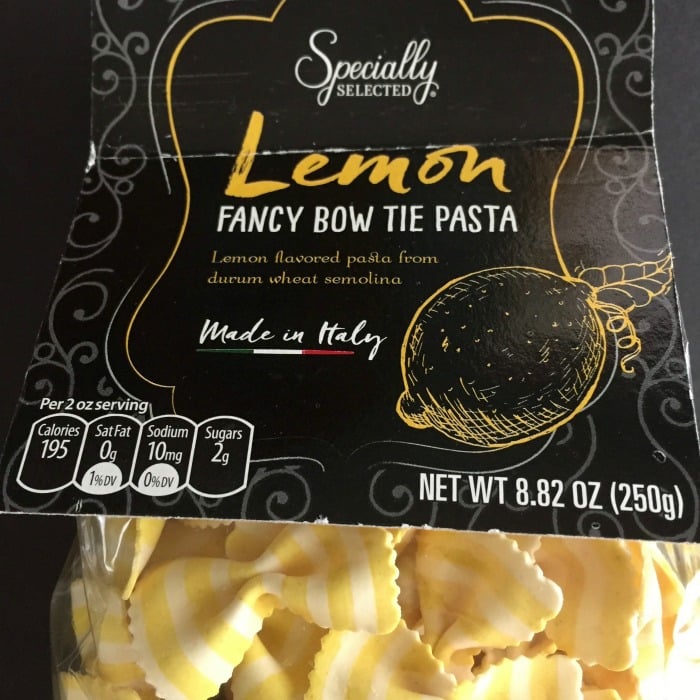 Striped Farfalle make the Italian pasta salad colorful.
Lemon Basil Bow Tie Pasta Salad - Vegetable, Meat Selection
Veggie selection for the Italian pasta salad was easy. It had to have an Italian flavor, and it had to be colorful.
Vegetable preferences.
Grape tomatoes are a must in our pasta salads. We prefer them to any other tomato. They're sweet, colorful, and they don't release a lot of juice.
Purple onions are mild, and they give the salad color and taste.
Peperoncini, which we all love, give the dish a nice briny heat.
Salty Kalamata olives are a must for our pasta salad.
Meat and cheese preferences
Somewhere there must be an unwritten law that cheese has to be in an antipasto salad. This time, we picked fresh mozzarella cheese to include iin the salad.
And as far as meat goes, what could be more Italian than Genoa hard salami? YUM! It tastes amazing as an antipasto and in a salad.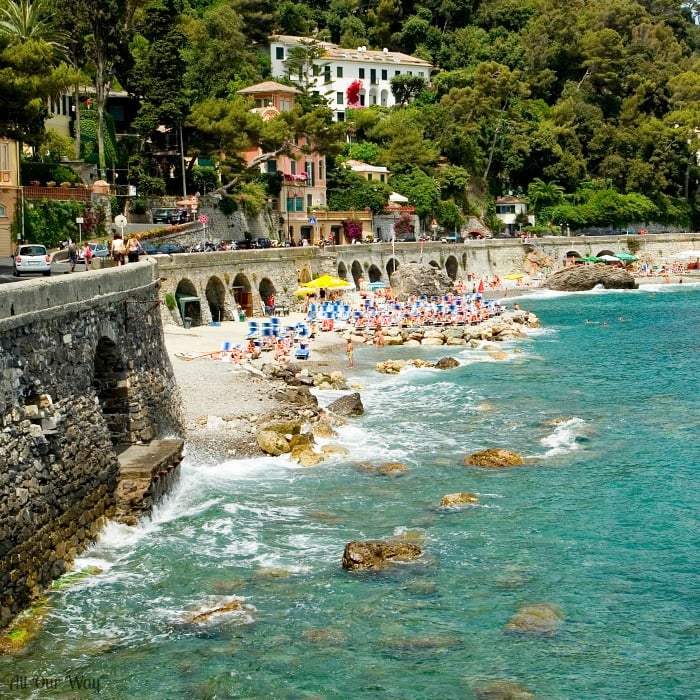 Genoa Province, Liguria, the Italian Riviera
Putting it together
The instructions for the Italian bow tie pasta salad are so simple I'm almost embarrassed to include them but just in case there is a newcomer I'll add them:
Make the pasta according to package directions. Make sure that it's al dente (to the tooth) and add a little olive oil to prevent sticking.
Halve the grape tomatoes.
Slice the Kalamata olives.
Slice the Purple onion.
Cube the fresh mozzarella cheese.
Slice the Genoa salami into short slices.
Drain the peperoncini.
Favorite Italian salad dressing (we used Gerard's Old Venice Italian) or plain olive oil and white balsamic vinegar.
Fresh basil sliced into thin ribbons.
Lots of freshly ground pepper.
That's it. Put the antipasto bow tie pasta salad all together and let it sit in the fridge at least for several hours or overnight.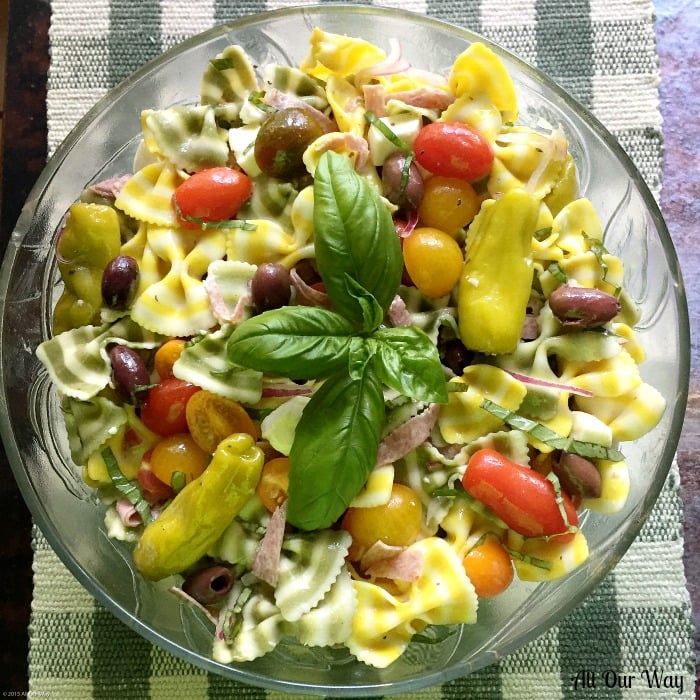 A delicious Italian pasta salad mixed with antipasto tray goodies.
The Lemon Basil Farfalle Salad is a great Italian antipasto pasta salad for family gatherings or picnics. It travels well, and it tastes fantastic.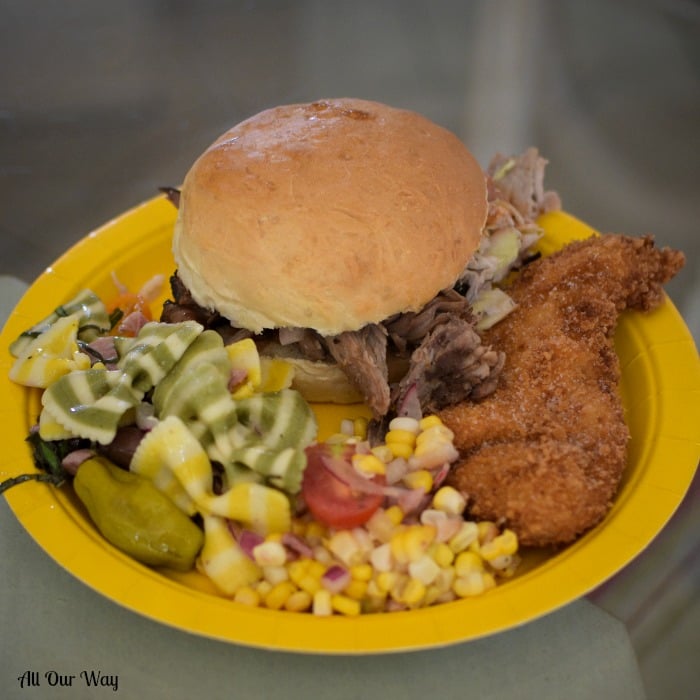 Our delicious birthday party celebration!
This year for the birthday cake I made Ambrosia Coconut Cake. A three layer cake with a creamy pineapple coconut filling that's to die for. The cake is frosted with Vanilla Buttercream. It's the type of cake that wipes the word diet or counting calories right out of your mind!!
Tutti a tavola è pronto!
Un caro saluto e alla prossima.
YOU MAY NEED...
The following are affiliate links. We are a participant in the Amazon Services LLC Associates program, an affiliate advertising program designed to provide a means for us to earn fees by linking to Amazon.com and affiliated sites.
Thank you for being a part of All Our Way!
A glass salad bowl like this is just what you want to serve a beautiful salad in. We have one just like it and use it often. Throughout the years we've even served desserts and fruit salads in it.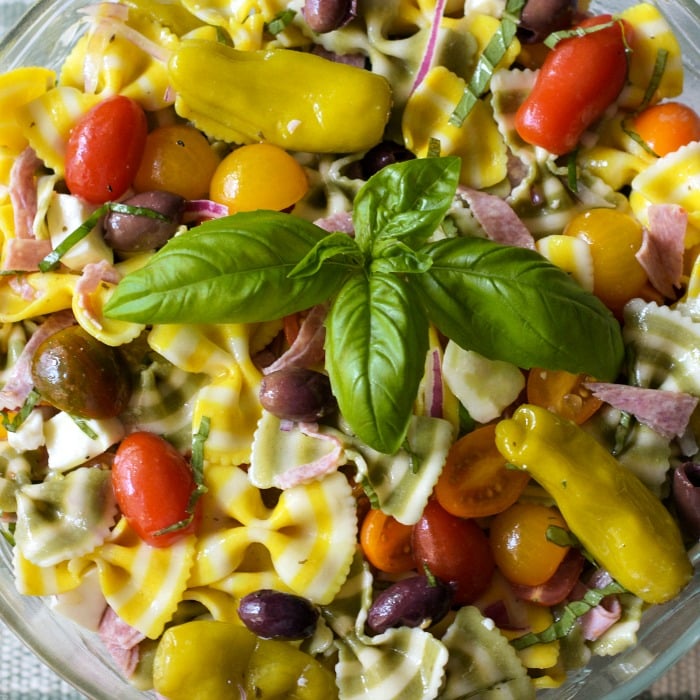 Lemon Basil Farfalle Salad An Italian Pasta Dish Celebrating Summer
This is not your ordinary Italian bow tie pasta salad. This antipasto salad will be a star at your next gathering or potluck. And believe me, there will be friends and family who'll go back for seconds.
If you like this recipe, please consider giving it a 5-star rating.
📖 Recipe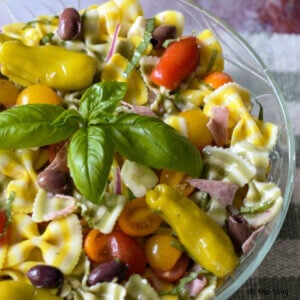 Lemon Bow Tie Salad An Italian Farfalle Pasta Dish Celebrating Summer
Lemon and Basil Farfalle Salad combines striped bow ties with grape tomatoes, genoa salami, fresh mozzarella, peperoncini, and a light vinaigrette. It is an ideal dish for gatherings because it can be made ahead a stores well.
Print
Pin
Rate
As An Amazon Associate I earn from qualifying purchases.
Ingredients
1

lb.

farfalle pasta

bow ties or pasta of choice, cooked according to directions.

8

oz.

grape tomatoes halved.

½

purple onion sliced

½

cup

sliced Kalamata olives.

½

cup

sliced Genoa Salami

1

cup

cubed fresh mozzarella cheese.

1

small jar peperoncini

drained

freshly ground pepper

1

bottle favorite Italian white vinaigrette or make your own.

10

fresh basil leaves sliced into ribbons

chiffonade.
Instructions
Made the pasta according to directions. Make sure not to overcook. Drain and put the pasta in a large bowl. Add a bit of the dressing to prevent sticking. The pasta will absorb more liquid as it's in the refrigerator.

Layer the ingredients one on top of each other. When all of the ingredients are in the bowl pour more dressing on top and mix well. Grind some pepper over the salad. Sprinkle the basil ribbons over the ingredients. Mix again. It's better to add a little at a time and check the amount before serving. You don't want the salad overloaded with dressing.

Wrap the bowl with plastic wrap and place in refrigerator.

When ready to serve, check to see if it has enough dressing. Add more to your taste.

Garnish with basil.
Notes
This is a very forgiving recipe. Add as much or as little as you like. Take your favorite ingredients and include them.
Nutrition
Calories:
241
kcal
|
Carbohydrates:
35
g
|
Protein:
10
g
|
Fat:
6
g
|
Saturated Fat:
2
g
|
Cholesterol:
13
mg
|
Sodium:
307
mg
|
Potassium:
192
mg
|
Fiber:
2
g
|
Sugar:
2
g
|
Vitamin A:
310
IU
|
Vitamin C:
4.4
mg
|
Calcium:
73
mg
|
Iron:
0.8
mg
Sign up for the emails and never miss another recipe!!
We'll never share your email or send you spam. Promise
First Published: August 19,2017... Last Updated: June 19, 2020
Note: Recipes and content from © 2017 -2020 All Our Way are copyright-protected. Please do not use content or recipe without prior written permission. If you want to share the information, please link to this post. Grazie.