Fusilli Col Buco With Toasted Breadcrumbs, Garlic, and Basil Olive Oil is a twist on spaghetti aglio e olio, a traditional Sicilian pasta dish featuring garlic, olive oil, and red chilies. But this classic St. Joseph's Day (San Giuseppe) pasta dish goes several steps further. We take fresh breadcrumbs and brown them in garlic, olive oil, red pepper, and anchovy fillets. Don't be afraid of the anchovies, they bring a complexity to the fusilli dish without tasting fishy. Italians world-wide celebrate St. Joseph's Day, the patron saint of fathers, on March 19th. Come celebrate with us. This dish is easy and delicious.
For this recipe you'll need: olive oil, red pepper flakes, oil-packed anchovy fillets, coarse fresh breadcrumbs, garlic, kosher salt, flat-leaf parsley, pasta.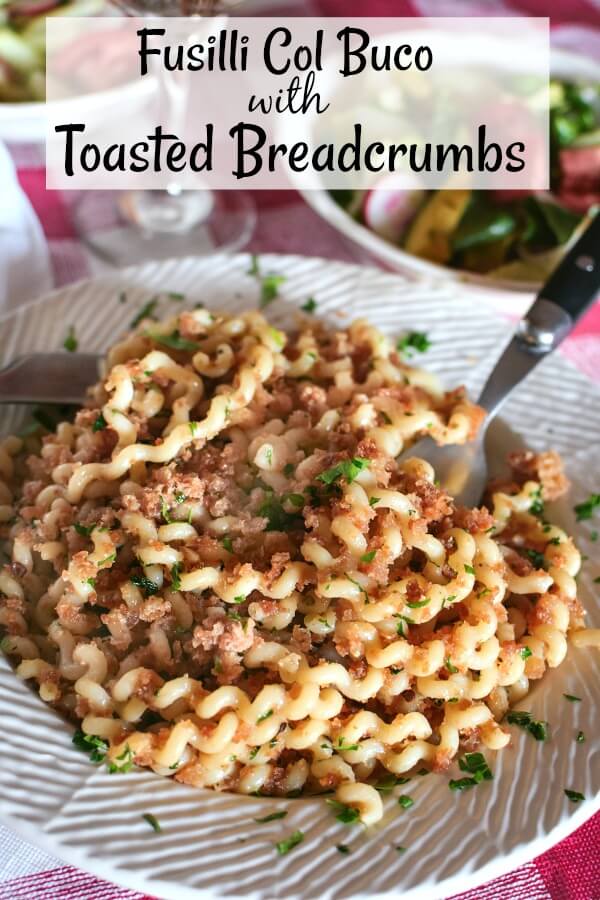 St. Joseph's Table (la tavola di San Giuseppe)
St. Joseph's Day, March 19th is, in Italy, also Father's Day which isn't at all surprising since he was the foster father of Jesus. This day is a big feast for Italians especially the Sicilians.
Legends in the middle ages attribute the end of a devastating drought to a prayer-devotion that the Sicilian people made to St. Joseph. This feast is a celebration and thank you to San Giuseppe.
Different Italian regions celebrate this day differently, but they all involve special meatless foods. Traditional etiquette is that no-one can be turned away from the table. Many foods have been added and deleted in the many years but tow constants remain: no meat and breads in symbolic shapes.
Typical dishes at the table:
Minestrone.
Pasta with breadcrumbs (we chose Fusilli col buco (hole)) symbolize the sawdust that covered St. Joseph's floor.
Seafood.
Sfinge di San Giuseppe is a deep fried treat like a filled cream puff.
Fava beans, which are considered "lucky" because during the drought, the Fava thrived while other crops failed.
Pasta with breadcrumbs was and is still very popular. The addition of toasted breadcrumbs were in place of cheese since cheese was a luxury. Truly a cucina povera dish. Breadcrumbs on pasta are known as the poor man's cheese. The toasted crumbs bring a nice crunch to the fusilli pasta.
Our Fusilli with toasted breadcrumbs may be a poor man's dish but it is rich with flavor.
Fusilli col buco our pasta choice for St. Joseph's Day
You can make this dish with any kind of long pasta. Very popular is the malfaldine which are a little like lasagna only thinner. You can see what they look like at Memoire di Angelina.
We like the curlicue fusilli pasta with the hole in the middle. This pasta comes from southern Italy. Originally the Neapolitan housewives would take a fresh bucatino and curl it around a slender knitting needle. Very labor intensive, right?
The fusilli pasta holds a tomato sauce or an olive based sauce well. In fact, the recipe for the fusilli with toasted breadcrumbs is a lot like the famous Spaghetti Aglio e Olio.
Difference between spaghetti aglio e olio and Fusilli con la mollica
Shape of pasta.
Breadcrumbs on the fusilli
Spaghetti aglio e olio sometimes is served with Pecorino or Parmesan but that isn't traditional.
Fusilli con la mollica recipe has anchovies.
FAQ's about Fusilli
How long should you cook fusilli pasta? Fusilli pasta twists from 10-12 minutes and the Fusilli Bucatini for 11- 14 minutes. It's always good to test for the doneness you want. You may even check it earlier.
What is the difference between rotini and fusilli? Rotini is a type of corkscrew-shaped pasta that is related to fusilli but has a tighter helix with a smaller pitch.
How do you know when pasta is al dente? "Al dente" means to the tooth. Chewy and firm, hold its whole shape in whatever sauce you put it in. So if you are going to toss the pasta with sauce or olive oil that means the sauce in the pan cooks the pasta a second time. The solution? Cook the pasta molto al dente.
How do I cook the pasta molto al dente? It is about 3 minutes from being the chewy al dente. There should be a chalky, gritty quality to the middle of the pasta. If you look at the cross section of the noodle, where you bit, you'll see a thin white ring in the middle. When you transfer the pasta with some of the pasta water to the pan, the pasta will continue to cook.
St. Joseph's Day Fusilli Pasta with Breadcrumbs
This dish has many names: Sawdust Pasta, Carpenter's Pasta, Pasta with Breadcrumbs, Pasta con la mollica, St. Joseph's pasta as well as pasta di san Giuseppe. The name really doesn't matter. It's delicious whatever you call it.
There are few ingredients in the fusilli dish and it takes very little time. We like to toast the breadcrumbs ahead of time so when we finish the pasta we put it all together and it's ready to serve.
The parsley is optional but it adds color and flavor. You don't like anchovies? You may omit them but they really give that dish that extra pizzazz. Once you add the anchovies to the oil they virtually melt before your eyes.
Be sure to save ½ cup of the pasta water before getting rid of it. It's really a good habit to get into even if the recipe doesn't call for it. If the sauce or pasta seems too dry add that little bit of water and it's unbelievable how it can improve and extend the sauce.
Make your St. Joseph's Day special by making and enjoying Fusilli with Toasted Breadcrumbs. It's one of those dishes you'll want to make for your family more often than just March 19th.
We show you two ways how to make Fusilli Pasta with Toasted Breadcrumbs, the ingredients are the same. We're making it again for Italian Father's Day, Honey specifically asked for it.
Tutti a tavola è pronto!
Un caro saluto e alla prossima.
YOU MAY NEED...
The following are affiliate links. We are a participant in the Amazon Services LLC Associates Program, an affiliate advertising program designed to provide a means for us to earn fees by linking to Amazon/com and affiliated sites.
Thank you for being a part of All Our Way!

This is the fusilli col buco pasta that we use. It's actually a combination of bucatini with boing boing curls. The pasta really grabs the sauce and breadcrumbs and hangs on to them. We enjoy using the pasta with light sauces and also tomato based. Have you tried it? If so, let us know how you like it.
What's new? check out my All Our Way Store on Amazon. We'll be adding more items we love and use or wish we had to make cooking fun and easy.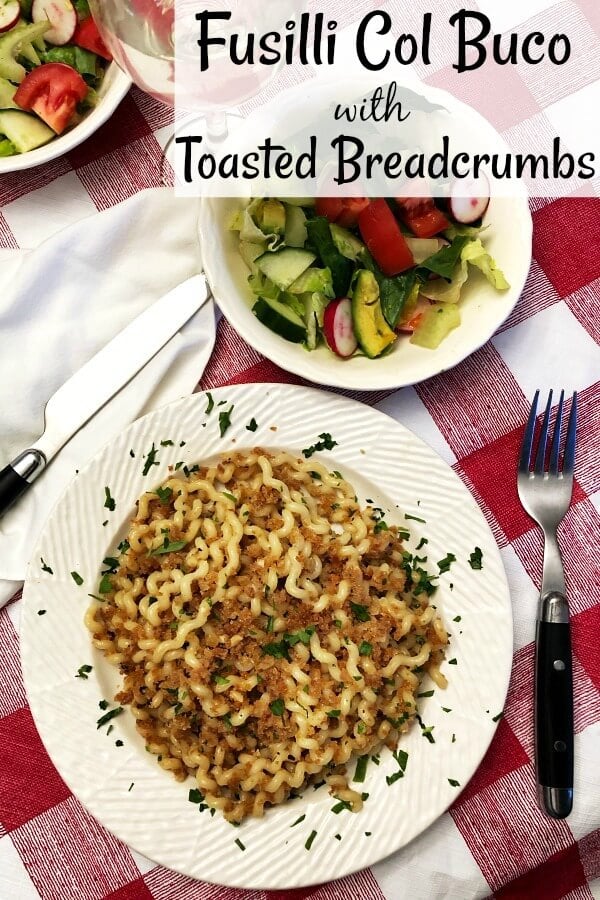 Fusilli Col Buco With Toasted breadcrumbs, Garlic, Basil Olive Oil
This is a variation on spaghetti aglio e olio, a classic Italian pasta dish featuring olive oil, garlic, and hot peppers. This recipe adds fresh breadcrumbs toasted with olive oil, garlic, hot pepper flakes, and anchovies. Although the anchovies are optional, they bring a depth to the dish you wouldn't find otherwise. The anchovies does not make the pasta taste fishy at all. Don't try to shortcut by purchasing the fine breadcrumbs you find in the store, they'll be soggy in the final dish. These breadcrumbs stay crunchy! This recipe is so easy you're going to immediately wonder why you don't make this more often.
If you like this recipe, please consider giving it a five-star rating. This helps others to decide whether to try the recipe.
Fusilli Col Buco With Toasted breadcrumbs, Garlic, Basil Olive Oil
A variation of Spaghetti Aglio e Olio a classic Italian pasta dish with garlic, olive oil, and hot peppers. This recipe includes fresh breadcrumbs that are toasted in a spicy oil with garlic. The optional anchovies add a briny taste that's not fishy. Fresh parsley adds flavor and color. This dish is typically served on St. Joseph's Day.
Print
Pin
Rate
As An Amazon Associate I earn from qualifying purchases.
Ingredients
6

tablespoon

olive oil

extra virgin

½

teaspoon

crushed red pepper flakes

4

garlic cloves

minced

Kosher salt

4-5

oil-packed anchovy fillets

(optional)

1 ½

cups

fresh breadcrumbs

coarsely chopped from ciabatta type bread

¼

cup

fresh flat-leaf parsley

chopped

1

lb

dried long fusilli, mafaldine, spaghetti
Instructions
Method 1 --
Bring a large pot of well-salted water to boil over high heat.

Heat the olive oil and red papper flakes in a 12-inch skillet over medium-low heat, stirring occasionally with a wooden spoon, until the pepper flakes are sizzling, about 5 minutes.

Add anchovies, if using, and mash thm with the spatula until they start to dissolve.

Raise the heat to medium, add the breadcrumbs, and cook, stirring often, until the crumbs are deep golden, about 3 minutes.

Add the garlic and cook, stirring, until the breadcrumbs are crisp and brown, about 1 minute.

Remove from heat, stir in the parsley, and season with salt to taste. (If using anchovies, you may not need extra salt). We did.

Cook the pasta in the boiling water according to package directions until al dente. (In this recipe you don't have a lot of sauce so you DO want it al dente and NOT molto al dente).

Reserve ½ cup of the cooking water and drain the pasta. Immediately return the pasta to the pot over medium-low heat, add

Immediately return the pata to the pot over medium-low heat, add half the breadcrumb mixture and toss to combine.

If necessary, add some of the reserved cooking water to moisten. Season with salt.

Serve sprinkled with the remaining breadcrumbs.
Method 2
Bring a large pot of well-salted water to a boil over high heat.

Meanwhile in a large skillet, sautè the garlic, red pepper flakes, and anchovies in ½ cup olive oil over medium-low heat, until the garlic barley starts to to turn golden.

Turn off the heat and add the parsley.

In another skillet, sautè the breadcrumbs in 2 Tablespoons of olive oil over low heat until the breadcrumbs are lightly toasted. Be careful, once they start to toast, they cook quickly and can burn. Turn off heat and season with a little salt.

Cook the pasta in the boiling water according to package directions until al dente. Drain and transfer the pasta to the pan with the garlic anchovy olive oil.

Mix the pasta in the olive oil over low heat. When the pasta is seaoned with the olive oil and most of the water clinging to the pasta has evaporated, sprinkle half of the toasted breadcrumbs and mix well.

Serve immediately and top with the remaining breadcrumbs.
Notes
Inspired by Fine Cooking's Spaghetti With Fresh Breadcrumbs.
Nutrition
Calories:
518
kcal
|
Carbohydrates:
76
g
|
Protein:
14
g
|
Fat:
16
g
|
Saturated Fat:
2
g
|
Cholesterol:
1
mg
|
Sodium:
209
mg
|
Potassium:
253
mg
|
Fiber:
3
g
|
Sugar:
3
g
|
Vitamin A:
260
IU
|
Vitamin C:
4
mg
|
Calcium:
76
mg
|
Iron:
2.6
mg
Sign up for the emails and never miss another recipe!!
We'll never share your email or send you spam. Promise
Note: Recipes and content from ©2014-2019 All Our Way are copyright protected. Please do not use content or recipe without prior written permission. If you want to share the information, please link to this post. Grazie.