Fusilli Col Buco With Toasted Breadcrumbs, Garlic, and Basil Olive Oil is a twist on spaghetti aglio e olio, a traditional Sicilian pasta dish featuring garlic, olive oil, and red chilies. But this classic St. Joseph's Day (San Giuseppe) pasta dish goes several steps further. We take fresh breadcrumbs and brown them in garlic, olive oil, red pepper, and anchovy fillets. Don't be afraid of the anchovies, they bring a complexity to the fusilli dish without tasting fishy. Italians world-wide celebrate St. Joseph's Day, the patron saint of fathers, on March 19th. Come celebrate with us. This dish is easy and delicious.
For this recipe you'll need: olive oil, red pepper flakes, oil-packed anchovy fillets, coarse fresh breadcrumbs, garlic, kosher salt, flat-leaf parsley, pasta.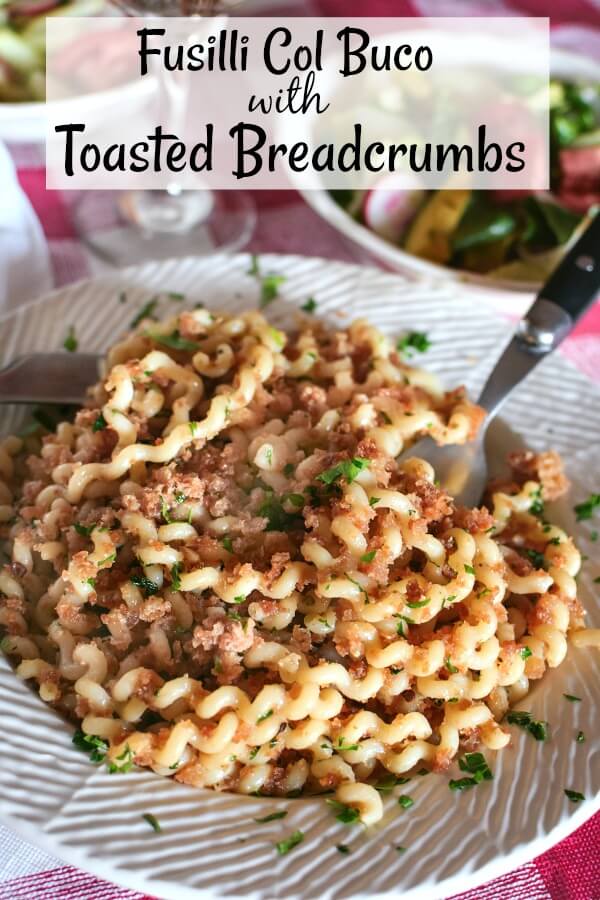 Jump to:
St. Joseph's Table (la tavola di San Giuseppe)
St. Joseph's Day, March 19th is, in Italy, also Father's Day which isn't at all surprising since he was the foster father of Jesus. This day is a big feast for Italians especially the Sicilians.
Legends in the middle ages attribute the end of a devastating drought to a prayer-devotion that the Sicilian people made to St. Joseph. This feast is a celebration and thank you to San Giuseppe.
Different Italian regions celebrate this day differently, but they all involve special meatless foods. Traditional etiquette is that no-one can be turned away from the table. Many foods have been added and deleted in the many years but tow constants remain: no meat and breads in symbolic shapes.
Typical dishes at the table:
Minestrone.
Pasta with breadcrumbs (we chose Fusilli col buco (hole)) symbolize the sawdust that covered St. Joseph's floor.
Seafood.
Sfinge di San Giuseppe is a deep fried treat like a filled cream puff.
Fava beans, which are considered "lucky" because during the drought, the Fava thrived while other crops failed.
Pasta with breadcrumbs was and is still very popular. The addition of toasted breadcrumbs were in place of cheese since cheese was a luxury. Truly a cucina povera dish. Breadcrumbs on pasta are known as the poor man's cheese. The toasted crumbs bring a nice crunch to the fusilli pasta.
Our Fusilli with toasted breadcrumbs may be a poor man's dish but it is rich with flavor.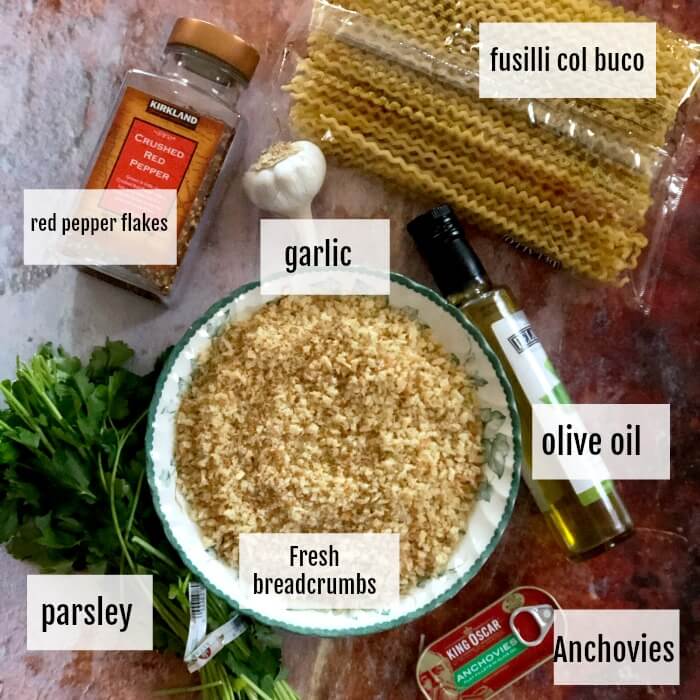 Simple ingredients for the Fusilli with Toasted Breadcrumbs served for St. Joseph's Day Feast.
Fusilli col buco our pasta choice for St. Joseph's Day
You can make this dish with any kind of long pasta. Very popular is the malfaldine which are a little like lasagna only thinner. You can see what they look like at Memoire di Angelina.
We like the curlicue fusilli pasta with the hole in the middle. This pasta comes from southern Italy. Originally the Neapolitan housewives would take a fresh bucatino and curl it around a slender knitting needle. Very labor intensive, right?
The fusilli pasta holds a tomato sauce or an olive based sauce well. In fact, the recipe for the fusilli with toasted breadcrumbs is a lot like the famous Spaghetti Aglio e Olio.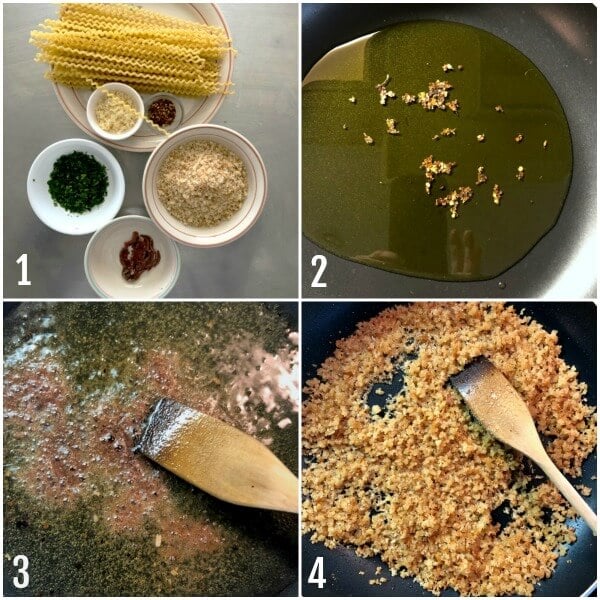 1. Prepare the simple ingredients for Pasta with breadcrumbs. 2. Sauté the red pepper flakes in olive oil. 3. Add the anchovies to the oil. 4. Toss the fresh breadcrumbs in the oil.
Difference between spaghetti aglio e olio and Fusilli con la mollica
Shape of pasta.
Breadcrumbs on the fusilli
Spaghetti aglio e olio sometimes is served with Pecorino or Parmesan but that isn't traditional.
Fusilli con la mollica recipe has anchovies.