English Muffins are incredibly easy to make. This recipe tastes just like the original name brand muffins only better. They aren't difficult to shape and they require no baking. Make up several batches and freeze them. They make wonderful English Muffin pizzas, breakfast toast, and Eggs Benedict.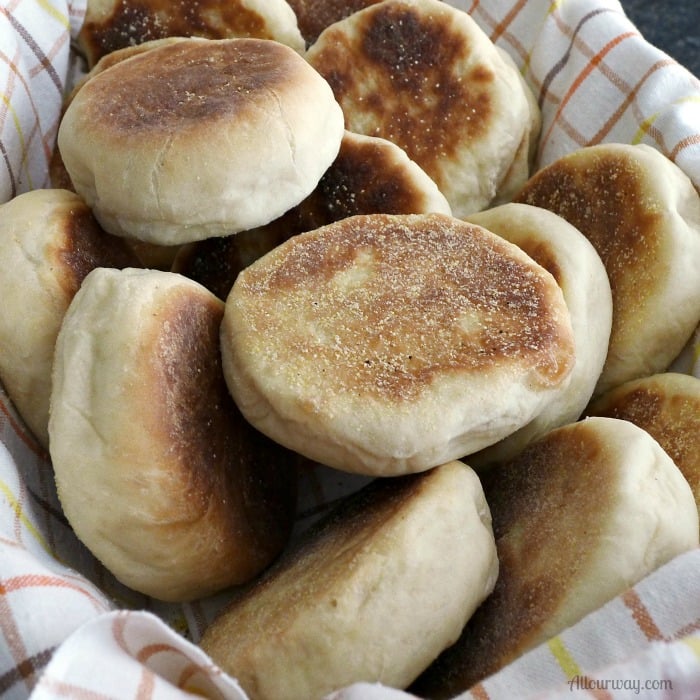 Jump to:
My thanks to Samuel Thomas
If I could, I would fill a basket full of our English Muffins, include some homemade pumpkin and apple butter, then deliver them to Samuel Bath Thomas with our deepest gratitude.
Why do you ask?
Because Mr. Thomas, in his attempt to make his mum's tea cake recipe, ended up with what we now know as English Muffins. We've enjoyed English muffins as part of our family breakfasts, lunches, and dinners.
I certainly wish some of my culinary goof-ups turned out as well, how about you?
History of English Muffins
Here was Samuel Thomas, a lowly immigrant from England, living in the Chelsea area of New York City, trying to make a living working in a bread bakery. Then in 1880, he decided, as so many immigrants do, to be his boss and open his bakery.
He was going to include his mum's delicious tea cakes at his bakery. When his stab at making the tea cakes fell, so to speak, he decided to go with what he had and call it a "toaster crumpet."
His toaster crumpets were flatter than regular crumpets, and they were what we call fork-split. Can't you just see the wheels in his mind turning? By Jove (a little English there), he would take his little flat crumpets, sell them, and his customers were going to love them!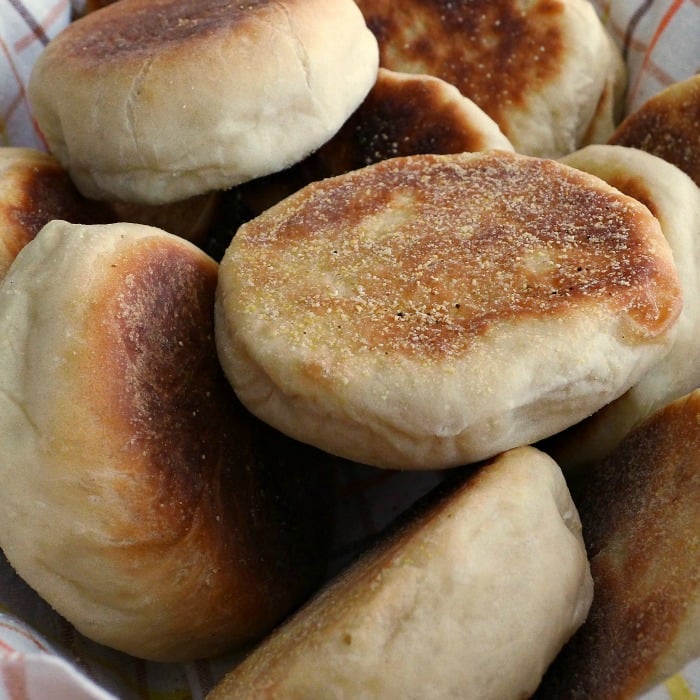 Failure turns into a discovery
Posh hotels immediately embraced the little flat muffins, and they ultimately became a regular in the American breakfast cuisine. Mr. Thomas also sold them to his customers and then eventually through grocery stores.
The trademark filing in 1926 stated that the name English muffin was first used in 1894. And to this day his recipe is still a secret. Apparently, only seven people know the trade secret that produces those delicious nooks and crannies on the English muffin. Who and how they pass on the secret is unknown.
Don't you love a mystery?? Wish I could solve this one.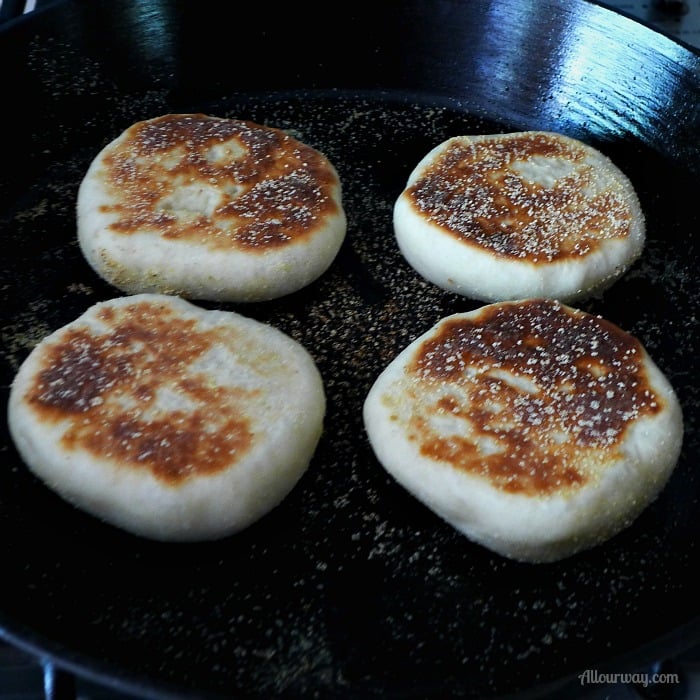 English Muffin Ingredients
This formula produces a muffin that is very close in appearance and taste to the Thomas English muffins.
The yeast dough comprises of:
milk - gives it a richer texture plus toasts better.
coconut oil -helps tenderize and preserve the bread longer.
instant yeast - leavening agent to help the muffins rise.
sugar- feeds the yeast and makes the bread tender.
salt - boosts the flavor and tightens the gluten structure.
egg - helps in the bread rising plus the fat from the yolk helps to tenderize the crumb.
bread flour- is the structure of the muffins or loaf. Bread flour contains more protein than all-purpose flour.
Instructions
Full instruction are in the recipe card below.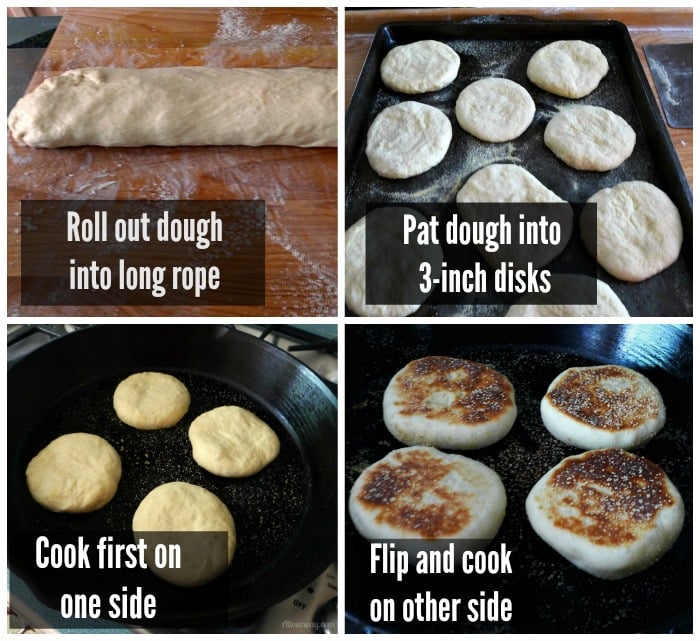 You first mix the ingredients with a dough hook on a stand mixer and then finish kneading by hand.
The dough needs to rise about 1 to 2 hours.
Roll out the dough in a long rope like in the image.
Instead of using a ring, like in crumpets, to make the beautiful round shape you first make a ball and then pat the dough into a 3-inch disk.
Heat the pan and then cook first on one side.
Then flip and cook on the other side.
Equipment for Muffins
BAKING SHEETS: You place the disks on two baking sheets that have cornmeal on them. Now, here is where the magic happens.
12-INCH CAST-IRON SKILLET: You need a 12-inch cast-iron skillet that you heat over medium heat. Coat the skillet with cooking spray and liberally sprinkle with cornmeal.
English Muffins Recipe easy to make
You have to work in batches. You cook the muffins until they are deep golden brown, about 5 to 9 minutes per side.
If they start to plump up in a dome fashion, just take a spatula and flatten them again.
The internal temperature of the English muffins should be at least 200° F. If not, finish them in a 350° oven for about 10 minutes.
Let them cool completely, then split open, toast and serve however you like. The best way to serve is not to cut with a knife but by poking all around with a fork.
You want the interior of the English muffins to keep their nooks and crannies (that is a term popularized by a Thomas' advertising campaign from the 1980's).
Tutti a tavola è pronto!
Un caro saluto e alla prossima.
A large cast-iron skillet is a must in our house. It is so convenient for larger cuts of meat and for making these muffins. It heats up nicely and it can go from stove top to oven. We even use it on our grill to make Italian Chicken under a brick. Once you get used to using an cast iron skillet you'll wonder how you did without it.
What's new? check out my All Our Way Store on Amazon. We'll be adding more items we love and use or wish we had to make cooking fun and easy.
Thank you for being part of All Our Way!
ORIGINAL ENGLISH MUFFINS RECIPE
This is a recipe you can make up ahead of time and freeze. So versatile you can eat the muffins any time of day. Our children loved them as pizza toast for a quick lunch or snack.
If you're looking for more quick morning breakfasts, our Nutritious Apple Oatmeal Muffins are just the thing. They even make a great snack for when you need a little pick-me-up.
And during berry season, whip up our recipe for Breakfast Baked Oatmeal with Berries and Bananas. You'll think you're eating dessert instead of something that's good for you.
If you're a egg and sausage lover, try our Breakfast Sausage Roll Recipe. This dish travels well and the sausage rolls are especially great for camping. And if you need a bit of spice in your life, the Breakfast Enchiladas are what you're looking for. So good! They'll certainly liven up your morning.
If you like this recipe please give it a 5-star rating.
📖 Recipe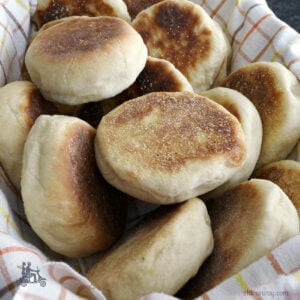 English Muffins Start to Finish
The English Muffin is as easy to make at home as yeast bread. These muffins are cooked on a griddle until done. Then you can split, toast, and top them with whatever goody you desire.
Print
Pin
Rate
As An Amazon Associate I earn from qualifying purchases.
Ingredients
4 ½

cups

unbleached bread flour

plus more for kneading

3

Tablespoons

sugar

2 ¼

teaspoons

instant yeast

¼-ounce packet

2

teaspoons

salt

1

large egg

1 ¾

cups

whole milk

2 ½

tablespoons

coconut oil

plus more for the bowl and dough

Coarse cornmeal

for sprinkling

Cooking spray
Instructions
Whisk the flour, sugar, yeast, and salt in the bowl of a stand mixer. Add the egg but DON'T stir in yet.

Heat the milk and coconut oil in a saucepan until a thermometer reads 110F. If the milk is too hot when you add it to the flour mixture, it will kill the yeast.

Pour the milk mixture into the flour mixture. Avoid pouring directly on the egg -- you don't want the hot milk to cook it.

Using the dough hook, mix on medium speed until the dough comes together and starts to pull away from the sides of the bowl, 3 to 4 minutes. Scrape down the sides with a rubber spatula, if needed. The dough will look a little irregular in texture.

Turn out the dough onto a lightly floured surface and knead until smooth, soft and elastic, 3 to 4 minutes. Shape into a ball and place in a large bowl lightly oiled with coconut oil; rub the top of the dough with a little more coconut oil. Cover with plastic wrap and let rise in a warm place until double in size, 1 to 2 hours.

Sprinkle 2 baking sheets with cornmeal and set aside. After the dough rises, punch it down and divide into 16 equal pieces. Roll each piece into a ball, then flatten into a 3-inch disk. Place the disks on the baking sheets.

Heat a 12-inch cast-iron skillet over medium heat. Coat the skillet with cooking spray and liberally sprinkle with cornmeal. Working in batches, cook the muffins until they are deep golden brown, 5 to 9 minutes per side. If they start to rise in a domed fashion, flatten with a spatula. To check for doneness, the internal temperature of a muffin - take a thermometer and go into the side of the muffin. The temperature should be at least 200F. If it is not, finish in a 350F oven for about 10 minutes. Let the English muffins cool completely, then split open with a fork, toast and serve with whatever topping you like.
Notes
Adapted from: "English Muffins" Food Network Magazine October 2015.
Nutrition
Calories:
180
kcal
|
Carbohydrates:
29
g
|
Protein:
6
g
|
Fat:
4
g
|
Saturated Fat:
2
g
|
Cholesterol:
12
mg
|
Sodium:
307
mg
|
Potassium:
90
mg
|
Fiber:
1
g
|
Sugar:
3
g
|
Vitamin A:
60
IU
|
Calcium:
37
mg
|
Iron:
0.4
mg
Sign up for the emails and never miss another recipe!!
We'll never share your email or send you spam. Promise
Note: Recipes and content from © 2014-2020All Our Way are copyright protected. Please do not use content or recipe without prior written permission. If you want to share the information, please link to this post. Grazie.