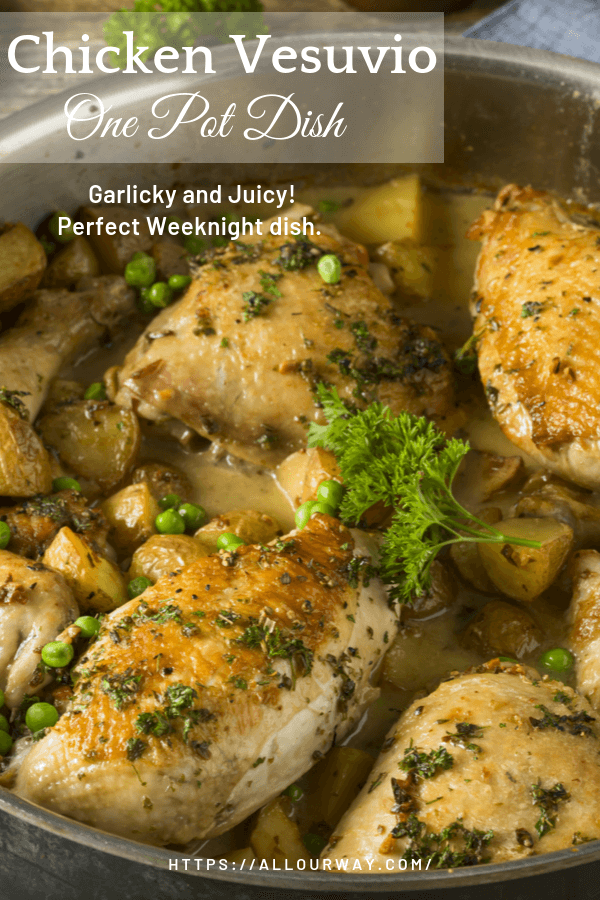 Chicken Vesuvio is a one-pan poultry dish that's deliciously moist and garlicky. Browned potatoes help soak up the rich juice and fresh young peas tossed in to give the dish sweetness and color. This dish has been around the Chicago area for a long time, but we'd never heard of it, not until our friend Duke told us about it. What brought a grin to Duke's face wasn't the dish itself but the funny story that went along with it.
Another garlicky one-pan dish that you'd gobble up is Quick and Easy Lemon and Garlic Chicken Recipe.
We can't get enough chicken.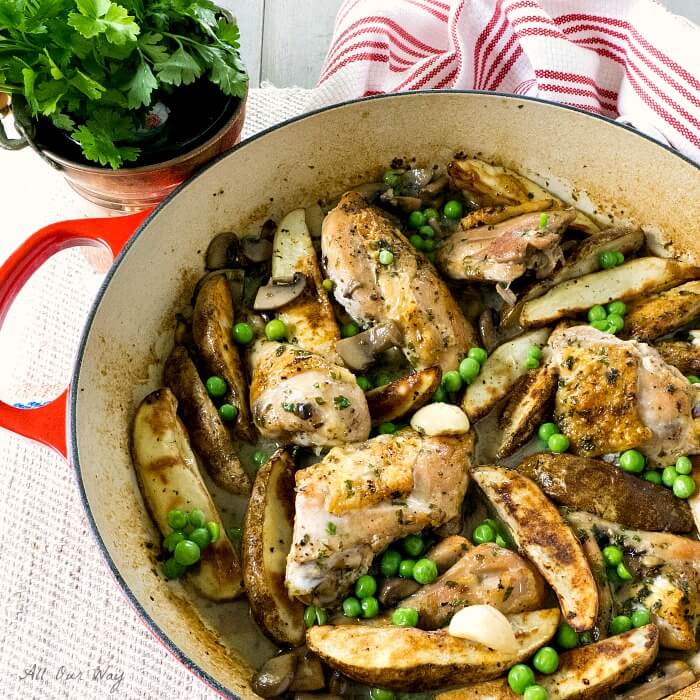 Jump to:
We Hear of Chicken Vesuvio
Duke told us a story of how he and his wife, Jenny, had flown home to visit with his mamma and his Italian relatives. Just as he and Jenny were ready to say their arrivederci, mamma handed Duke a sack. What was in the sack?
Chicken Vesuvio. 🙂
Now, you're familiar with Italian mammas or nonnas you know that they won't let you leave their house without handing you some food to take along "just in case you get hungry".
You could have eaten a ten-course meal but they're still going to make sure you have something "to tide" you over. The trip could be five minutes or five hours, it doesn't matter.
It's an unwritten law. Italian mammas and nonnas lose their badge of honor if they let someone leave their house without extra food to sustain them.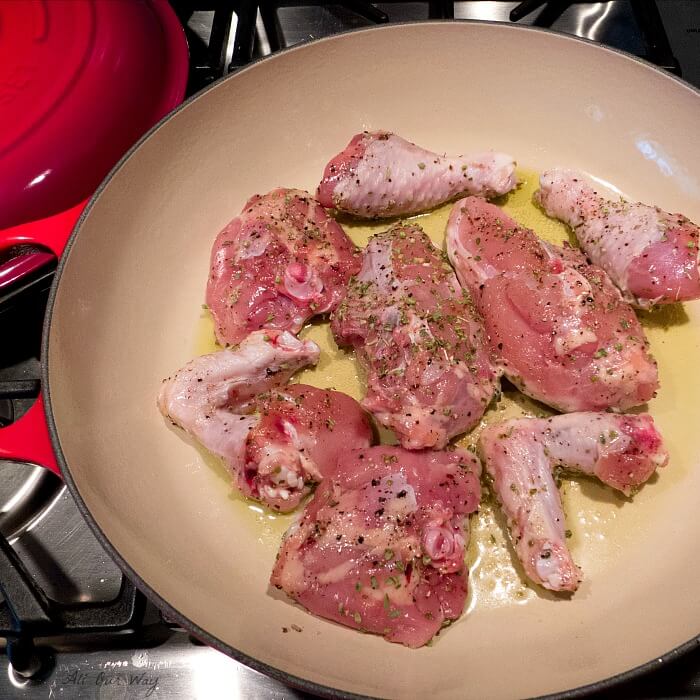 So it was with Duke's mamma. It didn't matter that the flight would provide a meal. Airplane food? Bah!! It wasn't fit to eat. . . not for her son and wife. Duke didn't have to open the sack all the way to know what was inside.
The aroma of chicken and garlic filled the air. Duke wasn't shy, he gladly took his sack, thanked his mamma for her thoughtfulness, then gave her a warm hug and big kiss good-bye.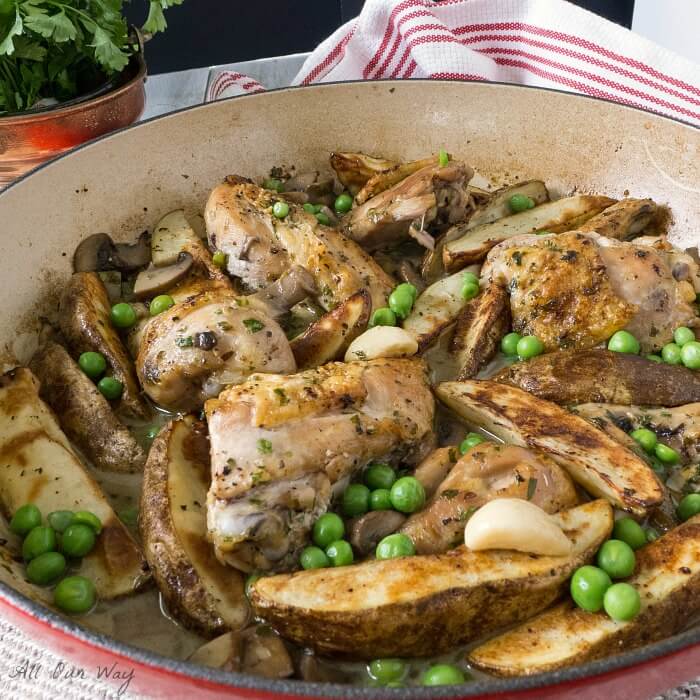 Recounting the story brought a huge smile to Duke's face. "So Duke", I said, "Did you and Jenny eat the chicken on the airplane?"
"Of course," he said laughing. "We made all those passengers jealous once they smelled that delicious garlic chicken aroma! Here they were eating tasteless food while Jenny and I were feasting on Chicken Vesuvio."
The Best Parts of Many Chicken Vesuvio Recipes
Ever since Duke told us about Chicken Vesuvio, I've come across the recipe several times. When I tried to duplicate the flavor, I tried to recall what Duke said his mamma put in her recipe. I settled on following several recipes then adding a touch of our own.
One recipe is from a wonderful cook, Marie, at Proud Italian Cook; another recipe is from Saveur ,and finally Cuisine Weeknight Menus Issue 6.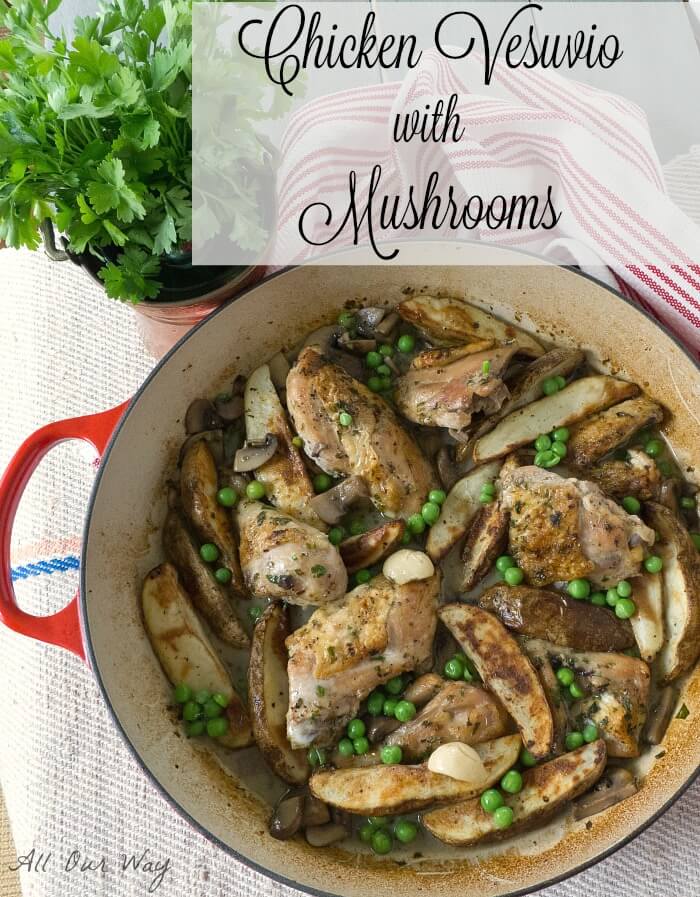 The perfect combination
We decided to add mushrooms to the recipe because we really like mushrooms, but if you don't like them, omit them.
Most recipes brown the potatoes in the skillet but in the Cuisine version, they suggested baking them so they'd be nice and crispy.
We loved that idea so once the potato wedges were baked we added them to the finished chicken. The potatoes were delicious, not mushy or soggy but crisp.
We can't attest to how well this dish holds up on a plane ride, but Duke said this holds a candle to his mamma's version. Check out this post and learn more about Duke and Venice Florida, the lovely city we visit yearly.
If you love one pan chicken meals that are mouthwateringly good -- take a peek at our Chicken Scarpariello recipe. You're going to want to make it ASAP!
Follow us on Facebook and Instagram to preview what we're cooking up:-)
More one-pan chicken recipes to try
These tasty dishes won't disappoint. They are some of our favorites!
Tutti a tavola è pronto!
Un caro saluto e alla prossima.
YOU MAY NEED...
As An Amazon Associate I earn from qualifying purchases.
Here is our favorite Le Creuset Brassier. We use it so much it is on top of our stove as much as our Dutch Oven. Love how it can go from stove top to oven to table ( on a heat proof surface, of course).
What's new? check out my All Our Way Store on Amazon. We'll be adding more items we love and use or wish we had to make cooking fun and easy.
Ultimate Chicken Vesuvio Recipe
📖 Recipe
Chicken Vesuvio with Mushrooms
A garlicky and succulent chicken dish roasted with white wine, mushrooms, peas and baked potato wedges.
Print
Pin
Rate
As An Amazon Associate I earn from qualifying purchases.
Ingredients
1

3-3 ½ lb. whole chicken, cut into 8 pieces

12

peeled whole cloves garlic

Olive oil

1 ½

cup

sliced cremini mushrooms

3 oz.

Dried oregano

Salt and pepper

⅓

cup

finely chopped parsley

1 ½

cups

white wine

we used Pinot Grigio

1 ½

cups

chicken broth or stock

2

Tablespoons

unsalted butter

1

cup

frozen peas

thawed

⅓

cup

chopped Italian parsley

Save 2 Tablespoons for sprinkling on top of chicken and potatoes
Potatoes
4

russet or Yukon gold potatoes cut in wedges

olive oil

Salt and pepper

2

Tablespoons

grated Parmesan

1

Tablespoon

chopped fresh parsley
Instructions
Preheat oven to 400 F.

Season the chicken with salt, pepper and oregano. Don't be shy with the seasonings.

Coat the bottom of a large, heavy skillet or Dutch oven with olive oil and heat over medium heat. Once the oil is hot place the chicken skin side down to sear. Be patient and allow the chicken to brown on one side before turning and browning on the other side. It will take about 4 minutes on each side.

Remove the chicken.

Add garlic cloves to the skillet and cook until golden brown. Remove and put with the chicken.

Add the sliced mushrooms and sauté until they release their liquid and start to brown.

Pour in the white wine to deglaze the pan, making sure all the delicious bits and pieces are scraped up. Add the chicken broth and cook down for several minutes.

Add the chicken, garlic and parsley back into the pan. Place the uncovered pan into the preheated oven. Cook the chicken for about 25 minutes or until the chicken reaches an internal temperature of 165 degrees. Remove the pan, add the butter and stir to form a smooth sauce. Add the peas to the pan. Keep warm.
Potatoes
Preheat oven to 450 degrees F. Cut potatoes into wedges and toss with oil, salt, and pepper. Transfer potatoes to a foiled lined baking sheet sprayed with vegetable oil and roast 15 minutes. Flip potatoes and roast 10 minutes more.

Toss potatoes with Parmesan and parsley

Serve the chicken, mushroom, peas with the potatoes and pour the delicious sauce over them. Sprinkle the remaining 1 Tablespoon fresh parsley over chicken.
Notes
I used a convection oven so my time may be different than yours. Be sure to take the internal temperature of the chicken for accuracy.
I have a double oven so I was able to make the potatoes and chicken at the same time. You can also make the potatoes first, then decrease the oven temperature for the chicken. After taking the chicken out of the oven to finish, pop the potatoes back in the oven to heat up.
Nutrition
Serving:
4
g
|
Calories:
701
kcal
|
Carbohydrates:
34
g
|
Protein:
45
g
|
Fat:
35
g
|
Saturated Fat:
12
g
|
Cholesterol:
160
mg
|
Sodium:
527
mg
|
Potassium:
1490
mg
|
Fiber:
6
g
|
Sugar:
3
g
|
Vitamin A:
1665
IU
|
Vitamin C:
61.3
mg
|
Calcium:
152
mg
|
Iron:
9.2
mg
Sign up for the emails and never miss another recipe!!
We'll never share your email or send you spam. Promise
First Published: April 11,2016... Last Updated: October 14, 2019