Our Spinach Gratin starts out as many of our recipes do. I check the fridge's vegetable drawer, spot one bag of baby spinach approaching the sell date and next to it is a one-half carton of Portabella mushrooms losing their freshness battle.
"What are we having with the grilled chicken?" asks Honey entering the kitchen.
"Spinach with mushrooms," I answer.
"Sautéed garlic spinach and mushrooms, again?"
Necessity the mother of invention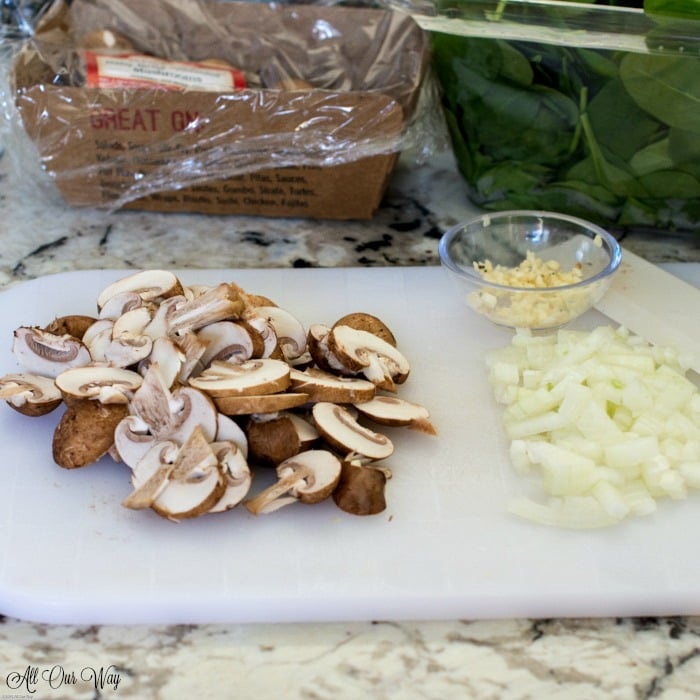 I hand him the spinach, mushrooms, and close the refrigerator door. "Nope," I say. "I . . . uhh . . . want to try something new." My mind is frantically trying to come up with some recipe. " Like . . . uhh . . . Baked Spinach Gratin!"
"Is this a blog recipe?"
"Well, if the spinach gratin turns out, I'll post it."
"Do you have a recipe for it?" he asks.
"Kinda," I hedge. "Julia Child, I know she has a recipe I can use. How can I possibly go wrong with the queen of cooking by my side?"

Modify the spinach gratin ingredients
I check out the recipe, and to my dismay, find that it calls for regular spinach, shallots, milk, cream cheese, and Gruyere cheese. Drat! I don't have any of those ingredients. *sigh*
It's late in the day, and most of that time I spent on my photography assignment. Well, it looks like I'll have to implement a"Plan B."
I decide to use Parmesan cheese instead of the Gruyere; we always have the parm on hand. Instead of the milk or cream cheese, I figure I can substitute chicken stock for the milk and cream cheese, then thicken the liquid with flour.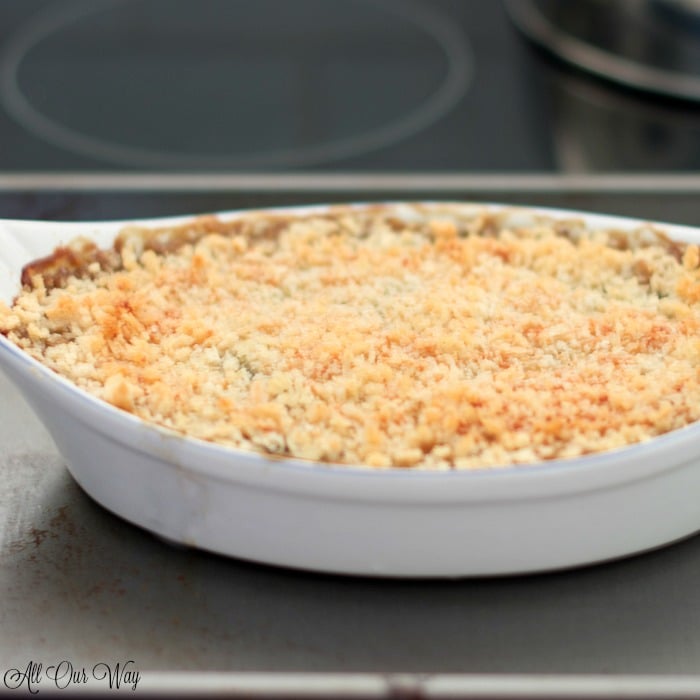 Instead of the shallots, another ingredient I didn't have, I can use minced onion. At least I do have the butter, salt, pepper, and nutmeg. Julia doesn't use mushrooms, but this dish will have some. Now if you don't like mushrooms, don't add them.
Streamline the directions for spinach gratin
The Julia Child recipe calls for 3 pounds of fresh spinach with the stems removed. What I have is one pound of baby spinach. Now, the original directions call for:
blanch the spinach until it wilts
transfer the greens to a colander
rinse in cold water
drain the liquid from the spinach
squeeze the spinach to extract as much liquid as possible from it
chop the leaves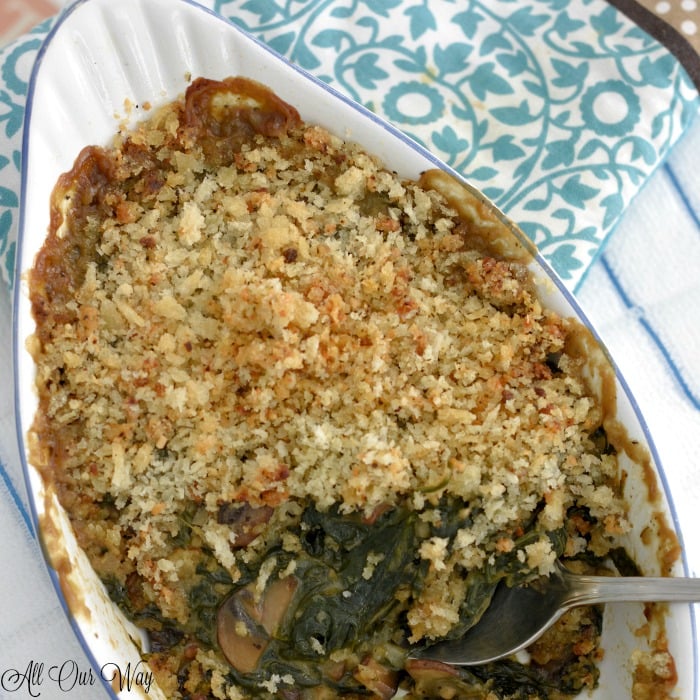 Whew!! That is six too many steps for me.
Instead, I decide to make the spinach gratin like I make my garlic spinach.
The easier version!
Sauté the garlic and onion.
Add the mushrooms until they turn a golden brown.
Add the baby spinach, pour a little of the chicken broth in the pan and cover it with a lid.
Much easier, isn't it? No colander and pot to clean up. 🙂
Finish the spinach gratin in the oven
Before pouring the mixture into a buttered gratin dish or glass casserole and stir in some of the Parmesan cheese.
Sprinkle the parmesan panko crumbs on top of the spinach and bake in a 375 degrees oven for 30 minutes.
The spinach was the best we've ever eaten. We hope you think so too. And if you're looking for more spinach recipes, try our Sautéed Baby Spinach recipe, we mix it with grape tomatoes. The combination is ideal!
If you can't get enough of gratin dishes, try our Cheesy Diced Potato Casserole. It's easy to throw together and you can get your creamy, cheesy potato fix.
By the way, this is one of the photos I captured that day. Honey challenged our grandsons to identify what they are, even said he'd give them $5.00 if they could name them. He lost. 🙂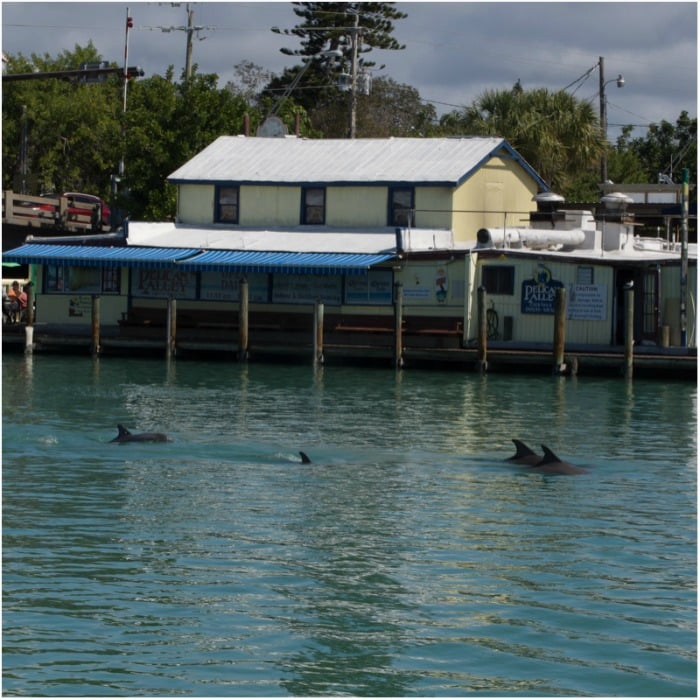 Tutti a tavola è pronto!
Un caro saluto e alla prossima.
YOU MAY NEED...
This is like the gratin dish we have and use often. It's nice to have something low so that the gratin is nice a moist but not full of liquid. There are so many gratin recipes that this dish comes in handy. I'm sure you'll find it that way too.
What's new? check out my All Our Way Store on Amazon. We'll be adding more items we love and use or wish we had to make cooking fun and easy.
Thank you for being part of All Our Way!
The Best Baked Spinach Gratin - Quick Version
📖 Recipe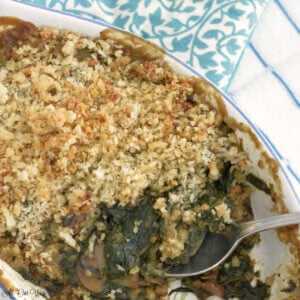 The Best Baked Spinach Gratin — A Streamlined Julia Child Recipe
This spinach gratin is brimming with flavor but isn't loaded with cream and cheese. The rich taste comes for thickened chicken broth and Parmesan cheese. The gratin is topped with a buttery crunchy parmesan breadcrumb topping.
Print
Pin
Rate
As An Amazon Associate I earn from qualifying purchases.
Ingredients
1

pound

baby spinach

1

cup

sliced Bella mushrooms

1

teaspoon

garlic

minced

⅓

cup

onion

diced

3

Tablespoons

unsalted butter

divided

1

Tablespoon

olive oil

¼

teaspoon

hot pepper flakes

1 ½

Tablespoons

flour

½

cup

chicken broth or stock

dash of nutmeg

¼

cup+ 2 Tablespoons grated Parmesan cheese

divided

¼

cup

Panko crumbs
Instructions
In a deep saute pan heat the olive oil and 1 ½ Tablespoon butter over medium high heat. Sauté the onion until translucent about 2 minutes then add the garlic, hot pepper flakes and cook for another minute.

Add the mushrooms, stir and continue to sauté until they begin to turn golden.

Slowly add the spinach leaves until they begin to wilt. Add ¼ cup of the broth, add salt and pepper to taste, cover the pan with lid, and cook over medium heat.

Once the spinach wilts, about 5 minutes, uncover and continue to stir. Don't let all of the moisture evaporate. You may have to add a little bit of water.

In the remaining ¼ cup chicken broth whisk in the flour until it's dissolved.

Slowly pour the broth over the spinach and mushrooms and continue to stir until thick. Add a dash of nutmeg.

Stir in 2 Tablespoons of the Parmesan cheese.

Pour the mixture into a buttered gratin pan or glass casserole.

Preheat oven to 375 F.

In a bowl mix the Panko crumbs and Parmesan cheese. Melt the remaining butter and add that to the topping and mix well.

Sprinkle the topping evenly over the spinach gratin.

Bake until heated through and slightly golden brown on top, about 30 minutes.
Notes
Our Spinach Gratin was inspired by Julia Child's Spinach Gratin with Cheese recipe
Nutrition
Calories:
170
kcal
|
Carbohydrates:
11
g
|
Protein:
4
g
|
Fat:
12
g
|
Saturated Fat:
6
g
|
Cholesterol:
22
mg
|
Sodium:
228
mg
|
Potassium:
756
mg
|
Fiber:
3
g
|
Sugar:
1
g
|
Vitamin A:
10975
IU
|
Vitamin C:
35.1
mg
|
Calcium:
128
mg
|
Iron:
3.5
mg
Sign up for the emails and never miss another recipe!!
We'll never share your email or send you spam. Promise
Note: Recipes and content from © 2017 All Our Way are copyright protected. Please do not use content or recipe without prior written permission. If you want to share the information, please link to this post. Grazie.