Spicy Eggs In Purgatory is a peppery, savory Italian dish Uova Piccante In Purgatorio. The eggs cook in a rich seasoned tomato sauce laced with Parmesan cheese. Served with ciabatta or polenta, it's a perfect dish for brunch. Make it for breakfast when camping, it's quick and easy.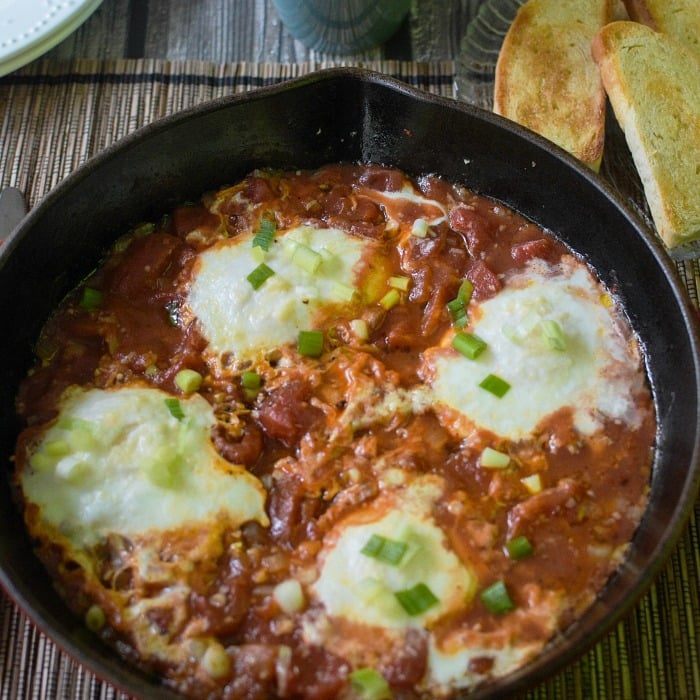 Jump to:
Spicy Eggs In Purgatory a classic dish
Spicy Eggs in Purgatory is a classic recipe that seems to be regaining popularity. I can't open a cook book or surf the Internet without seeing some version of eggs poached in a spicy herbaceous tomato sauce.
One of my favorite cookbook authors, Nigella Lawson, prepares and eats Uova in Purgatorio so she can feel heavenly.
Giulia Scarpaleggia writes in her Italian cookbook, I Love Toscana, that she has fond memories of her nonna many summer evenings fixing uova al pomodoro.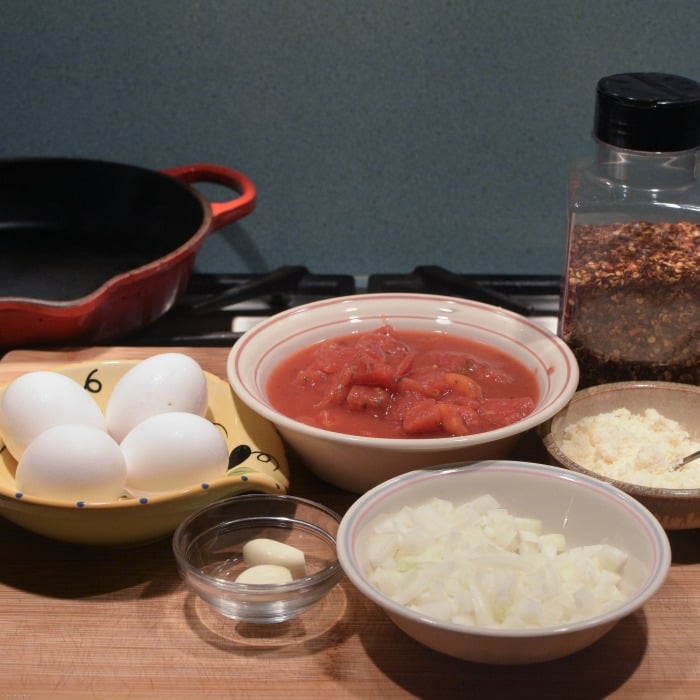 In his cookbook Dolce Vita, David Rocco tells how he'd take his mother's tomato sauce, heat it up, then poach some eggs in her delicious sauce.
In Italy, you'll find spicy eggs in purgatory, called uova in purgatorio, uova all'inferno, or uova al pomodoro. Purgatory, limbo, and hell are associated with suffering and penance. But believe me, eating this peppery dish is no hardship -- it's devilishly good!
Poached Eggs in Tomato Sauce a multi-cultural dish
If you do an Internet search for eggs in tomato sauce, you'll come up with an Italian version, a Middle Eastern version, a Mexican version, and an Andalusian version. Even campers like to toss in an egg or two into a pan over the open fire. I'm sure there are many more versions.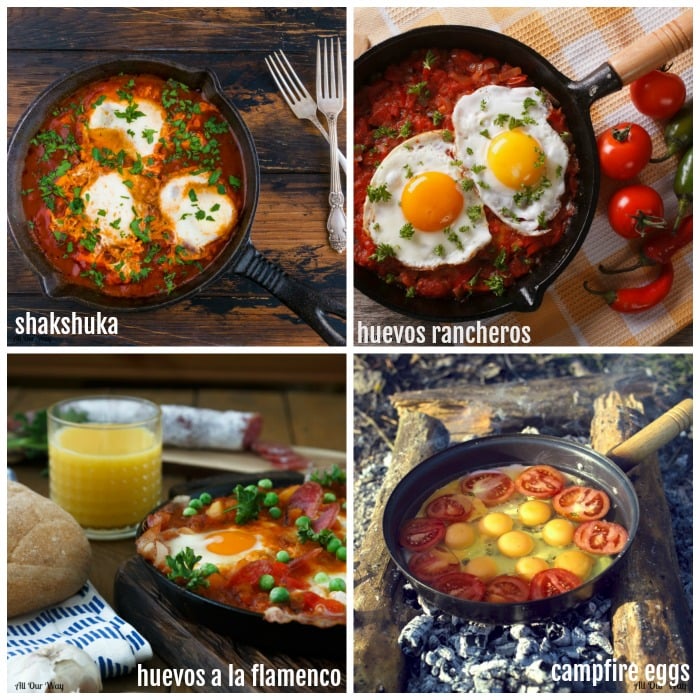 Shakshuka, a delicious combination of eggs, tomatoes, and spices, is of Middle Eastern, North African, and Israeli descent. Deb, of Smitten Kitchn, has several variations on her blog.
In the Southwest and Mexico, you'll find Huevos Rancheros on most restaurant menus. The egg dish gets its kick from fresh and dried hot peppers. I've even seen a Mexican green sauce version made with tomatillos, cilantro, and scallions.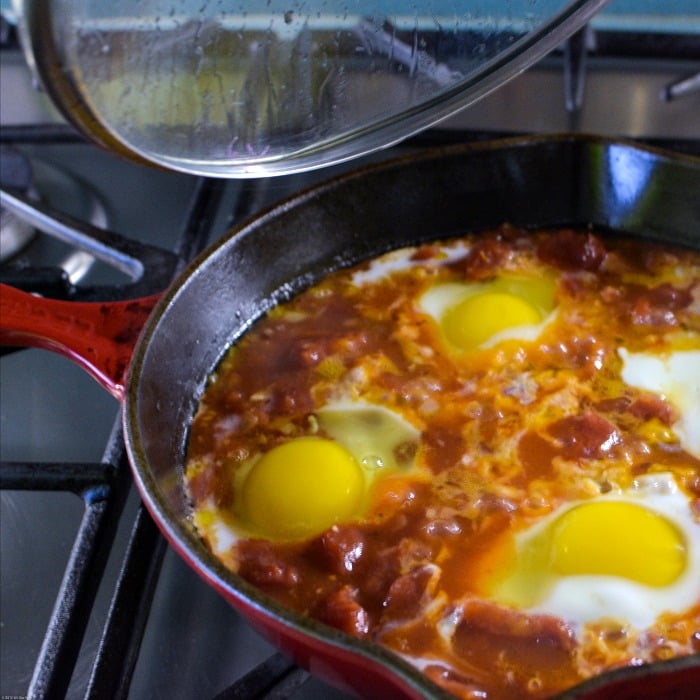 In Andalusia, you'll find Huevos A La Flamenca. Poached eggs in tomato sauce with Serrano ham, chorizo, peppers, and peas.
In many cultures, eggs were the only protein available. This type of dish made a satisfying and nutritious meal.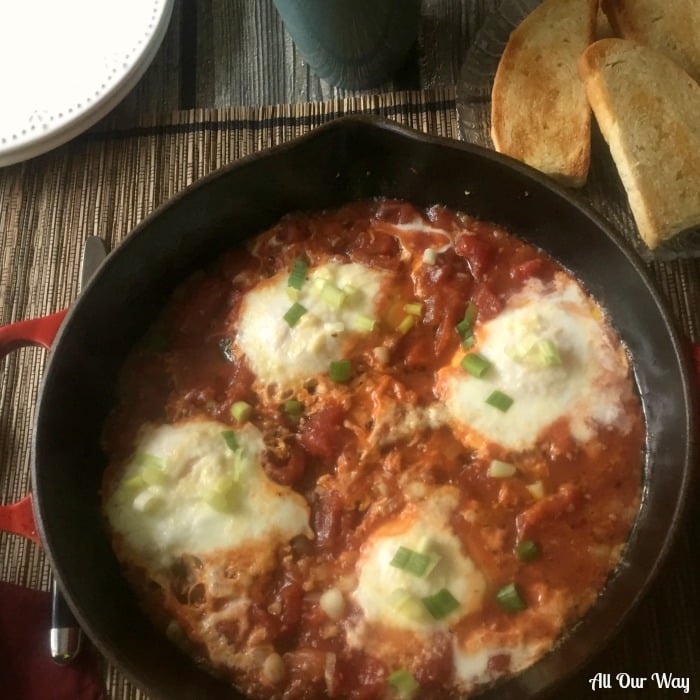 Spicy Eggs in Purgatory an Italian rustic dish
For many years mammas and nonnas made this dish for a light lunch or dinner. Sometimes, eggs were the only protein available. That was the meal.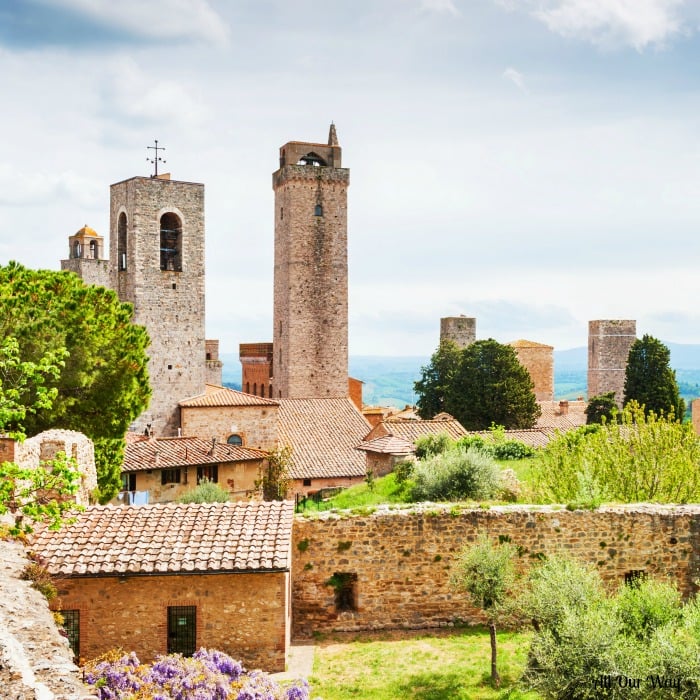 Next to the poached eggs in tomato sauce were slices of homemade bread so that not one bit of sauce went to waste. Just like polenta, this dish of the contadino is now in vogue.
I grew up eating simple country dishes. Mamma made everything taste wonderful -- it was the special ingredient she put into it. Love.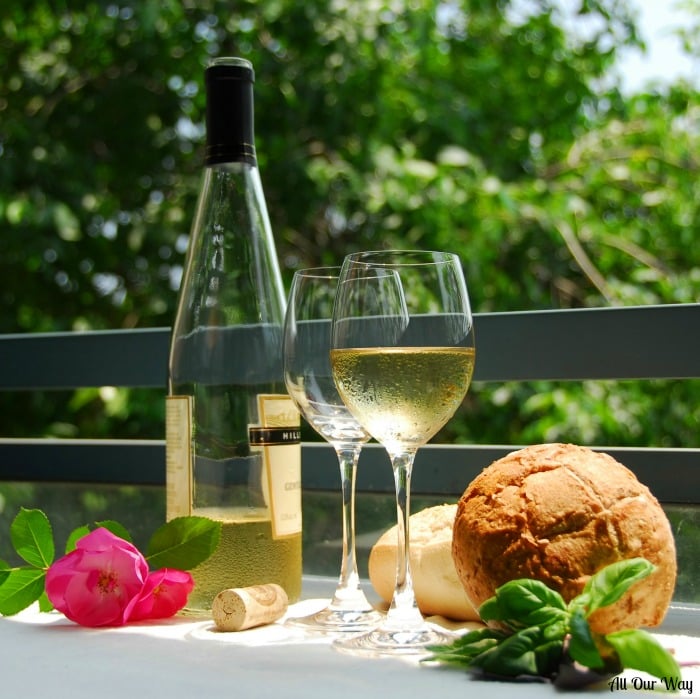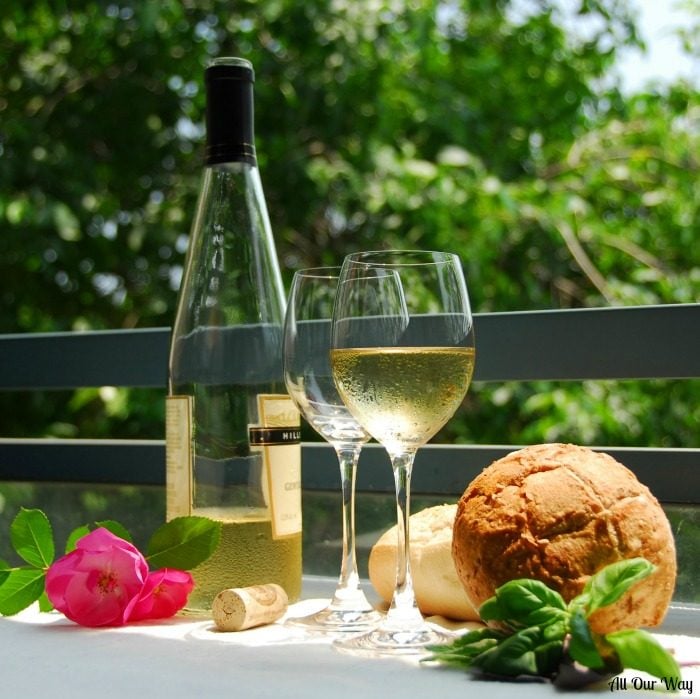 We hope you try the Spicy Eggs in Purgatory. It's a quick dish you can make for one or many. It all depends on the size of your pan. Make it for a romantic Sunday brunch or a special family breakfast.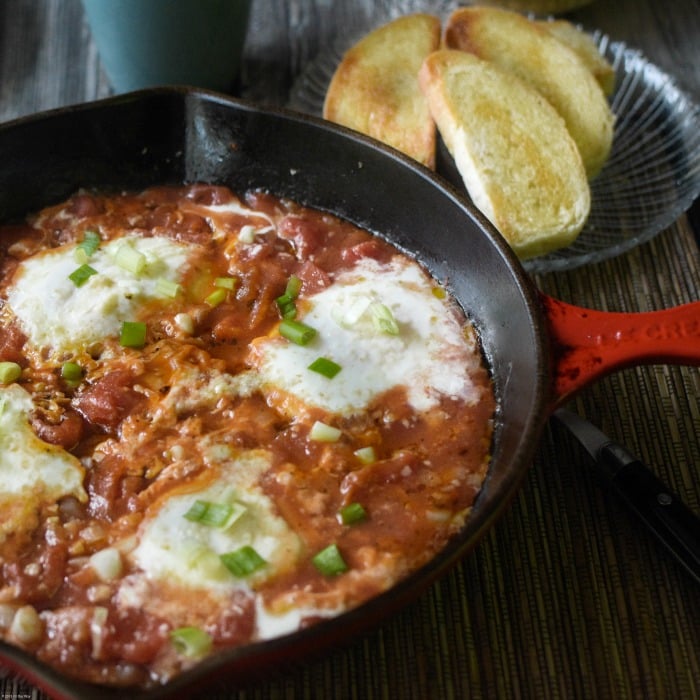 Whatever you do, don't forget the slices of rustic bread per fare la scarpetta. You'll want to mop up every bit of sauce.
Tutti a tavola è pronto!
Un caro saluto e alla prossima.
YOU MAY NEED...
The following are affiliate links. As An Amazon Associate I earn from qualifying purchases.
This heavy duty cast iron skillet with lid is a must in our kitchen. We use it all the time. In fact ai rarely put it away because I'll only have to drag it out again. Once you start using one and taking care of it you'll never want to use anything else.

<
Spicy Eggs In Purgatory - Italian Dish Uova Piccante in Purgatorio
Once you taste this breakfast dish you'll be asking where have you been all of my life. It is so tasty and easy I know this will be a standard breakfast for years to come. It takes no time at all the only thing you must have is some delicious bread to sop up all the tomato goodness. See if we're not right!!
And if you like a bit of sausage for breakfast, try our crescent dough wrapped piggy links. They are great to make ahead and so very tasty!
If you like this recipe, please consider giving it a five-star rating. This helps others to decide whether to try the recipe.
📖 Recipe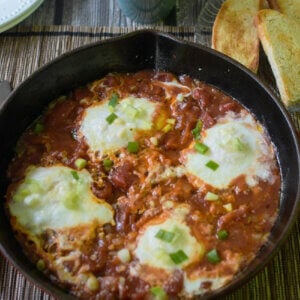 Spicy Eggs In Purgatory – Italian Dish Uova Piccante In Purgatorio
Spicy Eggs in Purgatory is a peppery Italian dish also called Uova in Purgatorio. The eggs poach in a rich seasoned tomato sauce that is laced with Parmesan Cheese. It's a perfect dish for brunch or a light lunch or dinner. It's quick and easy to prepare.
Print
Pin
Rate
As An Amazon Associate I earn from qualifying purchases.
Ingredients
4

eggs

14.5

oz

can petite tomatoes with basil

garlic, oregano (you may use tomatoes of choice)

2

cloves garlic

sliced

¼

cup

chopped onion

½

teaspoon

red pepper flakes

adjust to your taste

2

Tablespoons

olive oil

½

teaspoon

Tuscany or Italian seasoning.

Parmesan cheese

½

teaspoon

Kosher salt

freshly ground black pepper

Bread to soak up the delicious juice.

Basil leaf ribbons for garnish or green onions
Instructions
Pour the olive oil into a heavy duty skillet and warm over medium heat. Add the pepper flakes, garlic, and onion. Stir for 2 -3 minutes being careful not to let the garlic brown. Add the tomatoes and stir in the Tuscan seasoning and salt.

Let the tomatoes with sauce come to a simmer. It has to be hot enough to poach the eggs.

Crack the eggs and let them slide into the juice. Sprinkle some Parmesan over the eggs, leaving some of the yolk still exposed. Partially cover with lid. Let it simmer for 5 minutes. The white should be set and the yolk still runny. It goes fast so keep an eye on it.

Remove from the heat, sprinkle with basil leaves, green onions or both. Serve with a little more Parmesan and some bread to dunk in.
Notes
You may add additional tomatoes and juice to the original can of tomatoes for extra sauce.
Nutrition
Calories:
330
kcal
|
Carbohydrates:
19
g
|
Protein:
14
g
|
Fat:
23
g
|
Saturated Fat:
4
g
|
Cholesterol:
327
mg
|
Sodium:
987
mg
|
Potassium:
752
mg
|
Fiber:
4
g
|
Sugar:
10
g
|
Vitamin A:
1065
IU
|
Vitamin C:
21.4
mg
|
Calcium:
133
mg
|
Iron:
4.4
mg
Sign up for the emails and never miss another recipe!!
We'll never share your email or send you spam. Promise
Note: Recipes and content from © 2017 All Our Way are copyright protected. Please do not use content or recipe without prior written permission. If you want to share the information please link to this post. Grazie!
Let's stay connected. Sign up for our weekly newsletter so we can share what's happening with us and we'd love to know what's going on with you.