Beef stew, there must be thousands of recipes for this hearty dish and Rustic Italian Vegetable Beef Stew is just one of them. Every family in every country seems to have a version of beef stew. Our Rustic Italian Vegetable Beef Stew contains lean meat, nourishing vegetables, creamy Pinto beans, and ditalini all in a rich tomato broth. Think of a big pot of hot aromatic vegetable beef stew on the stove, waiting to welcome you and your family in from the cold.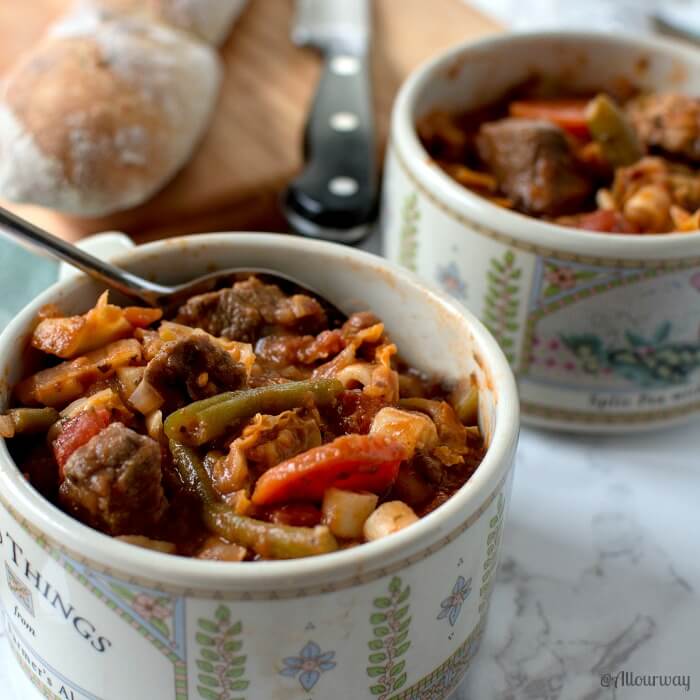 History of Beef Stew
To call a dish beef stew, it has to cook in a pot with a liquid base, and it must have beef as the main ingredient. Stewing meat, as a method of cooking, goes as far back as the discovery of fire.
I can picture how stewing meat evolved. A caveman enters the family cave dragging something behind him. "Wife," he bellows. "I've got meat. I'm hungry."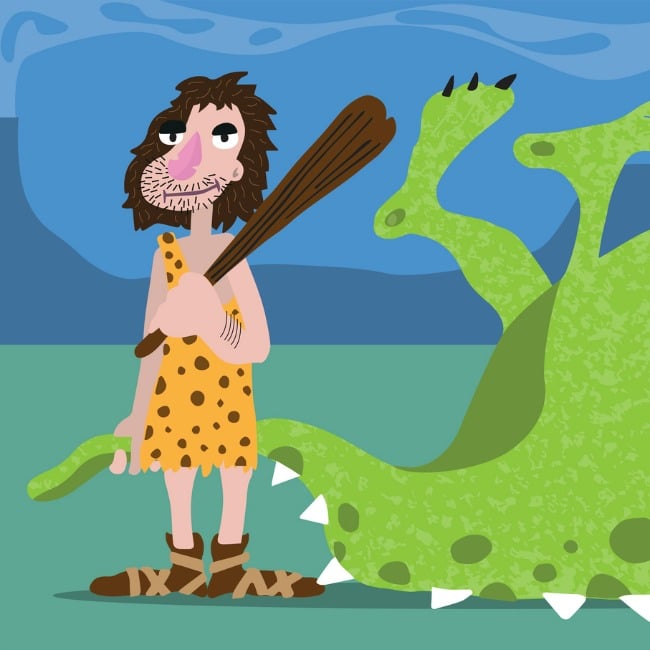 The wife turns from the steaming cauldron that's over the fire and looks at what her husband dragged in. "Huh!" she says. " That meat is the same as you brought me last time. The last time I cooked it over the fire it was as tough as your shoes. We couldn't swallow it."
Caveman responds, "I'm tired of berries and nuts. I need meat!"
"Then bring me some meat I can cook over the fire."
First Beef Stew
As the caveman leaves the cave, he's mumbling about ungrateful wives.
The woman, in the meantime, looks at the bloody mass on the ground. She's grumbling about leathery meat. With a sigh of resignation, she grabs the container of water then rinses off the dirt and grass from the hunk of flesh. What should she do?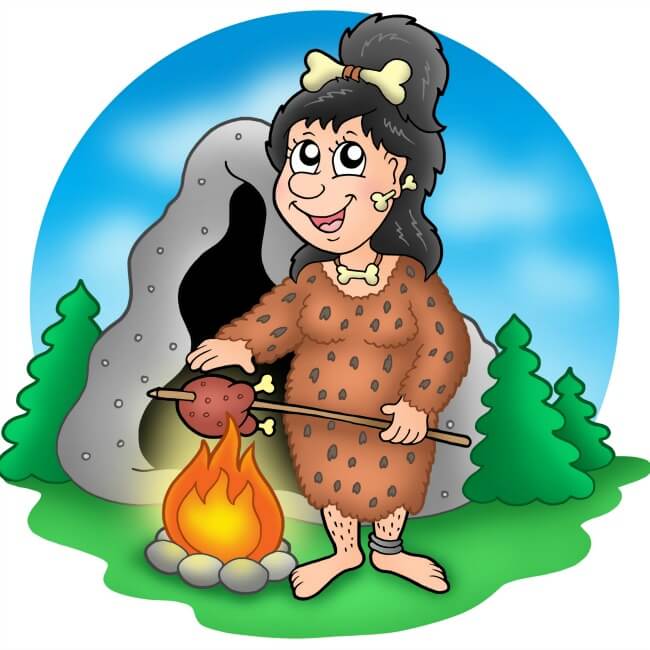 She looks at her water-filled cauldron; she looks at the meat at her feet. Why not she thinks to herself? A hot soak in water couldn't hurt the tough meat. She smiles to herself as she puts a big chunk of meat into the simmering water.
Beef Stew today
Today this delicious comfort food comes in many forms. It can be Texas-style chili, Burgoo a Kentucky stew, French Boef Bourguignonne, Beef Stroganoff, Hungarian Goulash, Flemish Carbonnade à la Flamande, Italian Spezzatino di Manzo, and more.
Now that most homes have a slow cooker or crock-pot, it's even easier to whip up a delicious beef stew any day of the week. We don't have to spend hours in the kitchen tending the stew on the stove, the slow cooker does the work.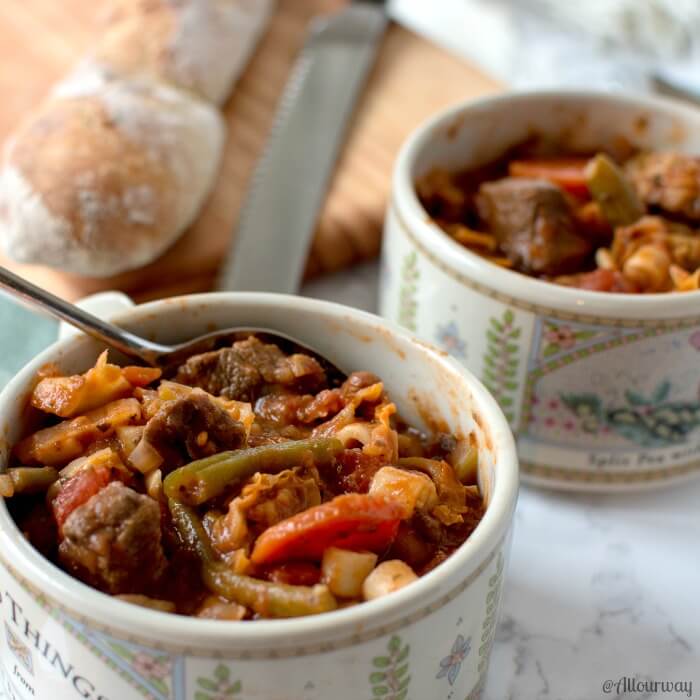 We made our Rustic Italian Vegetable Beef Stew in our Dutch oven. Smelling a wonderful stew simmering on the stove is so homey and enticing, no scented candle can ever match that smell. This stew is versatile. You can use chicken or even make it vegan by eliminating the meat and adding more beans for the protein. If you like, add more broth and make it soupier.
However you make it, we know you'll be happy with the taste. We're already planning our next beef stew, although this time, we may make it a venison stew. Be sure to sign up for our newsletter, we enjoy sharing with you what we're cooking up in our kitchen.
Tutti a tavola è pronto!
Un caro saluto e alla prossima.
Marisa Franca @ All Our Way
Yields A large pot full.
Rustic Italian Vegetable Beef Stew
A hearty spicy vegetable beef stew that's loaded with iron rich beef, nutritious vegetables, high fiber pinto beans, comforting pasta, all in a rich tomato broth. Excellent any time of year but especially so in the cold winter months.
30 minPrep Time
3 hrCook Time
3 hr, 30 Total Time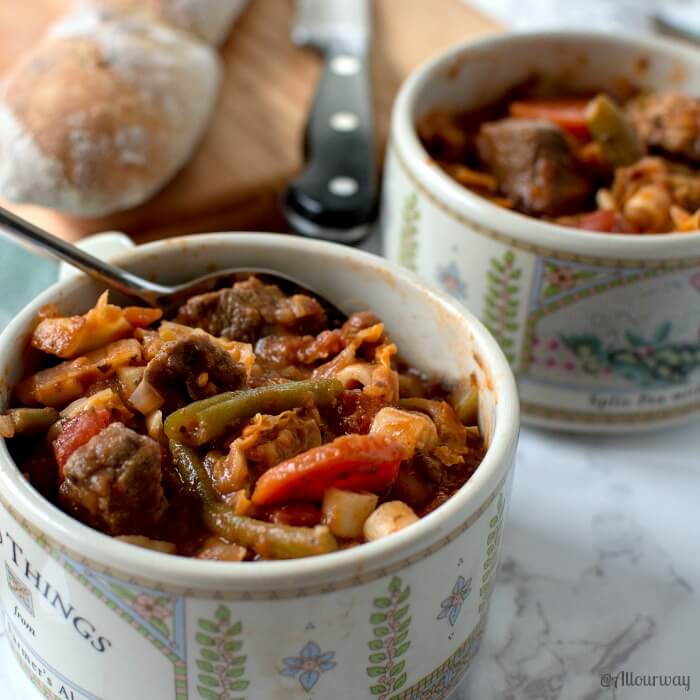 5 based on 3 review(s)
Ingredients
1 1/2 pounds chuck roast, cubed
3 Tablespoons olive oil, divided
1 cup diced onion
1 cup sliced celery
1 cup sliced carrots
2 cups shredded savoy cabbage
1 cup fresh green beans cut in 1-inch pieces (may use frozen)
3 cloves garlic, minced
1 can (16 ounces) diced tomatoes
1 can (15 ounces) tomato sauce
1 can (15 ounces) pinto beans(drained)
1 can (14 ounces) beef broth (or more if you prefer a thinner stew)
3 bay leaves
1 Tablespoon dried parsley flakes
1/2 teaspoon oregano
1/2 teaspoon basil
1/2 teaspoon red pepper flakes (use less if you don't like spicy)
1/4 teaspoon black pepper
3/4 cup dried ditalini (may substitute any small pasta) cooked to under al dente. It will finish cooking in stew.
Parmesan cheese
Instructions
Place a Dutch oven or large pot on medium high heat sauté beef in 1 1/2 tablespoons olive oil for 5 minutes, stirring occasionally. Lightly salt and pepper the meat as it sautés. Remove meat with juices and set aside.
In the same pot add the rest of the olive oil and sauté the onion, celery, carrots, garlic, green beans, seasonings over medium high heat until the carrots and green beans are semi-soft.
Add beef broth, beef cubes and juice,diced tomatoes, tomato sauce and bring to a boil then turn down to simmer. Cover with lid and continue to simmer until meat is tender about 1 hour.
Stir in the drained beans and the savoy cabbage. Place the lid back on the pot and continue to cook for another 15 minutes.
Check the meat for doneness. The beef should be tender.
Stir in the cooked ditalini, cover the pot with lid, turn off the heat and let it rest.
If you prefer a thinner stew, add more beef broth.
Serve with shaved Parmesan cheese.
Notes
This is a very versatile stew. Add your favorite vegetables. This recipe can be a starting point. Add more liquid if you like it thinner. We thought it was excellent as is. Your cut of meat will determine the cooking time. Taste as you go along.
7.8.1.1
19
https://allourway.com/rustic-italian-vegetable-beef-stew/
Marisa Franca @ All Our Way
Note: Recipes and content from © 2016 All Our Way are copyright protected. Please do not use content or recipe without prior written permission. If you want to share the information, please link to this post. Grazie.