Ciambotta is a classic vegetable stew originating from the South of Italy. This stew is packed with delicious and healthy summer vegetables, such as zucchini and sweet peppers, tender potatoes and eggplant, fresh pestata, and a rich tomato broth.
Serve this hearty and comforting one-bowl vegetable stew as a side dish or main meal with crusty bread, rice, polenta crostini, or pasta!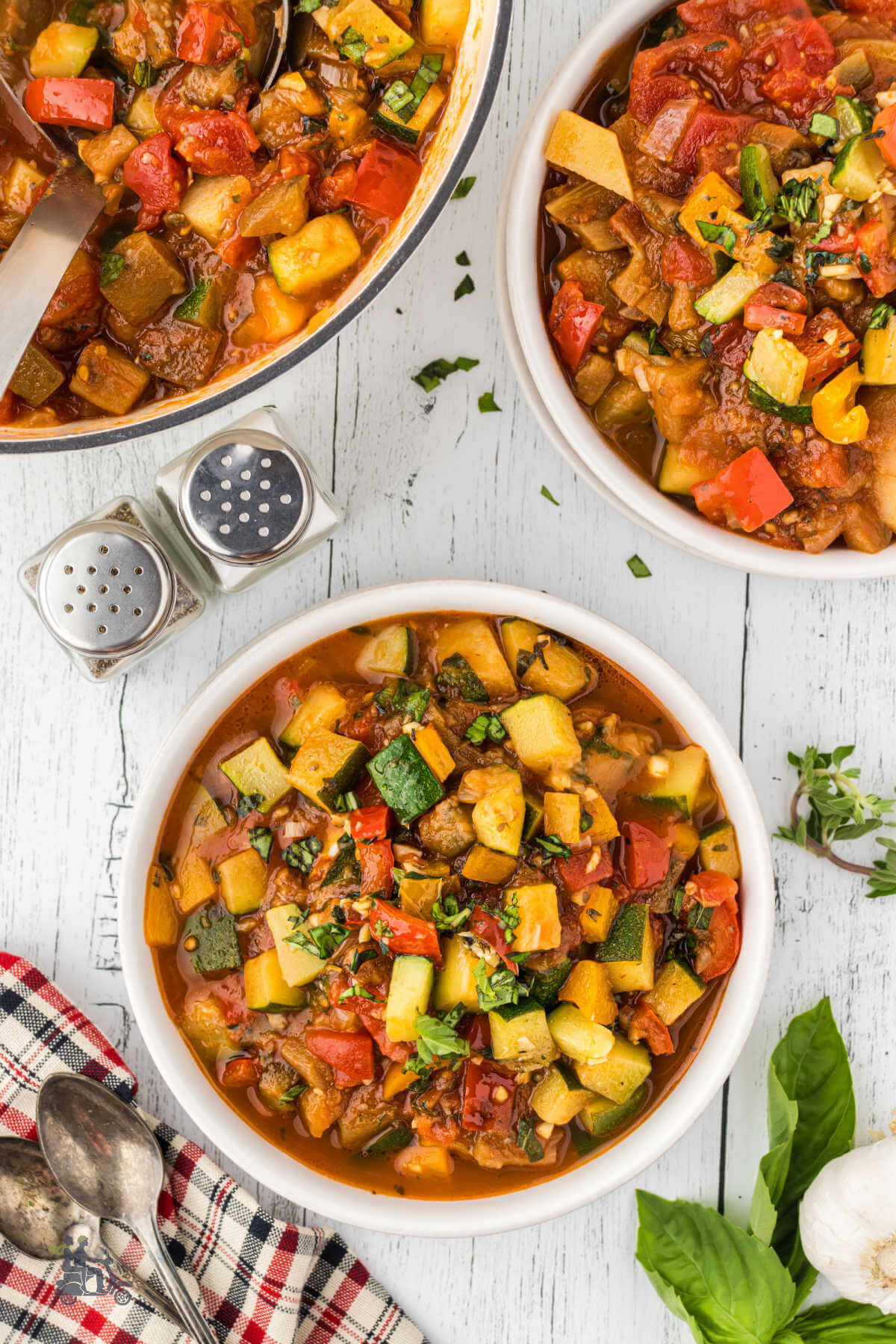 Jump to:
❤️ Why you'll love this recipe
I've cooked the zucchini and bell peppers in the dry heat of a skillet, which helps to retain their texture in this dish.
It's a hearty one-pot meal without any meat - perfect for vegetarian diets or those days when you want to skip the meat.
The pestata adds a huge punch of flavor to this dish when added at the end.
Enjoy a bowl of this Ratatouille-like stew, loaded with healthy seasonal vegetables in a rich broth, as a side dish or main meal for lunch or a delicious dinner.
🛒 Ingredients
As an Amazon Associate I earn from qualifying purchases.
Note: The full list of this Giambotta recipe ingredients with their amounts and options are in the recipe card below.
🗒 Instructions
Note: This is an overview of the instructions. The full instructions are in the recipe card below.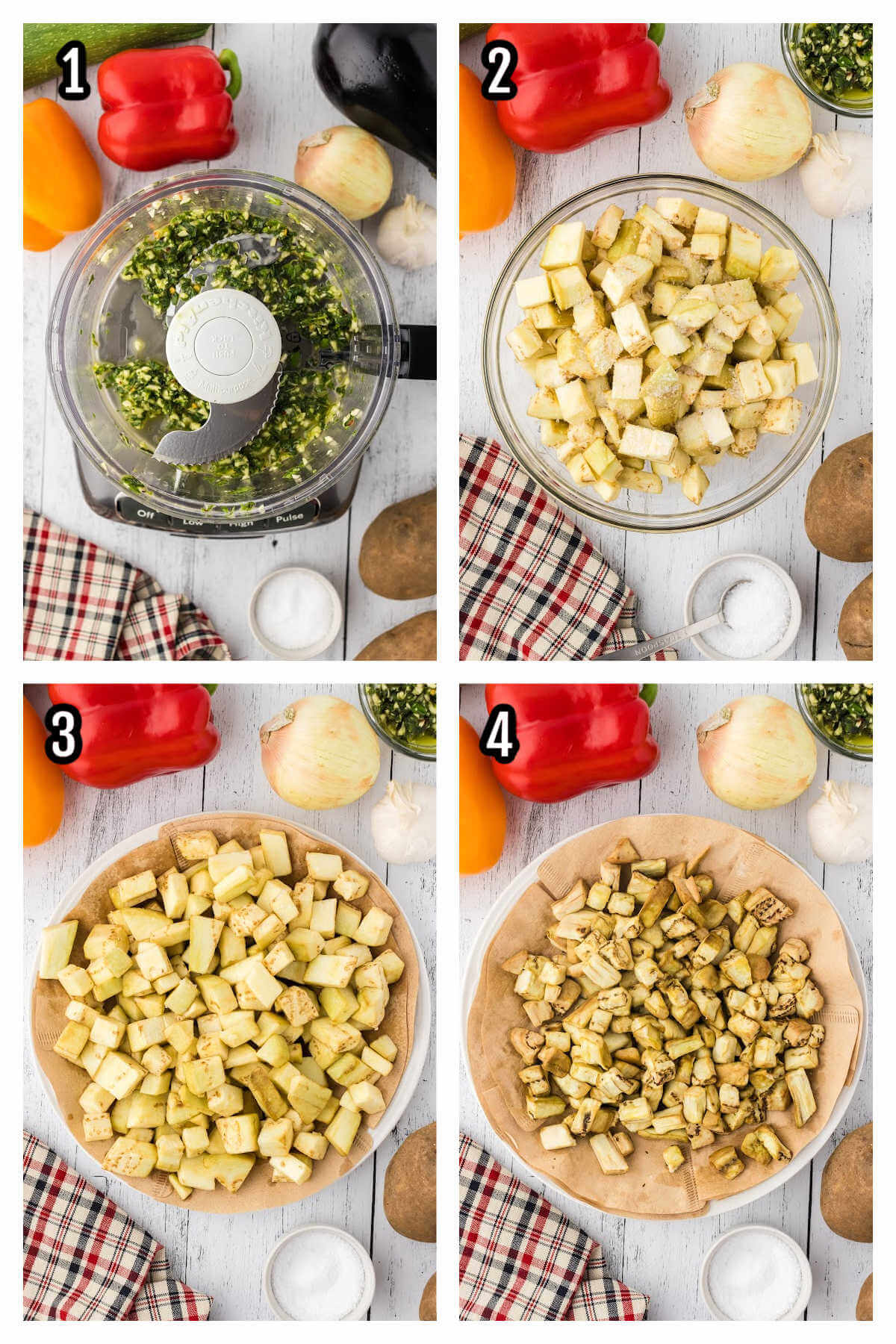 Make the pestata by processing all ingredients in a food processor for 1 minute until finely ground. Scrape the sides as required and set aside.
Start preparing the stew by tossing the pieces of eggplant with salt in a mixing bowl.
Line a large plate with a double layer of coffee filters and spray the surface lightly with vegetable oil or spray. Spread the eggplant evenly over the filters.
Microwave the eggplant for 8-12 minutes, tossing them once halfway through. They should be dry to the touch.
Heat extra virgin olive oil in a Dutch oven or large pot over high heat until it shimmers, and then add the eggplant, onion, and potatoes.
Cook for 2 minutes, stirring frequently. The eggplant should brown, and the surface of the potatoes should turn translucent.
Push the veggies to the sides of the pot and add oil and tomato paste to the clearing.
Stir the ingredients and cook for 2 minutes.
Add 2 cups of water, chopped tomatoes, and juice to the pot, scraping any browned bits.
Bring the stew to a boil and then reduce to medium heat, covering the pot to simmer gently for 20-25 minutes.
While the stew cooks, heat oil in a skillet over high heat until smoking. Add the zucchini, bell peppers, and salt.
Cook the veggies for 10-12 minutes until they are tender.
Push the vegetables to the sides of the skillet and add the pestata.
Cook the mixture for 1 minute. Transfer the mixture to a bowl. Add the remaining water to the skillet off heat to scrape up any browned bits.
Remove the stew from the heat and stir the vegetables and water from the skillet into the Dutch oven.
Cover the pot and allow it to stand for 20 minutes. Stir in the basil and season it with salt.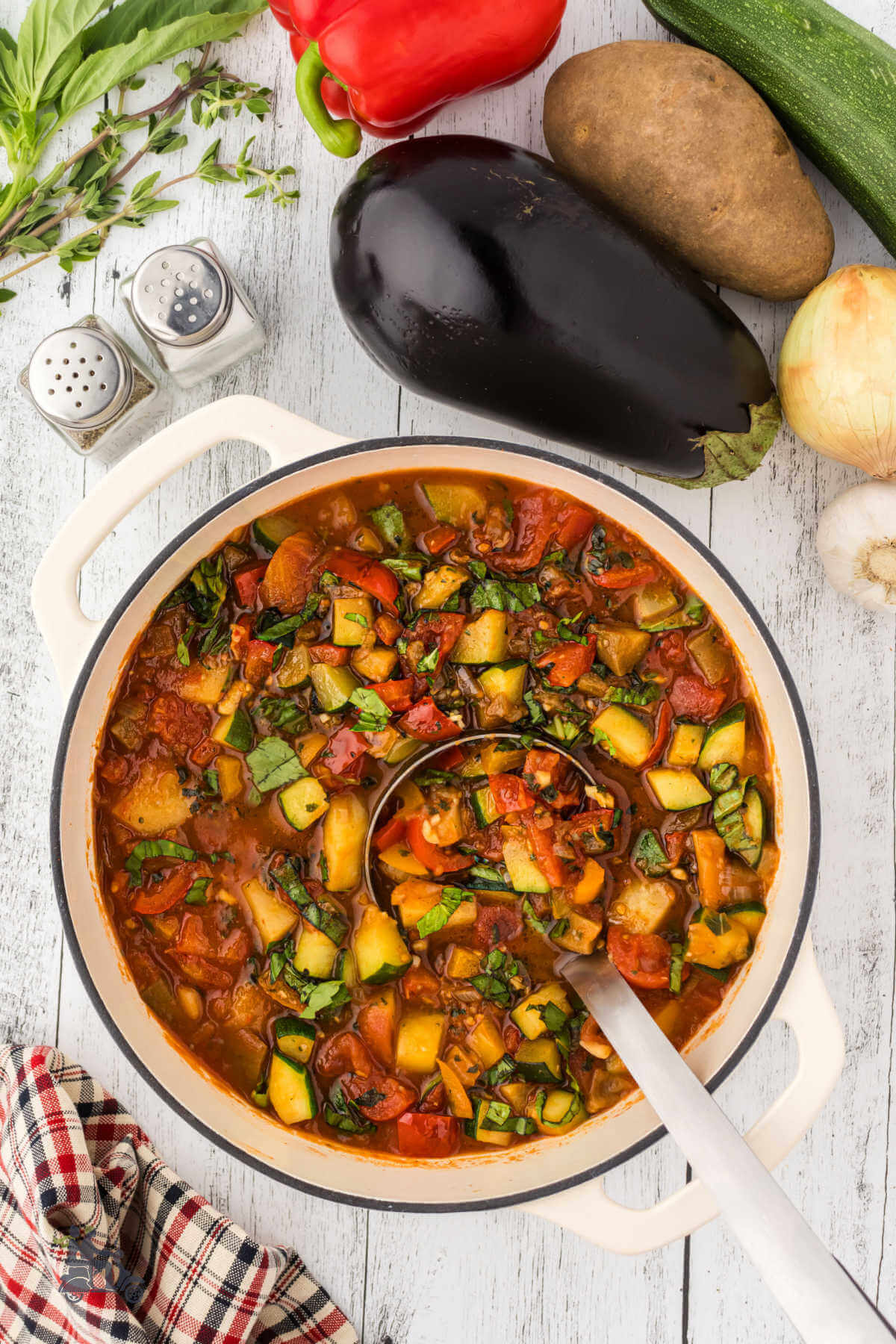 🔪 Equipment
The following are affiliate links. We are a participant in the Amazon Services LLC Associates Program, an affiliate advertising program designed to provide a means for us to earn fees by linking to Amazon.com and affiliated sites.
You'll need the following items to make this recipe successfully.
Sharp knife
Cutting board
Dutch oven or deep skillet
Food processor
🤔 FAQs
These are the questions we are most frequently asked about making this Ciambotta recipe.
What does ciambotta mean in Italian?
Ciambotta refers to an Italian stew that consists of summer vegetables, such as bell peppers, eggplants, zucchini, onions, and potatoes. This dish is also known as "Giambotta" in other regions of Italy.
Is Ratatouille Italian or French?
Ratatouille is a French dish from Nice and consists of stewed vegetables. Ciambotta is like the Italian ratatouille!
How do you pronounce ciambotta?
You can pronounce Ciambotta as Chom-BOAT-ah.
Can you freeze ciambotta?
Yes! Store leftover vegetable stew in the freezer for 3-6 months.
👩🏻‍🍳 Tips
Cooking the zucchini and bell peppers in a skillet instead of the Dutch oven prevents these delicate vegetables from becoming overly soft and losing too much flavor.
Ensure you have scheduled enough time in your day to prepare and cook this Ciambotta recipe since the cooking time is approximately 1.5 hours.
Only add the vegetables and pestata towards the end of the cooking to preserve the flavor and texture of these ingredients.
Allowing the vegetable stew to stand for about 20 minutes will help the flavors meld together.
📚 Variations
Add other ingredients to this vegetable stew, such as chickpeas and cannellini beans, white beans, green bell pepper, Swiss chard
Add ground meat to the stew for a meaty twist.
Increase the red pepper flakes in the pestata or add cayenne pepper to this stew for an extra kick of heat.
Use Yukon Gold potatoes instead of Russet potatoes.
Use fresh tomatoes, such as plum tomatoes, in this version of ciambotta.
🥫 Storage
Store leftover Ciambotta in an airtight container in the fridge for 3-4 days or in the freezer for up to 3 months.
Thaw frozen vegetable stew in the fridge overnight and reheat on the stovetop over medium heat for 5-7 minutes until bubbling, and then reduce the heat to simmer for another 2-3 minutes.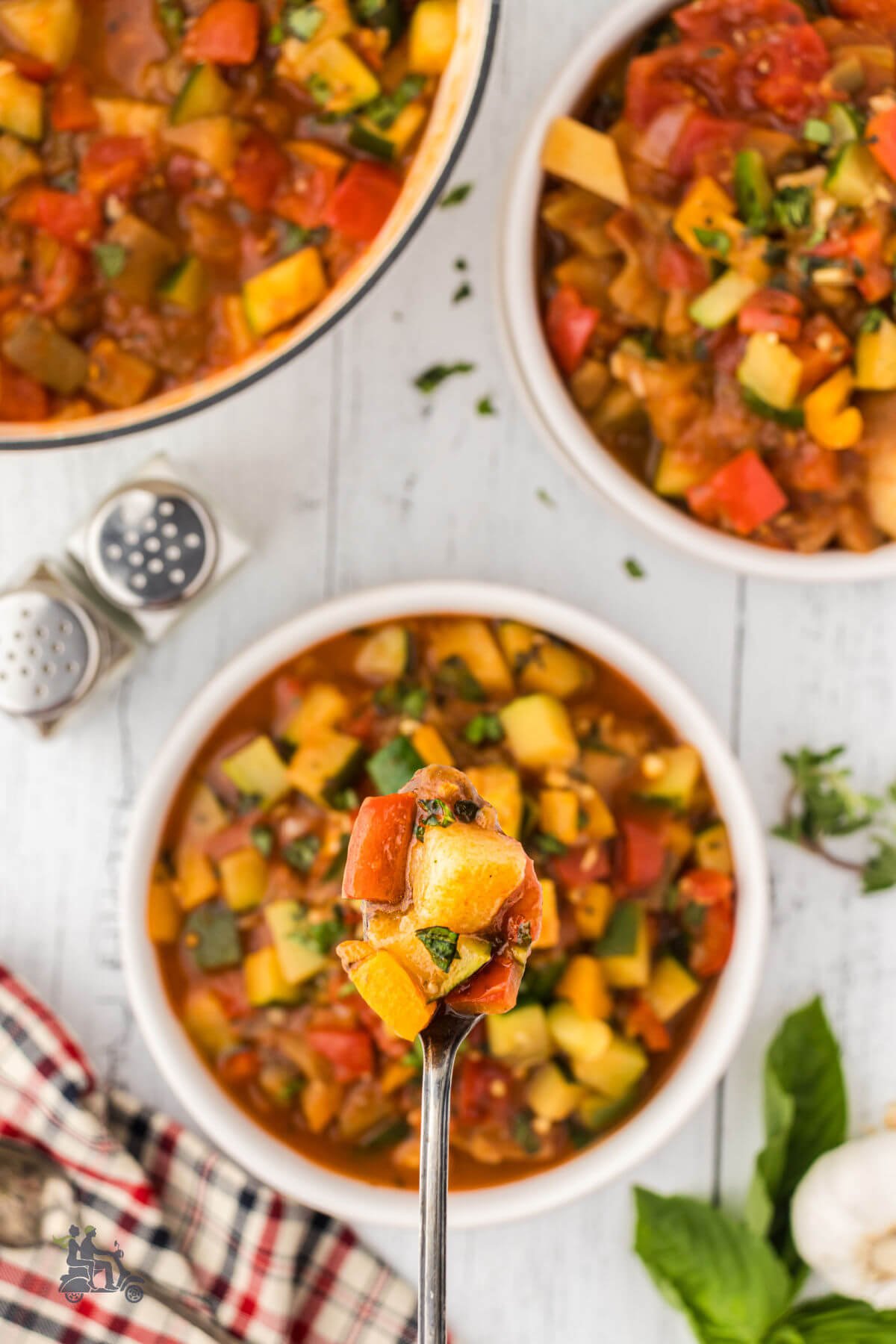 📗 Related Recipes
Rustic Italian Vegetable Beef Stew - A hearty and comforting Italian stew with a kick of spice, pasta, fresh veggies and beans, and iron-rich beef.
Best Grilled Vegetables - This dish boasts seasonal summer vegetables such as large zucchini, red bell peppers, onions, and mushrooms! They're grilled until tender, drizzled with olive oil, and seasoned lightly. Simple, yet delicious!
Spicy Vegetable Italian Lentil Soup - Another vegetable-rich thick soup consisting of lentils, potatoes, roasted tomatoes, celery, carrots, onions, herbs, spicy kielbasa, and parmesan cheese.
🍽 Serve with
Ciambotta can be enjoyed as a side dish to grilled meats or a main meal served over pasta, rice, polenta, or alongside a slice of crusty bread.
📞 Chiacchierata (chat)
In the summer, we had a version of this delicious Italian vegetable stew often. Norma, our neighbor across the alley had a big garden -- too big for an eighty year old lady to handle. So, it was my Papà who took care of the garden for her. Our reward was a share of the delicious veggies from that garden.
It was after she met our family that she planted veggies such as melanzane (eggplants) and peperoni rossi (red bell peppers). Every summer our veggies were taken care of. Mamma would always make Italian dishes that would feed our family and some to send over to Norma and her two sisters.
The first time our neighbors tasted Ciambotta, they couldn't believe how delicious this simple rustic recipe tasted. They liked it so much they insisted on the recipe. Well, Mamma didn't follow recipes. So the next time she made Ciambotta, I had to stand there with paper and pencil and write out the recipe as she cooked.
I wish I would have done that for more of Mamma's recipes...
Tutti a tavolo, è pronto!
What's new? Check out my All Our Way Store on Amazon. We'll be adding more items we love and use or wish we had to make cooking fun and easy.
📝 Recipe Card
Ciambotta is a comforting and flavorful Italian vegetable stew, loaded with nutritious seasonal ingredients. This colorful summer dish is a classic Southern Italian recipe that can be enjoyed as a side dish or a meatless main meal!
If you'd like to sample another rustic Italian dish, take a peek at our Pappa al Pomodoro recipe. It's a Tuscan tomato stew recipe that uses stale bread.
If you love this recipe please give it 5 stars ⭐️⭐️⭐️⭐️⭐️.
📖 Recipe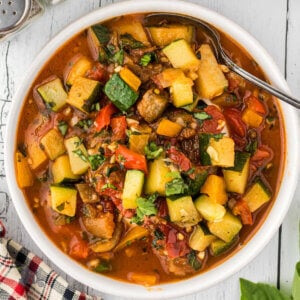 Ciambotta or Giambotta A Hearty Italian Vegetable Stew Recipe
Ciambotta is a vegetable-rich stew from Southern Italy, boasting fresh seasonal veggies, tender potatoes and eggplant, fresh herbs, and a rich tomato broth. Perfect as a side dish or meatless main meal!
Print
Pin
Rate
As An Amazon Associate I earn from qualifying purchases.
Ingredients
Pestata:
⅓

cup

fresh basil

chopped

⅓

cup

fresh oregano leaves

6

garlic cloves

minced

2

tablespoons

extra-virgin olive oil

¼

teaspoon

red pepper flakes
Stew:
12

ounces

eggplant

peeled and cut into ½-inch pieces

Salt

4

tablespoons

extra-virgin olive oil

1

large onion

chopped

1

pound

russet potatoes

peeled and cut into ½-inch pieces

2

tablespoons

tomato paste

2 ¼

cups

water

28

ounce

can whole peeled tomatoes

drained with juice reserved and chopped coarse

16

ounce

zucchini

2 (8 ounces each, seeded and cut into ½-inch pieces)

2

red or yellow bell peppers

stemmed, seeded, and cut into ½-inch pieces

1

cup

fresh basil

shredded
Instructions
For the pestata:
Process all ingredients in food processor until finely ground, about 1 minute, scraping sides as necessary. Set aside.
For the stew:
Toss eggplant with 1½ teaspoons salt in bowl. Line surface of large plate with double layer of coffee filters and lightly spray with vegetable oil spray.

Spread eggplant in even layer over coffee filters.

Microwave eggplant, uncovered, until dry to touch and slightly shriveled, 8 to 12 minutes, tossing once halfway through to ensure that eggplant cooks evenly.

Heat 2 tablespoons oil in Dutch oven over high heat until shimmering.

Add eggplant, onion, and potatoes; cook, stirring frequently, until eggplant browns and surface of potatoes becomes translucent, about 2 minutes.

Push vegetables to sides of pot; add 1 tablespoon oil and tomato paste to clearing. Cook paste, stirring frequently, until brown fond develops on bottom of pot, about 2 minutes.

Add 2 cups water and chopped tomatoes and juice, scraping up any browned bits, and bring to boil. Reduce heat to medium, cover, and gently simmer until eggplant is completely broken down and potatoes are tender, about 20 to 25 minutes.

Meanwhile, heat remaining 1 tablespoon oil in 12-inch skillet over high heat until smoking.

Add zucchini, bell peppers, and ½ teaspoon salt; cook, stirring occasionally, until vegetables are browned and tender, 10 to 12 minutes.

Push vegetables to sides of skillet; add pestata and cook until fragrant, about 1 minute.

Stir pestata into vegetables and transfer vegetables to bowl.

Add remaining ¼ cup water to skillet off heat, scraping up browned bits.

Remove pot from heat and stir reserved vegetables and water from skillet into vegetables in Dutch oven.

Cover pot and let stand for 20 minutes to allow flavors to meld. Stir in basil and season with salt to taste; serve.
Nutrition
Calories:
201
kcal
|
Carbohydrates:
25
g
|
Protein:
4
g
|
Fat:
11
g
|
Saturated Fat:
2
g
|
Polyunsaturated Fat:
1
g
|
Monounsaturated Fat:
8
g
|
Sodium:
189
mg
|
Potassium:
839
mg
|
Fiber:
6
g
|
Sugar:
8
g
|
Vitamin A:
1496
IU
|
Vitamin C:
65
mg
|
Calcium:
103
mg
|
Iron:
3
mg
Sign up for the emails and never miss another recipe!!
We'll never share your email or send you spam. Promise