This fantastic Lamb Ravioli recipe starts with homemade pasta, a delicious filling of seasoned ground lamb and creamy goat cheese. Then an impressive rich brown butter sage sauce tops the meat ravioli. These incredible lamb goat cheese filled pockets are perfect for a special first course or even Easter dinner. The meat filling and goat cheese compliment each other perfectly. The flavors are complex but the lamb ravioli recipe is very easy to make. Don't let the idea of making homemade ravioli intimidate you. It's really quite easy and satisfying. We're here to hold your hand every step of the way.
For this recipe you will need: bread flour or "00" flour, olive oil, salt, eggs, ground lamb, garlic, frozen chopped spinach, rosemary, goat cheese, pepper, butter, lemon, sage, white wine.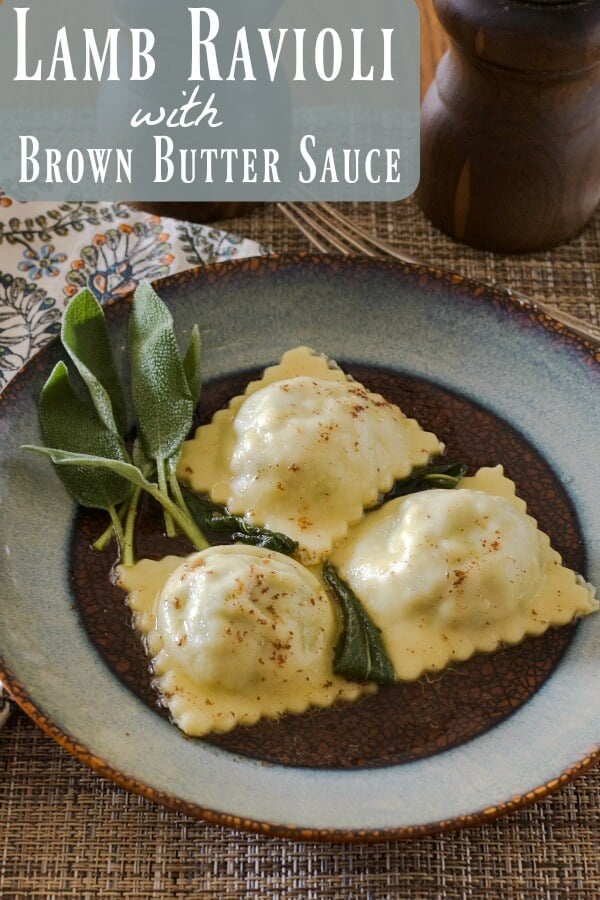 Lamb ravioli with goat cheese background
For many Italians, it wouldn't be Easter without agnello (lamb). This tradition of eating lamb at Pasqua (Easter, in Italian) goes back thousands of years, spanning many cultures and religions.
It's almost mandatory to have lamb as the main course for the Easter meal although depending on the region it is served in various ways.
Usually, for Easter, we have a leg of lamb either grilled or roasted.
We checked out some of the traditional Easter lamb recipes
costolette d'agnello (lamb chops) marinated and then grilled
Abbacchio alla scottadito – grilled lamb that translates lamb that burns the fingers
ragù d'agnello – lamb meat sauces.
arrosto d'agnello – roast lamb
stewed or roasted lamb meat used as filling for pasta
Since we previously made several of the recipes, we wanted to try something new. I kept thinking about the lamb meat used as pasta filling when I remembered the larger ravioli form we hadn't tried.
Well, we thought we'd kill two birds with one stone — have lamb for Easter and use the new larger pasta form to make lamb ravioli.
We could either have the Goat Cheese Lamb Ravioli as a first course or have it as the main entree.
First Make the Meat Goat Cheese Ravioli Filling
The ingredients for the filling
ground lamb
goat cheese
frozen chopped spinach
rosemary
olive oil
salt and pepper
One of our secrets for maximizing the garlic and rosemary flavor is to put them in the pan with some olive oil and heat. Right away you're be able to smell the delicious aroma.
This is when we add the ground lamb to the pan, breaking up the pieces as it cooks. We sprinkle the meat with salt and pepper.
Once the lamb ravioli filling cooks and slightly cools, we put it in a food processor with the chopped spinach. We pulse the contents two or three times. This breaks up the meat and combines the spinach. The filling goes into a bowl.
We add the goat cheese to the meat while it's still warm. It's easier to mix.
Next make the pasta for the lamb ravioli
The ingredients you need for a perfect pasta dough
olive oil
salt
"00" flour or unbleached bread flour
jumbo eggs
Pasta dough may seem a little intimidating but it's really very simple. We use the food processor and it's amazing how fast it goes and the dough is always perfect. Press the dough into a ball, cover it and let it rest for 30 minutes. Divide the dough into fourths.
We use the attachment to our Kitchen Aid mixer and it works like a dream. We work the dough to a number 6 in thinness.
Follow the pasta directions in Italian Ravioli with Meat And Cheese.
The beauty of ravioli is that you can make the little pillows ahead of time and freeze. Then, when you're ready to eat them, just toss the frozen ravioli in boiling salted water.
Assembling the lamb goat cheese ravioli
If you made the filling ahead of time and refrigerated it, you'll have to warm it up a bit before filling the ravioli pockets. Our smaller ravioli form makes 12 pasta pockets at a time. The one we are using this time makes 10 pockets. You may use either one.
How to make the lamb ravioli
lay the dough sheet over the egg carton form
add a spoonful of filling to each pocket (don't overfill)
lightly mist with water the filling and dough (this helps the top dough seal to the bottom)
spread another dough sheet over the filling
use a rolling pin to press the top dough into the bottom dough starting from center to edge and center to opposite edge
pull the extra dough away from the form edge
upend the form over wax or parchment paper on a baking tray
cover with tea towel in-between batches
you can keep using the extra dough and putting it through the pasta maker.
we got a total of 60 lamb ravioli.
How to freeze the lamb ravioli
When we fill one baking sheet — only one layer at a time — we put the pasta pockets in the freezer. Once all of the ravioli are frozen we put them in freezer bag pressing out all of the air. Air is the enemy of frozen food.
We then put the freezer bag in a heavy duty freezer container. We're able to keep the ravioli one to two months easily without losing any of the quality.
When you're ready to eat the ravioli, drop the frozen ravioli into boiling salted water and cook for 6 minutes.
Tips for making perfect ravioli
The secret to making the perfect ravioli dough is the stretch. It's a must to have a pliable dough to pull and stretch over the fillings
Thickness is another important factor. If the ravioli is too thick it won't seal. Also, it will be difficult to cook and give an unpleasant chewy texture.
The best test is the shadow test. You want to be able to see the shadow of your hand behind the dough when you hold it up to the light.
Shapes and sizes of filled ravioli-like pasta
Classic Ravioli – Usually a square shape featuring wavy edges and filled with just about anything you can dream up.
Raviolo – This is a single ravioli that is usually BIG. The larger shape makes it easier to fill with pieces of grilled veggies and thinly sliced meat. You could even put a meatball in it like our spicy

Venison Meatball

. WOW! Just thinking about it makes my mouth water.
Agnolotti – And interesting shape that isn't a circle or a square. They have a slight curve and a pinch in the back wall. This pasta is on our to-make list. There is a bend in the pasta that is perfect for holding whatever sauce you like.
How to cook ravioli
The saying is that the ravioli finished cooking when it floats to the top of the boiling water. That is true to a certain extent. It all depends on how you're finishing the ravioli.
The Raviolo and agnolotti finish cooking in the sauce so you'll only cook them for 2 minutes, just until they float back up to the top.
The ravioli will go for 5 minutes in the pot until al dente. Then top with your sauce and serve.
What happens if you overcook?
The ravioli will break and leak the filling. Wouldn't that be awful after all the work you went to make the delicious pasta pockets?
Brown Butter Sage Sauce for Meat Ravioli
The ingredients for the sauce
butter
fresh sage
lemon
pepper
Parmesan cheese
As you heat the water to boil for the meat ravioli, start browning the butter. This is a wonderful sauce to serve with gnocchi as well as ravioli. We've even topped our baked fish with it and it was scrumptious!
For the complete recipe and directions for this tangy sauce, check out Ricotta Gnocchi with Butter Lemon Sage Sauce.
We hope we've given you plenty of information to make the perfect ravioli and hopefully you'll try the lamb ravioli either for Easter or some other dinner when you want something special
Tutti a tavola è pronto
Un caro saluto e alla prossima.
YOU MAY NEED…
The following are affiliate links. We are a participant in the Amazon Services LLC Associates Program, an affiliate advertising program designed to provide a means for us to earn fees by linking to Amazon.com and affiliated sites.
Thank you for being a part of All Our Way!
What's new? Check out my All Our Way Store on Amazon. We'll be adding more items we love and use or wish we had to make cooking fun and easy.
This is just like the Ravioli Maker that we have. It makes our filled pasta efforts so easy. We usually make a double recipe because we like having them on hand. Honey and I are like an assembly line as we crank out ravioli after ravioli. There are so many more fillings we want to want.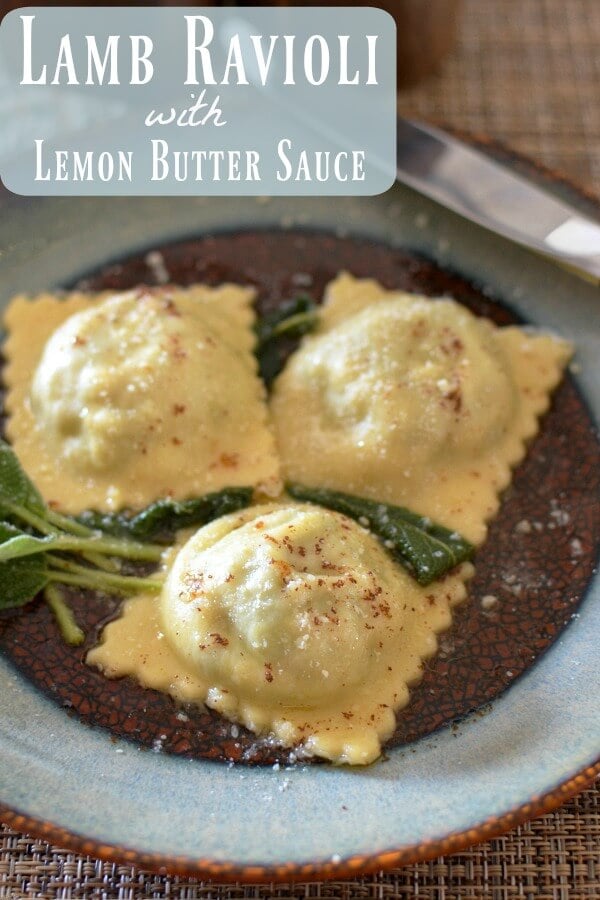 Lamb Ravioli with Brown Butter Sauce
This ravioli recipe is perfect. Thin pasta pockets filled with a delightful filling of seasoned ground lamb and goat cheese. The meat ravioli are topped with a light sauce of lemon, brown butter, and sage. The sauce compliments the delicious ravioli taste whereby a heavy tomato sauce would mask the flavor. The pasta is ideal for a special occasion. See if your family and guests don't find these ravioli some of the best they ever tasted!
If you like this recipe please consider giving it a 5-star rating. This helps others to decide whether to try the recipe.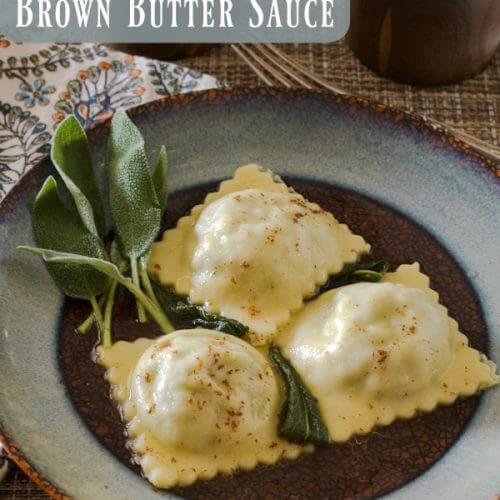 Lamb Ravioli with Brown Butter Sauce
Light delicate pasta encases a delicious filling of rosemary seasoned ground lamb and goat cheese. The sauce is a light combination of brown nutty flavored butter, lemon, and fresh sage leave. An ideal dish for a special meal or occasion.
Print
Pin
Rate
Total Time:
2
hours
10
minutes
As An Amazon Associate I earn from qualifying purchases.
Ingredients
Lamb Filling
24

oz

lamb

ground

10.5

oz

goat cheese

1.5

tbsp

Rosemary

fresh

10

oz

frozen spinach

thawed chopped and moisture removed with paper towels.

2

tbsp

olive oil

2

tbsp

garlic cloves

minced
Pasta Dough
1

tbsp

olive oil

1 1/2

tsp

Kosher salt

500

grams

00 flour or bread flour

4

eggs

** See notes
Brown Butter Sauce
1

cup

butter

2

lemons

juiced

32

Sage leaves

1

cup

Parmesan cheese

1

cup

reserved salted water from ravioli
Instructions
Lamb Goat Cheese Filling
In a large sauce pan sauté the garlic and rosemary until they seasoning releases aroma and flavor.

Add the ground lamb to the pan. Salt and pepper the meat. Brown the meat breaking up the chunks with a wooden spoon. Once the meat is browned, remove it from the pan discarding any of the juice in the pan.

Let the meat cool slightly and put it in the bowl of the food processor. Add the spinach and pulse several times to make sure all the ingredients are mixed.

Scrape the meat filling into a bowl and mix in the goat cheese. A warm filling makes the cheese easier to mix with the filling.

If not using right away, refrigerate. When you're ready to use the meat-cheese filling, make sure to warm it up.
Make the Pasta Dough
In the bowl of a food processor mix the flour and salt.

Add the eggs one at a time along with the olive oil. This goes quickly and if the dough is dry, you may need 1 Tablespoon of water.

Let the dough rest for 30 minutes. You'll cut the dough in fourths. Follow the step by step directions as in the Beef Cheese Ravioli recipe.

** See notes
Butter Sage Sauce
While the ravioli cook, melt butter in a large saute pan or heavy skillet and continue cooking until golden brown color (noisette) appears in the thinest liquid of the butter.

Continue to stir and once you reach the golden brown color remove the skillet from heat and add the sage leaves.

Add lemon juice and set aside. Gently pour the drained ravioli into the sauce pan and return to heat. Add the cheese and a little of the reserved boiling water and toss to coat. Serve Immediately.
Notes
This recipe makes 60 ravioli. We figured 4 ravioli as a main dish serving. We had to quadruple the sauce recipe so there would be enough sauce. The original sauce for 4 servings - you can adjust the sauce. 
**TIP: Don't have time to make pasta from scratch? You can find fresh pasta sheets in stores or even use Won Ton wrappers. 
Nutrition
Calories:
489
kcal
|
Carbohydrates:
27
g
|
Protein:
20
g
|
Fat:
33
g
|
Saturated Fat:
17
g
|
Cholesterol:
122
mg
|
Sodium:
580
mg
|
Potassium:
257
mg
|
Fiber:
1
g
|
Vitamin A:
2925
IU
|
Vitamin C:
9.2
mg
|
Calcium:
163
mg
|
Iron:
2.2
mg
Sign up for the emails and never miss another recipe!!
We'll never share your email or send you spam. Promise
Note: Recipes and content from © 2014-2019 All Our Way are copyright protected. Please do not use content or recipe without prior written permission. If you want to share the information please link to this post. Grazie.