Nostrano is a particular Italian word that means "ours". Yet this word implies much more . . .it implies country, family, home, tradition, my kitchen. It implies that there is an abundance of pride in whatever is made.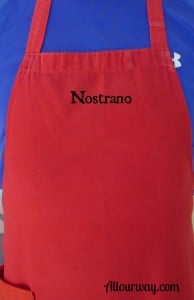 When an Italian says "nostrano" they mean from their part of Italy, it is local, they feel it belongs to them. But it is more than just geography, the word lays claim to the food.
It says that this is from my land, my home, my kitchen, and I want to share it with you. This is exactly what occurred when we were walking in Upper Panzano, Italy. We said buon giorno, signora to an elderly lady and she returned the greeting. We said that she had a beautiful village and she thanked us. Then she opened her hand and offered us a taste of the white grapes she was holding. The grapes were as big as cherry tomatoes and they were delicious. They were sweet and juicy and full of flavor. We told her how much we appreciated the taste and we asked where she had bought them. She proudly said they were nostrano. . . from her grape vines.
If you want to see an example of this go into an Italian restaurant and compliment their meal. You will see such pride that they were able to give you pleasure.
We stopped at this small restaurant as we were leaving Orvieto, Italy. We were tired and hungry. It was too late for lunch but much to early for dinner. The wife of the owner was more than happy to accommodate our odd eating schedule. We ordered a salad and an antipasto. The food was delicious and we certainly complimented her on it.
The care of the presentation and the quality of the ingredients was the norm in Italy. It was Nostrano. This is the attitude we bring to our home.
Note: We welcome and encourage sharing links to All Our Way ©2014, but please do not copy or paste recipes or content to any media or website without express written consent. Unauthorized use of content and photos is a violation of the copyright law.
SaveSave