Vidalia onions never excited us. How could they when they look quite ordinary, uninspiring, downright plain? When we bought onions it was to give our recipes a kick. . . . an additional layer of flavor. Sweet onions simply did nothing for us. Little did we know that all it would take was one taste of a Garlic Roasted Vidalia and we'd be forever smitten. This recipe has been updated from the original June 2016 version in order to provide a better experience for our readers. Last update May 2019.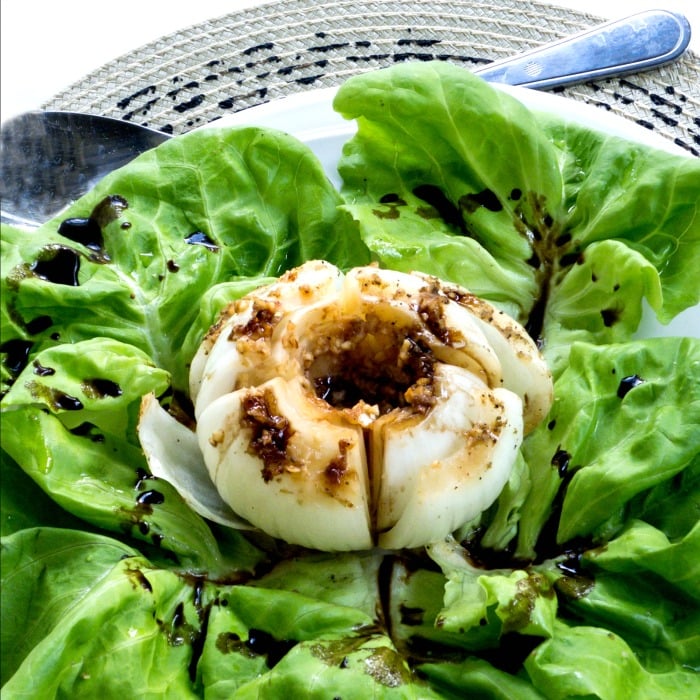 Jump to:
How Vidalia Onions captured our attention
But sweet onions? They seemed insipid -- pretty much wallflowers of the vegetable department. We always passed them by without a second look.
Little did we know that our opinion would change drastically, and not only would we fall under the charm of their sweet delicious taste, but we'd find several more reasons to keep them on hand.
It all started with a nice easy conversation with Jane, a friend on Saint Simon's pier. We were busy talking about decorating, gardening, family, our windblown dos, you know, important things. When out of a the blue she mentioned that a relative from her hometown of Vidalia was visiting and he had a pickup bed full of Vidalia onions.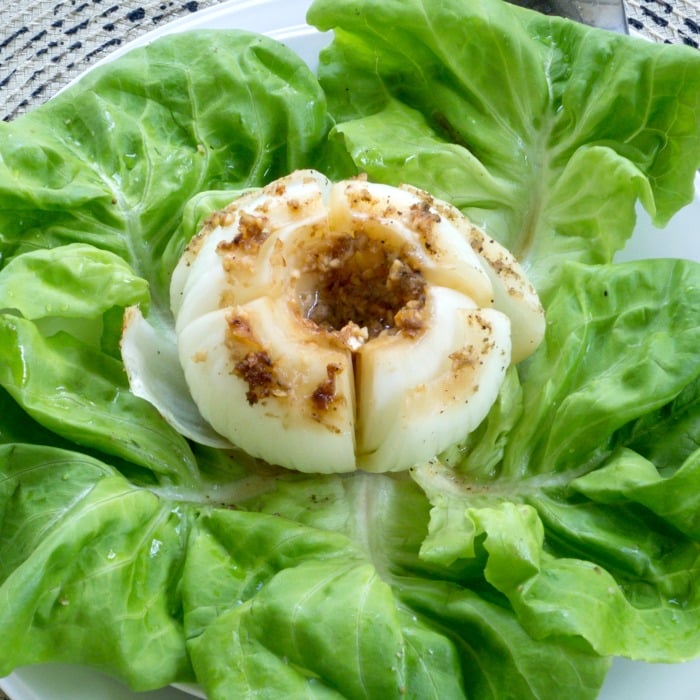 I was dying to ask, "What the heck is he doing with all those onions?"
It was hard, but I didn't blurt out the question that was on the tip of my tongue. Instead, I listened to her talk. I looked up, and to my surprise Jane's husband was handing me a large brown sack full of those papery, light yellow skinned onions.
Vidalia Onions state vegetable
Wow! A huge sack full of onions. What were we going to do with them?
The only recipes I could come up with was onion rings or caramelized onion. That would take care of just about two or three of them. What would we do with the rest?
The locals on the pier were staring at the onions in the sack.They were looking at the squat, ovoid onions as if they were precious jewels. I again looked in the sack.
Was I missing something?
Someone must have taken pity on me because he kindly explained that Vidalia onions are considered the official state vegetable of Georgia and they're highly prized for their taste and benefits.
Vidalia onions even have a mascot named "Yumion". How cute is that?!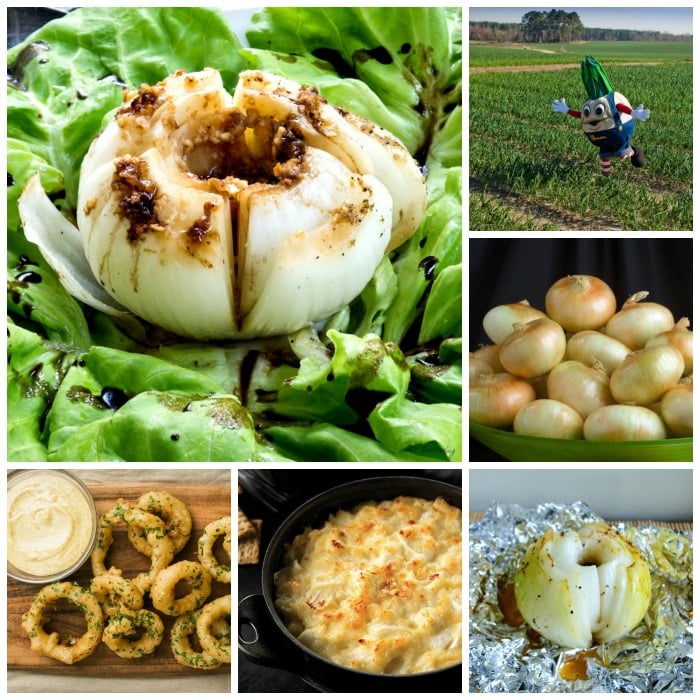 The benefits of Vidalia Onions
Immediately everyone started telling us their favorite recipe for Vidalia onions.
The recipe mentioned the most was a variation of the one that we posted below: Garlic Roasted Vidalia Onions.
They all had an opinion, not only about their favorite recipe, but also about the health benefits of their favorite root vegetable.
The health benefits of onions
One person blurted out that their doctor told him to include Vidalia onion in his diet because it was effective in preventing heart disease, strokes, and blood clots. Plus, he said the doctor read an article that it also helped control high cholesterol. I think the doctor probably mentioned onions, but being from Georgia, I'm sure he assumed Vidalia onions. 🙂
Another chimed in that sweet onions helped her allergies because they acted as anti-inflammatories and they had anti-histamine properties. Who was I to argue with her? My red itchy eyes and runny nose were yelling at me to give those onions in the sack at least a try.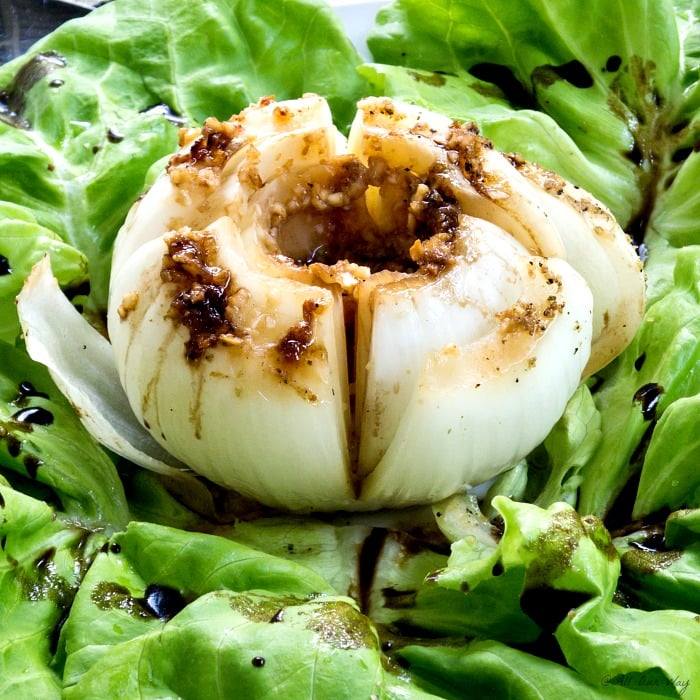 A third said that she was eating more Vidalia onions because they were shown to increase bone-density and helped strengthen and support connective tissue in the body as well as hair. She was in her eighties, walked every day and was as spry as a thirty year old. Hmmm, I thought, Vidalia onions were sounding better and better by the minute.
The fourth person said that they helped his sleep and mood due to the phosphate in them. His friend elbowed him and chuckled, "It's folate, not phosphate." Gee, who couldn't use a good nights sleep?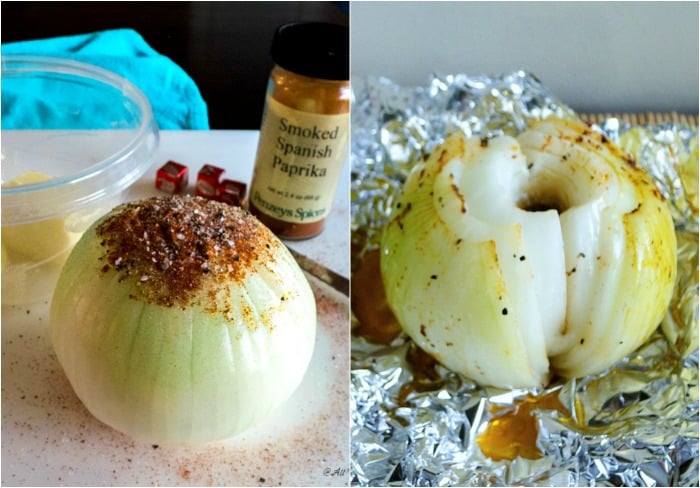 That evening we made our own version of roasted Vidalia onions and we came up with a fifth reason of why we should be sweet on Vidalia onions.
The taste!
The Garlic Roasted Vidalia Onions were supremely sweet, delicious and addictive!
Do you want to know if we went though that entire sack of Vidalia onions?
You bet we did! Now we consider them one of the stars of the vegetable department. There are hundreds of recipes that include Vidalia onions -- try these sweet onion recipes along with us. We're sure that you'll be sweet on Vidalia onions too.
Tutti a tavola è pronto.
Un caro saluto e alla prossima.
YOU MAY NEED...
The following are affiliate links. As An Amazon Associate I earn from qualifying purchases.
We keep bouillon on hand like this beef bouillon to enhance broths or to stuff in these sweet onions. If may also do a vegan version if you like by using vegetable bouillon. The choice is yours but we know you'll love the taste and so will your family.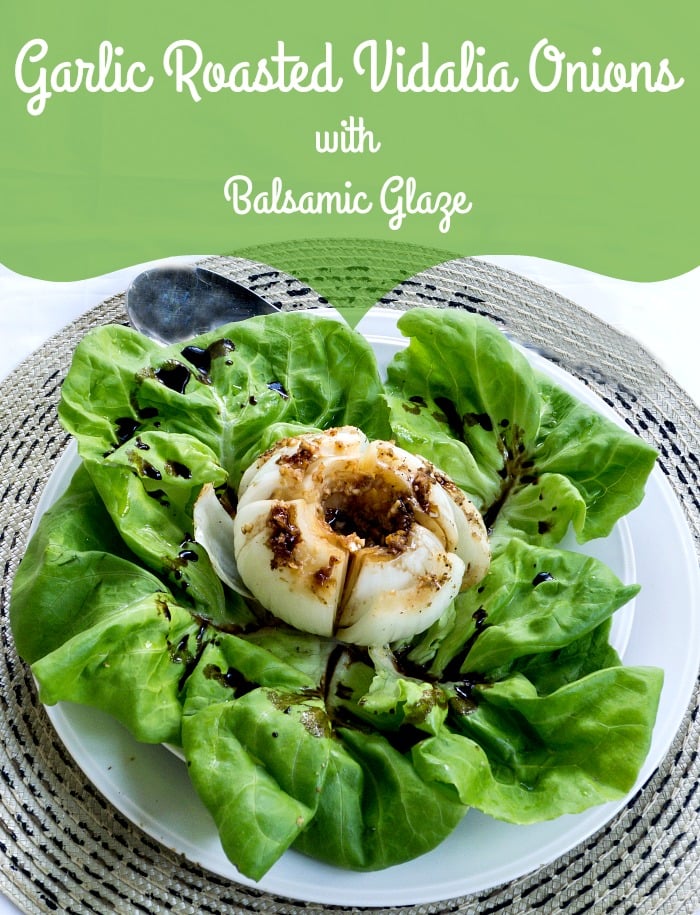 Sweet On Garlic Roasted Vidalia Onions
Vidalia Onions are sweet to begin with but garlic roast them and they become even sweeter. It's hard to believe, I know. This is such an easy recipe and the delicious bulbs taste like they're coated with sugar. A real treat when you're grilling. Yes! You can bake them but grilling them makes it such a fun experience. Try them -- we assure you that you'll love them as much as we do.
If you like this recipe, please consider giving it a 5-star rating.
📖 Recipe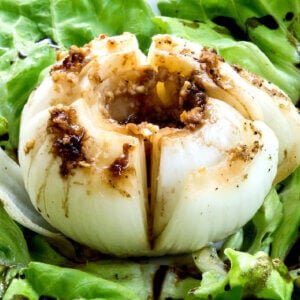 Garlic Roasted Vidalia Onions
Sweet onions that are peeled and cored then filled with beef bouillon, garlic and butter. A delicious sweet sauce forms to enjoy with the mild tasty onions.
Print
Pin
Rate
As An Amazon Associate I earn from qualifying purchases.
Ingredients
4

medium to large Vidalia onions

3

Tablespoons

soft unsalted butter

2

cloves

minced garlic

pepper

4

beef bouillon cubes

may use chicken or vegetable crushed.

extra-virgin olive oil

Smoked paprika

Balsamic glaze

optional

Butter crunch lettuce or some other similar lettuce
Instructions
Skin and core onions. Coring the onion is a lot like coring an apple -- use a sharp knife and be careful not to cut through bottom of onion. Cut a cross on the top of the onion taking care not to go all the way down.

Place the onions on a sheet of heavy duty aluminum foil. Make sure the foil is large enough to bring all edges up and over the onions once they are filled. Place the onions and foil on a baking tray.

In a small bowl mix together the soft butter, garlic, pepper, crushed bouillon cubes

Fill each onion core with the butter mixture.

Rub each onion with olive oil and season with salt and pepper and smoked paprika

Bring the foil up and over the onions sealing the foil.

Bake in a preheated 425 F. for 30 minutes or until tender. The size of the onions will make a difference.

Serve the onions on the lettuce, then drizzle some of the delicious juice over the onion and the balsamic glaze over the onion and lettuce.
Notes
Recipe can be easily increased or decreased. You can also roast the onion on the grill
Nutrition
Serving:
4
g
|
Calories:
190
kcal
|
Carbohydrates:
26
g
|
Protein:
3
g
|
Fat:
8
g
|
Saturated Fat:
5
g
|
Cholesterol:
22
mg
|
Sodium:
987
mg
|
Potassium:
410
mg
|
Fiber:
2
g
|
Sugar:
17
g
|
Vitamin A:
260
IU
|
Vitamin C:
16.3
mg
|
Calcium:
71
mg
|
Iron:
1
mg
Sign up for the emails and never miss another recipe!!
We'll never share your email or send you spam. Promise
First Published: June 24,2016... Last Updated: May 04, 2019