Summer brings such a wealth of vegetables. . . . . sometimes unusual ones . . . . like the cute baby eggplant. . . .
. . . .that I find I'm a little overwhelmed . . . .
. . . . you know . . . .a bit confused about which ones to buy. . . .
. . . .because I want to buy then taste each and every one of them.
You go to the farmers market or to the grocery store and it's a little hard to narrow down the selections. . . .
. . . . especially when veggies like beautiful shiny purple eggplants and bright red plum tomatoes are on sale and featured for the week.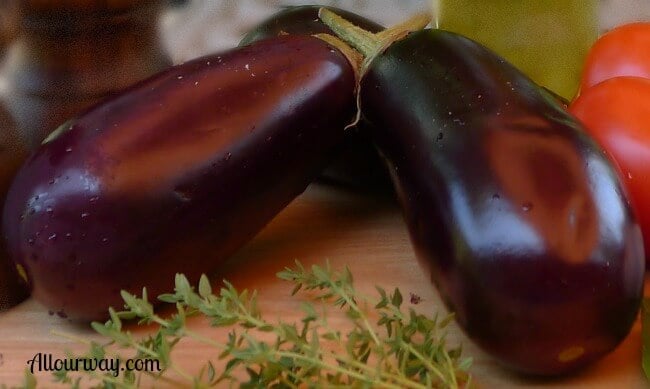 You know you can't possibly eat all that you want to buy . . . . but the desire to try is still there.
Don't you wish we had a longer growing season?
It certainly would be easier to prepare healthy meals . . . . plus it'd be a breeze to get in our fresh veggies. . . . and fruit.
Right now we have lots of fresh basil. . . . and our cherry tomatoes are starting to look like clusters of red grapes on the vine.
Our Rutgers tomatoes are ripening and we've already enjoyed our extra crunchy fried green tomatoes.
Are those little devils ever good . . . . they keep tempting me to eat just one more . . . . and one more leads to another.
I know. . . . fried . . . . not too good for you . . . . but we do it just once in a while. . . . it's like a treat.
We're very limited on garden space . . . . too many trees . . . . and not enough sunshine. . . . but if we did have the space and the sunshine the baby eggplant would definitely go in our garden.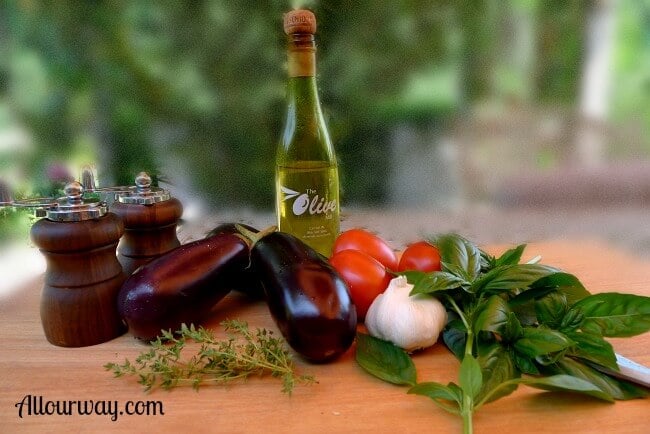 And then the ingredients for the Grilled Baby Eggplant and Plum Tomatoes with Fresh Basil would be right in our back yard. . . . ready to pick whenever we wanted.
Don't you find that it is so much easier to find interesting recipes for summer's bounty of vegetables versus autumn's and winter's?
It was easy finding this recipe . . . . all I had to do was ask Mr. Google to look up baby eggplant recipe . . . .
. . . . ecco!
There were so many recipes . . . . but Grilled Baby Eggplant & Plum Tomatoes with Fresh Basil stood out.
It's not only easy to put together . . . . it's grilled . . . . in the summer that's always a plus.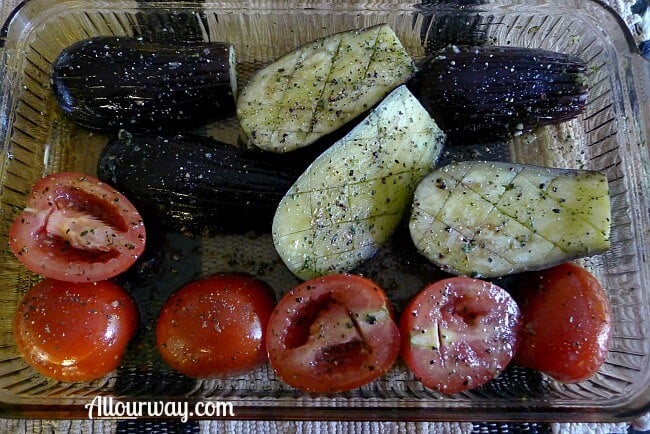 The vegetables are cut in half . . . . and marinated in olive oil, garlic, thyme and pepper.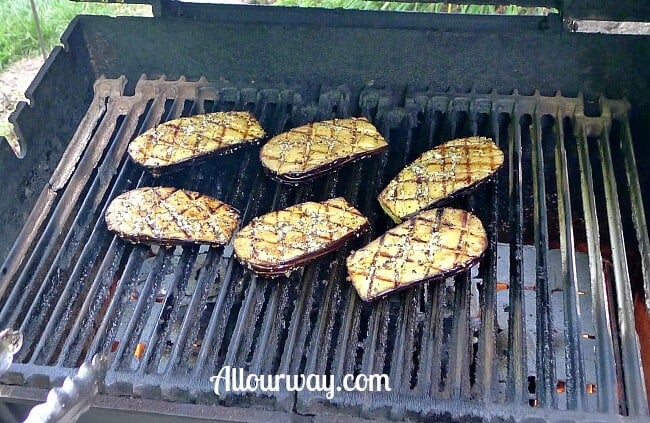 First the baby eggplants are put on the grill. . . . they take a little longer . . . . about 10 minutes.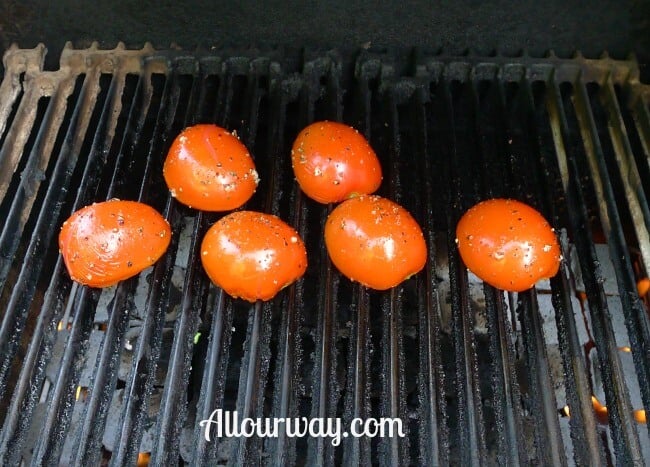 Then its the plum tomatoes turn . . . . they're grilled cut side down . . . . just until they're slightly charred. . . .
. . . . about 2 to 5 minutes.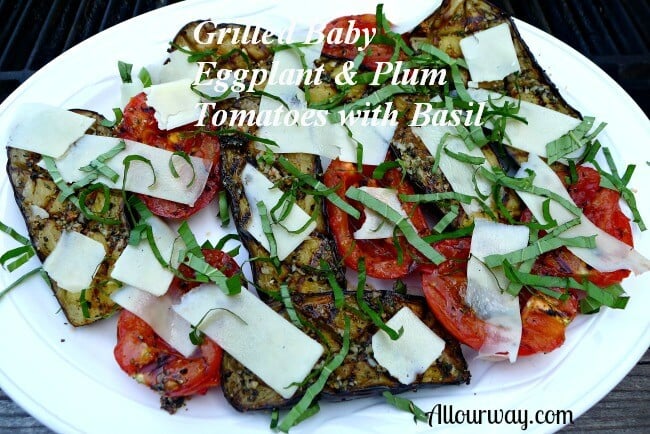 Once they are both done the eggplant and tomatoes are mixed on a serving platter . . . .
. . . . fresh basil and Pecorino cheese are scattered over the veggies with more garlic oil drizzled on top.
Oh my!! These flavors are truly an ode to summer and its rich bounty.
📖 Recipe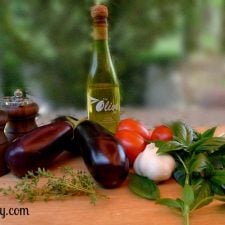 Grilled Baby Eggplant & Plum Tomatoes with Fresh Basil
The baby eggplant and plum tomatoes are marinated first in a garlic olive oil then grilled and finally topped with fresh basil and shaved pecorino cheese.
Print
Pin
Rate
As An Amazon Associate I earn from qualifying purchases.
Ingredients
2

cloves

garlic

1

teaspoons

kosher salt

¼

cup

extra-virgin olive oil; more for drizzling

1

generous teaspoons minced fresh thyme

Freshly ground black pepper

3 to 4

baby eggplant

¾

lb.

ripe but firm plum tomatoes

about 3 , halved through the stem end

5

large fresh basil leaves

chiffonade - sliced in thin ribbons

¼

cup

shaved Pecorino

about ½ oz.
Instructions
Heat a gas grill to high, covered. Mince the garlic, sprinkle the salt over it, and scrape repeatedly with the flat side of a chef's knife until the garlic is mashed to a paste. Combine the garlic paste with the olive oil in a small bowl and add the thyme and a generous amount of pepper.

Trim the tops off each eggplant. Score the eggplant skin lengthwise with the tines of a fork. Cut each eggplant in half lengthwise and, using the sharp tip of a knife, score the cut sides in a crosshatch pattern, going halfway through the flesh, abut ½ inch deep. Gently knock out any loose seeds from the tomatoes. Put the eggplant and tomatoes in a glass baking dish large enough to hold them. Toss with the garlic oil and sprinkle them with pepper.

With the lid down, grill the eggplant on both sides until tender and deeply colored but not burnt, about 10 minutes. Grill the tomatoes, cut sides down, just until they're nicely warmed and slightly charred, 2 to 5 minutes. Baste the vegetables while grilling with the remaining seasoned oil. Mix the eggplant and tomatoes on a serving platter and scatter the basil and cheese over them. Drizzle more oil on top or pass a bottle of extra-virgin olive oil at the table.
Video
[adthrive-in-post-video-player video-id="9zWV7vLH" upload-date="2021-10-25T17:34:06.000Z" name="Grilled Eggplant and Plum Tomatoes " description="The baby eggplant and plum tomatoes are marinated first in garlic olive oil then grilled and finally topped with fresh basil and shaved pecorino cheese. A wonderful way to serve vegetables especially delicious if you are serving an Italian or Mediterranean dinner. " player-type="default" override-embed="default"]
Nutrition
Serving:
8
g
|
Calories:
102
kcal
|
Carbohydrates:
7
g
|
Protein:
2
g
|
Fat:
8
g
|
Saturated Fat:
2
g
|
Cholesterol:
3
mg
|
Sodium:
332
mg
|
Potassium:
295
mg
|
Fiber:
3
g
|
Sugar:
4
g
|
Vitamin A:
400
IU
|
Vitamin C:
8
mg
|
Calcium:
46
mg
|
Iron:
1
mg
Sign up for the emails and never miss another recipe!!
We'll never share your email or send you spam. Promise
Note: Recipes and content from All Our Way©2014 is copyright protected. Please do not use content or recipe without prior written permission. If you want to share the information please link to this post. Thank you.
SaveSave