Alabama White Sauce is a southern barbecue staple that originated in North Alabama and is now popular across the country. It's a creamy, tangy, and rich mayo-based white sauce that has just a hint of peppery spice.
This zesty sauce is great as a dipping sauce for chicken wings or pork chops, brushed on smoked chicken or pork tenderloin. No matter how you use this creamy sauce your family will love it.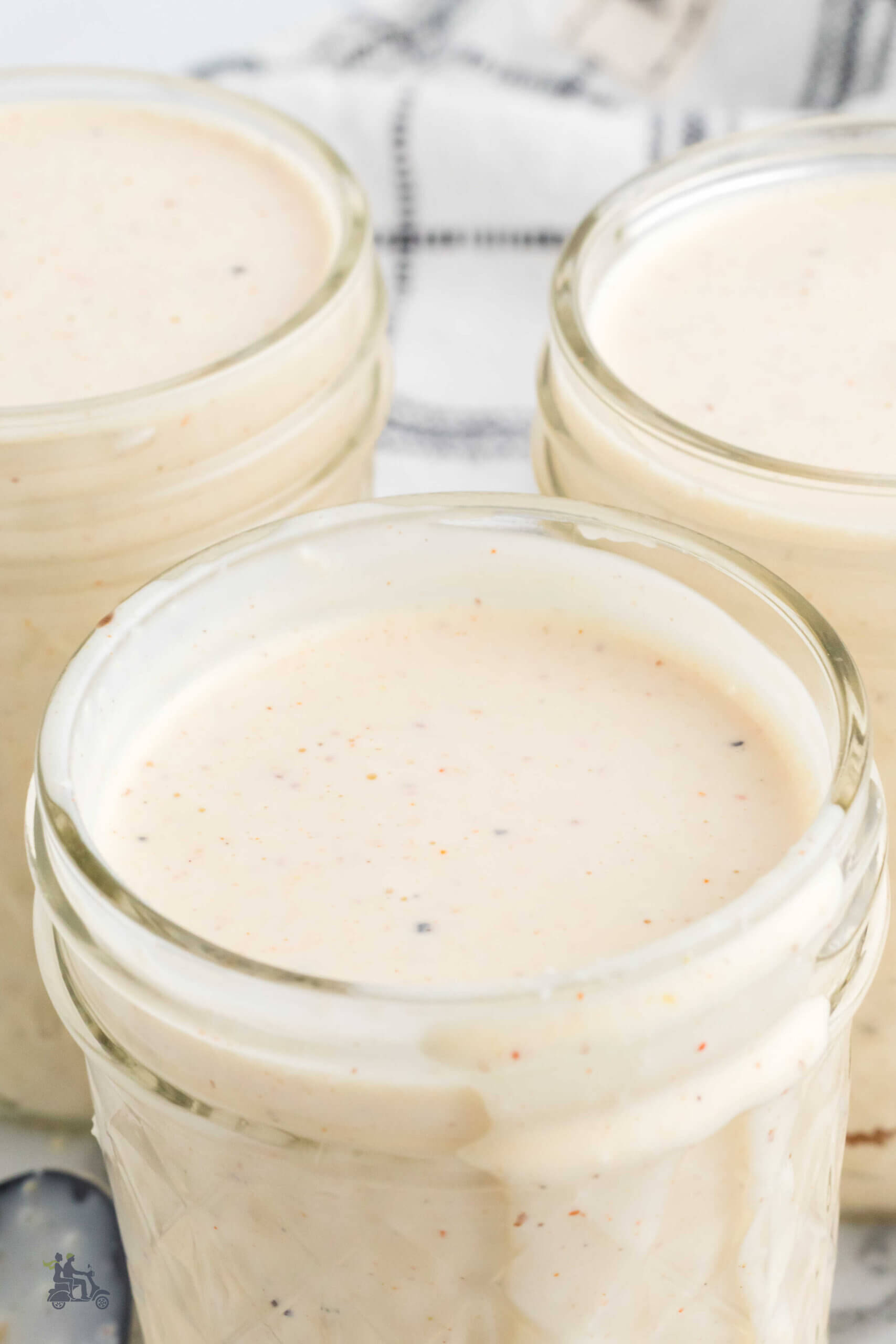 Jump to:
❤️ Why you'll love this recipe
You only need basic ingredients so you don't have to worry about spending a lot of money at your local grocery store.
Its versatility makes it perfect for adding a creamy twist to salads, dipping for French fries, or adding to potato salad.
There are no tomatoes in this recipe, but it still has an amazing rich flavor that is sure to be a hit with your family.
It's the perfect combination of sweet and tart, adding just the right amount of complexity to any dish. Plus, the flavors develop over time so you can make it ahead of time and store it in the fridge until you are ready to use it.
🛒 Ingredients
As an Amazon Associate I earn from qualifying purchases.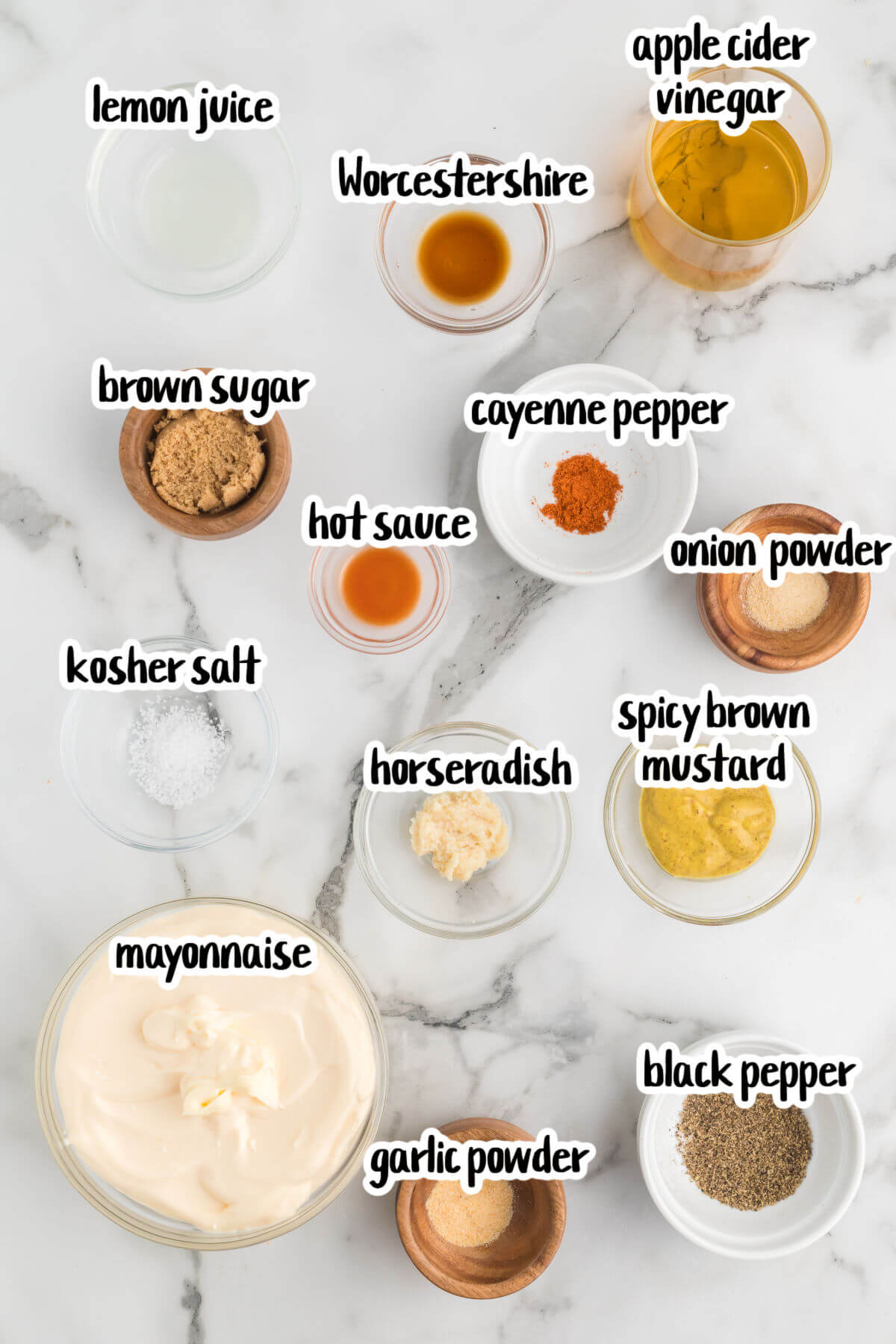 Note: The full list of this recipe ingredients with their amounts and options are in the recipe card below.
mayonnaise -- we love using Duke Mayonnaise.
apple cider vinegar
spicy brown mustard -- may substitute regular brown mustard for the spicy variety.
brown surgar
hot horseradish -- you may also use regular prepared horseradish if you don't like it spicy.
lemon juice
Worcestershire sauce
hot sauce
garlic powder
onion powder
cayenne pepper
Kosher salt
freshly ground pepper
🗒 Instructions
Note: This is an overview of the instructions. The full instructions are in the recipe card below.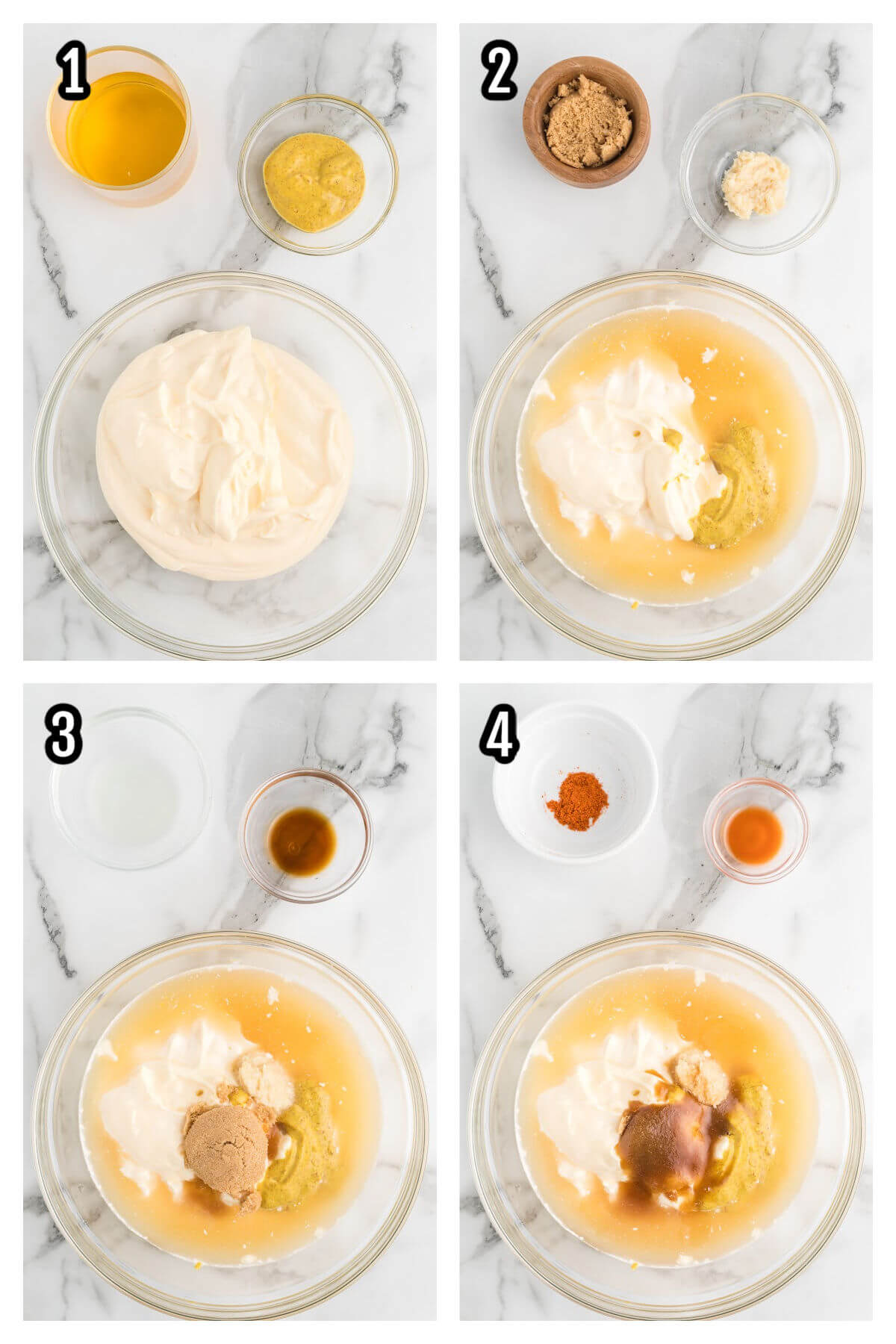 Add your mayo to a medium bowl.
And, then add in the apple cider vinegar and mustard.
On top of the mustard add the brown sugar and hot horseradish.
Next, add the lemon juice, Worcestershire sauce, and hot sauce to the bowl.
Add the garlic powder and onion powder to the mayo mixture.
And then, sprinkle on the cayenne pepper.
Finally, add the kosher salt and black pepper.
Whisk all the ingredients together in a bowl and then transfer to a jar and store in the fridge for a few hours before serving.
🔪 Equipment
The following are affiliate links. We are a participant in the Amazon Services LLC Associates Program, an affiliate advertising program designed to provide a means for us to earn fees by linking to Amazon.com and affiliated sites.
You'll need the following items to make this recipe successfully.
mixing bowl
whisk
measuring spoons
measuring cups
liquid measuring cup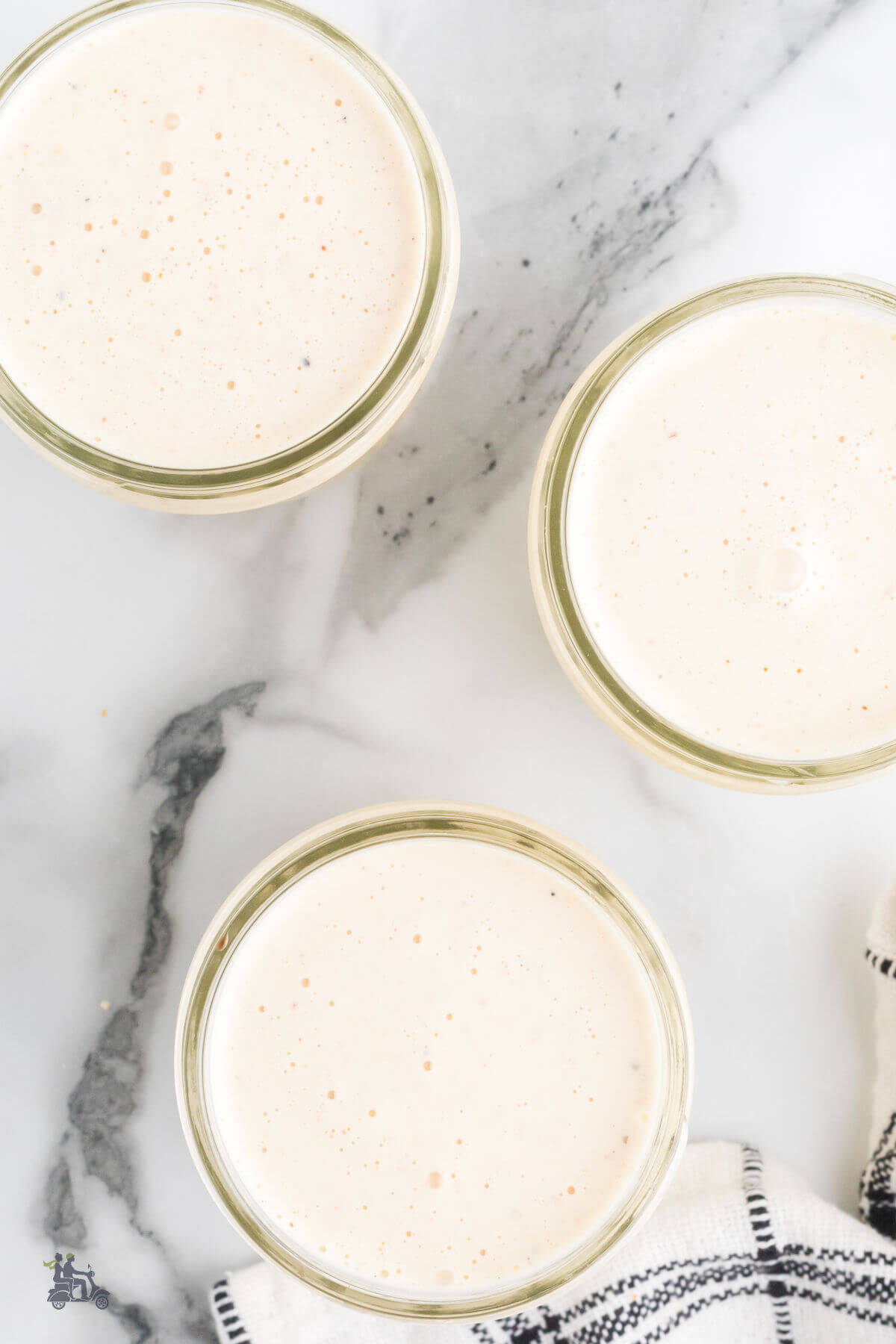 🤔 FAQs
These are the questions we are most frequently asked about making Alabama White Barbecue Sauce Recipe.
What is Alabama White BBQ Sauce made of?
Alabama White BBQ Sauce is made of mayonnaise, apple cider vinegar, spicy brown mustard, brown sugar, hot horseradish, lemon juice, Worcestershire sauce, hot sauce, garlic powder, onion powder, cayenne pepper, and Kosher salt.
What does Alabama White Sauce taste like?
It's a sweet, tangy, and creamy sauce that has a hint of spice.
Is Alabama White Sauce really from Alabama?
The original version of the sauce was indeed created in North Alabama, but it has evolved over the years and can now be found all across the United States.
Does Alabama White Sauce taste like ranch?
No, Alabama White Sauce does not taste like ranch. It is a unique blend of mayonnaise, vinegar, lemon juice, black pepper, and cayenne pepper that creates a tangy and slightly spicy flavor, unlike any other condiment.
How would you describe Alabama white sauce?
Alabama White Sauce is a tangy and zesty condiment that packs a punch of flavor. It has a creamy mayonnaise base combined with the tartness of vinegar, the brightness of lemon juice, and the spiciness of black pepper and cayenne pepper. This unique blend creates a rich flavor that enhances any dish it's paired with.
Is white sauce a southern thing?
Yes, Alabama White Sauce originated in the south and has become a staple condiment in many households. This creamy sauce is a great addition to any Southern dish and adds a unique flavor to anything it's paired with.
👩🏻‍🍳 Tips
Use a full-fat mayonnaise for the most flavor in this creamy sauce recipe.
I like to make this creamy bbq sauce in advance so that the flavors really have time to meld together and develop in the fridge.
If you don't have time to make it in advance don't worry you can use it right away if you prefer.
📚 Variations
For a creamier version, add some sour cream or Greek yogurt.
If you like things extra spicy, add more cayenne pepper or hot sauce.
Feel free to great creative with the seasonings and add more or less to suit your family's taste buds.
🥫 Storage
Store leftovers of the sauce in an airtight container in the fridge up for to one week. I prefer to store it in a mason jar or dressing bottle.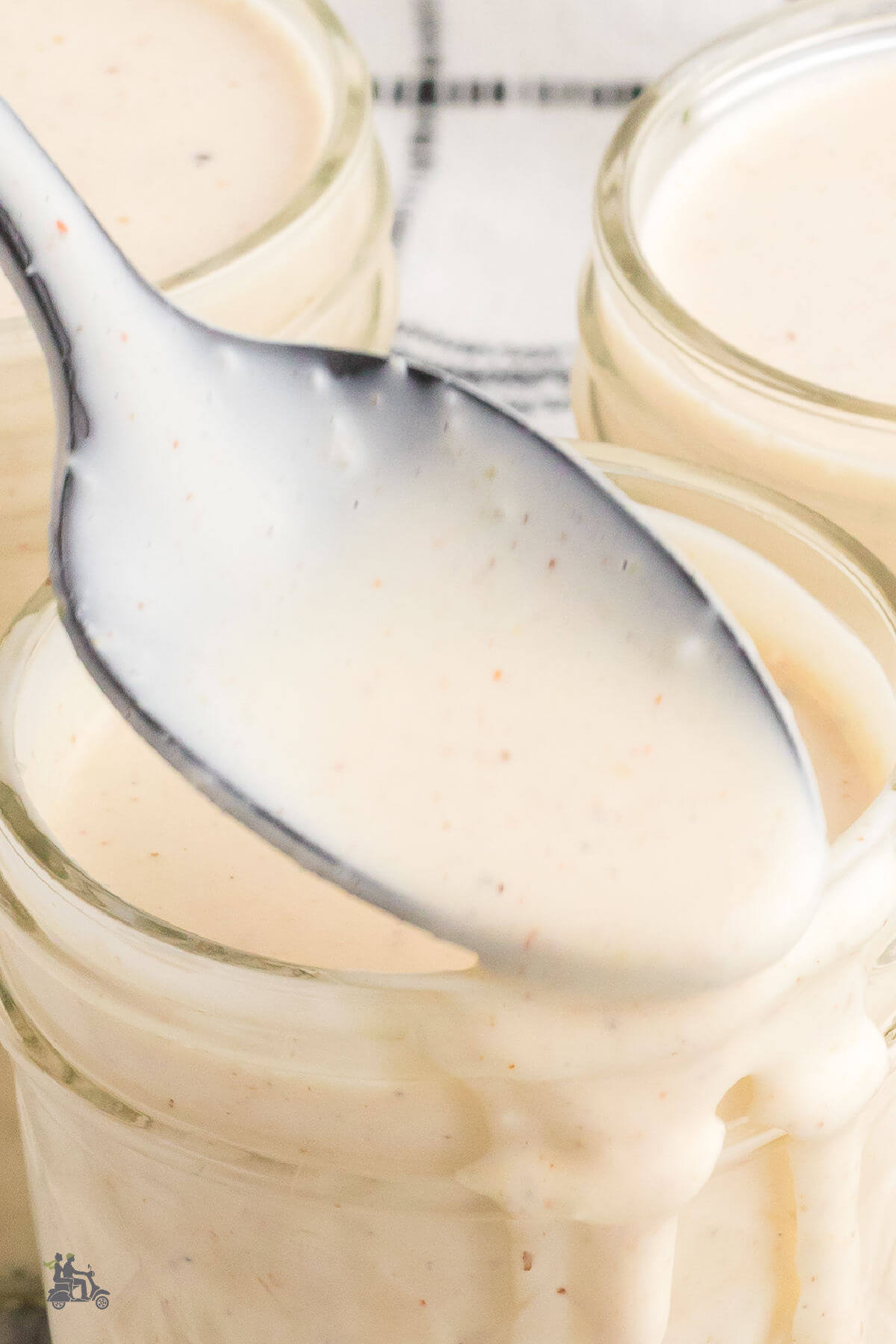 📗 Related Recipes
If you love making homemade bbq sauce that is a twist on the classic sauce then next time give this Carolina BBQ Sauce a try.
This Spicy Bourbon BBQ Sauce is perfect for a summer cookout! It has just the right amount of kick to make your meals memorable.
Cilantro Lime Sauce is a delicious condiment that can be used for a variety of dishes. It is made with simple ingredients and packs a punch of flavor.
🍽 Serve with
📞 Chiacchierata (chat)
We were lucky enough to give white barbeque sauce a try on a trip down south. And, we quickly fell in love with the mayo base sauce. It's the perfect pairing with so many different foods that I knew I had to come home and make it myself.
Tutti a tavolo, è pronto!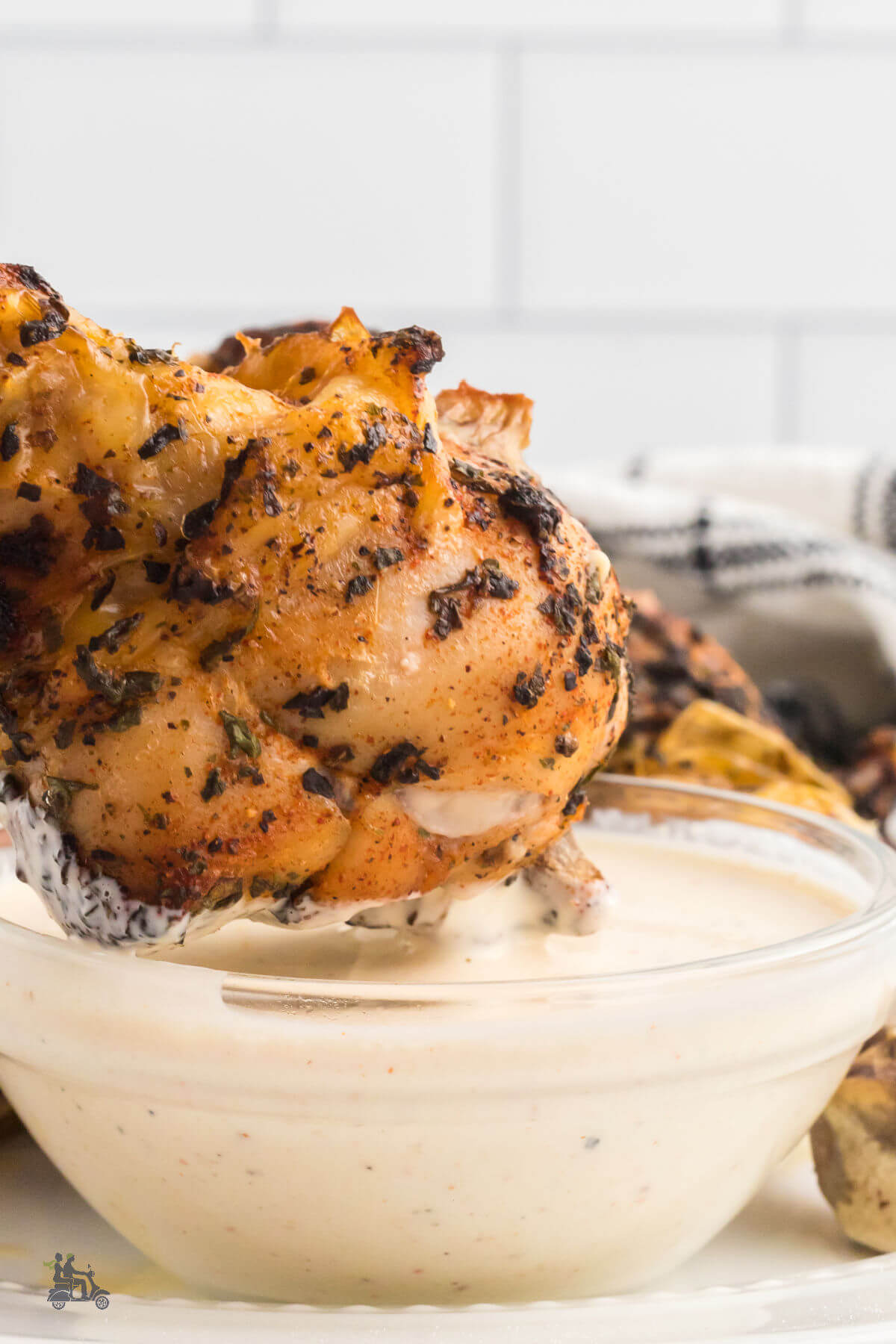 What's new? Check out my All Our Way Store on Amazon. We'll be adding more items we love and use or wish we had to make cooking fun and easy.
📝 Recipe Card
This homemade white bbq sauce is creamy, tangy, and has a touch of heat. It's the perfect sauce for dipping grilled chicken or even beef brisket. If you've never tried this creamy sauce, give it a try today!
If you love this recipe please give it 5 stars ⭐️⭐️⭐️⭐️⭐️.
📖 Recipe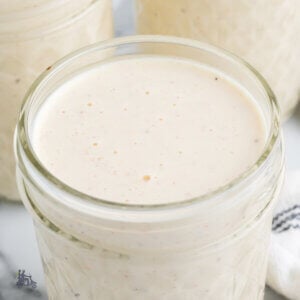 Easy Alabama White BBQ Sauce
Different from any other bbq sauce, this creamy white bbq sauce, better known as Alabama white sauce, uses mayo as a base, along with vinegar, mustard, sugars and peppery spices. A family favorite!
Print
Pin
Rate
As An Amazon Associate I earn from qualifying purchases.
Ingredients
2

cup

mayonnaise

½

cup

apple cider vinegar

1

tablespoon

spicy brown mustard

1

tablespoon

brown sugar

2

teaspoons

prepared horseradish I use a hot horseradish

1

teaspoon

lemon juice

½

teaspoon

Worcestershire sauce

½

teaspoon

hot sauce

½

teaspoon

garlic powder

½

teaspoon

onion powder

¼

teaspoon

cayenne pepper

½

tsp.

kosher salt

2

tsp.

freshly ground pepper— I buy the restaurant grade black pepper which tastes a lot like freshly ground in restaurants.
Instructions
Whisk all of the ingredients together in a small bowl until smooth.

Use the white bbq sauce right away, or transfer to a sealable jar and refrigerate a few hours to let the flavors develop and meld.
Notes
Spice Factor: Not too spicy, though you can spice it up if you'd like with hotter powders and/or chili flakes. This isn't meant to be too hot.
Will last a week in the refrigerator or longer.
Nutrition
Calories:
264
kcal
|
Carbohydrates:
2
g
|
Protein:
1
g
|
Fat:
28
g
|
Saturated Fat:
4
g
|
Polyunsaturated Fat:
17
g
|
Monounsaturated Fat:
6
g
|
Trans Fat:
0.1
g
|
Cholesterol:
16
mg
|
Sodium:
343
mg
|
Potassium:
37
mg
|
Fiber:
0.3
g
|
Sugar:
1
g
|
Vitamin A:
47
IU
|
Vitamin C:
1
mg
|
Calcium:
10
mg
|
Iron:
0.2
mg
Sign up for the emails and never miss another recipe!!
We'll never share your email or send you spam. Promise