One bite of this buttery rich praline cake and I knew why the candy was a Louisiana trademark. In pralines, it's all about caramelizing the white sugar. While with this toasted pecan pound cake, it's the brown sugar that flavors and sweetens the dessert. To enhance the deep toffee flavor of the classic Southern cake we drizzle a caramel glaze studded with toasted pecans over it. So, if you're a fan of rich creamy caramel and nutty pecans, this sweet is for you.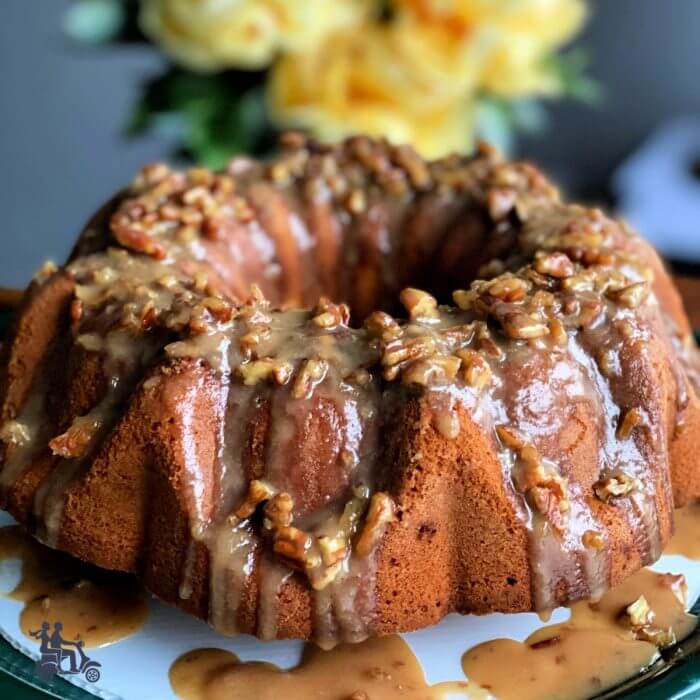 Jump to:
Shopping list
This is a simple caramel pound cake recipe. All you need is to make sure your butter and cream cheese are soft and your eggs are at room temperature.
For cake
Chopped pecans - toasted to release the oils and enhance the flavor.
Butter, softened - we used unsalted but you may also you use salted.
Cream Cheese - adds richness and moisture to the cake.
Brown sugar - this is where you'll get that rich praline flavor.
Large eggs - helps add structure and stability to the cake plus.
White Lily All-Purpose Flour - this is a low-protein flour at about 9% which is a lot like a cake flour. The lower protein content creates a higher rise in the praline bundt cake.
Vanilla extract - depth of flavor and aroma.
Chocolate Brickle Bits - adds crunch and more of the toffee taste to the caramel cake.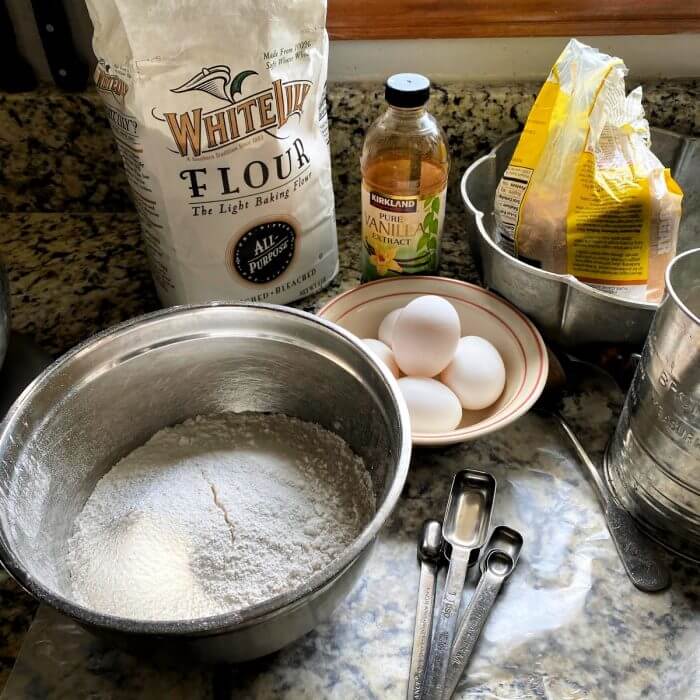 For glaze
Heavy Cream - adds to the richness and lets the caramel flow.
Brown Sugar - the molasses in the sugar adds a deeper richer flavor.
Light Corn Syrup -prevents the sugar from crystalizing and becoming grainy.
Vanilla extract - deepens the caramel flavor.
Kosher Salt - enhances the flavors.
Toasted chopped pecans - crunch and the praline flavor.
Putting it together
The best advice I can give before starting on the recipe is to have everything measured out and ready to go. The French have a name for this, mise en place.
Grease and flour a bundt or 10-inch tube pan.
Chop and toast the pecans.
Heat the oven to 325℉.
In a large bowl cream the butter and cream cheese with electric mixer.
Beat in brown sugar.
Add eggs one at a time.
Fold in flour.
Stir in Vanilla, pecans, toffee bits.
Spoon batter into prepared pan.
Place pan on baking sheet.
Bake praline cake.
Cool pound cake in bundt pan for 10 minutes.
Remove dessert to cooling rack to cool completely.
Stir caramel glaze ingredients in 2-quart pan.
Cook glaze until temperature on candy thermometer reaches 220℉.
Remove from heat and stir in vanilla extract, salt, and chopped pecans.
Stir with wooden spoon until caramel thickens.
Spoon over cake.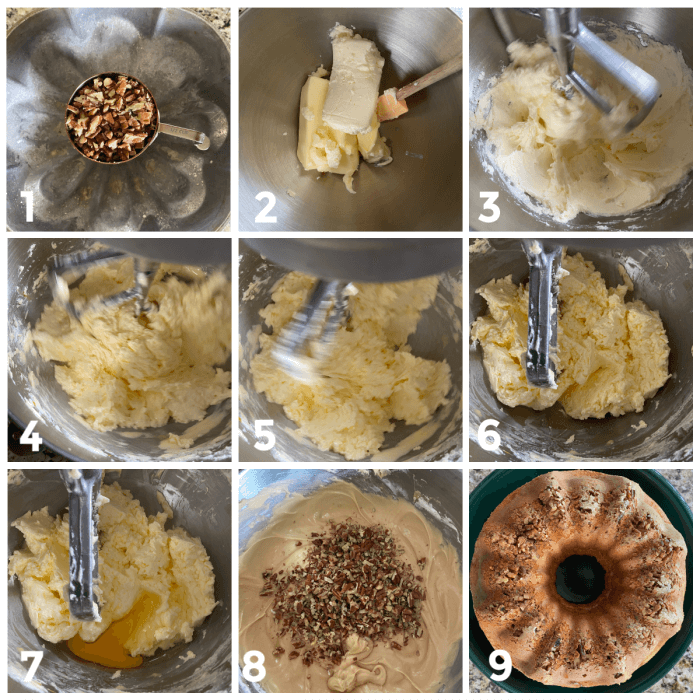 Tips...
Make sure the butter and cream cheese are soft before mixing.
The eggs should be at room temperature.
Add the eggs to the butter mixture one at a time.
Fold in flour until just combined.
Don't overmix.
Place pan on baking sheet for easy placement and removal from oven.
FAQs...
Here are the most commonly asked questions about this recipe. If you don't find the answer to yours here leave a comment below or email me - I'll get back to you as soon as I can!
What if I can't find Lily White Flour or a flour with low protein?
You can use all-purpose flour and cornstarch. For every cup of flour, remove 2 Tablespoons of the flour and add 2 Tablespoons of cornstarch. Whisk together to combine and use as a substitute for 1 cup of cake flour.
What is the difference between butterscotch and caramel?
Caramel is made with white sugar and butterscotch is made with dark brown sugar. Caramel is cooked to a higher temperature - 340℉ whereas butterscotch is cooked to 289℉. Both are often made with additional ingredients to alter the taste and texture
Do I need to toast the nuts?
No you don't but the taste will benefit greatly by toasting them first. It only takes a few minutes and you can toast them in the oven or in a pan on top of the stove.
What are pecan pralines made of?
The common factors are sugar, pecans, and dairy such as butter and cream.
Why do I have to add eggs one at a time?
Adding eggs one at a time helps to ensure that the eggs mix with the butter, rather than just mixing with each other. Once everything is emulsified you add the dry and liquid ingredients.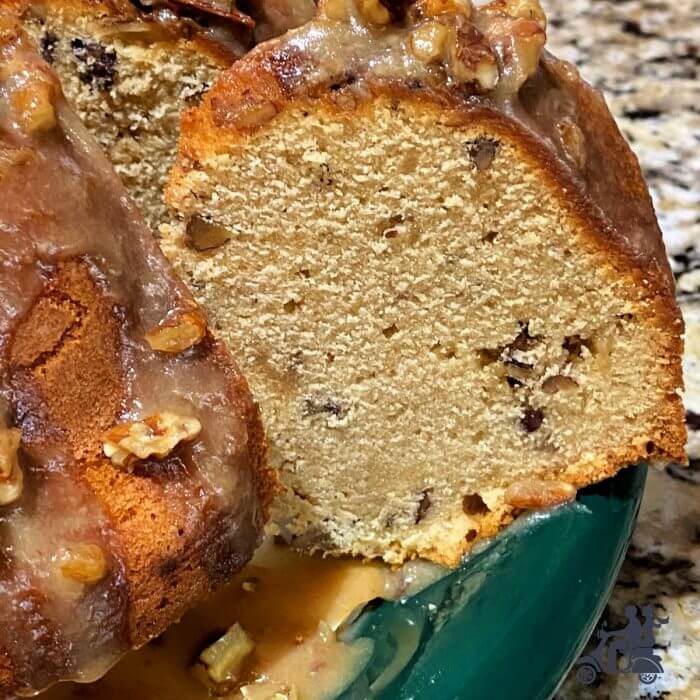 A bit of history
It was the culinary genius of the African-American woman that created the New Orleans praline as we know it today. Although the praline started as a French confection it was the emancipated black women who made it into one of the earliest street foods in America.
These women were called pralinières. It was their means of supporting themselves. They began selling their candy as early as the 1860s. But they were much more than vendors, they were entertainers.
The pralinières would dress up in costume and parade up and down the street singing songs about their homemade candy. And if you're curious about their costume, it was that of a "mammy" with long skirts, aprons, scarves, and tigons. Today you won't find a mammy costume in sight.
Quattro Chiacchiere (a chat)
Our next door neighbor at our first house was a sweet little lady named Stella. She was like a grandmother to our children. Stella loved all things praline.
Every Christmas Stella would bring over a plate of homemade pralines. They were so good! She said she couldn't make them very often because she'd end up eating them all. I understood.
But we couldn't let Stella go a whole year without tasting a praline. So instead, we'd surprise her with praline ice cream whenever we could find it. She would have loved this cake, especially with the caramel pecan glaze.
She was a real sweetheart. Everyone should have a neighbor like her.
This cake is a real winner - one that I know you'll love. It's not difficult but it's oh, so impressive. If you want to surprise someone with a winning dessert, this one is it! This is in definite competition to our Italian Cream Cake!
Pecans are amazing and if you think so too, try our recipe for Pumpkin Crumb Cake with a Pecan Streusel Topping coated in Maple glaze.
Tutti a tavolo è pronto!
Un caro saluto e alla prossima.
You may need...
As An Amazon Associate I earn from qualifying purchases.
Although you may use a regular tube pan for this recipe we like making it a bit fancier. We like making cakes in a bundt pan like this one. What I like about this pan is that it has handles that you can grab. The glaze catches on the ridges and Oh boy is that glaze good.
Thank you for being part of All Our Way!
What's new? check out my All Our Way Store on Amazon. We'll be adding more items we love and use or wish we had to make cooking fun and easy.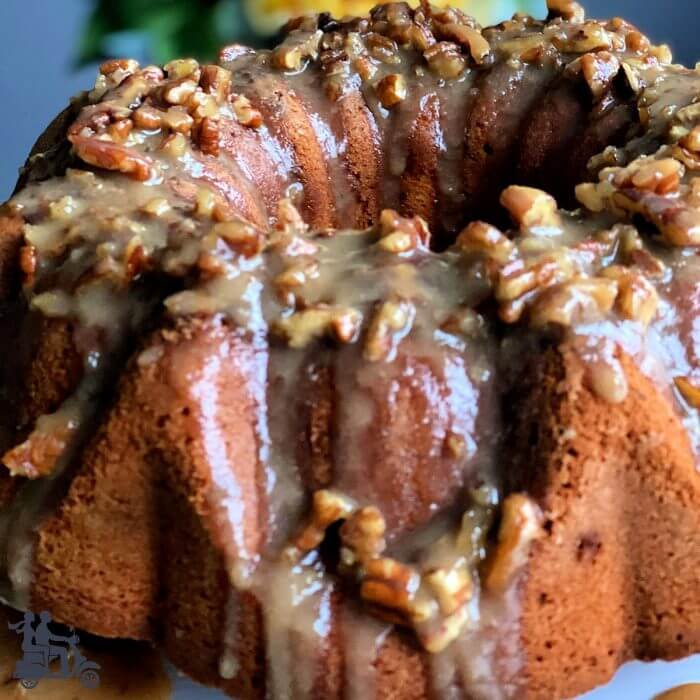 Toasted Pecan Praline Cake Recipe
There are cakes and then there is a cake so soft, moist, buttery-rich and nutty that you just can't stop thinking or talking about it. When you want something to WOW your family or guests this is the recipe you want to make. One bite of this decadent praline pound cake and you'll realize why pralines are the treasured confection of the South.
📖 Recipe
Toasted Pecan Praline Cake
This is a butter rich pound cake that's soft and moist and studded with toasted pecans and heath bits. To finish it off we pour a caramel pecan glaze over it adding to the fantastic flavor.
Print
Pin
Rate
As An Amazon Associate I earn from qualifying purchases.
Ingredients
Cake
1 ½

cups

pecans

chopped and toasted

1 ½

cups

butter

unsalted, softened

8

oz.

cream cheese

softened

3

cups

brown sugar

firmly packed

6

eggs

large, at room temperature

3 ¼

cups

Low-protein flour like White Lily

Or use cake flour (see notes below)

2

teaspoon

vanilla extract

½

cup

brickle or toffee bits

like what you find with Heath.
Glaze
1 ½

cups

heavy cream

¾

cup

light brown sugar

packed

1

tablespoon

light corn syrup

1 ½

teaspoon

vanilla extract

Kosher salt

pinch

½

cup

pecans

chopped and toasted
Instructions
Cake
Chop and toast the 2 cups of pecans. You'll need to save ½ cup for the glaze. (see notes on how to toast. )

Grease and flour a 12 cup bundt pan or a 10-inch tube pan. You may use a baking spray with flour but I find it doesn't do too well for me.

Sprinkle ½ cup of the chopped pecans on the bottom of the bundt pan.

Beat the softened butter and cream cheese in a large bowl with electric mixer on medium speed until well mixed.

Beat in the brown sugar for about 5 minutes or until very light.

Add the eggs in, one at a time beating well after each addition.

Fold in the flour just until combined. Do not overmix.

Stir in the vanilla, 1 cup chopped toasted pecans and the brickle bits.

Spoon the batter into the prepared pan.

Place the bundt pan on a baking sheet and slide into oven.

Bake for 1 hour 15minutes to 1 hour 30 minutes or until wooden toothpick comes out clean.

Cool in pan for 10 minutes. Remove to cooling rack to cool completely.
Glaze
Stir together with wooden spoon heavy cream, brown sugar, and corn syrup in a 2-quart, heavy bottomed sauce pan over medium heat.

Insert a candy thermometer and cook until the temperature registers 220℉ on candy thermometer.

Remove from heat and stir in vanilla, salt, and the ½ cup toasted pecans.

Stir with the wooden spoon until caramel has thickened and cooled slightly. Spoon over the cake. If you have any left store in fridge and pour on ice cream or plain cake.
Notes
Make your own cake flour: For every 1 cup of all-purpose flour, remove 2 Tablespoons of the flour and ADD 2 Tables spoons of cornstarch. Mix together well.
Check your oven temperature - we have a new stove and when it signals that the oven has preheated, it hasn't. We bought an oven thermometer (they're cheap) and when it signaled that the oven was preheated it was 75℉ off. We now let our oven preheat 40 minutes to be sure that the oven is at the temp we want it. This is really important with cakes and breads.
Nutrition
Calories:
964
kcal
|
Carbohydrates:
105
g
|
Protein:
10
g
|
Fat:
58
g
|
Saturated Fat:
29
g
|
Cholesterol:
215
mg
|
Sodium:
340
mg
|
Potassium:
286
mg
|
Fiber:
2
g
|
Sugar:
76
g
|
Vitamin A:
1640
IU
|
Vitamin C:
1
mg
|
Calcium:
134
mg
|
Iron:
3
mg
Sign up for the emails and never miss another recipe!!
We'll never share your email or send you spam. Promise
Note: Recipes and content from ©All Our Way 2014-2020 are copyright protected. Please do not use content or recipe without prior written permission. If you want to share the information, please link to this post. Grazie.