Oysters Rockefeller scream elegance, celebration, holiday, sophistication. Do you know that they're very easy to make? Our Oysters Rockefeller Italian Style are an easy, tasteful adaptation of that rich appetizer first served in New Orleans. Picture succulent oysters covered in a green, seasoned spinach blankets then topped with crunchy garlicky golden breadcrumbs. What a flavor sensation!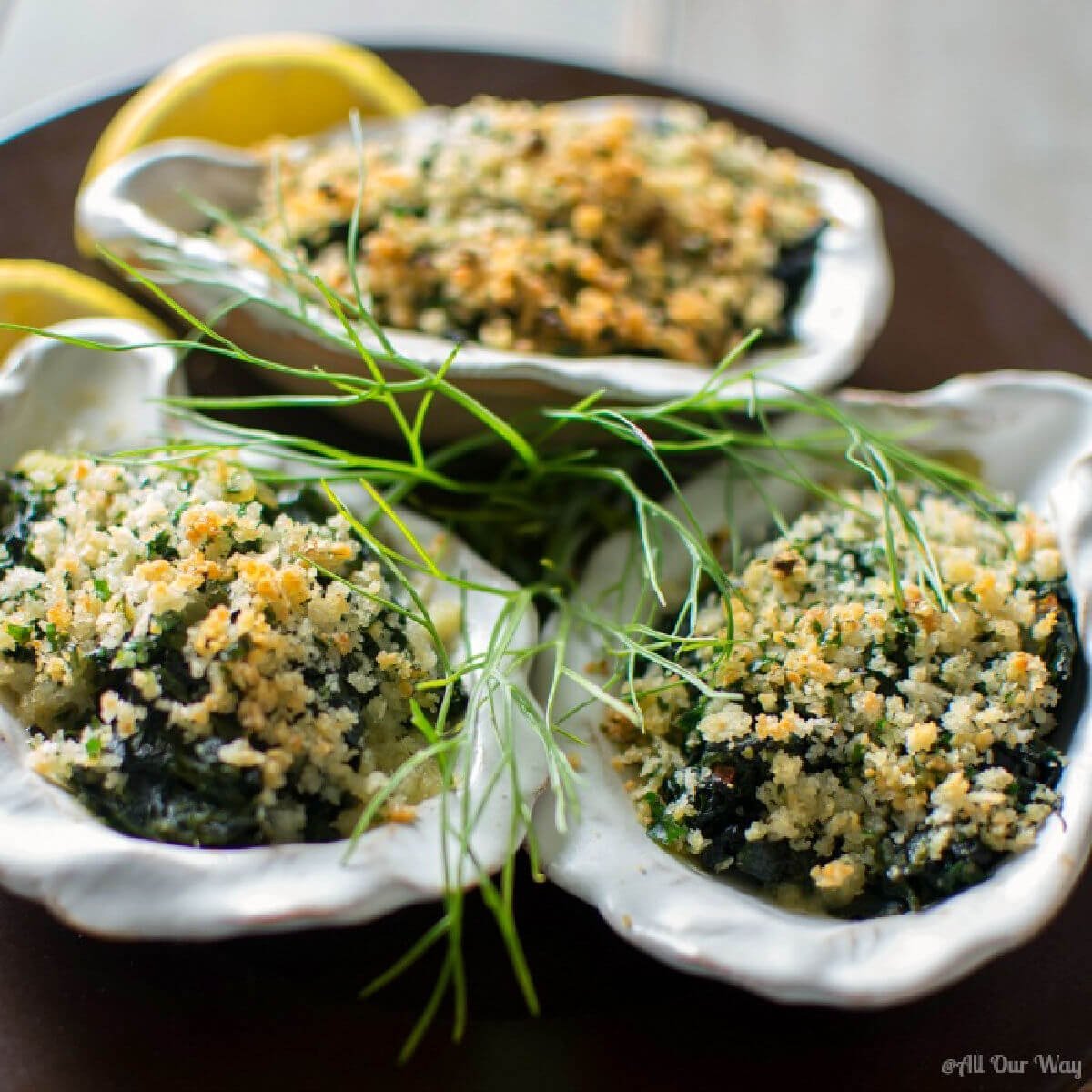 The origin of Oysters Rockefeller
The year is 1899, and there's a shortage of French snails. Jules Alciatore, the son of the founder of New Orleans restaurant Antoine's, is in a pickle. He has to come up with a substitute for their snail appetizer. Their snails are their most popular dish with the customers. What can he do? He thinks about this a while and then an idea pops up. What do they find plentiful around the Louisiana coast? Oysters, and lots of oyster beds.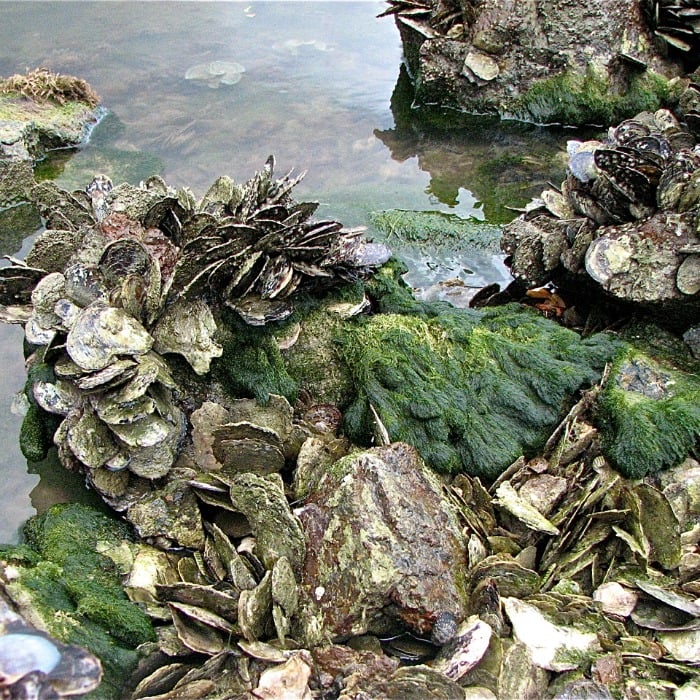 Jules figures why not substitute oysters on the appetizer menu? The idea excites him. Using oysters instead of snails is a plus-plus for Antoine's. They won't have a shortage of oysters, and they won't have to ship them from France. It doesn't take Jules long to creates a recipe. The sauce in the appetizer is so rich that he decides to name it Oysters Rockefeller, after John D. Rockefeller, the richest American at the time.
The Oysters Rockefeller becomes so popular that many of the New Orleans restaurants try to duplicate the appetizer. To this day, Antoine's chefs still serve the traditional dish although no other restaurant successfully replicated the original.
The first time I tasted Oysters Rockefeller
The first time I sample Oysters Rockefeller is at a company dinner. We're having dinner at the only continental restaurant in our small town. A lot of the dishes on the menu are ones that I've never encountered. One of Honey's associates, Phil, sees me studying the appetizers and he suggests I order the Oysters Rockefeller appetizer.
I love trying new dishes, so I order the oyster appetizer.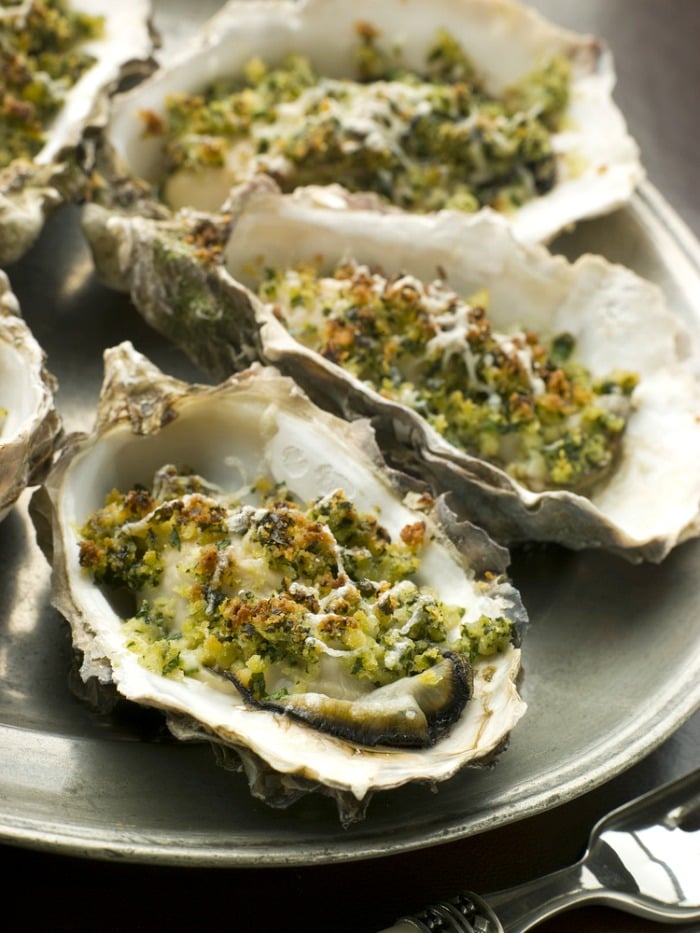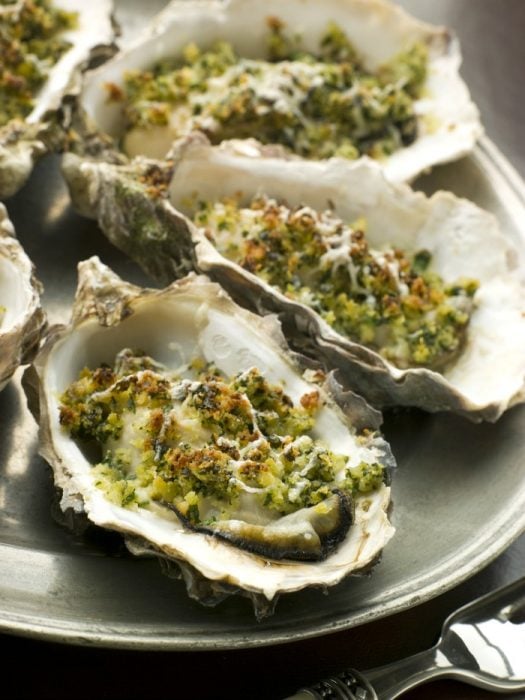 When the waiter serves the Oysters Rockefeller on the half-shell, I can't see the mollusks. The oysters are covered with a green overlay and on top of that are golden bread crumbs. I dip my seafood fork into the appetizer and take a taste.
Oh. My. Heavens. It tastes so good!! The oyster is juicy but with some chew. I discern spinach but underneath there are multiple layers of flavor. Garlic. Onion. Then I recognize the one that was teasing my taste buds. It's anise. I'm captivated by the taste and texture of the Oysters Rockefeller that the rest of the meal is just a blur. When I get home, I know I'm going to try to duplicate the Oysters Rockefeller.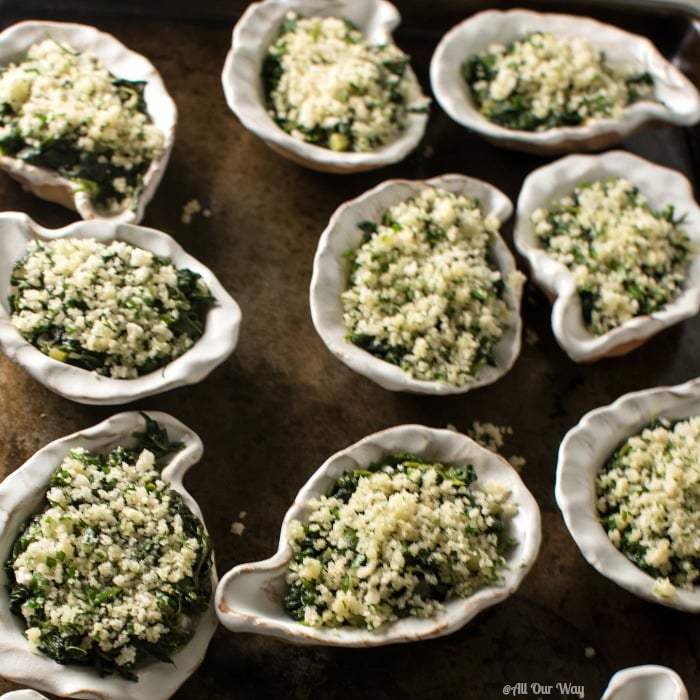 Putting the Oysters Rockefeller together
Today, I still make Oysters Rockefeller as I did all those years ago. The only difference now is that my oyster shells crumbled after baking dozens and dozens of appetizers. My solution was to buy ceramic shells that would withstand the oven's heat.
The recipe is very simple.
You need to sauté minced garlic in butter.
Half the garlicky butter will go into the bread crumb topping
The other half will go into the spinach mixture.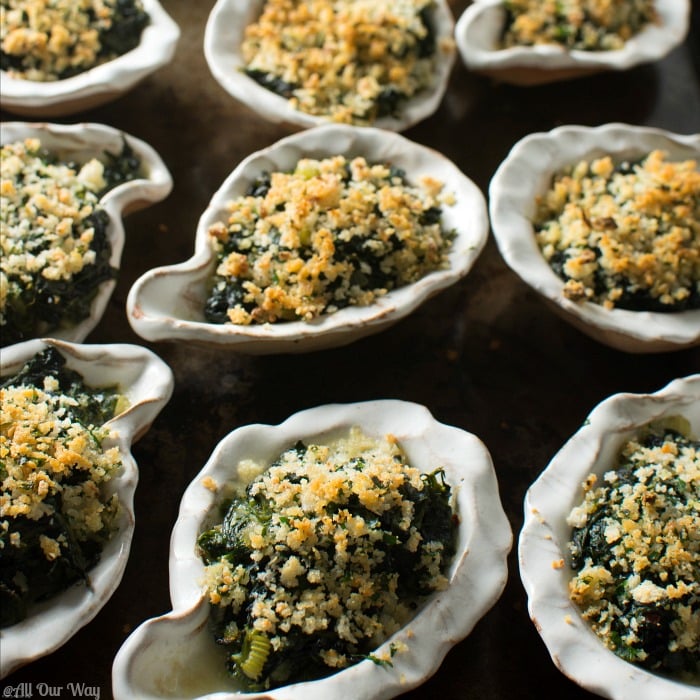 If you have oysters on the half shell
You will need rock salt
Rock salt stabilizes the uneven oyster shells.My ceramic shells have a flat bottom that makes them steady.
Spray the shells with oil spray
Place an oyster on the shell, cover the oyster with the spinach mixture,
Sprinkle the breadcrumbs on top of the green layer.
Baking and Finishing the Oyster Appetizer
Pop the Italian Oysters Rockefeller in the oven and bake for 10 to 15 minutes until golden.
Serve it with lemon wedges and red pepper sauce.
The aroma is incredible. Just watch your family and friends gobble up the amazing appetizer. The original Oysters Rockefeller has a sauce, but we believe the appetizer is delicious as is.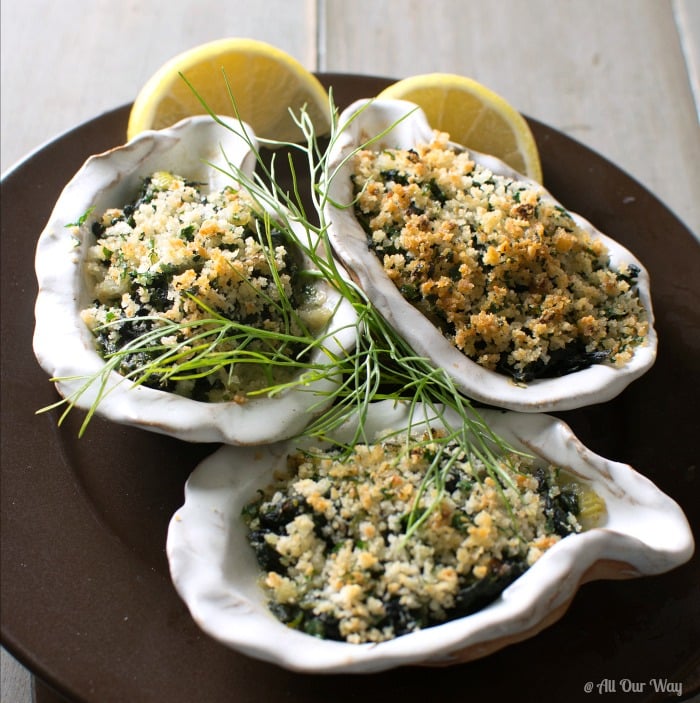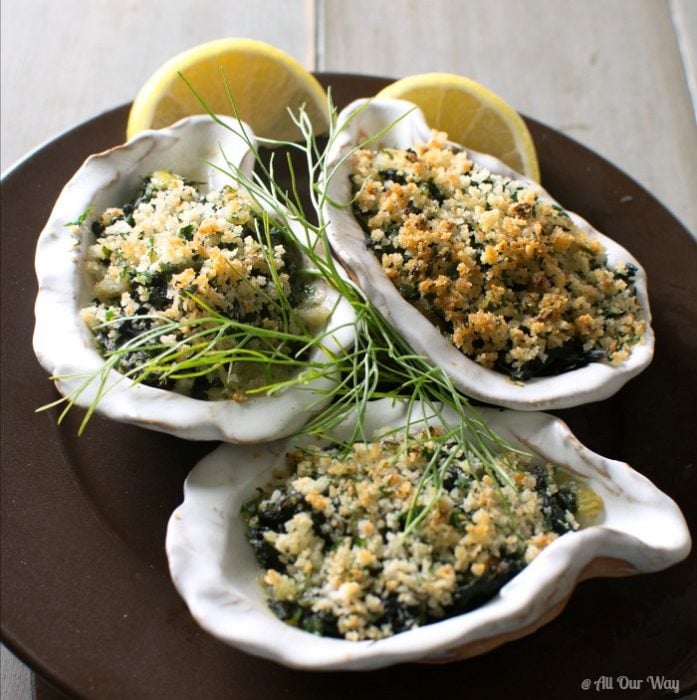 We hope you try this recipe; even non-oyster lovers will rave about this recipe. If you prefer your oysters fried, then check out our Panko Fried Oyster recipe with the spicy cocktail sauce.
Be sure to sign up for our newsletter, we are busy cooking in our kitchen, and we enjoy sharing what we're doing.
Tutti a tavola è pronto!
Un caro saluto e alla prossima.
YOU MAY NEED...
As An Amazon Associate I earn from qualifying purchases.
We used natural oyster shells for years but eventually they crumbled. We got these amazing ceramic oyster shells from Amazon. They have a flat bottom, very convenient because they don't wobble. You can use them as little appetizer dishes too. They're reusable plus you can put them on the grill. Very nice, indeed!!
Thank you for being part of All Our Way!
Oysters Rockefeller Italian Style Recipe
This appetizer recipe is one that screams pure elegance. It's easy to prepare ahead and then just pop in the oven. A fantastic way to begin a celebration. The flavor is simply out of this world.
📖 Recipe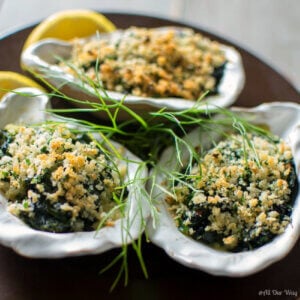 Oysters Rockefeller Italian Style An Elegant Appetizer
A rich elegant oyster appetizer that is easy to make. Oysters are baked in a half shell with a savory spinach blanket and topped with a garlicky Parmesan breadcrumb topping.
Print
Pin
Rate
As An Amazon Associate I earn from qualifying purchases.
Ingredients
2

Tablespoons

unsalted butter

1

large garlic clove

minced

¼

cup

Panko crumbs

1

shallot chopped

1

celery stalk

chopped

1- 9

oz.

box frozen chopped spinach

thawed. Remove moisture by pressing between paper towels.

⅛

cup

Sambuca

anise flavored liqueur

Salt and pepper to taste

Dash red pepper sauce

1

Tablespoon

olive oil

¼

cup

grated Parmesan

1

Tablespoon

chopped Italian parsley

1

dozen oysters with oyster liquor

Rock salt if using the half shell

Lemon

wedges

Crumbled bacon for topping

optional
Instructions
Melt butter in a skillet. Saute the garlic for 2 minutes to infuse the butter.

Place the Panko crumbs and half the Parmesan cheese in a mixing bowl and half the garlic butter, set aside.

To the remaining garlic butter in the skillet, add the chopped shallot and celery. Cook until the shallot and celery are soft about 3 minutes. Add the spinach and continued to cook another 3 minutes.

Deglaze pan with Sambuca. Season with salt and pepper and add a dash of red pepper sauce. Allow the mixture to cook down for a few minutes.

Finish off the bread crumbs by mixing in olive oil, Parmesan cheese, and parsley, season with salt and pepper.

Spray the oyster half shell or ceramic shells with oil. Place one oyster with some of its liquor in each shell.

Cover each oyster with the spinach mixture. Spoon the bread crumb mixture over the spinach.

If using a half shell, sprinkle a baking pan amply with the rock salt. Arrange the oysters in the salt to steady them.

If using the ceramic shells, arrange them on a baking pan.

Bake in a preheated 450 F. oven for 10 to 15 minutes until the breadcrumbs are golden.

Serve with lemon wedges and red pepper sauce.
Notes
Inspired by the famous Oysters Rockefeller served at Antoine's in New Orleans.
Nutrition
Calories:
173
kcal
|
Carbohydrates:
9
g
|
Protein:
5
g
|
Fat:
11
g
|
Saturated Fat:
5
g
|
Cholesterol:
20
mg
|
Sodium:
186
mg
|
Potassium:
292
mg
|
Fiber:
2
g
|
Sugar:
3
g
|
Vitamin A:
8670
IU
|
Vitamin C:
6.3
mg
|
Calcium:
172
mg
|
Iron:
1.7
mg
Sign up for the emails and never miss another recipe!!
We'll never share your email or send you spam. Promise
Note: Recipes and content from © 2014- 2-19 All Our Way are copyright protected. Please do not use content or recipe without prior written permission. If you want to share the information, please link to this post. Grazie.