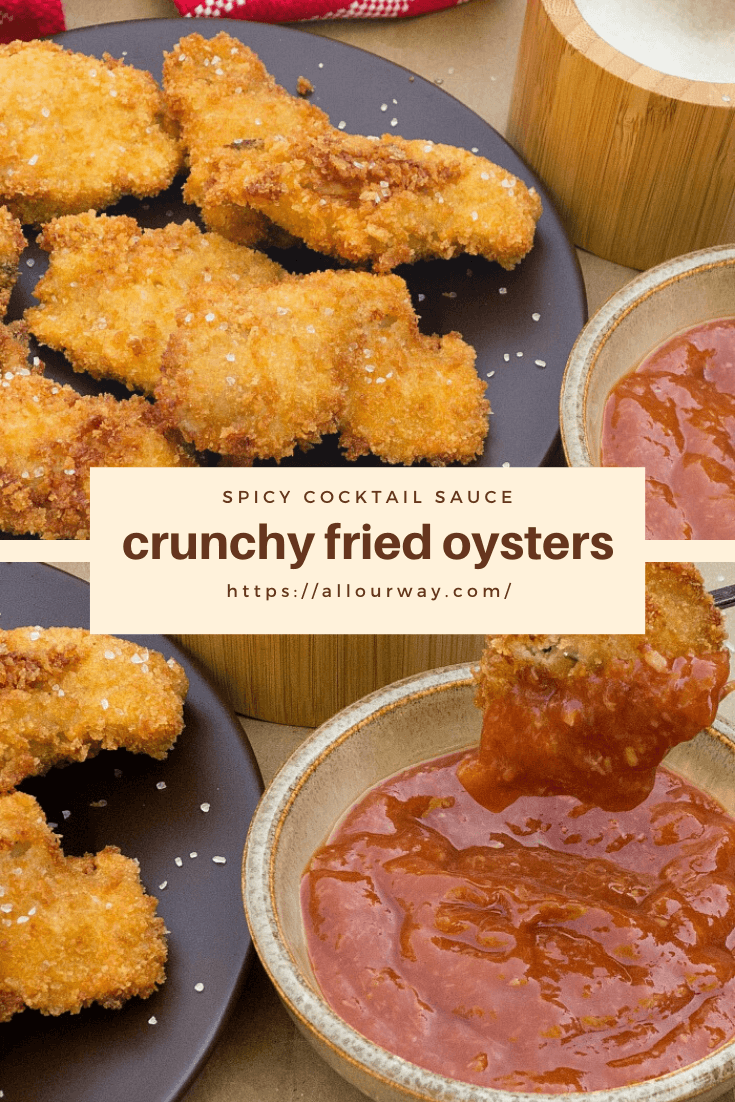 Oysters, you either love them or hate them, there is no in-between, but we believe our Crunchy Deep Fried Oysters with Cocktail Sauce will coax you into the lovers' camp. Now we're not going to kid you and say that our fried oysters taste like fried chicken --they don't. But your holiday guests won't complain as they gobble ups the seafood appetizer.
We believe they taste even better.
For this recipe, you will need: fresh select oysters, egg, club soda, flour, black pepper, garlic powder, cayenne pepper, panko breadcrumbs, Italian seasoning, ketchup, cocktail sauce, fresh lemon juice, Worcestershire sauce, hot sauce.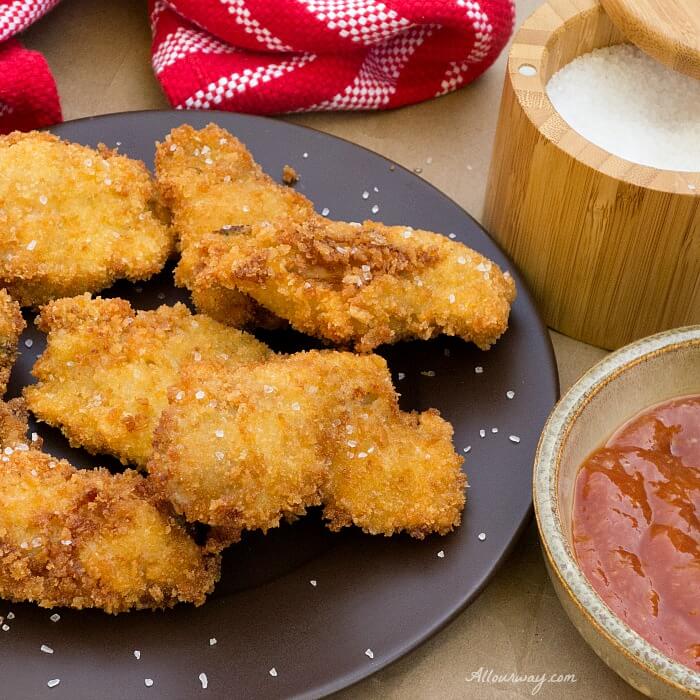 First Published: May 10,2016... Last Updated: December 11, 2019
Jump to:
What fried oysters are
Each oyster is a tasty briny morsel that is panko-coated and deep fried into a delicious crusty bite. You can pop them in your mouth as is or dunk them, like we do, in our tangy, spicy cocktail sauce.
They are an elegant seafood appetizer, or they can be a crunchy treat at a Super Bowl Sunday party.
Set them out on an appetizer tray and they are gone!!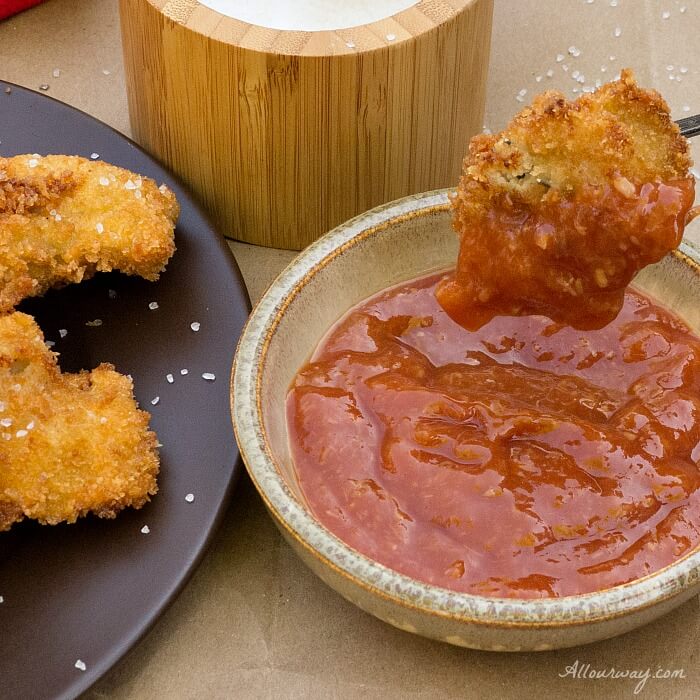 Oyster connoisseurs
Did you know there are oyster connoisseurs? I didn't either.
I knew there were serious wine connoisseurs but I thought an oyster was an oyster.
Saying oysters are just oysters to anyone who takes their oysters seriously is dangerous. They'll most certainly start lecturing on sweetness, meatiness, metallic, salinity, iodine and even copper.
What? Copper? Does copper have a taste?
I'm confused enough with what wine connoisseurs find in a sip of wine.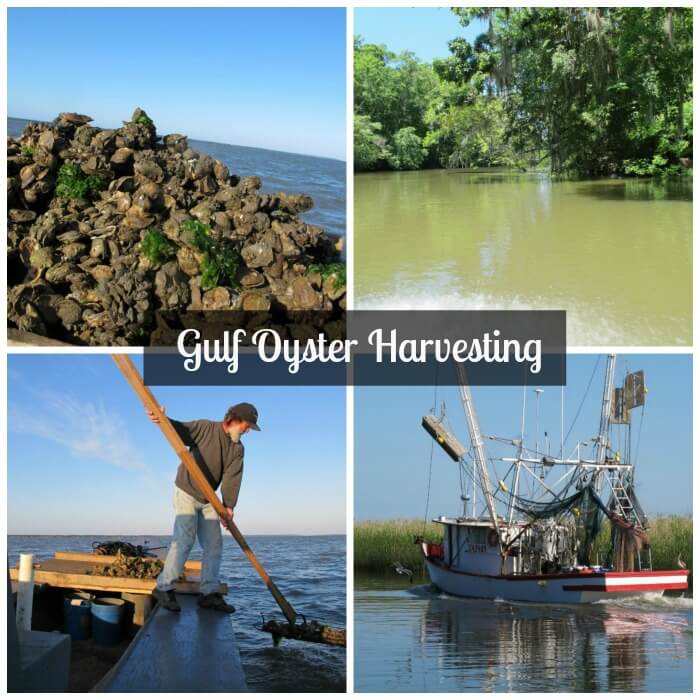 Oysters take on the taste of their surrounding
Apparently, these little guys take on the "flavor" of the water they live in.
They are amazing creatures. Our Gulf oysters are completely wild making the incredible journey from egg to adult an almost one-in-a-million journey.
They grow in their armored shell fortresses with their luxurious smooth, pearl-like surfaces as their living space until they are harvested with tongs.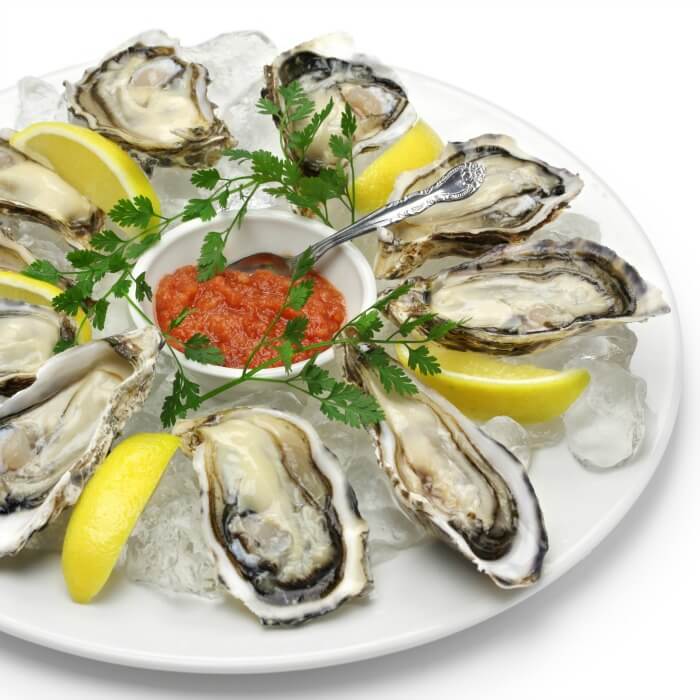 How to eat oysters
My Father-in-law loved his oysters in a creamy stew and some people like an oyster dressing at Thanksgiving.
As an elegant appetizer for a special occasion.
Usually, we eat our oysters on saltine crackers with fresh lemon, hot sauce, and horseradish.
We had some oysters left over, so the next day we decided to coat them in panko crumbs and make deep fried oysters.
Oh, my!! They were so delicious we just had to share this recipe.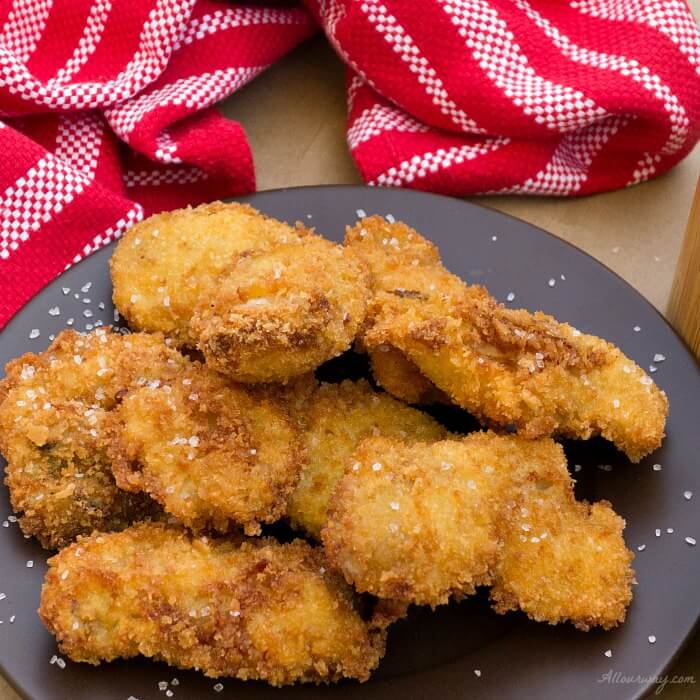 Crunchy Deep Fried Oysters with Cocktail Sauce is an easy recipe to make and this recipe is perfect as a seafood appetizer or even for an Oyster Po'Boy filling.
If you're a bit timid about trying oysters raw or roasted, try them as fried oysters. You won't be disappointed.
Tutti a tavola è pronto!
Un caro saluto e alla prossima.
Feast of the Seven Fishes
You may need...
We are a firm believer in using peanut oil when we fry. Not only does it fry anything beautifully, it doesn't get that "off" taste you find with many fried foods. Also, peanut oil can also be reused a lot without any loss in quality.
Thank you for being part of All Our Way!
What's new? check out my All Our Way Store on Amazon. We'll be adding more items we love and use or wish we had to make cooking fun and easy.
Crunchy Deep Fried Oysters Recipe
These deep fried oysters are so good you won't be able to stop munching on them. The secret is in the right breading. Serve them to your family and guests and you'll have a hard time keeping up with the supply. Yes! They are that good. A perfect seafood appetizer to serve during the holidays and equally good to serve during game watching.
If you like this recipe please give it a 5-star rating.
Crunchy Deep Fried Oysters With Cocktail Sauce
📖 Recipe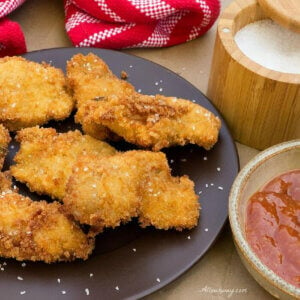 CRUNCHY DEEP FRIED OYSTERS WITH COCKTAIL SAUCE
Crusty deep fried oysters are panko-coated morsels that are deep fried into a delicious crusty bite and served with a tangy spicy cocktail sauce. Once you taste these oyster appetizers you'll have a difficult time quitting at just a few. Make sure you make enough because they go fast and they're always a favorite.
Print
Pin
Rate
As An Amazon Associate I earn from qualifying purchases.
Ingredients
OYSTERS

8

oz

oysters

fresh select (about 12)

EGG DIP

1

egg

large

1

tablespoon

club soda

FLOUR COATING

⅓

cup

flour

all-purpose

¼

teaspoon

black pepper

½

teaspoon

garlic powder

⅛

teaspoon

cayenne pepper

optional

PANKO COATING

¾

cup

panko breadcrumbs

more if needed

½

teaspoon

Italian seasoning

COCKTAIL SAUCE

1

cup

ketchup

½

cup

cocktail sauce

¼

cup

prepared horseradish

2

teaspoon

lemon juice

fresh

½

teaspoon

Worcestershire sauce

¼

tsp

black pepper

freshly ground

½

teaspoon

hot sauce

peanut oil for frying
Instructions
TO PREPARE THE OYSTERS:

1. Line colander with two layers of paper towels. Rinse oyster, drain and put in the colander patting to dry.

2. EGG DIP: In a small bowl, add egg and club soda.3. FLOUR COATING: Put all ingredients in a small plastic bag and shake to mix well. 4. PANKO COATING: In a small bowl, add ingredients and mix well.

TO BREAD OYSTERS:

1. Dip 2 to 3 oysters in egg wash, letting any excess drain off.

2. Place the oysters in flour coating, shaking to completely coat oysters. Remove from flour mixture.

3. Dip the oysters again in the egg wash and let excess drain off.

4. Place the egged oysters in the panko coating bowl. Roll them over making sure they are completely coated with the panko crumbs. With tongs, gently remove them from the breadcrumbs and place them in a single layer on a wire rack over a baking tray.

5. Repeat steps 1-4 until all the oysters are breaded. Lightly cover the breaded oysters with plastic wrap and refrigerate at least 2 hours or more. The breading can be done up to 8 hours ahead. While oysters are in the fridge make the classic cocktail sauce.

TO FRY OYSTERS:

1. Heat frying oil in fryer or a deep pan to 375 F. Using tongs, gently remove oysters from wire rach and gently slip them into the hot oil. Fry the oysters in small batches (6) to keep from lowering the temperature of the oil.

2. Fry about 2 minutes or until golden brown on one side, turn and brown the other side (about 1-2 minutes).

3. Remove from oil and drain on paper towels. Be sure the oil is heated to 375 f. beroe continuing with additional batches.

4. Serve immediately with cocktail sauce.

CLASSIC COCKTAIL SAUCE:

1. Combine all of the sauce ingredients together.

2. Taste and season with more pepper if you like. Cover the bowl with plastic wrap and chill until ready to serve.
Nutrition
Calories:
425
kcal
|
Carbohydrates:
85
g
|
Protein:
11
g
|
Fat:
4
g
|
Saturated Fat:
1
g
|
Cholesterol:
86
mg
|
Sodium:
2012
mg
|
Potassium:
755
mg
|
Fiber:
3
g
|
Sugar:
43
g
|
Vitamin A:
1090
IU
|
Vitamin C:
17.7
mg
|
Calcium:
113
mg
|
Iron:
4
mg
Sign up for the emails and never miss another recipe!!
We'll never share your email or send you spam. Promise
Note: Recipes and content from © 2014- 2019 All Our Way are copyright protected. Please do not use content or recipe without prior written permission. If you want to share the information, please link to this post. Grazie.
SaveSave
SaveSave
SaveSave
SaveSave
SaveSave
SaveSave
SaveSave
SaveSave
SaveSave
SaveSave
SaveSave