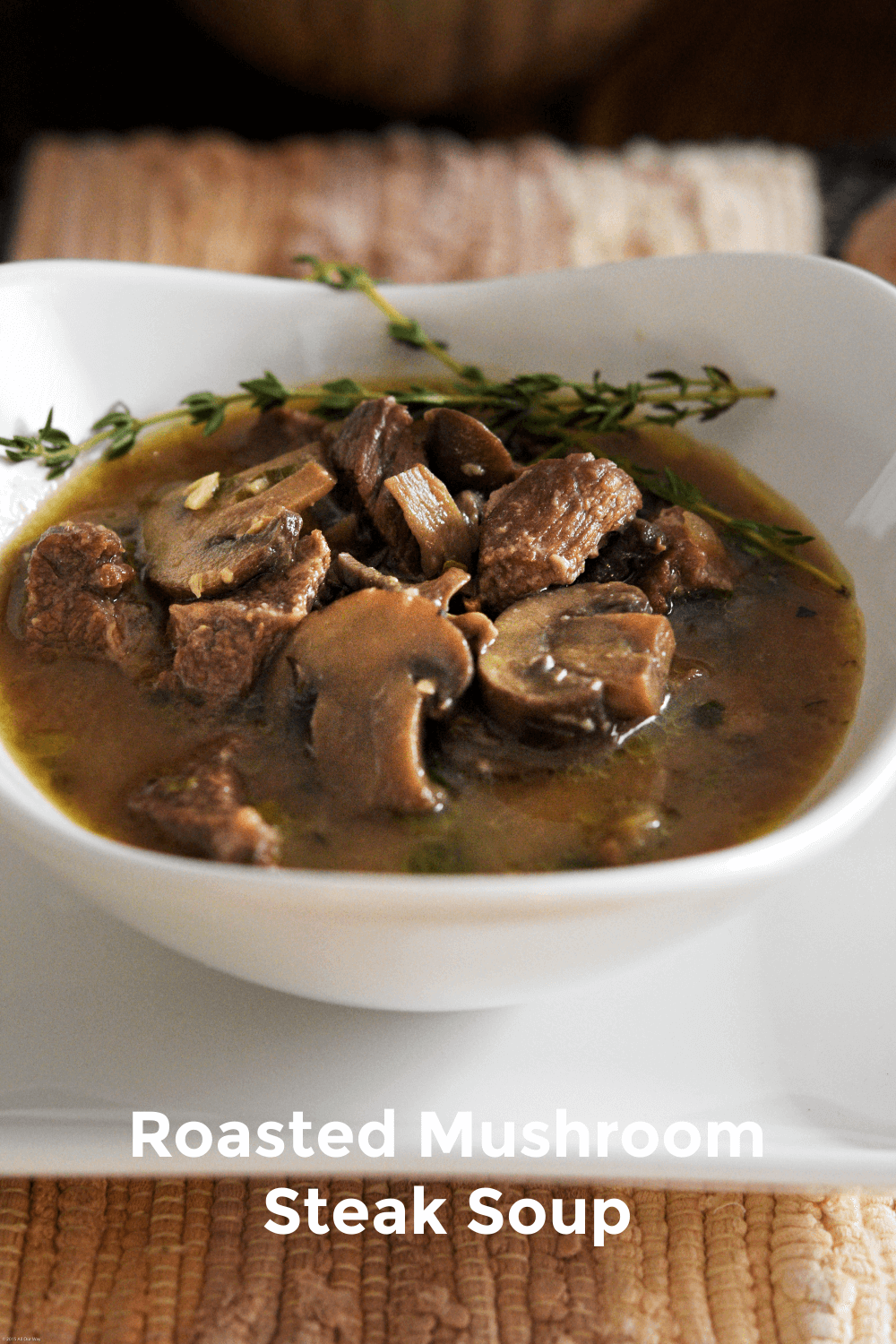 This wild roasted Mushroom Steak Soup starts with caramelizing the meat cubes then simmering them in a hearty mushroom-infused beef stock. You'll love how the fork-tender beef combines with the sautéed mushroom, garlic, and onion to produce a satisfying, luxurious soup. This unforgettable recipe is one you'll want to serve to all the special people in your life.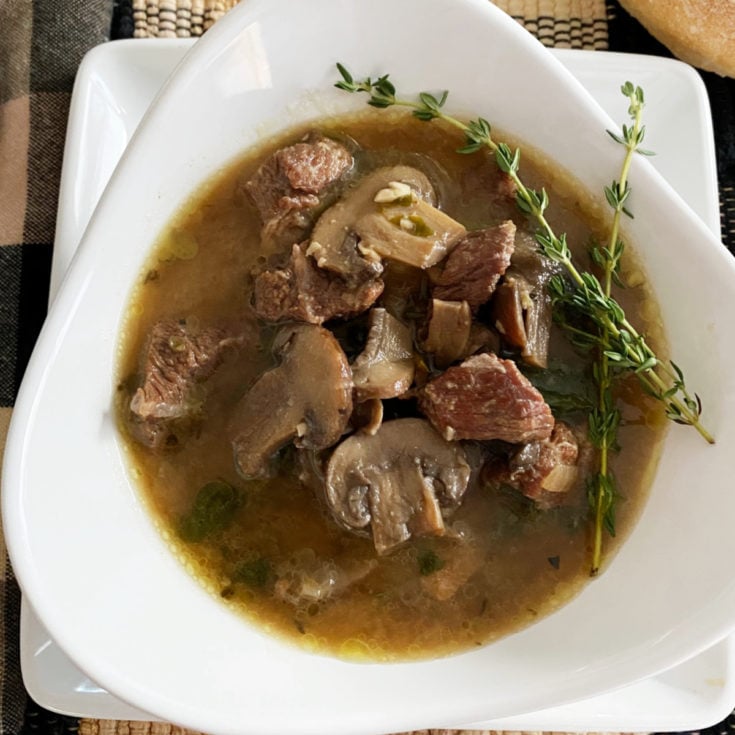 Jump to:
Mushroom Steak Soup
I've always thought of a beef soup like a watery version of beef stew. As a result, I didn't think it had much of a taste -- just some tough bits of chewy meat floating around beef broth.
That's NOT what you'll find with this mushroom steak soup recipe. With a few simple tricks this soup recipe boasts fall-apart chunks of beef with earthy mushrooms and flavorful onions, garlic and herbs.
Some of the flavor enhancing tricks
use chuck as the meat base.
flour the meat before sautéing.
add rehydrated dry porcini mushrooms along with Baby Bellas.
caramelize the onions and mushrooms.
three herbs to enhance flavor.
include heavy cream for additional richness.
combination of baby spinach and kale for heartier soup.
Like a stew in steak soup form
When you see the ingredients and herbs you may think you're making a beef or venison stew instead of steak soup. Although some of the ingredients are similar we opted to substitute the quick cooking spinach and kale instead of the root vegetables.
The meat we use is chuck. It is an ideal meat to use in soups and stews. This is the time you want to skip the lean, pricier cuts of meat and buy the less expensive cuts.
Why you should use chuck meat for steak soup
long slow cook leaves expensive cuts like sirloin tough and chewy.
less expensive meats like chuck breaks down during long slow cooking and become tender.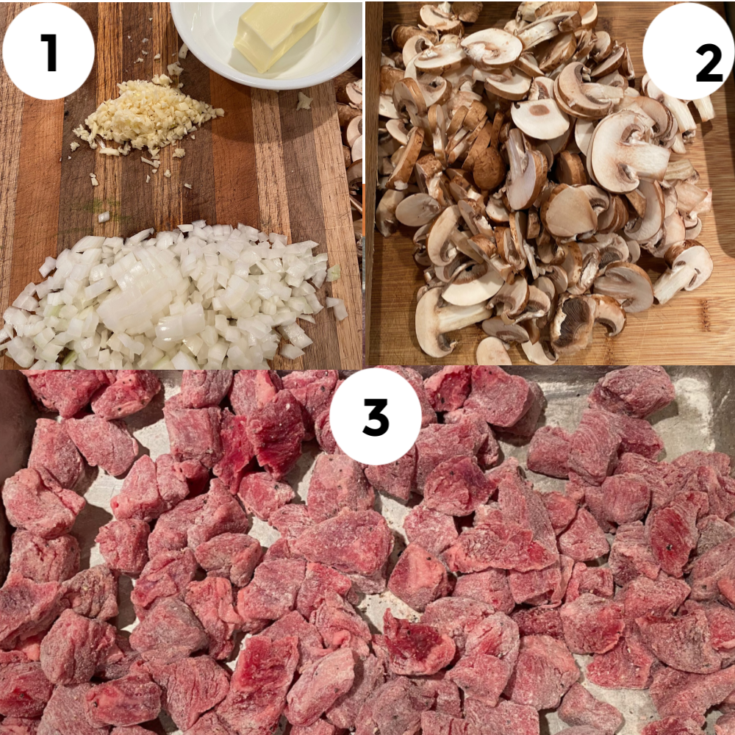 1. Chopped onion, minced garlic and butter for soup. 2. Sliced cremini mushrooms to add to the flavored stock. 3. Thick chuck steak cut into cubes and floured for the soup.
How to make steak soup
The whole process is one of layering flavor and adding a depth to the soup.
The most important part is the start, and that's to brown the floured meat well. Caramelizing the beef adds lots of flavor to the meat as well as the broth. The flour protects the meat from the high sauce as well as adding body to the soup itself. Remove the meat and set aside.
Next is caramelizing the onions, mushrooms.
Then comes the addition of garlic and the heavy cream.
Add the beef stock, porcini mushroom stock, seasonings, and seared beef.
Simmer for 45-60 minutes.
Turn off heat and add the baby spinach and kale to pot and let the vegetables wilt.
Season with sea salt and pepper to taste.
FAQs
What kind of beef do you use for soup?
The best cuts of meat to use is cuts of chuck:
steak
roast
shoulder
chuck-eye roast
top chuck
What can I do with leftover tough steak?
Remember this key formula: Protein + Fat + Liquid = Tasty Tender Meat When you overcook meat you are removing the the fat and liquid. All you have left in essence is the toughened muscle fibers.
Here are some suggestions for you tough meat:
fillings for dumplings, hand Pies, ravioli, tortellini, etc.
make a Rillette which is fatty meat spread that fat and liquid have been added.
deep fry it so it becomes beef-jerky, bacon-like.
Whatever you do, DON'T put it in soups. The soup may provide the liquid, but if you look at the magic formula the fat is gone and the soup won't put it back in.
Can you use sirloin for stew/beef soup?
No. It will only become tough. For soups and stews follow this tip: use chuck meat.
How do you simmer a steak?
You can do this on the stove top, or in the oven or slow cooker. This is also called braising.
Season steak and in hot lightly oiled skillet, brown all over.
Add vegetables if desired and enough liquid to cover the beef.
Simmer, covered, in 325℉ (160℃) oven or stove top for about 1 ¼ hours or until tender.
SLOW-COOKER SIMMER:
Season and brown steak in skillet then place in slow cooker.
Fry sliced onion and garlic in same skillet and add to slow cooker.
Deglaze pan with some red wine or broth scraping up all the browned bits.
Pour over the meat with a cup of broth.
Cover and slow-cook on LOW for 8 to 10 hours.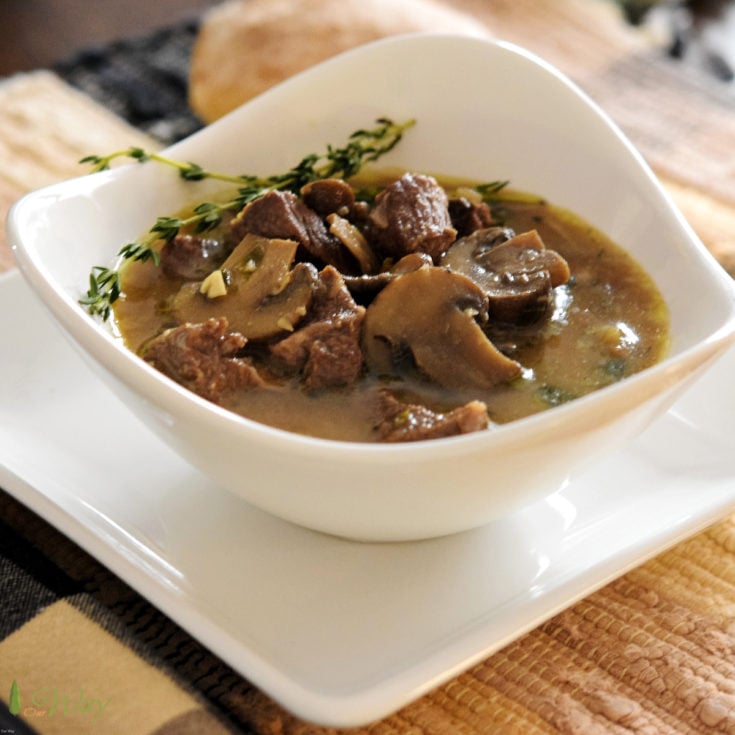 What to serve with mushroom steak soup
This delicious soup is a meal in itself with the beef and vegetables. If you want, you can add some homemade noodles or pasta to it.
If you decide on that addition, first cook the pasta or noodles separately then ladle some of the soup on top for each bowl.
Other than that, a nice crunchy salad is always welcome along with some homemade bread.
This beef soup is so satisfying there will only be contented sighs around the table.
Other beef soup recipes you may enjoy
Beef and Barley Soup -- we took my mamma's recipe and enhanced it.
Chili Con Carne -- ground beef and pieces of beef make up this satisfying stew.
Tutti a tavola è pronto.
Un caro saluto e alla prossima.
YOU MAY NEED...
We just couldn't do without our Dutch Oven! It is such a work horse. Heavy and dependable we let our soups and meat cook slowly without fear of burning. We can even fry in it. We've hat the pot for years and I know it will last us forever.
What's new? check out my All Our Way Store on Amazon. We'll be adding more items we love and use or wish we had to make cooking fun and easy.
Thank you for being part of All Our Way!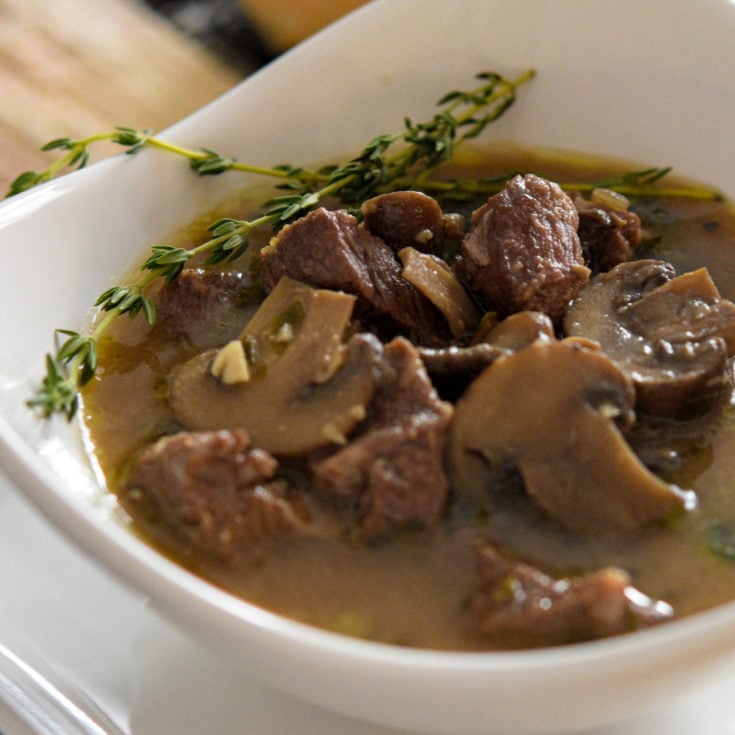 Roasted Mushroom Steak Soup Recipe
Every now and then you come across a recipe that has the WOW factor. This one is it! The combination of the wild mushroom and brown mushroom give the soup a rich earthy flavor. And then the meat turns out fork tender with just the right amount of seasoning. The layering is what makes this beef soup so spectacular.
If you like this recipe please give it a 5-star rating.
📖 Recipe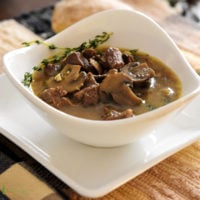 Roasted Mushroom Steak Soup With Baby Spinach and Kale
Juicy tender bites of beef in a mushroom infused broth makes up a hearty soup that reminds you of a rich stew in soup form. This soup is much lighter than a stew with the baby spinach and kale instead of the heavier root vegetables. This comforting meal is a tasty soup the whole family will love.
Print
Pin
Rate
As An Amazon Associate I earn from qualifying purchases.
Ingredients
⅛

cup

olive oil

plus 1 more tablespoon

¼

cup

unsalted butter

1 ½

lbs

chuck steak (thick)

cubed in ¾ inch pieces.

¼

cup

all-purpose flour

1 ½

teaspoon

sea salt

½

teaspoon

black pepper

1

Onion

large (diced)

1

lb

Cremini mushrooms (Baby Bella)

sliced

2

oz.

dried porcini mushrooms (diced)

rehydrate in 1 cup water.

5

garlic cloves

minced

¼

cup

heavy cream

1 ½

qts.

beef stock

48 ounces

½

teaspoon

dried oregano

1

teaspoon

fresh thyme

minced

2

teaspoon

fresh parsley

minced

3

cups

baby kale and spinach combination

chopped

Sea salt and freshly ground black pepper to taste
Instructions
In a measuring cup place the dry porcini mushrooms and cover them with 1 cup of boiling water. Put another cup inside the first one to keep the mushrooms submerged in the liquid.

In a large bowl add the flour salt and pepper and mix. Put the beef cubes in the flour and coat the meat.

Add the oil and butter to your Dutch oven or large pot and heat to medium/high. When the oil is hot add the coated beef cubes in, searing the meat on all sides. When done remove the browned steak with a slotted spoon and set aside leaving all the oil and juices behind.

Add the onions and mushrooms plus another tablespoon of olive oil. Sprinkle with salt and cook over medium-high heat about 8 minutes or until the mushrooms and onions are soft and caramel in color.

While the cremini mushrooms and onions are cooking, remove the tender porcini mushrooms from the mushroom liquid and dice. Now, pour the liquid through a coffee filter to remove any impurities. You want to save that liquid for the taste. Set aside.

Add the garlic to the onions and cremini mushrooms and cook for a minute. Sprinkle the remainder of the flour from the steak over the mushrooms and onions. Stir in.

Add the heavy cream and bring to a simmer. Stir.

Add the beef stock, the mushroom broth, seasonings, and seared beef to the pot and bring to a simmer. Keep the soup at a low simmer for 45-60 minutes or until the beef cubes are tender.

Turn the heat off and add the baby spinach and kale. As soon as they wilt add the sea salt and pepper to your taste.

Serve hot with fresh homemade bread and a salad.
Notes
NOTE: For the meat in this hearty soup recipe, you may also use chuck roast, sirloin steak or beef stew meat. TIP: We use beef broth or stock instead of the cups of water usually found in this type of hearty vegetable soup. This method makes perfect soups during soup season. CHEF TIP: There is a difference between table salt and Kosher/sea salt. If you use table salt for the recommended amounts in this recipe, use less. Table salt is saltier than Kosher or sea salt.
Nutrition
Calories:
306
kcal
|
Carbohydrates:
14
g
|
Protein:
19
g
|
Fat:
21
g
|
Saturated Fat:
9
g
|
Cholesterol:
67
mg
|
Sodium:
691
mg
|
Potassium:
911
mg
|
Fiber:
1
g
|
Sugar:
2
g
|
Vitamin A:
2257
IU
|
Vitamin C:
26
mg
|
Calcium:
71
mg
|
Iron:
3
mg
Sign up for the emails and never miss another recipe!!
We'll never share your email or send you spam. Promise
First published November 4, 2017. Last updated October 23, 2021. Updated with more information for a better reader experience.