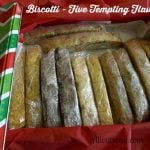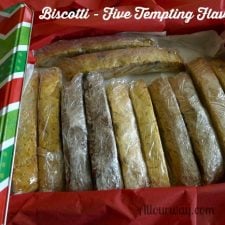 Print Recipe
Walnut Cinnamon Biscotti with Variation- Chocolate Cinnamon Walnut Biscotti
Cinnamon adds a punch of flavor to these biscotti. Reminds me of a snickerdoodle.
3/4

cup

sugar

1/2

cup

unsalted butter

1 stick melted and cooled

2

large eggs

2

teaspoons

vanilla

1/4

teaspoon

salt

1 1/2

teaspoons

baking powder

1/2

coarsely chopped toasted walnuts

1

Tablespoon

cinnamon

Vegetable oil spray

Spritzer with water
Adjust oven rack to middle position and heat oven to 350 degrees. Using ruler and pencil draw a 6 by 12 inch rectangle on a piece of kitchen parchment. Place the print side down on a baking sheet and spray with vegetable oil the unlined side of the parchment.

Pulse flour, salt, baking powder and cinnamon in food processor to combine, about 15 seconds. Transfer flour mixture to bowl. Process 2 eggs in now empty food processor until lightened in color and almost doubled in volume, about 3 minutes. With processor running, slowly add sugar until thoroughly combined, about 15 seconds. Add melted butter and vanilla and process until combined, about 10 seconds. Transfer egg mixture to medium bowl. Sprinkle half of flour mixture over egg mixture and, using spatula, gently fold until just combined. Add remaining flour mixture and chopped walnuts and gently fold until just combined.

Using floured hands, form the dough into a 12 by 6 inch rectangle using the penciled lines as a guide. Spray the loaf lightly with oil spray. Using a rubber spatula lightly coated with oil spray, smooth top and sides of rectangle. Using a sharp knife coated with oil spray, cut the loaf in half making it into tow 3 by 12 inch loaves. Separate loaves leaving 2 inch space between them. Press down lightly and flatten somewhat. Bake until set, about 25 - 30 minutes, rotating pan halfway through baking.

Let loaves cool on baking sheet for 25 minutes. Transfer loaves to cutting board. Gently spray water on top of loaf and serrated knife. Slice each loaf on slight bias into 1/2-inch-thick slices. Lay slices, cut side down, about 1/2 inch apart on wire rack set in rimmed baking. Bake until crisp about 35 minutes. Let cool completely before serving. Biscotti can be stored in airtight container for up to 1 month.
Variation: Chocolate Cinnamon Walnut Biscotti
3/4 cup semisweet chocolate chips
Follow the same procedure as above and add the chocolate chips along with the walnuts and the final flour mixture.
Calories:
65
kcal
|
Carbohydrates:
6
g
|
Fat:
4
g
|
Saturated Fat:
2
g
|
Cholesterol:
23
mg
|
Sodium:
30
mg
|
Potassium:
30
mg
|
Sugar:
6
g
|
Vitamin A:
140
IU
|
Calcium:
17
mg
|
Iron:
0.1
mg