Print
Salty Sweet Nutella Chocolate Chip Cookies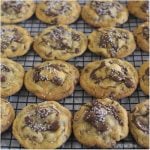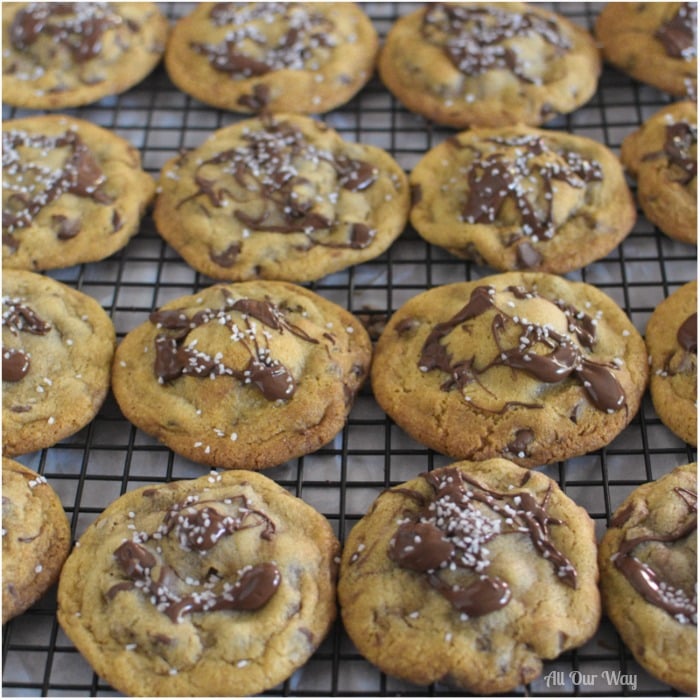 Author:
Prep Time:

120

Total Time:

120

Yield:

24
Ingredients
2 1/4 cups all-purpose flour (281 1/4 grams)
1 1/4 teaspoons baking soda( 5 3/4 grams)
1/4 teaspoon kosher salt( 1 1/2 grams)
2 sticks (1 cup) unsalted butter (227 grams)
1 1/4 cups packed brown sugar ( either light or dark) (275 grams)
1/4 cup granulated sugar (50 grams)
1 large egg plus 1 egg yolk
1 1/2 teaspoons vanilla extract (6 1/2 grams)
1 tablespoon sour cream (14 1/3 grams)
1 3/4 cups semi-sweet chocolate chips (315 grams)
1 jar Nutella (13 oz)
Coarse sea salt for sprinkling
Chocolate Drizzle
1 cup (6 oz.) semi-sweet chocolate chips
1 teaspoon shortening such as Crisco
Instructions
Whisk together the flour, baking soda, and salt in a bowl and set aside. Melt butter in a saucepan over medium heat. The butter will begin to foam — don't leave, keep watch over it. Make sure you whisk consistently during this process. After a couple of minutes, the butter will begin to brown on the bottom of the saucepan; continue to whisk and remove from heat as soon as the butter begins to brown. It will give off a rich nutty aroma. Immediately pour the butter into a bowl to prevent it from burning. Set it aside to cool for a few minutes. If the butter is too hot it will "cook" the eggs.
With an electric mixer, cream the butter and sugars until thoroughly blended. Beat in the egg, yolk, vanilla and sour cream until combined. Add the dry ingredients slowly and beat on low speed just until combined. Gently fold in the chocolate chips.
Chill the dough for at least 1 1/2 hours.
Measure 24 – 1 teaspoon of Nutella on a piece of wax paper and freeze.
Preheat oven to 350 F. Take dough out of the refrigerator and measure about 1 1/2 tablespoons of dough and roll into a ball. Flatten the dough ball very thinly into the palm of your hand. Place the teaspoon of frozen Nutella in the middle and fold the dough around it, make sure dough is covering the Nutella — add a little more dough if necessary. Place the dough balls on a parchment lined cookie sheet about 2 inches apart and gently tap the top to slightly flatten. Don't press too hard.
Bake the cookies anywhere from 9 to 12 minutes — just until the edges of the cookies begin to turn golden brown. They will look a bit underdone in the middle — don't worry — they will continue to cook once they are out of the oven.
Cool the cookies on the sheets at least 2 minutes.
Chocolate Drizzle
Put the chocolate chips in a microwavable cup. Melt the chocolate in 30-second increments until it is all melted – add the shortening then stir.
Drizzle the chocolate on top of the warm cookies, sprinkle with coarse sea salt and let cool completely.
Notes
If you use a double ply cookie sheet the cookies have a tendency to take longer. Just keep an eye on them. The middle will look soft but that's okay.
If you are baking one tray at a time, put the other cookie sheet in the refrigerator until ready to bake. This prevents the cookies from spreading out too much. The same goes if your kitchen is really warm, put the cookie sheet in the fridge for a few minutes to firm up the dough – then bake.
Inspired by Monique's Nutella stuffed Brown Butter + Sea Salt Chocolate Chip Cookies at Ambitious Kitchen.
Nutrition
Calories:

6518

Sugar:

591

Sodium:

2583

Fat:

353

Saturated Fat:

215

Unsaturated Fat:

116

Trans Fat:

8

Carbohydrates:

855

Protein:

62

Cholesterol:

866